Judge finds probable cause in anti-gay stabbing outside D.C.'s Howard Theatre
Defendants reject plea bargain offer; two released while awaiting trial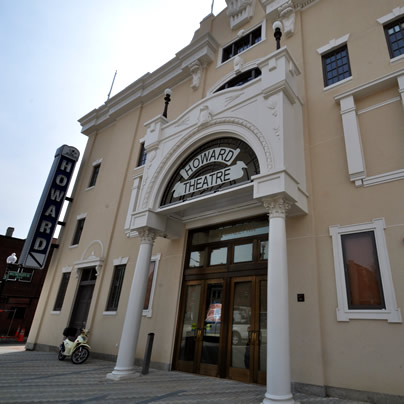 A D.C. Superior Court judge on Monday ruled that probable cause exists that a woman and two men committed an anti-gay assault with a dangerous weapon in connection with a June 26 stabbing of a 16-year-old male in Northwest Washington.
Judge Frederick Sullivan issued his ruling following a two-and-a-half-hour preliminary hearing in which a D.C. police detective testified that an eye witness saw Ali Jackson, 19, stab the victim in the left bicep, lower back, and left leg after shouting anti-gay names at him outside the Howard Theatre at 6th and T streets, N.W.
Det. Kenneth Arrington told the court the stabbing occurred after Desmond Campbell, 33, grabbed the victim from behind and held him in a headlock and Alvonica Jackson, 25, assisted Campbell by preventing the victim from defending himself by holding his arms.
"I'm going to poke your faggy ass," Arrington said the witness quoted Ali Jackson as saying while pointing a knife at the victim.
A probable cause finding means the case can proceed to trial.
Assistant United States Attorney Jin Park, the prosecutor in the case, told the court the three defendants rejected a plea bargain offer issued by the government.
Park said the offer issued to Alvonica Jackson and Desmond Campbell called for them to plead guilty to one count of assault with a dangerous weapon, the same charge filed against them by D.C. police at the time of their arrest. But Park said the plea offer would not be accompanied with a hate crime designation, which could lead to a stiffer sentence under the city's hate crimes law.
D.C. police listed the charges against each of the defendants as hate crimes based on the victim's actual or perceived sexual orientation.
In the government's plea offer to Ali Jackson, Park said he would have to plead guilty to a single count of assault with a dangerous weapon, a knife, with the hate crime designation included with the charge.
Attorneys representing the three defendants told Sullivan their clients rejected the offer.
In arguments during the hearing, the attorneys said their clients acted in self-defense, noting that police charging documents and testimony by Det. Arrington stated that the stabbing took place after the victim sprayed each of the defendants with mace.
In responding to questions from the defense attorneys, Arrington said it was the victim who acted in self-defense by using the mace, or pepper spray, after Ali Jackson threatened him with the knife.
In response to requests by defense attorney Bernard Crane, who represents Campbell, and Mani Golzari, who represents Alvonica Jackson, Sullivan agreed to order the release of the two defendants while they await trial. All three defendants have been held in jail since their arrest.
Over strong objections from prosecutor Park, Sullivan agreed to release Alvonica Jackson on her own recognizance on condition that she stay away from the victim and from the area around the Howard Theatre. He set more stringent conditions on Campbell's release, which include entering the court's "high intensity supervision program" that includes wearing an electronic ankle bracelet.
The judge rejected defense attorney Camilla Hsu's request that her client, Ali Jackson, be released while he awaits trial. Sullivan said he could find no conditions for releasing Ali Jackson that would ensure the safety of the community.
Park pointed out that Ali Jackson has a "lengthy" prior criminal record, including an arrest for assaulting a police officer and a recent conviction of simple assault.
Court records show that Jackson was arrested in a separate case in October 2011 on a charge of possession of a dangerous weapon after he allegedly threatened a group of transgender women in D.C. with a knife while riding a bicycle. Court records show a jury acquitted him on that charge.
Monday's hearing came three days after the head of the local group Gays and Lesbians Opposing Violence (GLOV) sent Park a letter by email expressing concern over prosecutors' plans to offer a plea bargain in the case.
"This is a clear case of anti-gay bias where the defendants could have killed a member of Washington's LGBT community," GLOV Chair Arthur "A.J." Singletary wrote in the email. "Furthermore, the actual defendant who stabbed the victim showed previous bias against LGBT people (and was arrested) and another defendant was also arrested for assault," he said.
"For defendants with previous records, offering a plea deal so quickly raises major concern with the handling of this case," Singletary wrote.
Singletary also asked Park in his email to explain why the government charged the defendants with assault with a dangerous weapon rather than attempted murder.
But after Monday's hearing, Singletary said GLOV was pleased that the U.S. Attorney's office chose not to lower the charges further in its plea offer and that it called for retaining the hate-bias designation in its plea bargain offer for Ali Jackson.
Crane and Golzari argued during the hearing that police charging documents show that their clients, Alvonica Jackson and Desmond Campbell, were not present on the scene and did not become involved in what began as an altercation between Ali Jackson and the victim. The two attorneys said that when their clients arrived on the scene they saw the victim pointing a mace canister at Ali Jackson.
Crane said that Ali Jackson is the "little brother" of Campbell's girlfriend and Campbell entered the altercation to defend his girlfriend's brother.
Crane told the Blade after the hearing that the charging documents show that Campbell referred to the victim as a "faggy" when he was questioned by police after his arrest. He noted that Campbell did not use anti-gay language during the altercation with the victim.
"My client didn't commit a hate crime," he said.
Det. Arrington testified at the hearing that the victim reported being threatened by Ali Jackson several weeks before the Howard Theatre incident.
"He called him a fag at that time," Arrington said of the prior incident.
D.C. police seek help in finding missing gay man
Rick Woods last seen in Georgetown on July 14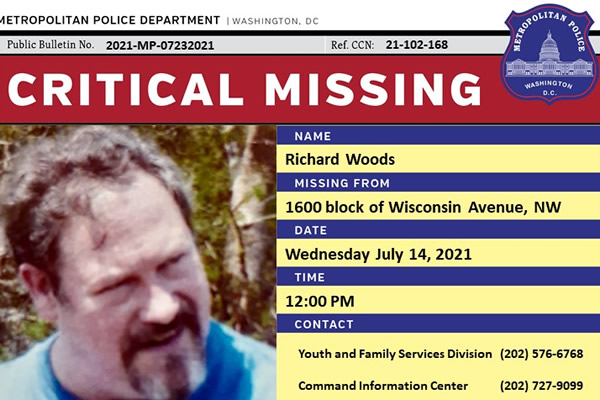 D.C. police have issued an announcement asking the public for help in finding Richard G. 'Rick' Woods, 65, who was last seen in the 1600 block of Wisconsin Avenue, N.W., in Georgetown on July 14.
Friends who know Woods, who is gay, say he has operated for many years an antique wood furniture restoration business at various locations in D.C. The most recent location of his business, according to an online listing, has been at 1408 Wisconsin Ave., N.W., a short distance from where he was last seen.
The police announcement says Woods was reported missing to police on Friday, July 23, but the announcement doesn't identify the person who reported him missing.
"Richard G. Woods is described as a white male, 6'O" tall, 210 pounds, with brown and gray hair and brown eyes," the police announcement says. "His clothing description is unknown," according to the announcement.
The announcement says the case is being investigated by the department's Youth and Family Services Division. Anyone with information about Woods' whereabouts is asked to call the division at 202-576-6768 or to call the police Command Center at 202-727-9099.
"Rick is known by many in our community," said John Fanning, a Logan Circle Advisory Neighborhood Commissioner and longtime local LGBTQ rights advocate. "He's owned an antique wood restoration business for years," according to Fanning, who said he and others who know Woods are hopeful that he will be found soon and unharmed.
A D.C. police spokesperson said the police incident report for the Woods missing person case wasn't immediately available.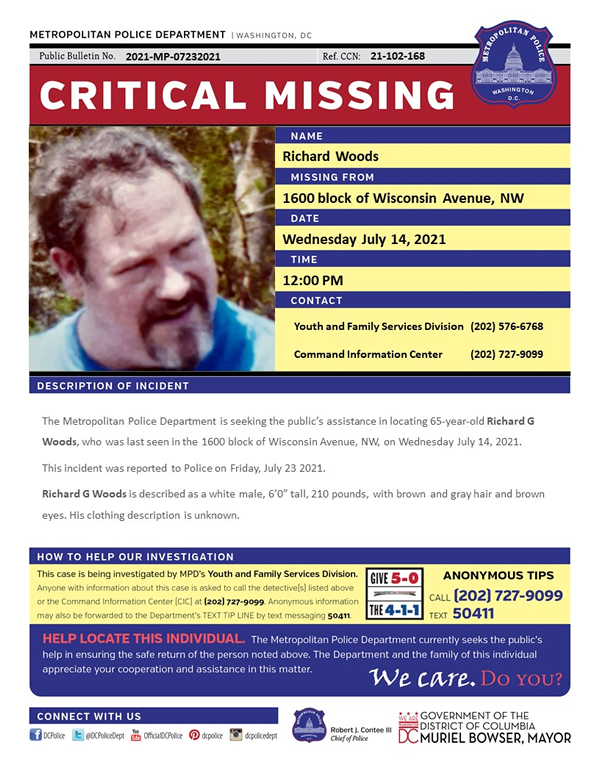 Two injured in gunfire outside crowded 14th Street restaurants
Witnesses say 20 shots fired near Blade, Whitman-Walker offices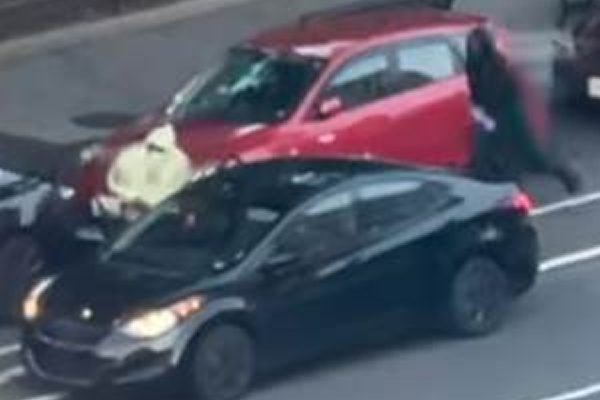 D.C. police are seeking the public's help in identifying at least three suspects involved in a shooting in which two men were wounded shortly after 8 p.m. on Thursday, July 22, on the 1700 block of 14th Street, N.W. where the offices of the Washington Blade and Whitman-Walker Health, the LGBTQ supportive health center, are located.
The shooting occurred while dozens of people were dining at restaurants along the bustling street in the heart of the city's Logan Circle nightlife area.
Police released a video showing two men – one wearing a white hooded sweater or sweatshirt and the other wearing a dark colored similar hooded shirt running along the street and entering the front and rear passenger doors of a black car double parked on the street that police described as an older model Honda Civic with D.C. license plates.
The video shows the car driving away at a fast speed with a third person driving the vehicle.
"Detectives from the Metropolitan Police Department's Third District seek the public's assistance in locating suspects and a vehicle in reference to an Assault with Intent to Kill (Gun) offense," a statement released by D.C. police says.
"At approximately 8:20 p.m., members of the Third District heard the sounds of gunshots and responded to the listed location," the statement says. "Upon arrival, members located two adult male victims, both conscious and breathing, suffering from gunshot wounds," according to the statement. "DC Fire and Emergency Medical Services responded to the scene and transported the victims to area hospitals for treatment of non-life-threatening injuries."
The shooting incident took place at a time when many city residents and police were on edge following the fatal shooting of a 6-year-old girl on July 16 in Southeast D.C. and the firing of gunshots last Saturday outside Washington Nationals Stadium during a game, which prompted people inside the stadium, who heard the gunshots, to duck for cover.
D.C. Police Chief Robert Contee, who was accompanied by D.C. Mayor Muriel Bowser at a news conference at the scene of the shooting on Thursday night, said investigators believe one of the two men wounded by the gunfire was a target of the shooting. Contee said police believe the second victim was hit in the crossfire.
"We've got to make sure we're doing everything we can as an entire system here in the District of Columbia to hold offenders accountable when these things happen in our community," Contee said. "This is unacceptable. That's the bottom line. It is totally unacceptable behavior," he said.
"I'm asking the community to take a look at these videos," he told reporters at the press conference. "If you know the person or the vehicle or somebody who is in that – there is one individual with a very distinctive hoody that he was wearing – please look at that very closely," he said. "We're asking for the community's help."
When asked by a reporter to comment on expressions of outrage by members of the community over the widespread outbreak of gun violence in the city, Bowser said she shares that concern.
"Well, I'm outraged. The chief is outraged. And the community should be outraged," the mayor said. "What we saw tonight and unfortunately what we saw over the last several days is an illegal firearm brazenly used on D.C. streets," Bowser said.
"And we know that our investigators and detectives are going to track down every lead. Our citizens have already been helpful in supplying leads and video and anything else that they saw so that we can get these individuals off the street and hold them accountable," the mayor said.
Witnesses have said the Thursday night shooting on 14th Street reportedly occurred at the intersection of Riggs Street outside the Mexicue Restaurant, which is located at 1720 14th Street, N.W. The Blade office is located just a few doors down and Whitman-Walker's Elizabeth Taylor building is a short distance away across the street at 14th and R Street, N.W.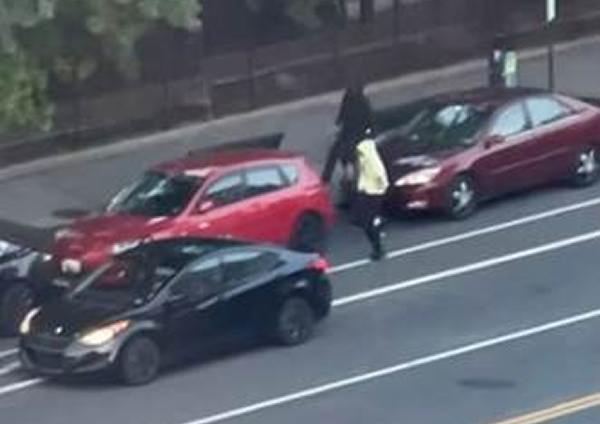 Suspect charged in murder of trans woman in PG County apartment
District Heights man apprehended in Arlington following unrelated arrest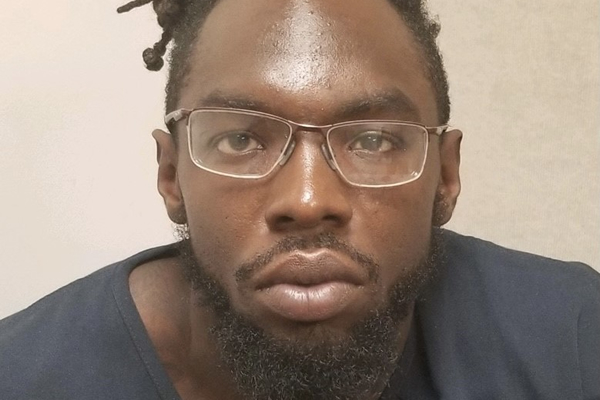 Prince George's County, Md., Police announced on Wednesday that homicide investigators identified and filed murder charges against a 27-year-old District Heights, Md., man for the July 17 homicide of transgender woman Taya Ashton, 20, who was found shot to death in her apartment in nearby Suitland, Md.
In a statement, P.G. Police said they charged DeAllen Davonta Price of the 6400 block of Hil Mar Drive in the unincorporated area of District Heights with first-degree and second-degree murder and related charges in connection with Ashton's death.
According to the statement, while P.G. police detectives identified Price as a suspect in the Ashton murder, Arlington County, Va. Police arrested him on July 18 on an unrelated robbery charge after he attempted to flee from Arlington and Metro Transit police inside a train tunnel at the Pentagon City Metro Station.
"With the assistance of Metro Transit Police, Prince George's County Police detectives and a K9 officer searched those tracks and recovered a weapon that's now been linked to Taya's murder," the P.G. Police statement says.
"Price remains in custody in Virginia pending extradition to Prince George's County," the statement says. "The motive remains under investigation," says the statement, but it adds, "Detectives have uncovered no evidence suggesting Taya's murder was due to her gender identity."
The announcement by P.G. police of Price's arrest came on the same day that family members and friends of Taya Ashton held a vigil to honor her life at 4 p.m. on Wednesday at River Terrace Park in Northeast D.C. along the banks of the Anacostia River, which is part of the neighborhood were Ashton grew up.
Veteran D.C. LGBTQ rights advocate Phil Pannell, who attended and spoke at the vigil, said that in addition to family members and friends of Ashton's, those who spoke included Prince George's County State's Attorney Aisha Braveboy; D.C. Council member Trayon White (D-Ward 8), D.C. transgender rights advocate Earline Budd, and numerous community leaders in D.C. and P.G. County. Budd said more than 200 people turned out for the vigil.
At the conclusion of the vigil, many of the participants drove in a lengthy caravan of cars to the apartment building in the Suitland section of Prince George's County, where Ashton lived and where her life ended, to further honor her.
"The nearby streets were completely filled with people coming out for Taya and her family," Budd said.
A three-page charging document filed in Prince George's County District Court by P.G. Police on Wednesday, July 21, provides a detailed account of how homicide detectives used cell phone records and high-tech firearm ballistics techniques to link Price to the murder.
P.G. police said homicide detectives began an intense investigation into the murder almost immediately after family members who discovered Ashton's body at her apartment on July 17 called police. Ashton's grandfather, Stuart Anderson, who said Taya Ashton's status as a transgender woman was accepted by her family, told the Blade that family members who arrived at the apartment could not find any evidence of a forced entry, leading them to believe the assailant responsible for the murder may have been someone Ashton knew and invited into her home.
The charging document says that although Ashton's phone was missing from the apartment and presumed stolen at the time her body was found, detectives obtained her phone number from family members and used it to discover through the tracing of her calls and text message records that she and Price communicated with each other by text or calls between Friday, July 16, one day prior to the murder, and at 11:42 p.m. Saturday, July 17.
"This is the last call that the Decedent makes or answers before being found deceased," the charging document states.
According to the charging document, earlier in the evening of July 17 Ashton and a friend of hers exchanged text messages in which Ashton wrote, "My dude is on his way" which the friend understood to mean a sexual encounter was expected to take place. A short time later Ashton told her friend in a follow-up text message "that a sexual encounter occurred," the charging document says.
"As the investigation continued, it was discovered that Defendant was arrested on 07/18/2021 at approximately 1642 hours [4:42 p.m.] by the Arlington County Police Department for a theft," the charging document in support of Price's arrest says.
It says that when Arlington Police initially attempted to apprehend Price, "he jumped off of a platform and ran into a subway tunnel towards the Pentagon Metro Station." The document says he hid inside the tunnel for about two hours before being arrested after he walked out of the tunnel into the station.
At the time of his arrest, the charging document says, Price was in possession of a Gucci cross strap bag with distinct markings that Ashton's family members reported was missing from her apartment at the time her body was found.
A short time later, P.G. County homicide investigators, who arrived on the scene, conducted a search of the train tunnel and found a black semi-automatic .40 caliber Smith and Wesson handgun, the charging document states.
It says that that a police firearm expert, after examining the gun, "was able to conclude that the fired .40 caliber cartridge casing recovered from the scene [of the murder] and the fired projectile recovered from the Decedent's body were fired from the Smith and Wesson handgun bearing serial #HTU3274 recovered from the area the Defendant hid from police."
The document states that when questioned after his arrest, Price waived his Miranda rights to withhold comment and obtain representation from an attorney and acknowledged that police had obtained access to his correct cell phone number.
"He also admitted to being sexually intimate with the Decedent and stated that he has known the Decedent for approximately three months," the charging document continues. "He then admitted to being at the Decedent's apartment the night of the murder and being sexually intimate with the Decedent that night," it says.
"Based on the aforementioned facts, the evidence indicates that the Defendant is responsible for shooting and killing the Decedent," the document concludes. The document does not state whether detectives asked Price whether he committed the murder or whether or not he admitted or denied fatally shooting Taya Ashton.
An arrest warrant that accompanies the charging document says that in addition to being charged with first-degree and second-degree murder, police charged Price with Assault-First Degree; Firearm Use/Felony Crime of Violence; Assault-Second Degree; Handgun on Person; and Loaded Handgun on Person.
Court records show that Price had been arrested in Virginia and Maryland several times prior to his latest arrests beginning in 2012 on charges that include illegal possession of a firearm, armed robbery, misdemeanor theft, and grand larceny.