Economy, jobs trump marriage for many gay voters
LGBT equality outweighed by other issues in presidential race

Strap yourself in — Labor Day is the traditional full-on start of the presidential campaign.
This holiday weekend marks the launch of the final phase of what will likely continue to be an acrimonious, divisive and extremely competitive election season.
When President Obama declared his support in early May for state efforts granting civil marriage equality to gays and lesbians, political observers watched to discern if the announcement would have a net impact on the election battle. The worry among LGBT activists was that his long-anticipated and unexpectedly timed reveal might cost him votes among key constituencies greater than the potential political benefit among other demographic groups.
The consensus is that support for same-sex marriage has not harmed Obama's re-election prospects, at least in the few portions of the country where the electoral outcome is not predictive.
However, as the Blade reported last week, the most surprising result is that the announcement appears not to have benefited the president's campaign among LGBT voters. In fact, it may prove to be insufficient to stem a slow but steady trickle of LGBT voters over time shifting their support to Republican candidates.
While a strong majority of the LGBT community typically votes Democratic, indications are that gay and lesbian voters are trending more bipartisan and are becoming notably more independent with regard to political party affiliation and ballot loyalty.
This discernable and consistent evolution in voting habits parallels the expansion of both cultural acceptance and civil protections across the country. As our community is assimilated we seem to be giving greater consideration to broader issues affecting us as citizens increasingly treated as ordinary and as voters increasingly concerned with general issues.
A new national poll of likely LGBT voters indicates that support for President Obama has dropped to 67 percent, a decline of at least six percentage points since 2008. Gays and lesbians, same as all voters, are most concerned about the economy, jobs and unemployment, according to a Harris Interactive poll commissioned by Logo TV released on Aug. 21. Only nine percent of us rank "gay rights in general" as being most important, with marriage equality rated that way by a mere six percent.
The good news is that near majorities of the general population rate positively a candidate's support for LGBT equality in several areas. This historic shift in voter attitudes portends the demise of our civil rights as a wedge issue in national campaigns.
Likewise, there is a clear reward available to the Republican Party in embracing equality. While two-thirds of LGBT voters plan to vote to re-elect Obama, nearly 1-in-4 would be more likely to vote for Romney if he held the same positions as the president on same-sex marriage and other LGBT issues.
According to CNN voter exit polls in 2008, 4 percent of the electorate self-identified as gay or lesbian. Presidential candidate John McCain won 27 percent of the gay vote. In the 2010 midterm congressional election, fully one-third of gay and lesbian voters supported the Republican candidate. In elections since 2000, the portion of the LGBT vote won by the GOP is estimated to have progressively increased from one-fifth to one-quarter to one-third.
Recent voting trends and various polling sources indicate that the prior 3-to-1 advantage enjoyed by Democrats among LGBT voters has shrunk to an approximately 2-to-1 margin.
One contributing factor in the anticipated presidential vote split this year may be the significant number of entrepreneurs and small business owners within the LGBT community, estimated to be as high as 10 percent by the National Gay and Lesbian Chamber of Commerce. Gallup reported late last month that support for Obama among business owners had fallen to 35 percent, the lowest level in the campaign.
Broadening cultural integration will undoubtedly accelerate the movement toward diversification in LGBT voting patterns. Electoral competitiveness for the gay vote based on mainstream issues will gradually become the eventual norm.
The bottom line is that local and national candidates of both political parties who support our full civil equality will enjoy the greatest opportunity to earn our votes.
Mark Lee is a local small business manager and long-time community business advocate. Reach him at [email protected].
National Gay & Lesbian Chamber of Commerce Certifies Brown, Naff, Pitts Omnimedia, Inc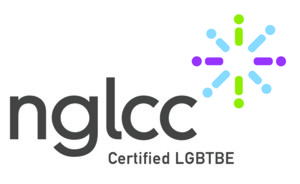 Washington, D.C. — Brown, Naff, Pitts Omnimedia, Inc, the parent company of the Washington Blade and Azer Creative, announced today it has been certified by the National Gay and Lesbian Chamber of Commerce (NGLCC) as an LGBT Business Enterprise. The NGLCC supports and advocates for diversity and inclusion for LGBT-owned businesses. With this certification the Blade's parent company joins more than 510 business and 134 corporate partners of the NGLCC.
Brown, Naff, Pitts Omnimedia, Inc. owns and operates the Washington Blade, the oldest and most acclaimed LGBT newspaper in the country. In 2012, the company launched Azer Creative, a full-service design firm. The company employs more than a dozen full-time LGBT staff.
"We are excited to become one of the 500 LGBT businesses across the country certified by NGLCC," said Lynne Brown, the Blade's publisher and a co-owner of the company. "The LGBT community has been part of our company from the beginning and we look forward to continue that for many years to come."
The Washington Blade was founded in 1969 and is known as the "newspaper of record" for the LGBT community both locally and nationally. Visit washingtonblade.com for more information. Azer Creative is a full-service graphic design firm based in Washington, D.C. Visit azercreative.com for more information. 
Vote now for the 2013 Best of Gay DC!
Choose in dozens of categories among hundreds of nominees, and make your voice heard!
Nominate the 'Best of Gay D.C.' now!
Dozens of categories cover all the best for LGBT Washington. Who deserves the prize this year?