Wolfson's comments on Md. marriage campaign 'a big fat lie'
Freedom to Marry blasted for taking credit for Election Day victory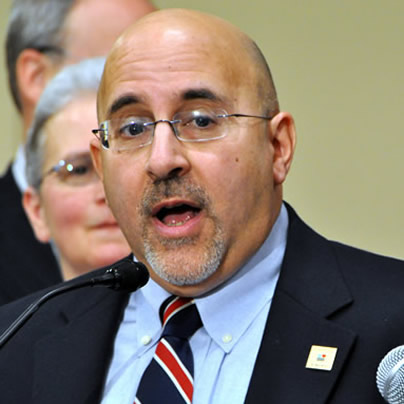 Freedom to Marry President Evan Wolfson's post-Election Day comments about the role his organization played in the pro-Question 6 campaign raised more than a few eyebrows among Maryland's same-sex marriage advocates.
"We took the lead on raising early money for three of the four states and left others to do the same in Maryland," he told the Baltimore Sun in an article published on Nov. 10. "When it became clear that others had not stepped up, Freedom to Marry stepped up again. We always thought Maryland could do it."
One advocate familiar with the Maryland campaign, who spoke to the Blade on condition of anonymity, blasted Wolfson's remarks.
"That quote was a big fat lie," the source said. "Evan did everything within his power to make fundraising for the Maryland campaign difficult if not impossible. He was constantly speaking to national donors telling them that the Maryland campaign couldn't win. So for him to now recreate history is the height of hypocrisy."
Freedom to Marry said in a Nov. 7 press release it had contributed $7 million to the four statewide marriage campaigns during this election cycle. This figure includes $4.6 million in cash and in-kind contributions and $2.4 million that funded public education efforts.
A campaign finance report filed with Maine election officials on Oct. 24 indicates the Freedom to Marry Maine PAC gave $1,201,104.84 in cash and $34,645.19 in in-kind donations to the pro-Question 1 campaign. Freedom to Marry Minnesota PAC donated $866,406.56 in cash and $26,838.51 in-kind donations to the campaign opposed to a state constitutional amendment that would have defined marriage as between a man and a woman, according to an Oct. 24 campaign finance report.
A series of "National Engagement Parties" that took place in D.C., New York, San Francisco and other cities across the country last month raised $500,000 for the statewide marriage campaigns in Maine, Maryland, Minnesota and Washington.
Freedom to Marry initially declined to join the coalition of groups defending Maryland's same-sex law, but it formed a political action committee in September that allowed it to contribute to the pro-Question 6 effort.
A campaign finance report filed with Maryland election officials on Oct. 13 indicates the Freedom to Marry Maryland PAC gave $30,000 to the NAACP National Voter Fund for Question 6. Josh Levin, campaign manager of Marylanders for Marriage Equality, acknowledged to the Washington Blade during a post-election interview the $70,000 Freedom to Marry contributed in the final days of the campaign allowed a radio ad highlighting President Obama's support of marriage rights for same-sex couples to air.
The Human Rights Campaign contributed more than $1.5 million in cash and in-kind contributions to the pro-Question 6 campaign.
"Certainly we had been in touch with them all year and I was glad that they did decide to come in and make some contributions at the end," Levin said when asked about Freedom to Marry's contributions to Marylanders for Marriage Equality. "There are folks over there who have been working on this issue for a long time, but I think what we realized early on was that we were going to have to chart our own path here in Maryland and we were going to have to raise much of the money in-state, which we did.
"And I think we realized too that the message that Freedom to Marry was using and that they used successfully in the other three states was not quite the right one for Maryland. And I think the results bear that out. We focused on doing our research and we had a team of folks who really knew Maryland, but who also had been working on marriage and equality issues for a long time, but who also knew Maryland. And I think because of that we were able to come up with a strategy that worked here. I'm very glad that we did because we saw it resonate."
Gay state Sen. Rich Madaleno (D-Montgomery County) echoed Levin's remarks. He noted to the Blade that Freedom to Marry contributed "about 2 percent of the resources that we had."
"It's fortunate HRC was willing to say this is something worth engaging in and funding," said Madaleno. "I was surprised to see Evan's quotes in the Sun and can only hope that it was — something was lost in the interview process. While I think Freedom to Marry can claim credit for helping us be in the position to win all four states, I don't think they can be in a position to claim credit for the win in Maryland, not certainly like HRC."
Wolfson sought to clarify his comments in a letter-to-the-editor he submitted to the Baltimore Sun on Nov. 12.
"I regret some unintended implications in my quotes in Saturday's story regarding the freedom to marry win in Maryland," he wrote.
Wolfson told the Blade in a statement on Tuesday that Freedom to Marry "invested $200,000 in the 2011-2012 push to win marriage in Maryland, building on years of support and engagement over several rounds." He added his organization is "proud to have contributed in big ways and small, public and unsung, as part of what we all did right to move Maryland to the right side of history."
"And whatever the occasional disagreements, we owe a huge debt of thanks to the local leaders and families, campaign manager Josh Levin and his team, Gov. [Martin] O'Malley and key lawmakers, Equality Maryland, Human Rights Campaign, the ACLU, the NAACP, Republicans and Democrats, and the many, many volunteers and voices who joined in making the case to voters that led to victory in Maryland alongside our movement's wins in other states," said Wolfson.
Eastern Panhandle Pride brings celebration to rural W.Va.
'Martinsburg is an inclusive city'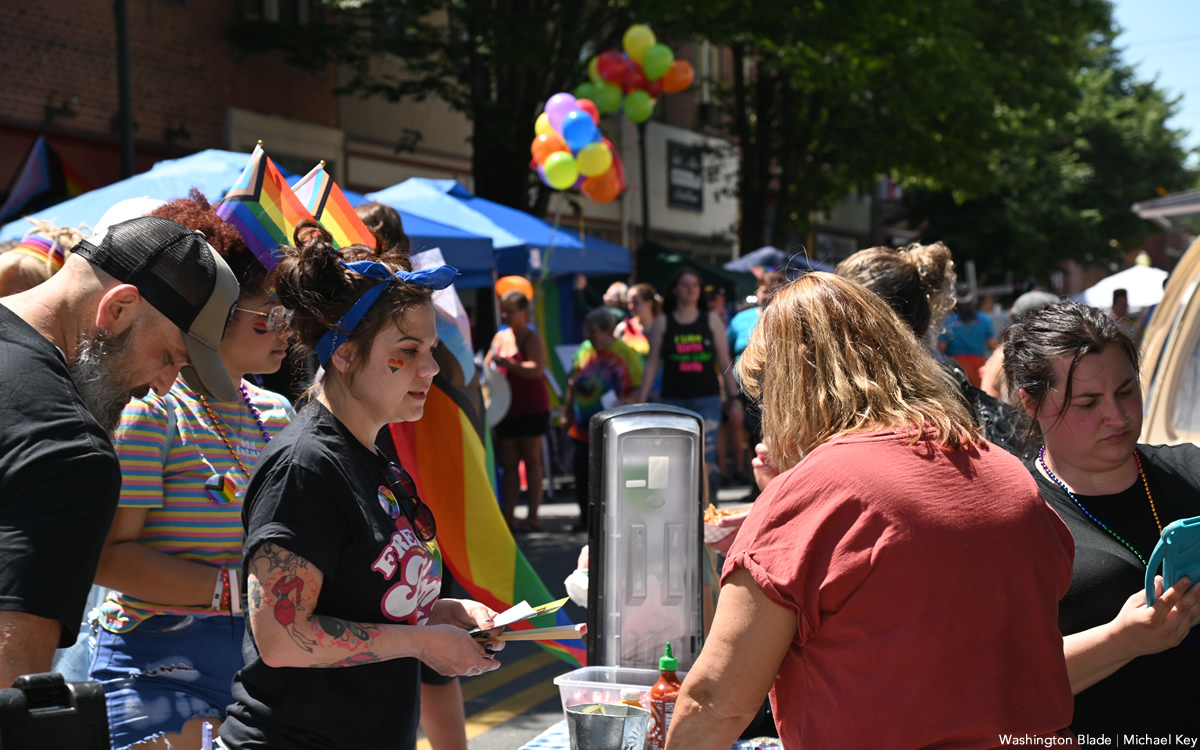 Smiling faces spilled into downtown Martinsburg, W.Va., on June 4, welcomed by booths swathed in rainbow colors lining the road.
The historic sight marked the first time that Martinsburg welcomed an official Pride celebration to its streets — but not all residents viewed the new event favorably. As the celebration came into full swing, two protesters marched straight to its center, carrying a sign with homophobic slurs and a seven-foot cross.
The protest quickly turned the heads of passersby. As more and more people approached the demonstration, a group of more than 30 attendees formed a circle around the protesters, separating them from the event. Some joined hands and, attempting to drown out the protesters' hatred, chanted: "Love wins!"
When Joe Merceruio began working at Eastern Panhandle Pride nine years ago, he set out to help unite the community of West Virginia's easternmost region, working with fellow organizers to create Pride celebrations in a Shepherdstown park.
But when assuming the role of president in 2019, he never anticipated that just three years later, the organization would be invited by the mayor of the panhandle's largest city to throw a celebration in the Berkeley County, W.Va. seat. "We've never had a city reach out to us and ask us to do Pride, it was always the other way around," he explained.
Born and raised in Martinsburg, Merceruio was moved by the way his community came together at this year's Pride celebration. After two years of restricted celebrations due to public health concerns, seeing so many people celebrate in person, including many allies, was deeply meaningful, he noted.
Beth Roemer, who helped organize this year's festivities, said she was especially proud of the way her community peacefully organized against the protesters — especially those young people she credited with leading the charge. The group was "surrounding them in a very passive way so that they couldn't do any more damage," she recalled.
Participating in Pride each year has shown Merceruio and Roemer alike the ways their community is changing, fueled by advocacy from LGBTQ individuals and allies within it.
Berkeley County is known for being more conservative, which meant that Roemer "wasn't sure" exactly "how far we had come" in accepting the LGBTQ community. But her hopes for inclusivity were quickly realized when she saw how many people supported this year's celebration.
"We had a local business downtown reach out to Joe and I, and he said he just never believed in a million years that we could have Pride downtown," she added. "He was super happy."
According to Merceruio, Pride offers an opportunity for community building especially important to rural West Virginians.
"I think you can let the stereotype of West Virginia interfere with the reality of the West Virginia that's really out there," he explained. "There is ignorance, there is hatred, but there's also a tremendous amount of love and support."
"It really gives people who want a community a chance to see that there is a community in Martinsburg," Roemer said. At this year's celebration, Roemer added that she met an 18-year-old woman who was able to attend Pride for the first time after her parents did not support her desire to go growing up. "She goes, 'Now I have a community,'" Roemer recalled.
As an organization that serves a primarily rural region, Eastern Panhandle Pride operates differently from many Pride organizations in major cities. Merceruio noted that there are some challenges associated with organizing Pride in a rural area, like receiving less attention from sponsors and having to work harder to find and provide resources.
Still, Merceruio said rural Pride celebrations have a certain charm that major Pride celebrations cannot always replicate.
"I have people that have texted me and said, 'We're so excited to do this, our 11-year-old daughter has been waiting for this,'" he explained. "I think you get more of a family atmosphere in rural areas."
Some of Merceruio's favorite moments from this year's Pride included this type of "personal interaction" with community members, he added. "I guess that's a bit more of what you get from a smaller town for Pride."
At this year's Pride, Martinsburg Mayor Kevin Knowles spoke directly to attendees, welcoming the celebration to the city's streets and reading a proclamation officially recognizing June 2022 as Pride month for the city.
"Martinsburg is an inclusive city. We include everybody, no matter where they come from or what they do," Knowles said at the event. "The city of Martinsburg is moving forward."
In the near future, Eastern Panhandle Pride hopes to continue to offer programming for the local LGBTQ community and its allies, and to further support community needs through advocacy. For Merceruio, this work is an important part of giving back to the place he calls home.
"I love being from West Virginia. Our culture and our society and our neighbors," Merceruio said. "It's got its problems, but it is awesome."
See photos from the event here!
Rehoboth's anti-climactic election raises concerns over process
Incumbent Chrzanowski criticizes delay in candidate's filing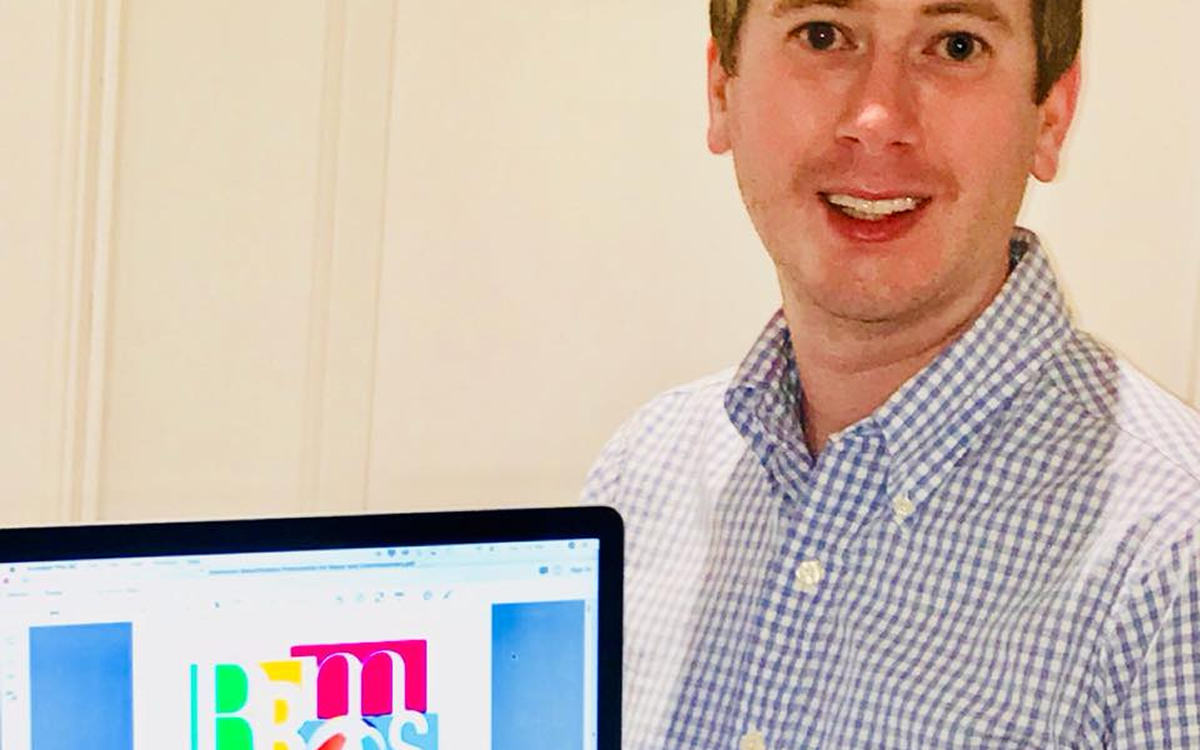 It was an anti-climactic election in Rehoboth Beach, Del., last month, when only two candidates emerged for two city commissioner seats.
Edward Chrzanowski ran unopposed for re-election and Francis "Bunky" Markert was named to fill the open commissioner seat being vacated by incumbent Susan Gay. While the uncontested races meant no official election was held in the beachside city this year, the proceedings were not devoid of controversy. In a conversation with the Blade, Chrzanowski voiced concerns with this year's election proceedings.
At the beginning of the day on June 6 — the deadline to file for the election — Chrzanowski was the only candidate to formally enter the race for commissioner, motivated by his desire to see through ongoing infrastructure development plans, he said. At the time, Gay, the other incumbent commissioner whose term ended this year, had made no official statement regarding her candidacy, and no other candidates had filed for election.
But by the end of the day, Markert — who ran unsuccessfully for the position in 2014 — was nominated for election in a petition submitted by Jan Konesey, a circulator. The next day, Gay announced she would not seek reelection due to family health concerns. "I am not leaving Rehoboth Beach," Gay said in the June 7 statement, but "I have decided not to seek re-election."
With only two candidates in the running, Chrzanowski and Markert were exempt from participating in an official election. Chrzanowski, who is gay, noted he was "very glad" that he would not "have to campaign," but criticized his colleague's behavior surrounding registration for the election. In a conversation with the Blade, he alleged that Gay deliberately waited to announce whether she would seek reelection, which meant prospective opponents were unaware of the vacancy and therefore less likely to enter the race. He also suggested that Gay encouraged "one of her friends" — Markert — to file his candidacy in her place, without opposition.
"I'm very disappointed with what my colleague who decided not to run for reelection (did)," Chrzanowski said. "I announced my candidacy pretty early on to allow the public to absorb that. If someone wanted to run against me, I'd obviously give them the chance to do that."
The idea of his colleagues "playing behind the scenes" left him feeling "disappointed," he added. "Given the person that is running, or now will walk in as a commissioner, I would have much preferred there be an election and that person be challenged."
But Gay and Markert both deny that they coordinated their decisions regarding the election.
Gay said she had initially planned to seek reelection, but a "change of plans" caused by family health circumstances made her feel she could not faithfully carry out the position for another consecutive term. "It was actually very last minute," she said. "In fact, I had an (election) petition all set to go."
"I realized that I could not devote the time that I needed" to the position, Gay explained. "I take the work very seriously. I wanted to be able to devote my full attention to it, and I just cannot right now."
"It was a very, very, very difficult decision," she added.
Markert said he presumed someone else would run in the election, so an uncontested race did not influence his candidacy.
In 2014, Markert was appointed to the city's planning commission. He said his experience both as a resident of Rehoboth Beach and as a volunteer in local government led him to want to serve the city further by guiding its development as a commissioner, moving Rehoboth Beach forward while also preserving its unique character and qualities.
Gay said that waiting to the end of the allotted window to announce candidacy in the commissioner election was not unusual in city politics. In previous years, candidates often submitted their petitions on the very last day allowed, she explained.
"There's a tradition here, and Ed should know this because he did it himself," Gay said. "I went and ran three years ago. There were two candidates that announced in advance, and then the last four — Ed was one of them — turned in their petitions" on the latest day possible.
In an email to the Blade, Rehoboth Beach communications specialist Lynne Coan confirmed that in the 2019 election, when Chrzanowski and Gay were most recently elected, they both filed their petitions less than an hour before the deadline.
Gay added she was traveling when Markert's petition was submitted, and was therefore not immediately aware he was an official candidate.
"Every year, we never know until the last minute who (the candidates are) going to be," she said. "I don't think anybody's decision to run should be dependent on anybody else, and it certainly wasn't for me. If people want to run they should step up."
Regardless of the circumstances that brought them to their positions, Chrzanowski and Markert received approval from the city's Board of Elections and are slated to serve as city commissioners. Reflecting on this year's proceedings, each expressed mixed feelings about the lack of a formal election.
For Chrzanowski, who previously won a contested race for city commissioner, avoiding the "divisiveness" of a local election was advantageous. But he added that there was something lost without formal proceedings, which offer the public an opportunity to challenge candidate platforms and even enter the race should they feel their views are unrepresented.
For Markert, running uncontested removed significant monetary and time constraints. Still, a formal election would have helped him connect with the local community, and their support would have granted " a certain level of legitimacy" to his representing them in city government.
"I would prefer to be up there, elected … (but) I'm a qualified candidate," he explained. "In three years time, if I was to run again, and I plan to run again, maybe I'll be able to be elected."
According to Coan, the Board of Elections will meet on July 12 to finalize the 2022 election. Chrzanowski and Markert will begin their terms on Sept. 16.
D.C. house with rainbow Pride flag set on fire
Investigators seeking help from public in search for suspect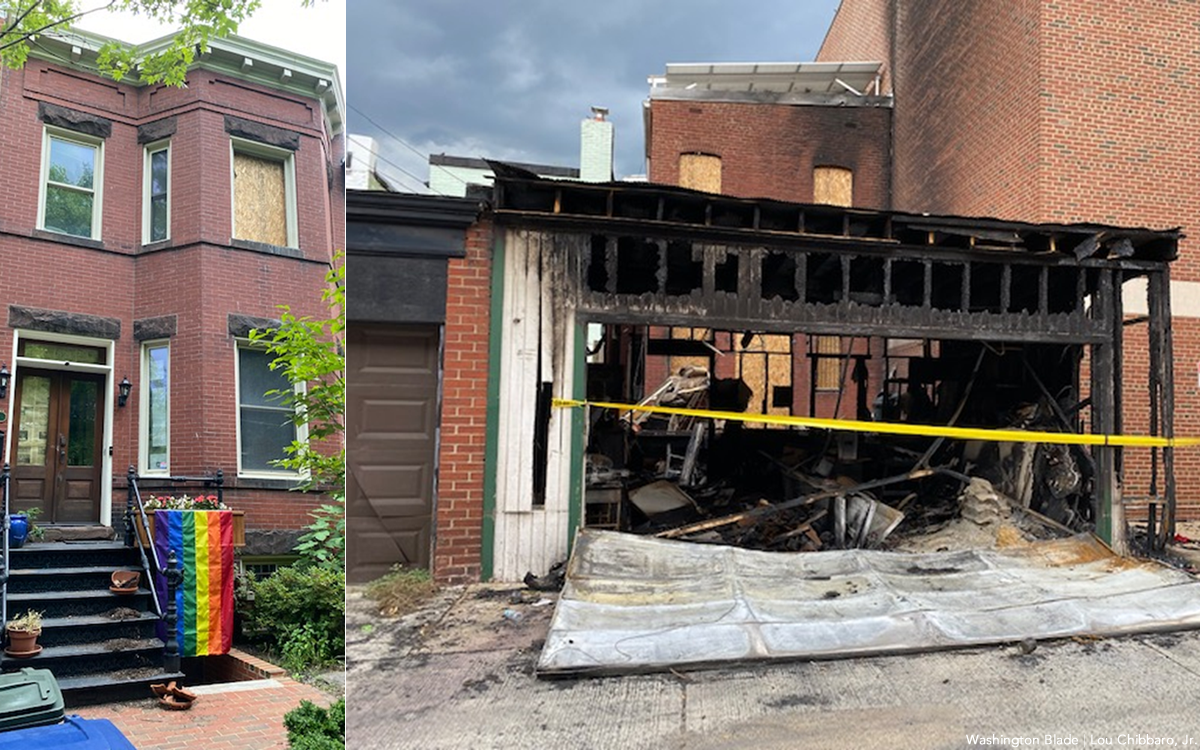 The D.C. Fire and Emergency Medical Services Department has classified as arson a June 19 fire at a two-story row house on the 1800 block of 8th Street, N.W. in the city's Shaw neighborhood that had an LGBTQ rainbow Pride flag prominently displayed on the front of the house.
A Fire & EMS Department spokesperson said the fire was ignited in a detached wooden garage in the rear of the house accessible only through an alley, and fire investigators have yet to identify a suspect or a motive for what evidence shows was an intentionally set fire.
Although the front of the brick rowhouse where the Pride flag was displayed was not damaged, the fire in the garage spread to the rear of the house, destroying a wooden outdoor deck, and caused extensive damage to the kitchen, bathroom, and second floor bedroom. Fire investigators have sealed the house, requiring its three occupants to find a temporary residence as the investigation continues.
One of the three occupants of the house, who was the only one at home when the fire started at about 2 a.m., escaped without injury, according to sources who know the occupants.
"The Pride flag on the front of the house was present at the time of the fire," Jennifer Donelan, director of communications for the Fire & EMS Department, told the Washington Blade. "We do not have any information, at this time, that suggests the arson was related to the presence of the flag, however we are still working on the case," she said.
"We are aggressively working to identify a suspect and a motive," Donelan said. "Until such time, we won't be able to make a determination as to whether or not this was a hate crime."
She said the Fire & EMS Department is seeking help from the public in its effort to identify one or more suspects responsible for the fire. Anyone with information that could be helpful to the investigation is asked to call fire investigators at 202-673-2776.
The fire at the D.C. house with the Pride flag took place less than a week after Baltimore police said a house in that city's Waverly neighborhood on which "Pride décor" was displayed was set on fire on June 15, causing extensive damage to the house and nearby houses.
Baltimore police and fire department officials said a Pride flag on a house across the street from the house set on fire was also ablaze when firefighters arrived on the scene. Two men were hospitalized in critical condition and a woman was listed in serious condition because of the fire ignited in the house.
Baltimore Mayor Brandon Scott released a statement saying fire department officials had yet to determine a motive for the fire.
"At this point, we cannot confirm that this was a hate crime," Scott said. "However, my agencies will bring every appropriate resource to bear to get to the bottom of this tragic event," he said. "I continue to stand in solidarity with our LGBTQ+ community."