Moon crash site named for Sally Ride
First woman in space was revealed to be a lesbian posthumously in obituary earlier this year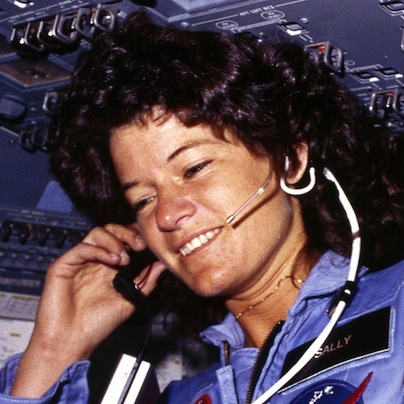 PASADENA, Calif. — NASA announced this week the site where two satellites studying the moon were intentionally crashed to study the moon's interior would be named for the late Sally Ride.
The satellites — which while still in orbit around the moon had allowed students to take their own pictures of the moon's surface thanks to a partnership with Ride's foundation — were crashed into the moon to help study the make-up of the lower layers of the body's crust. After the planned crash, NASA announced the site would be named for the late astronaut, who was revealed to be gay and partnered in her obituary published after her death earlier this year.
"It's really cool to know that when you look up now at the moon there's this little corner of the moon that's named after Sally," Ride's sister, Rev. Bear Ride, told the San Diego Union Tribune.
U.S. envoy for global LGBTQ, intersex rights cancels Indonesia trip
Prominent Islamic group criticized Jessica Stern's planned visit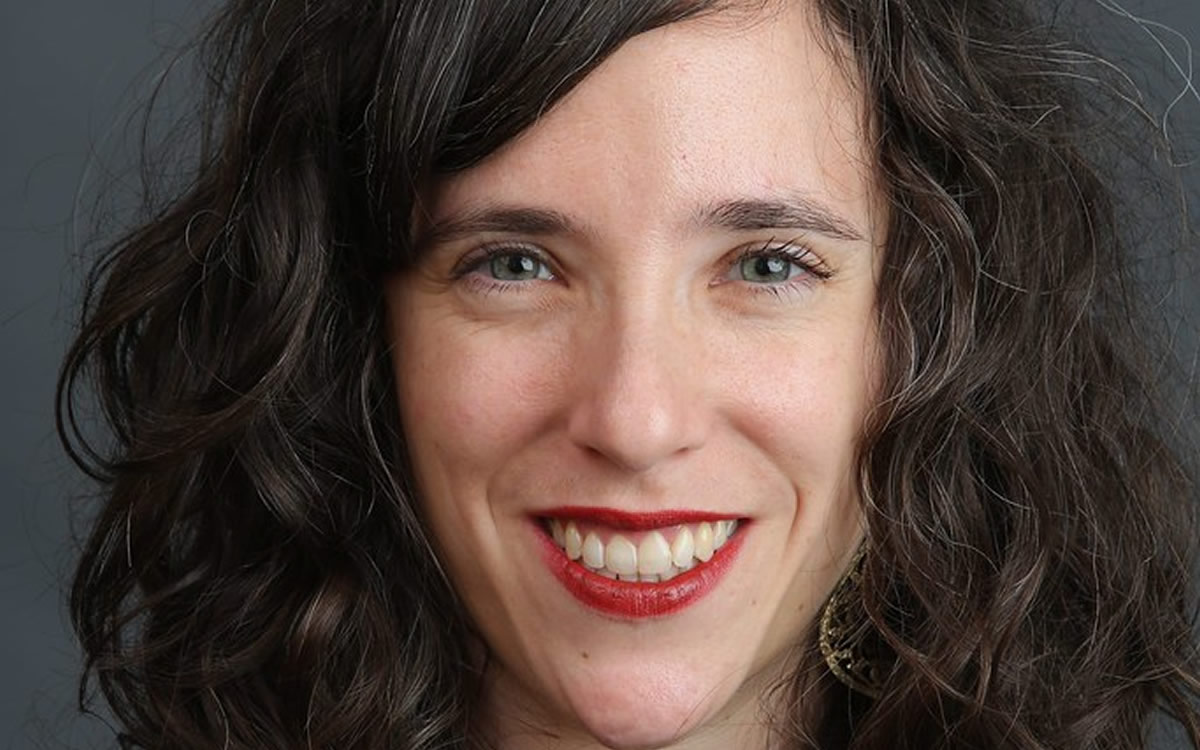 The special U.S. envoy for the promotion of LGBTQ and intersex rights abroad's trip to Indonesia has been cancelled after the country's most prominent Islamic group criticized.
Jessica Stern had been scheduled to arrive in Indonesia on Dec. 7.
The Washington Post reported Anwar Abbas, the vice chair of the Indonesian Ulema Council, in a statement on Friday said the group "cannot accept guests whose purpose of coming here is to damage and mess up the noble values of our nation's religion and culture."
U.S. Ambassador to Indonesia Sung Kim in a statement announced Stern would no longer travel to the country.
"One of the reasons the United States and Indonesia have such a strong relationship is that we both uphold values such as democracy, human rights, diversity and tolerance. Those values should apply to every member of society, including LGBTQI+ persons," said Kim. "In every country, dialogue about human rights is crucial. Dialogue, after all, is fundamental to democracy. Advanced democracies oppose hatred, intolerance and violence against any group of people, and encourage dialogue that reflects the broad diversity of their societies."
"While we look forward to continuing our dialogue with religious leaders, government officials and members of the public on the important topic of ensuring respect for the human rights of LGBTQI+ persons, after discussions with our counterparts in the Indonesian government, we have decided to cancel Special Envoy Stern's visit to Indonesia," added Kim. "Knowing that around the world LGBTQI+ persons experience disproportionate levels of violence and discrimination, it is important to continue the dialogue and ensure mutual respect for one another, rather than pretending that the issues do not exist. Countries like Indonesia and the United States can learn from one another about how to counter hatred and ensure more prosperous, inclusive societies for all."
A State Department spokesperson on Friday told the Washington Blade that "after discussions with counterparts in the Indonesian government and with Indonesian human rights advocates, Special Envoy Jessica Stern and Ambassador Sung Kim decided to cancel the special envoy's visit to Indonesia planned for Dec. 7-9."
"We will continue to work with our Indonesian partners to promote democracy, human rights, diversity and tolerance," said the spokesperson.
"While we are disappointed that Special Envoy Stern will not travel to Indonesia at this time, it is important to continue the dialogue and ensure mutual respect for every member of society, including LGBTQI+ persons," added the spokesperson. "Indonesia is a valued partner of the United States, and we seek to work together with Indonesia to counter hatred and intolerance and build more prosperous, inclusive societies."
President Joe Biden in February 2021 signed a memo that committed the U.S. to promoting LGBTQ and intersex rights abroad as part of his administration's overall foreign policy.
Consensual same-sex sexual relations are decriminalized in most of Indonesia, but officials in Aceh province in 2021 caned two men under Shariah law after their neighbors caught them having sex. The Indonesian government in recent years has faced criticism over its LGBTQ and intersex rights record.
Authorities in Jakarta, the Indonesian capital, in 2017 arrested 51 people who were attending a "gay party" at a sauna. The closure of an Islamic school for transgender people in the city of Yogyakarta in 2016 also sparked outrage.
Indonesian lawmakers are currently debating a bill that would criminalize sex outside of marriage.
Blinken: PEPFAR 'shows us what American diplomacy can do'
Secretary of state spoke at World AIDS Day event in D.C. on Friday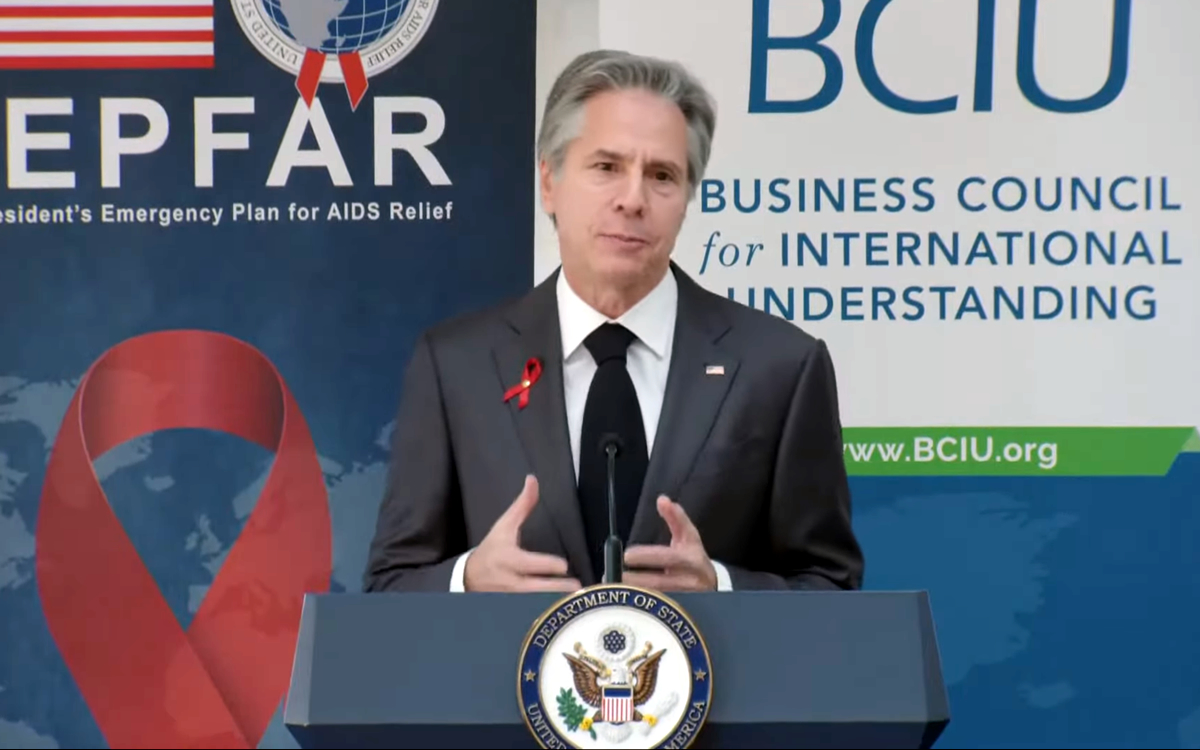 Secretary of State Antony Blinken on Friday noted the President's Emergency Plan for AIDS Relief has saved more than 25 million lives since its launch in 2003.
Blinken, who spoke at the Business Council for International Understanding's World AIDS Day event at the Hay-Adams Hotel in D.C., said the more than $100 billion the U.S. has earmarked for PEPFAR over the last two decades has funded 70,000 new community health clinics, 3,000 new laboratories and the hiring of 340,000 health care workers.
"Entire public health systems formed, with over a dozen countries which have either reached their HIV-treatment goals or managed control of the virus altogether," said Blinken.
Then-President George W. Bush in 2003 signed legislation that created PEPFAR. California Democrat Barbara Lee, members of the Congressional Black Caucus and Dr. Anthony Fauci, the director of the National Institute of Allergy and Infectious Diseases and chief White House medical advisor who is retiring at the end of this month, are among those who played a key role in PEPFAR's creation.
"PEPFAR has benefitted from bipartisan support, as we've heard, across four presidencies, across ten Congresses," said Blinken. "It's resulted in an investment of more than $100 billion to the global HIV/AIDS response. This is the largest commitment by one country ever to address a single disease."
Lee and Fauci were among those who attended the event alongside U.S. Global AIDS Coordinator John Nkengasong; Assistant Health Secretary Rachel Levine; Dr. Deborah Birx, the former White House Coronavirus Response Director, and HIV and Hepatitis Policy Institute Executive Director Carl Schmid.
Blinken in his speech noted "the systems put in place by PEPFAR have become an integral part of the health security architecture of countries around the world."
Blinken also said PEPFAR has bolstered responses to COVID-19, Ebola and the avian flu.
"We are continuing to build on PEPFAR's many successes to create a stronger global health security architecture to prevent, to detect, to respond to future health emergencies. Doctor Fauci, you once said that PEPFAR 'shows what the goodwill of a nation can do,' and you were right," said Blinken. "PEPFAR also shows us what American diplomacy can do: Bring together governments, bring together the public and private sectors, communities to tackle challenges that none of us can actually effectively deal with alone and that creates and has created a healthier, safer and ultimately more secure world."
Five-year PEPFAR strategy to target LGBTQ people
Blinken acknowledged there is still "very serious work still required for us to end the global HIV health epidemic by 2030," noting HIV/AIDS continues to disproportionately impact LGBTQ and intersex people and other marginalized groups.
"Too many countries still have fragile and insufficiently resourced public health systems, which makes it difficult to offer services beyond HIV/AIDS treatments, and that undercuts our capacity to respond to emerging threats," he said.
Blinken noted the U.S. on Thursday announced a new PEPFAR strategy that will help "fill those gaps" over the next five years. It includes the following:
• Targeted programming to help reduce inequalities among LGBTQ and intersex people, women and girls and other marginalized groups
• Partnerships with local organizations to help reach "hard-to-reach" communities.
• Economic development and increased access to financial markets to allow countries to manufacture their own antiretroviral drugs, tests and personal protective gear to give them "the capacity to meet their own challenges so that they're not dependent on anyone else."
"This latest PEPFAR strategy will keep making advancements like that possible so that millions more people can live healthy lives and live lives to their full potential," said Blinken.
Hakeem Jeffries makes history with appointment to lead House Democrats
Democratic Rep. Hakeem Jeffries of New York, an LGBTQ ally, will become the first Black lawmaker of either party to serve in the top spot of either of the two chambers of Congress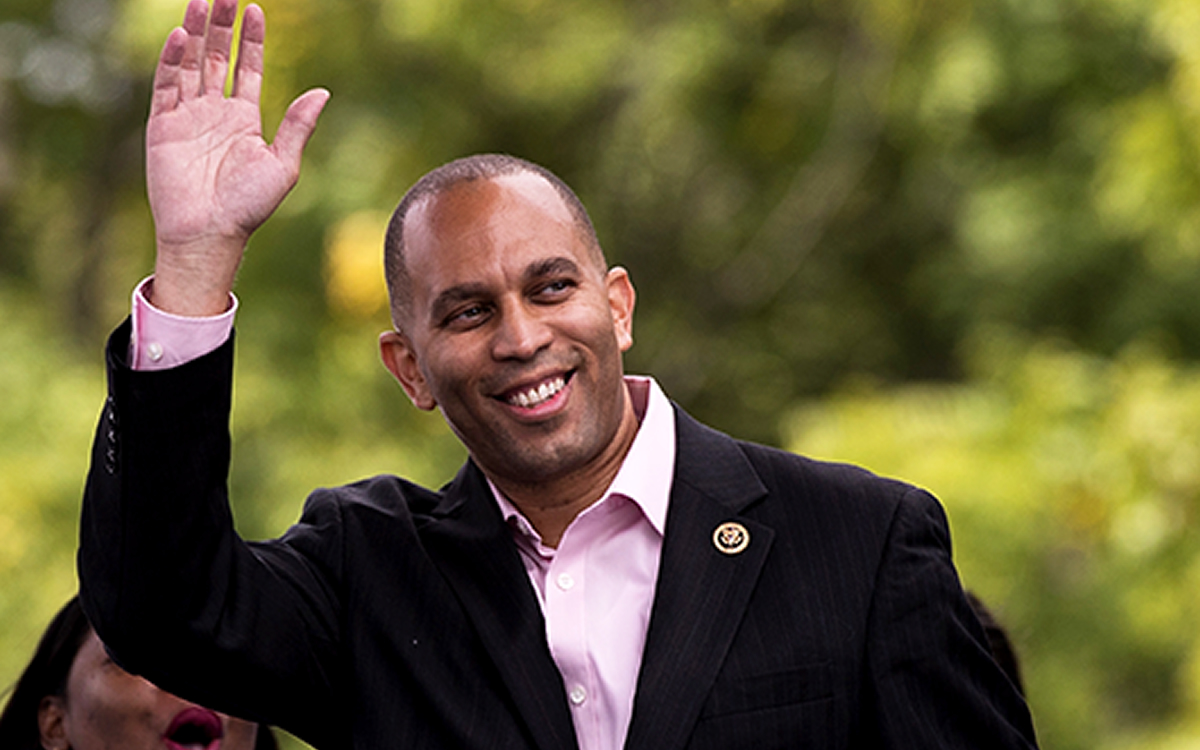 With his election on Wednesday to take over as House Democratic minority leader next year, Rep. Hakeem Jeffries (D-N.Y.) became the first-ever Black lawmaker from either party who will serve in that role in either of the two chambers of Congress.
House Democrats also chose, for the second and third-highest ranking positions, Reps. Katherine Clark (Mass.) and Pete Aguilar (Caif.). All ran unopposed and rather than by formal ballots were elected by voice vote for unanimous consent.
The moves signaled broad consensus among House Democrats in their decision to send the new slate of lawmakers, young and diverse with some progressive bona fides, to serve in the party's senior leadership positions.
The three lawmakers are all members of the Congressional LGBTQ+ Equality Caucus and longtime allies of the community. Jeffries, as chair of the House Democratic Caucus, introduced the Respect for Marriage Act in the House this summer.
The Caucus declined to comment on the House Democratic leadership elections.
When Aguilar succeeds Jeffries in that role next year, it will be the highest-ranking position in House leadership ever held by a Latino member. Clark, meanwhile, will become the second woman to serve as Democratic House Whip after Rep. Nancy Pelosi (D-Calif.), the current House Speaker.
Pelosi announced on Nov. 18 her plans to step down from House Democratic leadership after the next Congress is seated. She made history in 2001 as the first woman elected to the second highest-ranking position in the chamber, and then again in 2007 when she took the top slot, becoming the first woman Speaker of the House.
Following her announcement, Pelosi was celebrated for her many legislative accomplishments at the top of her party's caucus, where she served for two decades under four presidents. A Washington Post column called Pelosi the "best speaker in U.S. history."
Considering that Pelosi also presided over some of the biggest legislative milestones in the modern LGBTQ rights movement, such as the 2011 repeal of "Don't Ask, Don't Tell," Jeffries has a high bar to clear when he's handed the torch in January.
In addition to his leadership on the Respect for Marriage Act, Jeffries has been a major advocate in Congress for other pro-LGBTQ pieces of legislation like the Equality Act and, in 2014, the Hate Crime Reporting Act.
Jeffries has been a vocal champion of measures to make the U.S. Capitol more welcoming for transgender and gender nonconforming people – such as by calling for single-occupancy gender-neutral restrooms on the Hill and rules that would adopt gender-neutral language in the House.
He has also spoken out forcefully against anti-LGBTQ hate from some members of the House Republican caucus, such as the dangerous rhetoric from Rep. Marjorie Taylor Greene (Ga.), who has repeatedly tried to link queer people to child sexual abuse.