Andrew Shepherd Green, 55
A former Washington resident; donations can be made to Broadway Cares/Equity Fights AIDS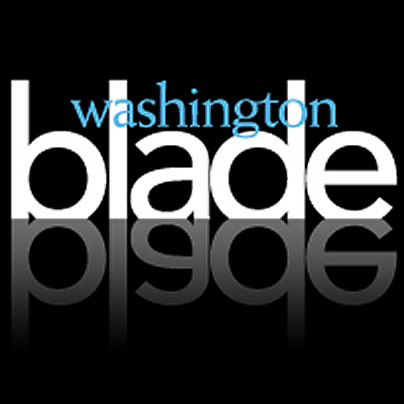 Andrew Shepherd Green, formerly a Washington resident, died Jan. 21, according to his friend Thomas O'Connor. He was 55.
Green, who had lived with HIV for nearly 30 years, died of a gastrointestinal complication, O'Connor said. Green was gay.
A private burial was planned at Greenwood Cemetery in Brooklyn. Donations may be made to Broadway Cares/Equity Fights AIDS.
O'Connor said Green will be remembered for his "spirit, famous letters in longhand, his calls and his humor." He was preceded in death by his parents, Charlotte and Morris.
Remembering queer D.C. poet Venus Thrash
'She was the best citizen in the poetry republic'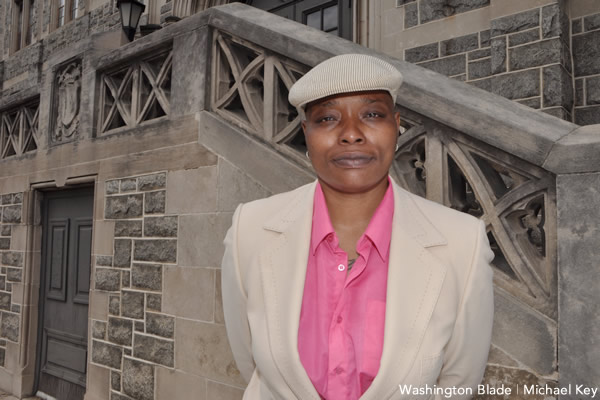 Venus Thrash, a Black, lesbian D.C. poet, wrote her first poem when she was in the first grade.
Thrash, 52, whose work was nationally acclaimed, died on Saturday, June 19 at the MedStar Washington Hospital Center in Washington, D.C. from heart disease. Her family and 12-year-old son Daniel survive her.
Thrash, who had a master's degree in fiction and poetry from American University, taught in underserved high schools and women's correctional facilities as well as in academic settings.
"I feel passionate about [teaching]," Thrash, whose poetry collection "The Fateful Apple" was nominated for the 2015 Pen America Open Book Award, told me in 2014. "Not only am I teaching in that exchange, I'm also learning."
Though Thrash called D.C. her "adopted home," her roots were in the Deep South. She spent her childhood summers in Rincon and Sylvania, Ga.
Thrash, who was open about her sexuality, sensed, as a child, that she was different
"I am seven/I want to be an angel/because I have never been an angel," she wrote in her poem "Angel."
"I must act like a lady/I have never acted like a lady/I have demanded to be called Vince."
Thrash lived fully in her self, Black and queer, and that intersectionality infused her poetry and relationships, Sarah Browning, former director of Split This Rock, a D.C.-based poetry organization that works for social change, told the Blade.
In addition to being a finalist in the 2012 Jean Feldman Poetry Prize and the 2009 Arktoi Books Poetry Prize, Thrash was a co-editor of "Beltway Poetry Quarterly" and a co-director of The Word Work's Joaquin Miller Poetry Series.
She was a Cave Canem fellow. (The Cave Canem Foundation, according to its website, was founded by Toi Derricotte and Cornelius Eady in 1996 "to remedy the under-representation of African-American poets in the literary landscape.")
Thrash was featured at one of Split This Rock's festivals. "Venus's poetry is like Venus full of joy and outrage, and love," Browning said. "Every time I saw her I was delighted by her flirty, irreverent spirit."
On social media postings after her death, Thrash was often described as "fierce" because of her appearance – her shaved head, her androgynous way of dressing, Kim Roberts, founding editor of "Beltway Poetry Quarterly," emailed the Blade. "But Venus was actually quite shy," Roberts said.
Roberts loved the conversations that she and Thrash had about the intersection of gender and race. "I am Jewish and bisexual," Roberts, editor of the anthology "By Broad Potomac's Shore: Great Poems from the Early Days of Our Nation's Capital," said. "We both noted how different our own lived experiences were, yet we found joy from our long, freewheeling discussions."
Grace Cavalieri, poet laureate of Maryland, knew Thrash before Thrash was a mother and well published. "I saw her enter the poetry scene – working for every D.C. institution to further poetry," Cavalieri, founder/producer of the radio show "The Poet and the Poem," said. "She was the best citizen in the poetry republic."
Venus rolled with everybody, remembers poet Hayes Davis, author of "Let Our Eyes Linger."
"If Venus called herself your friend, she would laugh with you, drink with you, talk shit with you … talk about relationships with you," Davis said. "We could talk about parenting, we could talk about ourselves."
In "The Fateful Apple," you see a poet who is entirely at home with her body, her loves, her desires, her history – her friends, D.C.-area poet Joseph Ross emailed the Blade.
"I especially remember her generous kindness to my husband, who is not a poet," Ross, author of "Raising King," said. "At poetry gatherings, she often found us and made him and me feel at home."
One of Thrash's most powerful poems is "Uncivil," a pointed, yet joyous rebuke to any government that dictates who we can love.
"There will be no parchment certificate stamped with any state's approval/confirming we're married or in love," Thrash writes in "Uncivil," "But we will jump over a brand new straw/broom, we will light candles & pour red/wine into the earth where our ancestors sleep."
Thank you, Venus, for your poetry and your wonderful self. R.I.P.
Longtime LGBTQ activist, DC schools official Clark Ray dies
Arkansas native passed away at home on Saturday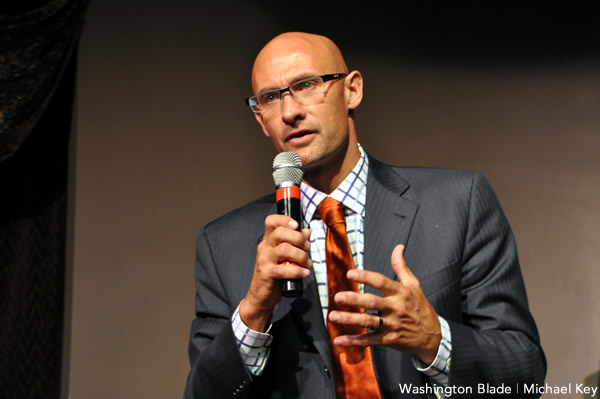 Clark Ray, a longtime LGBTQ rights advocate who worked for four D.C. mayors and most recently served as executive director of the District of Columbia State Athletics Association, died at his home on Saturday, June 5, of unknown causes.
His husband, Aubrey Dubra, said Ray passed away in his sleep and the D.C. Medical Examiner's Office, under standard procedures for unexplained deaths, conducted an autopsy and the results were still pending.
News of Ray's passing, which first surfaced in Facebook postings on Saturday, drew dozens of messages of sympathy from friends and political associates who have known Ray through his more than 20 years of political and local government involvement in D.C.
Former Mayor Vincent Gray appointed Ray in 2012 as executive director for the then newly created District of Columbia State Athletics Association, an arm of the D.C. public school system that jointly works with D.C. charter schools and private parochial schools to coordinate school athletics programs, including high school sports competition in soccer, football, cross country track and other team sports.
D.C. Mayor Muriel Bowser retained him for that position when she took office in 2015, and Ray held the position at the time of his passing.
In a statement released on Saturday, Bowser praised Ray for taking "extraordinary measures" during the COVID-19 pandemic to support the city's student athletes and help the school athletics programs return to a safe place.
"We are heartbroken over the passing of Clark Ray," Bowser said in her statement. "Clark was a loving father, husband, and friend who impacted so many lives and will be missed greatly," the mayor said.
"For more than two decades, he served in a number of roles advancing recreation and athletics to build a sense of community," the mayor's statement says. "Serving four mayors, Clark's legacy will include his tireless work to establish the D.C. State Athletic Association as well as the DCSAA Hall of Fame."
Dubra told the Blade he and Ray had four adopted sons between the ages of nine and 21. The couple and their family lived in the 16th Street Heights neighborhood in Northwest D.C.
Ray's LinkedIn page shows his earlier work includes service from 2007-2009 as director of the D.C. Department of Parks and Recreation and from 2006-2008 as senior director of strategy for the Greater Washington Sports Alliance. He served as director of external affairs for the D.C. Sports and Entertainment Commission from 2004 to 2007.
His LinkedIn page says he served from 2000 to 2004 as an official with the Office of Neighborhood Services in the Executive Office of then-D.C. Mayor Anthony Williams.
Gay Advisory Neighborhood Commissioner and longtime Shaw neighborhood activist Alex Padro said he got to know Ray at that time in Ray's role as Williams' Ward 2 coordinator.
"Clark was result-oriented, always looking for a way to get something done quickly and efficiently," said Padro, who called Ray one of the best appointments Mayor Williams made.
Former D.C. Police Lt. Brett Parson, who headed the department's LGBT Liaison Unit, said Ray served as a Reserve Police Officer assigned to then Gay and Lesbian Liaison Unit from 2003 to 2008.
"He was a friend, colleague, and mentor to all of us and made a huge difference in the lives of more people than he will ever know," Parson said in a statement.
In 2010, Ray ran unsuccessfully for an at-large seat on the D.C. Council against then incumbent Phil Mendelson in the September Democratic primary.
A native of Arkansas, Ray worked in the administration of President Bill Clinton as director of strategic scheduling and advance for Tipper Gore, wife of Vice President Al Gore, in the Office of the Vice President, from 1997-1999.
Ray later served as chief of staff to Tipper Gore as part of the Al Gore for President Campaign from 1999 through the 2000 presidential election.
Ray graduated from Smackover High School in Smackover, Ark., in 1982, before receiving a bachelor's degree in education from the University of Arkansas at Fayetteville in 1986. He received a master's degree in Education and Sports Administration Management at Temple University in Philadelphia in 1988.
His LinkedIn page shows that his long involvement in the field of sports and recreation began during his studies at Temple when he served as a graduate assistant at the university's Sports Medicine Department and worked for the Philadelphia Phillies and Philadelphia Eagles professional sports teams.
"Clark was the love of my life and a terrific father to our four children," said Dubra. "He believed in adoption of D.C. children, not an international adoption," Dubra said. "He was an advocate for making sure that D.C. kids had homes. And that was one of his big things that he wanted to support," Dubra said. "And I supported him in that process as well because we have four wonderful boys. And they're all doing very well. And we've been very, very fortunate to be able to share our home and our lives with them."
Ray is survived by his husband, Aubrey Dubra and his sons Rahmeer, 21; Tajon, 18; Jamar,12; and Richard or Ricky, age 9.
Dubra said that to highlight Ray's dedication to athletics and its positive impact on the city's young people, he accepted an offer to hold Ray's funeral service and viewing at the Southeast Tennis and Learning Center in Anacostia at 700 Mississippi Ave., S.E. on Saturday, June 12.
He said a public viewing will take place at the center from 9-11 a.m., at which time a service in celebration of Ray's life will begin.
Dubra said plans for a burial were still being worked out as of late Monday. He said he and others close to Ray were also working on plans for establishing a foundation in Ray's name to support foster care and adoption programs in Washington, D.C.
Kay Lahusen, LGBTQ equality rights pioneer has died at 91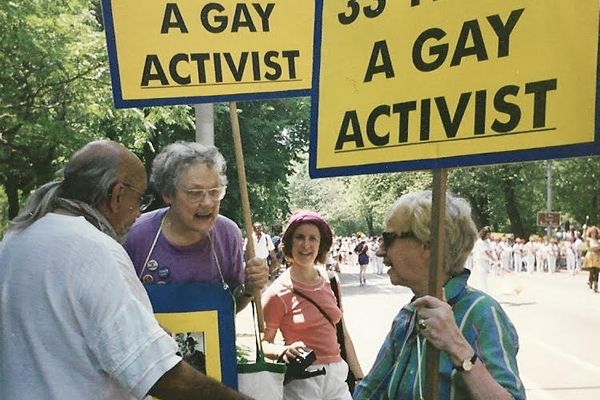 PHILADELPHIA, PA – Kay Lahusen, 91, died in gentle hospice care at Chester County Hospital on Wednesday, May 26, 2021, after a brief illness. She was born in Cincinnati in January 1930 and as an infant was adopted and raised by her grandparents. After graduating from Ohio State University, she moved to Boston, where she met her lifelong partner Barbara Gittings at a Daughters of Bilitis picnic in 1961.
Kay and Barbara lived variously in New York, Philadelphia and Wilmington DE. They were gay activists from the early days of the Gay Rights movement in the US, marching openly in picket lines in Washington DC and Philadelphia in the early 1960s. Kay became known as the first openly gay photojournalist. Her photos documenting these and many later activities were printed in various gay publications including Gay (a national weekly) and The Ladder. Her photos are archived in the New York Public Library, which drew upon them for the 2019 book, Love and Resistance; out of the closet into the Stonewall era.
Kay researched and wrote the book Gay Crusaders (1972), which was published under her pseudonym Kay Tobin and with the addition of a male "co-author" (her friend, Randy Wicker) to help with its public acceptance. The original research materials for that book are also archived at the New York Public Library.
Kay and Barbara remained activists throughout their lives. Shortly before Barbara's death in 2007, they moved to Kendal at Longwood, Kennett Square PA. After Barbara's death Kay continued to contribute to Gay history, giving many interviews, especially about their work with the American Psychiatric Association and the American Library Association. She collaborated in 2015 with Tracy Baim to produce Barbara Gittings, gay pioneer, a biography of Barbara which used many of Kay's photos. She decorated her room at Kendal with dozens of photographs, and she would talk about her experiences as a gay activist at the drop of a hat, even regaling the nurses at Chester County Hospital with her story days before her death.
Kay is survived by Trusted Friends: Judith Armstrong of Hockessin DE, John Cunningham of Philadelphia, Ada Bello of Philadelphia, and James Oakes of Secane PA, and by the many, many friends, acquaintances, and admirers — too numerous to name here — who made up her chosen family.
Kay's remains will rest in the Congressional Cemetery, Washington DC, along with her partner's in a bench designed to express their love for each other and their dedication to showing that Gay is Good. Due to COVID-19, a public memorial will be postponed. In lieu of flowers, Kay would welcome your contributions to William Way LGBT Community Center, 1315 Spruce St, Philadelphia PA 19107 or to Kennett Area Community Service, P.O.Box 1025, Kennett Square PA 19348 for their local food cupboard.
Condolences may be left at foundsfuneralhome.com.
In December of 2019, the Philadelphia Gay News ran a profile on the 90th birthday celebration of Lahusen. She was asked, So visibility is one of the hallmarks of your life?
In answer she noted; "Oh, absolutely. I enjoyed working on "The Ladder." I tried to put wonderful women on the covers. That was very important, because before then we only had drawings on covers. We went against the American Psychiatric Association and succeeded in removing homosexuality from the mental illness allegation. I wasn't at Stonewall, but I certainly admired it. I had a lot to say about it and write about it. I've had a terrific life. I think gay couples, getting back to that question, should get involved, and give it all they've got. It's so much fun. Don't you agree?"
You can read the entire interview here: https://epgn.com/2019/12/27/activist-kay-lahusen-celebrates-90th-birthday/