Anti-gay marriage march in Paris draws estimated 300,000
Police used tear gas against demonstrators on the Champs Elysées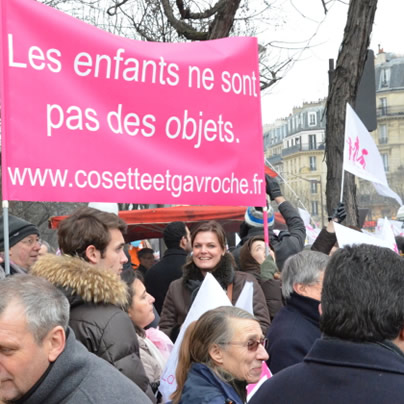 Le Monde and other French media reported 300,000 people took part in the protest organized by comedian Frigide Barjot. Organizers of "La Manif Pour Tous" or the "Demonstration for All" claimed on their website that 1.4 million people participated.
Police also used tear gas and batons against a group of roughly 200 protesters who had tried to march on the Champs Elysées without a permit. A video posted to America Blog shows a man with a young child on his shoulders apparently challenging authorities who had just sprayed tear gas into the crowd.
"La Manif Pour Tous vigorously condemns all violent or illegal action," march organizers said.
The French Senate on April 2 is expected to start debating the bill the National Assembly approved last month by a 329-229 vote margin.
More than 350,000 people took part in a march against the same-sex marriage and adoption bill in Paris in January. A demonstration in support of the proposal drew more than 100,000 people to the French capital on Jan. 27.
President François Hollande endorsed same-sex marriage and adoption rights for gay and lesbian couples during his 2012 presidential campaign. Justice Minister Christiane Taubira testified in support of the bill before the National Assembly.
"The power has obstinately refused for several months to listen to the people of France, it has tested them by using every means at their disposal to prevent them from expressing their will," march organizers said on their website, specifically pointing out authorities did not grant a permit to allow them to march on Paris' main boulevard. "[Hollande] hoped to discourage them from coming [to Paris] this Sunday to say no to the Taubira bill."
Hundreds of thousands of people marched through the streets of Paris on Sunday in opposition to a bill that would extend marriage and adoption rights to same-sex couples in France.
Election in India's most popular state seen as crucial LGBTQ rights test
Right-wing Bharatiya Janata Party currently governs Uttar Pradesh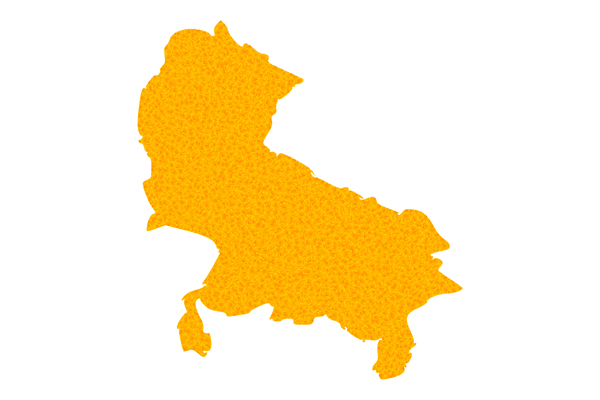 India's most populous state and a battleground for Prime Minister Narendra Modi will hold the election in seven phases in February as the Election Commission of India has announced.
The Uttar Pradesh election is the key prize in India's parliamentary election as the state holds 80 parliamentary seats, the most in the country. Uttar Pradesh's LGBTQ community and LGBTQ people from across the country have been eyeing this election because it can play a crucial role in policy changes for the community in India.
The Bharatiya Janata Party (BJP), a right-wing nationalist party, is ruling Uttar Pradesh. The party is also ruling the country under Modi, but it has not been supportive of same-sex marriage.
"We are not a minority anymore. The community is thriving in the state," said Lovpreet, a Lucknow-based activist who works for transgender rights in Uttar Pradesh. "If the current government is not going to give us the right for same-sex marriage, we should remove the government in this election."
The ruling party is yet to release its election manifesto, but the party is not considering listing LGBTQ issues in it.
A newly married same-sex couple from New York last year applied for an OCI (overseas citizen of India) Card, which would have allowed them multiple entries and a multi-purpose life-long visa to visit India, but the country did not recognize them as legally married and refused to issue it to them.
The couple filed a petition in Delhi High Court. Solicitor General Tushar Mehta, who is the central government's legal representative, stated in response to the petition that marriage is permissible between a "biological male" and "biological female" and the government therefore cannot issue an OCI Card to their spouse.
Although India struck down a colonial-era law that criminalized homosexuality in 2018, there is still no law for same-sex marriage. The LGBTQ community has been demanding for years that political parties legalize same-sex marriage, but the issue is yet to appear in any party's manifesto.
Lovpreet, who lives in Uttar Pradesh, believes that BJP is doing some good, like forming a trans advisory board last September.
"BJP is slowly moving towards being LGBTQ friendly, and if given the time and opportunity, it can do some good in the future," said Lovpreet.
The Indian National Congress (INC), a leading central left-wing party, is also fielding its candidate in the state election, but the party does not see LGBTQ issues as important.
Dr. Shashi Tharoor, an MP and chair of All India Professionals Congress, the INC's professional wing, refused multiple requests to speak on the legalization of same-sex marriage. The INC last week released its manifesto for the Uttar Pradesh election, but there were no promises for the LGBTQ community.
Former Defense Minister Jitendra Singh, an INC member who will set the party's agenda ahead of the Uttar Pradesh election, also refused to speak about the legalization of same-sex marriage and other LGBTQ issues in the state and the country.
Ram Gopal Yadav, the leader of the left-wing socialist Samajwadi Party and the head of the Council of States (Rajya Sabha), the upper house of the Indian Parliament, in 2013 while speaking with the media explicitly said that homosexuality is "unethical and immoral." But the Samajwadi Party has recently changed its tone regarding the community.
"With every aspect, whether it is farmers, whether it is women, whether it is children or the LGBTQ community, there will be continuous policy measures of the party that are progressive and liberal," said Samajwadi Party spokesperson Ghanshyam Tiwari. "When the government is progressive and not bounded by dogma, then every issue related to any community has to be looked at in a manner that gives equal opportunity and be empathetic towards them. The more vulnerable the community is, the greater government needs to do," he added further.
The Mayawati Prabhu Das-led Bahujan Samaj Party, a national party that is running in the Uttar Pradesh election, has emerged as an LGBTQ ally. The party, however, has not released its election manifesto and it is yet to be seen if it will include LGBTQ issues.
There is no political party in Uttar Pradesh or the country with significant LGBTQ representation.
Tiwari in a statement to the Washington Blade said there is no plan yet for the Samajwadi Party to field candidates from the community in the upcoming election, but the party can consider it for the upcoming parliamentary election.
"The central government is not decriminalizing same-sex marriage. They are looking at the conservative vote bank," said Preeti Sharma Menon, a spokesperson of the Aam Aadmi Party.
Aam Admi Party is a national party in the country. The party had fielded candidates in previous Uttar Pradesh elections but had no significant luck.
"To appease conservative voters, the ruling party, the BJP, is not taking steps to legalize same-sex marriage," Menon added further.
The Aam Aadmi Party in the previous parliamentary election had a trans candidate from Uttar Pradesh. The party has expressed its desire to field other candidates in the state's election from the community.
The BJP is ruling both the country and the Uttar Pradesh with no intention to support or address LGBTQ issues.
Senior BJP leader Sudhir Mungantiwar from the state of Maharashtra last year made several homophobic comments in Parliament. The party did not punish him, nor did other political parties condemn his statements.
It is yet to be seen how this election impacts policies of different political parties for the LGBTQ community in the upcoming parliamentary election of the country.
Mohit Kumar (Ankush) is a freelance reporter who has covered different stories that include the 2020 election in the U.S. and women's rights issues. He has also covered NASA, the European Space Agency, the Canadian Space Agency and loves to help people. Mohit is on Twitter at @MohitKopinion and can be reached at [email protected].
South Korean electronics giant pulls pro-LGBTQ ad after backlash
Singapore campaign showed mother supporting drag queen son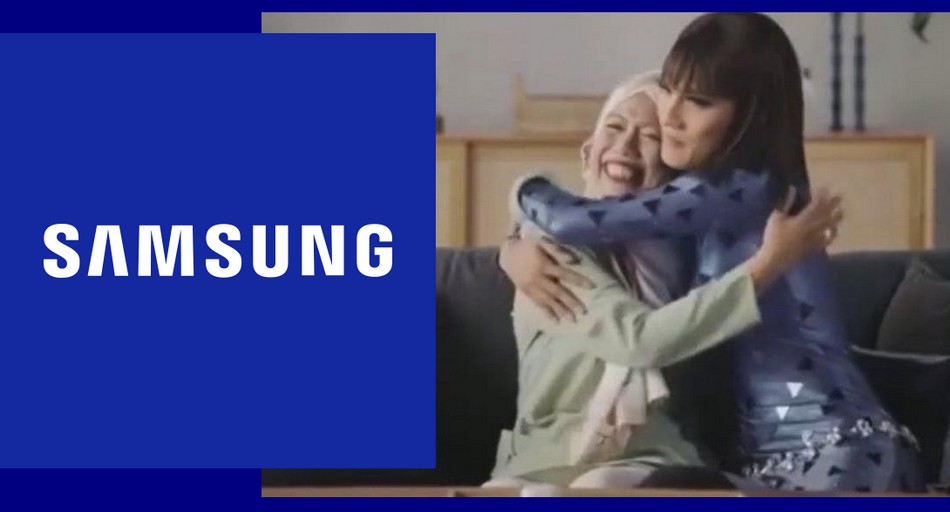 An advert campaign by South Korean electronics giant Samsung was yanked after significant backlash in Singapore from some members of its Muslim-majority community.
The ad, part of the company's "Listen to Your Heart" campaign to promote its Galaxy Buds2 and Watch4, featured a Muslim mother expressing support for her drag queen son.
The ad was meant to promote Samsung's new wearable products, like noise-cancelling earbuds and a smart watch with a heart rate monitor, the BBC reported.
The video featured several participants' reactions as they listened to heartfelt recorded messages from their loved ones. One of the pairs of participants featured a Muslim woman wearing a headscarf as she heard a message from her son, who was a drag performer.
"You are just unbothered having people looking or judging you differently, having a son that does drag," he tells her in his message.
The scene of the Muslim mother embracing her drag queen son sparked a torrent of negative commentary on virtually all social media platforms with some ad hominem remarks directed at Samsung which caused the electronics company to pull the ad.
In a Facebook post Samsung wrote;
"We acknowledge that we have fallen short in this instance, and have since removed the content from all public platforms," Samsung said. "Samsung believes that innovation and growth are driven by diversity and inclusivity. We will certainly be more mindful and thorough in considering all perspectives and viewpoints for our future marketing campaigns."
Members of the local LGBTQ community similarly expressed their disappointment at the ad being taken down.
"It was the first of its kind video coming from a minority group on a relationship between mother and son [and] was so affirming," Hilmi, a center manager at local LGBTQ organization Oogachaga, told BBC News.
"As a queer Malay man, I am saddened to see a video that expresses unconditional love [being] taken down abruptly due to societal pressure from a group of people with conservative values."
Marketing Interactive, an online Singapore-based daily news and email news service which is emailed every work day to advertising and marketing professionals in Singapore, Hong Kong, and Malaysia, interviewed Anand Vathiyar, managing director at Cheil Singapore, the ad agency Samsung partnered with.
The campaign was meant for people from all walks of life to be able to express their true feelings to their loved ones, Vathiyar said.
"What is heartening is that for everyone who is getting politically correct about this episode, there are many others, especially younger Singaporeans, who seem to get that we can do better to listen to each other with due care, empathy, respect, and consideration," Vathiyar added.
Meanwhile, in a video posted on Instagram on Jan. 20, the BBC noted that the son featured in the video also reassured followers that he and his mother were "doing well."
"I'm not going to talk about the comments that [were] said in [that video]," the drag performer known as Vyla Virus said.
"It was all about a mother's love in that video, nothing else was mentioned."
Two LGBTQ people named to Chilean president-elect's Cabinet
Gabriel Boric and his government takes office on March 11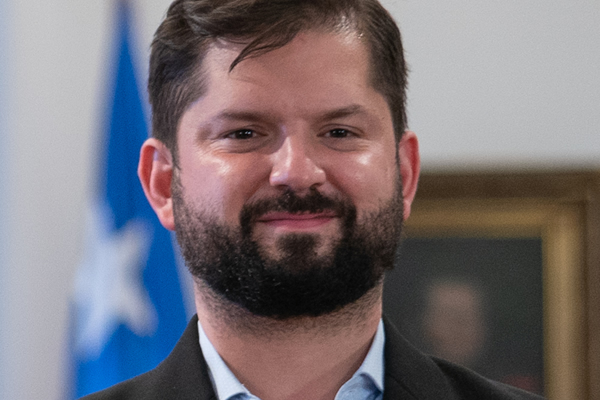 Chilean President-elect Gabriel Boric on Friday named two openly LGBTQ people to his Cabinet.
Marco Antonio Ávila, who is a gay man, will be the country's education minister. Alexandra Benado, who is a lesbian, will be Chile's sports minister.
Javiera Zúñiga, a spokesperson for Movilh (Movimiento de Integración y Liberación Homosexual), a Chilean LGBTQ rights group, applauded Boric for naming Ávila and Benado to his Cabinet.
"The visibility of sexual orientation and gender identity is no longer an impediment to access any position in Chile," said Zúñiga in a press release. "Sexual orientation and gender identity are irrelevant for the positions, whether they are public or private. Capability is the only thing that matters."
Boric and his government will take office on March 11. Chile's marriage equality law goes into effect the day before.