DNC treasurer says 'process' underway for ENDA directive
Is the White House studying LGBT workplace discrimination?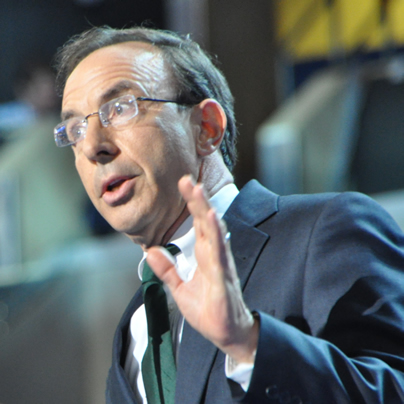 The treasurer of the Democratic National Committee is telling LGBT donors that "a process" is underway that would lead to President Obama signing an executive order banning LGBT workplace discrimination among federal contractors.
In an email dated May 30 from an off-the-record listserv leaked to the Washington Blade, Andy Tobias, who's gay, said in response to questions about the directive that he's spoken to officials within the administration and "everyone's for it," but the hold up is related to "process."
"I have spoken to people in an attempt to understand better myself what the delay is — and to lobby for its getting done," Tobias wrote. "Those people have left me satisfied that our frustration is heard, that the hold-up is not staffers who oppose our rights but a process that is broader than just this one very important and long delayed agenda item. To which I basically respond: can I share more of the specifics? ('Please don't') and can you please get a move on?! ('we hear you brother; keep the faith')."
Tobias, who's gay, concludes by saying other LGBT agenda items were achieved under President Obama, including hate crimes protection legislation, "Don't Ask, Don't Tell" repeal and the completion of the president's evolution on same-sex marriage. He added, "But they got done and this will get done too."
The email is a follow-up to an email that Tobias wrote already published by the Washington Blade from the same listserv responding to criticism over first lady Michelle Obama's speech during a DNC LGBT gala in New York. The second email is in response to a question from Freedom to Work's Tico Almeida.
Tobias declined to comment on the emails, although multiple individuals on the listserv confirmed they came from his email address.
Other emails from Tobias leaked to the Blade reveal that he's attempted to tamp down concerns among some on the listserv over the White House withholding the executive order. The second email is the one in which he talks most explicitly about a process potentially leading to the directive.
Shin Inouye, a White House spokesperson, reiterated that an executive order is a "hypothetical" matter for the administration.
"As we've said before, the White House has no updates regarding a hypothetical Executive Order on LGBT non-discrimination for federal contractors," Inouye said.
Still, this assertion of a process is consistent with indications from the White House that some kind of study is underway — or possibly completed — on LGBT discrimination protections.
In April, Inouye alluded to an examination in a previously unpublished response to the Blade over a little-noticed year-old quote from the Center for American Progress' Winnie Stachelberg about a study on the issue from the Council of Economic Advisers. Inouye said, "We continue to study the issue."
That year-old quote came after a high-level White House meeting in which Senior Adviser to the President Valerie Jarrett told LGBT advocates the administration wouldn't at the time issue an executive order for LGBT workplace protections. A source familiar with the meeting, who spoke on condition of anonymity, said White House officials didn't say CEA would conduct a study, but noted there are multiple options for how to study the issue and gave CEA as an example.
White House Press Secretary Jay Carney didn't deny the existence of the study last week when questioned about it during a news briefing, saying, "I don't have any updated status on that for you." The White House didn't respond to further requests from the Blade to elaborate.
Internal work within the Obama administration on the executive order reportedly was done more than a year ago. Sources told the Blade last year that the Labor and Justice departments indicated they could implement the order if Obama signed it.
But if a study is underway within the White House, it's being kept under tight wraps.
The Human Rights Campaign, Freedom to Work, the National Center for Transgender Equality and the Williams Institute said they're unaware of such a study. Center for American Progress didn't respond to requests for comment about it.
Groups that did respond said LGBT advocates — particularly Stachelberg and then-HRC president Joe Solmonese — strongly pushed back on the idea of a White House study a year ago, saying additional information was unnecessary amid other reports that have already been published.
For example, LGBT groups led by the Movement Advancement Project, HRC and CAP last week unveiled a 131-page report, titled "A Broken Bargain: Discrimination, Fewer Benefits and More Taxes for LGBT Workers" detailing the harms of the absence of any federal LGBT workplace discrimination protections. Among the findings were 67 percent of small business owners support federal workplace non-discrimination protections and 63 percent of Americans believe religious beliefs aren't an acceptable reason to fire LGBT workers.
Meanwhile, advocates, particularly at Freedom to Work, say the executive order is a campaign promise from President Obama based on a response to the Houston GLBT Political Caucus in 2008 indicating that he supports a non-discrimination policy for all federal contractors based on sexual orientation and gender identity.
It's possible the administration is awaiting the rulings from the Supreme Court in the Prop 8 and DOMA cases before the end of this month to evaluate what further action to take.
Tico Almeida, president of Freedom of Work, said he's hopeful that the administration is in the middle of a process that will lead to Obama signing the order sometime in June in accordance with Pride, but would "bet on a signature at some point later this year."
"I have never lost faith that President Obama is a man of his word who will fulfill his written campaign promise and sign the executive order," Almeida said. "He will build on his unmatched record as the best president ever for advancing LGBT equality. I'm keeping faith in President Obama."
The full email from Tobias follows:
Hey, Tico.  I can only give you an unsatisfactory answer.  But here it is.

I have spoken to people in an attempt to understand better myself what the delay is — and to lobby for its getting done.  Those people have left me satisfied that our frustration is heard, that the hold-up is not staffers who oppose our rights but a process that is broader than just this one very important and long delayed agenda item.

To which I basically respond: can I share more of the specifics? ("Please don't") and can you please get a move on?! ("we hear you brother; keep the faith").

If this just serves to make you more angry, then of course I should have ignored your question.  But it's a completely fair question and I'd rather be damned for trying to provide at least a little context, unsatisfactory though it surely is, than for failing to respond.

If we all keep pushing, not least with this Exxon action to focus around, we'll get there — later than we should have but a great deal sooner than we would have if we hadn't helped reelect the President.

Hate crimes was done too slowly — we deserved it 20 years ago. DADT and evolution on marriage and all the rest. But they got done and this will get done too.

Push and support.  Both directly in our self interest.

Andy
LGBTQ people: Canaries in a violent coal mine
We continue to be targets We continue to be targets of politically inspired attacks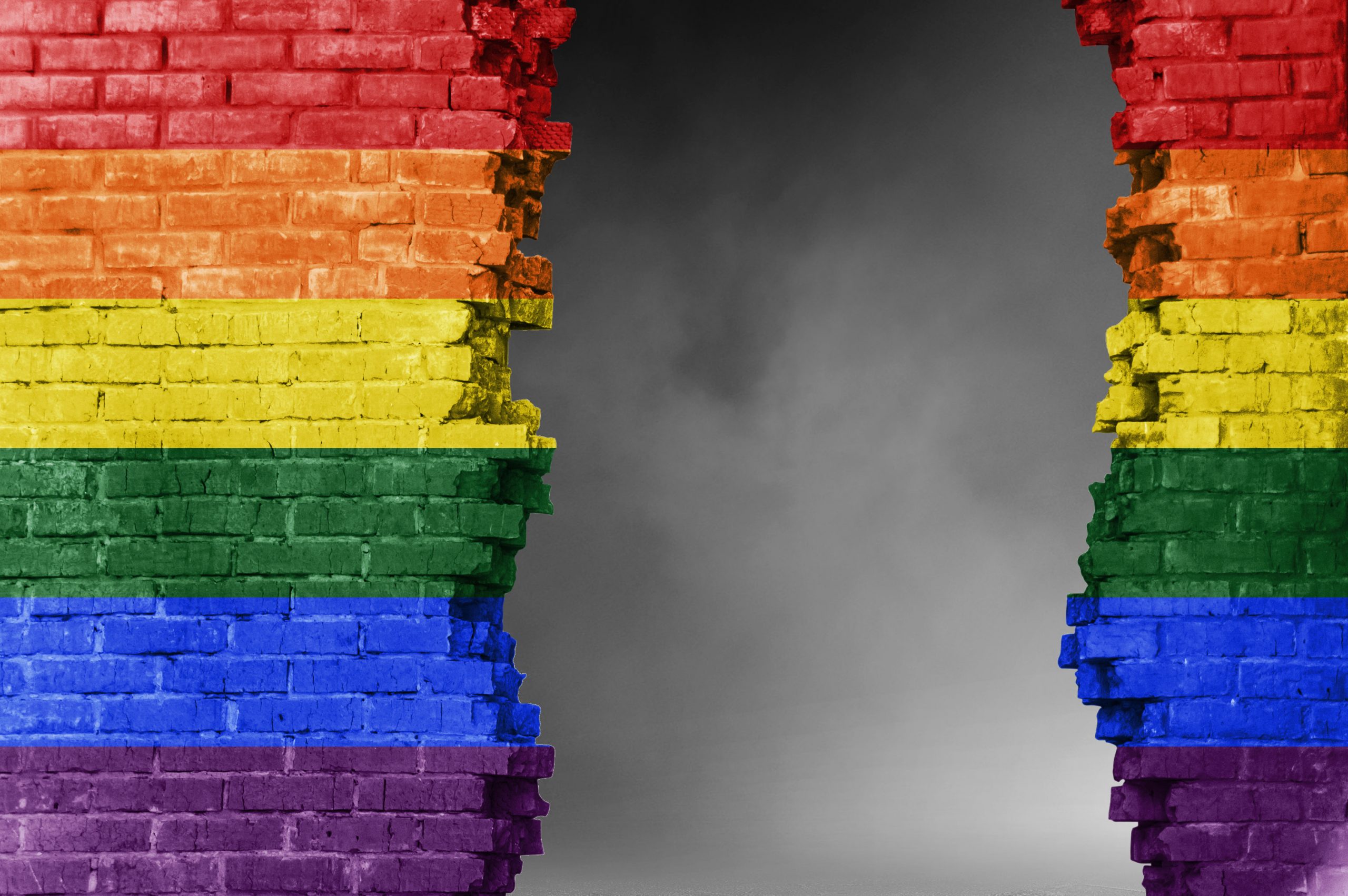 Did you read about the group of staid U.S. historians who just met privately with President Biden to warn him that U.S. democracy is teetering? They told him we're closer to civil war and authoritarian rule than at any point in history since the 1860s.
Guess who knew that already? Queer people. Black people. Immigrants. Women. Politicians on the right are using us as punching bags, and violence is breaking out everywhere.
It's not in our imaginations, and I'll show you the data in just a minute to back that up. Then I'll explain what that has to do with the breakdown of democracy.
But first, let's meet some canaries.
Chuck Johnson and J.P. Singh recently told the Washington Blade a group of young men spotted them holding hands steps away from their D.C. home. As the couple was returning from an evening out, the group shouted that they were "faggots" and punched them both. The couple ran, but the men chased them down. They knocked Chuck to the ground, punching and kicking him.
Responding to J.P.'s 911 call, EMS rushed Chuck to the hospital where he was treated for a broken thumb and underwent surgery for a jaw broken in two places.
According to the Blade, another gay couple was attacked in D.C. under similar unprovoked circumstances on Aug. 7, chased down by random strangers who objected to them holding hands, then called them "monkeypox faggots," knocking them to the ground, brutally punching and kicking them.
Jacob and Christian are also canaries.
They're a gay couple who were attacked while standing at the end of Christian's driveway in a suburb of Salt Lake City, Utah in July. A group of young men in a car spotted them hugging. They jumped out, yelling, "We don't like gay people in our street."
Christian tried to defend Jacob from violence by stepping in front of him. He ended up on the ground, beaten so badly he landed in the hospital diagnosed with brain swelling.
I interviewed Christian and his family earlier this month and learned that he often puts up with anti-gay slurs shouted at him in the street by random strangers.
Over the past week, nurses and doctors in Boston have received a barrage of hateful phone calls and text messages, including at least one bomb threat, inspired by anti-LGBTQ extremist Chaya Raichik of Brooklyn who tweets as Libs of Tiktok. Raichik objects to parents choosing gender-affirming care for transgender teens, and she objects to medical providers delivering that care. She used Twitter to unleash an army of Proud Boys and other haters.
Slate reporter and Harvard Law instructor Alejandra Caraballo tweeted this: "In the last 5 days, Libs of Tiktok has tweeted and retweeted 14 posts about Boston Children's Hospital. As a result, BCH providers are being inundated in death threats and harassing calls and emails. It's now affecting their services. This is stochastic terrorism, full stop."
When I saw the tweet, I called a friend of mine who practices internal medicine at a different Boston hospital. As I asked him for a comment, he reminded me that we watched the 2016 election returns together at a bar in Detroit.
"I won't say I told you so," he said. "But I told you so."
I remembered how fearful he became the night Donald Trump was elected. "I'm from Lebanon," he reminded me, "and my last name broadcasts 'Arab' loud and clear. Trump is going to make my life hell, and since you're a gay man, you'd better be as worried as I am."
Libs of Tiktok is the tip of the iceberg on Twitter, where attacks against LGBTQ people are constant background noise, and where community standards meant to prohibit slurs and attacks are rarely enforced. Caraballo asks in her tweet thread, "When will Twitter do something about [Libs of TikTok] and their ability to rile up massive harassment campaigns against their targets? Last time it was Nazis at pride and drag events. This time it's threatening pediatricians."
According to a new study released on Aug. 10 by the Human Rights Campaign and the Center for Countering Digital Hate, "discriminatory and inflammatory "grooming" content surge by over 400% across social media platforms" in response to Florida's Don't Say Gay law.
According to Christopher Kane writing in the Los Angeles Blade, major social media platforms including Facebook and Twitter are doing almost nothing to counter growing waves of anti-LGBTQ hate speech on their platforms. Both platforms claim their rules prohibit users from calling LGBTQ people pedophiles or groomers, but neither platform routinely removes such slurs, not even when users report the slurs.
According to Alexandra Martinez writing in Prism, anti-LGBTQ arson and frequent street attacks in New York City have left queer people this summer living with a gnawing feeling of unease.
It's not just New York City. She notes that 2021 was the deadliest year on record for LGBTQ people in the U.S., and that violence rates are surging higher in 2022.
Remember Ricky Shiffer who was shot and killed after he tried to shoot up an Ohio FBI office? He was outraged that the FBI searched Donald Trump's Mar-a-Lago resort. He urged people to arm themselves and join him.
Did you know hatred of LGBTQ people is one of the reasons he supported Trump? Read this tweet, in an account deleted after his attack:
"We need to be ready for war against the communists who chemically nueter [sic] prebuscent [sic] children and call it gender transitioning, not bellyache about the arguments of 30 years ago. Save ammunition."
Large majorities of Americans say they support LGBTQ equality. Large majorities of Americans say they believe our nation should stand for freedom and liberty for all, including for marginalized people. Large majorities of Americans support women's reproductive freedom, support taking steps to lift up Black people, and support immigrant rights.
Large majorities of Americans want to live in a diverse, pluralistic society where everyone is free to pursue happiness and live in peace.
I wrote this column from the perspective of a queer person, but my Lebanese-American doctor friend could have written something similar from his immigrant perspective. My writer friend Allison Gaines could have written from the perspective of a Black woman.
We share a common fear: that politically and religiously conservative white men are working as hard as they can to sow fear of the Other for personal power and privilege. Men like Donald Trump, Florida Gov. Ron DeSantis, Texas Gov. Greg Abbott, and many more are plying the demagogue's trade.
Leaders are spouting hate, seeking to establish or maintain minority rule, and historians are warning President Biden that they may very well succeed.
Chuck Johnson, J.P. Singh, Chad Sanford, Jacob Metcalf, Christian Peacock, and a score of nurses and doctors at Boston Children's Hospital already know. They've been the targets of extreme violence in the past few weeks, directed by people using hatred of the Other to prop up their own privilege and power.
I opened this article by writing about the historians who told President Biden that we're at a place we haven't been since the 1860s. In the same meeting, they made a more frightening comparison.
They warned the president we're at a very similar place to where Germany found itself in the 1930s when a demagogue took power by demonizing the Jews. They say a war like the one that destroyed Europe could repeat itself soon, only with the U.S. in the driver's seat.
We worry the rest of you don't see and hear the hatred directed against us. We worry that you're too complacent. We don't think you appreciate the gravity of the crisis facing our nation. We fear apathy will let the the Republican Party seize Congress and state governments this November, unleashing a process that could cement minority rule for generations.
Extremists in the Republican Party are already quietly taking over state election offices, something the Washington Post warned about last November.
Will Democratic voter turnout this November be overwhelming? Will it be enough to stop the assault on our teetering Democracy?
Only you can help make that happen. Will you?
(The preceding article was previously published by Prism & Pen– Amplifying LGBTQ voices through the art of storytelling and is republished by permission.)
James Finn is a columnist for the Los Angeles Blade, a former Air Force intelligence analyst, and alumnus of Queer Nation and ACT UP. Reach him at [email protected].
Anne Heche dies after removal from life support
Actress dated Ellen DeGeneres in late 1990s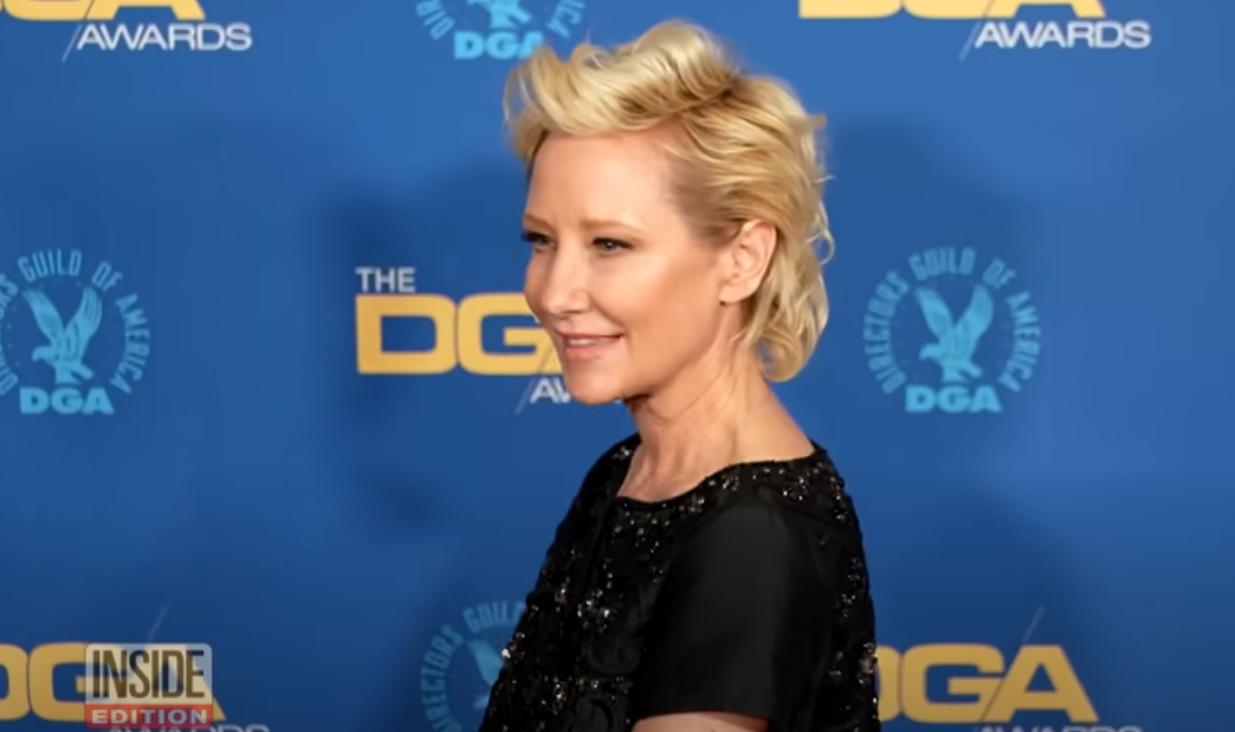 Actress Anne Heche died after she was removed from life support on Sunday, nearly two weeks after her Mini-Cooper crashed through a two-story house in Los Angeles' Mar Vista neighborhood. Investigators with the Los Angeles Police Department believe she was intoxicated at the time.
She sustained a severe anoxic brain injury along with severe burns and was being treated at the Grossman Burn Center at West Hills Hospital, near Chatsworth in the San Fernando Valley.
The 53-year-old actress who was a star of films like "Donnie Brasco," the political satire "Wag the Dog" and the 1998 remake of "Psycho," had been declared legally dead under California law on Friday, however, her family kept her alive long enough to be an organ donor.
In a statement Friday, the LAPD announced that: "As of today, there will be no further investigative efforts made in this case. Any information or records that have been requested prior to this turn of events will still be collected as they arrive as a matter of formalities and included in the overall case. When a person suspected of a crime expires, we do not present for filing consideration." LAPD detectives had previously made public that investigators into the crash found narcotics in a blood sample taken from Heche.
The actress's family released a statement on Friday:
"Today we lost a bright light, a kind and most joyful soul, a loving mother, and a loyal friend. Anne will be deeply missed but she lives on through her beautiful sons, her iconic body of work, and her passionate advocacy. Her bravery for always standing in her truth, spreading her message of love and acceptance, will continue to have a lasting impact," the statement added.
Heche was married to camera operator Coleman Laffoon from 2001 to 2009. The two had a son, Homer, together. She had another son, named Atlas, during a relationship with actor James Tupper, her co-star on the TV series "Men In Trees."
Laffoon left a moving tribute on an Instagram reel in which he also gave an update on how their 20-year-old son Homer Laffoon is coping with the loss of his mother.
"I loved her and I miss her, and I'm always going to," he said adding: "Homer is okay. He's grieving, of course, and it's rough. It's really rough, as probably anybody can imagine. But he's surrounded by family and he's strong, and he's gonna be okay."
"Rest In Peace, Mom, I love you, Homer," the actor's 20-year-old son, Homer, said in a statement after Heche was declared legally dead on Friday." My brother Atlas and I lost our Mom," read the statement. "After six days of almost unbelievable emotional swings, I am left with a deep, wordless sadness. Hopefully, my mom is free from pain and beginning to explore what I like to imagine as her eternal freedom. Over those six days, thousands of friends, family, and fans made their hearts known to me. I am grateful for their love, as I am for the support of my Dad, Coley, and my stepmom Alexi who continue to be my rock during this time. Rest In Peace Mom, I love you, Homer."
Tupper, a Canadian actor who starred alongside Heche in "Men in Trees," had a 13-year-old son, Atlas, with her. "Love you forever," Tupper, 57, wrote on his Instagram post's caption with a broken heart emoji, which shared an image of the actress from Men in Trees.
Between 1997 and 2000, Heche was also in a relationship with talk show host Ellen DeGeneres.
"This is a sad day," DeGeneres posted on Twitter. "I'm sending Anne's children, family and friends all of my love." The year after her break-up with the comedian, in September 2001, Heche recounted in her memoir "Call Me Crazy," about her lifelong struggles with mental health and a childhood of abuse.
KTLA's entertainment reporter Sam Rubin noted that over the past two decades, Heche's career pivoted several times. In 2017, she hosted a weekly radio show on SiriusXM with Jason Ellis called "Love and Heche."
In 2020, Heche made her way into the podcast world. She launched "Better Together" which she cohosted alongside Heather Duffy Boylston. The show was described as a way to celebrate friendship.
She also worked in smaller films, on Broadway, and on TV shows. She recently had recurring roles on the network series "Chicago P.D.," and "All Rise" and was a contestant on "Dancing with the Stars."
People magazine reported that several of Heche's acting projects are expected to be released posthumously.
These include "Girl in Room 13," expected to be released on Lifetime in September, "What Remains," scheduled to be released in 2023, and HBO Max TV series "The Idol," created by Abel Tesfaye (The Weeknd) and Euphoria creator Sam Levinson.
In her Instagram post from earlier this year Heche stands between her sons Atlas, 13 and Homer, 20.
From KTLA:
'Star Trek' actress Nichelle Nichols dies at 89
George Takei tweets 'we lived long and prospered together'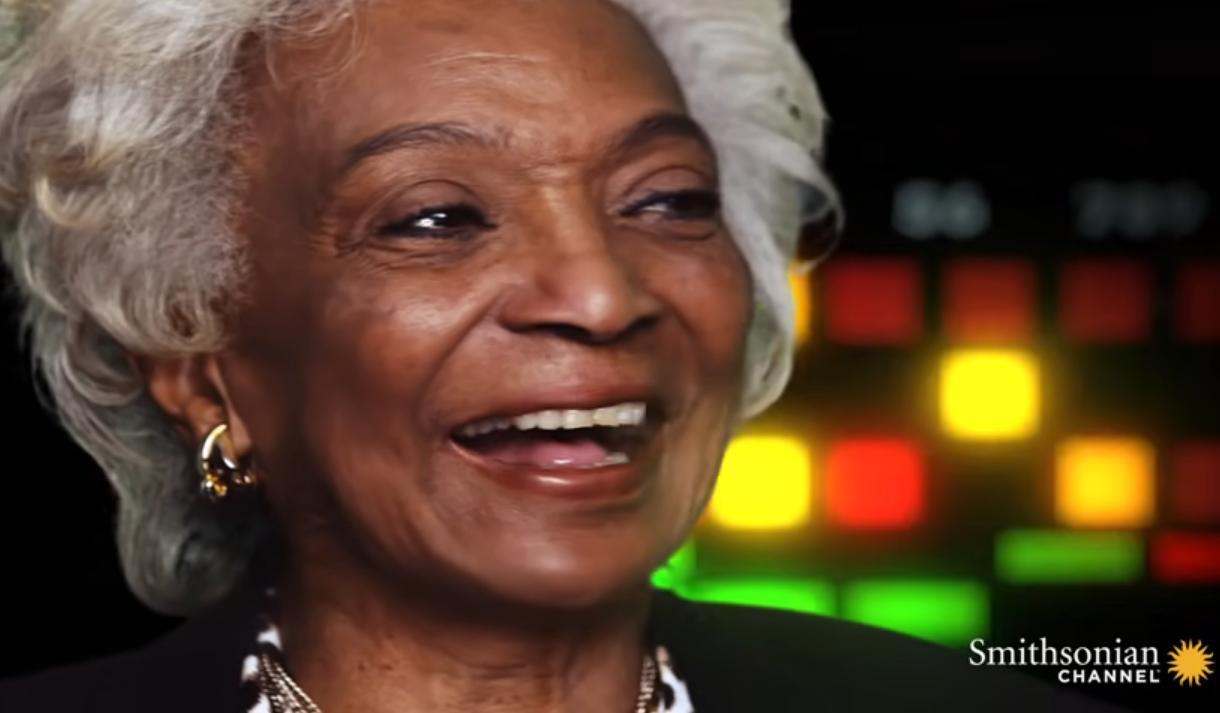 She was a groundbreaking cultural icon who broke barriers in a time of societal upheaval and battling for the civil rights of Black Americans. An actress, a mother and thoroughly devoted to the legions of fans of "Star Trek," Nichelle Nichols, Star Trek's Lt. Nyota Uhura, has died at 89.
The announcement on her Facebook page by her son read:
Sunday, July 31, 2022
Friends, Fans, Colleagues, World
I regret to inform you that a great light in the firmament no longer shines for us as it has for so many years.
Last night, my mother, Nichelle Nichols, succumbed to natural causes and passed away. Her light however, like the ancient galaxies now being seen for the first time, will remain for us and future generations to enjoy, learn from, and draw inspiration.
Hers was a life well lived and as such a model for us all.
I, and the rest of our family, would appreciate your patience and forbearance as we grieve her loss until we can recover sufficiently to speak further. Her services will be for family members and the closest of her friends and we request that her and our privacy be respected.
Live Long and Prosper,
Kyle Johnson
Nichols was born in Robbins, Ill., in 1932, according to her IMDb page. Legendary composer Duke Ellington "discovered" Nichols and helped her become a singer and dancer. She later turned to acting, and joined Gene Roddenberry's "Star Trek," where she played Uhura from 1966 to 1969.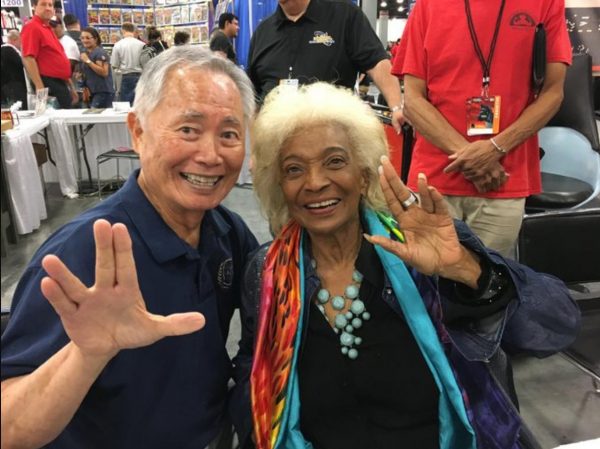 It was in that role of Uhura that Nichols not only broke barriers between races, most famously her onscreen kiss, the first between a Black person and a white person, with castmate William Shatner, who played Capt. James T. Kirk, but she also became a role model for young Black women and men inspiring them to seek out their own places in science, technology, and other human endeavors.
In numerous interviews over the years Nichols often recalled how the Rev. Martin Luther King, Jr., was a fan of the show and praised her role and personally encouraged her to stay with the series.
When the first series ended Nichols went on to become a spokesperson for NASA, where she "helped recruit and inspire a new generation of fearless astronauts." She later reprised her role in several successful "Star Trek" films and continued to advocate for the advancement of Black Americans especially in the areas of science and technology.
We celebrate the life of Nichelle Nichols, Star Trek actor, trailblazer, and role model, who symbolized to so many what was possible. She partnered with us to recruit some of the first women and minority astronauts, and inspired generations to reach for the stars. pic.twitter.com/pmQaKDb5zw

— NASA (@NASA) July 31, 2022
Formerly a NASA deputy administrator, Frederick Gregory, now 81, told the Associated Press he once saw an advertisement in which Nichols said "I want you to apply for the NASA program."
"She was talking to me," he recounted. The U.S. Air Force pilot would apply and later become the first African American shuttle pilot.
President Joe Biden weighed in Sunday afternoon on her passing in a statement issued by the White House:
"In Nichelle Nichols, our nation has lost a trailblazer of stage and screen who redefined what is possible for Black Americans and women.

A daughter of a working-class family from Illinois, she first honed her craft as an actor and singer in Chicago before touring the country and the world performing with the likes of Duke Ellington and giving life to the words of James Baldwin.

During the height of the Civil Rights Movement, she shattered stereotypes to become the first Black woman to act in a major role on a primetime television show with her groundbreaking portrayal of Lt. Uhura in the original Star Trek. With a defining dignity and authority, she helped tell a central story that reimagined scientific pursuits and discoveries. And she continued this legacy by going on to work with NASA to empower generations of Americans from every background to reach for the stars and beyond.

Our nation is forever indebted to inspiring artists like Nichelle Nichols, who show us a future where unity, dignity, and respect are cornerstones of every society."
Nichols son said that services will be private for family members and her closest friends.
In 2008 the actress at a news conference, coordinated by the filmmakers of the motion picture "TRU LOVED," in honor of the more than 900 students at Los Angeles' Miguel Contreras Learning Complex's School of Social Justice who participated in the GLSEN Day of Silence.
Nichelle Nichols speaks on LGBTQ rights:
Her fellow castmate and life long friend, openly Out actor George Takei shared his sadness on hearing of Nichols' passing on Twitter:
We lived long and prospered together. pic.twitter.com/MgLjOeZ98X

— George Takei (@GeorgeTakei) July 31, 2022
From the September 2016 edition of the Smithsonian Channel: "Star Trek's decision to cast Nichelle Nichols, an African American woman, as major character on the show was an almost unheard-of move in 1966. But for black women all over the country, it redefined the notions of what was possible."
Star Trek's Nichelle Nichols on Uhura's Radical Impact: