D.C. man sentenced to 7 years in anti-gay stabbing
Attackers used anti-gay slurs during June 2012 stabbing outside of the Howard Theatre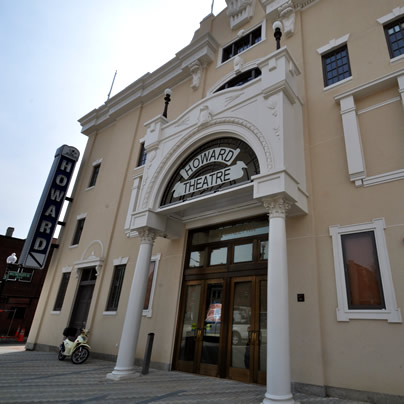 A D.C. Superior Court judge on June 28 sentenced District resident Ali Jackson, 20, to seven-and-a-half years in prison for the June 2012 stabbing of a 16-year-old gay male outside the city's Howard Theatre.
A statement released by the Office of the United States Attorney for the District of Columbia says prosecutors classified the incident as a hate crime based on evidence that Jackson made threatening statements and anti-gay slurs at the time of the attack.
"Violence fueled by hate tears at the fabric of our society," said U.S. Attorney for D.C. Ronald Machen in the statement. "As this prison sentence demonstrates, in the District of Columbia, we have zero tolerance for violent crimes driven by ignorant prejudice."
Jackson pled guilty in January to a charge of assault with intent to kill in connection with the stabbing incident. The sentence handed down against him on June 28 by Judge Patricia Broderick came after two others involved in the incident pled guilty in March to a charge of simple assault.
Police and prosecutors said Ali Jackson's sister, Alvonica Jackson, 26, and her boyfriend, Desmond Campbell, 34, held the victim by his arms and neck, preventing him from fleeing as Ali Jackson stabbed him with a knife three times – in the left arm, the left side of his back, and the left leg. Alvonica Jackson and Campbell also hurled slurs at the victim during the attack, according to the U.S. Attorney's Office statement.
Alvonica Jackson was sentenced earlier this year to 360 days of incarceration with all but 30 days suspended. She had also been charged with second-degree theft for stealing money at the Howard Theatre. Campbell was sentenced to 180 days in jail with all but 30 days suspended. The suspended part of the sentences for both is contingent on their complying with the terms of two years of probation following their release from jail, to which they were also sentenced.
Two injured in gunfire outside crowded 14th Street restaurants
Witnesses say 20 shots fired near Blade, Whitman-Walker offices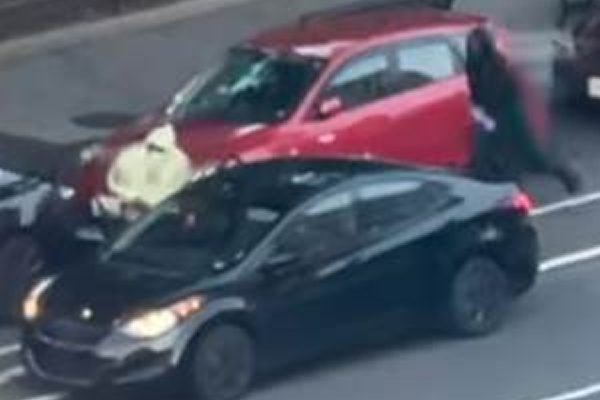 D.C. police are seeking the public's help in identifying at least three suspects involved in a shooting in which two men were wounded shortly after 8 p.m. on Thursday, July 22, on the 1700 block of 14th Street, N.W. where the offices of the Washington Blade and Whitman-Walker Health, the LGBTQ supportive health center, are located.
The shooting occurred while dozens of people were dining at restaurants along the bustling street in the heart of the city's Logan Circle nightlife area.
Police released a video showing two men – one wearing a white hooded sweater or sweatshirt and the other wearing a dark colored similar hooded shirt running along the street and entering the front and rear passenger doors of a black car double parked on the street that police described as an older model Honda Civic with D.C. license plates.
The video shows the car driving away at a fast speed with a third person driving the vehicle.
"Detectives from the Metropolitan Police Department's Third District seek the public's assistance in locating suspects and a vehicle in reference to an Assault with Intent to Kill (Gun) offense," a statement released by D.C. police says.
"At approximately 8:20 p.m., members of the Third District heard the sounds of gunshots and responded to the listed location," the statement says. "Upon arrival, members located two adult male victims, both conscious and breathing, suffering from gunshot wounds," according to the statement. "DC Fire and Emergency Medical Services responded to the scene and transported the victims to area hospitals for treatment of non-life-threatening injuries."
The shooting incident took place at a time when many city residents and police were on edge following the fatal shooting of a 6-year-old girl on July 16 in Southeast D.C. and the firing of gunshots last Saturday outside Washington Nationals Stadium during a game, which prompted people inside the stadium, who heard the gunshots, to duck for cover.
D.C. Police Chief Robert Contee, who was accompanied by D.C. Mayor Muriel Bowser at a news conference at the scene of the shooting on Thursday night, said investigators believe one of the two men wounded by the gunfire was a target of the shooting. Contee said police believe the second victim was hit in the crossfire.
"We've got to make sure we're doing everything we can as an entire system here in the District of Columbia to hold offenders accountable when these things happen in our community," Contee said. "This is unacceptable. That's the bottom line. It is totally unacceptable behavior," he said.
"I'm asking the community to take a look at these videos," he told reporters at the press conference. "If you know the person or the vehicle or somebody who is in that – there is one individual with a very distinctive hoody that he was wearing – please look at that very closely," he said. "We're asking for the community's help."
When asked by a reporter to comment on expressions of outrage by members of the community over the widespread outbreak of gun violence in the city, Bowser said she shares that concern.
"Well, I'm outraged. The chief is outraged. And the community should be outraged," the mayor said. "What we saw tonight and unfortunately what we saw over the last several days is an illegal firearm brazenly used on D.C. streets," Bowser said.
"And we know that our investigators and detectives are going to track down every lead. Our citizens have already been helpful in supplying leads and video and anything else that they saw so that we can get these individuals off the street and hold them accountable," the mayor said.
Witnesses have said the Thursday night shooting on 14th Street reportedly occurred at the intersection of Riggs Street outside the Mexicue Restaurant, which is located at 1720 14th Street, N.W. The Blade office is located just a few doors down and Whitman-Walker's Elizabeth Taylor building is a short distance away across the street at 14th and R Street, N.W.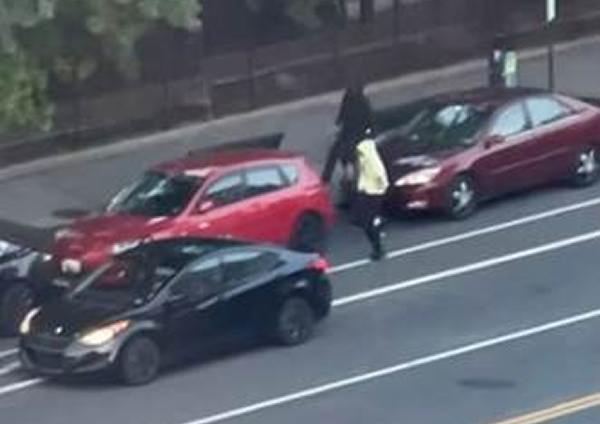 Suspect charged in murder of trans woman in PG County apartment
District Heights man apprehended in Arlington following unrelated arrest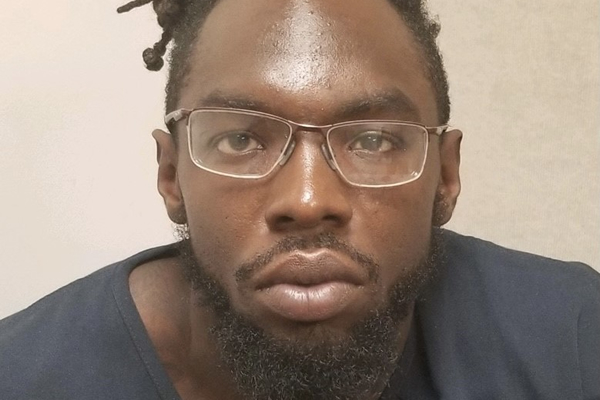 Prince George's County, Md., Police announced on Wednesday that homicide investigators identified and filed murder charges against a 27-year-old District Heights, Md., man for the July 17 homicide of transgender woman Taya Ashton, 20, who was found shot to death in her apartment in nearby Suitland, Md.
In a statement, P.G. Police said they charged DeAllen Davonta Price of the 6400 block of Hil Mar Drive in the unincorporated area of District Heights with first-degree and second-degree murder and related charges in connection with Ashton's death.
According to the statement, while P.G. police detectives identified Price as a suspect in the Ashton murder, Arlington County, Va. Police arrested him on July 18 on an unrelated robbery charge after he attempted to flee from Arlington and Metro Transit police inside a train tunnel at the Pentagon City Metro Station.
"With the assistance of Metro Transit Police, Prince George's County Police detectives and a K9 officer searched those tracks and recovered a weapon that's now been linked to Taya's murder," the P.G. Police statement says.
"Price remains in custody in Virginia pending extradition to Prince George's County," the statement says. "The motive remains under investigation," says the statement, but it adds, "Detectives have uncovered no evidence suggesting Taya's murder was due to her gender identity."
The announcement by P.G. police of Price's arrest came on the same day that family members and friends of Taya Ashton held a vigil to honor her life at 4 p.m. on Wednesday at River Terrace Park in Northeast D.C. along the banks of the Anacostia River, which is part of the neighborhood were Ashton grew up.
Veteran D.C. LGBTQ rights advocate Phil Pannell, who attended and spoke at the vigil, said that in addition to family members and friends of Ashton's, those who spoke included Prince George's County State's Attorney Aisha Braveboy; D.C. Council member Trayon White (D-Ward 8), D.C. transgender rights advocate Earline Budd, and numerous community leaders in D.C. and P.G. County. Budd said more than 200 people turned out for the vigil.
At the conclusion of the vigil, many of the participants drove in a lengthy caravan of cars to the apartment building in the Suitland section of Prince George's County, where Ashton lived and where her life ended, to further honor her.
"The nearby streets were completely filled with people coming out for Taya and her family," Budd said.
A three-page charging document filed in Prince George's County District Court by P.G. Police on Wednesday, July 21, provides a detailed account of how homicide detectives used cell phone records and high-tech firearm ballistics techniques to link Price to the murder.
P.G. police said homicide detectives began an intense investigation into the murder almost immediately after family members who discovered Ashton's body at her apartment on July 17 called police. Ashton's grandfather, Stuart Anderson, who said Taya Ashton's status as a transgender woman was accepted by her family, told the Blade that family members who arrived at the apartment could not find any evidence of a forced entry, leading them to believe the assailant responsible for the murder may have been someone Ashton knew and invited into her home.
The charging document says that although Ashton's phone was missing from the apartment and presumed stolen at the time her body was found, detectives obtained her phone number from family members and used it to discover through the tracing of her calls and text message records that she and Price communicated with each other by text or calls between Friday, July 16, one day prior to the murder, and at 11:42 p.m. Saturday, July 17.
"This is the last call that the Decedent makes or answers before being found deceased," the charging document states.
According to the charging document, earlier in the evening of July 17 Ashton and a friend of hers exchanged text messages in which Ashton wrote, "My dude is on his way" which the friend understood to mean a sexual encounter was expected to take place. A short time later Ashton told her friend in a follow-up text message "that a sexual encounter occurred," the charging document says.
"As the investigation continued, it was discovered that Defendant was arrested on 07/18/2021 at approximately 1642 hours [4:42 p.m.] by the Arlington County Police Department for a theft," the charging document in support of Price's arrest says.
It says that when Arlington Police initially attempted to apprehend Price, "he jumped off of a platform and ran into a subway tunnel towards the Pentagon Metro Station." The document says he hid inside the tunnel for about two hours before being arrested after he walked out of the tunnel into the station.
At the time of his arrest, the charging document says, Price was in possession of a Gucci cross strap bag with distinct markings that Ashton's family members reported was missing from her apartment at the time her body was found.
A short time later, P.G. County homicide investigators, who arrived on the scene, conducted a search of the train tunnel and found a black semi-automatic .40 caliber Smith and Wesson handgun, the charging document states.
It says that that a police firearm expert, after examining the gun, "was able to conclude that the fired .40 caliber cartridge casing recovered from the scene [of the murder] and the fired projectile recovered from the Decedent's body were fired from the Smith and Wesson handgun bearing serial #HTU3274 recovered from the area the Defendant hid from police."
The document states that when questioned after his arrest, Price waived his Miranda rights to withhold comment and obtain representation from an attorney and acknowledged that police had obtained access to his correct cell phone number.
"He also admitted to being sexually intimate with the Decedent and stated that he has known the Decedent for approximately three months," the charging document continues. "He then admitted to being at the Decedent's apartment the night of the murder and being sexually intimate with the Decedent that night," it says.
"Based on the aforementioned facts, the evidence indicates that the Defendant is responsible for shooting and killing the Decedent," the document concludes. The document does not state whether detectives asked Price whether he committed the murder or whether or not he admitted or denied fatally shooting Taya Ashton.
An arrest warrant that accompanies the charging document says that in addition to being charged with first-degree and second-degree murder, police charged Price with Assault-First Degree; Firearm Use/Felony Crime of Violence; Assault-Second Degree; Handgun on Person; and Loaded Handgun on Person.
Court records show that Price had been arrested in Virginia and Maryland several times prior to his latest arrests beginning in 2012 on charges that include illegal possession of a firearm, armed robbery, misdemeanor theft, and grand larceny.
LGBTQ ally Hoffberger stepping down at American Visionary Art Museum
Iconic Baltimore attraction looking for a successor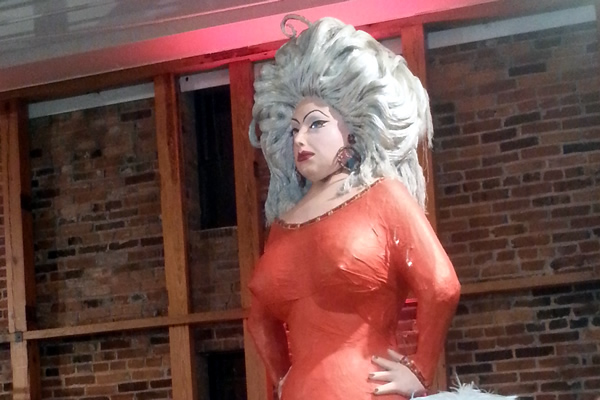 A longtime ally of the LGBTQ community is leaving her job in the arts world.
After 26 years as founder, director and primary curator of the American Visionary Art Museum in Baltimore, Rebecca Alban Hoffberger disclosed this week that she will retire in March of 2022.
In 1992, Congress designated the museum as a "national repository and educational center for visionary art," which is defined as works "produced by self-taught individuals, usually without formal training" which arise from "an innate personal vision that revels foremost in the creative act itself."
Rather than focusing on works of visionary art as objects unto themselves, Hoffberger curates exhibits that combine art, science, philosophy, and humor, always with an underlying focus on social justice and betterment. AVAM's exhibits have explored themes ranging from hunger, public health and climate change to sleep and what makes us smile.
Throughout her tenure, Hoffberger has supported LGBTQ artists by featuring their work and stories in her themed exhibits and adding their work to the museum's permanent collection. While other museums have only recently begun to call attention to their efforts to support Diversity, Equity, Inclusion and Access, AVAM has done it all along.
One of AVAM's best known and most photographed pieces by an LGBTQ artist is British sculptor Andrew Logan's 10-foot-tall statue of Divine, a tribute to the gay actor and Baltimore native who starred in drag in "Pink Flamingos," "Multiple Maniacs," "Hairspray" and other movies by filmmaker John Waters.
Logan, whose paintings and sculpture fill the Andrew Logan Museum of Sculpture between England and Wales, has two other works at AVAM: Icarus, a figure suspended above the main staircase, and the Cosmic Galaxy Egg, an eight-foot sculpture on a plaza outside the museum's Jim Rouse Visionary Center.
Other LGBTQ artists highlighted at AVAM include painter James Snodgrass; Judy Tallwing McCarthy, an Apache leatherwoman and multi-media artist who won the first International Ms. Leather contest in 1987; Andrey Bartenev, a Russian performer, sculptor and experimentalist who won the Alternate Miss World pansexual beauty pageant in 2018 as Miss UFO; and psychic and "consciousness researcher" Ingo Douglas Swann, co-founder of the Stargate Project that was launched to investigate psychic phenomena in military and domestic intelligence applications.
Local visionary talents include woodworker Bob Little; Bob Adams, a multi-media artist and one of John Waters' Dreamlanders, whose photographs, scrapbooks, shrines and other assemblages have been featured in three AVAM exhibits, and Bob Benson, a popular classical music radio host who became a prolific visual artist later in life, responsible for the fart machine in the museum's Flatulence exhibit; the blinged-out Universal Tree of Life visible on Key Highway (made with Rick Ames and David Hess); the ocean beneath Icarus and the sky above him, and many other creations.
The museum has supported the LGBTQ community in other ways as well. It was one of the first places in Maryland to offer a welcoming setting for same-sex weddings, even before they were legal in the state. Couples would get married in the District of Columbia, where it was legal, and then come to AVAM's Meditation Chapel to have a second wedding and reception.
One of Hoffberger's year-long exhibits was called "Race, Class and Gender: 3 Things that Contribute "0" to CHARACTER (Because being a Schmuck is an equal opportunity for everyone!), also known as The Character Show. As part of that 2005-2006 presentation, she wrote an essay entitled "gender," in which she explored the ways people in different countries think about transgender citizens; "intersex" children born with both male and female reproductive organs; gender "verification" for athletes; gender fluidity, the "gender rights" movement and related subjects.
"Every human being is precious," she argued at the end. "We are all, all of us, part of God's family. We all must be allowed to love each other with honor."
The museum's shop, Sideshow, has a gay owner whom she recruited from Chicago, Ted "Uncle Fun" Frankel, and is filled with gay-friendly books and gifts that reflect his sensibility. TripSavvy.com, a website last month named AVAM the LGBTQ+ Best Hidden Gem in Maryland. Readers of The Baltimore Sun just chose it as Baltimore's Best Museum and Best Tourist Attraction.
In announcing her departure, Hoffberger said she loves her time at the museum but wants to pursue other interests, including writing a play about the close friendship between inventor Nikola Tesla and writer Mark Twain.
"I consider myself the luckiest woman I know," she said. "It has been such a fantastic privilege to imagine, birth and to help our American Visionary Art Museum flourish over these past decades, alongside the most wonderful hardworking staff imaginable. Every beautiful thought, opportunity to communally inspire some greater good, we have joyfully undertaken."
Her final curated exhibit as director will be "Healing & The Art of Compassion (And The Lack Thereof!)," scheduled for Oct. 9, 2021 to Sept. 4, 2022. A farewell gala and fundraiser has been set for Nov. 20. The museum's board has appointed m/Oppenheim Executive Search to help find her replacement.
Waters, a big fan of the museum, is one of many who think Oppenheim doesn't have an easy assignment.
"Rebecca Hoffberger's name is almost synonymous with the word 'irreplaceable," the writer and filmmaker said in an email message.
"She has given the world the perfect museum to celebrate Baltimore's reputation as a welcoming home to eccentric artistic outsiders and crackpot personalities," he said. "The statue of Divine watches over the international visiting guests with benevolence and the same understanding Rebecca has for all artists who don't fit in. Rebecca is passionate, obsessive in her drive, and nobody else could have made this place become such a major tourist destination. And now to find a successor? Who knows? We need another Glinda, the Good Witch of the Visionary. She's out there somewhere."