DREAM Act event features lesbian wedding
Fiji native faced deportation before DOMA struck down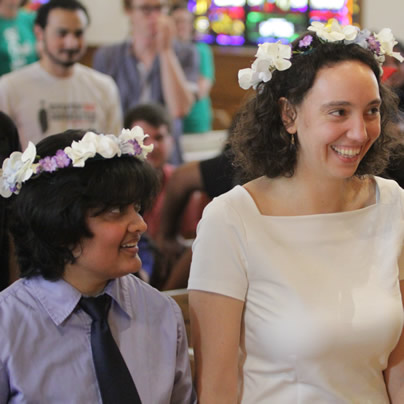 A crowd of more than 200 mostly Latino teenagers and young adults cheered at a Capitol Hill church on Tuesday as a lesbian bi-national couple exchanged marriage vows at an annual event organized to promote passage of immigration reform legislation pending in Congress.
The decision by organizers of the 2013 Annual DREAM Act Graduation Ceremony to include a same-sex wedding as part of the event held at the Lutheran Church of the Reformation was viewed by activists as a sign of solidarity between the LGBT community and the U.S. immigration reform movement.
"We are working for the rights of all Americans, and whether you are straight or gay or bisexual or whatever your national origin or religion, our country draws its strength from our diversity," gay U.S. Rep. Jared Polis (D-Colo.) told the gathering.
"And together we are one, and everyone here is part of that very special country that we live in," Polis said. "And it's only a matter of the paperwork catching up."
Polis spoke to the gathering shortly before Prerna Lal, an immigrant from the Republic of Fiji who recently graduated from George Washington University Law School, and her American born partner, Lindsay Schubiner, were joined in marriage in a ceremony at the church altar.
Lal told the Blade after the ceremony that U.S. immigration authorities had begun deportation proceedings against her due to her undocumented status. With the Supreme Court overturning the anti-gay Defense of Marriage Act and she and Schubiner obtaining a marriage license, the deportation proceedings will be halted, Lal said.
"My parents brought me from the Island of Fiji when I was 14 years old," she said in recounting her lengthy saga to remain in the U.S. "We settled in the Bay Area of California. I grew up there. I went to high school there. I went to college and graduate school there," she said.
"My parents got their papers eventually but I was aged out of the process," she said, noting that under a quirk in the immigration law, she was no longer eligible for permanent residence status even though her parents were because she was older than 21.
"I moved to D.C. to go to law school and to become an immigration lawyer and fight my case," Lal said. "And in the middle of that I met Lindsay and we started living together and I fell in love. And so she asked me to marry her."
Lal and Schubiner, a policy adviser on health and immigration issues, each said they plan to continue their work in the D.C. area to push for immigration rights for others.
"I'm thrilled to be able to celebrate my union with Prerna here today with everyone," Schubiner told the Blade. "We're so blessed to be able to spend our lives together and we finally have all the rights that we deserve," she said.
"And now we're going to spend the rest of our time making sure everyone has all of those rights regardless of marital status and regardless of immigration status."
D.C. immigration attorney Andres Benach, one of the organizers of the event at which Lal and Schubiner were married, said the gathering has served each year as a symbolic graduation ceremony for the children of undocumented immigrants who themselves are undocumented.
Although many have graduated from high school they often are blocked from enrolling in college because they are ineligible for student loans due to their undocumented status. The DREAM Act, among other things, would lift the ban on student loans for undocumented immigrants.
The National Immigrant Youth Alliance and Dream Activist.org, youth led groups that advocate for the Dream Act and comprehensive immigration reform legislation, are the lead sponsors of the Dream Act Graduation event.
Polis noted that the Obama administration recently put in place a federal policy directive temporarily halting the deportations and providing work permits for DREAM Act-eligible students.
But opposition to the directive by immigration reform opponents in the House of Representatives raised concern among immigration reform advocates that the deportations could resume if the House doesn't pass a bipartisan comprehensive immigration bill approved by the Senate earlier this year.
Rachel Tiven of Immigration Equality has led efforts by that group to push for federal legislation allowing partners of bi-national same-sex couples to obtain legal immigration status. Now that the Supreme Court ruling overturning DOMA has brought about that objective, Tiven said Immigration Equality will continue to work for comprehensive immigration reform that covers both LGBT people and everyone else.
"That's why we're so proud to be here today," she told the gathering. "We will fight all the way to the end until every person can live their life and their full potential in freedom and safety in this country."
Polis urged those attending the event to redouble their efforts to persuade the House of Representatives to pass the comprehensive immigration reform bill passed by the Senate.
Blade accepting applications for new fellowship focused on LGBTQ+ youth
Unique opportunity for college journalism students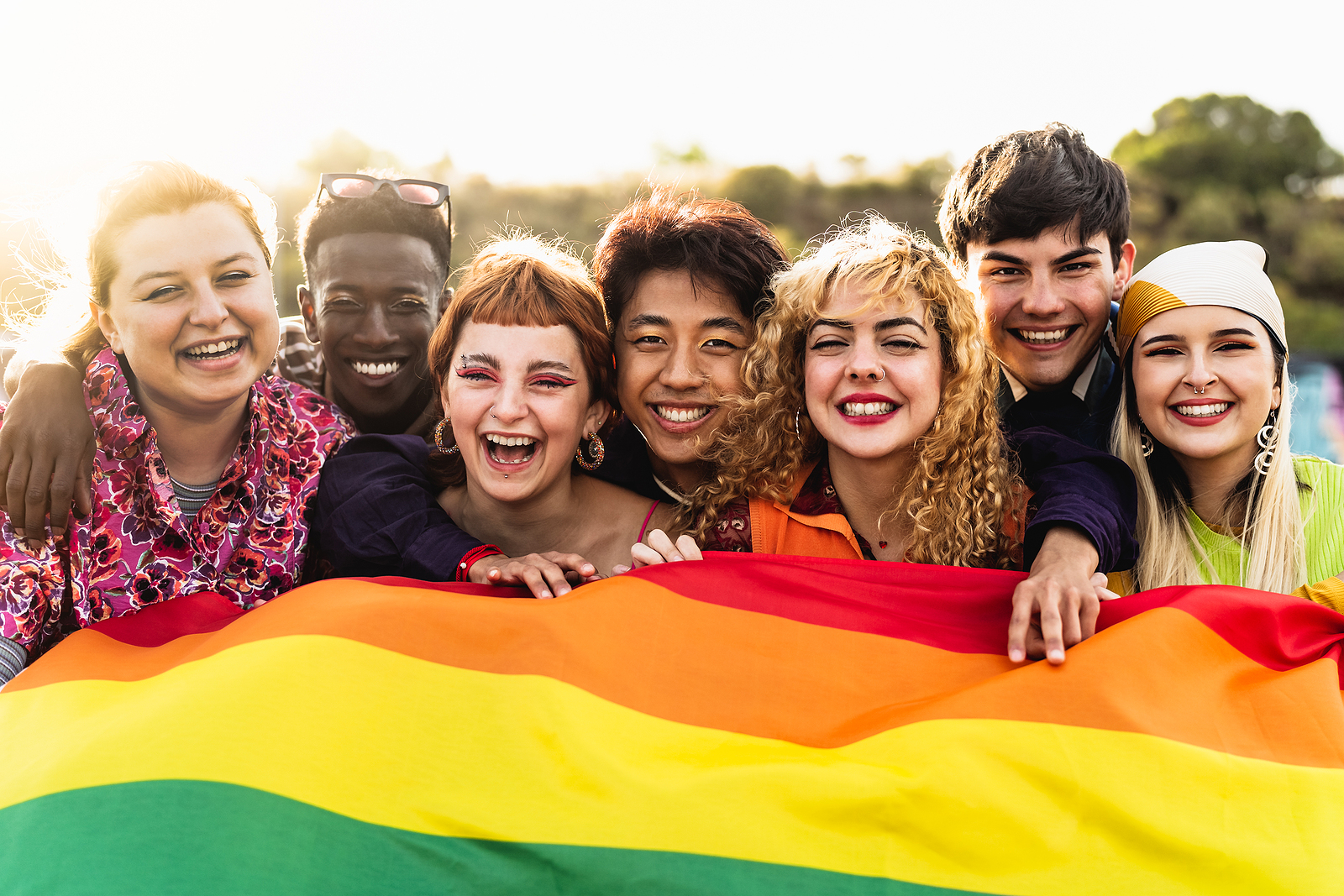 The Blade Foundation announced it has opened the application process for a new winter fellowship.
The application is open for an aspiring D.C.-based college-age journalist interested in covering LGBTQ+ youth. The fellowship runs for 12 weeks starting January 2023 with a $2,500 stipend. Fellows will be paired with a Blade editor for mentoring and reporting assignments.
This fellowship is focused on issues impacting queer youth in D.C. Coverage areas will include housing, coming out, education, and more. The fellowship is funded by a grant from the Mayor's Office of LGBTQ Affairs (MOLGBTQA).
College students may apply by emailing a letter of interest, resume, and links to three writing samples to: Kevin Naff, executive director, Blade Foundation, [email protected]. No phone calls. Deadline to apply is Dec. 23.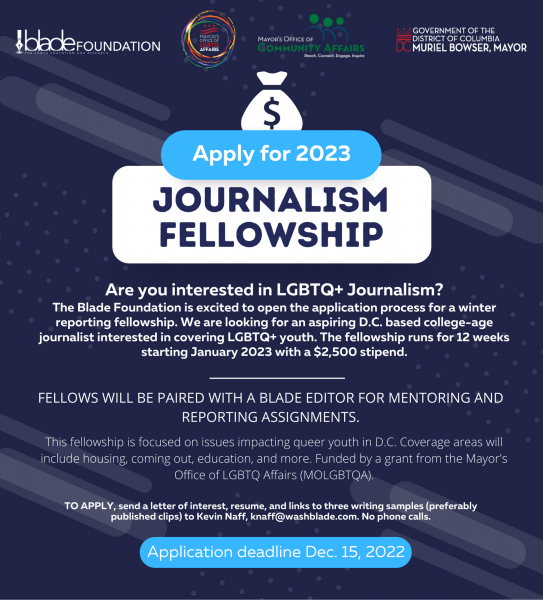 Patti LaBelle, Gladys Knight dazzle at AIDS Healthcare Foundation World AIDS Day Concert at Kennedy Center
Renowned vocalists delivered show-stopping performances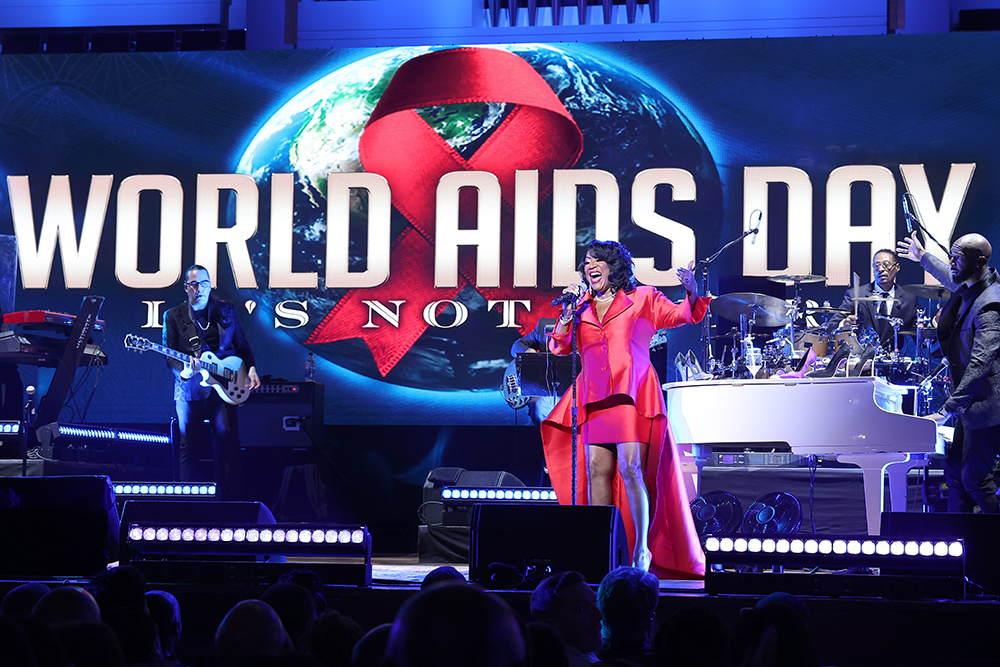 The AIDS Healthcare Foundation (AHF) hosted its 2022 World AIDS Day Concert on Wednesday, Nov. 30, at the concert hall of The Kennedy Center in D.C. Renowned multi-Grammy Award-winning vocalists Patti LaBelle and Gladys Knight delivered show-stopping performances to the packed crowd, which included supporters, dignitaries such as: Harold Phillips, Director of the White House Office of National AIDS Policy; White House Senior Advisor for Public Engagement, Mayor Keisha Lance Bottoms, Congresswoman Sheila Jackson Lee, and New Orleans Mayor, Mayor LaToya Cantrell, and more, in a night of hope and celebration.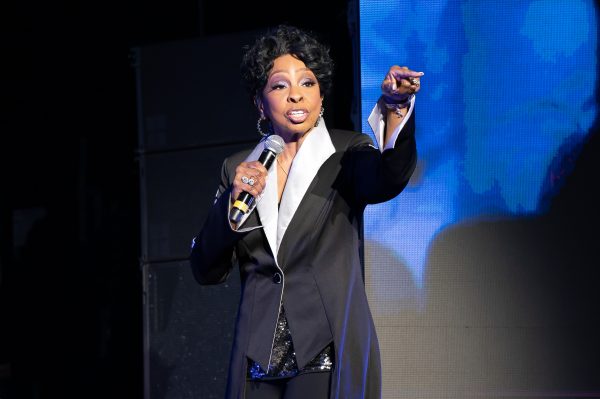 AIDS Healthcare Foundation (AHF), is the world's largest HIV/AIDS care provider, currently operating in 45 countries. The concert is held every year to commemorate World AIDS Day, observed internationally each year on Dec. 1. This year also marked the global organization's 35th anniversary.
At the event, longtime humanitarian and AIDS advocate, Princess Diana was honored, posthumously, with AHF's Lifetime Achievement Award. Under its "Keep the Promise!" banner, AHF also acknowledged progress made in the global fight against HIV and AIDS and continues to raise awareness about "The Other Pandemic" as a reminder of the significant work still to be done on HIV/AIDS, as well as remembering the lives that have been lost over the years.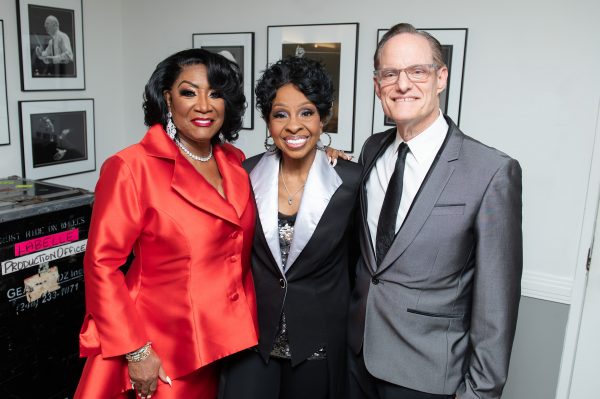 Michael Weinstein, President of AHF, said, "As millions remain affected by HIV/AIDS around the globe, World AIDS Day annually provides an opportunity to honor those we've lost and those living with HIV/AIDS today, as well as reminding leaders and the community of the work that still remains to address this epidemic. From providing compassionate AIDS hospice care in those darkest early days to growing to become the largest global AIDS organization today, now providing lifesaving care and treatment to more than 1.7 million people around the globe, we also celebrate the tireless work of all those who help make today's AHF possible: our staff, Board, affiliate organizations and affinity groups, friends, family and elected officials and community partners across the globe, but most of all, our clients and patients—with our annual 2022 World AIDS Day event. It was a momentous night to host our World AIDS Day concert at The Kennedy Center for the first time, and welcome back the legendary Patti LaBelle, and have another great American icon, Gladys Knight join us, while also being able to honor the legacy and humanitarian work of the late Princess Diana."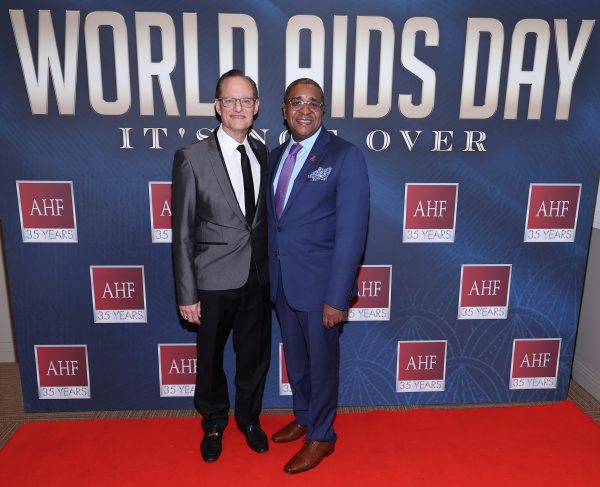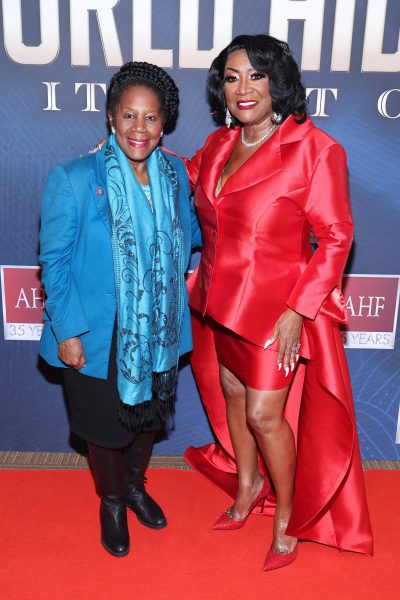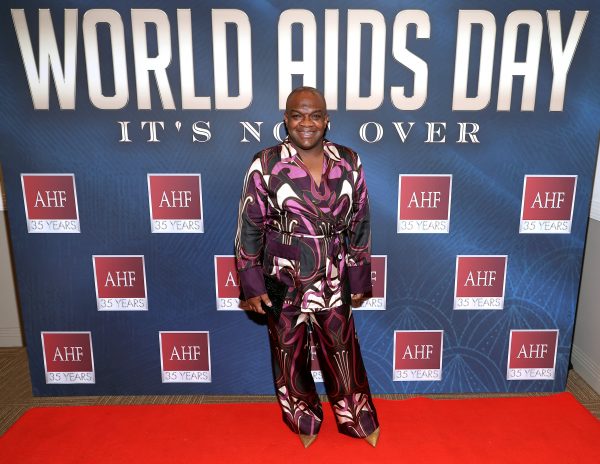 Matthew Shepard portrait dedicated at National Cathedral
Gay Wyoming student killed in 1998 hate crime honored in daylong ceremony
Matthew Shepard, the gay University of Wyoming student who was murdered in a 1998 anti-gay hate crime while tied to a fence outside Laramie, Wyo., was to be honored at a ceremony on Thursday, Dec. 1, at Washington National Cathedral dedicating a newly commissioned portrait of Shepard.
Officials at the cathedral said the portrait by artist Kelly Latimore and commissioned by LGBTQ members of the Cathedral staff, is the only artistic image of Matthew Shepard created in collaboration with Shepard's parents, Dennis and Judy Shepard, who were present during the ceremony.
Matthew Shepard's ashes were interred at the Washington National Cathedral in 2018, 20 years after his death. The Cathedral announced in a statement this week that the Dec. 1 dedication of the Shepard portrait would also take place on what would have been Shepard's 46th birthday.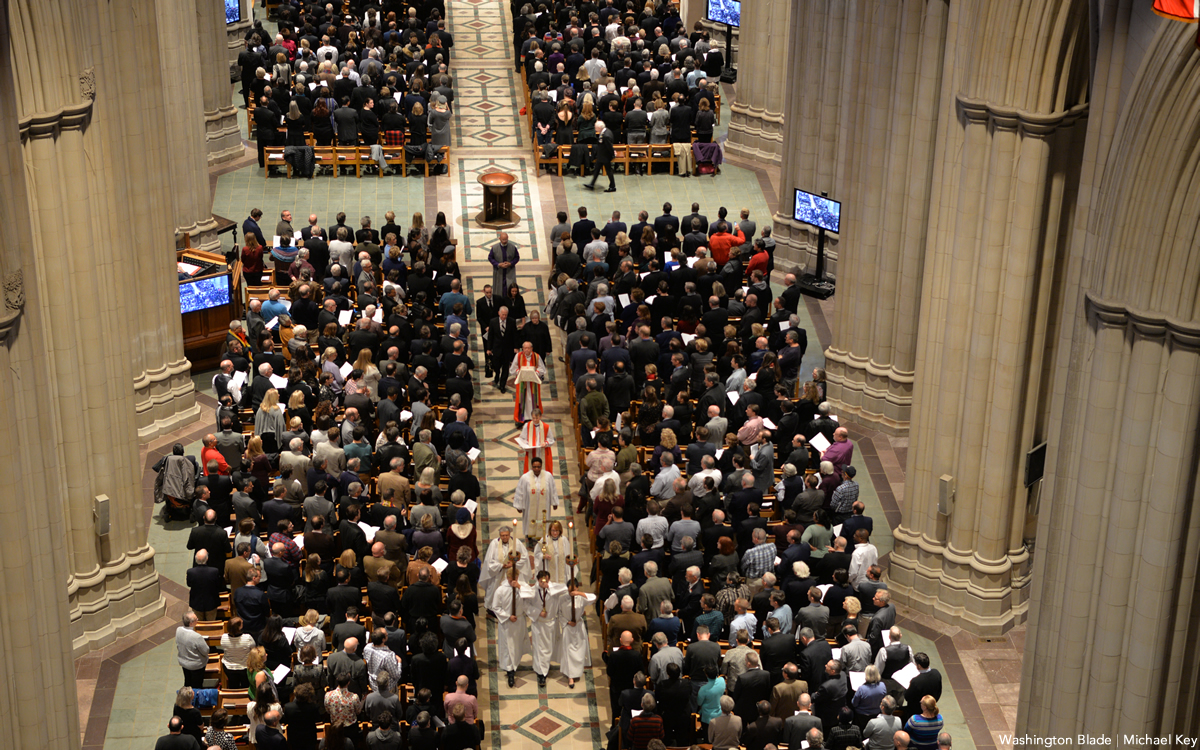 "The horrific murders at Club Q in Colorado Springs are a tragic reminder that our LGBTQ friends and family continue to be targeted for who they love, and Matthew Shepard's legacy reminds us of the urgency to confront bigotry and embrace people of all backgrounds, gender identities and sexual orientations," said The Very Rev. Randolph Marshall Hollerith, dean of Washington National Cathedral, in a statement.
Events surrounding the portrait dedication began with a 7 a.m. online prayer service "to celebrate and recall Matthew Shepard's life," the statement released by the Cathedral says. The service was led by Right Rev. V. Gene Robinson, the first openly gay priest to be consecrated as a bishop in the Episcopal Church.
The Cathedral next hosted a preview of the portrait for the news media at 10:30 a.m., where Dennis and Judy Shepard talked about the portrait and their son's life and the impact his death had on the nation's understanding of hate crimes.
"It's amazing how similar and what a great job that Kelly [Latimore] has done to make it look like Matt and showing the essence of Matt," Dennis Shepard told the Washington Blade while viewing the portrait in the Cathedral's St. Joseph's Chapel, where the portrait was on display.
Artist Latimore, who also spoke to reporters during the morning briefing at the chapel, said he was moved in his discussions with Judy and Dennis Shepard while getting ready to begin work on the painting by copies of dozens of letters they sent him that had been sent to the Shepards by people across the country after their son's death.
Latimore included written excerpts from dozens of those letters as the background to his portrait of Matthew Shepard, which can be seen and read when standing close to the portrait.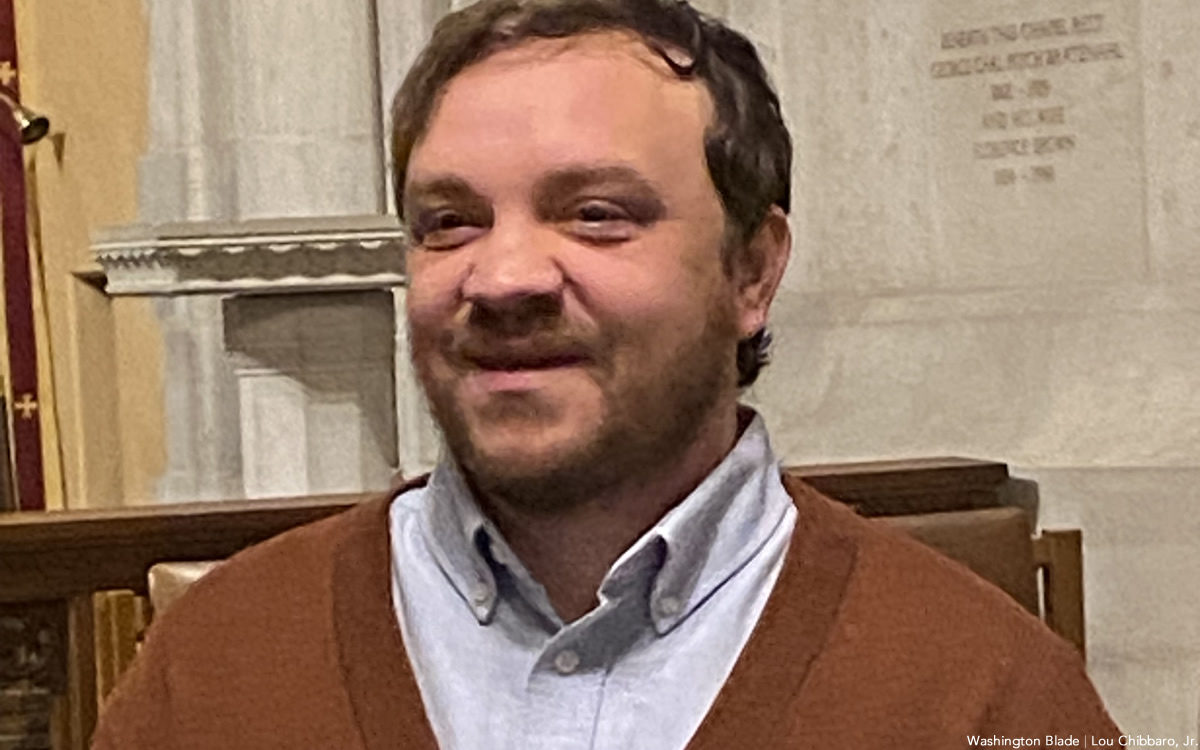 "Matthew will not be forgotten," an excerpt from one of the letters on the portrait says.
Dennis and Judy Shepard created the Matthew Shepard Foundation shortly after Matthew's death, which has been credited with playing a lead role in advocating for the passage by Congress in 2009 of the Matthew Shepard and James Byrd Jr. Hate Crimes Prevention Act. The measure was the first federal hate crime statute that expanded the coverage of the federal hate crimes law to include a victim's sexual orientation and gender identity as a protected class.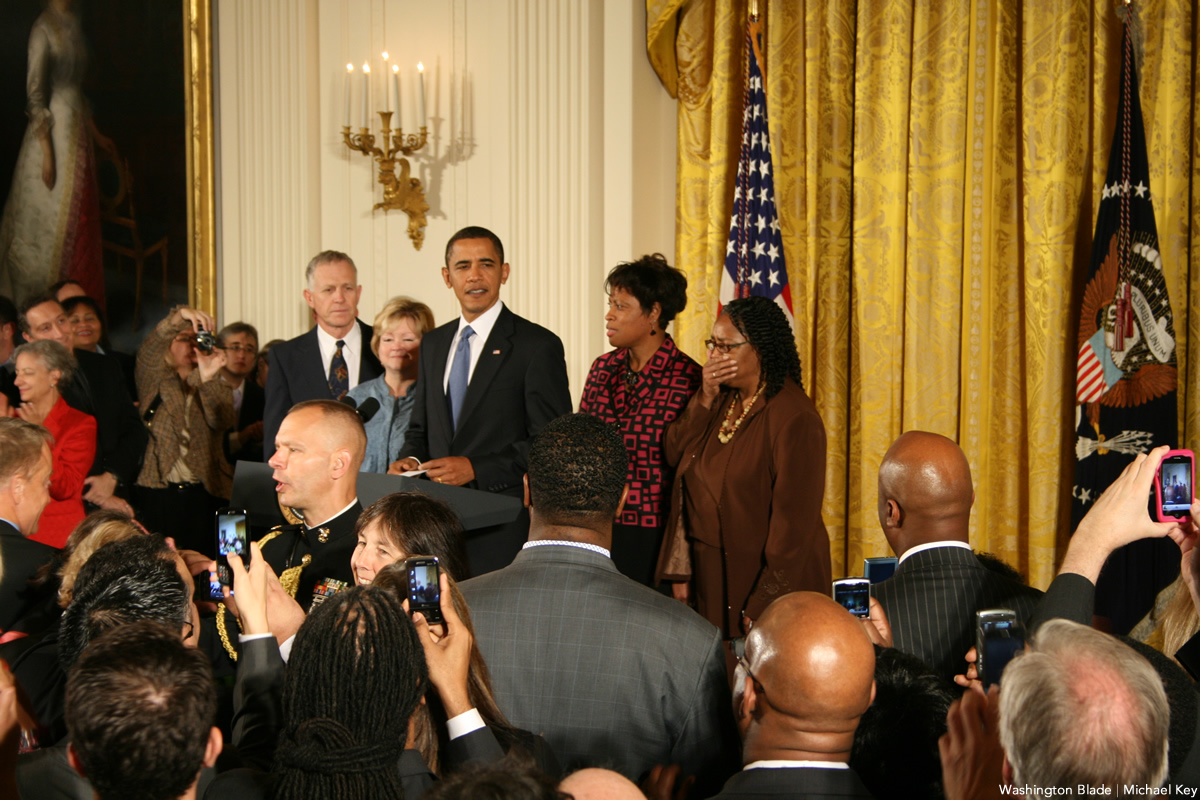 The Cathedral was to open its St. Joseph's Chapel from 2-5 p.m. on Thursday to visitors where the Matthew Shepard portrait was on display. Dennis and Judy Shepard were scheduled to be present to greet visitors.
According to the statement released by the Cathedral, later in the evening at 7 p.m., the portrait was to be officially dedicated in a private service in the Cathedral's crypt near the site where Shepard's ashes were interred.
"A longtime supporter of the full inclusion of lesbian, gay, bisexual and transgender people in the life of the church, the Cathedral considers LGBTQ equality one of the great civil rights issues of the 21st century," the statement released by the Cathedral says.
One of the two men charged with Matthew Shepard's murder, Russell Henderson, pleaded guilty to a murder charge in exchange for an agreement by prosecutors not to seek a death sentence. He was sentenced to life in prison.
The other man charged in the murder, Aaron McKinney, pleaded not guilty and went to trial, where he was convicted of murder by a jury. In a dramatic statement before the judge at the conclusion of the trial, Dennis Shepard announced and he and his wife had asked prosecutors and the judge to spare McKinney from being sentenced to death, something he said McKinney did not do while fatally striking his son in the head multiple times with the barrel of a gun after the two men tied him to a fence post in a remote field outside Laramie.
The judge sentenced McKinney to two consecutive life terms in prison without the possibility of parole.