Matthew Shepard book creates uproar
Laramie sheriff calls writer's claims about 1998 murder 'conspiracy theory BS'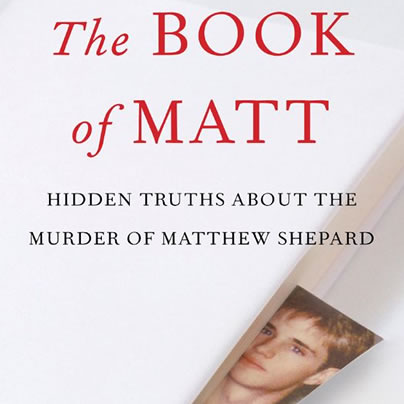 A newly published book that claims gay University of Wyoming student Matthew Shepard had a sexual relationship with his killer and his 1998 murder wasn't a hate crime has triggered expressions of outrage by LGBT activists and fueled efforts by anti-gay groups to downplay the need for hate crimes laws.
"The Book of Matt: Hidden Truths About the Murder of Matthew Shepard," written by gay journalist Stephen Jimenez and officially released on Tuesday, comes on the eve of the 15th anniversary of Shepard's murder in Laramie, Wyo.
It also comes at a time when the "Laramie Project," the internationally acclaimed play about the Shepard murder and its portrayal of the slaying as a hate crime, is about to open at the Ford's Theater in Washington with a newly produced epilogue.
In addition, a documentary film called "Matt Shepard is a Friend of Mine," directed by a filmmaker who was one of Shepard's high school friends, is scheduled to premiere at the Washington National Cathedral on Oct. 4.
With the play and film exploring the Shepard murder as a hate crime that adversely impacted an entire community beyond the scope of an individual victim, the startling assertions made in Jimenez's book have prompted at least one prominent gay commentator to reassess longstanding assumptions about the Shepard case.
"Events are more complicated than most politicians and activists want them to be," said gay conservative commentator Andrew Sullivan. "No one should be afraid of the truth."
Among the book's claims is that Shepard, 21, knew and socialized with Aaron McKinney, also 21, one of two men convicted of his murder, at least a year before the crime. According to Jimenez's stated findings in the book, Shepard and McKinney each used and sold crystal meth, both had been involved with an escort service in Denver and Laramie that arranged for them to have sex for money with men, they were seen at the same parties in Laramie, and the two occasionally had sex with each other.
Jimenez told the Blade he devoted more than 13 years of research and investigative reporting in preparation for his book, interviewing more than 100 people on the record, including a dozen people he identifies as friends of Shepard and more than a dozen friends of McKinney.
But some of the national LGBT advocacy groups have joined the Matthew Shepard Foundation, which was created by Shepard's parents to combat anti-LGBT violence, in challenging the accuracy of the book and the credibility of its sources.
"Attempts now to rewrite the story of this hate crime appear to be based on untrustworthy sources, factual errors, rumors and innuendo rather than the actual evidence gathered by law enforcement and presented in a court of law," a statement released by the Shepard Foundation says.
"We do not respond to innuendo, rumor or conspiracy theories," the statement says. "Instead we remain committed to honoring Matthew's memory, and refuse to be intimidated by those who seek to tarnish it."
Albany County, Wyo., Sheriff David O'Malley, who served as Laramie police commander at the time of the murder, told the Blade on Tuesday that he believes the book "is full of lies" and described it as "conspiracy theory BS."
Jimenez said he and others working with him have thoroughly and meticulously scrutinized and vetted the findings of his investigation, which he says included a careful reading of virtually all of the police and court records related to the case that initially had been sealed by a judge.
Laramie officials have said the records became available to the public in late 1999 shortly after the conclusion of the trial of McKinney, who was convicted of bludgeoning Shepard to death by repeatedly striking him in the head with the barrel of a .357 Magnum pistol while Shepard was tied to a fence at an isolated prairie just outside of town.
Co-defendant Russell Henderson confessed to having tied Shepard to the fence while accompanying McKinney on what he said began as a plan by McKinney to lure Shepard from a Laramie bar to rob him. Unlike McKinney, Henderson pleaded guilty to a murder charge rather than face a trial. Both men were sentenced to life in prison without the possibility of parole.
"I think the discovery of who Matthew Shepard was as a person and the complexity of who he was as a human being is really important," Jimenez told the Blade.
"And so my reason for writing the book is to really say let's understand what was really going on here," he said. "If we're serious about dealing with hate and violence in the culture, let's understand what really happened here. What are the forces that came into play that created this grotesquely violent murder?"
Added Jimenez: "And certainly as I know now, the official story that these were two strangers that walked into a bar and targeted Matthew because he looked well-dressed and looked like he had money and appeared to be gay or that Matthew came on to them in the bar or that they lured him out of the bar because he was gay – those are simply not true."
Jimenez was referring to the findings in the official police report that was based in part on a confession by McKinney to police at the time of his arrest three days after the murder. In his confession, McKinney said he and Henderson planned to rob Shepard, not to kill him. He said he lost control of his emotions and actions after Shepard allegedly groped him in the pickup truck that Henderson was driving after Shepard accepted McKinney's invitation to drive him home from the Fireside bar on the night of Oct. 6, 1998.
McKinney's lawyers, who attempted to invoke the so-called "gay panic" defense at McKinney's trial, told the jury in his November 1999 closing argument that McKinney's judgment was clouded that night by his consumption of alcohol and his use of and addiction to crystal meth amphetamine.
"Aaron McKinney is not a cold-blooded killer," defense attorney Dion Custis said. "What happened is he hit him too many times" after the crystal meth consumption and Shepard's alleged groping caused him to fly into an "uncontrollable rage."
LGBT advocacy groups, noting that perpetrators of anti-gay hate crimes often use the gay panic defense as an alibi, said at the time that McKinney's use of the gay panic defense confirmed their belief that McKinney's motive was anti-gay hatred.
O'Malley said the police investigation found that McKinney had not been using crystal meth for several days and that investigators concluded that the murder "had nothing to do with drugs." He said that the incident started as a robbery but investigators believe the brutality of the beating, in which McKinney crushed Shepard's skull, involved a form of "overkill" that indicated the true motive was anti-gay animus.
Jimenez argues in his book that McKinney was suffering from the effects of his crystal meth use at the time of the attack but that some of his animus toward Shepard was based on alleged conflicts over a drug deal at a time when the two were working for rival drug suppliers. He bases this theory on information from both named and anonymous sources.
"It boggles the mind that this book flies in the face of all of the evidence related to the drug use," said Cathy Renna, a former official with Gay & Lesbian Alliance Against Defamation (GLAAD), who attended the McKinney trial.
"Aaron McKinney has changed his story so many times it's not even worth trying to keep count," said Renna in referring to subsequent statements that McKinney has made to reporters in interviews from jail.
"But the one thing that Aaron McKinney has been clear about and has remained consistent to is that he didn't know Matt beforehand."
Renna and others questioning the reliability of Jimenez's sources have cited a memo that ABC News correspondent Elizabeth Vargas mistakenly left at O'Malley's residence in 2004, when she interviewed O'Malley, as confirmation that Jimenez reached his conclusions about the Shepard case before he began research for a controversial report on the ABC program 20/20. The memo, according to critics who have seen it, outlined the view the Shepard murder was not a hate crime along with some of the other revelations recounted in the Jimenez book.
Jimenez, however, told the Blade that the criticism is unfounded because his memo was based on more than two years of research that he already had conducted on the case long before he became involved in the 20/20 project.
He also disputes claims by critics that the 20/20 broadcast on the Shepard case in 2004 was based on unreliable sources.
"When I did the ABC News story every single note, every single interview transcript, everything we did was vetted by the top vice presidents and lawyers at ABC," Jimenez said.
Concerning his book, Jimenez notes that the lead prosecutor in the Shepard murder case, Cal Rerucha, has stated on the record in his book that he agrees that the preponderance of evidence shows that drugs rather than anti-gay hate was the motive behind the murder of Matthew Shepard.
Regardless of whether the claims in Jimenez's book are correct or not, some LGBT activists question the purpose of such a book, which they note has already been cited by right-wing anti-gay organizations to question the validity of hate crime legislation.
Jim Obergefell announces bid for seat in Ohio state legislature
Marriage plaintiff moves on to new endeavor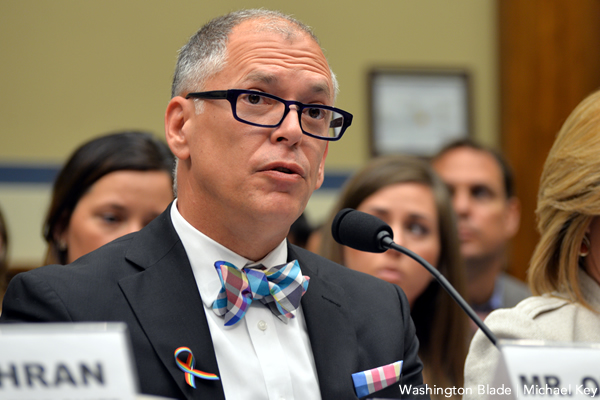 Jim Obergefell, the lead plaintiff in the litigation that ensured same-sex couples have the right to marry nationwide, announced on Tuesday he'd pursue a new endeavor and run for a seat in the state legislature in his home state of Ohio.
"You deserve a representative who does the right thing, no matter what. You deserve a representative who fights to make things better for everyone," Obergefell said. "I've been part of a national civil rights case that made life better for millions of Americans. Simply put, I fight for what's right and just."
Obergefell, who claims residency in Sandusky, Ohio, is seeking a seat to represent 89th Ohio District, which comprises Erie and Ottawa Counties. A key portion of his announcement was devoted to vowing to protect the Great Lakes adjacent to Ohio.
"We need to invest in our Great Lake, protect our Great Lake, and make the nation envious that Ohio has smartly invested in one of the greatest freshwater assets in the world," Obergefell said.
Obergefell was the named plaintiff in the consolidated litigation of plaintiffs seeking marriage rights that led the U.S. Supreme Court to rule in 2015 for same-sex marriage nationwide. Obergefell was widower to John Arthur, who died of amyotrophic lateral sclerosis, and was seeking the right to be recognized as his spouse on his death certificate. The ruling in the consolidated cases ensured same-sex couples would enjoy the full benefits and responsibilities of marriage.
"We should all be able to participate fully in society and the economy, living in strong communities with great public schools, access to quality healthcare, and with well-paying jobs that allow us to stay in the community we love, with the family we care about," Obergefell said in a statement on his candidacy.
FDA-funded blood donation study recruiting gay, bi men
D.C.'s Whitman-Walker, L.A. LGBT Center working on study to ease restrictions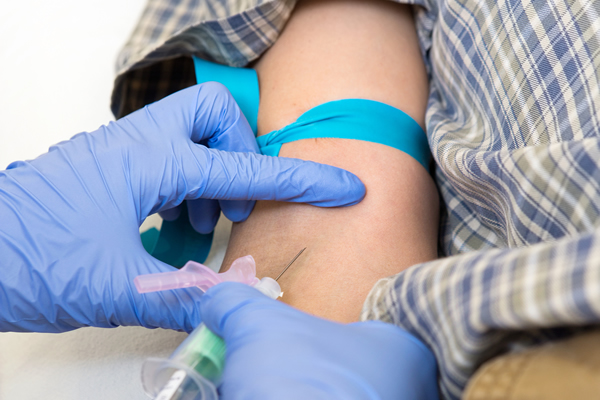 D.C.'s Whitman-Walker Institute and the Los Angeles LGBT Center are among LGBTQ supportive organizations in eight U.S. cities working with the nation's three largest blood donation centers on a study to find a way to significantly ease blood donation eligibility for men who have sex with men or MSM.
The study, which is funded by the U.S. Food and Drug Administration, calls for recruiting a total of 2,000 gay and bisexual men in eight U.S. cities selected for the study to test the reliability of a detailed donor history questionnaire aimed at assessing the individual risk of a gay or bisexual man transmitting HIV if they donate blood.
A statement released by the study organizers says the questionnaire, which could be given to a gay or bisexual person showing up at a blood donation site, could be a replacement for the FDA's current policy of banning men who have had sex with another man within the previous three months from donating blood.
In the early years of the AIDS epidemic in the 1980s, the FDA put in place a permanent ban on blood donations by men who have sex with men. In 2015, with advanced HIV testing and screening techniques readily available, the FDA lifted its permanent ban on MSM blood donations and replaced it with a 12-month restriction for sexual activity between MSM.
The FDA further reduced the time of sexual abstinence for MSM to three months in 2020.
LGBTQ rights organizations and others advocating for a change in the current FDA restriction point out that at a time when the nation is facing a severe shortage of blood donations due to the COVID pandemic, the three-month donation deferral requirement for MSM is preventing a large number of blood donations from men whose risk of HIV infection is low to nonexistent.
Under the FDA-funded and initiated study, the American Red Cross, Vitalant, and OneBlood — the nation's three largest blood donation centers — have been conducting the questionnaire testing since the study was launched in March 2021.
"To gather the necessary data, the blood centers will partner with LGBTQ+ Centers in Washington, D.C., San Francisco, Orlando, New Orleans/Baton Rouge, Miami, Memphis, Los Angeles, and Atlanta," the study organizers say in a statement on a website launched to help recruit volunteers for the study.
"The study will enroll a total of 2,000 gay and bisexual men (250 – 300 from each area) who meet the study eligibility criteria," the statement says.
Among the criteria for being eligible, the statement says, is the person must be between 18 and 39 years old, have expressed an interest in donating blood, must have had sex with at least one other man in the three months before joining the study, and must agree to an HIV test. A negative test result is also required for acceptance into the study.
The study is officially named ADVANCE, which stands for Assessing Donor Variability And New Concepts in Eligibility.
"The ADVANCE study is a first step in providing data that will help the FDA determine if a donor history questionnaire based on individual risk would be as effective as time-based deferral, in reducing the risk of HIV in the blood supply," the study organizers statement says.
"If the scientific evidence supports the use of the different questions, it could mean men who have sex with men who present to donate would be assessed based upon their own individual risk for HIV infection and not according to when their last sexual contact with another man occurred," the statement continues. "The ADVANCE study is groundbreaking because it's the first time a study is being conducted that could result in individual risk assessment for men who have sex with men to donate blood," the statement says.
The Whitman-Walker Institute, which is among the community-based organizations involved in helping organize and conduct the study, is an arm of Whitman-Walker Health, the LGBTQ supportive D.C. health center.
Christopher Cannon, director of Research Operations for Whitman-Walker Institute, said that since the D.C.-based part of the study was launched early last year prior to the official announcement of the study on March 20, D.C. has surpassed the original city goal of recruiting 250 participants for the study.
"We are currently at 276 as of last Friday's report," Cannon told the Blade in a Jan. 13 interview. "And the current goal is now 300," he said. "So, we're hoping to push this over that goal line in the coming days and weeks.
Cannon said that like the community organizations involved in the study in other cities, Whitman-Walker Institute's role has been focused on recruiting gay and bisexual men to participate in the study and to send them to the American Red Cross headquarters building at 430 17th St., N.W. near the White House. That site, which serves as a blood donation center, is also serving as the site where study participants are screened, interviewed, and presented with a detailed questionnaire.
"We promote the study within Whitman-Walker," Cannon said. "We promote it to our networks. We did social media promotions across the city.'
Although Whitman-Walker doesn't have the final draft of the questionnaire being presented to study participants, Cannon said he has seen "bits and pieces" of it.  
"They ask very direct questions about the person's sex life, sexual partners, sex acts, numbers of partners," Cannon said. "There are questions about condom use, PrEP use, drug use. How recently have you had sex? Lots of related questions," he said.
"It's really about trying to figure out effectively which are the best questions," according to Cannon. "The hope is by analyzing the questions and identifying maybe the best 10 to 12 questions that can be universally used…to get the best answers that identify the individuals that may have the highest risk," he said. Doing that, he points, out can help determine which men who have sex with men should be eligible to safely donate blood.
A statement released by Whitman-Walker last March calls the study a "monumental research effort" that has the potential to lift the stigma imposed on gay and bisexual men whose ability to donate blood is currently based on their sexual orientation.
"The ADVANCE study is designed to understand if, by asking carefully crafted and research-informed research questions, blood collectors can screen potential blood donors for their individual HIV risk factors rather than applying a ban against sexually active gay and bisexual men," the statement says.
"The goal is to move away from overly broad questions that exclude potential donors and spread stigmatizing messages about MSM and their HIV risks," it says.
Cannon said that as of last week, study organizers had recruited a total of 879 study participants nationwide out of the goal of 2,000 participants needed to complete the study. He said issues related to the COVID pandemic created delays in the recruitment efforts, but study organizers were hopeful the study could be completed by this summer.
Information about participating in the study or learning more about it can be obtained at advancestudy.org.
Veterans can now identify as transgender, nonbinary on their VA medical records
About 80 percent of trans veterans have encountered a hurtful or rejecting experience in the military because of their gender identity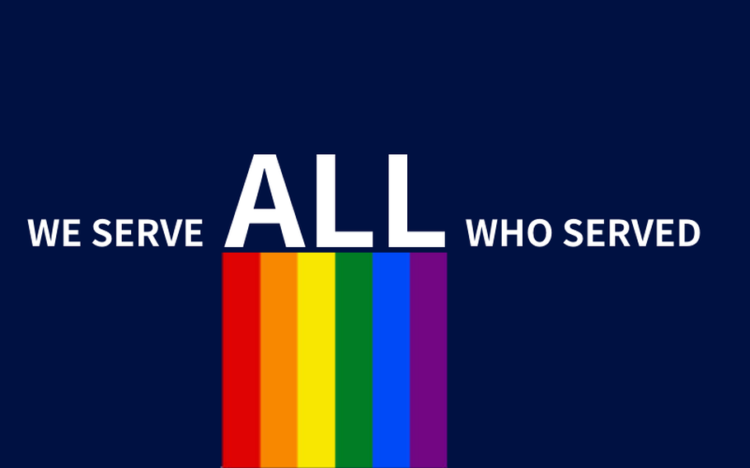 Veterans Affairs Secretary Denis McDonough announced Wednesday that his department added the options of transgender male, transgender female, nonbinary and other, when veterans select their gender, in medical records and healthcare documentation.
"All veterans, all people, have a basic right to be identified as they define themselves," VA Secretary Denis McDonough said in a statement. "This is essential for their general well-being and overall health. Knowing the gender identity of transgender and gender-diverse veterans helps us better serve them."
The statement also noted that the change allows health-care providers to better understand and meet the medical needs of their patients. The information also could help providers identify any stigma or discrimination that a veteran has faced that might be affecting their health.
McDonough speaking at a Pride Month event last June at the Orlando VA Healthcare System, emphasized his support for Trans and LGBQ+ vets.
McDonough said that he pledged to overcome a "dark history" of discrimination and take steps to expand access to care for transgender veterans.
With this commitment McDonough said he seeks to allow "transgender vets to go through the full gender confirmation process with VA by their side," McDonough said. "We're making these changes not only because they are the right thing to do, but because they can save lives," he added.
In a survey of transgender veterans and transgender active-duty service members, transgender veterans reported several mental health diagnoses, including depression (65%), anxiety (41%), PTSD (31%), and substance abuse (16%). In a study examining VHA patient records from 2000 to 2011 (before the 2011 VHA directive), the rate of suicide-related events among veterans with a gender identity disorder (GID) diagnoses was found to be 20 times higher than that of the general VHA patient population.
McDonough acknowledged the VA research pointing out that in addition to psychological distress, trans veterans also may experience prejudice and stigma. About 80 percent of trans veterans have encountered a hurtful or rejecting experience in the military because of their gender identity.
"LGBTQ+ veterans experience mental illness and suicidal thoughts at far higher rates than those outside their community," McDonough said. "But they are significantly less likely to seek routine care, largely because they fear discrimination.
"At VA, we're doing everything in our power to show veterans of all sexual orientations and gender identities that they can talk openly, honestly and comfortably with their health care providers about any issues they may be experiencing," he added.
All VA facilities have had a local LGBTQ Veteran Care Coordinator responsible for helping those veterans connect to available services since 2016.
"We're making these changes not only because they are the right thing to do but because they can save lives," McDonough said. He added that the VA would also change the name of the Veterans Health Administration's LGBT health program to the LGBTQ+ Health Program to reflect greater inclusiveness.
Much of the push for better access to healthcare and for recognition of the trans community is a result of the polices of President Joe Biden, who reversed the ban on Trans military enacted under former President Trump, expanding protections for transgender students and revived anti-bias safeguards in health care for transgender Americans.