Matthew Shepard book creates uproar
Laramie sheriff calls writer's claims about 1998 murder 'conspiracy theory BS'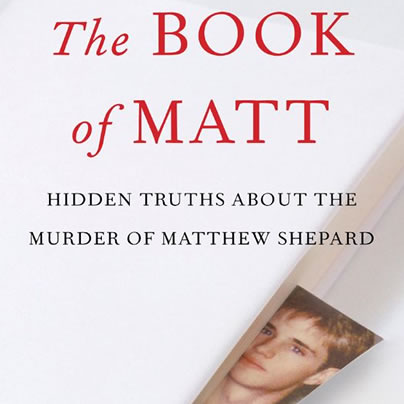 A newly published book that claims gay University of Wyoming student Matthew Shepard had a sexual relationship with his killer and his 1998 murder wasn't a hate crime has triggered expressions of outrage by LGBT activists and fueled efforts by anti-gay groups to downplay the need for hate crimes laws.
"The Book of Matt: Hidden Truths About the Murder of Matthew Shepard," written by gay journalist Stephen Jimenez and officially released on Tuesday, comes on the eve of the 15th anniversary of Shepard's murder in Laramie, Wyo.
It also comes at a time when the "Laramie Project," the internationally acclaimed play about the Shepard murder and its portrayal of the slaying as a hate crime, is about to open at the Ford's Theater in Washington with a newly produced epilogue.
In addition, a documentary film called "Matt Shepard is a Friend of Mine," directed by a filmmaker who was one of Shepard's high school friends, is scheduled to premiere at the Washington National Cathedral on Oct. 4.
With the play and film exploring the Shepard murder as a hate crime that adversely impacted an entire community beyond the scope of an individual victim, the startling assertions made in Jimenez's book have prompted at least one prominent gay commentator to reassess longstanding assumptions about the Shepard case.
"Events are more complicated than most politicians and activists want them to be," said gay conservative commentator Andrew Sullivan. "No one should be afraid of the truth."
Among the book's claims is that Shepard, 21, knew and socialized with Aaron McKinney, also 21, one of two men convicted of his murder, at least a year before the crime. According to Jimenez's stated findings in the book, Shepard and McKinney each used and sold crystal meth, both had been involved with an escort service in Denver and Laramie that arranged for them to have sex for money with men, they were seen at the same parties in Laramie, and the two occasionally had sex with each other.
Jimenez told the Blade he devoted more than 13 years of research and investigative reporting in preparation for his book, interviewing more than 100 people on the record, including a dozen people he identifies as friends of Shepard and more than a dozen friends of McKinney.
But some of the national LGBT advocacy groups have joined the Matthew Shepard Foundation, which was created by Shepard's parents to combat anti-LGBT violence, in challenging the accuracy of the book and the credibility of its sources.
"Attempts now to rewrite the story of this hate crime appear to be based on untrustworthy sources, factual errors, rumors and innuendo rather than the actual evidence gathered by law enforcement and presented in a court of law," a statement released by the Shepard Foundation says.
"We do not respond to innuendo, rumor or conspiracy theories," the statement says. "Instead we remain committed to honoring Matthew's memory, and refuse to be intimidated by those who seek to tarnish it."
Albany County, Wyo., Sheriff David O'Malley, who served as Laramie police commander at the time of the murder, told the Blade on Tuesday that he believes the book "is full of lies" and described it as "conspiracy theory BS."
Jimenez said he and others working with him have thoroughly and meticulously scrutinized and vetted the findings of his investigation, which he says included a careful reading of virtually all of the police and court records related to the case that initially had been sealed by a judge.
Laramie officials have said the records became available to the public in late 1999 shortly after the conclusion of the trial of McKinney, who was convicted of bludgeoning Shepard to death by repeatedly striking him in the head with the barrel of a .357 Magnum pistol while Shepard was tied to a fence at an isolated prairie just outside of town.
Co-defendant Russell Henderson confessed to having tied Shepard to the fence while accompanying McKinney on what he said began as a plan by McKinney to lure Shepard from a Laramie bar to rob him. Unlike McKinney, Henderson pleaded guilty to a murder charge rather than face a trial. Both men were sentenced to life in prison without the possibility of parole.
"I think the discovery of who Matthew Shepard was as a person and the complexity of who he was as a human being is really important," Jimenez told the Blade.
"And so my reason for writing the book is to really say let's understand what was really going on here," he said. "If we're serious about dealing with hate and violence in the culture, let's understand what really happened here. What are the forces that came into play that created this grotesquely violent murder?"
Added Jimenez: "And certainly as I know now, the official story that these were two strangers that walked into a bar and targeted Matthew because he looked well-dressed and looked like he had money and appeared to be gay or that Matthew came on to them in the bar or that they lured him out of the bar because he was gay – those are simply not true."
Jimenez was referring to the findings in the official police report that was based in part on a confession by McKinney to police at the time of his arrest three days after the murder. In his confession, McKinney said he and Henderson planned to rob Shepard, not to kill him. He said he lost control of his emotions and actions after Shepard allegedly groped him in the pickup truck that Henderson was driving after Shepard accepted McKinney's invitation to drive him home from the Fireside bar on the night of Oct. 6, 1998.
McKinney's lawyers, who attempted to invoke the so-called "gay panic" defense at McKinney's trial, told the jury in his November 1999 closing argument that McKinney's judgment was clouded that night by his consumption of alcohol and his use of and addiction to crystal meth amphetamine.
"Aaron McKinney is not a cold-blooded killer," defense attorney Dion Custis said. "What happened is he hit him too many times" after the crystal meth consumption and Shepard's alleged groping caused him to fly into an "uncontrollable rage."
LGBT advocacy groups, noting that perpetrators of anti-gay hate crimes often use the gay panic defense as an alibi, said at the time that McKinney's use of the gay panic defense confirmed their belief that McKinney's motive was anti-gay hatred.
O'Malley said the police investigation found that McKinney had not been using crystal meth for several days and that investigators concluded that the murder "had nothing to do with drugs." He said that the incident started as a robbery but investigators believe the brutality of the beating, in which McKinney crushed Shepard's skull, involved a form of "overkill" that indicated the true motive was anti-gay animus.
Jimenez argues in his book that McKinney was suffering from the effects of his crystal meth use at the time of the attack but that some of his animus toward Shepard was based on alleged conflicts over a drug deal at a time when the two were working for rival drug suppliers. He bases this theory on information from both named and anonymous sources.
"It boggles the mind that this book flies in the face of all of the evidence related to the drug use," said Cathy Renna, a former official with Gay & Lesbian Alliance Against Defamation (GLAAD), who attended the McKinney trial.
"Aaron McKinney has changed his story so many times it's not even worth trying to keep count," said Renna in referring to subsequent statements that McKinney has made to reporters in interviews from jail.
"But the one thing that Aaron McKinney has been clear about and has remained consistent to is that he didn't know Matt beforehand."
Renna and others questioning the reliability of Jimenez's sources have cited a memo that ABC News correspondent Elizabeth Vargas mistakenly left at O'Malley's residence in 2004, when she interviewed O'Malley, as confirmation that Jimenez reached his conclusions about the Shepard case before he began research for a controversial report on the ABC program 20/20. The memo, according to critics who have seen it, outlined the view the Shepard murder was not a hate crime along with some of the other revelations recounted in the Jimenez book.
Jimenez, however, told the Blade that the criticism is unfounded because his memo was based on more than two years of research that he already had conducted on the case long before he became involved in the 20/20 project.
He also disputes claims by critics that the 20/20 broadcast on the Shepard case in 2004 was based on unreliable sources.
"When I did the ABC News story every single note, every single interview transcript, everything we did was vetted by the top vice presidents and lawyers at ABC," Jimenez said.
Concerning his book, Jimenez notes that the lead prosecutor in the Shepard murder case, Cal Rerucha, has stated on the record in his book that he agrees that the preponderance of evidence shows that drugs rather than anti-gay hate was the motive behind the murder of Matthew Shepard.
Regardless of whether the claims in Jimenez's book are correct or not, some LGBT activists question the purpose of such a book, which they note has already been cited by right-wing anti-gay organizations to question the validity of hate crime legislation.
DOJ urged to investigate threats against providers of transition-related care
Boston-area hospital forced to evacuate in August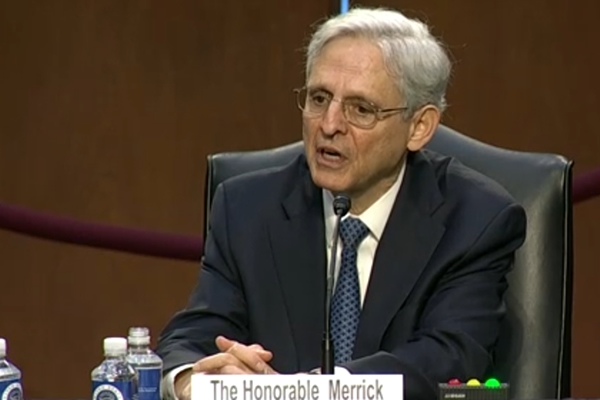 A coalition of major health organizations are calling on U.S. Attorney General Merrick Garland to investigation threats against providers of gender transition-related medical care for youth, asserting ongoing hostility, including bomb threats and threats of personal violence.
The letter, dated Oct. 3, says medical providers are facing threats for providing "evidence-based health care" to youth, which has meant care for gender transitions, such as hormones, puberty blockers and gender reassignment surgery. The targets of these threats, the letter says, are children's hospitals, academic health systems and physicians across the country.
"These coordinated attacks threaten federally protected rights to health care for patients and their families," the letter says. "The attacks are rooted in an intentional campaign of disinformation, where a few high-profile users on social media share false and misleading information targeting individual physicians and hospitals, resulting in a rapid escalation of threats, harassment and disruption of care across multiple jurisdictions."
The letter has an organizational signature from American Academy of Pediatrics, American Medical Association and Children's Hospital Association, listing no names as representatives. According to the letter, the group represent 270,000 physicians and medical students and CHA represents more than 220 children's hospitals across the country.
Major health organizations call on the U.S. Justice Department to take action weeks after Boston Children's Hospital was forced to evacuate over a bomb threat. Authorities later arrested a woman charged with making the after she reportedly phoned in the threat and called the staff "sickos."
The threats, the letter says, have had significant impact on providers and services to patients, including a new mother being prevented from being with her preterm infant because of a bomb threat; the need for increased security at children's hospitals; and staffers facing "increased threats via social media – including to their personal accounts."
A statement from organizations accompanying the letter urges social media companies — including Twitter, TikTok and Meta, which owns Facebook and Instagram — to "do more to prevent coordinated campaigns of disinformation."
Jack Resneck, president of the American Medical Association, said in a statement accompanying the letter "individuals in all workplaces have the right to a safe environment, out of harm's way and free of intimidation or reprisal."
"As physicians, we condemn groups that promote hate-motivated intolerance and toxic misinformation that can lead to grave real-world violence and extremism and jeopardize patients' health outcomes," Resneck said.
The Washington Blade has placed a call in with the Justice Department seeking comment on the letter and the American Medical Association seeking comment on why the letter has organizational signatures as opposed to signatures from any of their representatives.
Youngkin makes additional appointments to Va. LGBTQ+ Advisory Board
Governor plans to revise transgender, nonbinary student guidelines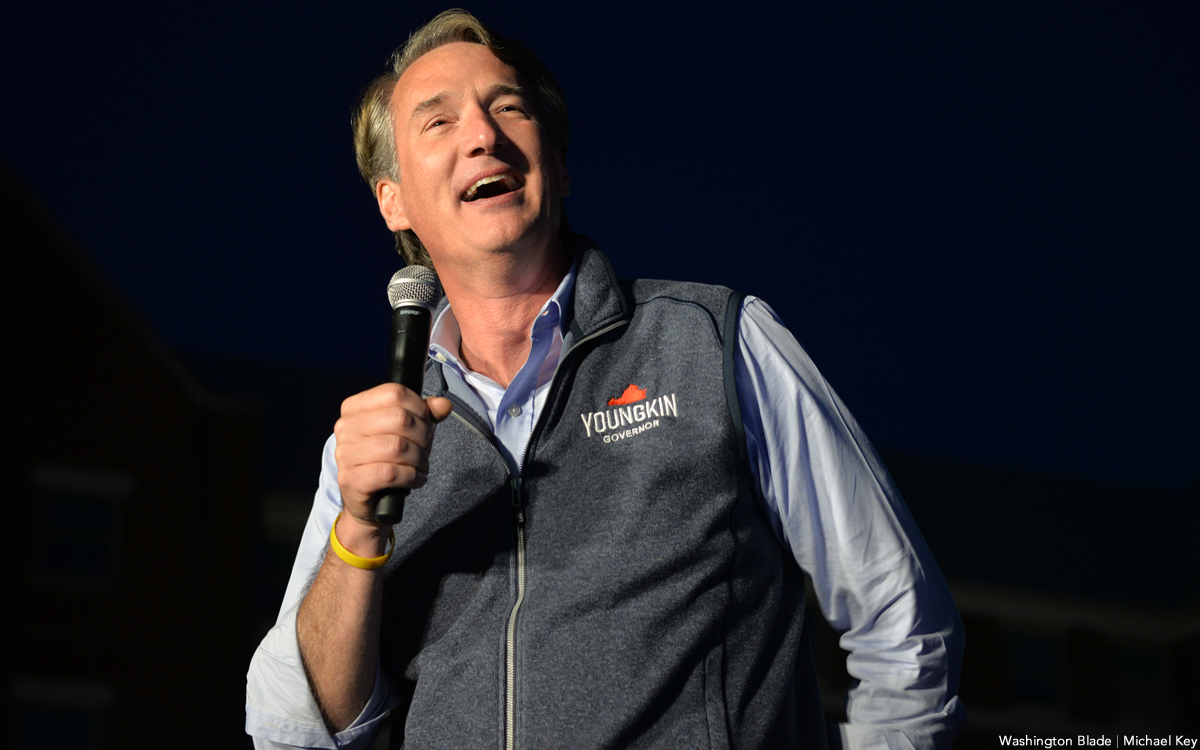 Republican Virginia Gov. Glenn Youngkin on Friday announced the appointment of three people to the Virginia LGBTQ+ Advisory Board.
Youngkin named Kerry Flynn, Jason Geske and Collin J. Hite to the board.
Casey Flores, the president of Log Cabin Republicans of Richmond, in July resigned from the board before his tenure was to begin. The resignation came amid growing criticism over a series of anti-LGBTQ and misogynist comments he made against Vice President Kamala Harris and U.S. Rep. Ted Lieu (D-Calif.), among others.
Youngkin last month announced he plans to revise the Virginia Department of Education's guidelines for transgender and nonbinary students. Thousands of high school students across Virginia on Sept. 27 walked out of class in protest of the planned revision.
Survey shows 72% of Utah residents back same-sex marriage
Troy Williams, executive director of Equality Utah said he's not surprised to see that a majority of Utahns now support marriage equality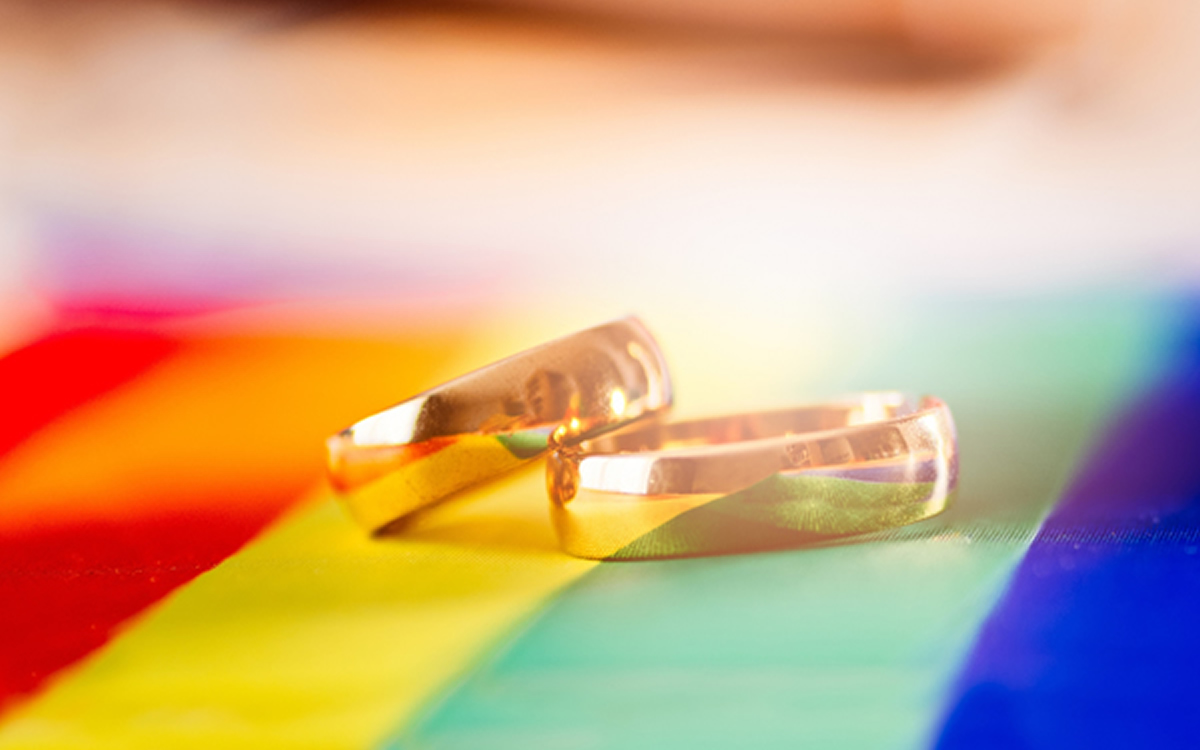 The results of a poll run by the Hinckley Institute of Politics and the Desert News found 72% of Utah's residents agree that marriages between same-sex couples should be recognized by law as valid, with the same rights as cis-gender marriages.
"For a state that less than 20 years ago passed laws and a constitutional amendment prohibiting same-sex marriage, there has been a seismic shift in opinion," said Jason Perry, director of the Hinckley Institute of Politics at the University of Utah.
The Deseret News/Hinckley Institute of Politics survey also found that 23% of those surveyed disagreed, while 5% expressed that they don't know.
The poll shows Utahns are aligned with the nation as a whole on the issue. A Gallup poll in May found 71% of Americans say they support legal same-sex marriage, a new high.
Troy Williams, executive director of Equality Utah, told the Desert News that he's not surprised to see that a majority of Utahns now support marriage equality.
"Utah is a pro-family state, and we recognize that families come in all shapes and sizes. When we see loving, committed couples joining in matrimony, our natural impulse is to support and encourage that love. This gives me great hope for the future," he said.
A new poll shows nearly three-fourths of Utahns support legal same-sex marriage. | By @dennisromboy #utpolhttps://t.co/DBJHHNgmnJ

— Deseret News (@Deseret) September 30, 2022