Michelle Bachelet wins first round of Chile presidential election
Same-sex marriage supporter will face Evelyn Matthei in Dec. 15 run-off
Bachelet received slightly less than 47 percent of the vote with nearly all precincts reporting. Her main rival, Evelyn Matthei, came in second with 25 percent of the votes.
Bachelet needed at least 50 percent of the vote to avoid a run-off.
The left-leaning Socialist whose father was tortured to death following the 1973 coup that toppled then-President Salvador Allende's government was Chile's president from 2006-2010. She and Matthei squared off against seven other candidates.
Bachelet vowed to address long-standing socio-economic inequalities in the South American nation and reform the country's education system during the campaign. She has also publicly backed marriage rights for same-sex couples.
"Inequality is Chile's huge scar," Bachelet told supporters during a campaign rally on Nov. 14 as Reuters reported. "It's our main obstacle and the stone in our shoe when we really think about becoming a modern country."
Neighboring Argentina is among the 15 countries in which same-sex couples can legally marry.
The Inter-American Court of Human Rights in July gave the Chilean government a two month deadline to respond to a same-sex marriage lawsuit the LGBT advocacy group Movement for Homosexual Integration (Movilh) filed last year. The group said last month that two members of outgoing President Sebastián Piñera's cabinet with whom it met assured them the government has already begun the "process of internal consultations" to respond to the case.
More than 40 Chilean lawmakers have urged Piñera to make a bill that would allow gays and lesbians to enter into civil unions a priority before he leaves office early next year.
Bachelet backs efforts to strengthen pro-LGBT laws
The Inter-American Court of Human Rights in February 2012 ruled in favor of lesbian Judge Karen Atala who lost custody of her three daughters to her ex-husband in 2005 because of her sexual orientation. The Chilean government last December formally apologized to Atala.
The fatal beating of Daniel Zamudio, who was gay, inside a park in Santiago, the country's capital, in March 2012 prompted Chilean lawmakers to approve a hate crimes and anti-discrimination bill that includes sexual orientation and gender identity and expression. A court on Oct. 28 sentenced the convicted mastermind of the attack to life in prison.
Bachelet's platform supports efforts to strengthen the anti-discrimination statute named in honor of Zamudio. She also backs efforts that would extend additional rights to trans Chileans.
Bachelet and Matthei will face each other in a run-off on Dec. 15.
We have won this election and with a ample majority," Bachelet said on Sunday after the polls closed as the Chilean newspaper El Mercurio reported. "We are going to work towards a decisive victory in the second round."
LGBT rights advocates also celebrated Claudio Arriagada's election as the first openly gay member of the Chilean Congress.
Arriagada, who was the mayor of the Santiago suburb of La Granja from 1992 to 2012, came out in July. The Bachelet ally who is a member of the centrist Christian Democratic Party won is race to represent La Granja in the lower house of the Chilean Congress with nearly 53 percent of the vote.
Movilh President Rolando Jiménez lost in his bid to represent the Santiago suburb of Conchalí in the same legislative chamber.
"When we were founded in 1991 the possibility of an openly gay parliamentarian would not have been part of our dreams," Movilh said in response to Arriagada's victory. "Least of which one would not have thought the first would be from the Christian Democrats. And here, after more than 22 years of cultural transformations it has happened."
Former Chilean President Michelle Bachelet on Sunday won the first round of her country's presidential elections.
Rachel Levine: Efforts to deny health care to trans youth are 'politics'
Former Pa. health secretary opened Victory Fund conference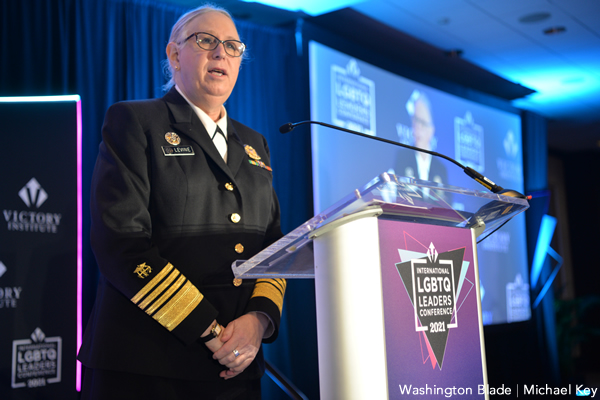 Assistant Health Secretary Rachel Levine on Thursday criticized efforts to prevent transgender youth from accessing health care.
"Unfortunately, some have fought to prevent transgender youth from accessing the health care that they need," she said in a speech she delivered at the opening of the Victory Fund's 2021 International LGBTQ Leaders Conference that took place in-person at the JW Marriott in downtown D.C. "This is politics and this politics has no place in health care and public health and they defy the established standards of care written by medical experts."
Levine was Pennsylvania's Health Secretary until President Biden nominated her to become assistant secretary of health.
She became the first openly trans person confirmed by the U.S. Senate in March. Levine in October became a four-star admiral in the U.S. Public Health Service.
The conference will take place in-person and virtually through Sunday.
VIDEO: Biden addresses advocates on World AIDS Day
President says end to transmission 'within striking distance'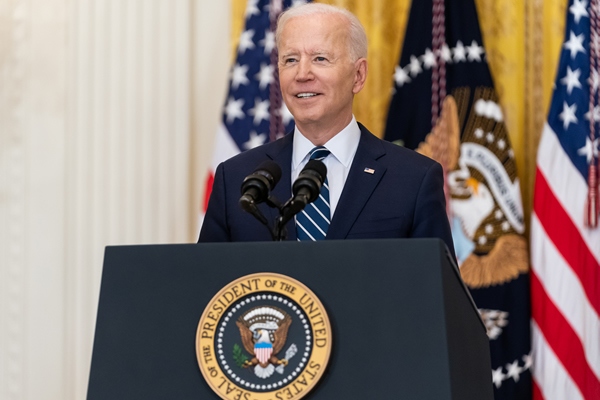 President Biden, in remarks delivered Wednesday at the White House in recognition of World AIDS Day, said to advocates in the fight against HIV/AIDS the end to HIV transmission was near.
"It's because of you and it's not hyperbole to suggest that we are within striking distance of eliminating HIV transmission, within striking distance," Biden told attendees in the East Room.
Joining Biden in the East Room were Secretary of Health & Human Services Xavier Becerra and Gabriel Maldonado, an HIV/AIDS Advocate and founder of TruEvolution, a Riverside, Calif.-based LGBTQ group.
Biden also during his remarks touted having made the appointment of Harold Phillips to lead the White House Office of National AIDS Policy — a position that had gone vacant throughout the entirety of the Trump administration.
Notably, Biden talked about the Ending the HIV Epidemic plan, an initiate health officials started in the Trump administration, by saying was to beat HIV domestically by 2030. That was initial target date when the initiative, but Biden had campaigned on defeating by HIV by 2025 to the skepticism off observers.
Watch Biden full remarks below:
Matthew Shepard honored at National Cathedral
Daylong services held to mark his 45th birthday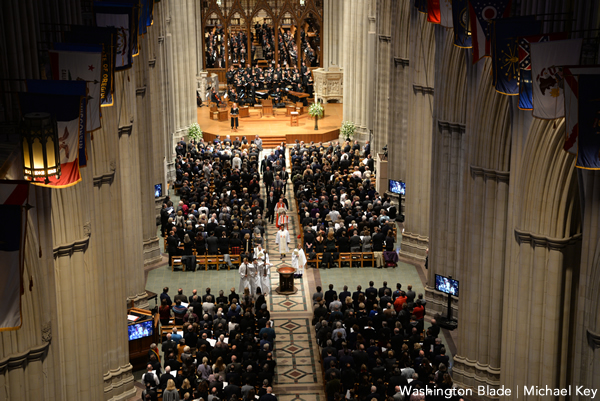 The parents of gay University of Wyoming student Matthew Shepard, who was murdered in a 1998 hate crime that drew international attention to anti-LGBTQ violence, were among those attending a day of religious services commemorating Shepard's 45th birthday on Wednesday at the Washington National Cathedral.
The services, which the Cathedral organized in partnership with the Matthew Shepard Foundation, included tributes to Shepard at the Cathedral's St. Joseph's Chapel, where his remains were interred in a ceremony in 2018.
"Matthew Shepard's death is an enduring tragedy affecting all people and should serve as an ongoing call to the nation to reject anti-LGBTQ bigotry and instead embrace each of our neighbors for who they are," the Very Rev. Randolph Marshall Hollerith, Dean of Washington National Cathedral, said at the time of Shepard's interment.
"In the years since Matthew's death, the Shepard family has shown extraordinary courage and grace in keeping his spirit and memory alive, and the Cathedral is honored and humbled to serve as his final resting place," Hollerith said.
The first of the Cathedral's Dec. 1 services for Shepard began at 7 a.m. with prayers, scripture readings, and music led by the Cathedral's Rev. Canon Rosemarie Logan Duncan. The service was live streamed on YouTube.
An online, all-day service was also held from 8 a.m. to 5 p.m. that Cathedral officials said was intended to "connect people around the world to honor Shepard and the LGBTQ community and pray for a more just world."
The Shepard services concluded with a 5:30 p.m. in-person remembrance of Shepard in the Cathedral's Nave, its main worship space. Among those attending were Shepard's parents, Dennis and Judy Shepard, who have said they created the Matthew Shepard Foundation to continue their son's support for equality for all.
A statement released by the Cathedral says a bronze plaque honoring Matthew Shepard was installed in St. Joseph's Chapel to mark his final resting place at the time Shepard was interred there in 2018.
Following the Cathedral's Dec. 1 services for Shepard, the Adams Morgan gay bar Pitchers hosted a reception for Dennis and Judy Shepard, according to Pitchers' owner David Perruzza.
One of the two men charged with Shepard's murder, Russell Henderson, pleaded guilty to the charge after prosecutors agreed not to seek the death penalty for him. The second of the two men charged, Aaron McKinney, was convicted of the murder following a lengthy jury trial.
Prosecutors said McKinney repeatedly and fatally struck Shepard in the head with the barrel of a handgun after he and Henderson tied Shepard to a wooden fence in a remote field outside Laramie, Wy., on Oct. 6, 1998. Police and prosecutors presented evidence at McKinney's trial that McKinney and Henderson met Shepard at a bar in Laramie on that day and lured him into their car, where they drove him to the field where authorities said McKinney fatally assaulted him.
Shepard died six days later at a hospital in Ft. Collins, Colo., where he was taken after being found unconscious while still tied to the fence.
In a dramatic courtroom scene following the jury's guilty verdict for McKinney, Dennis Shepard urged the judge to spare McKinney's life by not handing down a death sentence. He said that out of compassion and in honor of his son's life, McKinney should be allowed to live. The judge sentenced McKinney to two consecutive terms of life in prison without the possibility of parole, the same sentence given to Henderson.