U.S. officials affirm support of LGBT rights in foreign policy at summit
Russia, Cuba criticized for anti-gay records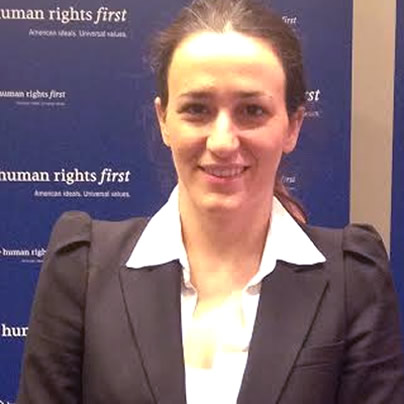 Global LGBT rights factored into Human Rights First's annual summit that took place this week at the Newseum in downtown Washington.
National Security Adviser Susan Rice stressed support of LGBT rights remains an essential part of U.S. foreign policy during a speech she gave on Dec. 4. U.S. Sen. Patrick Leahy (D-Vt.) on Thursday said equality for LGBT people, women, immigrants and those with disabilities are "examples of what we can accomplish if we persevere against what is often long-standing prejudices."
Florida Congresswoman Ileana Ros-Lehtinen on Thursday criticized the Russian and Cuban governments' human rights records.
The Republican, whose family fled Cuba after the 1959 Cuban Revolution during which Fidel Castro took power, singled out Mariela Castro, daughter of Cuban President Raúl Castro. Ros-Lehtinen again criticized the Philadelphia-based Equality Forum and other organizations that have honored Mariela Castro for her LGBT advocacy efforts in Cuba.
"Mariela Castro does not support LGBT rights, no matter how many fake awards and medals are bestowed upon her," Ros-Lehtinen said. "It is fundamentally impossible to support LGBT rights without supporting human rights more generally."
Jonathan Capehart of the Washington Post on Thursday moderated a panel on how the U.S. can advance LGBT rights abroad.
Russian journalist Masha Gessen, Kaspars Zalitis of the Latvian LGBT advocacy group Mozaika and Jovanka Todorovic of Labris-Lesbian Human Rights Organization of Serbia were panelists. Russian LGBT Network Chair Igor Kochetkov had also been scheduled to take part in the panel, but he cancelled his appearance at the summit due to recent threats against his organization.
"I am very sorry that I cannot be with you," said Kochetkov in a statement that Capehart read. "The current situation around LGBT organizations is seriously complicated, with attacks on activists and ordinary members of the LGBT community."
Gessen said during the panel she feels the Russian government has launched "an all-out war on LGBT people."
She noted Russia's highest court earlier this week upheld the broadly worded law that President Vladimir Putin signed in June that bans gay propaganda to minors. Gessen said she expects the lawmaker who has proposed a bill that would strip gays and lesbians of custody of their children will reintroduce it after the 2014 Winter Olympics take place in Sochi, Russia, in February.
Gessen said she, her wife whom she married in the U.S. in 2004 and their children plan to leave Russia in less than three weeks.
"This is the Kremlin's worldview," said Gessen as she further discussed her aforementioned decision and the Kremlin's ongoing LGBT rights crackdown. "This is really what Putin and his cronies think. They think that we are the enemy; we represent the enemy of the Russian state and the enemy of Putin personally and that mysterious foreigner that is out to destroy Russia and the traditional family and the Orthodox culture."
Zalitis noted Latvia's Central Election Commission last month allowed anti-LGBT groups to begin collecting signatures for a referendum on whether to introduce a measure that would ban gay propaganda in the former Soviet republic. Latvian voters in 2006 approved a constitutional amendment that defines marriage as between a man and a woman.
"Nothing bad is going to happen because we're prepared for anything," said Zalitis in response to Capehart's question about what may happen to him and the other panelists once they return to their home countries. "[Latvia is] not Russia. It's not Uganda. It's not Saudi Arabia. I'm going to go back and we're going to keep fighting."
Todorovic said LGBT Serbians continue to confront homophobia, transphobia and violence in spite of recent legislative advances that include the approval of an anti-discrimination law that includes sexual orientation and gender identity and expression in 2009. An LGBT-inclusive hate crimes statute takes effect in January.
The Serbian government in September cited threats of violence from anti-gay extremists for the reason it decided to cancel a Pride march in Belgrade, the country's capital, hours before it had been scheduled to take place. Todorovic said the U.S. Ambassador to Serbia Michael Kirby and officials from Sweden and the Netherlands had planned to take part in the event.
"Sometimes it is good to have the support, but sometimes even the support and pressure are not enough," she said.
Founded in 1978 as the Lawyers Committee for International Human Rights, Human Rights First seeks to advance global human rights. The organization has offices in D.C. and New York.
The summit took place less than a week before the 65th anniversary of the U.N. General Assembly's adoption of the Universal Declaration of Human Rights.
"We believe American leadership is essential in the struggle for global human rights," said Human Rights First President Elisa Massimino on Dec. 4 as she opened the summit. "We urge our government to respect human rights at home and use its influence to encourage them abroad."
Zalitis and Todorovic told the Washington Blade in separate interviews they welcomed the opportunity to attend the summit.
"It is good to see how you are doing things here [in the U.S.] and to adjust to our reality," Todorovic said.
Bomb threat shuts down Takoma Park holiday drag show
MotorKat evacuated when Tara Hoot was performing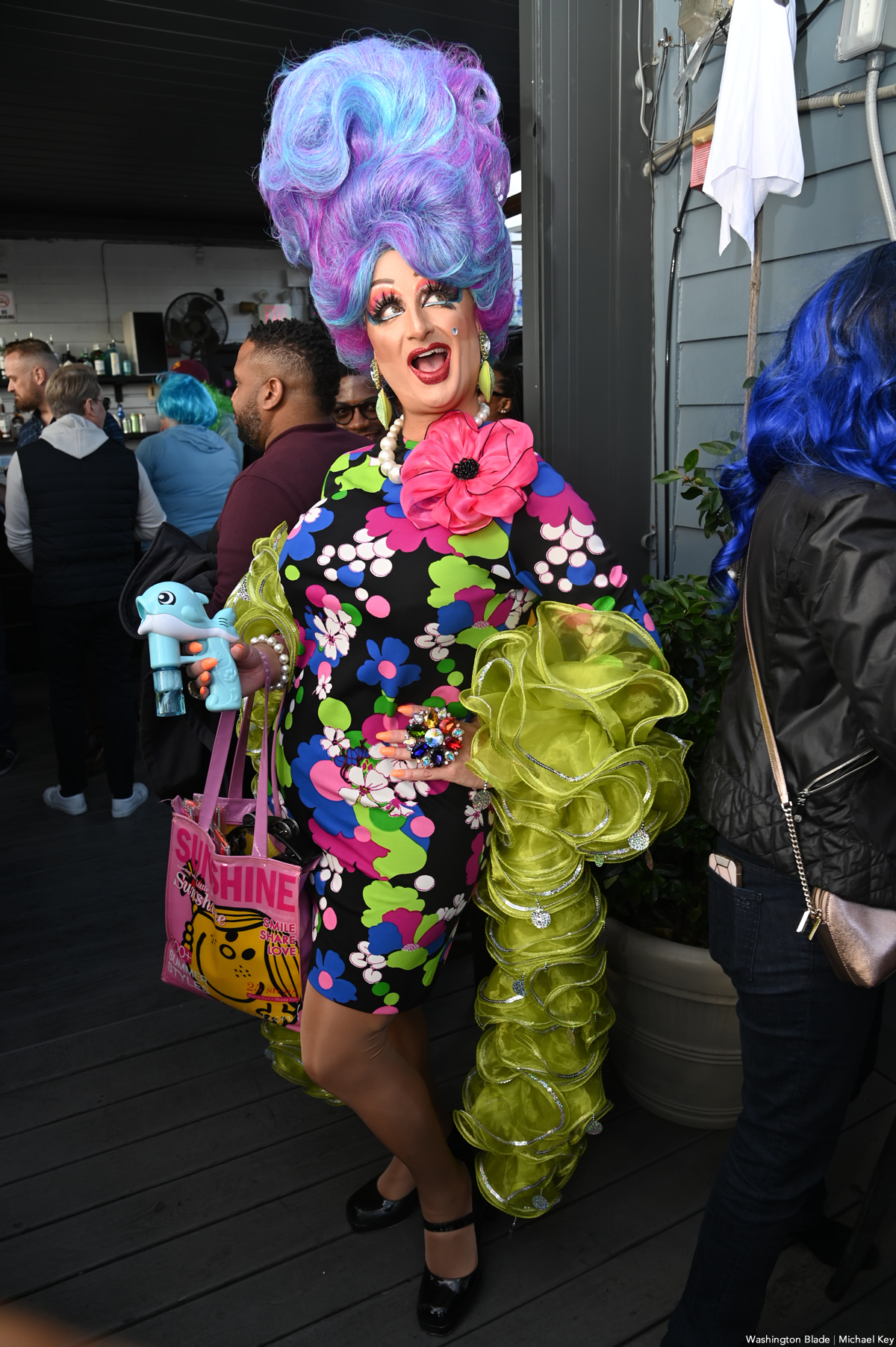 Police cordoned off a popular strip in Takoma Park on Saturday after a bomb threat shut down businesses, including a holiday performance by drag artist Tara Hoot.
MotorKat General Manager Mike Rothman told the Washington Blade that Takoma Park police notified them of a bomb threat to their business around noon.
Tara Hoot was delivering a holiday brunch performance at the MotorKat when the evacuation order came in.
Rothman said they were notified "five minutes into her final performance." Tara Hoot herself told the audience to leave for their safety.
Police proceeded to tape off the area and evacuated all businesses between Eastern and South Carroll Avenues, including TakomaBevCo, which is co-owned by MotorKat Wine Director Seth Cook.
Cook told the Blade that police brought in "bomb-sniffing dogs" to clear the area before allowing businesses to reopen around 2 p.m.
"The timing is unfortunate as this is one of the busiest weekends before the holidays," Cook said.
Rothman was also disappointed by the lost revenue due to what ultimately was a false threat, but he was firm that the Takoma Park LGBTQ community is resilient and would continue to thrive despite this setback.
"Takoma Park is a pretty proud and resilient community," he said. "I don't expect people to lay down and be scared by this."
MotorKat and TakomaBevCo reopened for business around 3 p.m.
Anti-LGBTQ provisions removed from NDAA
New version omits restriction on gender affirming care, book and drag bans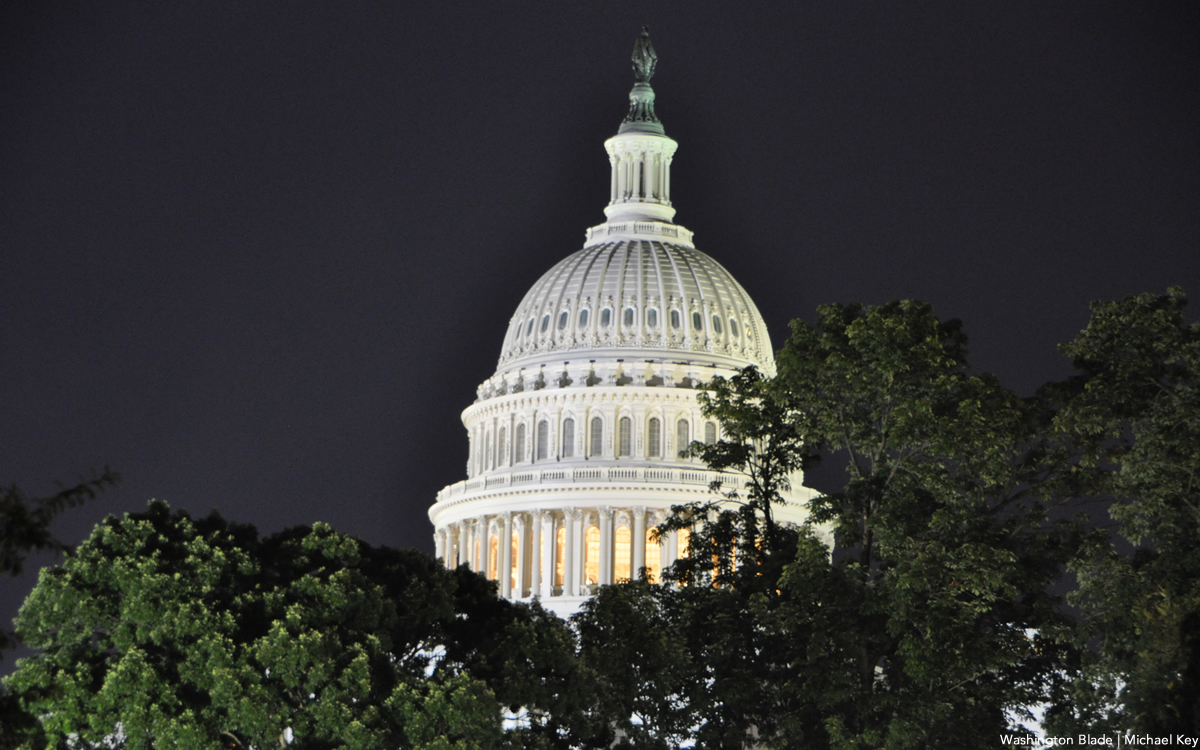 Anti-LGBTQ provisions submitted by House Republicans to the National Defense Authorization Act (NDAA) have been removed from the defense spending bill, triggering outrage from conservative lawmakers and praise from LGBTQ groups.
The conference version of the bill was released on Thursday.
This week saw the revocation of two measures targeting gender affirming care along with the book ban and drag ban. Language stipulating the list of approved flags that can be flown at military bases was amended such that more flags can be added on a discretionary basis.
"MAGA members of Congress tried to hijack the National Defense Authorization Act to advance their anti-LGBTQ+ agenda, attempting to riddle it with discriminatory riders," Human Rights Campaign National Press Secretary Brandon Wolf said in a statement to the Washington Blade.
His statement continued, "They failed and equality won. Anti-LGBTQ+ provisions, including efforts to restrict access to gender affirming care, were rejected. The anti-LGBTQ+ agenda continues to be deeply unpopular across the country and a failing political strategy."
Wolf thanked U.S. Sen. Jack Reed (D-R.I.) and U.S. Rep. Adam Smith (D-Wash.) for "defending equality and defeating attacks on the community."
Pledging to vote "no" on the bill, Republican U.S. Rep. Marjorie Taylor Greene (Ga.) said in a post on X, "I was appointed to the NDAA conference committee but NEVER got to work on the final version of the NDAA bc they made the deal behind closed doors and here are the horrible results."
I was appointed to the NDAA conference committee but NEVER got to work on the final version of the NDAA bc they made the deal behind closed doors and here are the horrible results 👇

I'm voting NO!!! pic.twitter.com/jnmTHCgzNG

— Rep. Marjorie Taylor Greene🇺🇸 (@RepMTG) December 8, 2023
Transgender people seek government job consideration in India's Maharashtra state
Court petition filed on Nov. 29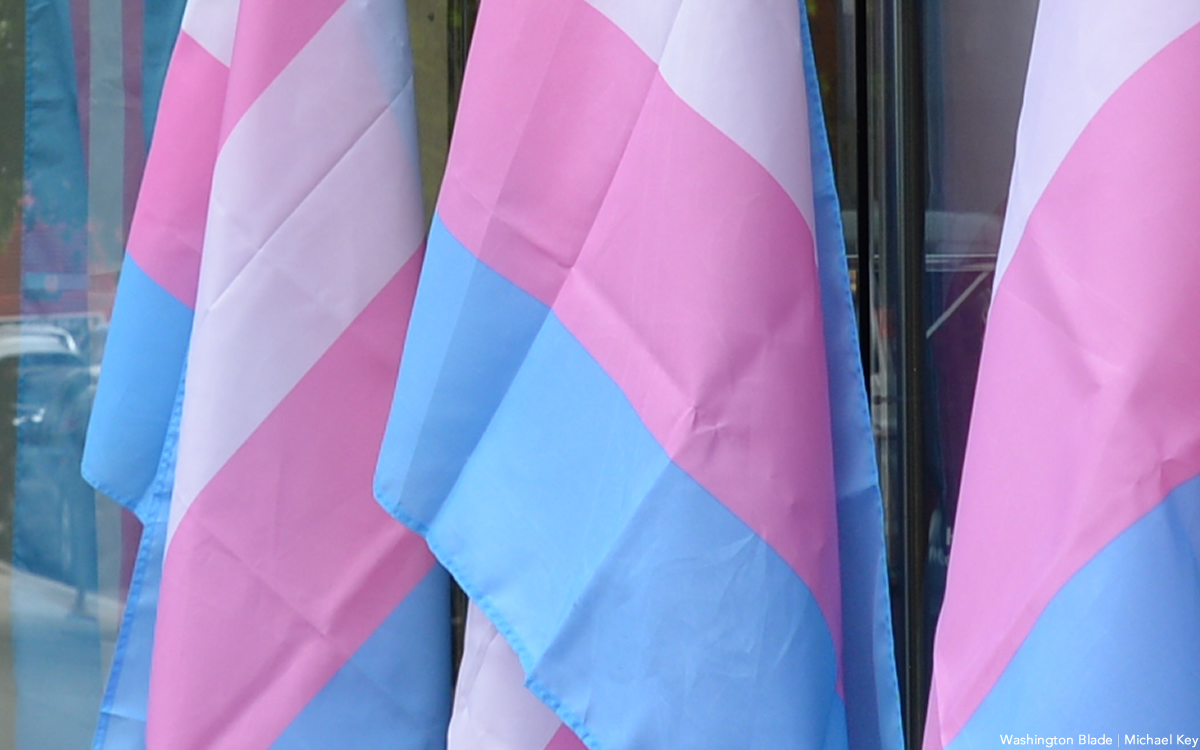 Ancient texts in India have recorded the history and cultural importance of transgender people, but the community is still marginalized and vulnerable in the country. Although the government offers many vulnerable castes a specific number of slots for education and government jobs, trans people still have no such benefit and continue to face discrimination across the nation.
Three trans people from Maharashtra state on Nov. 29 filed an application to the Maharashtra Administrative Tribunal seeking slots for trans people in government jobs and a "third gender" option in online job applications. Two applicants had applied for police officer posts, while the other had applied for a revenue officer post — both of which are government jobs in India.
While hearing the application, the Maharashtra Administrative Tribunal, a court that has all the powers of the High Court, said it cannot direct the state government to give slots for trans people in public employment and education. The Maharashtra Administrative Tribunal did say, however, that the state government should take more steps towards inclusivity for the community in mainstream society.
Maharashtra's government told the tribunal it would not be possible to provide slots to trans people in government jobs or education.
The Maharashtra Administrative Tribunal in a 26-page order directed the state government to give applicants the necessary points to qualify for the job if the applicant has secured 50 percent of the total marks for the concerned post. The tribunal also directed the government to provide age relaxation to trans applicants if they earned 45 points.
In India, every government job seeker goes through an examination to qualify for the job. Government job examinations are one of the toughest in India because there are millions of applications for a few positions, resulting in the need to secure higher marks to get a position.
More than one million applicants applied for 18,331 police officer positions in 2022. The government, however, provides slots to backward class applicants and gives points relaxation in examinations. Trans people in India are most marginalized and vulnerable with no slots in education or employment.
Retired Justice Mridula Bhatkar, who chairs the Maharashtra Administrative Tribunal and member Medha Gadgil in the ruling said the fact that not a single trans person who has come out received a job in the government sector speaks volumes.
"The transgender people are humans and are citizens of our great country who are waiting for their inclusion in the mainstream," said the tribunal. "We have historical, mythological and cultural instances of eunuchs and their participation in political, social or cultural fields."
The tribunal also said trans people are in the minority.
Although the majority forms the government, the majority cannot suppress the rights of marginalized sections of society. The tribunal further added the situation in which the trans community finds itself is worse than what women faced in the past while demanding equality.
The tribunal highlighted the mere acknowledgment of the separate identity of trans people was not enough, but they also need to be given opportunities in government jobs.
"The State of Maharashtra has been very progressive in its thought and culture," said the tribunal. "Therefore, it is desirable on the part of the government to take necessary measures to enable these transgender applicants to get jobs in the government sector."
The tribunal mentioned Indian Constitution prohibits any kind of discrimination based on sex under articles 15 and 16.
"To get into public employment is a handicapped race for transgenders," said the tribunal. "Though they are not physically disabled and are able-bodied persons, their activities, actions, growth are paralyzed due to the negative approach of society, family in all schools, colleges in all places at all levels."
While representing the petitioners, Kranti LC, a lawyer, said that the Indian states of Tamil Nadu, Chattisgarh, Karnataka, Jharkhand and Bihar have provided reservations to trans people. The tribunal, however, noted it understands the state has reached the limit of vertical slot of 62 percent, but ordered the law can reach equality and harmony through social engineering.
"The courts are for justice and cannot ignore any societal problem when placed before it," said the tribunal. "Under such circumstances, though courts are not the lawmakers while interpreting the law, a legally permissible solution is to be applied to meet the ends of justice."
According to the Indian Supreme Court's 1992 Indra Sawhney vs. Union of India ruling, nine judges upheld the 50 percent ceiling on slots and denied slots in promotion in government jobs. This means no government agencies or institutions can give slots more than 50 percent of total job openings. Maharashtra state already crossed the limit.
"It is very unfortunate, because transgender people are one of the most vulnerable people in India, and of the most marginalized population in our country," said Kalki Subramaniam, a trans rights activist and founder of Sahodari Foundation, an organization that works for trans Indians. "For the horizontal reservation, we need to get the support of our government. We need to sensitize our members of Parliament. I think, all political parties do support (the) transgender community, and do understand the plight of the community and difficulties we face."
Kalki told the Washington Blade the community needs to work hard. She said the community needs to start campaigning for horizontal slots. She said the community needs to MPs to get the necessary support for it.
While talking to the Blade, Rani Patel, an activist and founder of Aarohan, a nonprofit organization that works with trans Indians, said that it is right that the trans community needs to have reservations in jobs and education so that they can be mainstreamed in the society.
"I have been working with the transgender community for last 11 years in Delhi. We had worked very hard for the scraping of section 377," said Patel. "All the equality and rights given by the Supreme Court of India is of no use until and unless they are not provided with reservation, because there is a stigma in the society against the transgender people, the community feel rejected and detached from the society."
Patel told the Blade that only a few trans children are getting an education in the country. She said most of the trans people in India need to be skilled in whichever field for which they have an interest. Patel further said that while getting skills, the government should provide slots to trans people, otherwise giving skills will be of no use.
Patel and Aarohan were instrumental in drafting the Delhi government's trans bill.
Ankush Kumar is a reporter who has covered many stories for Washington and Los Angeles Blades from Iran, India and Singapore. He recently reported for the Daily Beast. He can be reached at [email protected]. He is on Twitter at @mohitkopinion.