January 8, 2014 at 12:30 pm EST | by Lou Chibbaro Jr.
AIDS groups in dispute over NAPWA trademark rights
A judge with the U.S. Bankruptcy Court for Maryland on Dec. 23 approved a motion allowing the D.C.-based Community Education Group, which provides AIDS-related services aimed at minority communities, to buy the legal rights to nine names linked to the National Association of People with AIDS.
But Judge Paul Mannes directed the national group AIDS United, which opposes CEG's purchase of at least one of the NAPWA-related names, to submit draft language for his final order clarifying the extent of the legal rights CEG would have for those names. Mannes was expected to make the final decision on what the order will say within the next week or two.
With more than $750,000 owed to creditors, NAPWA shut its doors in February 2013 after filing for Chapter 7 bankruptcy.
Laura J. Margulies, the bankruptcy trustee appointed by the court to represent NAPWA's estate, filed the motion asking Mannes to approve CEG's request to purchase the trademark rights to the NAPWA name and the names of various programs and projects that NAPWA carried out during its 30-year tenure as a nationally respected group representing people with AIDS.
The names listed in her motion are National HIV Testing Day, National Association of People with AIDS, National Gay Men's Awareness Day, National Gay Men's HIV/AIDS Awareness Day, National Healthy Living Summit, AIDS Watch, Staying Alive, NAPWA and National Association of People With AIDS, Inc.
"This transfer of ownership will guarantee these assets are not lost and continue to help serve those living with HIV/AIDS," CEG said in a statement released on Dec. 30.
"We hope to continue their mission and look forward to re-establishing partnerships and building new ones around these legacy programs as we push forward for those living with HIV and AIDS," A. Toni Young, CEG's president and CEO added in the statement.
However, Michael Kaplan, CEO of AIDS United, said he was troubled that CEG has filed trademark applications for most of the names, including the AIDS Watch name, with the U.S. Office of Patent and Trademarks. Kaplan said NAPWA's board prior to the bankruptcy filing authorized AIDS United and the Treatment Access Expansion Project, which also advocates for people with HIV/AIDS, to carry out the AIDS Watch project.
The project involves an annual two-day congressional lobbying effort in which AIDS activists from throughout the country come to Washington to visit the offices of their senators and representatives to push for federal AIDS programs.
"We feel it is not a good idea to trademark AIDS-related programs and names," he said. "I believe they are in the public domain and they should be in the public domain."
Kaplan said AIDS United will "definitely" challenge CEG's application to secure a trademark for the AIDS Watch name.
Young said CEG welcomes participation of other groups in the programs and projects represented by the various names. CEG maintains that NAPWA's board never transferred or assigned AIDS United or any other group the legal rights to the AIDS Watch name.
"CEG hopes to work together with those that have supported and sponsored these efforts in the past while increasing the reach into communities of color and women," Young said.
Lou Chibbaro Jr. has reported on the LGBT civil rights movement and the LGBT community for more than 30 years, beginning as a freelance writer and later as a staff reporter and currently as Senior News Reporter for the Washington Blade. He has chronicled LGBT-related developments as they have touched on a wide range of social, religious, and governmental institutions, including the White House, Congress, the U.S. Supreme Court, the military, local and national law enforcement agencies and the Catholic Church. Chibbaro has reported on LGBT issues and LGBT participation in local and national elections since 1976. He has covered the AIDS epidemic since it first surfaced in the early 1980s. Follow Lou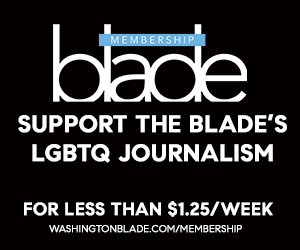 Sign Up for Blade eBlasts