January 15, 2014 at 10:10 am EST | by Joey DiGuglielmo
Queery: Chris Dinolfo
For Chris Dinolfo, acting is "kind of like a drug."
Though he keeps a day job "so I can pay my rent," acting, for him, is essential.
"You kind of get addicted to the adrenaline of it," he says. "The other part of it is that when you get in a good show and you start to realize you're telling a really important story … you want to share that with more and more people. It keeps me sane. In some ways it seems counterintuitive — most people I know in the theater are batshit crazy, but I just know I belong in the arts. When I'm not acting, I start to go a little stir crazy."
He's currently in the Sarah Ruhl play "Late: A Cowboy Song" at No Rules Theatre Co. (4200 Campbell Ave., Arlington/norulestheatre.org) where he plays Crick, a "controlling, asshole of a character" Dinolfo says he's "tried to infuse with as much humanity as possible." Go now if your interest is piqued — the show (which has been called a "quirky … urban fairytale") closes Sunday.
Dinolfo, a 20-something Fairfield, Conn., native, came to Washington for school 12 years ago and stayed. He works by day in Friendship Heights in admin at a health care clinic. He lives in Kalorama with his boyfriend and enjoys paddle boarding, theater and going to Good Wood on U Street in his free time.
How long have you been out and who was the hardest person to tell?
Since college. My girlfriend.
Who's your LGBT hero?
There are several LGBT people I truly admire for their courage, activism and just downright moxie: Larry Kramer, who wrote "The Normal Heart," for saying and writing the things no one wanted to hear at the time about AIDS and how it affected our community. Ellen DeGeneres for being funny, resilient and successful. Harvey Milk for his bravery, optimism and sacrifice. RuPaul. Thank God for RuPaul. Also, any sports figure who comes out.
What's Washington's best nightspot, past or present?
"Peach Pit" at DC 9 with DJ Matt Bailer. Black Cat, 9:30 club and Nellie's also get my vote. Also, the Blagden Alley Social Club — Google it. And I do wish I had been around to have experienced Tracks.
Describe your dream wedding.
Provincetown
What non-LGBT issue are you most passionate about?
How our government doesn't subsidize the arts.
What historical outcome would you change?
This question is too difficult so I'm gonna go with Drew Barrymore's dress at the Golden Globes.
What's been the most memorable pop culture moment of your lifetime?
Hanging out with Jason Sellards (Jake Shears) and driving him to JR.'s after a Scissor Sisters concert. Much drinking ensued.
On what do you insist?
A sense of humor. And good hygiene.
What was your last Facebook post or Tweet?
Publicity for the play in which I am currently performing — "LATE: A Cowboy Song" (Come see it!)
If your life were a book, what would the title be?
"Privileged Poor"
If science discovered a way to change sexual orientation, what would you do?
Cry. I don't want science to screw with what I want to screw.
What do you believe in beyond the physical world?
The non-physical world. (But seriously, I do believe in a non-physical world.)
What's your advice for LGBT movement leaders?
America isn't the country we claim it to be as long as LGBT people are denied rights that are inherently given to heterosexual people. Keep on fighting the good fight: Equality for all!
What would you walk across hot coals for?
My nieces and nephew.
What LGBT stereotype annoys you most?
Twink
What's your favorite LGBT movie?
Official LGBT movie: "Paris is Burning." Unofficial: "Beaches"
What's the most overrated social custom?
The high school prom.
What trophy or prize do you most covet?
Powerball
What do you wish you'd known at 18?
Parents are people, too; flawed and full of dreams. That, and the foresight to study coding and get in with an ambitious start-up company called Facebook.
Why Washington?
Aside from family living here, boyfriend and all the acting opportunities? Because New York is officially for wealthy people. I know that because the Huffington Post told me.
Joey DiGuglielmo is the Features Editor for the Washington Blade.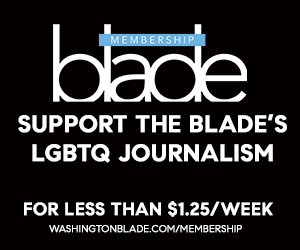 Sign Up for Blade eBlasts