Cakes for a cause
Chefs for Equality event focuses on Virginia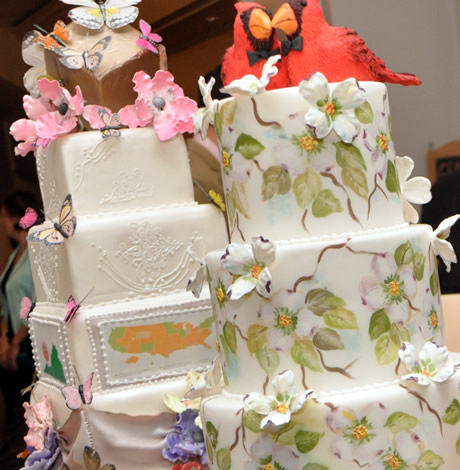 If you're in the market for a wedding cake, the Chefs for Equality fundraiser recently held by the Human Rights Campaign was the place to be, as pastry chefs from across the D.C. region created multi-tiered colorful confections to celebrate marriage equality.
While several of the cakes on display were rainbow-hued extravaganzas, many of the chefs also offered elegant and unique wedding cakes that any happy couple would want to share with their guests. The focus of the event was on Virginia, since HRC is targeting that state to pass marriage equality legislation, imbuing the cakes with real local flavor, from Virginia peanuts and strawberries to decorations such as bright red cardinals, Virginia's state bird, or dogwood blossoms, the state flower, all crafted from sugar.
Padua Player, executive pastry chef of SugaChef who has also competed on Food Network's "Sweet Genius," veered away from a literal Virginia-themed dessert when crafting a chic six-tiered cake for Susan Gage Caterers covered in gold fondant with a hand-applied abstract pattern.
"This was my third year making a cake for this event and I wanted to do something different, a little more avant garde, couture and high-end," Player says. "You're definitely not going to see that cake at your friend's wedding."
Just about to open her new bakery RareSweets at CityCenterDC near Gallery Place, pastry chef Meredith Tomason was similarly inspired to take a different approach with her menswear-inspired four-tiered cake with a pinstripe fondant and dozens of handmade buttons scattered artfully across the cake.
"We decided to come up with a fictitious couple to use as inspiration and to help us add personality to the cake," Tomason says. "Our happy fictitious twosome were a couple of gentlemen from Virginia who were very much into food, cigars and men's fashion. The subtle shimmer of the buttons added a bit of drama and celebration to the cake, while the color scheme kept things masculine and elegant."
Both Player and Tomason say that choosing a wedding cake is an opportunity for a couple to reflect their personalities, both as individuals and as a duo, with Tomason noting, "Your cake is one of the last impressions you get to make on your guests and it is one of the things you will remember most about your big day."
Player suggests that couples begin by thinking about their guests — by addressing any food allergies — and then allow each layer to have a distinct flavor that tells a story about the couple, being sure that the flavors complement each other, such as citrus and berry, or chocolate and almond. Some flavors to avoid? Player says lemon and chocolate together "is a big no-no" and Tomason finds that mint, though delicious with chocolate, can be tough to pair with other flavors.
Most of all, both chefs see a wedding cake as something that should be memorable and timeless, regardless of whether the couple is gay or straight.
"I'm gay myself," says Player, "and gay people don't want a rainbow cake — just a beautiful cake. A cake decorated with a rainbow flag may be fun for a party, but not for a wedding."
Tomason agrees, saying ,"We want to create the cake of your dreams, but also a cake that represents you in the best way possible."
You may want to consider a cake that honors the culture of each family, such as pairing tropical and European flavors, or decorations that reflect a favorite vacation spot or shared hobbies. Player has even made a wedding cake once that was an exact replica of the wedding cake of the parents of one member of the couple.
"That was a nice way to honor the parents," Player says. "It was a very old-school cake, but created a nice moment for the family."
Cautioning that some couples can be more concerned about pleasing their guests than themselves, Tomason reminds her clients that ultimately this cake is about them.
"I think it can be difficult for couples to agree on one perfect flavor for their wedding cake. Look beyond what's plain, simple and safe. Live it up, pick something fun, flavorful and exciting — then you will see more of your guests eating their cake and fueling up before they hit the dance floor."
Kristen Hartke is managing editor of Edible DC and writes about cocktails at goodbooze.wordpress.com.
Watch Pride parade from one of these bars, restaurants
Plenty of viewing options along route with drink, food specials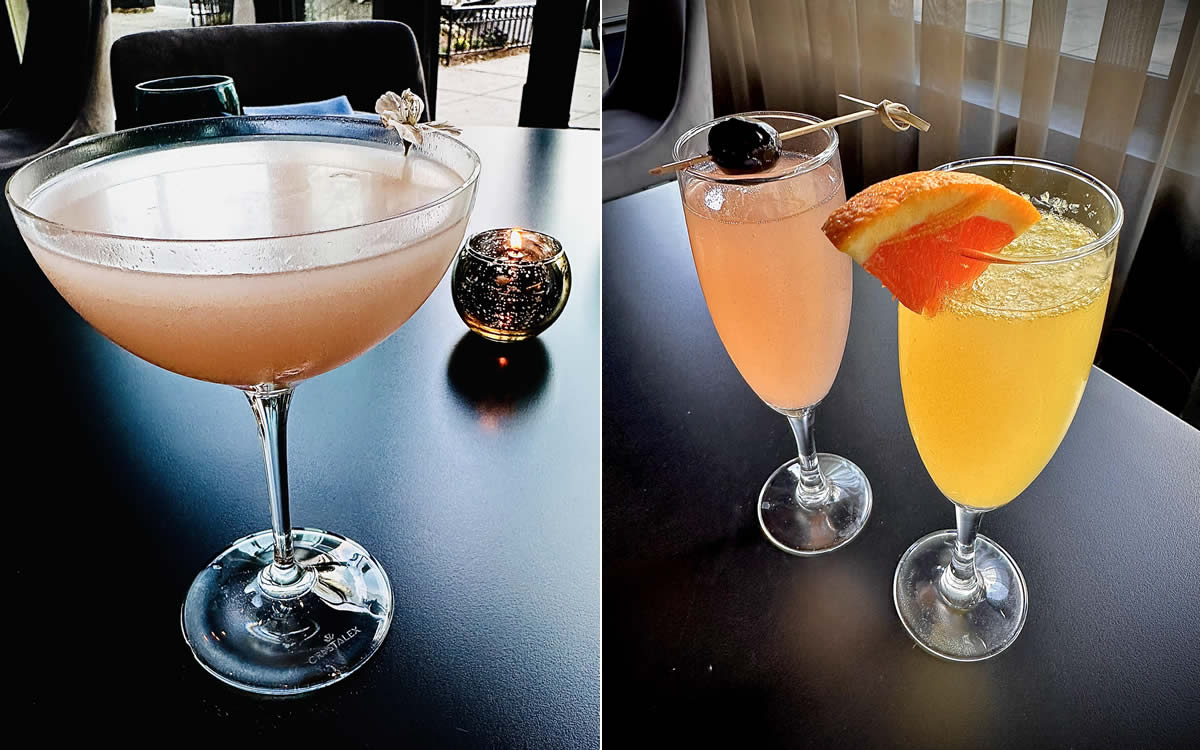 The Capital Pride Parade steps off from 14th and T streets, N.W. at 3 p.m. on Saturday, June 10. The parade tradition honors the city's LGBTQ history and acknowledges the evolution of the LGBTQ neighborhoods in Washington, D.C., as the parade winds through the 14th Street, Logan Circle, and Dupont Circle neighborhoods. One of the best ways to watch: Settle down at one of the many bars and restaurants that line the route. From start to finish, check out a few select options below.
Nama Ko
Situated just north of the parade kickoff, Nama Ko (which recently replaced Tico, from the same owners), will be celebrating Pride this year with three cocktail options for bottomless brunch (during the parade weekend and all month long), and an extended happy hour from 3-7 p.m. The featured drink is a Lychee Saketini made with Tito's Vodka, Nigori sake, and lychee purée; the drinks will be offered to-go for $10. Nama Ko will also offer two soft-serve flavors to go: miso honey truffle with chocolate & caramel sauces, and a black sesame soft serve topped with date syrup, cherries, and candied walnuts. To the delight of marchers, the many windows that face 14th Street will be painted a vibrant rainbow, as Tico did each year as well.
 
Mi Vida
Now one of three Mi Vida locations and part of the gay-owned Knead Restaurant Group, this colorful Mexican restaurant on 14th will have a special Pride cocktail, "Plus One," which includes Tito's Vodka, Chinola Passion Fruit, Aperol, Vanilla, Lime, Bubbles ($16). A portion of the proceeds will be donated to The Trevor Project. Guests who are coming to watch the parade can take their cocktail on the patio to get a front-row seat to the parade festivities.
Bresca
This upscale Parisian-style bistro graced with one Michelin star will join the party by opening up its bar area overlooking 14th Street for the parade.
Le Dip
To honor pride, Le Diplomate is highlighting Republic Restoratives spirits. Republic Restoratives, an LGBTQ-owned distillery located in Northeast, is a longtime supporter of LGBTQ rights in D.C. Le Diplomate will honor Republic in two cocktails June 9-11: the Romarin, using Civic Vodka, and the Tonic Trope, which will feature Assembly Gin. Le Diplomate has patio seating right on 14th Street and on Q Street.
 
Jane Jane
This throwback gay-owned cocktail lair with a patio on 14th Street is hosting a month-long Pride fundraiser in support of the ACLU Drag Defense Fund, During the month of June, the popular bar will donate 10 percent of sales from its Pride cocktail menu, and 50 percent of all T-shirt sales to the Drag Defense Fund. The bar will set up a stand for drinks outside during the parade, and will open up inside for the remainder of the evening.
Otherwise on 14th Street, check out patios at spots like Gypsy Kitchen, Garden District, Ted's Bulletin, Aslin Beer Company, Chicken + Whiskey, Pearl Dive Oyster Palace and more.
The parade route leaves 14th Street and turns west on Rhode Island Avenue. Two hotels right on the route are hosting Pride parties.
 
Viceroy Washington DC
The Capital Pride partner event Crack of Noon PRIDE Parade Brunch event is taking place at the Viceroy's Dovetail restaurant. Pregame for the parade with an all-you-can-eat brunch plus bubbly. Diners have the chance to meet the celebrated Pride Parade grand marshals, Pride 2023 Honorees, and other surprise special guests. Diners must be 21+. Brunch runs 11:30 a.m.-2:30 p.m. for $60-$75.
 
Darcy Hotel
Just a block west, The Darcy Hotel will host a Pride event on the Gerrard Street Patio, complete with a DJ plus food and drink specials. The hotel is offering two specialty cocktails for the entire month of June: The No28 cocktail ($6.28) in honor of National Pride Day (6/28), and The Darcy Pride cocktail, with peach vodka and passionfruit.
From there, the parade turns north on 17th Street for one block, and back west on P Street.
 
DC Vegan
At the corner of 17th and P Streets, this vegan deli-restaurant-bar is hosting its annual Vegan Pride party again with a special menu, and extended 12 p.m.-12 a.m. service. The bar will serve sausages, sandwiches, loaded nachos, Pride cupcakes, and other street-friendly eaters. DC Vegan will open up not only its subterranean bar, but also an auxiliary bar in its parklet patio, serving beer, wine, and liquor right on P Street.
The parade finishes its route curving around Dupont Circle and ends at 21st Street, N.W. Bars and restaurants with patios there include Pizzeria Paradiso, Sura Thai, and Emissary.
And if the parade crowds are too daunting, watch the parade on the giant screen at Pride on the Pier at the Wharf. The festivities include drag shows, DJs, VIP sections, and the parade on the big screen. Admission to the pier is free; the party runs from 2-9 p.m. culminating in a fireworks display. Visit prideonthepierdc.com for more information.
Annie's celebrates 75th anniversary
Local institution a place of community and acceptance for LGBTQ patrons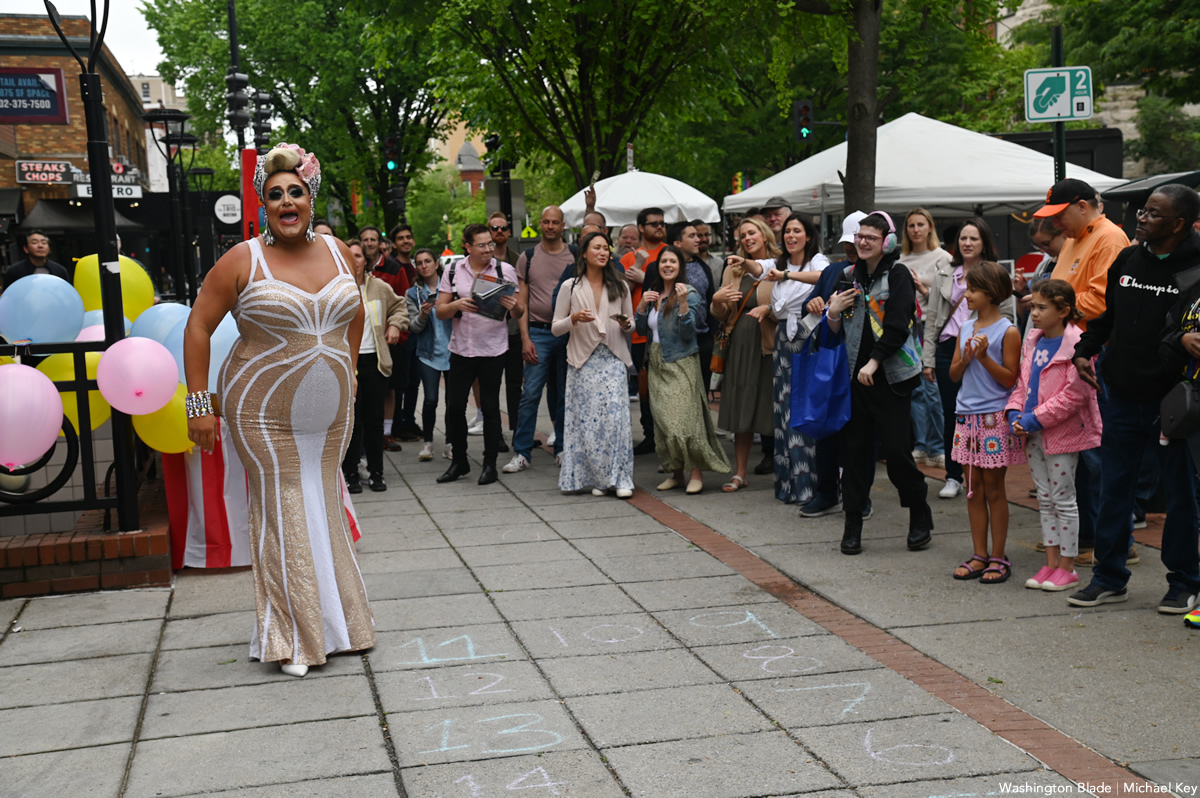 George Katinas, a child of immigrants, opened Paramount Steakhouse in 1948 on the corner of 17th and Church streets, N.W. (where JR.'s is currently located). Three-quarters of a century later, the restaurant has changed its name and location, received accolades from the city and James Beard, and was deservedly feted last weekend. His son Paul now owns the restaurant, and runs Annie's today with his daughter Georgia Katinas.
George ran the restaurant with his sisters, but it was a singular sister Annie who coaxed the restaurant into its status as a place of community and acceptance for the growing LGBTQ population in Dupont Circle. Katinas renamed the restaurant for her. When there were desperately few areas of safety, Annie's stood out, and does still today.
Last Saturday, Annie's pulled out all the stops for an all-day party under a brilliantly sunny sky. The clouds parted for the celebration, bringing together government officials, longtime customers, and families with new fans. A rainbow balloon arch perched across the 17th Street sidewalk.
Drag artists Kimberly Di'Nitta, Victoria Di'Nitta, Jayzeer Shantey, Genocide Abrasax and Candi H. Fuentes performed, Miss Gay Arlington greeted fans, and the Gay Men's Chorus of Washington sang several renditions a capela for the crowd – including "Happy Birthday" over an enormous cake with sparkler candles (Annie's has been a longtime supporter of the Gay Men's Chorus).
"Taking a moment to sing happy birthday with Potomac Fever Group of Gay Men's Chorus, this moment was so emotional," said Georgia.
Anne's set up a swag tent, selling collectible pint glasses featuring caricatures of the Annie's family, like George and Annie herself. There was also a raffle, carnival snacks, and sidewalk games like a pie walk and martini race.
Vincent Slatt of Rainbow History Project was there to take it all in. Armed with a microphone, he interviewed partygoers to talk about why Annie's was meaningful to them on the occasion of the anniversary.
In 2019, the James Beard Foundation announced that Annie's Paramount Steakhouse, won the America's Classic award for the Mid-Atlantic region (Ben's Chili Bowl has also won this award). These awards are given "to locally owned restaurants that have timeless appeal and are beloved regionally for quality food that reflects the character of its community," according to the James Beard website.
"Annie's became home, and was there when there weren't too many other opportunities or places to go," says owner Paul Katinas (George's son) in a previous interview. Annie's also developed a strong relationship with the Washington Blade after the newspaper was founded in 1969.
After the outdoor festivities closed at 6 p.m., the party moved inside to Annie's upper level for an appropriately festive afterparty.
Georgia notes that the anniversary "gave us a moment to reflect and think about how much has changed in 75 years, yet how much we've kept Annie's the same. It's a reason to celebrate and reflect. We're so grateful for the support of our regulars."
As for the next 25 years? Georgia says that the restaurant industry will be affected by the new tipped-wage law, but is adamant that Annie's will remain.
"We will preserve what we have, honor our past, while making new memories."
Delectable debuts on the D.C. dining scene
Jose Andres triumphs, Mi Vida expands, and more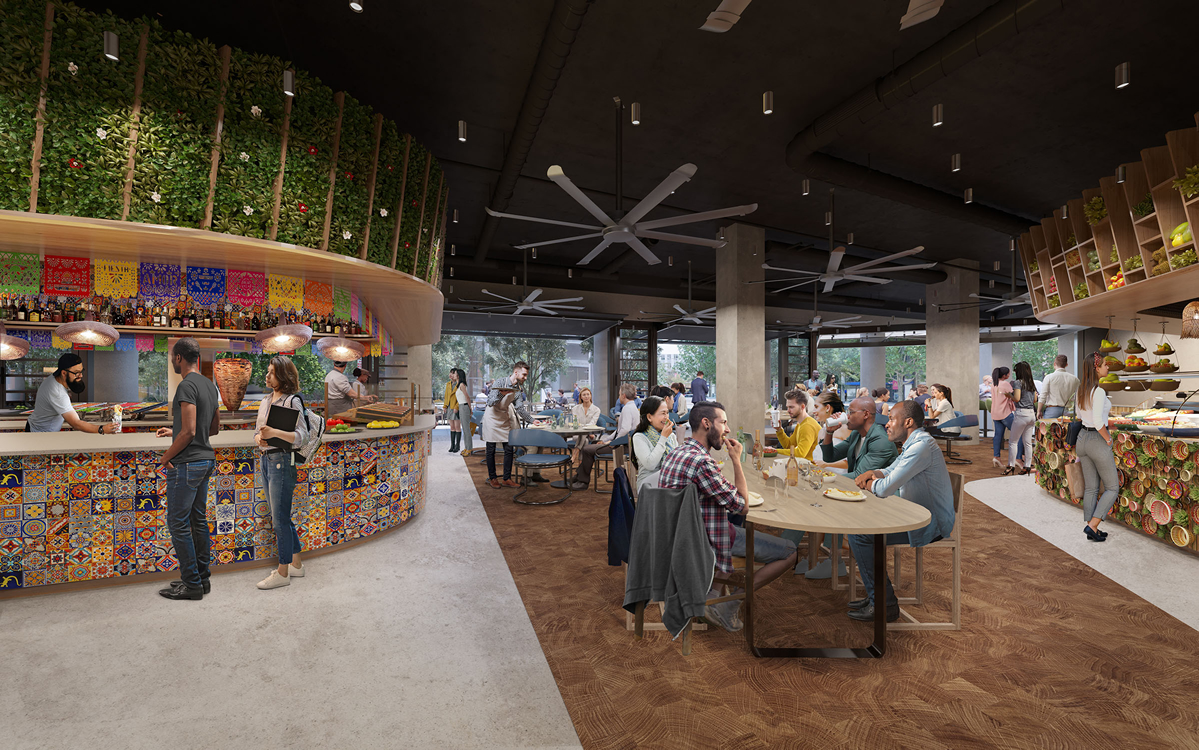 This year is already turning out to be a dynamic one for dining and nightlife. The effects of the pandemic, inflation, and the supply chain are still being felt, but there is a sense of optimism with a host of new openings for the first half of the year. And this season, of course, is often defined by cherry blossoms. Peak bloom is predicted for March 22-25, and festival activities begin on March 18. Enjoy all the pink, and read on for some dining highlights for the first few months of 2023.
Bazaar
Jose Andres triumphantly returned to the Old Post Office building in a coup for the celebrity restaurateur. The building, which is now a Waldorf Astoria hotel, most recently housed a hotel run by the organization of a disgraced former president. Andres had his eyes on the space for two decades and was set to open a restaurant there, but refused because of the new owner. Bazaar, which opened in February, serves sophisticated Spanish cuisine. It has locations in Los Angeles and Miami, plating specialty dishes like Iberico ham with caviar.
Uncaged Mimosas
It's all flowers and bubbles at Uncaged Mimosas in Truxton Circle, which opened in February. Here, brunch is served every day of the week. Chef Damian Brown pours 20-plus kinds of mimosas, with flights available, plus frozen daiquiris. Neon signs, fake flowers and vines, and lots of color gives it a permanent party vibe. Brunch dishes include chicken and waffles, salmon and grits, and red velvet pancakes.
Ambar
Ambar, one of the only all-you-can-eat dinner restaurants in the region, is opening its second spot in D.C. proper and third in the area. The new two-story restaurant, which opened March 6, sits in Shaw across from Dacha. Owner Ivan Iricanin brings in dishes from across the Balkans, like hearty country slow-cooked dishes from the interior, to seafood specialties from the Mediterranean. There are more than 60 bottles of wine from the Balkans, plus fruit-infused rakia, the popular Balkan spirit. Ambar offers unlimited prix-fixe brunch, lunch, and dinner menus, with optional drink pairings at brunch and dinner.
Owl Room
The U Street Corridor welcomes this new nightlife destination in the former Marvin space on March 10. Run by Marvin owner Eric Hilton and others, Owl Room has transformed the spot into more of a music and concert venue, with a dance floor and stage that will feature live music and DJ sets. The upstairs has a more relaxed patio for cocktails.
Mi Vida
Gay-owned KNEAD Hospitality + Design continues to expand its Mexican hit restaurant, Mi Vida, with a new outpost set to open in April in Penn Quarter. This will be the largest Mi Vida to date, boasting a huge 10,000-square-foot space. Design flourishes include the iconic tree of life that has been showcased at all three locations, as well as a new custom rope art installation by Mexican artisans.
Alfresco
On the southern end of Adams Morgan, Alfresco is a new "American tap and grill" restaurant from the owners of Lauriol Plaza, located just down 18th Street. The 300-plus seat restaurant is set to open in April. Its menu is a distinct departure from Lauriol's Mexican food; this one serves sandwiches, pizza, pasta, salads, and steaks. True to its name, there is a central courtyard with a retractable pergola roof, as well as two other outdoor patio seating spaces.
Van Leeuwen
New York import Van Leeuwen Ice Cream and its super premium brand of dessert is opening three shops in the next few months: Union Market (418 Morse St. NE), Adams Morgan (2421 18th St. NW), and Georgetown (3245 Prospect St. NW). Founded in 2008 as a New York City ice cream truck, Van Leeuwen is known for both traditional and vegan ice creams. Unique flavors include mac 'n cheese and honeycomb. These are its first shops in D.C., though there are more than 20 across the country.
The Square
The Square (1850 K St.) will be D.C.'s newest food market, opening later this year. The Square is slated to open in 2023 within International Square, and will feature a collection of more than 15 artisanal food vendors, a full-service restaurant and bar, an expansive bar in the central atrium, and outdoor dining seating, plus retail. Richie Brandenburg and Rubén García co-founded The Square, both well-established chefs, bring globally inspired food to the expansive food hall.
Bunker
While not falling into the food sphere, the opening of Bunker has upended nightlife destinations for the LGBTQ community in D.C. Kinetic Productions owners Zach Renovatés and Jesus Quispe debuted the subterranean spot in late February, bringing in local and national DJs, dancers, drag queens, and entertainment. The bar/club is open Thursday-Sunday, playing different music genres each night.