Calvin Steinmetz dies at 62
Attorney and gay sports league enthusiast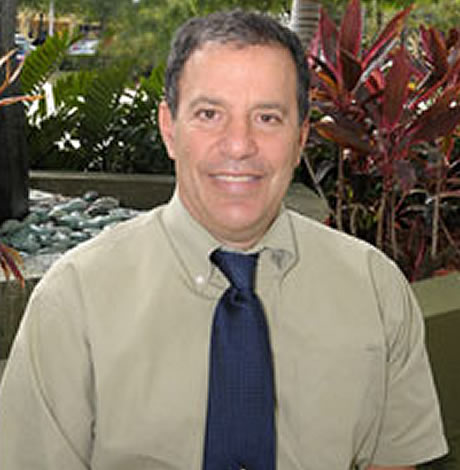 Calvin Steinmetz, an attorney who practiced law for more than 30 years in D.C., Maryland and Virginia and most recently in Fort Lauderdale, Fla., died Dec. 5 at his home in Wilton Manors, Fla., following a year-and-a-half battle with brain cancer, according to Brian Boyle, his partner of 30 years. He was 62.
Friends and associates said Steinmetz's law practice took on a wide range of cases over the years, including criminal defense work, civil litigation and "nuts and bolts" legal work such as preparing wills and trusts, powers of attorney and estate planning and administration.
They noted his friendly demeanor and close attention to details and the needs of his clients made him especially popular with those who retained his services for years, with many becoming friends.
"Cal was one of the good guys," said D.C. gay activist Robert York. "He had a way of making any stranger feel like a longtime friend. He was a friend, mentor and a leader on the field of softball and even more so in the field of life."
York was referring to Steinmetz's lifelong passion for softball as well as basketball and bowling, which his former law partner in Washington, Steve Weinberg, said manifested itself in Steinmetz's dedicated support for gay sports leagues in D.C. and later in Fort Lauderdale.
For many years Steinmetz, a native New Yorker, sponsored and played for a gay softball team in D.C. that he named Calmets, Weinberg said, after his beloved New York Mets baseball team. The team is part of the Chesapeake and Potomac Softball League, known as CAPS, an LGBT sports league for which Steinmetz served as commissioner, Weinberg said.
Steinmetz was born and raised in Brooklyn, N.Y. He received a bachelor's degree in history from the University of Rochester in New York in 1974 and a law degree from George Washington University School of Law in 1977.
Although he planned to start his law practice in the D.C. metropolitan area, Weinberg said Steinmetz applied for and became qualified to practice law in Florida after taking his first job with a D.C. law firm that specialized in abortion rights cases in several states, including Florida.
Steinmetz also became licensed to practice in D.C., Virginia and Maryland and eventually was admitted to take cases before federal district and appeals courts in those three jurisdictions as well as before the U.S. Supreme Court.
For most of his years practicing in D.C., Steinmetz and various law partners, including Weinberg, worked out of offices at 2141 P St., N.W., just off of Dupont Circle, in the heart of the city's most visible gay neighborhood.
Shortly after moving his law practice to Fort Lauderdale in 2009, Steinmetz opened an office on Wilton Drive in the heart of Wilton Manors, a small city that boasts of having the Ft. Lauderdale area's highest concentration of LGBT residents.
"Cal was a great friend, a great athlete and a great lawyer," said Lori Bott and Geri English in a Facebook message.
In addition to Boyle, Steinmetz is survived by his sister, Barbara Parker, his nephew Jody Parker and Parker's wife Jordana, and his niece Mara Smith and her husband Mike.
"Donations in his memory should be made to your local No Kill Animal Shelter or Rescue League," Boyle said.
A celebration of life gathering in Steinmetz's honor was scheduled for 2 p.m. Sunday, Dec. 14, at the Fort Lauderdale LGBT community center known as Pride Center-Equality Park in Wilton Manors, Fla.
Weinberg said a celebration of life gathering in D.C. is expected to be held Jan. 17 at a time and location to be announced soon.
Va. House subcommittees advance two anti-transgender bills
Senate Democrats have pledged to block any anti-LGBTQ measures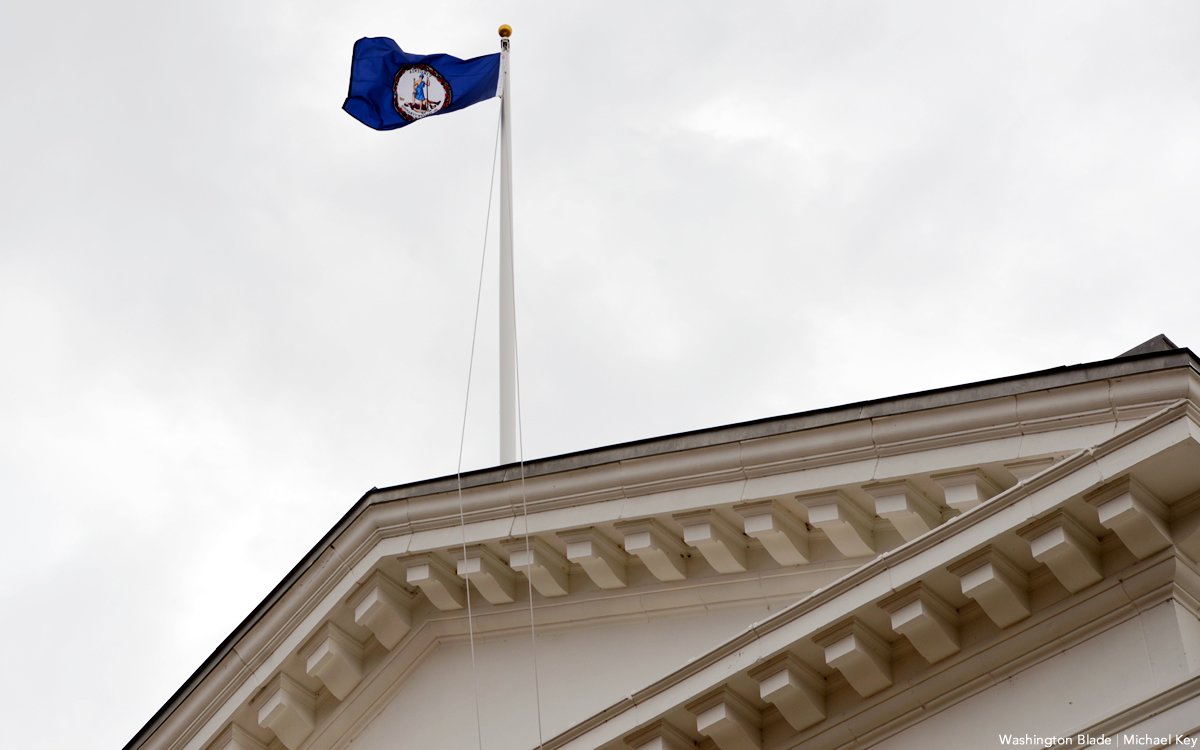 Two anti-transgender bills advanced in the Virginia House of Delegates on Monday.
A House Education Subcommittee by a 5-3 margin voted to advance state Del. Dave LaRock (R-Loudoun County)'s House Bill 2432, which Equality Virginia notes "would require public school personnel to contact a student's parent if they believe that the student's self-identified gender does not align with their 'biological sex.'" The House Higher Education Subcommittee by a 6-4 margin advanced state Del. Karen Greenhalgh (R-Virginia Beach)'s House Bill 1387, which would ban transgender athletes from school sports teams that correspond with their gender identity.
Both bills will now go before the full House Education Committee.
The House Early Childhood/Innovation Subcommittee last week voted unanimously to kill state Del. Jason Ballard (R-Giles County)'s House Bill 1434, which would have required trans students to obtain a court order to update their name in school records. The Senate Public Education Subcommittee on Jan. 26 also tabled three measures that would have banned trans athletes from school teams corresponding with their gender identity.
Republicans currently control the House of Delegates by a 51-47 margin. Democrats, who have a 22-18 majority in the state Senate, have said they will oppose any anti-LGBTQ measure that reaches their chamber.
Va. Senate subcommittee tables three anti-transgender bills
Measures would have banned trans athletes from school teams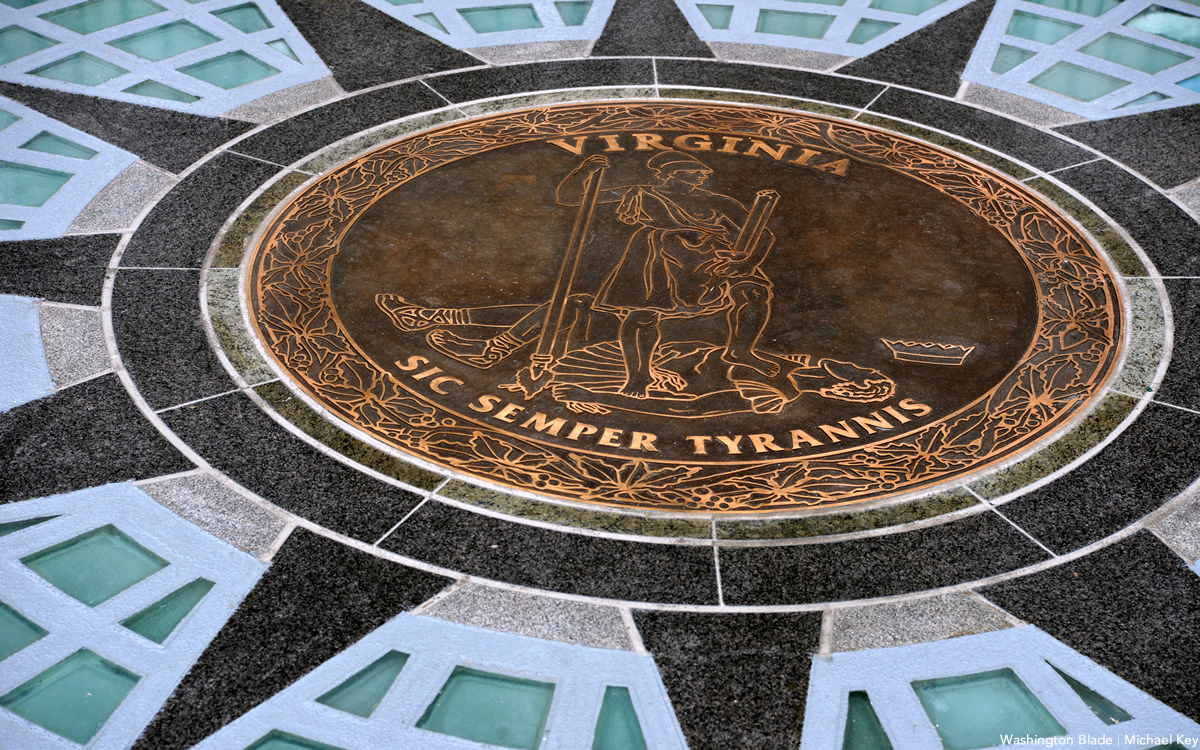 A Virginia Senate subcommittee on Thursday tabled three bills that would ban transgender athletes from school teams corresponding with their gender identity.
The Senate Education and Health Committee's Public Education Committee tabled state Sen. John Cosgrove (R-Chesapeake)'s Senate Bill 911, state Sen. Bryce Reeves (R-Louisa County)'s Senate Bill 1186 and state Sen. Mark Peake (R-Lynchburg)'s Senate Bill 962.
"We're one step closer to these bills being gone for good," said Equality Virginia in a tweet.
GOOD NEWS: A Senate subcommittee voted to pass by indefinitely THREE transgender athlete bans. We're one step closer to these bills being gone for good!

Over 3,000 emails were sent to committee members opposing these harmful bills! #TransYouthBelongVA

— Equality Virginia (@EqualityVA) January 26, 2023
'Talking Trans History' explores lives of D.C. advocates
Rainbow History Project holds first panel for city-funded Trans History Initiative
Longtime D.C. transgender rights advocates Earline Budd and Gabrielle 'Gibby' Thomas gave personal accounts of their transition as transgender women and their work as trans rights advocates Tuesday night, Jan. 24, at a "Talking Trans History" panel discussion organized by D.C.'s Rainbow History Project.
Joining them as a panelist was Rayceen Pendarvis, the acclaimed local event host, public speaker, and LGBTQ community advocate. Pendarvis, among other things, told of being nurtured and taught by dynamic transgender women who proudly affirmed their identity not only as trans people but productive citizens in the community at large.
Vincent Slatt, Rainbow History Project's director of archiving, served as moderator of the panel discussion. He told the audience of about 25 people who gathered at the Southwest Branch of the D.C. Public Library that the event was the first of many such panels planned by the project's recently launched Trans History Initiative.
Slatt noted that Rainbow History Project received a $15,000 grant for fiscal year 2023 from the Mayor's Office of LGBTQ Affairs to conduct the Trans History Initiative. The initiative plans to "better integrate the often-under-represented histories of trans people into our programming," according to a RHP statement.
Budd, 64, who has been a trans-identified activist since the 1970s, became involved in the 1980s with supporting people with HIV/AIDS before founding the D.C. organizations Trans Health Empowerment and Empowering the Transgender Community (ETC), for which she currently serves as executive director. She has received numerous awards for her work in support of the trans community and her self-proclaimed role as "the advocate" for the trans and LGBTQ community.
In her remarks at the panel discussion, Budd told of her childhood upbringing in a religious family where, like many trans people, her parents didn't approve of her early identity as a girl.
"I want to say that around eight or nine my mother found me to be different," Budd said. "The difference was she would lay my clothes out, my sister's clothes and my clothes for us to go to school. And when I would come downstairs, I would always have on my sister's clothes," Budd told the gathering.
"And she would say why do you have on your sister's clothes?" Budd continued. "I said mommy, it fits. No, it does not, you're a boy," Budd quoted her mother as responding. "And let me tell you, that went on and on and on," said Budd, who told how she eventually parted ways with her parents and left the house to embark on her role as one of D.C.'s leading trans advocates.
Among her many endeavors was successful discrimination complaints, including one against a D.C. skating rink and another against the D.C. Jail for discrimination based on gender identity. Budd told how she won in both cases, with strong backing from the D.C. Office of Human Rights.
Pendarvis, among other things, spoke about how an association with trans women as a young adult helped to shape Pendarvis's longstanding and award-winning role as co-founder of Team Rayceen Productions, including 10 years as leading host of "The Ask Rayceen Show," which highlighted topics promoting the LGBTQ and trans community in D.C.
Similar to Budd, Pendarvis has received numerous awards and honors, including recognition from the D.C. City Council, for work as a host and speaker at LGBTQ-related festivals, fundraisers and other events.
"As an activist and host, I have been blessed to do many things," Pendarvis told the panel discussion gathering. "For many who do not quite know how to identify or ask me to identify, first of all, I'm a human being," Pendarvis said. "I am a father of five and a mother of many."
Pendarvis added, "I'm a human being first and foremost, a child of God. And my trans sisters uplifted me first, embraced me first. I came out in a community where our transgender sisters were always on the front line."
Thomas, 65, told the panel session she is a native of North Brentwood, Md., located just outside D.C., but D.C. became her home since shortly after finishing high school. She began her work in the LGBTQ community in 1989 as a caregiver for people with HIV. She has since worked for the local organizations Us Helping Us, Transgender Health Empowerment, and Terrific, Inc. She currently works for Damien Ministries and its "Trans Specific" programming called Shugg's Place that, among other things, focuses on providing services for transgender older adults.
She told of her growing up as one of seven children in a family whose mother and father, she said 'were very loving." But like other trans kids, Thomas said her parents were uncomfortable over her desire to identify as a girl. A more understanding next door neighbor allowed Thomas to spend time in her house as Thomas helped with household errands.
"I would go to the store and things like that for her," Thomas said. "But what's most important, I could dress as I wanted to in her house. She would give me dresses that I could wear. And I could go up there and put on my dresses and watch TV," Thomas continued. "And then I would get to take my dress off and go home because mom and daddy wasn't standing for that."
At around the age of 10, Thomas said, she was aware of current events and observed that her father was a strong supporter and admirer of Martin Luther King Jr. and his civil rights leadership. "I said you can march with Martin Luther King for everybody else's rights but you are going to deny me mine," she recalled telling her father.
Thomas said she initially began patronizing D.C. gay bars after befriending gay men from her high school. A short time later, after realizing that the gay scene was not who she was, she discovered the then D.C. gay drag bars Louis' and The Rogue and had a chance to meet "people like me." But she said someone she met at one of those two bars introduced her to the then D.C. Black gay bar called the Brass Rail, where transgender women hung out.
"And I said, oh my God, I am home. This is heaven," Thomas told the panel gathering. "When I came to the Brass Rail I felt like I was home" as a trans person, Thomas said. "I met so many terrific people."
She went on to tell about the trials and tribulations of fully transitioning as a trans woman and her growth as a transgender activist with a career dedicated to supporting the trans and LGBTQ community.
Japer Bowles, director of the Mayor's Office of LGBTQ Affairs, spoke briefly at the start of the Talking Trans History panel discussion. He said the mayor's office was excited to be supporting the Rainbow History Project's newly launched Trans History Initiative.
"I'm really, really excited to work for a mayor who not only is fighting for things for our community, but truly funding these opportunities," Bowles said. "This is about you and our trans communities. So, I'm here to listen."
Slatt also announced at the panel session that Rainbow History Project has a paid job opening for one or more positions to help run the city funded Trans History Initiative. He said information about the job opening for people interested in applying can be obtained through RHP's website. He said a video recording of the panel session would be posted on the website in a week or two.