Comfy crossovers
Iconic Cherokee is back, Outback gets reboot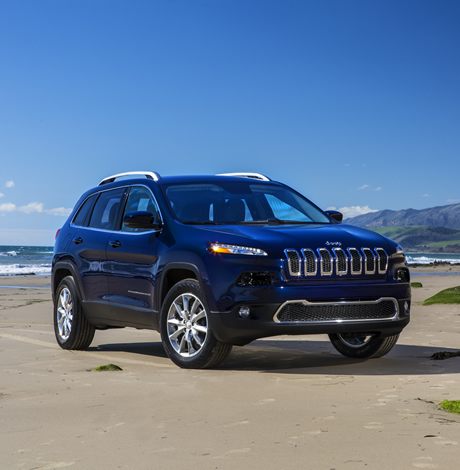 With the holidays, what better way to trek kin and cargo than in a comfortable crossover. Add some wicked styling, and — er, well — you'll also be hauling sass.
JEEP CHEROKEE
$24,000
Mpg: 21 city/28 highway
0-to-60 mph: 9 seconds
After a 12-year hiatus, the iconic Cherokee is back, albeit with Pygmalion-like changes. Gone is the boxy styling, replaced with softer edges, slit-eyed headlamps and a seven-slot grille that gently cascades over the hood. Built on the same platform as the sporty Dodge Dart, the Cherokee is quiet and civilized on everyday commutes. But take it off-road or through a nasty patch of potholes, and that rugged Jeep DNA kicks in. Four trim levels, each with choice of either a basic four-cylinder or revved-up V6. Alas, cargo room is sorely lacking, but the barebones interior has been spruced up with high-end materials and an easy-to-use infotainment system with large touchscreen.
KIA SORENTO

$25,000
Mpg: 20 city/27 highway
0-to-60 mph: 8.3 seconds
Refined. Reliable. Roomy. It's hard not to like the Sorento, one of the few midsize crossovers with optional third-row seats. As with the Cherokee, there are two engine choices here, as well as front- or all-wheel drive. For 2015, a stiffer chassis means better cornering and handling. And there are tons of standard features, along with primo options: power liftgate, panoramic sunroof, ventilated seats and 10-speaker, surround-sound stereo. Fold down the rear seats, and cargo space doubles to a whopping 72.5 inches. For crossover lovers, this is often a top pick — especially the high-test SX-L, with chrome wheels, xenon headlights and heated steering wheel. If Santa didn't have a sleigh, he'd likely drive a Sorento.
SUBARU OUTBACK
Don't expect any coal in your stocking if you drive the popular Outback. A new redesign offers more cabin space, gas mileage and tech features. It may look smaller than the Kia Sorento, yet both have similar cargo room. High ground clearance provides great visibility on the road. Inside, the hard plastic has been replaced with nicer trim, including elegant faux wood and a felt-lined glove box. The nav screen lets you zoom in and out using your fingertips, similar to a smartphone or tablet. All-wheel drive is standard, as are hill-start assist and hill-descent control. And an EyeSight safety system applies the brakes if there are pedestrians or stopped vehicles ahead, and it warns if the car ahead drives off and you're still sitting at the light day-dreaming.
$26,000
Mpg: 25 city/33 highway
0-to-60 mph: 9 seconds
INFINITI QX70

$46,000
Mpg: 17 city/24 highway
0-to-60 mph: 7.2 seconds
Infiniti rebadged its entire lineup, so the FX37 is now called the QX70. For Infiniti fans, this is no big deal. For everyone else, it's confusing. But look past the name change and there's plenty to like — and a few things to dislike — here. Styling is A-plus, echoing the sleek design of Infiniti sport sedans. Ditto the quick steering and braking. You can almost picture Chris Pratt behind the wheel as he guards the galaxy. But the swoopy rear end leaves cramped quarters for back-seat passengers and little cargo space. Still, there's plenty of pep here, even with the V6 (only speed demons will pine for the V8). Another plus: While all the crossovers here come with the latest safety gear — such as blind-spot monitoring, lane-departure warning and more — this is the only one with a 360-degree, bird's-eye view to help you park almost anywhere.
Fun holiday gifts for car fans
Something for everyone, from Bentley trikes to a Mercedes tree topper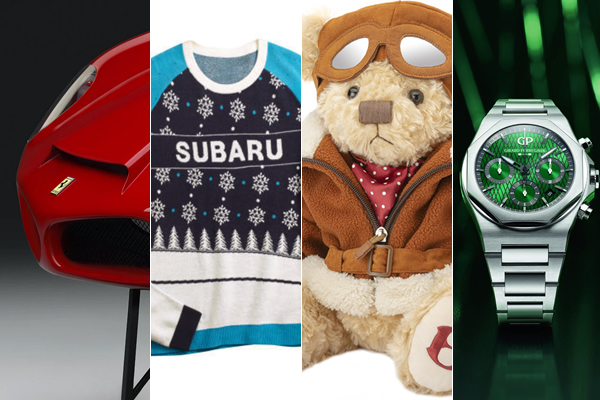 For all those gear heads in your life, here are some fun holiday gifts to get their motors running. Many of these stocking stuffers are affordable. Others, well, not so much.
Bentley Trike for Tykes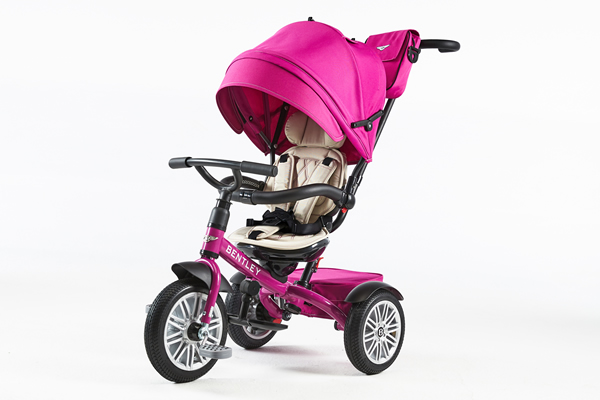 Leave it to Bentley to create a fancy fuchsia trike ($500). With six modes, from stroller to tricycle, parents can adjust this three-wheeler as a toddler gets older. Along with the "Big B logo," the Bentley name is emblazoned on the down tube. Yes, there are more subdued colors, but why bother?
Ford Sherpa Blanket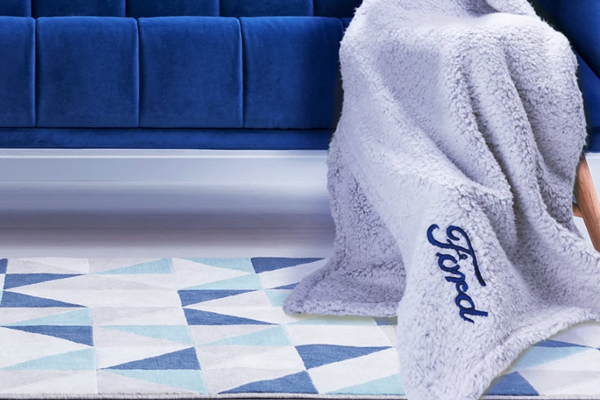 Cuddle up with a warm and fuzzy Sherpa blanket ($30), made of 100% polyester and the Ford logo embroidered in the corner.
MINI Travel Bag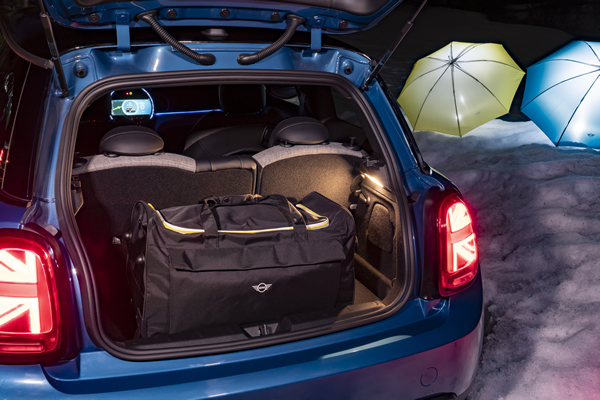 For quick weekend getaways, MINI has a large soft-luggage travel bag ($190) with extendible handle, two wheels, large main compartment, outer pocket and removable zipped pockets.
Porsche Table-top Clock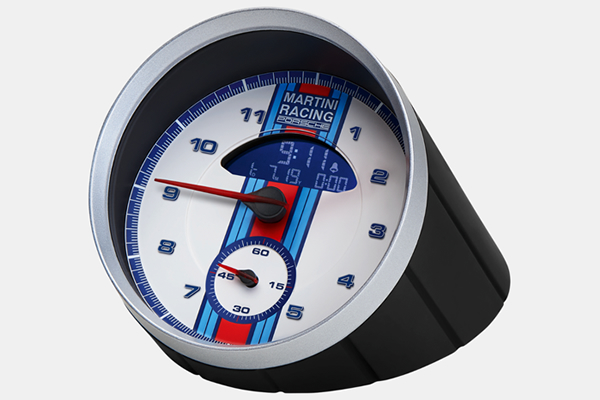 The alarm tone on this tabletop clock ($250) sounds just like a throaty Porsche 911 engine. Includes Martini Racing design, as well as a countdown function and analog/digital display.
Rolls-Royce Portable "Pursuit Seat"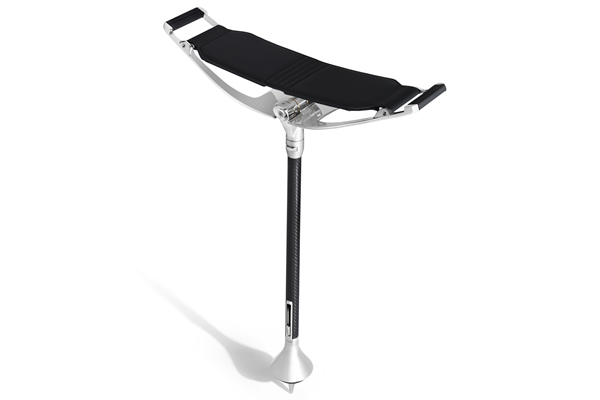 Rolls-Royce, known for its relentless pursuit of perfection, now has a portable "Pursuit Seat" ($8,800) — perfect for any derriere. The adjustable seat is anything but old school, made of carbon fiber, polished aluminum and cushy leather (tastefully embossed with the Spirit of Ecstasy insignia, of course).
Mercedes Tree Topper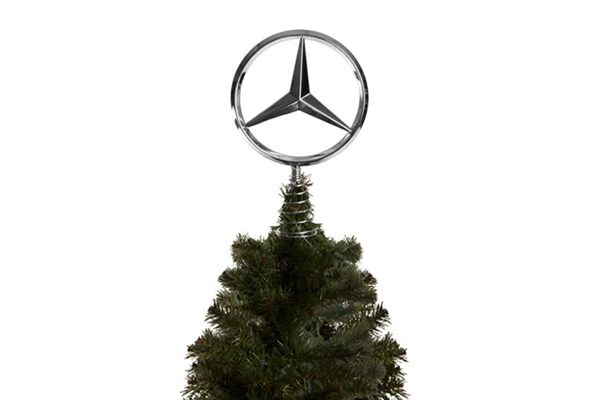 What better tree topper than a Mercedes three-pointed metal star ($52), which measures 8 inches across. Post on social, and dare anyone to top that!
Aston Martin Wrestwatch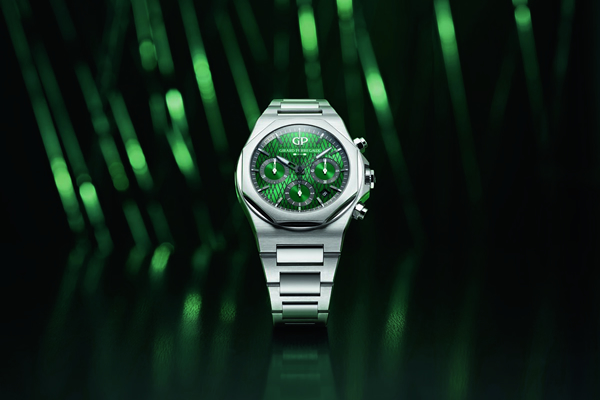 Just in time for the holidays, there's the Laureato Chronograph Aston Martin Edition ($18,000). Made by Girard-Perregaux), this ritzy wristwatch has a high-grade stainless-steel case, finely polished edges on the bezel, sapphire-crystal pane on the back, and racing-green paint applied to the dial 21 times.
Jaguar Suitcase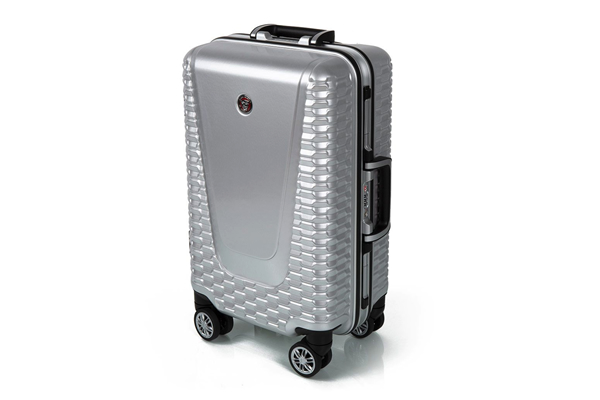 Simple but elegant, Jaguar's compact suitcase ($282) has a polycarbonate shell, aluminum frame and multidirectional wheels that look like real alloy car wheels. Two larger suitcases also available.
Subaru Holiday Sweater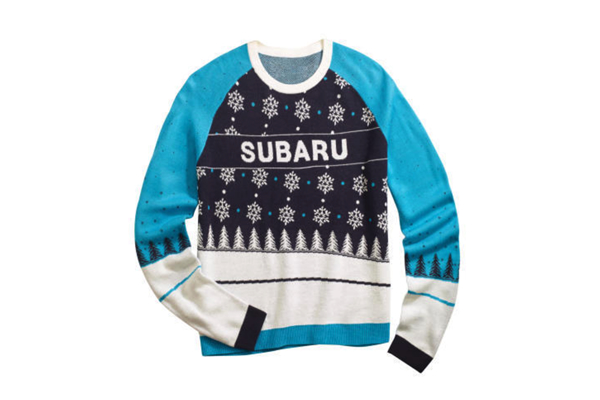 Just shy of being an entrant at some ugly-sweater contest, this festive Subaru holiday sweater ($70) is 100% acrylic and incredibly comfortable.
Front End of a 1962 Ferrari 268 SP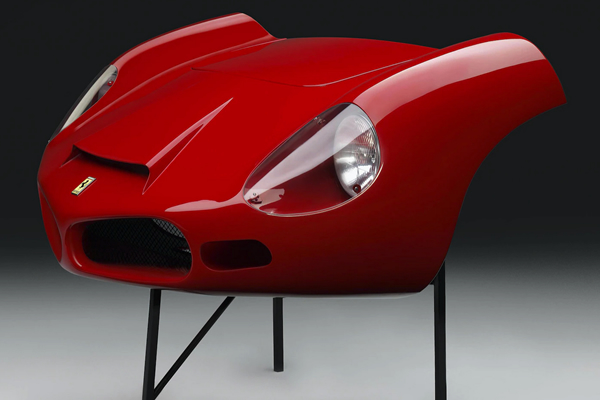 Only one 1962 Ferrari 268 SP race car was ever built, and now there's a full-scale replica of the front end ($22,000). A pedestal is available, or enthusiasts can mount this work of art on the wall.
Ferrari Vintage Steering Wheel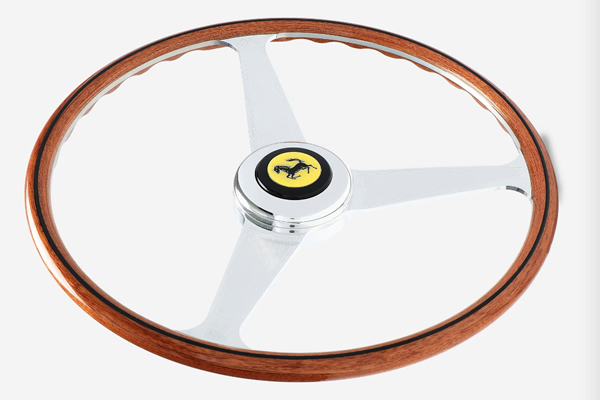 For more frugal fare (kinda sorta) Ferrari offers a vintage three-spoke steering wheel ($4,010). Such steering wheels were used in Ferraris between 1959 and 1965, and this full-scale repro—made of mahogany and polished aluminum—features the iconic prancing horse in the center.
Bentley Heritage Bear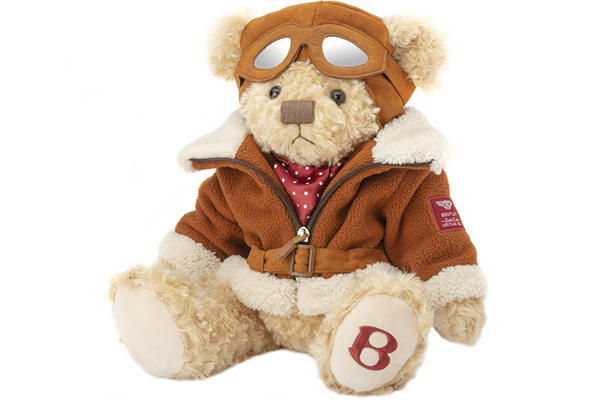 Many automakers offer cuddly teddy bears, and Bentley is no exception. The limited-edition Heritage Bear ($57) is decked out in snazzy fleece jacket, suede-like helmet and racing goggles. There's even a dust bag with drawstring for safekeeping.
One lean, mean green machine
New Ford Mustang Mach-E is electrifying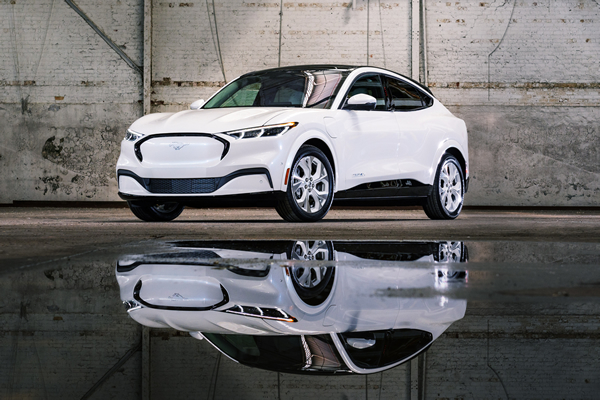 Here's a shocker: Electric vehicles have been around for over 180 years. By the time of the first Hershey bar in 1900, EVs had hit their own sweet spot—surging to almost 30 percent of all vehicles sold in the U.S. But when Henry Ford began to produce cars on his moving assembly line in 1913, the popularity of the gas-powered Model T soon short-circuited EV sales. Cue to a century later, when the debut of the all-electric Nissan Leaf in 2010 sent a jolt through the auto industry. Yet it would take another decade to get drivers charged up about anything other than gas-powered rides. Today, it's hard to keep track of all the EVs out there, along with other green machines like hybrids. While the current microchip shortage has slowed or stopped production on many cars for now, I was lucky enough to drive the all-new, all-electric Ford Mustang Mach-E. The experience was, well, truly electrifying.
Ford Mustang Mach-E
$47,000
Range: up to 305 miles
0 to 60 mph: 4.2 seconds
When the Ford Mustang Mach-E was first announced, many auto aficionados were left scratching their heads. After all, a Mustang is one of the most iconic muscle cars ever created, and the Mach-E designation sounds suspiciously like the "Mach-1" branding used on flashy high-performance Stangs. Yet this new Mustang is a crossover SUV—and an electric one to boot. While the initial designs were captivating, plenty of skeptics remained. Luckily, they needn't have worried. I was mesmerized the moment the Mach-E arrived, eager to run my hand along its sinewy side panels and strapping rear end. To keep the design as aerodynamic as possible, there are no traditional door handles. Instead, you use the key fob, your smartphone or a push button on the window frame to pop open the door.
On the inside, there's a small latch in the armrest versus the typical door handle. Such design elements are not only aesthetically pleasing, they also save space and reduce weight. Other novelties: This is the first Ford vehicle to use recycled animal-free fabrics, as well as a vegan steering wheel that's as durable as leather. On the space-age dashboard, the premium Bang & Olufsen speakers are concealed beneath fabric covers that mimic the look of pricey home-theater speakers. And the unique design of the quiet cabin allows for a subwoofer that is 50 percent lighter than usual, yet still retains a deep rich clarity. As for the gigantic 15.5-inch vertical touchscreen in the center of the dash, it resembles a sort of funky oversized iPad from "The Orville." Along with large climate controls for easier viewing, the touchscreen has interactive maps to locate the nearest charging stations. Those maps came in handy during two weekend trips, as did the heavily bolstered seats that helped prevent driver fatigue but also were easy on the tush. In total, there are five Mach-E trim levels, each with differing configurations for power and range (the distance you can travel on a full charge).
While even the base-model Mach-E is fast and lively, it's the high-test GT version that strikes like a thunder bolt. Rocketing from 0 to 60 seconds in just 3.8 seconds, the Mach-E GT is quicker than a Toyota Supra super coupe. And thanks to lower-than-expected ground clearance and a superb suspension, the Mach-E is just as agile. Those grippy regenerative brakes help, of course, allowing you to speed up or slow down using only the accelerator pedal.
It's worth noting there are other EVs in the Ford stable, including the electric F-150 Lightning full-size pickup, the E-Transit commercial van and various green machines on the way. By 2030, Ford is aiming for 40 percent of its global sales to be EVs. That's a great goal for a company that once helped pull the plug on the "electric horseless carriage" but today is leading the charge with its own cutting-edge EVs.
A car fit for a queen
New $342,000 Rolls-Royce SUV will leave you speechless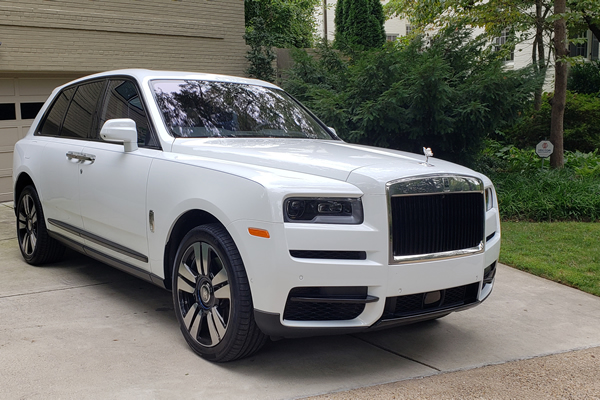 Last month, I was invited to test drive the ultimate SUV: a Rolls-Royce Cullinan. My partner Robert and I—nerdy fans of all things BritBox—decided to take this swanky ride on a two-day outing to Charlottesville. After all, meandering along Virginia's bucolic backroads was the closest we were going to get to an English countryside. While we were trying to summon forth our inner Mr. Darcy, we discovered quite a few fun surprises in this regal SUV along the way.  
Rolls-Royce Cullinan
$342,000
Mpg: 12 city/20 highway
0 to 60 mph: 4.5 seconds
The Cullinan has a noble pedigree, named after the largest diamond ever found—a hefty 1.33-pound gem that is now part of the British Crown Jewels. There are other royal connections to Rolls-Royce, of course. Queen Elizabeth—who was trained as a World War II mechanic and, at age 95, still drives herself sometimes—has a vast car collection with many a Rolls. And both Kate Middleton and Meghan Markle arrived at their weddings in a 1950 Phantom IV, made specially for the queen back when she was a mere princess. Yet despite its 114-year lineage, the luxury automaker has worked hard to keep pace with modern tastes and technology.
Hence the Cullinan, the first-ever SUV in the Rolls-Royce stable. This tony horseless carriage has a $342,000 base price that quickly skyrockets with natty options. My test vehicle, for example, was $450,000—including $20,000 for a trendy detailing package. Other notable extras: lambswool floormats, contrast seat piping, black stained ash wood trim, and an embossed "RR" monogram on the doors and headrests. You also can opt for a cooling bin large enough for two Champagne flutes and a whiskey decanter. The best add-on, though, was the starlight headliner. To create the faux nighttime sky, it takes two craftspeople up to 17 hours to perforate 1,900 holes. Then fiberoptic lights are inset at various angles so that each "star" actually twinkles. And—crikey!—there's even a shooting star feature.
Exterior niceties are just as impressive, such as the anti-spin device to ensure the "RR" logo remains upright on each wheel cap at all times. Depending on customization, those fancy wheels can easily cost $4,000—each. The famous Spirit of Ecstasy hood ornament is available in silver, gold-plated or illuminated polycarbonate. To prevent theft, the statuette automatically disappears beneath the hood when the engine is off. But perhaps the most impressive feature is also the least obvious, at least until you slip behind the wheel and fire up this high-class colossus. That's when the finely tuned, twin-turbo V-12 engine roars to life and effortlessly glides you down the road.
Driving such a sophisticated land yacht—which weighs almost three tons—feels like riding on a cloud. Surprisingly, there's little body roll when cornering and no shuddering during quick stops. Think sleek Cutty Sark versus lumbering cruise ship. There were several major storms during our time in this vehicle, causing other drivers to pull off the road or frantically try and outrun the rain. But the Cullinan stayed steady, holding the road as we battered our way through heavy winds and torrential downpours. Another nice touch: Hidden in each of the rear coach doors was a full-size umbrella, which popped out at the push of a button. When we put the wet umbrellas back into their secret compartments, air vents quickly dried them out. Mary Poppins should have been so lucky.
The skies cleared the final day of my test ride, so I sped around the Beltway for one last hurrah. Perhaps because a Rolls-Royce is more refined and understated than any in-your-face Ferrari or Lamborghini, no one tried to race me down the road. Instead, there were lots of approving smiles and a big thumbs up or two. No, I didn't respond with a royal wave. But I doubt anyone would have blamed me if I did. After all, driving a Cullinan makes you feel like queen for a day.