The gelato craze
Ice cream's creamy cousin is a great summer treat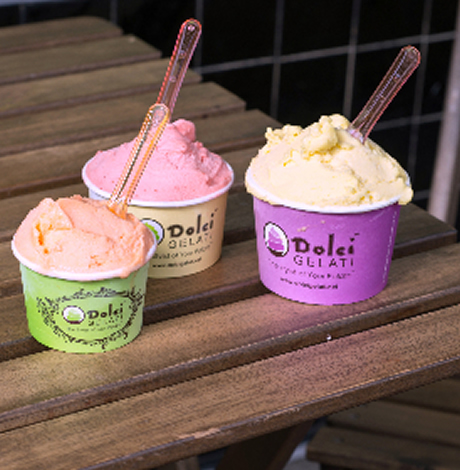 If you're looking for an easy bet to win the next time you're hanging out at the bar with friends, try asking what's the difference between ice cream and gelato. The answer? Pretty much nothing. The word "gelato" basically translates to "ice cream" in Italian, so, for all intents and purposes, it's the same thing. Looks like someone owes you a drink now.
Of course, even though ice cream and gelato are technically born from the same ingredients — milk, cream, sugar and sometimes egg yolks — nothing could be better than gelato. This creamy confection is not only made from a slightly different recipe than American-style ice cream, but is also stored at a lower temperature than its cousin, which helps to create that silky just-whipped texture that really does melt in your mouth, with a cleaner aftertaste.
Some of us cling to the urban myth that gelato is somehow better (read "healthier") than ice cream, but the truth is that, while gelato has a lower butterfat content than traditional ice cream because it uses more milk than cream, it can also have more sugar than ice cream, so it all evens out in the end. Don't rush out to eat gelato for breakfast in the hopes that it's the equivalent of having a kale smoothie — but that doesn't mean you shouldn't enjoy a scoop or two for a treat, especially on a muggy summer evening.
Luckily for us in D.C., there are several local gelaterias to fulfill your gelato cravings — here are a few to check out that will surely help you get through the dog days of summer.
Dolcezza Gelato: With four locations across the D.C. area, Dolcezza first became a twinkle in the eye of husband-and-wife team Robb Duncan and Violeta Edelman when they met in Argentina, where gelato is widely popular; Duncan became so enthralled with it that he learned the nuances of gelato-making from experts in Buenos Aires before bringing that expertise to D.C. With a distinct focus on locally grown fruits, vegetables and herbs to flavor their frozen confections, keep an eye out for a rotating menu of seasonal flavors from Roasted Strawberry and Lemon Ricotta Cardamom to Blackberries & Cream and Stracciatella, which incorporates chocolate shavings into a sweet cream base — a step up from traditional chocolate chip. Locations include City Center D.C.; Fairfax; Logan Circle; and near Union Market.
Dolci Gelati: You can't go wrong with Gianluigi Dellaccio's gelato. A native of Naples, Italy, Dellaccio, who was a professional water polo player in his former life, is acknowledged by many as a "gelato genius" — which is probably a well-deserved title since he's created hundreds of flavors of gelato, including Smoke; Kettle Corn; and Bacon, Maple Syrup & Whiskey featuring local rye from Virginia's Catoctin Creek Distilling Company. Under the motto of "Universal Happiness for All," Dolci Gelati has added vegan gelato flavors to its line-up as well as gelato made with local beer from 3 Stars Brewing Company. Be sure to ask for their #lovewins flavor, made in honor of the recent Supreme Court decision on marriage equality. Brick-and-mortar shops located in CityMarket at O and Takoma Park, plus a food truck that brings gelato joy across the city.
Pitango Gelato: Arguably at the forefront of the gelato wave in the D.C. area, Pitango founder Noah Dan credits the control-freak personalities of his staff for their luscious products, which started hitting the streets in 2006, using uber-local dairy products and paying special attention to sourcing special ingredients designed to enhance every mouthful. Many of the flavors have a classic, uncluttered quality, such as Banana, Créme Fraîche (which, at less than 5 percent milkfat, is actually quite low-fat), and Pistachio di Bronte, made with a specific variety of Italian pistachios. The Black Tea gelato is a richly herbaceous alternative to a standard coffee flavor, and pairs well with the Cardamom for a bit of a British Empire twist. Oh, and, although it's not gelato, the Chocolate Noir Sorbet is so creamy, you'll never believe it's dairy-free. Locations include Capitol Hill, Logan Circle and Penn Quarter in D.C.; Fells Point in Baltimore; and Reston.
Kristen Hartke is a food writer and editor based in D.C. Follow her kitchen adventures on Twitter: @khartke.
Saying an abrupt goodbye to Crazy Aunt Helen's
Popular restaurant shuttered after just two years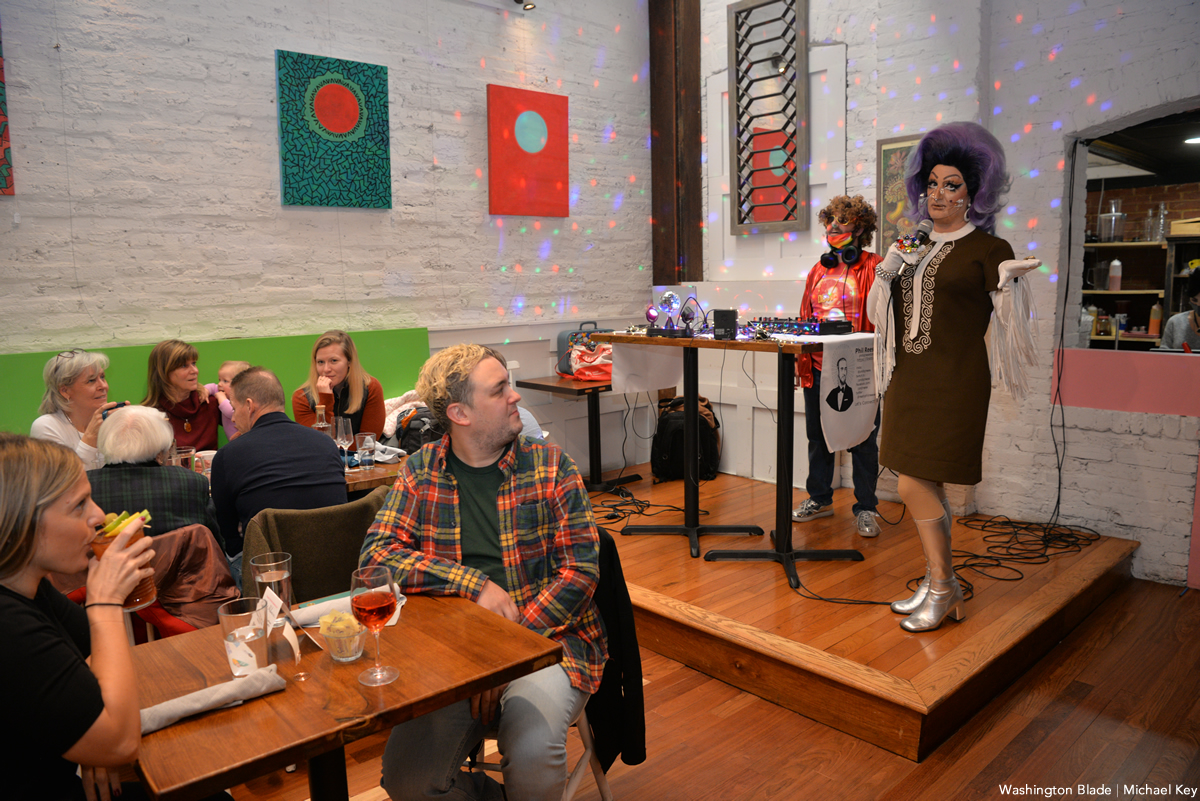 Vibrant, LGBTQ-owned restaurant Crazy Aunt Helen's closed two weeks ago. Known for its purple staircase, maximalist décor, and parade of events, this Capitol Hill destination suddenly shuttered on Nov. 1, but will be remembered for the influence it had during its two years in business.
In a public statement on the closing, owner Shane Mayson noted that there were several challenges he faced, like "opening during COVID, our location challenges, staffing challenges, repair and maintenance costs associated with an older building and equipment."
He also said, "we gave it our best go. I'm so proud of my waitstaff and kitchen crew for taking my vision for Crazy Aunt Helen's and bringing it to life. They are the reason we made connections with our neighborhood and the DC community. I will miss working with them very much."
Crazy Aunt Helen's opened in 2021 to much fanfare, given that owner Mayson was no stranger to the industry. He had previously worked with the Hank's Oyster Bar team for several years, on top of three decades in the restaurant world.
Setting up in the former Finn McCool's bar space, Mayson crafted an all-day, Americana-style restaurant based on comfort food and lots of entertainment.
"We offer a fun, welcoming space for guests, as well as employees," he said to the Blade last year.
To start, Mayson solicited design assistance from Pixie Windsor of Miss Pixie's (also an old friend of his) to bring the space to life. Windsor's tastes and style resulted in the restaurant's highlighter hues, vintage flatware and plates, cozily mismatched furnishings, and celebrity prints that gave the space unique character.
On the table was American comfort food, but with Mayson's own twists. Appetizers included items like fried green tomatoes, and entrees featured chicken fried steak smothered in chicken sausage gravy and vegan crab cakes. The restaurant became known for its big brunch and breakfast menu, decadent in offerings with items like cinnamon bun pancakes.
On the drinks side, Jo-Jo Valenzuela, from the Game Sports Pub in Adams Morgan helped put together the cocktail list, with drinks like a lemon drop. The team leaned on locally produced liquor and beer to support D.C.-area business.
The restaurant quickly earned accolades – and detractors.
In 2022, Crazy Aunt Helen's, after just a year of being open, won the Best Restaurant award from the Blade. It was nominated in two other categories. It won the Blade Best Of award again just last month.
The restaurant was also known for pushing boundaries. Among its many events, the Drag Storytime event in February of this year garnered attention for its targeting by far-right groups. While these groups did not appear, hundreds of supporters from the neighborhood and across D.C. did show up in a massive display of solidarity. Holding rainbow umbrellas in a chilly drizzle; they showed support for and by LGBTQ community and allies. There was also a small police presence to protect the supporters.
One of the Drag Storytime performers was Tara Hoot, who took a leading role in the events held at Crazy Aunt Helen's. Such events featured a Broadway cabaret, a circus-themed murder mystery, a "Mx. Tater Tot" competition, comedy shows, dinner theater, trivia, and dozens of drag brunches.
Tara Hoot got her start in live drag performances at Crazy Aunt Helen's after Mayson spotted her on Instagram. "I'd have to refer to him as my Fairy Drag Father for giving me the chance to jump in feet first at Helen's."
Diving in, Tara hosted the 'Tara Hoot's Bingo and a Show' and 'Tara Hoot's Story Time Family Brunches' often, selling out the 90-seat audience. "I tried to make them something different, campy, and fun." She was also a host for the weekly Sunday brunch that featured other queens like Shiqueeta Lee. It was this brunch that helped put Crazy Aunt Helen's on the map.
"I really learned how to be a performer during my time at Helen's because of Shane giving me the chance to be creative," she says. "The connections I made with so many people was also super important and magical." She attributes not only getting her start but several connections with other performers and opportunities to working at the restaurant.
She also spoke to how impactful Crazy Aunt Helen's was for her and the other performers – as well as the diners. "The world can be such a terrible place filled with hateful humans and people trying to bring you down. Crazy Aunt Helen's was an escape from that — a really wonderful place to celebrate performers of every kind, not just drag, and I'm really going to miss it."
In his final statement, Mayson expressed thanks to Capitol Hill for welcoming and supporting the restaurant.
"When I was creating the restaurant, I knew I wanted to create a space where everyone felt not only welcomed, but CELEBRATED! My hope is that we accomplished that and folks could feel that when they came in to dine with us or to see a show."
At DC Vegan, serving up proud, gay, Black, plant-based identity
Sargent Nelson crafts 'experiences that blend flavor and connections'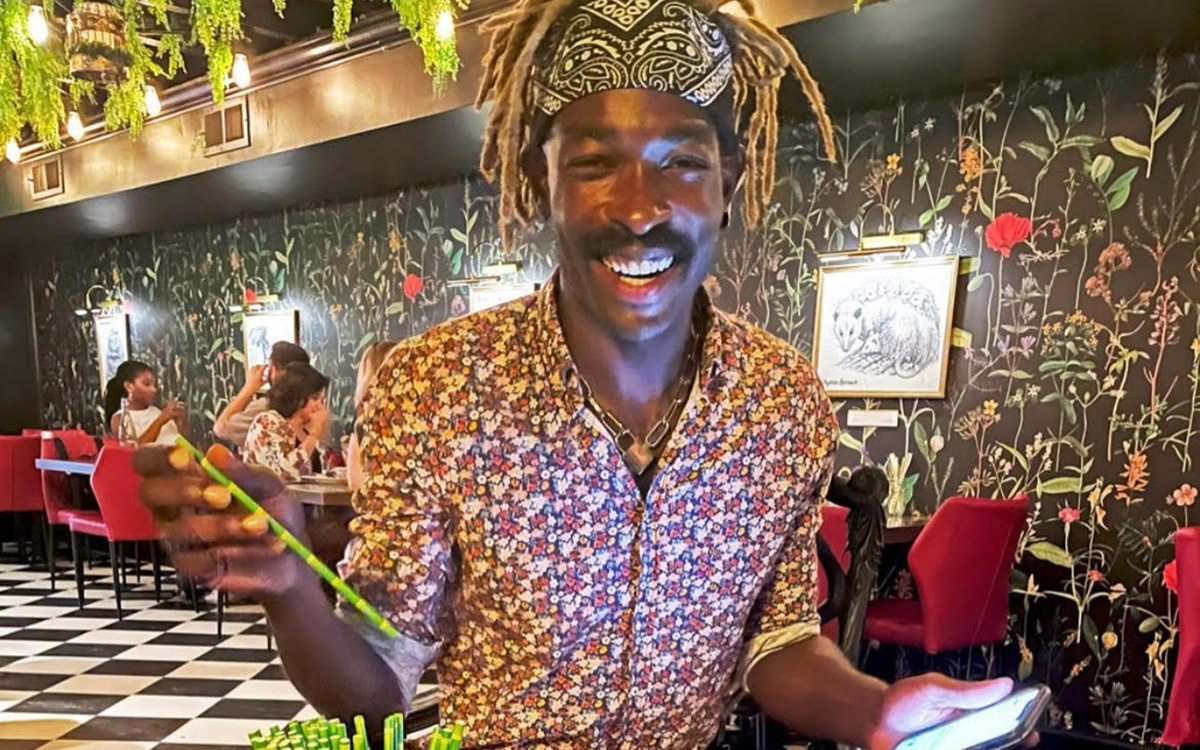 Wine, but on his own terms. At DC Vegan, Sargent "Sarg" Nelson is serving up his proud, gay, black, plant-based identity.
Nelson didn't start out yearning to be behind the bar extolling the virtues of funky wines and herb-infused spirits. Yet studying architecture as an undergraduate, he soon realized that "it was beverages that I was designing."
He's found a place to fully build out his raison d'etre crafting and mixing as the beverage director at DC Vegan, Dupont's Italian American-inspired bar/restaurant/deli/fromagerie, "crafting experiences that blend flavor and connections," he says.
The progressive virtues of working at a vegan restaurant allow Nelson to embrace his gay identity. He sees diversity not as a buzzword but as central to what makes life interesting. Yet coming up and stepping into leadership roles as a gay Black man in the hospitality industry was not easy.
"While our industry has come a long way, I won't deny facing challenges and barriers because of my sexual orientation. However, those moments have fueled my determination to create inclusive dining spaces where everyone feels valued and heard."
In ways loud or quiet, Nelson says he brings his identity wherever he goes. "I'm usually in spaces where I'm not the majority, so I want to show that I have a voice." At a recent bar competition, he named a drink "You Better Work," in reference to a popular phrase in the LGBTQ community well-known from RuPaul's Drag Race.
Before DC Vegan, Nelson was the sommelier at southern restaurant Yardbird, where he relished the opportunity to bring a diversity of wine options to a mostly Black clientele. He grew the restaurant's wine list to reflect the globe, but always knowing how to pair the best pour with Yardbird's famed fried chicken.
Searching for the next step, Nelson had met the DC Vegan owners, falling in love with their concept. "It was a new opportunity for me to work in a space where I can eat [as a vegan]," he says. "I loved meeting people who cared even more about sourcing, conscious eating."
"Joining the vibrant DC Vegan family felt like finding people that were ready for inclusive hospitality — their commitment to plant-based cuisine aligns perfectly with my belief in conscious consumption."
Traditionally, winemakers use animal products in the fining process – but vegan wines do not. His next challenge is to pair these vegan wines with big, bold flavors in the dishes. The hearty marinara sauce goes well with a rustic red, he says, while the eggplant dish matches best with a sparkling wine like Prosecco. And when creating drinks, he likes to add poetic garnish flourishes to cocktails.
The creativity and sourcing go beyond the bar. Last year, the restaurant expanded from a deli to a full-fledged sit-down restaurant with a liquor license, so Nelson has the opportunity to stock the bar as well as the wine bottle collection at the deli. DC Vegan also recently rolled out brunch, another opportunity to meld vegan ethos to a favorite D.C. pastime.
The purposeful ethos at DC Vegan's heart allows him a space to marry inclusivity in identity with inclusivity in the kitchen. It is here where he feels encouraged to "kiki on the patio."
At DC Vegan, he works with the owners – allies – to let him operate events like drag shows and late-night exotic readings, and a huge all-day Pride party (the restaurant is right on the Pride parade route).
He works with them on purposeful sourcing, like using vodka from gay-owned distillers and beers from gay-owned breweries. The rest of the staff is diverse, he says.
Post-pandemic, he sees that both the restaurant and LGBTQ community have changed and evolved in unpredictable ways. But they both came out "with a stronger sense of pride – we have a greater appreciation for what we have to offer in D.C."
For now, he loves celebrating beauty in difference at a vegan restaurant through the lens of drinks, whether alcoholic or zero-proof.
"There is magic that happens behind the bar," he says.
Now Open! Limani Brings Upscale, Authentic Greek Cuisine To The Wharf
Premiere waterfront dining has arrived in Washington, DC.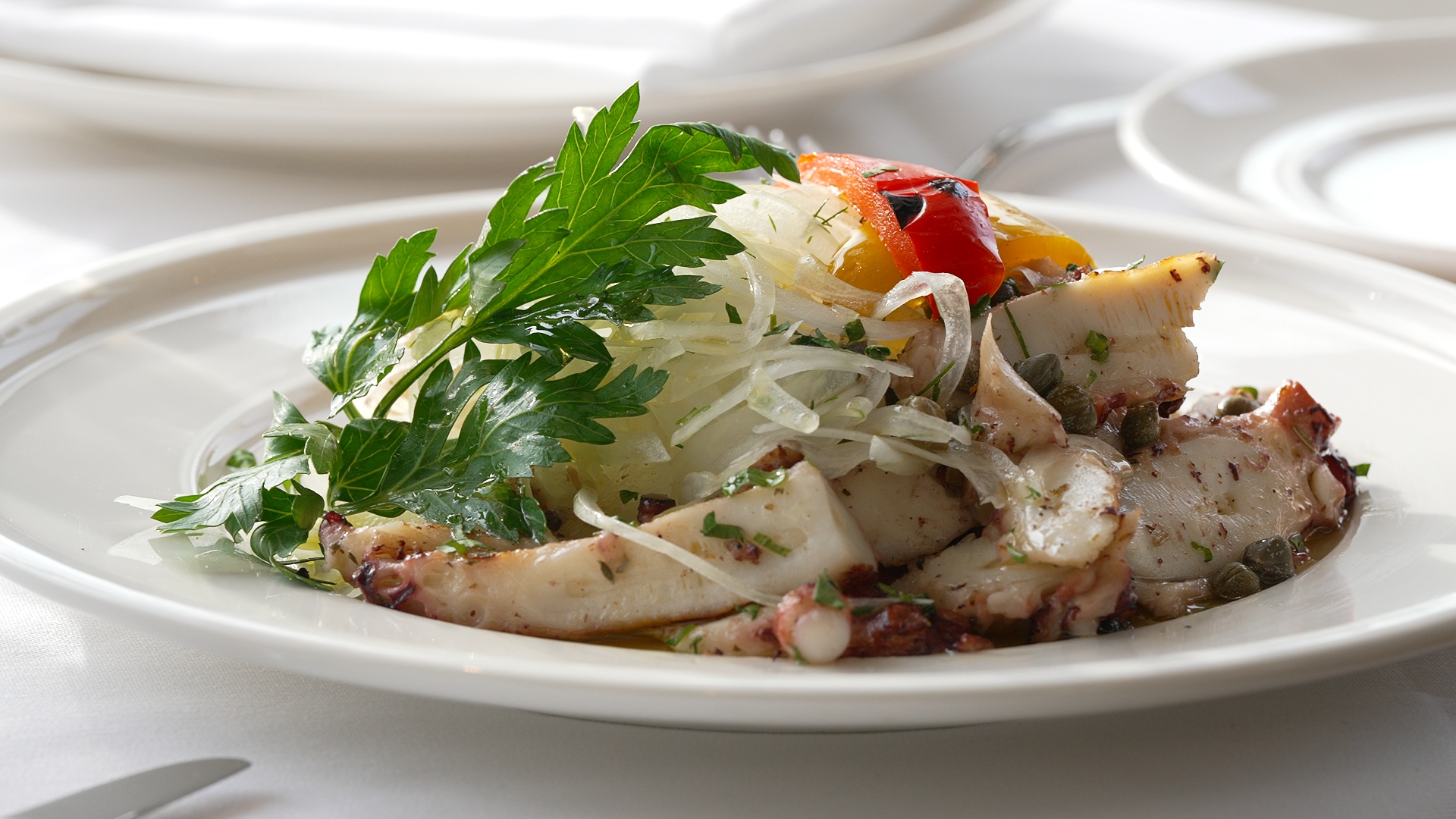 On Monday Limani Restaurant opened its doors on The Wharf, bringing an elevated dining experience unlike anything DC has seen before. Serving upscale, authentic Greek cuisine over breathtaking views of the water, Limani all but guarantees an unforgettable meal.
You might recognize some of Limani's classic Mezze dishes, but the flavor of each is wholly unique. The restaurant adds a refined, modern flair to traditional Greek specialities. True to the Mediterranean dining experience, the appetizer and entree dishes are designed to be shared among family and friends. This style of service sets Limani apart from other DC restaurants, but the unique flavors steal the show.
Limani serves only healthy, quality ingredients. Fish is flown in from the Mediterranean and never frozen, while produce is locally sourced. They cook every dish with extra virgin, cold-pressed olive oil imported from Greece, which is available to purchase separately. There is no fryer in the kitchen, and not a single dish contains butter. Limani stays true to the Mediterranean diet with each plate they prepare, and diners can taste the difference.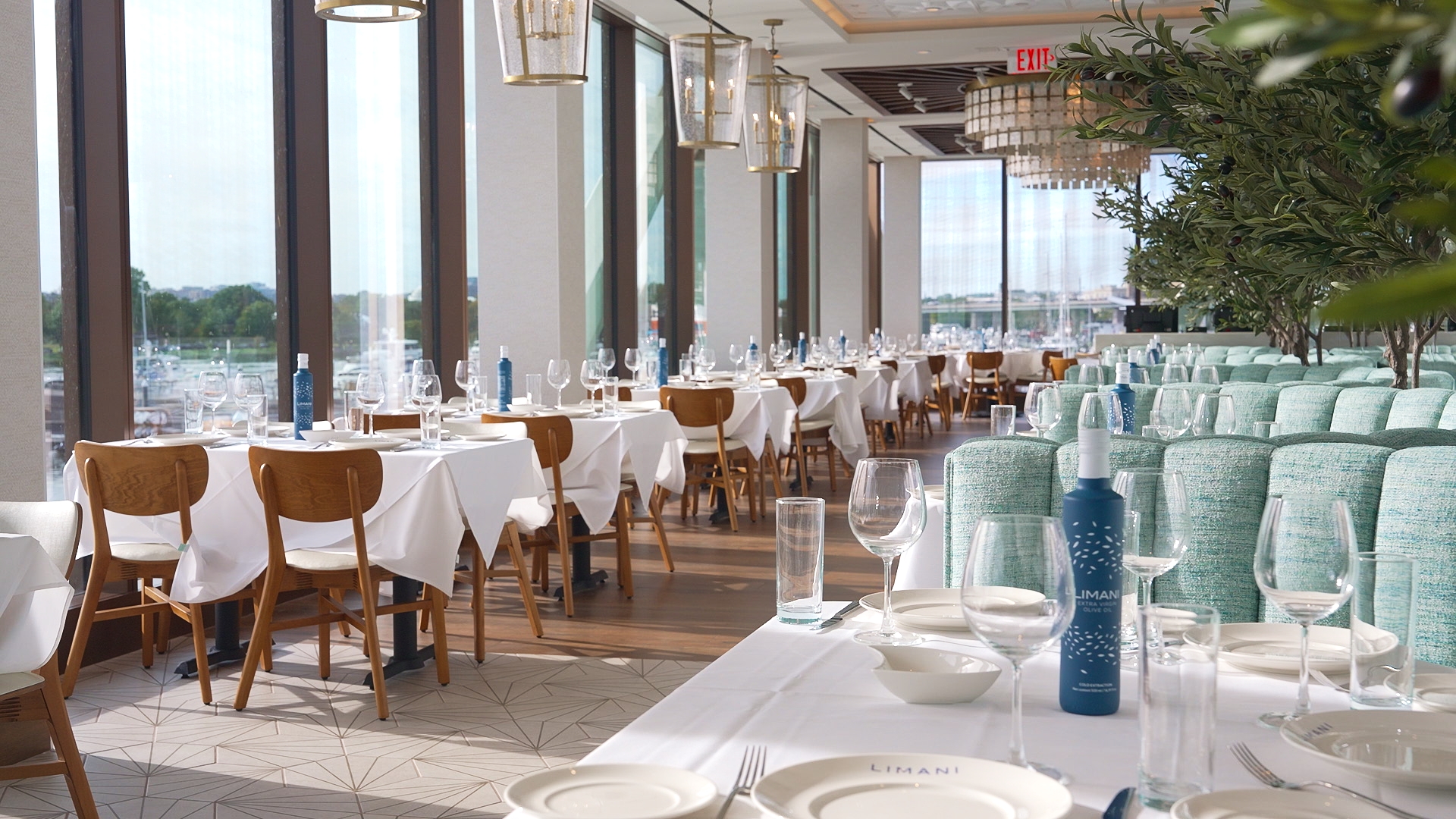 Some of Limani's most famous dishes include the zucchini and eggplant chips, pan-fried calamari, signature grilled octopus, whole roasted fish, shrimp saganaki, and spiny lobster. The restaurant also offers a wide array of vegetarian options, including moussaka, to accommodate a range of dietary needs.
Of course, no meal at Limani is complete without dessert. Limani's popular dessert plates round out an evening of memorable dishes. We recommend the baklava and Loukoumades, a Greek donut cooked in olive oil.
The delicious plates might be the star, but Limani's ambiance is just as breathtaking. Limani brings a new level of elegance to DC's dining scene with its flagship location on The Wharf. The unique flavors and presentation of each dish allow for an elegant evening, heightened by the waterfront views surrounding the restaurant.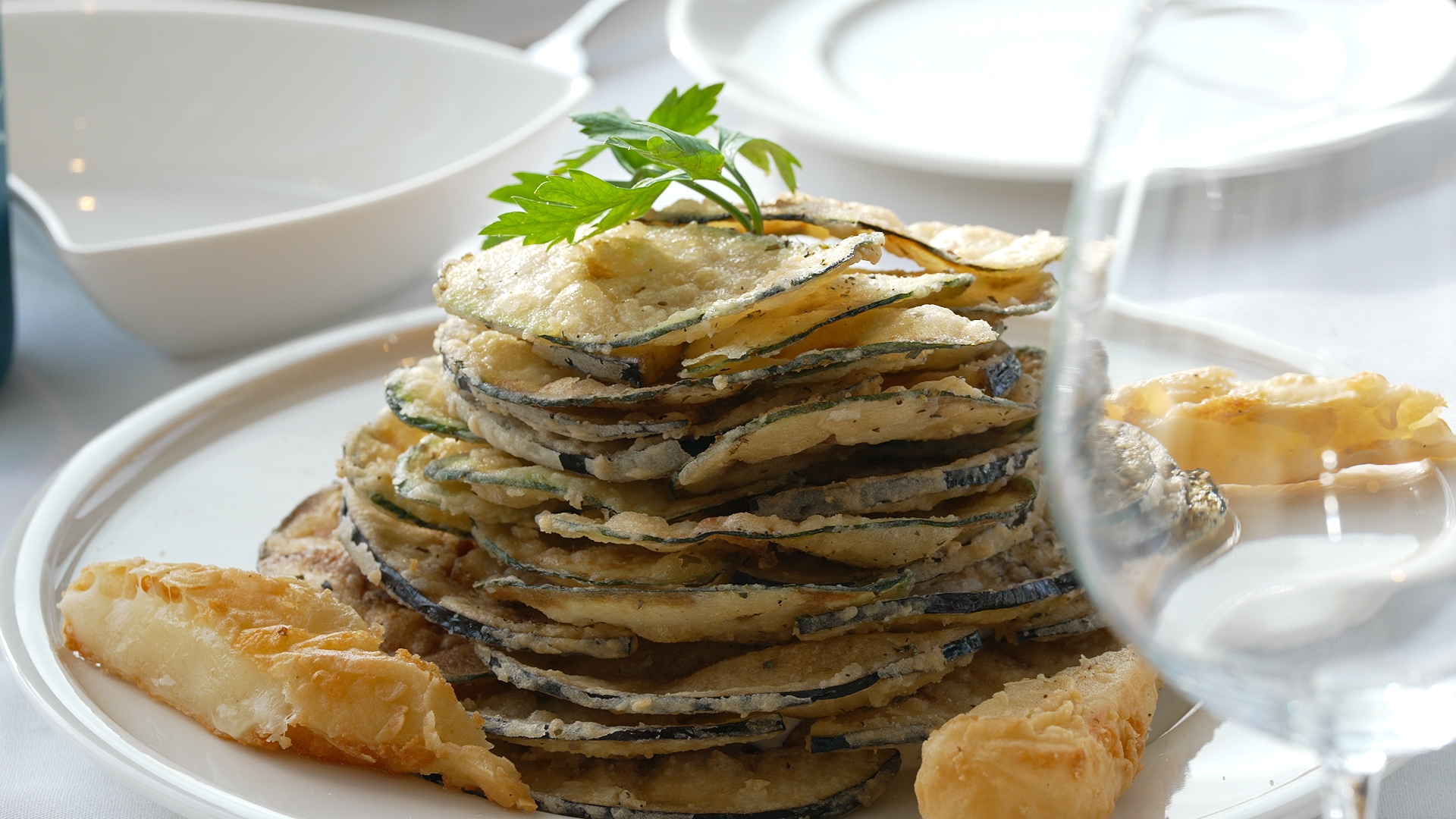 Limani's restaurant and rooftop bar offer panoramic views on all three levels, with the largest full-service terrace on The Wharf. Meanwhile, the thoughtfully designed interior sets the tone for a sophisticated evening that transports you to the Mediterranean.
The restaurant features floor-to-ceiling windows and a meticulous design that provides an intimate, sophisticated atmosphere. The decor includes a bar made from marble flown in from Greece, the same type of stone used in classical Greek monuments dating back to the fifth century. The resulting dining experience provides a calm, intimate atmosphere in the heart of the bustling Wharf.
No matter the occasion, Limani is the restaurant of choice for an unmatched dining experience. Discover the DC's newest waterfront destination by reserving a table at Limani.