Three cheers for 'Oliver!'
Huge cast deftly brings hit musical to life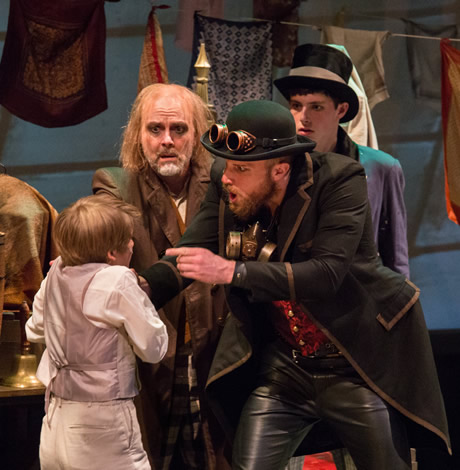 Oliver! 

Through Aug. 16

Round House Theatre

4545 East-West Highway, Bethesda

$35-45
Often you'll hear people say "Oliver!" was their introduction to musical theater. And it's no wonder. Over the years, Lionel Bart's 1960 family-friendly musical based on Charles Dickens' classic "Oliver Twist" has enjoyed hit runs in London and New York. There have been professional tours and remounts, and high school and community productions of all kinds. And then there's the hugely successful Oscar-winning film version that opened in 1968 and remains popular today.
In keeping with tradition, Adventure Theatre MTC is now introducing "Oliver!" to a new generation of theatergoers.
Adventure is best known for its one-act musicals for kids performed in a cozy Glen Echo Park venue. But now the company is branching out. In tackling "Oliver!," Adventure is staging its first two-act musical with a production that appeals to all ages and boasts a four-piece band and a 28-person cast that includes known local talents Rick Hammerly and Felicia Curry. To accommodate the ambitious project, Adventure has borrowed Round House Theatre Bethesda's much larger and more technically equipped space. The results are beyond admirable.
First off, the production looks terrific. Director Joseph Ritsch along with designers Douglas Clarke (set), Martha Mountain (lighting) and Julie Potter (costumes) have incorporated elements of trendy steam punk and Goth aesthetics (top hats, leather corsets, metal goggles and Victorian birdcages) in vividly creating gloomy early industrial London. Sarah Tundermann effectively adds to the mid-19th century atmosphere with projections of moving fog, architectural references and a sliver of the Thames.
It's the perfect setting for the tale of a gentle yet plucky waif who bounces from orphanage to mortuary to thieves' den all the while searching for a bit of security and love.
While the show gets off to a slow start with a stolid workhouse dance number, things pick up when Oliver (Franco Cabanas) is sold to a family of nasty undertakers. Here, surrounded by coffins, he sings "Where is Love?," a touching tune in which he expresses longing for the mother he's never known. Adventure struck gold when they found Cabanas. He acts and sings beautifully and bears a strong resemblance to the angelic-looking young actor Mark Lester who memorably played the title role in the film.
But it's when Oliver lands among a gang of underage thieves that the show hits its stride. This is due to an overall energy infusion as well as out actor Rick Hammerly's finely nuanced portrayal of Fagin, the gang's scraggly-haired leader. Clad in a ratty dressing gown, Hammerly's Fagin is a friend to the young delinquents whom he addresses as "my dears" and offers sips of gins when not instructing them on the art of crime (a delightfully delivered "Pick a Pocket or Two"). However, secretly ogling his hoard of stolen gems is Fagin's greatest pleasure.
The energy ups even further when Felicia Curry swaggers on stage as Nancy, a dance hall girl whose tough strut belies a heart of gold. Currie gives a powerhouse rendition of "As Long as He Needs Me" in which she refers to her black-hearted boyfriend Bill Sykes (an intimidating Greg Twomey) and later, in reprise, to little Oliver.
"Oliver!" is not without its darker moments. And perhaps it's precisely these bits that so engage kids. The audience at a recent performance was made up of elementary school-age children and attendant adults. Both young and old were rapt. Except for that fidgety woman seated near me who frequently reassured her daughter that what takes place on stage is not real. The little girl ignored mama's fussing and thoroughly enjoyed the show, scary parts and all.
New musical highlights Frederick Douglass but falls short
'American Prophet' needs more energy and spark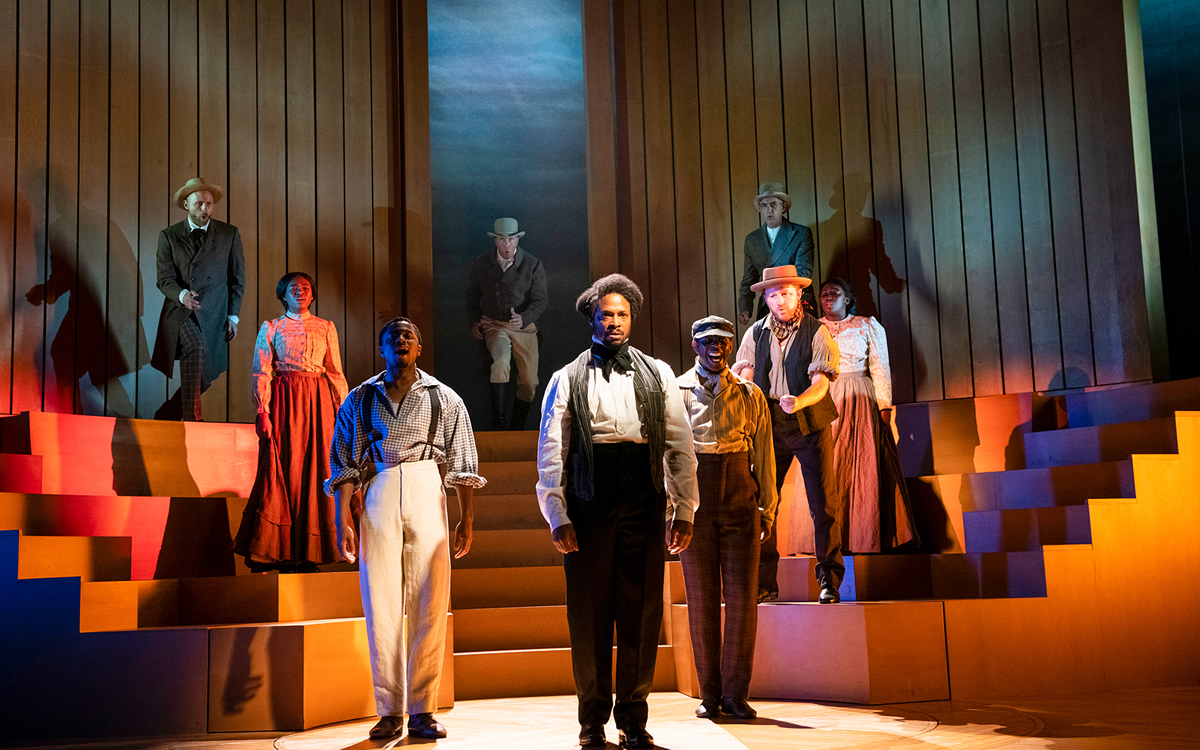 'American Prophet'
Through Aug. 28
Arena Stage
1101 Sixth St., S.W.
$66 – $115
Arenastage.org
Frederick Douglass's brilliance didn't blossom in a walled garden. 
Born into slavery around 1819, the renowned abolitionist worked the fields of Maryland's Eastern Shore, and docks of Baltimore before escaping to freedom in New York where he emerged as a famed orator, writer, and publisher. Along his exceptional journey, Douglass was supported by family, and like-minded folks including prominent progressives of different temperaments whom he both learned from and heavily influenced.
In "American Prophet," a biographical musical now premiering at Arena Stage, co-creators Marcus Hummon and Charles Randolph-Wright have intentionally relied heavily on Douglass's written words with mixed results. In both dialogue and lyrics, the great orator's fearless opines are present, sometimes they spark and crackle, soar and inspire, and other times they're not enough. 
The action takes place on a tiered set resembling the choir space in an unadorned church. It's here the players congregate to tell Douglass's remarkable story that doubles as a compelling slice of mid-19th century American history.
Standing centerstage is Douglass with a serious but handsome countenance, that distinctive side part, dark coat and vest. The actor (Curtis Wiley stepping in for Cornelius Smith, Jr., on a recent Sunday evening) is every inch the activist whose photograph is copiously featured in history books.
(Having slipped into Arena's Kreeger Theatre just as the lights went down, I didn't realize until intermission when a strip of paper announcing the substitution fell out of my program, that I was watching an understudy. Wiley didn't miss a line or lyric. His voice is gorgeous.)
Staged by Randolph-Wright, the musical unfolds chronologically as a straightforwardly told story. Douglass is born Frederick Bailey, purportedly the son of a slave and her white owner. After his mother's death, he's nurtured by a loving maternal grandmother (Cicily Daniels) and taught to read by his owner's sympathetic wife who recognizes the boy's quick mind and ability. Soon after he's sent off to Baltimore to serve as companion to a family relation about his same age. When that doesn't work, he's sent back to the farm where an overseer unsuccessfully tries to break young Bailey's spirit.
Back in Baltimore, still a slave, he works long hours as a stevedore with his pay going to his owners. Exuberant and inexhaustible, he finds time to take in some pleasures of the city. At a dance he meets his wife, a free black woman named Anna Murray (Kristolyn Lloyd). Together, they successfully flee to the free North. Once there – after changing his name to Douglass from a narrative poem by Sir Walter Scott, "The Lady of the Lake," – his career booms. 
Grammy-winning composer Hummon's score, a mix of gospel and country sounds, moves the story lucidly along while leaving room for some strong stand-alone melodies, particularly Kristolyn Lloyd's pleasing rendition of Anna's "I Love a Man." In the supporting role of supporting wife, Lloyd is a standout.
Going forward, Douglass finds friendship and opportunity with William Lloyd Garrison (Thomas Adrian Simpson) an abolitionist who demands absolute fealty from his colleague. He forms a true comradeship with fiery abolitionist John Brown (Chris Roberts), but when their tactics become too dissimilar, the pair part company.
The second act finds us on the precipice of the Civil War, and it's here we meet Abraham Lincoln (Simpson again). It's not the usual hagiographic portrayal we're used to seeing, far from it. The great savior of the Union is written as a real politician – gladhanding and strategic. Still, Lincoln evolves and benefits from his association with Douglass, even borrowing his thoughts from time to time.
Douglass was a force. Insanely ahead of his time, he called slaveowners to the carpet and expressed the hypocrisy of America at home and on tours abroad. And while the musical does lovingly put his humanness on display, I wanted more. When that jolt of energy and spirit finally comes with the show's stirring final number "American Prophet," it's too little too late.
Douglass spent his final years in Washington. He died at his home Cedar Hill in Anacostia. He was 77.
'Six' an empowering musical remix of English history
Wives of Henry VIII tell their own stories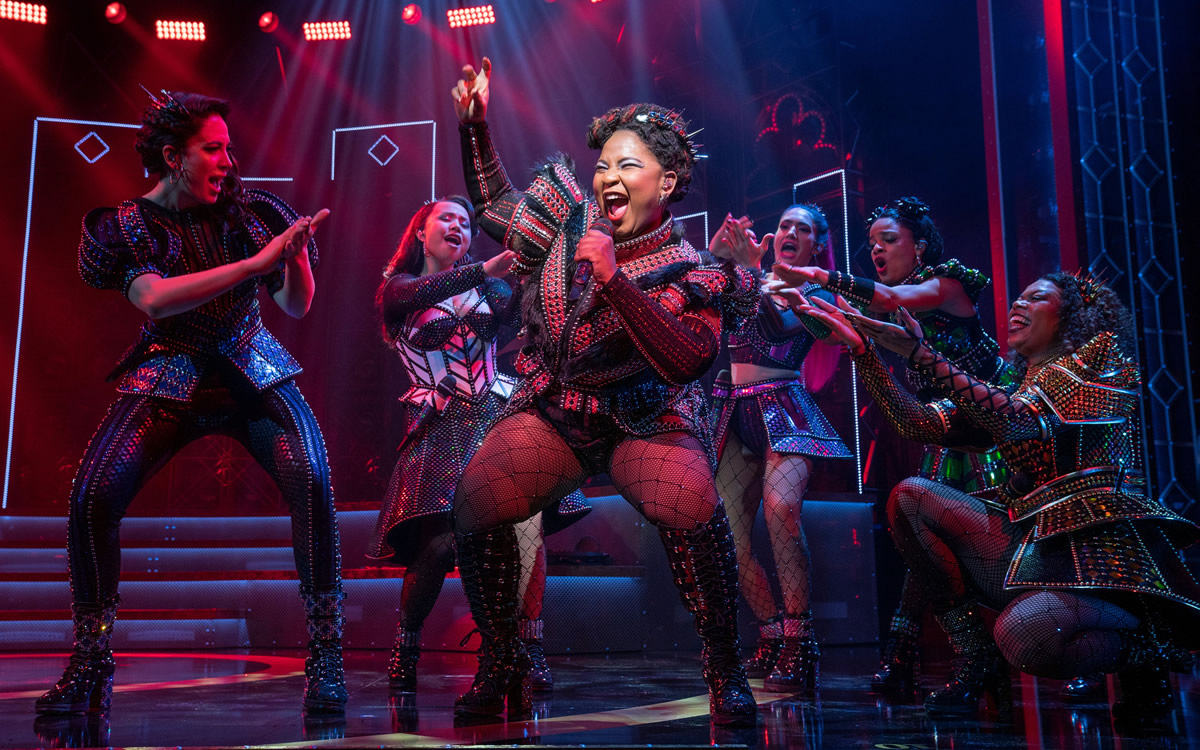 'Six'
Through Sept. 4
National Theatre
1321 Pennsylvania Ave., N.W.
$65-$150
BroadwayAtTheNational.com
Typically, the wives of Henry VIII are cast aside as headless footnotes. But in "Six," an empowering and fun musical remix of English history (now playing at National Theatre), they tell their own stories.
Conceived by Brits Toby Marlow and Lucy Moss, the Broadway hit is a fast-paced 85-minute pop rock musical presented as a contest in which Henry's wives compete for diva status by proving who's been treated the worst by the monarch, and considering Henry's vile track record, the competition is unsurprisingly stiff.
History and music unfold chronologically as the royal consorts, backed by "The Ladies in Waiting," (four musicians led by Jo Ann Daugherty), briefly but trenchantly share their experiences in a madly entertaining way.
After collectively introducing themselves and their respective fates with "Ex-Wives" ("Divorced, beheaded, died! Divorced, beheaded, survived!"), Henry's first queen, Catherine of Aragon (Khaila Wilcoxon), a devout Catholic and a true Spanish princess who despite many tries was unable to provide her philandering husband with a surviving male heir, steps out of the line and states her case with a power-pop song titled "No Way."
Then one-by-one the remaining five — fabulously costumed in glittery short-skirted concert gear with Tudor flourishes by Gabriella Slade — get their turn in the spotlight. Storm Lever, as Anne Boleyn, Henry's beguiling six-fingered second bride, wittily reminds the other women that she suffered far more than simply divorce and humiliation in "Don't Lose Ur Head."
The evening's liveliest number "Get Down," replete with a saucy costume reveal, belongs to Anna of Cleves played Olivia Donalson. Thrown over by Henry because her looks didn't live up to a Holbein portrait sent in advance (a still all-too-common problem), the German princess managed to keep her head and her money, proving you can be Henry's ex and still have a good time. Her situation was unpleasant, yes, but certainly not the worst.
In a clever move, the composers have sought "queenspiration" from contemporary artists. For instance, Jane Seymour (Jasmine Forsberg), best remembered as "the only one he ever loved" is drawn from Adele and Sia. Forsberg conveys the story's sadness with the sorrowful ballad "Heart of Stone."
Henry's victimized teenage wife Katherine Howard (Didi Romero) who was beheaded on Tower Green is drawn from Ariana Grande and Britney Spears; for Catherine Parr (Gabriela Carrillo), an independent thinker and the wife who survived Henry, inspiration comes from Alicia Keyes and Emili Sandé.
Sounds like big stilettos to fill? Don't worry, the cast is more than up for it — its six talented young women possess pipes, timing, and presence to spare.
Staged by Lucy Moss and Jamie Armitage with choreography by Carrie-Anne Ingrouille, the production is intriguing. At first look, it's everything some theatergoers might not like: really loud and very Vegas residency, but as the show opens up it proves delightfully smart, substantive, impeccably researched, and succeeds at cleverly melding the past and present.
The show has a strong following – the kind that feel it's OK to sing along with the actors onstage. But it's also appealing to history buffs and old-fashioned musical theater fans alike. "Six" is a crowd pleaser and deservedly so.
Back to the queen contest. The obvious choice for Henry's most consequential spouse is either Catherine of Aragon, the true queen, or maybe Anne Boleyn, the second wife for whom he parted with Rome and the mother England's greatest monarch, Elizabeth I. But the show gives each woman her due, and they bare their souls. Whether they were dragged into Henry's orbit because of beauty, ambitious family, or simple accidents of time and place, no one escaped unscathed. Who suffered the most? That's something you'll have to decide for yourself.
'The Playhouse' a triumphant return to live performance
Tony Cisek helps make playwright's story shine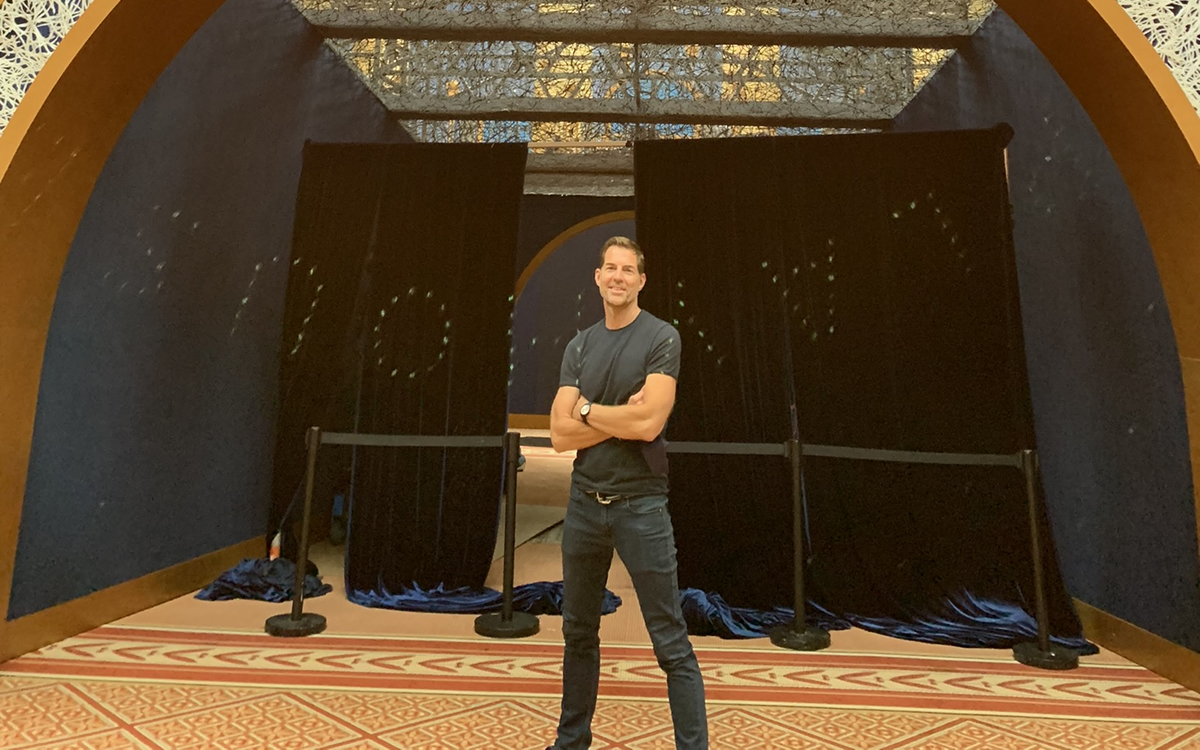 'A Midsummer Night's Dream'
Through Aug. 28
Folger Theatre at the National Building Museum
401 F St., N.W.
$20-$85
Events.folger.edu
Ordinarily set designer Tony Cisek is charged with making a playwright's story shine. His latest project was a little different.
As an integral player in Folger Theatre's return to live performance, Cisek directed the creation of The Playhouse, the National Building Museum's current Summer Block Party installation and the stage for performances of an abbreviated 90-minute intermission-less version of Shakespeare's magical comedy "A Midsummer Night's Dream."
The project comes from a moment of synergy where the University of South Carolina's idea for a pop-up theater met the Folger's need for a venue while the Folger Shakespeare Library undergoes major renovations, mostly involving public space and its closed, marble exterior, he explains. And the National Building Museum, looking for vital summer programming, was happy to join the partnership.
After pandemic-related postponements and delays, Cisek took the helm, inheriting both a set designed by University of South Carolina's Jim Hunter, cleverly made to pack up on two tractor trailers and move from stop to stop with Washington as its first stop, and exhibitions including a life-sized immersive installation based on Joanna Robson's book "A Knavish Lad," which is a part of the Folger Shakespeare Library collection.
"I'd never worked where the central aesthetic is not mine," says the out designer. "This has been more about pragmatics and logistics, and the art part really took a backseat. But that's OK. I go in wanting every show to succeed and you never at the beginning know what that's going to take but you do it."
Confronted with an admittedly challenging and slightly unfamiliar project, the four-time Helen Hayes Award winner with almost 30 years' experience in set design, soldiered forward. Building a theater in the museum's soaring atrium with its forest of mindboggling immense Corinthian columns presented possibilities and problems. His immediate tasks were how to sit Hunter's set in the space, how to surround it, how to seat the audience, and what the audience's journey would be from the moment they walk in the building.
Quickly, Cisek and team realized the work at hand was mostly about infrastructure. There was no infrastructure for hanging lights. In fact, there were no lights. They needed speakers and cables too. Everything had to be brought in and rented for 10-12 weeks at no small expense.
Fortunately, he has a long history working with lighting designers: "I like to put my nose in other designers' business. What elements are going to make this moment shine? I'm not interested in staying my little silo. That's not a formula for a successful production. My reward is that the audience finds enjoyment, is moved and provoked. Otherwise, why bother?"
Originally from Queens, New York, Cisek first came to Washington to study pre-med at Georgetown University. But increasingly, he became interested in theater, and eventually went on to study scenic design at New York University's Tisch School of the Arts. After receiving his master's in 1994, he planned to stay on in Manhattan but an onslaught of job offers brought him back to D.C. where he's worked consistently ever since.
Creating a realistic set doesn't particularly interest him unless it's specifically called for by the playwright or director. He adds, "Strict naturalism is better achieved by film. On stage, it leaves little room for the audience's imagination. And when there are naturalistic elements in the design, I like to leave air for the audience to fill in. Stories can be helped by a naturalist environment, but I move away from naturalism and try to find something poetic, or evocative, or some way to address the larger arc of the story."
Having lived and worked in the DMV for most of his life, it's no surprise he's picked up some tips from the locals. For his current project, he's utilized the idea of a zone transition, which is how Zelda Fichlander, who founded Arena Stage, referred to the journey of her audience in the original Arena – 20 feet of dim, low-ceilinged space in which in theory you left your world behind and cleansed your mind for what you were about to see.
With The Playhouse, Cisek has created a sort of tunnel through which you progress before emerging to a staggering view of the stage and columns. See it if you can.