Slugger's journey to coming out
Former Orioles minor league all-star Tyler Townsend on life in baseball's closet and finding redemption in helping others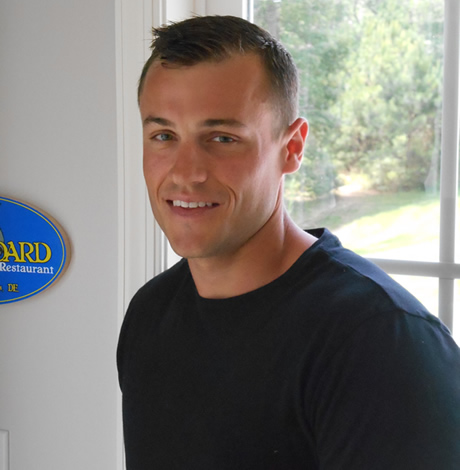 If not for a recurring hamstring injury, Tyler Townsend just might have become Major League Baseball's first openly gay player.
Townsend, now 27, was drafted by the Baltimore Orioles in 2010 in the third round, opted out of his senior year at Florida International University and entered the minor league system.
An all-star first baseman, he quickly progressed through the system, playing stints in Aberdeen, Frederick and Salisbury, all within the Orioles operation. And through three years of minor league ball, Townsend played from the closet, keeping his sexual orientation a secret from teammates, coaches — and the female fans who followed the team and offered phone numbers to players.
"I was afraid of what would be said by teammates and fans," he said in an interview with the Blade from his home in Rehoboth Beach, Del. "I always had a goal of getting to professional baseball since I realized I had the ability to do it and I just didn't want anything to take away from that. I didn't want the person who didn't understand it to not give me a chance because they didn't want to deal with my personal life. That was my fear. And there wasn't anybody to look up to who was out playing sports."
Despite his apprehension, Townsend said his plan all along was to delay coming out publicly until he made it to the big leagues.
"I would have come out if I'd made it to the pros," he said, with a hint of regret.
For someone coming out publicly in the media for the first time, Townsend is relaxed and poised, reclining slightly in the well-appointed living room of the townhouse he shares with his partner not far from Rehoboth's beaches.
His story rings familiar to legions of gay people who are — or were — out in their personal lives, but closeted at work. He had a boyfriend and lived in D.C. when not on the road, living an openly gay life, though he didn't frequent gay bars. But when it was time to play ball, Townsend dodged questions about his sexual orientation — and why he never called those women who hit on him. His boyfriend at the time, who was older, attended games as his "uncle."
"I was out in the off-season, so six months of the year I was happy and out and being myself and once spring training came around it was back in the closet," he said. "I should have done things differently but I feel like telling this story now makes up for it a little bit."
Townsend, like so many American boys, started playing baseball at age 10, joining a Delaware travel team and continuing through his high school years at Cape Henlopen High outside of Rehoboth, where he grew up. Rehoboth is a popular beach destination for gays from Baltimore, D.C. and Philadelphia, so Townsend was no stranger to the sight of two men holding hands.
"I always knew I was gay," he said. "And growing up in Rehoboth, I knew what gay was. Once I realized I was attracted to other guys, I knew right away what it was."
After earning a college scholarship and playing three years for Florida International, Townsend realized every little league player's dream.
"To hear your name on TV on draft day is one of the best memories, it's what I worked for my whole life," he said. "Nothing else mattered."
But the euphoria of that moment soon gave way to the harsh realities of a career in pro sports — long stints away from home, injuries and, for Townsend, the pressure of guarding his secret. After being drafted by the Orioles and signing his contract, Townsend played advanced rookie ball in Aberdeen, Md., then went to Pensacola, Fla., for training in the off season. That's when he first tore his hamstring doing sprints, which led to continuous struggles with injury.
That's also when he decided to start the coming out process by telling his family.
"I just couldn't live with it anymore," he said. "I thought the whole world was going to be against me. I couldn't live with the lie anymore so I decided to tell my family and that was it."
His family, which includes his mother of Lewes, Del., father of Georgetown, Del., a sister, half brother and half sister, proved supportive and accepting. "I was in Miami when I told my Dad and he got in the car and drove down to make sure I was OK."
Locker room epithets
The acceptance he found off the field didn't translate to the locker room, where homophobic epithets were commonplace and where he feared coming out would doom his chances of playing in the big leagues.
"So many times, I heard homophobic remarks in locker rooms but didn't say anything because if I get to the position where they're going to call me up and it's between me and somebody else, I didn't want the person making the decision saying, 'I don't want to deal with the publicity or the discomfort of other players,'" he said. "I didn't want anything to hinder my chances and being openly gay would have hurt."
He recalled one teammate who was religious and read the Bible every day, who told Townsend there's nothing wrong with being gay as long as you don't act on it. Another time, he said a coach called a player a faggot because he touched his belt. And at spring training in Florida, Townsend said an older gay man would often come to games and bring bubble gum and snacks for the players. On his birthday one year, the coaches joked about taking a video of the team in the shower and giving it to the man as a gift.
"Little things like that always made me realize there was no room for an openly gay player," Townsend said. "If they're that uncomfortable with the idea of someone being gay, what would their reaction be if they actually had to take a shower or change or play or trust someone on their team who's gay?"
As a result, he never came out to anyone on the team, though one locker room incident brought him close. There was a man in North Carolina, Townsend said, who would sneak into locker rooms and impersonate cleaning staff while spying on players getting undressed. When someone finally caught on and kicked him out, the mood in the locker room turned angry, with players using anti-gay epithets and threatening to beat the man. According to Townsend, one player said, "I don't care how close I am to somebody if I ever found out they were gay I would disown them."
The threats of physical violence prompted Townsend to speak up, challenging his teammates, who demanded to know why he was defending the trespasser.
"I told them they were doing something stupid — it was the one time I spoke out," he said. "People are ignorant and maybe it would have been different if I came out but I just felt that the majority of them had a preconceived notion of what all gay men are and it wouldn't matter."
After battling the hamstring injuries for most of his professional career, Townsend finally accepted that he needed a break in 2013.
"It was discouraging. It was one of the two toughest decisions I've had to make — leaving baseball and coming out."
'There's still a lot of hatred'
Major League Baseball has never had an openly gay active player. The NBA had Jason Collins, who came out in 2013 and played briefly before retiring. The NFL had Michael Sam, who was drafted but failed to make a team and just last week quit the Canadian Football League, citing mental health issues. Publicly at least, Collins and Sam were heralded in the media and showered with attention — Oprah interviews, Sports Illustrated covers — all the trappings of a carefully orchestrated modern-day coming out story aimed at downplaying criticism and maximizing endorsement and speaking engagement potential. Anyone who tweeted their disgust with the newly out players was quickly reprimanded and the offending tweet deleted.
Just this week, David Denson, a minor league player with the Milwaukee Brewers system, came out as gay. He told the Milwaukee Journal Sentinel that his teammates on the Helena Brewers accept him. Maybe he'll make it to the big leagues and become the first active out gay player, overcoming the skepticism of many observers who see baseball as the last frontier for gay athletes.
"Sports in general has that macho persona that you need to put out," Townsend said. "Baseball is 85 percent players from conservative areas like Latin America and the Bible Belt and you have 18-year-old kids who've never been exposed to anything."
The view that baseball will be the last major pro male team sport to have an out gay player is common among sports fans the Blade has spoken to about the subject. To help address the problem of homophobia in baseball, MLB hired gay retired player Billy Bean as its first "Ambassador of Inclusion." Bean counseled Denson on coming out.
"The beauty of what could come from this is he can be an example that can help change that perception and change the stereotype that there would never be a gay person on a men's professional sports team," Bean told the Journal Sentinel. "That was something I struggled with."
Townsend said he also turned to Bean for help with coming out publicly.
"Billy Bean has been a help, but he couldn't come out either and it's the same in 2010 as it was in the '80s," he said. " The locker room is a free-for-all, there's still a lot of hatred and something needs to be done about it."
So what's to be done? Townsend cites sensitivity training for coaching staff as key, because younger players are emboldened when they hear coaches using homophobic epithets. The other solution, he says, is more out gays in the game. "We need someone like Jackie Robinson to break that barrier."
Today, Townsend has mostly left baseball behind, though he recently played in a softball tournament. He's resumed his studies at Florida International University, pursuing a degree in hospitality management. He works part-time as a bartender in Rehoboth and hopes to one day open a restaurant of his own.
He met his partner, David Gonce, a regional sales director for an information document managing company, about a year and a half ago in Dewey Beach, Del. The two exchanged glances at the Starboard, a bar and restaurant popular with the straight college crowd. But Gonce thought Townsend was checking out the female friend who was with him.
"I asked the waitress if he wanted to meet my buddy's girlfriend and she said, 'No, he's gay and he's looking at you.'"
They started dating shortly after and now, 18 months later, a plaque of the Starboard's logo hangs in their living room.
"It's got to be really difficult to suppress who you are in front of all these people you've gotten to know so well for such a long period of time playing baseball," Gonce said. "I give him a lot of credit for doing that, it's very difficult."
Reflecting on his years in professional baseball and just how close he came to the majors, Townsend betrays some regret.
"It's sad looking back now, I wish I could have been that person but I didn't have the courage at the time," he said. "That's not right on my part … I would do it differently if I could. There's that 16-year-old kid, I want him to know not to be scared and don't let other people steer you away from who you are."
He added that he's still friends with some players on Facebook and isn't sure how they'll react to this interview but that he no longer cares.
"This is my way of letting the guilt go, so I'm doing this for me and for people who are struggling with the same things I struggled with to try to help them. My regret was not coming out sooner and being that role model for somebody but I still have the passion to help."
Olympic champion Tom Daley 'furious' about bans on trans athletes
"Anyone that's told that they can't compete or can't do something they love just because of who they are, it's not ok"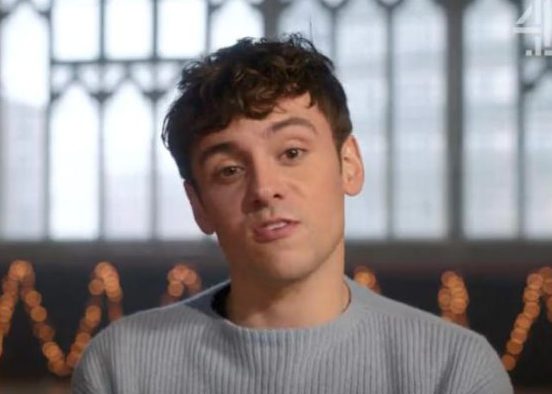 Olympic diving champion Tom Daley said he is "furious" about FINA, the world swimming body, banning some transgender athletes from women's swimming, diving, and other competitions. 
"Anyone that's told that they can't compete or can't do something they love just because of who they are, it's not OK," Daley said to iNews at a press conference. "It's something I feel really strongly about. Giving trans people the chance to share their side."
Earlier this month, FINA released the new policy on eligibility, banning athletes who have experienced male puberty from women's competitions.
FINA President Husain Al-Musallam said the new policy intended to protect athletes' right to compete but also ensure competition fairness.
FINA intends to create an open category for athletes whose birth sex is different from their gender identity.
"This has not been done before, so FINA will need to lead the way. I want all athletes to feel included in being able to develop ideas during this process." Al-Musallam said.
The new policy was condemned by the Human Rights Campaign, which said that requiring athletes to transition before age 12 was unrealistic and unlikely. States such as Alabama regulate young people's access to age-appropriate gender-affirming care.
"This sudden and discriminatory decision is a blatant attack on transgender athletes who have worked to comply with longstanding policies that have allowed them to participate for years without issue," said Joni Madison, HRC's Interim President, "This policy is an example of swimming organizations caving to the avalanche of ill-informed, prejudiced attacks targeted at one particular transgender swimmer."
The new policy will impact the career of trans swimmer Lia Thomas, the first trans woman to win a NCAA Division I Women's Swimming Championship, and may prevent her from participating and competing in the female category.
DC Aquatics Club swimmers reflect on world title win
Team took 125 gold medals en route to breaking 72 DCAC records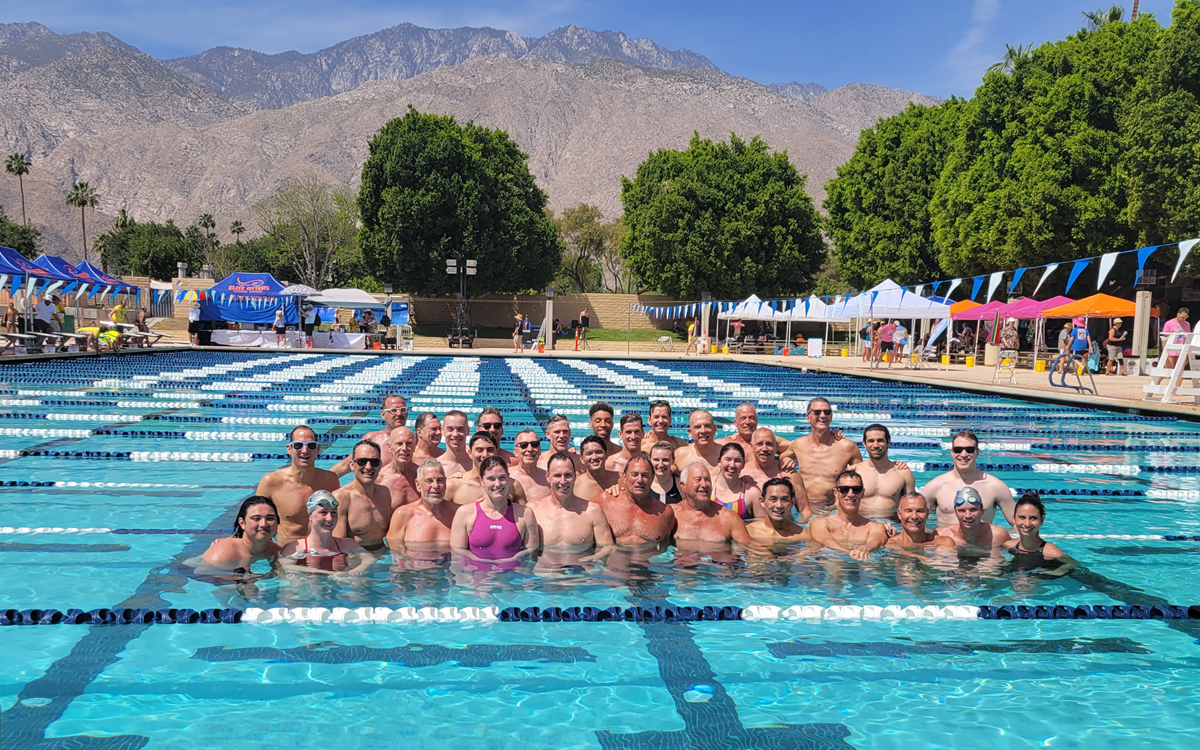 The District of Columbia Aquatics Club sent 42 swimmers to the International Gay & Lesbian Aquatics (IGLA) world championships in Palm Springs, Calif., in April on a mission to capture their first world title since 2013.
It was a long road back to international competition for the DCAC swimmers after the disruption of training and travel brought on by the worldwide pandemic.
When the team returned from IGLA in Melbourne, Australia in March of 2020, their training pools were closed, and all competitions were canceled.
By May they had established a training site in the South River in Annapolis where they swam until November of that year. Eventually, pools began to reopen, and the team was faced with battling for training time in COVID-restricted pools.
Following the postponement of the 2022 Gay Games in Hong Kong, the IGLA community scrambled to put together a competition in Palm Springs that would be hosted in tandem by West Hollywood Aquatics and the Long Beach Grunions.
DCAC's swimmers in Palm Springs consisted of a mix of veterans and rookies ranging in age from 22 to 76 years old. Each swimmer was eligible to enter five individual events and three relay events.
With 67 teams in attendance, DCAC jumped out to an early lead on day one in the large team category with West Hollywood Aquatics and San Francisco Tsunami in close pursuit.
Despite the disqualifications of two of their winning relays for early takeoffs, DCAC held on to their lead over the remaining three days to claim their first world title in nine years.
Three DCAC swimmers, Grant Casey, Carmen Robb and Jerry Frentsos, won gold in all five of their individual events. In total, the team won 125 gold, 66 silver and 35 bronze medals en route to breaking 72 DCAC team records.
Addison Winger was a first time IGLA swimmer and hadn't competed in 12 years. He had heard the tales from past IGLAs and wanted to join in on the fun.
"It was a great experience to compete for DCAC at an international competition. I had never been in a championship meet before where you go through the process of tapering, shaving, and suiting up in tech gear," says Winger. "The relays were amazing, and I enjoyed taking advice and feedback from our coaches to incorporate into future races. It was also great spending quality team with my teammates outside of the pool."
Olivia Kisker had competed with DCAC at IGLA Melbourne in 2020 and was looking forward to traveling with her team again.
"Even though the days were long at the pool, we still had time for Joshua Tree, the gondolas and all that Palm Springs has to offer," Kisker says. "I love traveling and doing it with your teammates provides a setting for bonding and getting to know people better. I also enjoyed competing against my teammate Sarah. It's like a friendship and a rivalry."
Craig Franz restarted his post-COVID competitive swimming at IGLA Palm Springs and went on to a training camp and open water race in Hawaii this past month.
"The whole thing about this team is relationships and sharing swimming as a common denominator. The swim competitions legitimize building relationships and supporting each other in healthy ways," say Franz. "Palm Springs felt like a more relaxed setting, and we needed this meet to rebuild the team. It provided a nutritional base for what we are about – swimming and friendships."
Sarah Padrutt had not competed since 2019 and all the talk about past IGLAs prompted her to attend for the first time.
"I had so much fun, and it was cool having people cheering and being supported by teammates," Padrutt says. "It was also a nice wakeup call, a reminder of how much I like competing. I like the pressure of racing and being on relays with my team. It was a very positive experience."
Charles Cockrell has been a Masters swimmer for decades and is the chair of the Legislation Committee for United States Masters Swimming. He came out in 2019 and these championships marked his first time competing at IGLA.
"I wanted to compete at a swim meet that was a combination of the LGBTQ community and the sport of swimming. It was a fun, accepting and engaging environment," says Cockrell. "The takeaway was that everyone was enjoying themselves and it was nice to be gathered together in a queer space. There was an atmosphere of camaraderie, and it was great being attached to a big team like DCAC."
Coming up next for DCAC is the United States Masters Swimming Nationals in Richmond in August. Next year, the team will travel to London for the 2023 IGLA world championships to be held in the London Olympic Pool.
Caitlyn Jenner celebrates FINA ban on Trans swimmers on Twitter
"[…] what's fair is fair! If you go through male puberty you should not be able to take medals away from females. Period," Jenner tweeted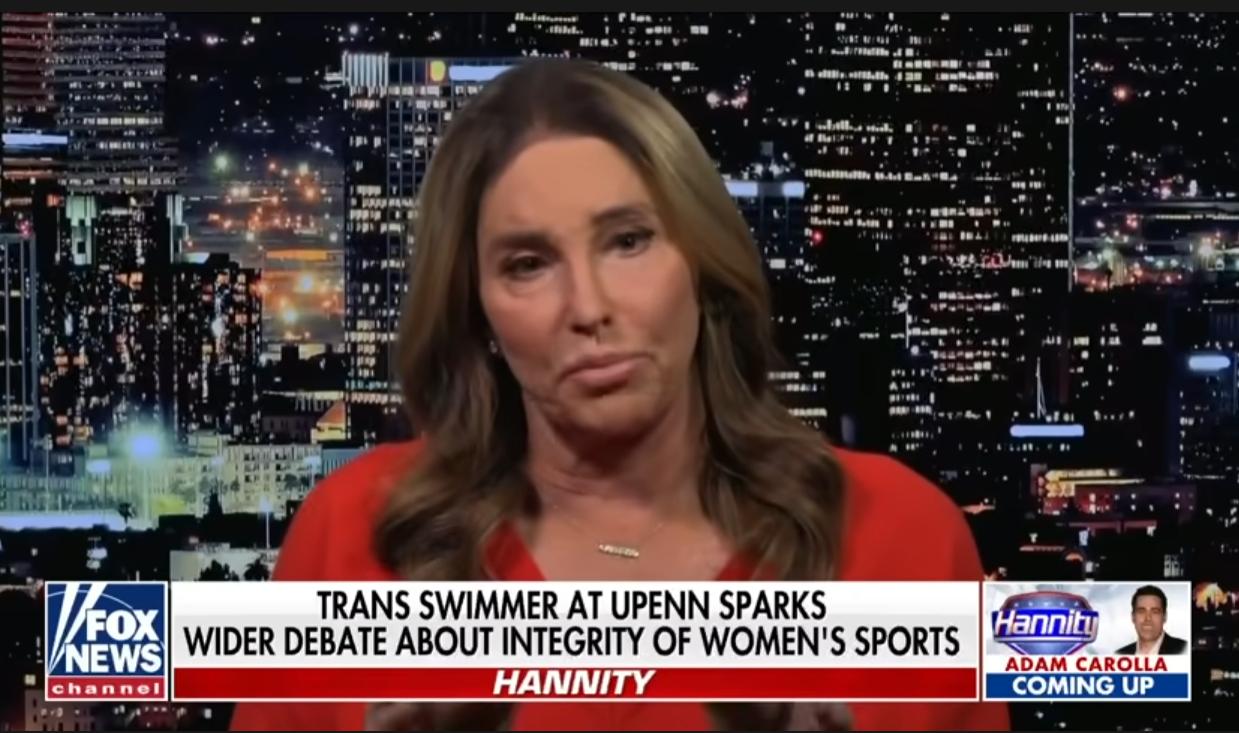 Former Olympian and one-time California Republican gubernatorial candidate Caitlyn Jenner enraged Trans activists Monday after she tweeted her approval of the FINA vote Sunday that essentially bans Trans women from participating and competing as collegiate swimmers.
"It worked! I took a lot of heat – but what's fair is fair! If you go through male puberty you should not be able to take medals away from females. Period," Jenner tweeted Sunday after the international athletic organization announced its vote to ban trans athletes.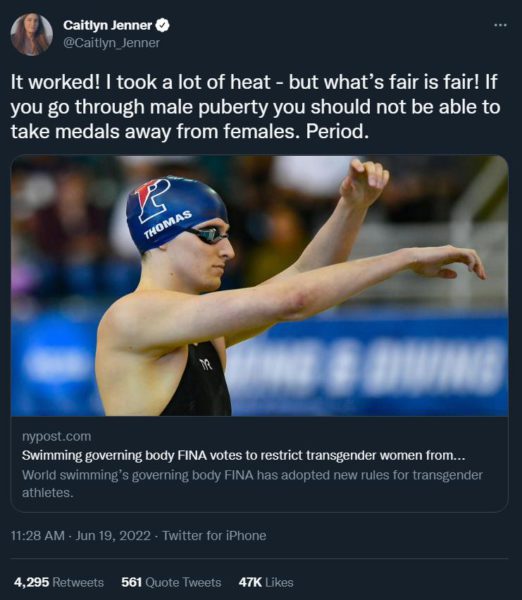 The Swimming's world governing body voted to restrict transgender athletes from elite women's competitions. The final vote tally of the representatives was 71.5% approval for the new policy which requires transgender athletes show that "they have not experienced any part of male puberty beyond Tanner Stage 2 or before age 12, whichever is later."
"We have to protect the rights of our athletes to compete, but we also have to protect competitive fairness at our events, especially the women's category at FINA competitions," FINA's president, Husain Al-Musallam, said in a statement.
The organisation is maintaining that it was necessary to use sex and sex-linked traits to determine eligibility criteria because of the "performance gap" that appears between males and females during puberty.
Jenner's appearances on the Fox News Network over the past six months have been unrelenting attacks on Trans athletes, especially University of Pennsylvania Women's Team swimmer Lia Thomas. Jenner also appeared on the network to defend her attacks on Trans athletes.
"We must protect women's sports. We cannot bow down to the radical left wing woke world and the radical politically charged agenda of identity politics," Jenner tweeted. In another tweet she said;
"Thank you @seanhannity and @HeyTammyBruce for having a conversation grounded in common sense. All we want to do is protect women's and girls sports! It's that simple. And calling out the libelous, defamatory lies of @PinkNews and @emilychudy@benjamincohen"
Jenner has been asked about her position on the multiple pieces of anti-Trans youth sports legislation across the United States. She responded that she saw it as a question of fairness saying that she opposed biological boys who are Trans- competing in girls' sports in school.
"It just isn't fair," Jenner said adding, "and we have to protect girls' sports in our school."
In April the Fox network hired Jenner as on-air contributor role with her first appearance on Hannity.