Iron Crow announces 'season of dark play'
New season kicks off under fresh leadership
Iron Crow Theatre, Baltimore's only queer theater company, unveiled its 2016-17 season that is being billed as its biggest ever. The new season was announced at a Champagne reception on Feb. 6 at The Fitzgerald in Baltimore.
The company went dark during 2015-16 as it transitioned to new leadership headed by artistic director and CEO Sean Elias. "This season, 'the season of dark play,' explores through a multitude of genres and theatrical mediums the dark game play that we all partake in, either willingly or forcefully, for pleasure or survival, within the modern American experience," Elias said in a statement.
The theatrical lineup beginning in the fall of 2016 will include: "The Wild Party" (the second time Iron Crow has presented a musical), "Edith Can Shoot Things and Hit Them," "Fucking A," "Zero Hour," ""Booty Candy," and "The Rocky Horror Show." All but the last show will be presented at the Baltimore Theatre Project.
In addition, Iron Crow Theatre will launch the "Queer: Broaden Your Definition" campaign featuring portraits and stories from Baltimore's local queer community. Queer, as explained by Elias, is defined as "anything that celebrates the renegade and the unorthodox in all of us."
"This campaign invites people to see, hear and experience a piece of the queer community that is very much alive here in Baltimore," said Jeanette Wooten, Iron Crow Theatre's public relations manager. "This is the first campaign of its kind in the theatre's history."
For more information, visit ironcrowtheatre.org.
DC Front Runners Pride 5K to take place as scheduled
Air quality improved overnight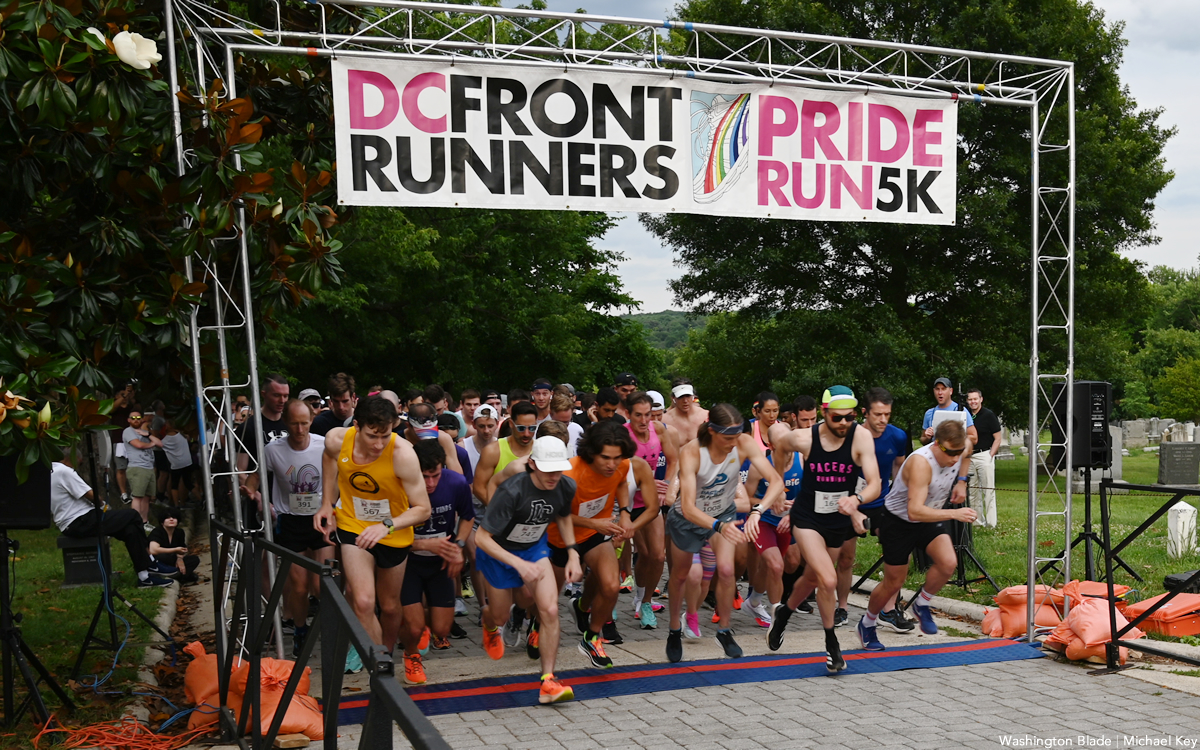 The D.C. Front Runners' annual Pride Run 5K will take place as scheduled at Congressional Cemetery on Friday.
The Blade Foundation, SMYAL, the Wanda Alston Foundation, Team DC, Teens Run DC, Pride 365 and Ainsley's Angels of America are among the race's beneficiaries. Wegmans, Shake Shack, Knead Hospitality and Design, Choice Hotels and Capital One Café are among the sponsors.
Rooftop Pool Party postponed
Capital Pride Alliance moves official event to June 22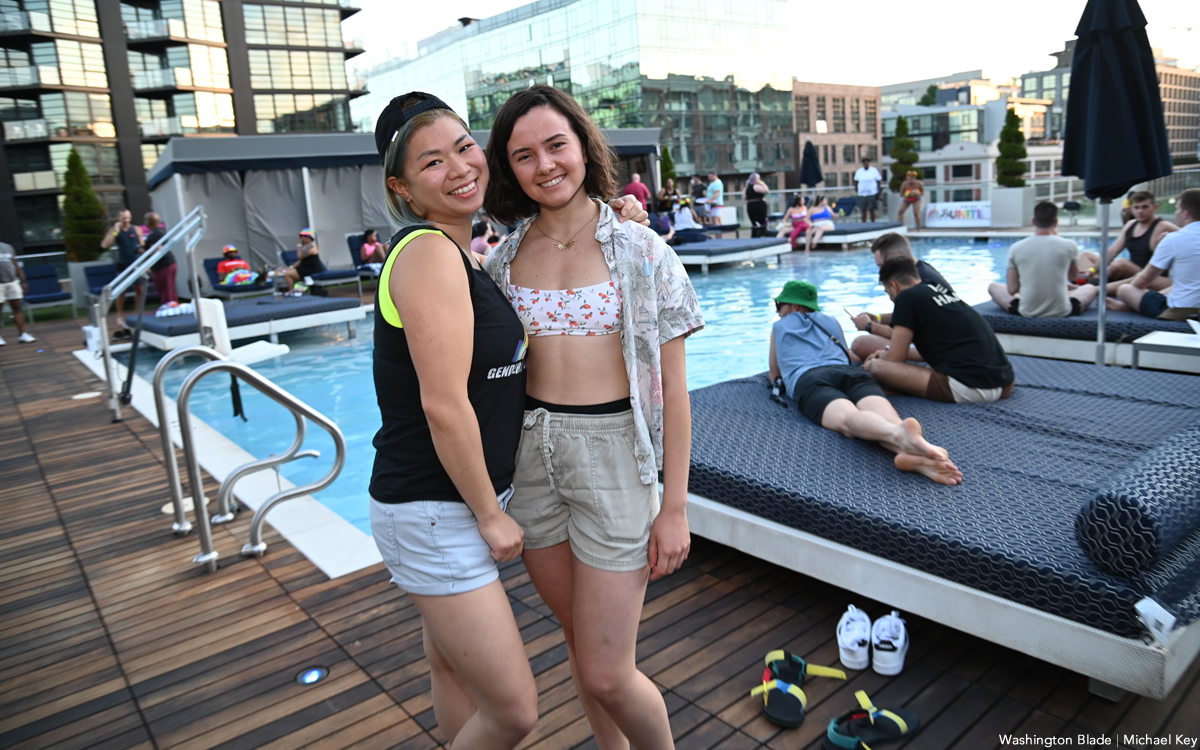 The Capital Pride Rooftop Pool Party, originally scheduled to begin at 8 p.m. tonight, has been postponed until Thursday, June 22, according to a statement released by the Capital Pride Alliance on Instagram. This action comes amid an international climate event created by the Canadian wildfire that has resulted locally in poor air quality and a haze around the region.
The Capital Pride Alliance Instagram account posted, "As with all concerns regarding health and safety issues, the Capital Pride Alliance will closely monitor the air quality situation resulting from Canadian wildfire smoke and take necessary precautions in consultation with our partners in the DC government."
"What does this mean for the pool party?" a question one private Instagram account user posed in the comment section.
"Important Update:" A representative of the Capital Pride Alliance responded through the group's official Instagram account. "Tonight's Capital Pride RoofTop Pool Party at VIDA The Yards is being postponed until Thursday, June 22 at 8:00 pm, due to the current air-quality situation resulting from the Canadian wildfires smoke. Please note that this postponement only applies to today's event."
The Capital Pride Alliance has yet to cancel or postpone any further events.
The White House earlier today rescheduled a large outdoor Pride reception planned for this evening to Saturday.
White House postpones Pride event due to wildfire smoke
Thousands expected for celebration bumped to Saturday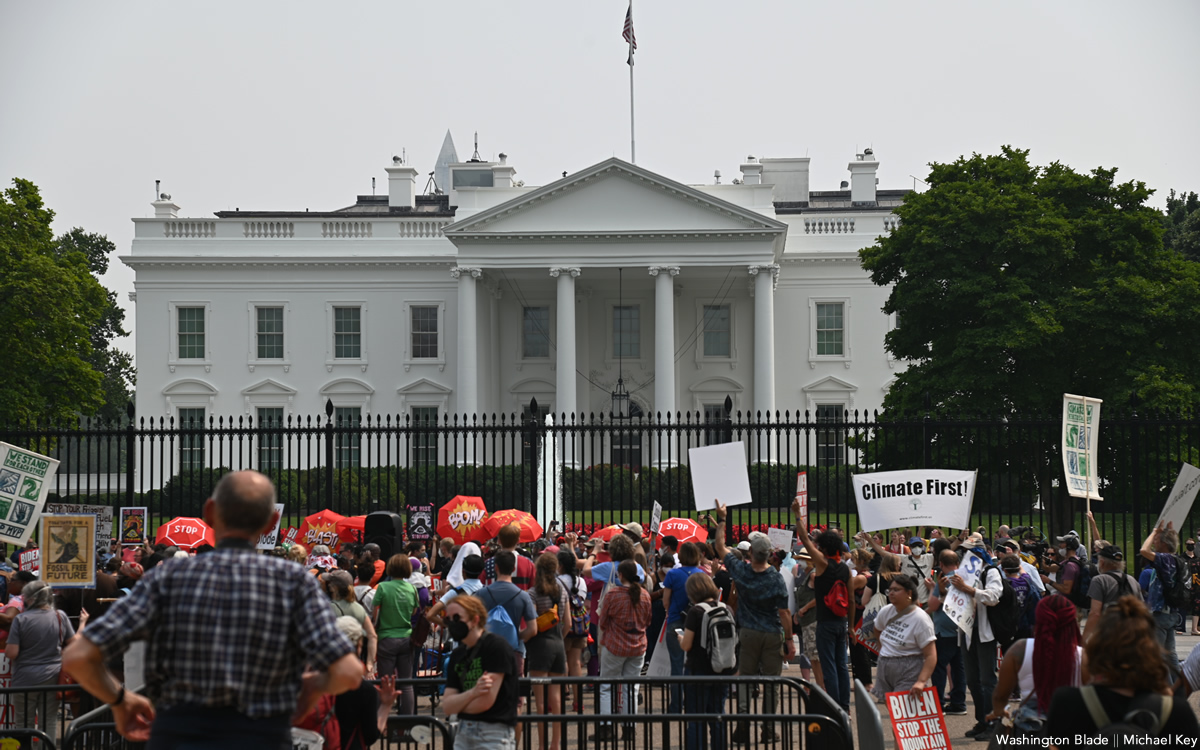 The White House announced Thursday that a Pride event scheduled for this evening has been postponed to Saturday due to the lingering Canadian wildfire smoke.
The smoke has enveloped D.C. in a dangerous haze that triggered a "purple alert" on Thursday, considered worse than a "red alert."
The event, expected to draw thousands of invited LGBTQ advocates and supporters to D.C., has been rescheduled for 1 p.m. on Saturday on the South Lawn of the White House, the same day as D.C.'s Capital Pride Parade, which kicks off at 3 p.m., and Pride on the Pier celebration, which starts at 2 p.m.