Comings & Goings
Honor for Corado; new post for Nosanchuk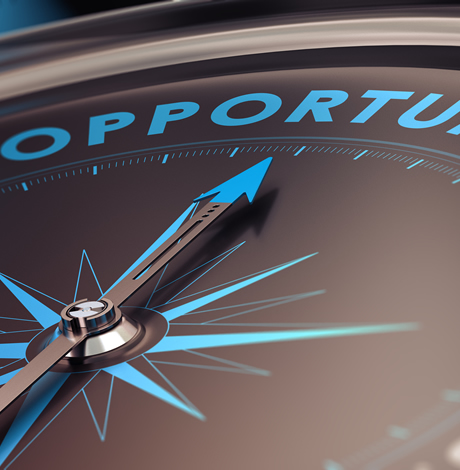 The Comings and Goings column is about sharing the professional successes of our community. We want to recognize those landing new jobs, new clients for their business, joining boards of organizations and other achievements. Please share your successes with us at [email protected].
Congratulations to Roosevelt University student Dan Flave-Novak, for winning a prestigious fellowship. "Dan's groundbreaking PsyD dissertation looks at body image in the gay community. He will have the rare honor of becoming one of only nine U.S. Veterans Administration post-doctoral fellows to be trained beginning later this year in helping veterans with LGBTQ mental health issues," according to a press release.
"I'm very excited to be a part of this new initiative which will allow me to make a difference in the lives of veterans who have recently begun to identify as LGBTQ in the VA system," Flave-Novak said. "I believe it will be a great opportunity for me to have influence and an impact on how the VA system works with LGBTQ veterans now and in the future." Dan will be spending his year as a post-doctoral fellow at the Milwaukee VA Medical Center.
Flave-Novak has been a doctoral student since 2011 in Roosevelt's nationally recognized PsyD program. He trained in several psychology and counseling departments, including Chicago's Howard Brown Center, one of the largest LGTBQ health organizations in the nation. He worked for many years for Ohio Rep. Sherrod Brown in Washington, assisting in the fight to repeal "Don't Ask Don't Tell."
Congratulations also to Matt Nosanchuk who joined the State Department as Senior Advisor in the Office of Religion and Global Affairs in the Office of the Secretary. Nosanchuk has served President Obama in several positions prior to starting at the State Department. Most recently he was the President's Liaison to the American Jewish community in the Office of Public Engagement and also served as Director for Outreach on the National Security Council. During the first three years of the administration, Nosanchuk was Senior Counselor in the Civil Rights Division of the Justice Department, where he was the point person on LGBT issues and worked on challenges to the Defense of Marriage Act that led to the Supreme Court's historic decision in United States v. Windsor.
Nosanchuk was born in Windsor, Canada, grew up in the Detroit area and went to college and law school at Stanford. Since moving to Washington, he has worked in the private, public, and non-profit sectors, including on Capitol Hill on the House Judiciary Committee Minority Staff, and as Counsel for Sen. Bill Nelson of Florida. In 2013, he received the American Bar Association's inaugural Stonewall Award in recognition of his professional contributions to advancing LGBT civil rights and the Attorney General's Distinguished Service Award for his work on the Defense of Marriage Act litigation.
Congratulations also to Ruby Corado, who will be honored along with the LGBTQ women of the Obama administration at the Astraea Lesbian Foundation for Justice 2016 Fueling the Frontlines dinner.
Born in El Salvador, Corado fled to the United States at age 16 when the Salvadoran Civil War erupted. She eventually moved to Washington, D.C. Self-identifying as a "D.C. Humanist-Transgender woman" Corado has spent more than 20 years advocating for the inclusion of transgender, genderqueer, and gender non-conforming gay, lesbian, and bisexual people in mainstream society.
In 2004, she founded Casa Ruby in D.C. Last year, Corado told NPR, "Most of the people who come to Casa Ruby don't have a family that accepts them, or that loves them for the most part. So we have a family here, and it is the concept of a chosen family." Casa Ruby now has three homes, which include housing for homeless youth and adults, food service, job training, and medical and employment advocates.
Anti-transgender heckler interrupts Danica Roem during debate
Trans lawmaker is running for the Va. state Senate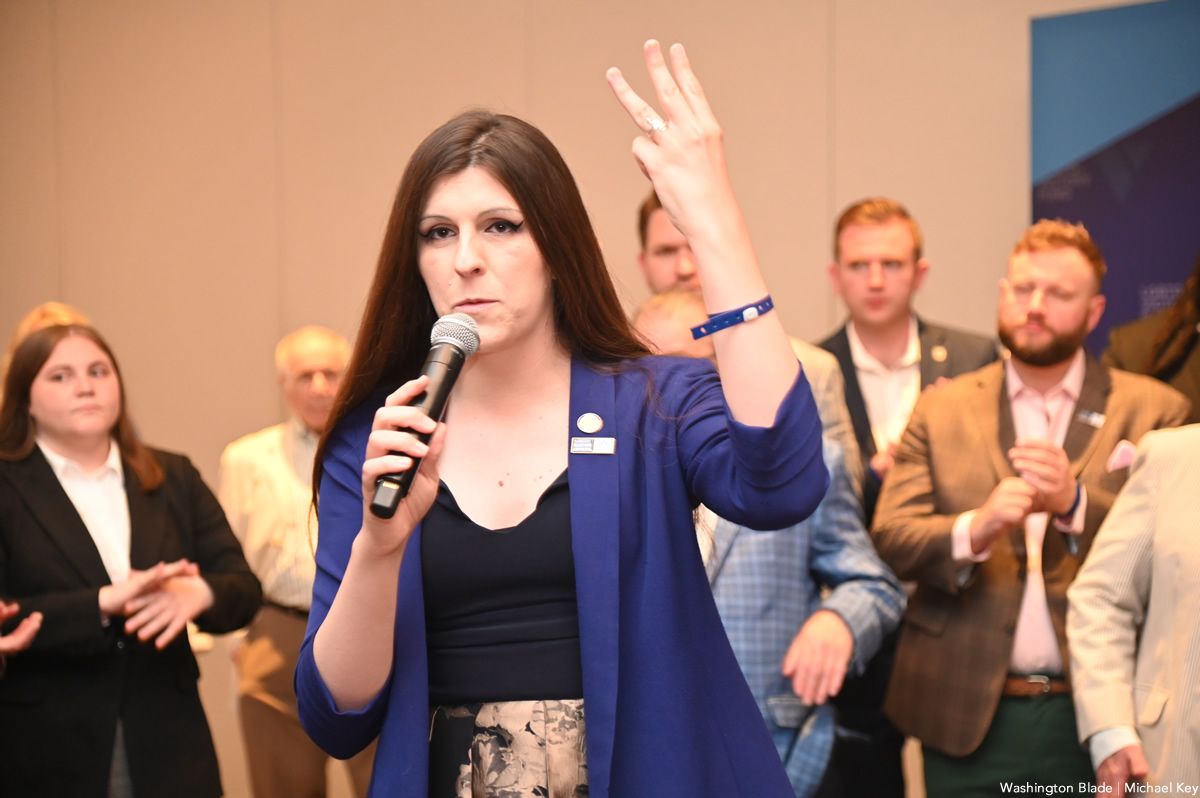 An anti-transgender heckler interrupted Virginia state Del. Danica Roem (D-Manassas) on Sept. 28 during a debate with her Republican opponent for the state Senate.
The woman heckled Roem during the Prince William Committee of 100-organized debate between her and Bill Woolf that took place at Metz Middle School in Manassas. 
"Thank you for reminding me why I won three elections in this district in Prince William County, which is the most diverse county in all of Virginia and the 10th most nationally where we welcome everyone because of who they are, not despite it, no matter what you look like, where you come from how you worship, if you do, or who you love because you should be able to thrive here because of who you are, never despite it," said Roem.
Audience members applauded Roem after she responded to the heckler who was eventually removed from the auditorium.
Roem in 2017 defeated then-state Del. Bob Marshall, a vocal LGBTQ rights opponent who co-wrote Virginia's constitutional amendment defining marriage as between a man and a woman that voters approved 11 years earlier. Roem subsequently became the first openly transgender person seated in a state legislature in the U.S.
Roem in 2019 became the first out trans state legislator to win re-election. Roem in May 2022 announced she is running to represent the newly redistricted Senate District 30, which includes western Prince William County and the cities of Manassas and Manassas Park.
Woolf during the Sept. 28 debate did not say whether he would support the repeal of the marriage amendment. Woolf also reiterated his support of a bill that would require school personnel to out trans students to their parents.
Virginia Beach high school students stage walkouts to support transgender rights
City's school board approved policy to out trans students to parents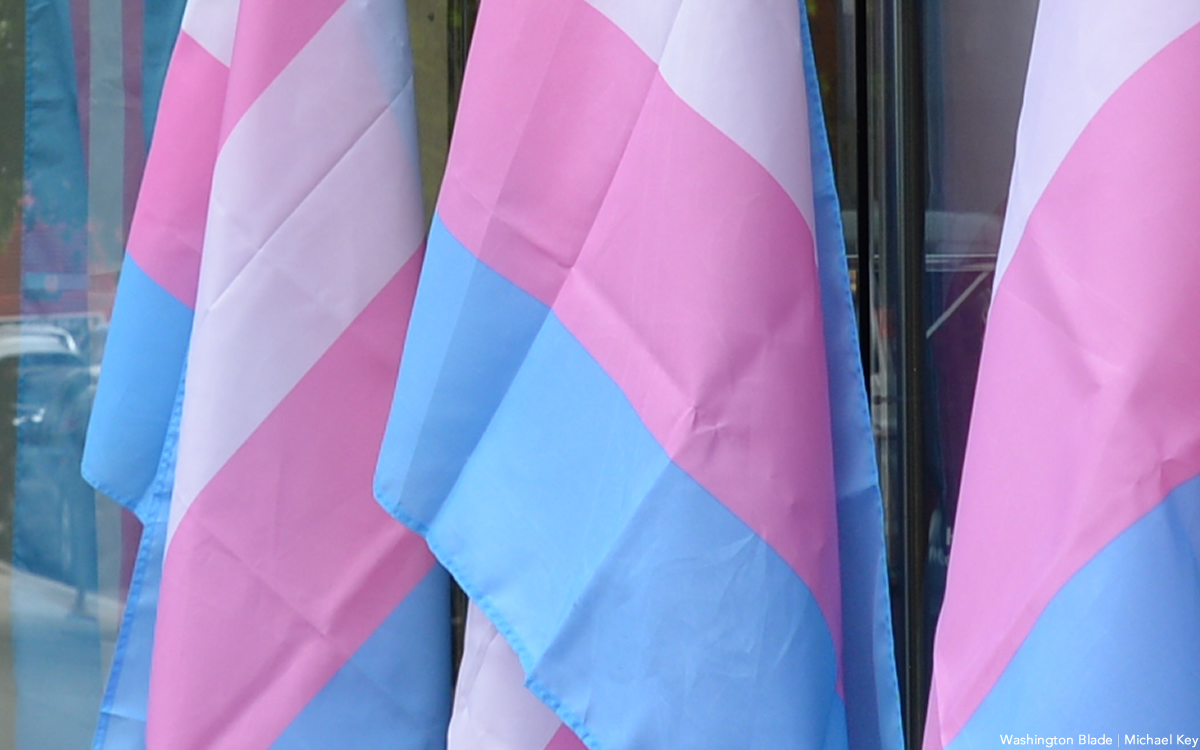 Students at five Virginia Beach high schools on Friday staged walkouts in support of transgender rights.
The walkout is in response to the Virginia Beach School Board potentially approving policy 5-31, which the Pride Liberation Project says will require schools to out trans students to their parents.
Students have been organizing walkouts across the state since Republican Gov. Glenn Youngkin earlier this year announced new guidelines for trans and nonbinary students.
"Students like me aren't going to be able to talk to our teachers if we're constantly worried about our school officials calling home to forcibly out us," AJ, a trans Kellam High School Student, told the Pride Liberation Project.
Pepco, Exelon announce $2.7 million in funding for four minority-owned businesses
'It's good business sense to bring more people to the table'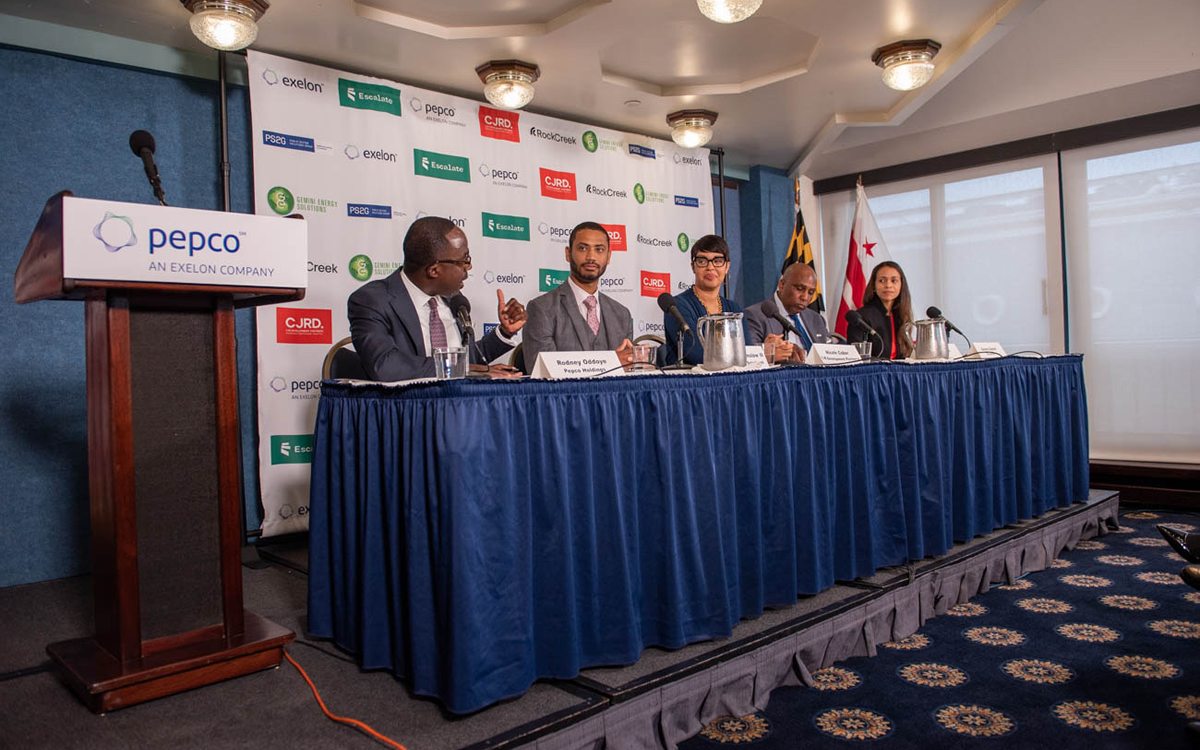 Pepco and Exelon announced a $2.7 million investment in four minority-owned businesses on Friday.
"Today's been a long time coming," said Pepco Vice President of Governmental and External Affairs Valencia McClure.
Pepco's parent company, Exelon, launched the Racial Equity Capital Fund (RECF) in 2022 to expand capital access to diverse businesses. This latest $2.7 million investment is just a portion of RECF's $36 million in funding.
At the announcement, D.C. Mayor Muriel E. Bowser spoke about the other ways Pepco and Exelon have "put their money where their mouth is" through their partnership with the D.C. Infrastructure Academy. She reported that all 22 of the residents that graduated from the program last week have a job offer from Pepco.
"We know that is not just a job, but a career," she said to the crowd's applause. "We know that working together, we can invest in D.C. residents, provide opportunity, and ensure that our D.C. businesses are a part of D.C.'s growing prosperity."
The four minority businesses that received funding were Gemini Energy Solutions, Public Sector Solutions Group, CJR Development Partners, and Escalate.
"It's good business sense to bring more people to the table," said fund recipient Nicole Cober, CJR Development's Principle Managing Partner.
Gemini Energy Solutions, which is Black owned, received $1 million, the most of the four companies. Its mission is to equitably scale energy efficiency to marginalized communities. For the founder and CEO Anthony Kinslow II, this investment means that he is able to get paid and advance the work of his organization.
"We are now able to accelerate the work in our software and technology development," he said. "What we were going to do in two years, we are now going to do in six months."
For Escalate, a workforce development platform focused on frontline worker retention, the funding means that it will be able to double the pay for frontline workers.
Public Sector Solutions Group CEO Darryl Wiggins emphasized that this investment was not just 'charity' work, but mission-driven work.
"The principle and the intent is greater than the money we receive," he said. Public Sector Solutions is Black owned.
Public Sector Solutions Group received a $600,000 debt investment; CJR Development, a minority and woman-owned small business, received a $600,000 debt investment; and Escalate, a majority Black and woman-owned company, received a $500,000 equity investment.
Exelon launched the RECF in partnership with RockCreek, one of the world's largest diverse-owned global investment firms, in 2022. The RECF expands capital access to diverse businesses so they can create more jobs, grow their companies and reinvest in their neighborhoods and communities, according to a statement from Exelon.
New RECF applications are accepted on a rolling basis. Interested businesses may apply online or contact RockCreek at [email protected] for more information.