Acclaimed trans activist Sharmus Outlaw dies
Policy advocate focused on health, sex worker issues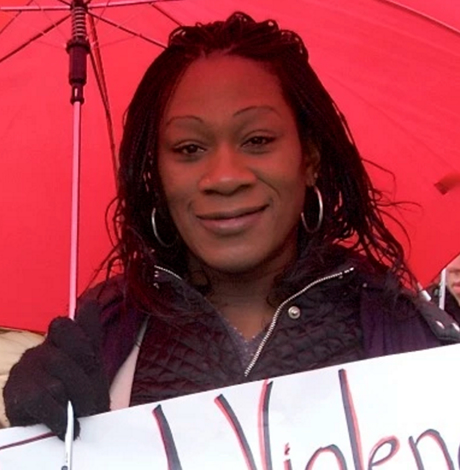 Sharmus Outlaw, a D.C.-based advocate for transgender and sex worker rights and people with HIV/AIDS in the United States and internationally for more than 25 years, died July 7 at a hospice in Arlington, Va., from complications associated with lymphoma. She was 50.
Outlaw most recently served as a national policy advocate focusing on transgender rights and health care access for the Best Practices Policy Project, an organization that provides technical, public policy, and logistical support for other organizations advocating for sex workers.
She also served as the U.S. representative for the Program Advisory Committee of the Red Umbrella Fund, an Amsterdam-based international fund that assists sex worker rights organizations.
"An internationally known activist, she spoke out against injustice in all settings, from interactions with police in the streets to meetings with the U.S. government to high-level U.N. gatherings," a statement released by the Best Practices Policy Project says.
"Sharmus has left us much too soon but she has achieved so much," the statement says. "In 2001 she was a founding member of Different Avenues, a grassroots organization working with people in the street and other informational economies in the District of Columbia," according to the BPPP statement.
She also worked or volunteered for a number of other D.C.-area organizations, including the sex worker advocacy group HIPS, the LGBT youth advocacy group SMYAL, Casa Ruby and Us Helping Us.
The BPPP statement says Outlaw was an "integral part of the community-based research team that collected data on police interactions with people profiled as sex workers in the District of Columbia, which was published as the seminal report, 'Move Along: Policing Sex Work in Washington, D.C.'"
The group says she was co-author of another first-of-its-kind report that addressed the issue of public policy related to HIV/AIDS and sex workers.
D.C. transgender activist Darby Hickey said Outlaw spoke at the International AIDS Conference in 2002 in Barcelona, Spain, and again in 2012 in D.C.
During the 2012 International AIDS Conference, held the Walter Washington Convention Center, Outlaw was among the leaders of a protest that disrupted a panel of U.S. public officials discussing HIV policy. The protesters said their aim was to highlight what they believed was the U.S. government's harmful position against sex workers' rights.
Outlaw, telling the press that she, too, had been a sex worker as a means of survival, told reporters covering the protest, "Before I'm transgender, before I'm a sex worker, before I am anything, I'm human. I have rights just like anyone else."
Hickey created an online appeal for funds for a memorial and funeral arrangements for Outlaw on the site generosity.com. She said funeral arrangements were being made in Outlaw's home state of North Carolina but plans for a separate memorial gathering in D.C. would be announced soon.
"Sharmus achieved so much but there was still more she wanted to do," Hickey said in a message on the generosity.com site.
"She always had her eyes ahead looking out to that horizon of a better day when we will all be enlightened with the idea that together we are human," Hickey said.
 To contribute, click here.
D.C. officials vow to fight any GOP effort to ban abortion in nation's capital
Without statehood, District vulnerable to congressional interference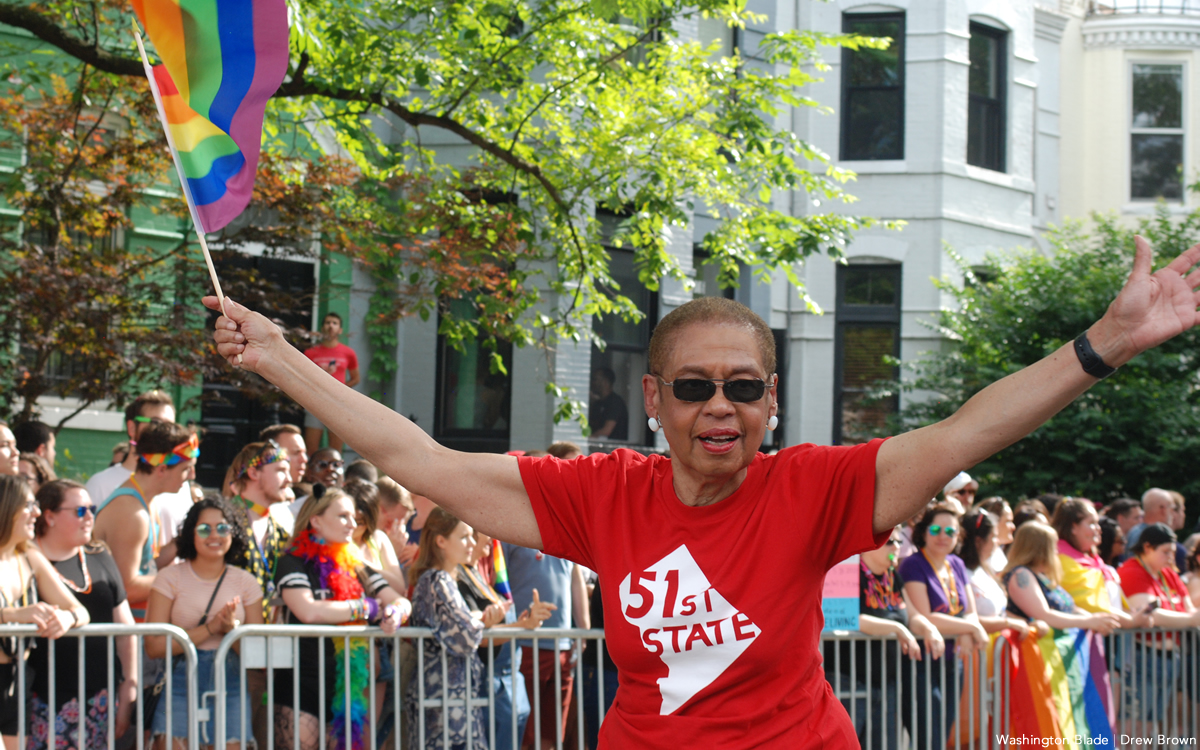 D.C. Mayor Muriel Bowser, D.C. Congressional Del. Eleanor Holmes Norton, and six members of the D.C. Council said they were united in fighting an attempt by Congress to ban abortions in the nation's capital following the Supreme Court's decision to overturn Roe v. Wade.
At a press conference on the day the Supreme Court handed down its controversial decision, the D.C. officials pointed out that unlike any of the states, D.C. is vulnerable to the authority Congress has over the city under its limited Home Rule Charter, including the authority by Congress to pass a law to ban abortions in the city.
The press conference was held at the headquarters in Northeast D.C. of Planned Parenthood of Metropolitan Washington, D.C., whose leaders said they would continue to provide abortion services in the District at the present time.
At this time, "Nothing has changed in Washington, D.C.," Bowser said at the press conference. "Abortion remains legal, and women and girls we know, however, are worried," the mayor said. "We are worried because we know we are vulnerable as a jurisdiction because of our lack of statehood."
Norton told news media representatives and others attending the press conference that she expects at least some congressional Republicans to introduce legislation to ban abortions in D.C. now that the Supreme Court has given them the authority to do that.
"We are subservient still to the House and Senate," she said. "I'm calling on the Congress to immediately codify the right to an abortion in federal law," Norton said. "That is the very least the District needs to save this city from what will surely be an attempt by Republicans in Congress to move first on the District of Columbia to make sure that abortions are not available for women in our city."
Norton added, "We always have more work cut out for us than other jurisdictions. But I assure you I am up to the task. There is a lot to fight for here, and I'm ready for that fight."
Norton and Bowser also pointed out that Congress over a decade ago added a permanent provision to D.C.'s annual budget that prohibits the city from using any of its funds to pay for abortions either directly or through the funding of private organizations like Planned Parenthood that provide abortion related services.
With the prospect that Republicans might regain control of the House or Senate or both in the November congressional elections, D.C. officials said they were especially concerned about an attempt to ban or greatly restrict abortions in the city.
D.C. Council Chair Phil Mendelson said he was hopeful that such an attempt would be blocked by a Democratic-led filibuster in the Senate as well as by a presidential veto if President Biden or another Democrat continues to occupy the White House.
Bowser, Mendelson, and D.C. Councilmember Mary Cheh (D-Ward 3) also pointed out that the legal reasoning used by the justices to overturn Roe v. Wade, especially the rationale given by Justice Clarence Thomas, could be used in future cases to overturn previous court rulings establishing a constitutional right to same-sex marriage and the right to intimate sexual acts between same-sex couples.
"We are about to enter into decades of darkness with this court that we have," Cheh said at the press conference. "And don't be fooled. We're told, OK, it's just abortion," she said. "Don't you believe it. The very reasoning of the case – and I spend a lot of time teaching constitutional law – means that many other liberties will be in jeopardy."
LGBTQ rights advocates have pointed to the concurring opinion handed down by Justice Thomas on the day the court overturned Roe v. Wade that specifically calls on the high court to "reconsider" the 2003 ruling of Lawrence v. Texas, which overturned state laws banning sodomy between consenting adults, both gay and straight. Thomas's concurring opinion also called for reconsidering the high court's 2015 Obergefell ruling, which legalized same-sex marriage nationwide.
Others speaking at the June 24 press conference included Laura Meyers, president of Planned Parenthood of the D.C. area, and D.C. Council members Elissa Silverman (I-At-Large), Christina Henderson (I-At-Large), and Brooke Pinto (D-Ward 2).
Va. delegate comes out as bisexual
Del. Kelly Convirs-Fowler spoke at Hampton Roads Pride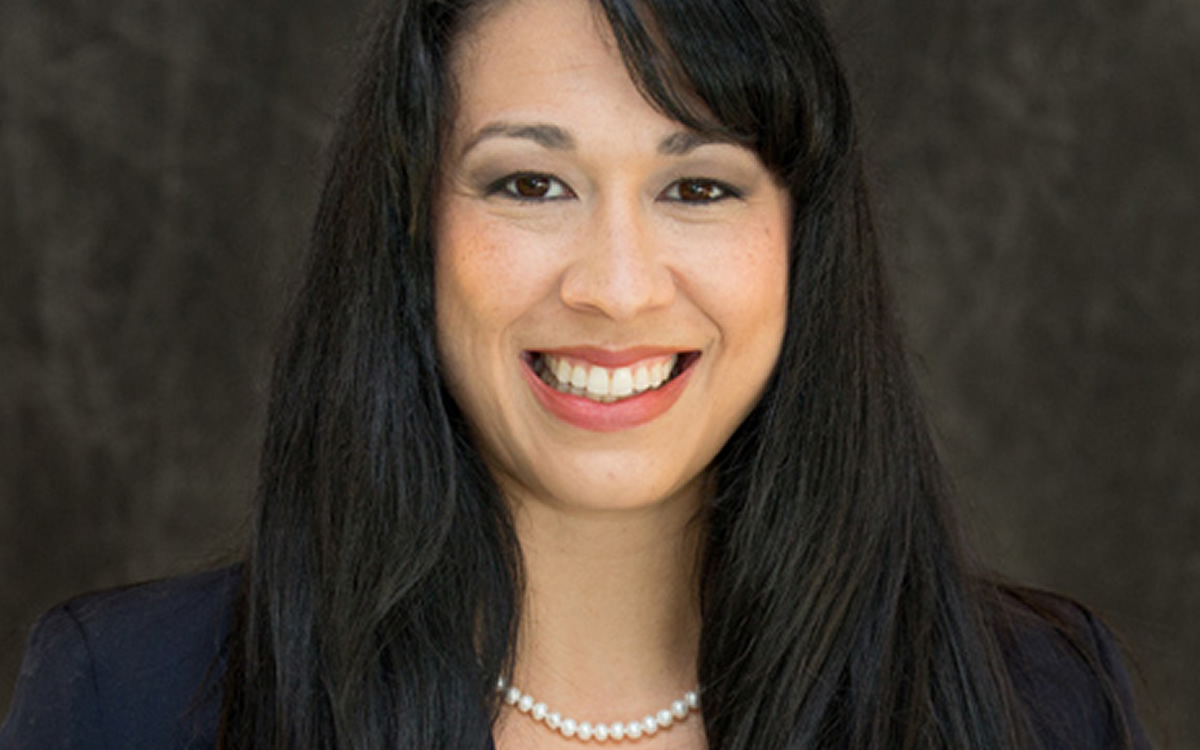 Virginia state Del. Kelly Convirs-Fowler (D-Virginia Beach) came out as bisexual on June 25 during an appearance at Hampton Roads Pride in Norfolk.
"I'm bisexual," the Virginia Beach Democrat told Pride attendees. "I just never felt like I could say that out loud."
I said what I said. I'm Proud. #HappyPrideMonth #loveislove #LGBTQ pic.twitter.com/urAalkWZM1

— Del. Kelly Convirs-Fowler (@FowlerforVA) June 28, 2022
Convirs-Fowler has represented Virginia's 21st House District since 2018.
State Del. Mark Sickles (D-Fairfax County) is gay and state Del. Dawn Adams (D-Richmond) is a lesbian. State Del. Danica Roem (D-Manassas) in 2018 became the first openly transgender person seated in any state legislature in the U.S.
"For those who don't know, Del. @FowlerforVA and I are both part of the Class of 2017 #RedToBlue legislators who flipped seats that Nov. 7," tweeted Roem on Monday. "We've both earned re-election twice since then and I couldn't be more proudof her declaration of Pride =)."
Equality Loudoun hosts its first Pride celebration
'Our plans for next year are going to be bigger, bolder'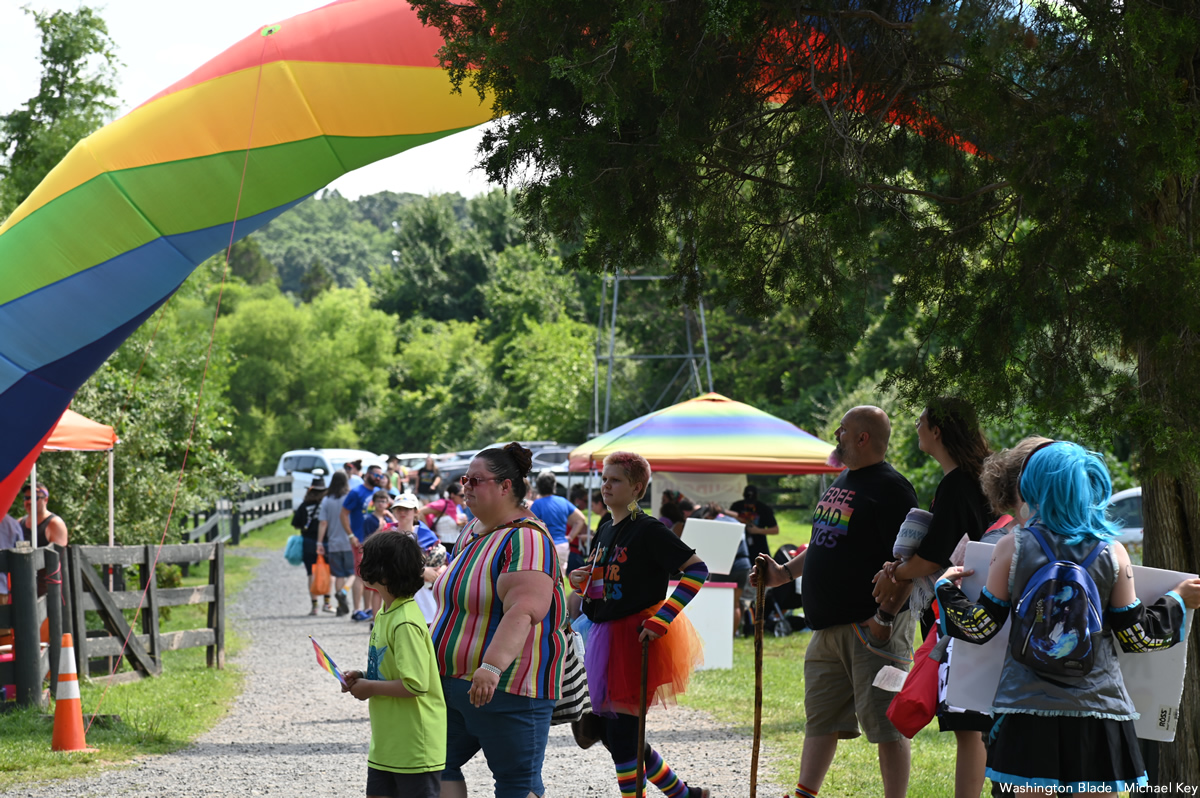 A year after a controversial brawl between parents and administration officials regarding the implementation of trans-friendly policies in public schools in Loudoun County, Va., a local LGBTQ organization hosted its inaugural Pride festival in solidarity with the area's LGBTQ community.
"Pride means a chance to show this county that the loud voices who have been standing against LGBTQ equality do not represent the voices of [everyone] in the [county]," said Cris Candiace Tuck, president of Equality Loudoun. "[A lot of us] here believe in equality."
Equality Loudoun hosted its Pride celebration on June 26 at Claude Moore Park in Sterling, Va.
When planning for Pride month festivities, the organization designed the events to reflect the diverse interests and identities of Loudoun County's queer population. There was a wide collection of vendors selling Pride merchandise, advocacy non-profit organizations and musical acts featured on the main stage.
There was also a "Loudoun Pride Drag Stage" event where the "hottest of Loudoun Royalty" showcased their musical talents.
"We want everyone to … recharge emotional batteries that have been drained," said Tuck.
Planning Equality Loudoun's Pride festival did not come without its fair share of surprises. Initially, the organization had planned for a smaller event. However, when more individuals began showing interest, the organization was forced to switch to a bigger venue to allow more vendors to attend.
"We had many vendors call in and we had to turn a [number] away," said Tuck.
The organization planned its festivities in 90 days, two weeks during which it raised $45,000 — three times as much as it had originally expected.
Equality Loudoun has its sights set on getting LGBTQ community members and allies connected to the resources the organization offers through education and health advocacy.
"Pride [will always be] a celebration of our heritage," said Tuck. "It's a moment to recognize what we have gained and lost."
Tuck said that ideas for next year are already underway.
"Our plans for next year are going to be bigger, bolder and brighter," he said.
Click HERE to see more photos from the event.