September 7, 2016 at 2:19 pm EDT | by Richard J. Rosendall
Taco trucks and burner phones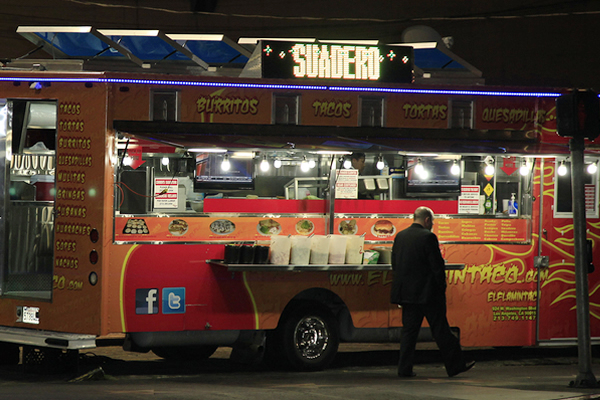 The mean and increasingly incoherent presidential campaign of Donald Trump is oddly enhanced (in entertainment if not electoral terms) by the spectacle of his surrogates on cable news shows. The trouble for them is they can't be sure he won't change his story from one hour to the next. I half expect him to enter a studio mid-interview like Richard III and denounce one of his hapless advocates. They are lured by vanity and ambition into the treacherous waters of his impulse-driven campaign.
Marco Gutierrez, founder of Latinos for Trump, warned MSNBC's Joy Reid on September 1 that "Mexico has a very dominant culture…. If you don't do something about it, you're going to have taco trucks on every corner." This absurd stereotype set off a mayhem of mockery by people who consider taco trucks a fine idea.
Pastor Mark Burns of South Carolina, who was a speaker (or shouter) at the Republican National Convention, recently contributed to the political discourse by tweeting a cartoon of Hillary Clinton in blackface. His bio claimed he graduated from North Greenville University, served in the Army Reserve, and joined the Kappa Alpha Psi fraternity. None of those claims is true. When challenged on his lies by CNN reporter Victor Blackwell, he claimed his website had been hacked, then walked out of the interview. "Pastor Burns" turns out to be a complete sentence.
When Trump supporter Paris Dennard on August 26 accused Secretary Clinton of voter suppression by trying to turn white voters away from Trump, New York Times columnist Charles Blow rolled his eyes before criticizing CNN for giving someone like Dennard airtime to say "patently false, ridiculous" things. Hey, Mr. Blow, don't mess with CNN's business model.
On August 29, Trump supporter Jeffrey Lord claimed on CNN that the Democratic Party had maintained a consistently racist position from the time of Jefferson until today, which might make sense if you ignore the political history of the past fifty years.
RNC Chair Reince Priebus told "Meet the Press" host Chuck Todd on August 28, "I go with the flow." That was a pity, because if he had phrased it just a bit differently, he could have echoed the scene from Casablanca where Captain Renault tells Major Strasser, "I blow with the wind, and the prevailing wind happens to be from Vichy." Priebus also claimed that the Clinton Foundation spends 80 percent of donations on administrative costs, when the actual number is 12 percent.
Rudy Giuliani, who required the worst terrorist attack ever on American soil in order to seem briefly tolerable, burnished his medical credentials on August 21 by telling Fox News, "So, go online and put down Hillary Clinton illness, take a look at the videos for yourself." I did, and Hillary is fine; but I followed a similar method and learned that a NASA rover has found the remains of a Martian King.
Trump senior advisor Boris Epshteyn on September 2 blithely dismissed Chuck Todd's video evidence of Trump's contradictory statements, and turned to the favorite GOP theme of Hillary as a modern Lady Macbeth: "I don't use burner phones like a mobster like she did."
Republicans are always simplifying their work by inventing a long rap sheet for Clinton despite her never having been charged with a crime. As my friend Mark Thompson of SiriusXM's "Make It Plain" says, if Hillary has really murdered people as the right claims, why would you want to mess with her?
When CNN's Brianna Keilar pointed out to Trump special counsel Michael Cohen on August 17 that Trump was down compared to Clinton, he shot back, "Says who?" Keilar was taken aback, but answered, "Polls. Most of them. All of them." Cohen kept up his aggressive tone, as if that would change the facts. Keilar grew more firm. "All of them." The polls have tightened as of this writing, but Trump still trails in most of them.
Trump's messengers are like an army of poisonous ants. Nietzsche warns us, "When you stare into the abyss, the abyss also stares into you." So I close my laptop, switch off the television, and head out to meet a friend for drinks. Two months to go.
Richard J. Rosendall is a writer and activist. He can be reached at rrosendall@starpower.net.
Copyright © 2016 by Richard J. Rosendall. All rights reserved.