FALL ARTS 2016: Events
D.C. gay scene crammed with fall events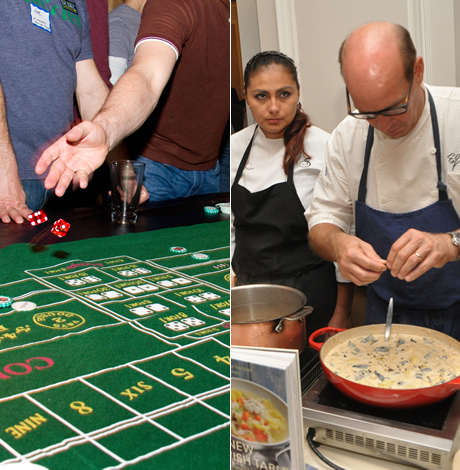 Some events don't fit in our other fall arts categories. Here are a few to note.
AGLA, a Northern Virginia-based nonprofit LGBT group, has brunch at Freddie's Beach Bar (555 S. 23rd St., Arlington, Va.) on Saturday, Sept. 17 from 11 a.m.-1 p.m. The group also has a picnic planned immediately following at Virginia Highlands Park (1600 S. Hayes St., Arlington, Va.). Bring something to grill. Details atagla.org.
The Team D.C. Night of Champions Awards Dinner is Saturday, Nov. 5 at Washington Hilton Hotel (1919 Connecticut Ave., N.W.). It starts with a cocktail reception and silent auction at 6 p.m. and the awards dinner at 7:30 p.m. Dress is business casual. Tickets are $100. Details at teamdc.org.
Team D.C. has its fall casino night on Saturday, Sept. 24. Details coming soon at teamdc.org.
Pride Day at King's Dominion is Saturday, Sept. 24 sponsored by Brother Help Thyself. Doors open at 10:30 a.m. Details at brotherhelpthyself.net.
Up for a weekend getaway? The Miss'd America Pageant, a drag contest, is Sept. 24 at the Borgata Atlantic City hosted by Caron Kressley. Details at missdamerica.org.
Bisexual Pride Day is Friday, Sept. 23. No local events have been announced related to this.
National Gay Men's HIV/AIDS Awareness Day is Tuesday, Sept. 27. Details at cdc.gov or aids.gov/awareness-days.
"Remington's Reunion Show" will be held on Sunday, Sept. 25 at 8 p.m. at the Bachelor's Mill (1104 8th St., S.E.). The event will be hosted by Tony Nelson and Maxine Blue. Details at bachelorsmill.com.
Rayceen's Reading Room will be held on Monday, Sept. 26 at 7 p.m. at the Martin Luther King, Jr. Memorial Library (901 G St., N.W.) as a kickoff event for the library's Banned Book Week. The event will include poetry, drama, book readings, author interviews and more. "The Ask Rayceen Show" continues its monthly installments on the first Wednesday of each month at the library in auditorium A5. Search for the show on Facebook for details.
"Celebrating the Soul of Justice" will be held on Thursday, Sept. 29 at 7:30 p.m. at Covenant Baptist United Church of Christ (3845 S. Capitol St., S.W.). It's an annual worship service affirming black LGBT people of faith. Rev. Christine Wiley will preach. Details at manyvoices.org.
Northern Virginia Pride Festival is Saturday, Oct. 1 from noon-8 p.m. at the Bull Run Special Events Center in Centreville, Va. Details at novapride.org.
National Coming Out Day is Tuesday, Oct. 11. No local events have been announced.
CRACK presents "WERRRRRRK!" at Town Danceboutique (2009 8th St., N.W.) on Saturday, Sept. 17 at 10 p.m. Details at towndc.com.
Baltimore Black Pride will have its "Unsung Legends of Baltimore" event on Thursday, Oct. 6 from 8 p.m.-midnight at the Eubie Blake National Jazz Institute and Cultural Center (847 N. Howard St., Baltimore). Call Lonnie Walker at 443-522-8553 to purchase tickets ($50 in advance; $60 at the door). Baltimore Black Pride runsOct. 13-16. Details at centerforblackequity.org/baltimore.
The fifth annual Human Rights Campaign Chefs for Equality event will be held on Wednesday, Oct. 26 at 6:30 p.m. at the Ritz-Carlton, West End (1150 22nd St., N.W.). Tickets are $200. Details at chefsforequality.org.
No information yet, but the Gertrude Stein Democratic Club will likely hold its 40th annual Leadership Awards in mid-to-late October. Check soon atsteindemocrats.org for more information.
The Blade will hold its 15th annual Best of Gay D.C. Awards on Thursday, Oct. 20 at Town Danceboutique (2009 8th St., N.W.). Details pending.
The Walk & 5k to End HIV, the 30th anniversary of AIDS Walk Washington, will be held on Saturday, Nov. 12. Details at aidswalkwashington.org.
The 30th annual High Heel Race will be Tuesday, Oct. 25 on 17th Street. The event has its own Facebook page for details.
Us Helping Us will hold "A Passion for Living: a Night of Celebratory Giving" on Saturday, Oct. 29 from 6-11 p.m. in the Student Center Ballroom at the University of the District of Columbia (4200 Connecticut Ave., N.W.). Tickets are $125. Details at uhupil.org.
The Dulles Triangles, a social group in Virginia, have its 25th anniversary gala on Saturday, Nov. 19 from 7 p.m.-midnight at the Spectacular Ballroom at Sheraton Tysons Hotel (8661 Leesburg Pike, Tysons, Va.). Tickets are $50 for members; $60 for guests. Details at dullestriangles.com.
Trans Day of Remembrance is Sunday, Nov. 20. A service is usually held that evening at Metropolitan Community Church of Washington but details for this year's service have not been announced yet. Check soon at thedccenter.org or on Facebook.
PHOTOS: High Heel Race
Spectators cheered along drag queen contestants for the 24th annual event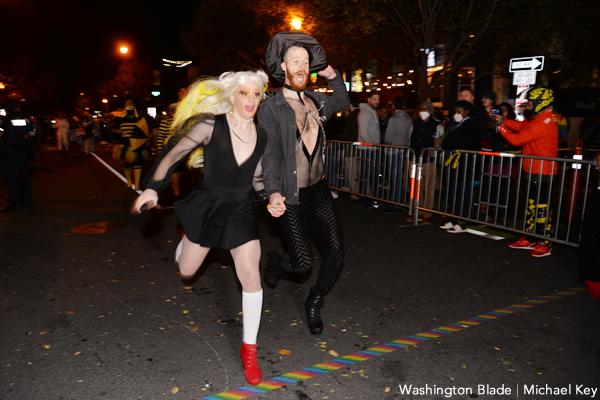 The 34th annual High Heel Race was held along 17th Street on Oct. 26. The winners this year were @dragqueenathena and "Dan." D.C. Mayor Muriel Bowser, D.C. Police Chief Robert Contee and members of the D.C. Council joined drag queen contestants and hundreds of spectators for the event.
(Washington Blade photos by Michael Key)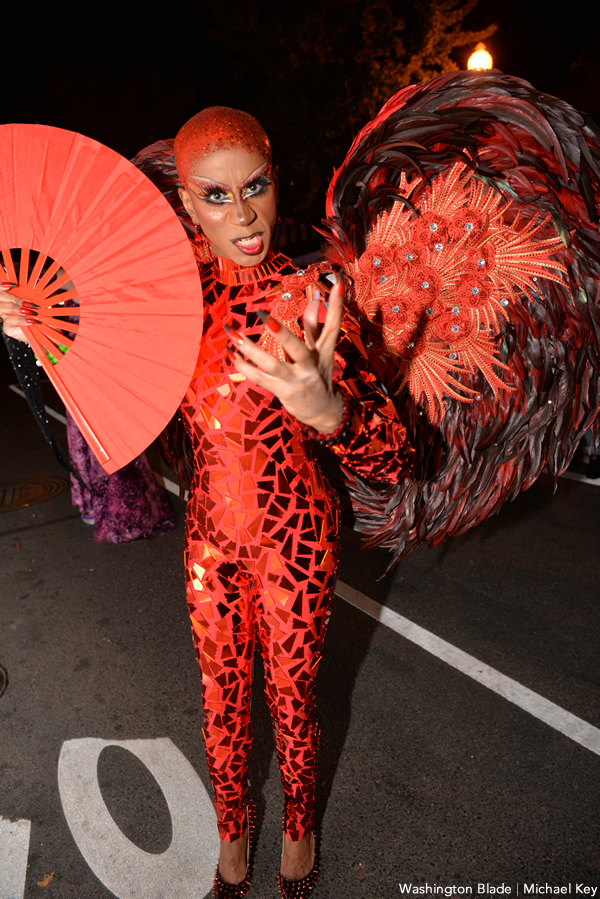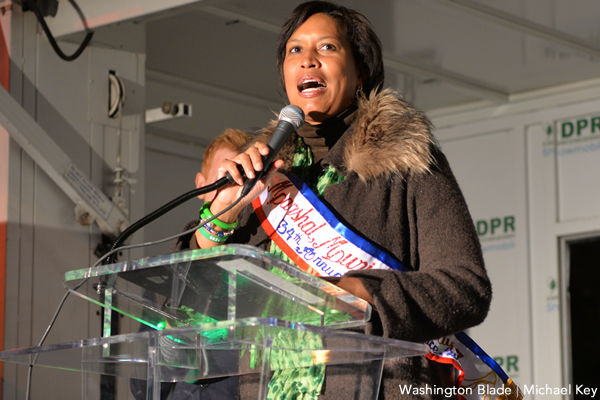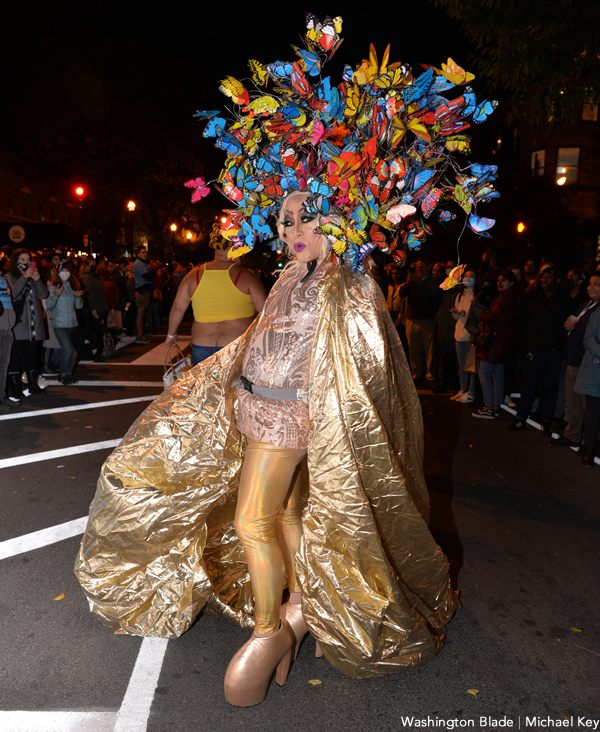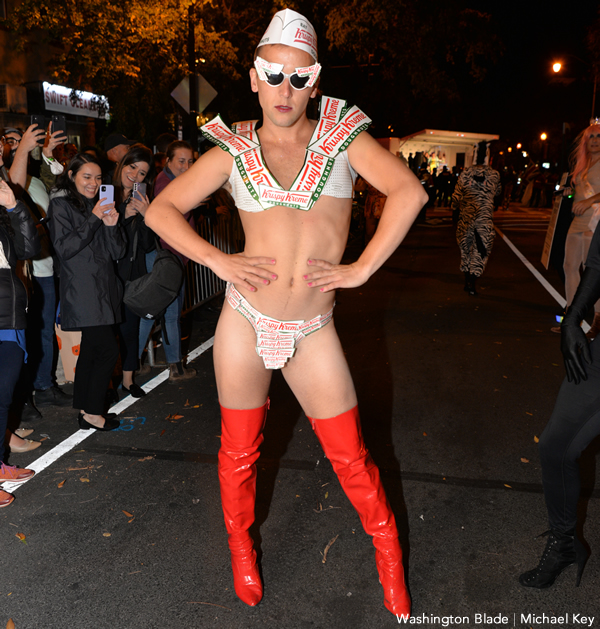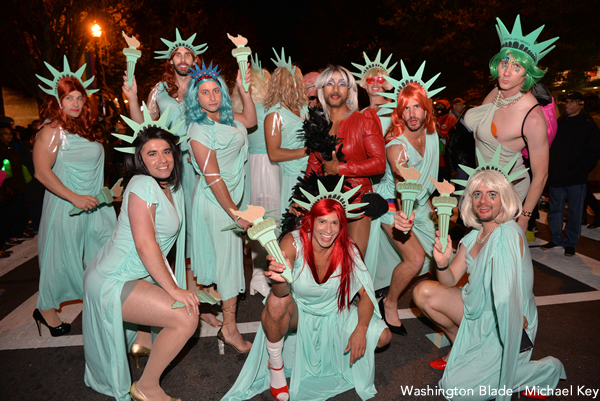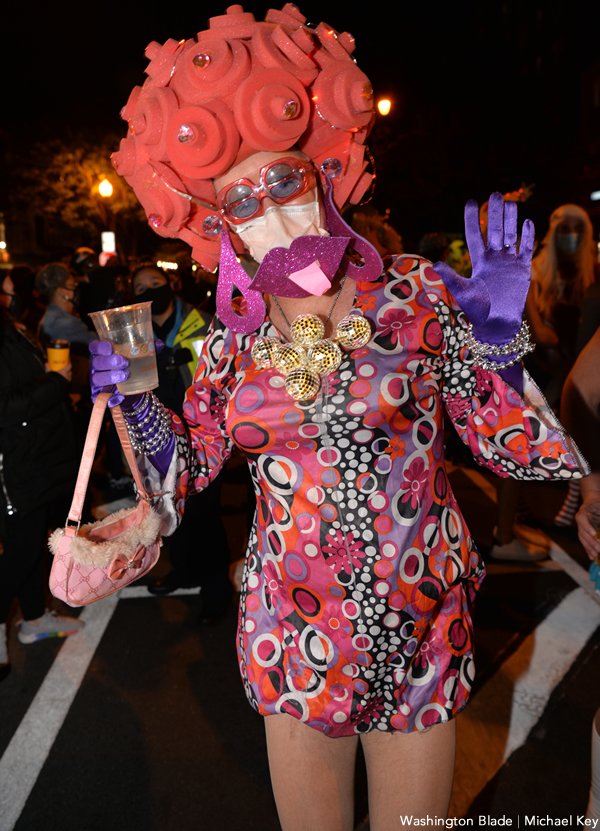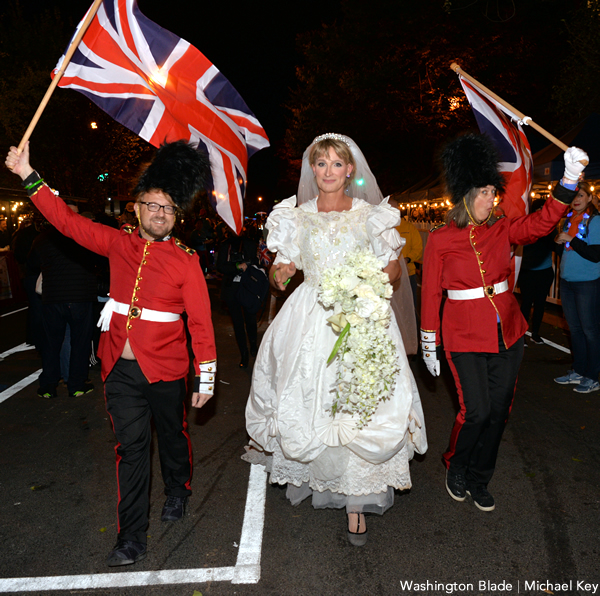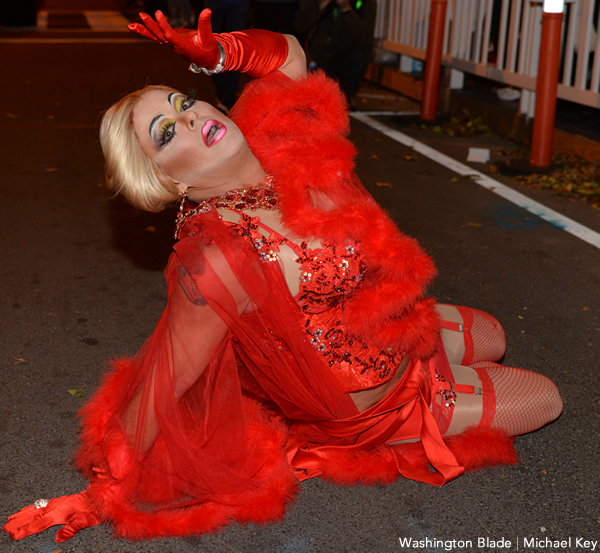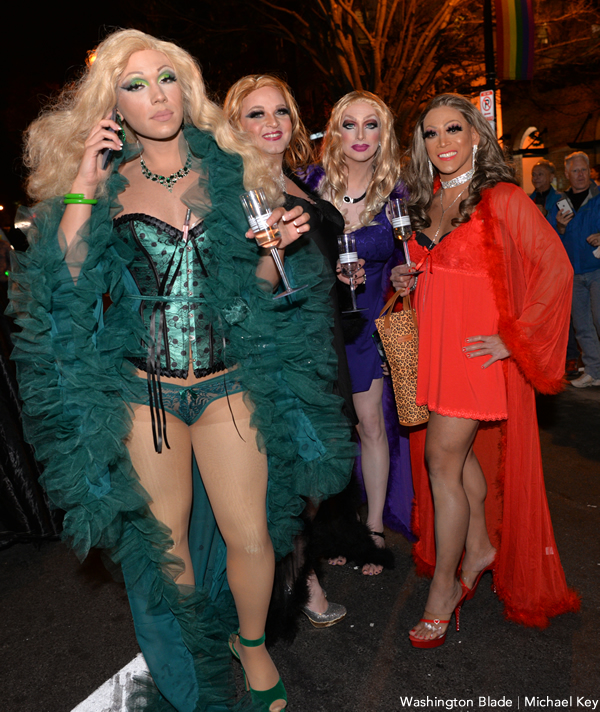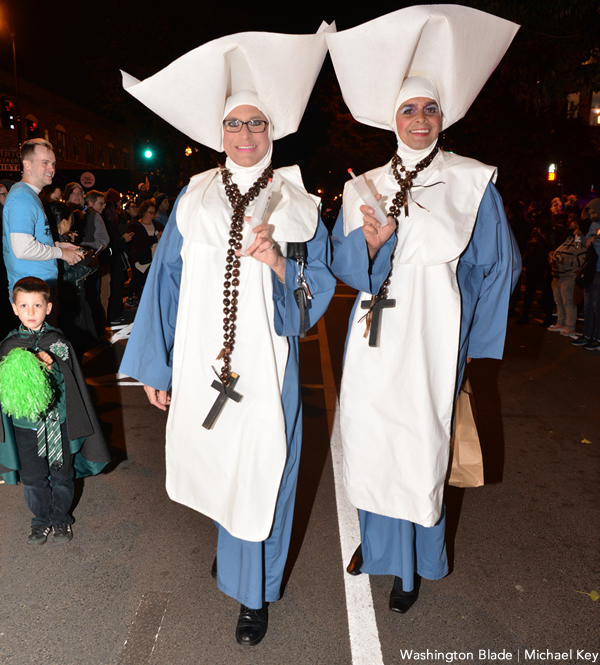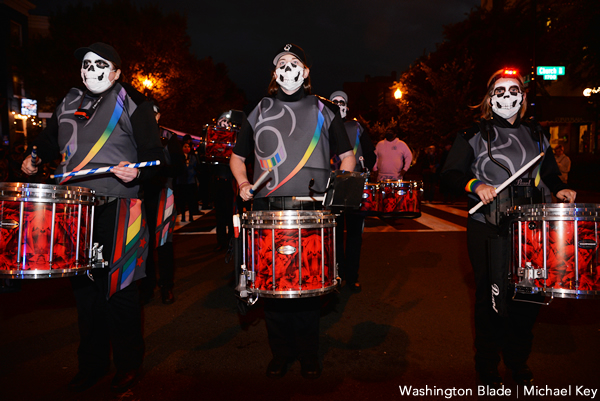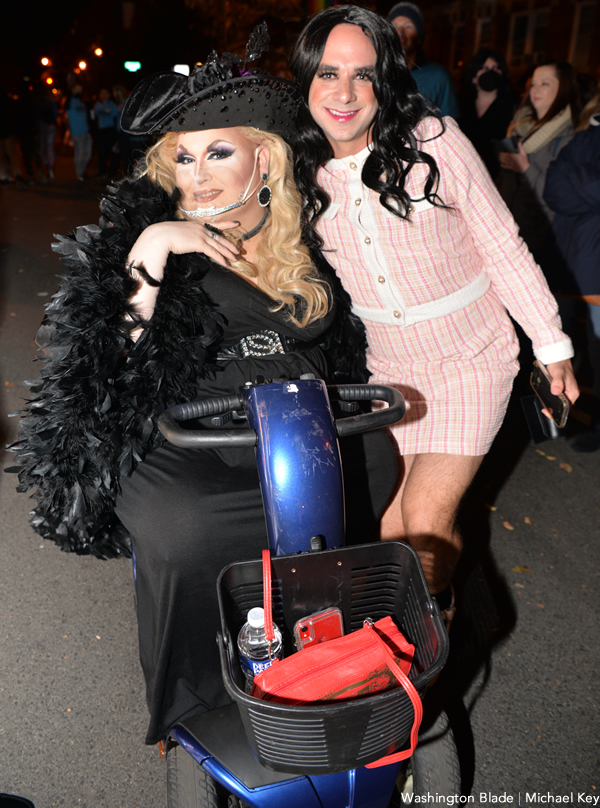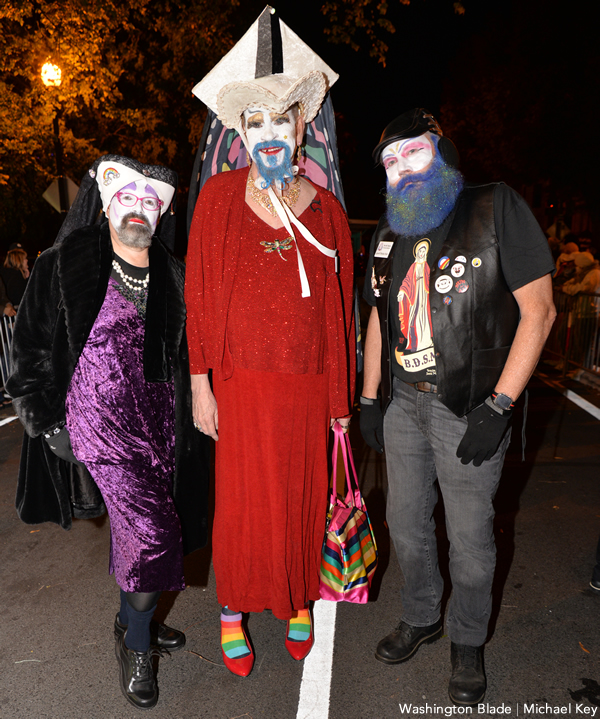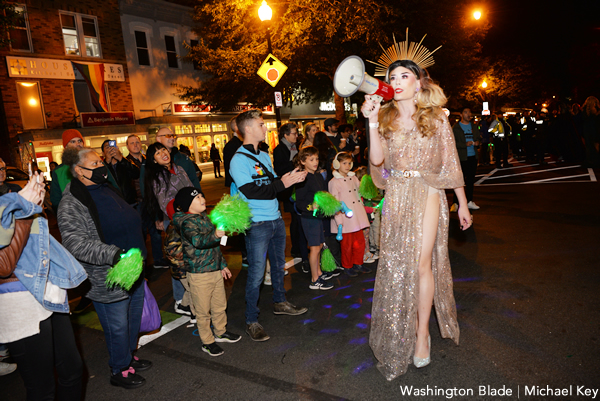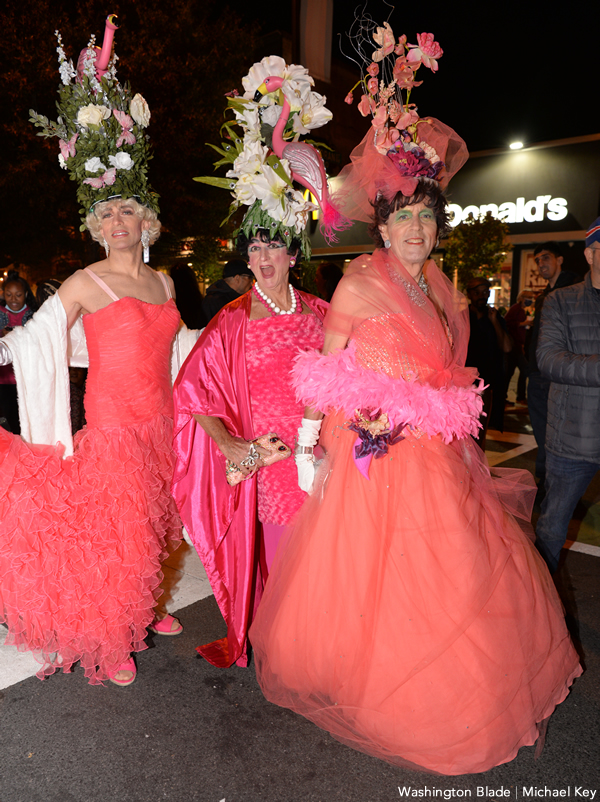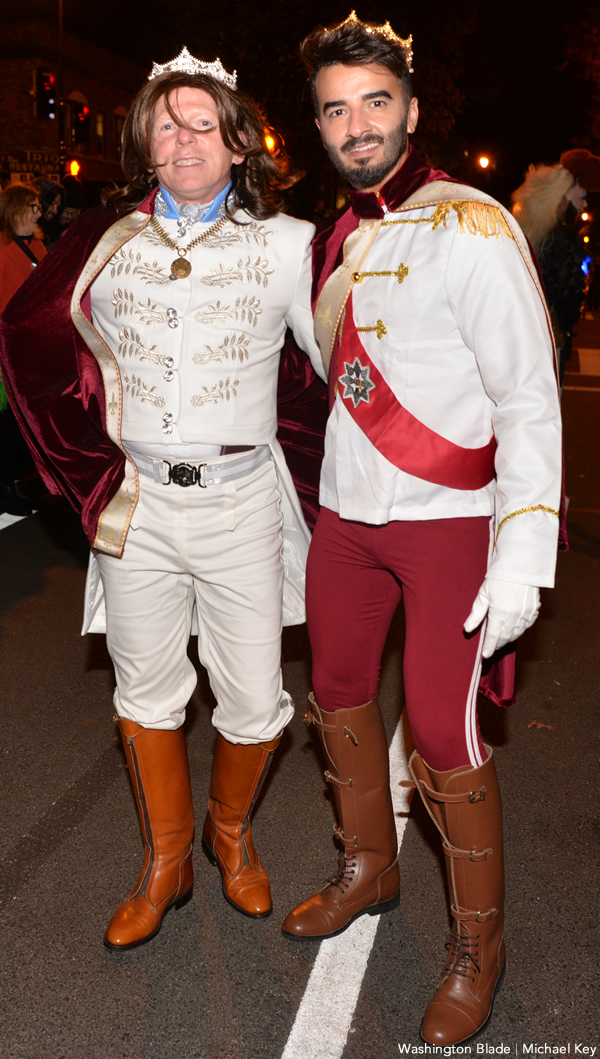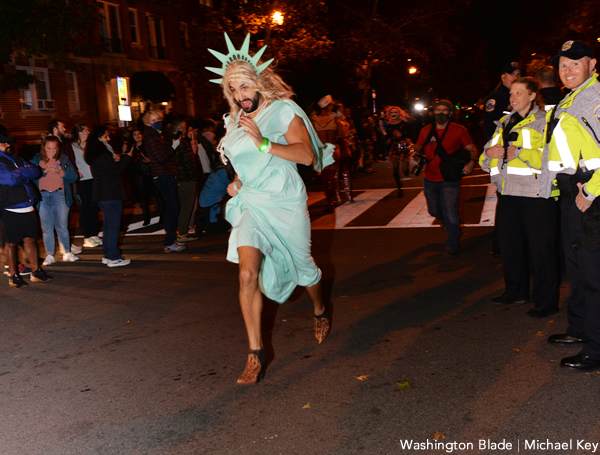 New music documentary is 'Velvet' perfection
A piece of pure cinema that exemplifies its genre while transcending it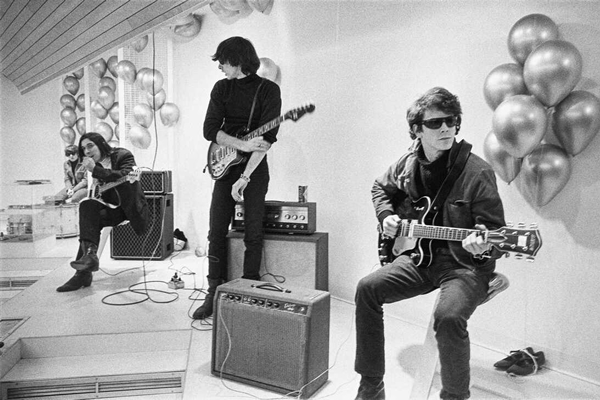 When it comes to great music documentaries – the ones that stick with you after you watch and make you want to come back to them again and again – there is one ingredient that stands out as a common thread: immediacy.
From D.A. Pennebaker's fly-on-the-wall chronicle of young Bob Dylan's 1965 tour of the UK in "Don't Look Back," to Martin Scorcese's joyful document of The Band's final concert performance in "The Last Waltz," to Jonathan Demme's thrilling cinematic rendering of the Talking Heads in performance at the peak of their creative genius in "Stop Making Sense," all of these now-revered films have endured – indeed, even grown – in popularity over the years because they captured the talent, the personality, and the power of their subjects on celluloid and preserved it for the ages, allowing generations of audiences, fans and soon-to-be-fans alike, to feel as if they were there.
But none, perhaps, have ever done it quite so viscerally as Todd Haynes' "The Velvet Underground." This is a remarkable feat when you consider that the films listed above, as well as most of the other highly regarded "rockumentaries" of the past, were all concert films, showing the performers at their center in the full bloom of their musical gifts, and Haynes' film is not that. It's something else, something singular, a piece of pure cinema that exemplifies its genre while transcending it entirely.
The basic outline of the band's story is well known, now. Coalesced in the early '60s New York art scene around a pair of charismatic geniuses (John Cale and Lou Reed), the Velvet Underground was swept into the orbit and under the wing of Andy Warhol, who turned them into the house band at his famous "Factory," added to their mix an exotic European chanteuse named Nico, and launched their record career by producing their first album – and designing an instantly iconic cover for it featuring a banana, to boot. They were, for a while, the darlings of the New York underground set, birthing a handful of additional albums across the latter years of the decade; but their sound, which was experimental, rough, and a far cry from the flower-power sound being embraced within the status quo of Middle American music fans, did not catch on. That, combined with the volatility of the relationships at its core, ensured an ignoble and unsung dissolution for the band; though its two front men went on to forge expansive solo careers on their own, the Velvets themselves remained a kind of blip, an ephemeral presence in the history of rock – and the history of New York – remembered by anyone who wasn't actually on the scene as nothing more than a buzzy band they never actually heard with a catchy name and a familiar album cover.
As one of the voice-over interviewees in Haynes' movie points out, however, the counterculture wasn't actually the counterculture – it was the culture. The rest of the world just didn't know it yet. Decades later the Velvet Underground is credited with, among other things, providing early inspiration for what would become the punk rock movement, to say nothing of influencing the aesthetic palate of (surely without exaggeration) thousands of musicians who would go on to make great music themselves – often sounding nothing like the Velvets, but somehow cut from the same raw, edgy, white-hot honest cloth, nonetheless. Yet in their moment, they were doomed before they had even begun to become a sideshow attraction, hurling performative realness in the face of a curious-but-disinterested glitterati crowd that was already embodying the superficial fakeness that would be so aptly monikered, both as an ethos and a watchword, as "Plastics" by Buck Henry and Mike Nichols in "The Graduate" barely a year after their first album was pressed.
Frankly, it's the kind of story that makes for a perfect rock 'n roll legend, and the kind of legend that deserves to be explored in a film that befits its almost mythic, archetypal underpinnings. There's nobody more qualified to deliver that film than Todd Haynes.
Haynes, of course, is a pioneer of the '90s "New Queer Cinema," whose body of work has maintained a consistent yet multi-faceted focus on key themes that include outsider-ism, dysfunctional socialization, and the fluid nature of sexuality and gender. Each and any of these interests would be enough to make him a perfect fit as the person to tell the story of the Velvet Underground, but what gives him the ability to make it a masterpiece is his ongoing fascination with music and nostalgia. Beginning with his controversial debut short "Superstar: The Karen Carpenter Story," the musical landscape of his formative years has been inseparable from his milieu, and films such as his glam-rock fantasia "Velvet Goldmine" or his post-modernist Dylan biopic "I'm Not There" have dotted his career like cornerstones. Likewise, his painstaking recreation of the past in period pieces like "Far From Heaven," "Carol," or "Wonderstruck" has proven his ability not just to capture the look and feel of a bygone era, but to transport audiences right back into it.
In "The Velvet Underground," it's more like he transports the era to the audience. His comprehensive chronicle is not just the story of the band or its members, but the story of the time and place that allowed them to exist, in which a generation waking up from the toxic artificiality of their parents' "American Dream" took creative control of the future through an unprecedented explosion of art and culture. Art was a by-any-means-necessary endeavor that now demanded a fluency across various forms of media, and a blending together of any and every thing that worked to get the message across. And yes, sometimes the media itself was the message, but even within that depressingly superficial reality was room for an infinite layering of style and substance that could take your breath away.
That description of the era in which the Velvet Underground thrived, in which Andy Warhol turned the shallow into the profound (whether he knew it or not), in which music and film and photography and poetry and painting and every other form of expression blended together in a heady and world-changing whirlwind, is also the perfect description of Haynes' film. Yes, there are famous veterans of the age sharing their memories and their insights, yes there is copious archival footage (including the godsend of Warhol's filmed portraits of the legendary faces in his orbit), yes we get to hear about Lou Reed's struggle with his sexual identity – and it's refreshing that Haynes makes no effort to categorize or finalize that aspect of the rock legend's persona, but merely lets it be a fact. But even though "The Velvet Underground" checks off all the boxes to be a documentary, it's something much more. Thanks to Haynes' seamless blend of visuals, words, history, and – always and above all – music, it's a total sensory experience, which deserves to be seen in a theater whether you subscribe to Apple TV or not. It puts you right in the middle of a world that still casts a huge shadow on our culture today.
And it's unforgettable.
PHOTOS: Best Of LGBTQ DC party
Blade's 20th annual awards celebrated at Hook Hall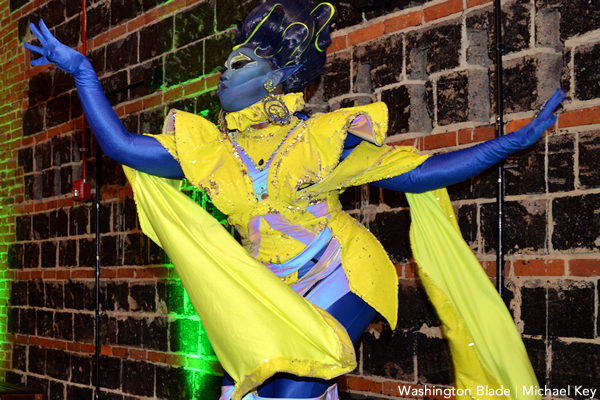 The Washington Blade presented the 20th annual Best of LGBTQ D.C. Awards at a party at Hook Hall on Thursday, Oct. 21. To view this year's winners, click here.
Event sponsored by Absolut, DC Brau and Washington Regional Transplant Community.
(Washington Blade photos by Michael Key)