How Obamacare repeal would hurt LGBT people
Trans, HIV/AIDS patients at risk if ACA goes down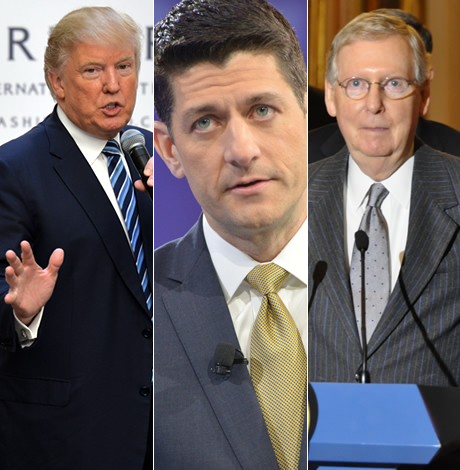 Amid persistent fears that a Donald Trump administration would roll back LGBT advances seen under President Obama, the protections that are most likely in jeopardy can be found in Obamacare.
A top campaign promise of President-elect Trump and Republicans in Congress — who will have unified control of the federal government — is to "repeal and replace" the Affordable Care Act. One provision in the law ensures that transgender people have access to transition-related care; another ensures that low-income people with HIV/AIDS can obtain life-saving medication.
Section 1557 of Obamacare prohibits health care providers and insurers from discriminating on the basis of gender. The Obama administration has issued a rule interpreting that provision to bar discrimination in health care against gender non-conforming and transgender people, including for the purposes of transition-related care and gender reassignment surgery.
Mara Keisling, executive director of the National Center for Transgender Equality, said she doesn't think "anybody knows anything right now" about what the Republicans will do, but acknowledged it will be hard for them to ignore Obamacare.
"So we know the Affordable Care Act is going to be assaulted somehow," Keisling said. "We don't know if Section 1557 is, and it would just be a real shame if it was. It just basically says health care providers can't discriminate on the basis of race, age, disability and sex."
In the event Congress were to repeal Section 1557, Keisling said a "belt-and-suspenders" system remains in place that would help protect transgender people, including state insurance commission rulings, professional association rules and state non-discrimination laws under which health care or public accommodations is listed.
But Keisling also said Congress could render Section 1557 moot not just by repealing it, but refusing to fund the Department & Health Human Services and the Office of Civil Rights at a level that could enforce it.
"If they decide to starve civil rights enforcement processes and functions in the federal government like the Bush administration did, that hurts us," Keisling said.
Laura Durso, senior director of LGBT research and communications at the Center for American Progress, said repeal of Section 1557 would have "devastating consequences" for many communities, but in particular transgender people, whom she said would "lose vital protections."
"Without these civil rights protections, we could to go back to a time when science and compassion take a back seat to misinformation and ideology, and we must demand better for our transgender siblings," Durso said.
Durso said prior to the Affordable Care Act, transgender people "overwhelmingly reported negative experiences with the health insurance market due to denials of coverage," but after Obamacare — in part because of Section 1557 — the rate of insurance for low- and middle-income transgender people dropped from 59 percent in 2013 to 35 percent in 2014.
Undoing Medicaid could hurt people with HIV/AIDS
Obamacare also expanded Medicaid to cover individuals with incomes at less than 133 percent of the poverty level. After the U.S. Supreme Court in 2012 upheld the individual mandate in the Affordable Care Act, states could elect whether or not to take part in the expansion. Thirty-one states and D.C. elected to expand Medicaid.
According to an October report from the Kaiser Foundation, Medicaid is estimated to cover more than 40 percent of people with HIV in care. Additionally, Medicaid accounts for 30 percent of all federal spending on HIV care, and when combined with the states' share of spending, is the second largest source of public financing for HIV care in the United States, the report says.
Carl Schmid, deputy executive director of the AIDS Institute, said many people with HIV/AIDS depend on Medicaid — both for drug and doctor care — because "a lot of people with HIV are very poor," raising fears about how Trump might undo efforts to address the epidemic.
"We're obviously very concerned about how he's going to address HIV/AIDS issues — both domestically and globally — and then the Affordable Care Act is just so important for people living with HIV or at risk of HIV, and I don't think they know the magnitude," Schmid said. "And I think, hopefully, cooler, smarter heads will prevail as you get into the details."
Schmid said the Affordable Care Act also is effective in addressing the HIV/AIDS epidemic because it covers preventive care, including HIV testing, with no patient cost-sharing.
One idea Republicans have proposed is changing Medicaid to a block-grant system in which the federal government would discontinue its open-ended commitment to help states cover costs in exchange for certain commitments and, instead, provide states with annual lump sums, freeing them up to run the program as they wish.
But Schmid said that would be bad for people with HIV/AIDS because some states, he said, want to eliminate the single tablet regime in favor of less costly individual components, which would require people with the disease to take more tablets per day.
"We're concerned about the block-granting because we're going to lose those protections they have in place at the federal level," Schmid said.
In the event Congress rolled back Medicaid, Schmid said there would be more pressure on the Ryan White Care Act, which before Obamacare covered low-income people with HIV/AIDS, as "the payer of last resort."
"Under the ACA and Medicaid expansion, Ryan White clients have been able to gain coverage under Medicaid for health care and medications, and Ryan White has been able to provide additional support services, like case management, transportation and food," Schmid said. "If Medicaid was reduced, those clients would have to go back to reliance on the Ryan White Program."
Both Section 1557 and the Medicaid expansion could be particularly vulnerable in the 115th Congress. A Senate Democratic leadership aide said both components of Obamacare can be undone through the reconciliation process, which would mean only 51 votes — not 60 — would be needed invoke cloture to move forward with repeal of the provisions.
Keisling, however, said her read of Section 1557 is that it would require 60 votes to undo, which likely means Congress would only get rid of it by repealing Obamacare in its entirety.
"I think if Section 1557 goes, the whole thing goes," Keisling said. "It's not the funding part of the bill, it's just about how as we have this system that we're trying to make better, it shouldn't be a discriminatory system."
Will Republicans follow through on repeal?
With an estimated 20 million people enrolled in health insurance plans as a result of Obamacare and that number growing during the open enrollment, it remains to be seen whether Trump and Republicans will make good on their promise to undo the law.
U.S. House Speaker Paul Ryan (R-Wis.) was cagey during a news conference on Thursday when asked about plans to repeal Obamacare during the 115th Congress.
"It's a great question," Ryan said. "That's one that we're going to be dealing with all year long. This is — it's too early to have, to know the answer to, how fast can Obamacare relief occur. What we're focused on is how we get Obamacare repealed and what we replace it with, so that we can get that relief to the American families as fast as possible."
David Popp, a spokesperson for Senate Majority Leader Mitch McConnell (R-Ky.), said he has no "announcements or updates on any legislative action for the 115th Congress" when asked by the Washington Blade about plans to repeal Obamacare.
Republicans may feel pressured to act on repeal. A Morning Consult exit poll showed 58 percent of voters think the law should be repealed, compared to 36 percent of voters who think the law should remain as it is or be expanded.
During an interview last week on "60 Minutes," Trump said he wants to keep some of the more popular components of Obamacare in place, such as the ban on discrimination based on pre-existing conditions and the ability of parents to keep their kids on a family plan until they reach age 26.
"It'll be just fine. we're not going to have, like, a two-day period and we're not going to have a two-year period where there's nothing. It will be repealed and replaced. And we'll know. And it'll be great health care for much less money. So it'll be better health care, much better, for less money. Not a bad combination."
But Schmid said he doesn't see how Trump could move forward with a pledge to eliminate the individual mandate for Americans to buy health insurance if he keeps the ban on discrimination based on pre-existing conditions.
"To do that, you really have to have the individual mandate," Schmid said. "They go together, and I don't think they realize that because the insurance companies don't want just sick patients. They need everyone to make it work."
President Obama during a news conference last week said Republicans who have made repeal of Obamacare the "Holy Grail" of the campaign will face difficult questions that may stymie them now that they have the opportunity to act on that goal.
"It's one thing to characterize this thing as not working when it's just an abstraction," Obama said. "Now, suddenly, you're in charge and you're going to repeal it. OK, well, what happens to those 20 million people who have health insurance? Are you going to just kick them off and suddenly they don't have health insurance? And in what ways are their lives better because of that?"
Katie Keith, a steering committee member of pro-LGBT Obamacare group Out2Enroll, said the current period of open enrollment presents an opportunity for LGBT people to enroll in plans and demonstrate support for the law.
"In particular, Section 1557 bans transgender exclusions in 2017 marketplace plans, which is an unprecedented new protection that will improve access to transition-related care," Keith said. "That's why Out2Enroll is all in to encourage trans people to enroll before the Dec. 15 deadline. If folks have been holding out on getting covered in the past, we get it, but we are encouraging everyone, especially trans people, to consider enrolling this year."
Whatever the plans of Republicans and the Trump administration, Keisling said LGBT advocates are prepared to advocate to make the case the existing protections under Obamacare should remain in place.
"We all know we have to work to advocate harder than ever and meet with the new administration, advocate with Congress, advocate through professional medical and health care associations, and I think all of us, know that," Keisling said.
The evolution of the open house
The more sophisticated the advertising, the more the events flourished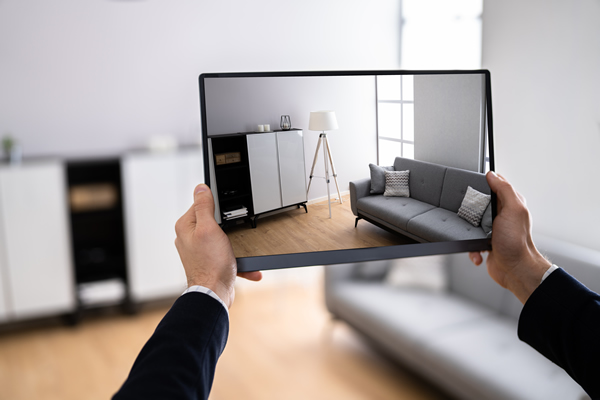 In the early 20th century, there were no exclusive agreements between a seller and a real estate agent. Any broker who knew of someone wanting to sell could participate in an "open listing" by planting his sign in the yard of that person and competing with agents from other brokerages who did the same. To the victor who obtained a buyer went the spoils of commission.
The rules began to change in 1919, when being a real estate broker now required a license. An agent might handle only one property at a time exclusively, but an "open for inspection" period could be used to introduce a model home or new community to the buying population.
According to the National Association of Realtors, Dallas homebuilder, Howdy Howard, hosted one of the most successful open houses of all time in the 1950s. During the first 12 days of the event, an estimated 100,000 people attended, drawn by free sodas and the ultimate prize for the buyer – a new Cadillac.
Soon, brokers began hiring additional agents who could handle multiple properties. Unlike Howard's marathon open house, agents would now host them for a few hours at a time, usually on a Sunday, to whet the appetite of the buyer pool.
Classified advertisements with a description of a property would be placed in a local newspaper and potential buyers would review them with their morning coffee to decide which houses to visit later in the day.
Marketing in newspapers went from a few lines of black and white text to a photo of a home's exterior, to a multi-page spread that included both photos of houses and the agents who represented them.
The more sophisticated the advertising became, the more the open house flourished as a marketing tool, not only for the home itself, but also for the agent and the brokerage. It allowed agents to prospect for buyers for that home and others, and converse with neighbors who might want to sell their homes as well.
Soon, the sign-in sheet was born, used by the agent to capture the contact information of a potential client or customer and to let the seller know who had visited his home. While sign-in sheets or cards are still used, some agents have gravitated to electronic applications, using a tablet computer instead of paper for the same purpose.
Fast forward to the early 2000s in D.C., when open houses became the primary source of showing property. An agent would enter a property into the multiple listing service (MLS) on a Thursday, entertain no showings until Saturday, host an open house on Sunday afternoon, and call for offers either Sunday night or Monday. The open house allowed agents to send their buyers rather than accompany them and serve multiple clients at once.
The delayed showing day strategy referenced above has since been supplanted by the MLS's Coming Soon status. Agents can now email or text links to upcoming properties to their clients in advance of showing availability and the clients can view photos, read property descriptions and disclosures, and schedule future visits accordingly.
Enter COVID-19. Due to the proliferation of the virus and the subsequent lockdown, the real estate world had to accommodate new public health requirements.
One of the first things to go was the open house. Even agent showings were constrained, with visitors limited to an agent plus two people and additional requirements for wearing masks and disposable shoe covers and gloves.
Overlapping appointments were not allowed, showings were limited to 15 to 30 minutes, and bottles of hand sanitizer sprung up on kitchen counters everywhere.
Ultimately, technology and ingenuity provided new marketing avenues for agents that included 3-D virtual open houses, Facetime and Duo viewings, videos, property websites and QR codes. Many of these marketing techniques remain, even though traditional open houses are coming back post-lockdown.
But are they really necessary? Certainly not for all types of properties.
I believe the days of using a public open house to procure a buyer are limited. Agent security has become a concern and the desire for in-person viewings during a specific day or time has waned.
On the other hand, Internet marketing and social media have a much wider reach, so much so that some people now feel comfortable buying a home – probably the most expensive item they will ever purchase – without even stepping into it until after closing.
After all, if we can work in sweatpants or pajamas while Zooming corporate meetings, how can naked virtual reality house hunting be far behind?
Valerie M. Blake is a licensed Associate Broker in D.C., Maryland, and Virginia with RLAH Real Estate. Call or text her at 202-246-8602, email her via DCHomeQuest.com, or follow her on Facebook at TheRealst8ofAffairs.
D.C. homebuyers face hyper competitive market
Sellers in driver's seat as region faces record low inventory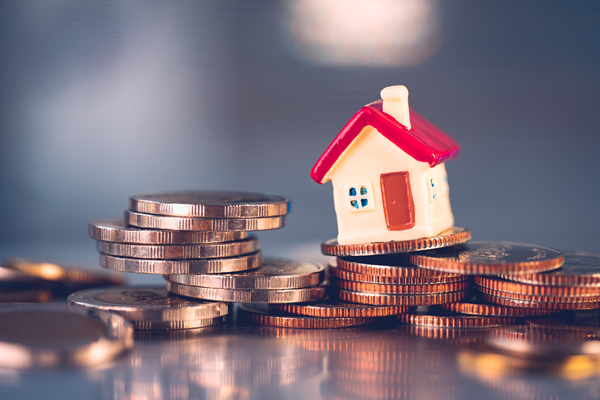 With job growth rising during a period of aggressive government spending and historically low mortgage rates, the spring 2021 market sits at the lowest level of inventory since 1983.
Homebuyers in the D.C. area continue to face an incredibly competitive market. This is truly a seller's market.
Lack of Inventory: Washington, D.C. has been in a gradually worsening housing shortage since the Great Recession. The area hasn't had a six-month supply of homes for sale for almost 12 years. Now, we add a global pandemic that seriously altered what homeowners want out of their home, Wall Street on fire, and insanely low interest rates and we get a surge in motivated homebuyers.
According to the National Association of Realtors (NAR), the number of homes nationwide reached a record low in December 2020, with just 1.07 million properties on the market. The DC metro area is even worse off than the national average with only one month's supply of homes. That means if new listings were completely dried up, there would be no homes available in four weeks. On average, D.C. homes have been selling within 11 days, which is 15 days faster than this time in 2020.
Seller's Market: The time is now for Washington, D.C. homeowners to seriously consider selling their homes if they have played with the idea. Experts predict 2021 will be another strong housing market with an increase in demand from existing homebuyers in search of larger homes and buyers who delayed purchasing a home due to the uncertainty of the pandemic.
Zillow forecasts a nearly 30 percent annual growth in homes for sale in 2021. This would be the largest home sales growth since 1983. Zillow's annual report stated, "Home price appreciation will reach its fastest pace since the Great Recession, as the inventory crunch continues to pit buyers against each other, competing for a scarce number of homes for sale."
D.C.'s Current Market: According to the NAR, in March of 2021, D.C. home prices had increased 4.1% compared to March 2020, for a median price of $635,000. There were 1,004 homes sold in March 2021, an increase from 842 at this time last year.
We are seeing many homes receive multiple offers within just a few days in the D.C. area. The average home is selling a little above 1% of the listing price and many hot homes are seeing large bidding wars and selling for 3% or more above the listing price; 42.7% of D.C. homes sold above list price in March of 2021. That is a 13.4% increase from last year at this time. Active inventory for March of 2021 was 1,457 homes, down 9% from March 2020. March 2021 also saw 991 homes sell in the D.C. area, an increase of 31% from February of 2021. March 2021's total homes sold had a 19% increase from March 2020.
Buying a Home: In the current seller's market, buying a home can be like playing a chess match. You need to know the rules and be strategic. It can seem more like winning than purchasing a home right now. If you find a home you want to buy, chances are you won't be the only one making an offer. It is a seller's market everywhere in the country right now and D.C. is no different. Be sure you know what you qualify for and what you can afford.
Conclusion: The NAR and the Mortgage Bankers Association both project prices of existing homes to increase 5.9% in 2021. This may mean buyers will have to be more flexible than in the past. For example, making an offer contingent upon the sale of a current home may be harder than before. It's also possible you will pay more than the list price. The D.C. real estate market is on fire and many homes are off the market within 24 hours of listing. For sellers, if you have been thinking of selling your home there is no better time than the present.
Khalil El-Ghoul is Principal Broker for Glass House Real Estate. Reach him at [email protected] or 571-235-4821. Glass House Real Estate is a modern, more affordable way to buy and sell a home in the D.C. Metro area. Learn more about what makes us different at glassshousere.com.
Kick-ass crossovers
Still the hottest vehicles in dealer showrooms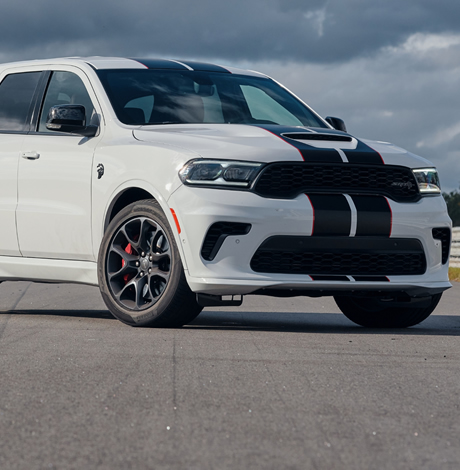 Crossovers keep wending their way into our driveways—and our hearts. After overtaking sedans, station wagons and minivans as the hottest vehicles in dealer showrooms, crossovers are now taking aim at the most quintessential of American rides: the muscle car. With naughty looks and hepped-up engines, the two dynamite crossovers below are sure to blow your mind—and just maybe your budget.
DODGE DURANGO SRT HELLCAT
$81,000
Mpg: 12 city/17 highway
0 to 60 mph: 3.5 seconds
For more than 20 years, the Dodge Durango has been a solid if nondescript family hauler. But this year the automaker jazzed up its midsize crossover with brawnier styling and the latest tech toys. And for the first time, Dodge is offering a limited-edition Durango SRT Hellcat—a high-test model with the same hellacious Hemi V8 engine in the Challenger super coupe and Charger sport sedan. With 710 horsepower, this blazingly fast crossover can kick some serious ass, outrunning many a Ferrari and Lamborghini.
The upgraded suspension provides more dynamic handling and cornering, as well as selectable steering for better grip. For straight-line acceleration and to prevent nasty fish-tailing, I simply flipped the "launch control" toggle switch. The massive Brembo brakes also were stellar, with stop-on-a-dime performance and flaming red calipers on each wheel. Another plus: the iconic Hellcat exhaust rumble could be heard blocks away—music to the ears of any auto aficionado. As with all Durangos, this bruiser has best-in-class towing capacity of 8,700 pounds.
Inside, there's plenty of space, including more room than expected for third-row passengers. The steering wheel, dash, and trim accents now have trendy Euro styling, though it's more VW than upscale Audi. And you can opt for flashy seatbelts and premium seats in a color Dodge calls Demonic Red, along with black velour floor mats and a soft-touch headliner. Other features include heated/ventilated seats, a large 10.1-inch touchscreen, wireless smartphone integration and the ability to pair two Bluetooth devices at once. Options include a 19-speaker Harman Kardon stereo and rear-seat entertainment with Blue-Ray player. Alas, this is a limited-edition model and all 2,000 of these speed demons quickly sold out months ago. But there's still hope: Dodge allocated some of the racy Durangos to select dealerships, so you can call around to see if any are still available. And you can always try social media to find a lucky Durango Hellcat owner who just might be willing to sell this rollicking ride, if the price is right.
LAND ROVER DEFENDER X
$85,000
Mpg: 17 city/22 highway
0 to 60 mph: 5.7 seconds
For decades, both the Land Rover Discovery and Range Rover have been ubiquitous in the United States. Not so the smaller and less ostentatious Defender, often seen as a work-horse vehicle in BritBox reruns or action flicks like Lara Croft: Tomb Raider. But last year the Defender returned to these shores after nearly a quarter-century hiatus.
Available in two- or four-door models, both Defenders start around $50,000. My test vehicle was the new top-of-the-line Defender X, which added—yikes!—another $35,000 to the sticker price. The look on these crossovers is boxy chic, which allows for a ginormous amount of headroom, legroom and cargo space. Land Rover also added extra stowage areas and cubby holes, as well as transom windows and a sliding panoramic sunroof to keep things airy. While the cabin may be sparse and full of solid plastics, the walnut trim on the center console and door panels is quite elegant.
Land Rovers have a somewhat infamous reputation for less-than-stellar electronics, but the 10-inch touchscreen was crystal clear and synced up seamlessly with the infotainment system. Tricked out with a jet-black roof, hood, and side cladding, the press vehicle I test drove was painted a haughty Eiger Gray Metallic. It also came with thick all-terrain tires, adding to a slightly menacing vibe. A full-size spare is conveniently mounted on the vertical tailgate, which swings completely open like a refrigerator door for easy access. The Defender X may not be as lightning quick as a Dodge Durango SRT Hellcat, but it's still plenty fast. And this brute can tackle the toughest of terrains, thanks to locking differentials, hill-descent control and a standard air suspension that can raise the chassis 11.5 inches above the ground. Overall, the Defender X can't quite hide its refined roots as a tony Land Rover. But as with the Dodge Durango SRT Hellcat, this burly crossover flexes some serious muscle.