D.C. holiday cocktails inspire and dazzle
Pop-ups and transformations will help you get your buzz on all over town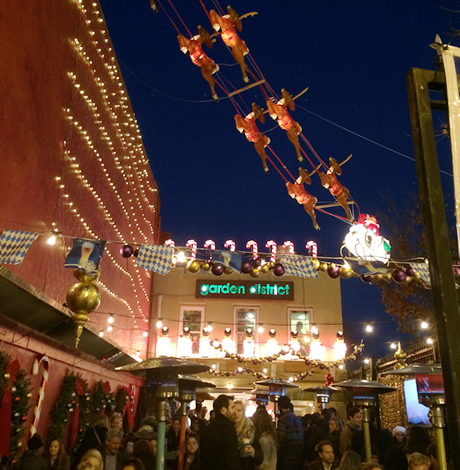 Blame it on Derek Brown, but D.C. seems to have caught the holiday-themed cocktail bug. Last year, Brown, owner of a trio of bars on Shaw's 7th Street corridor, turned his sherry outpost Mockingbird Hill into "Miracle on 7th Street."
Tricked out in glitter and kitsch, the Christmas cocktail pop-up brought out the masses, clad in ugly sweaters and downing eggnog shots with gusto; this year, Brown's expanded the miracle mayhem to his adjacent bars, Eat the Rich and Southern Efficiency.
If the revelers waiting for up to two hours to get their shot at a series of cocktails named for lines from classic holiday movies, like Xmas is Run by a Big Eastern Syndicate, are any indication, the 2016 version of Miracle on 7th Street is likely to far surpass its previous popularity. Bartenders expect to pour something in the range of 3,000 cocktails a night during its run — yes, really — but if you want to skip the lines, then try heading there on Sunday or Monday night or check it out on Boxing Day (Dec. 26), and, judging by an unscientific survey of local bartenders, the cookie dough cocktail, called Snow Angels, Ice Skating, Cookie Dough and Snuggles, is apparently a must-have.
Of course, Miracle on 7th Street is not the only holiday cocktail game in town this year; 14th Street's Garden District has gotten in on the fun by turning the outdoor beer garden into a twinkling light extravaganza. The open-air space is literally wrapped in 10,000 fairy lights, with an illuminated Santa and reindeer flying overhead, and numerous outdoor heaters help to make it tolerable on a chilly evening.
Bring your mittens and grab a German beer while you're at Garden District, because, while the ambience is festive, the holiday-themed cocktails are a bit of a sad throwback to 1970s office Christmas parties — in fact, there's even a punch on that very theme. For the most part, the cocktails, from a dry mulled wine that lacks the fruity complexity that could make it shine to a sickly-sweet hot cider, are worth avoiding. Stick to a good beer and a rousing round of "Rudolph the Red Nosed Reindeer" while standing around the glow-in-the-dark nativity scene.
Miracle and Garden District aren't the only places to get a holiday-themed buzz this year. Le Diplomate is also decked out for the season, where you can sip a chartreuse-tinged hot chocolate along with a proper mulled wine, or go get a taste of a Balkan holiday drink at Ambar with its Ŝumadija Hot Toddy, a combination of slivovitz (plum brandy) and Becherovka (Eastern European herbal liqueur) typically served to celebrate Balkan Orthodox Christmas Eve. Some of us are opting for sitting fireside at 1789 Restaurant, where its mixologists have concocted a swoon-worthy hot buttered rum out of brown butter-infused rum and spiced apple cider.
Meanwhile, Torrance Swain, one of D.C.'s most talented bartenders, will be serving up the 12 Cocktails of Christmas from December 13-24, and the list looks worthy of multiple visits since a portion of the proceeds from sales of the drinks will benefit the Four Seasons Washington's Hands of Hospitality fund to provide gifts for local foster children. Some of the drink highlights include the Pear Mon Frère, a blend of calvados with Kronan Swedish Punsch, a traditional Swedish sugarcane-based liqueur that has true holiday flair; and the Lost in Decadence, featuring vodka with Galliano Ristretto, an espresso liqueur, topped off with white chocolate foam and a dusting of chocolate and cherry powder. Ho ho ho, indeed.
For those planning on celebrating at home, Via Umbria is ready to train you on the art of holiday cocktails, focusing on seasonal flavors found in rosemary, grapefruit, fennel, brandy and winter spices. The $25 fee includes a tasting of five cocktails, including the Christmas in Barolo and the Fennel is your Frond, and a recipe to take home.
Finally, if you want a festive drink, just ask your bartender. After wandering the streets in search of holiday cheer, I ended up seated at the bar at Espita Mezcaleria, where, luckily, lead bartender Robin Miller was in the midst of testing holiday-inspired cocktails to be featured at the restaurant. A combination of fernet, mezcal and chocolate bitters in the works was slightly acidic and smoky, with a satisfying creaminess from just the right amount of shaking. Or add a tot of mezcal to their earthy Mexican hot chocolate — a serious palate-pleaser reminiscent of cozy evenings around the fireplace digging through that box of chocolate from Grandma — just right on a wintry night.
Kristen Hartke is a food and beverage writer in Washington. Follow her kitchen adventures on Instagram at kristenhartke.
Winter Restaurant Week a welcome escape from the cold
Enjoy D.C.'s diverse culinary scene at great prices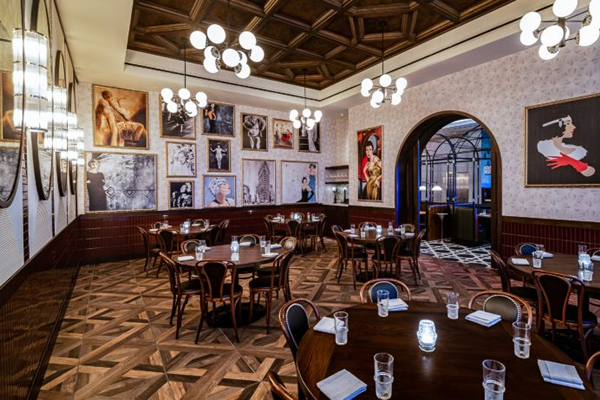 Saving Washington, D.C. diners from winter doldrums, RAMW Winter Restaurant Week is back in action. It returns Jan. 17-23 with the motto of "Dine Out. Take Out. Eat Up."
The city's signature winter dining event is back as a one-week promotion focused on dining out and tasting the city's diverse culinary scene. Yet it also is providing diners with newer programs that they have grown to love over the past few cycles. These include the popular "RW-To-Go" takeout dinner meals, outdoor dining spaces, as well as cocktail pairings, allowing diners to take advantage of a range of indoor/outdoor comfort levels and dining opportunities.
Participating restaurants are set to offer multi-course brunch and lunch menus for $25 per person, and multi-course dinner menus for $40 or $55 per person for on-premises dining. Most are offering the traditional three-course meals, while others may include extras.
Many restaurants will also offer the RW-To-Go dinner meals, a program introduced in 2019, available at two price points: $70 or $100 for two people and $140 or $200 for four people.
More than 200 restaurants across the area are participating.
"Our restaurants have shown resilience, creativity, and perseverance over the past two years, and they continue to count on the amazing support of loyal diners and newcomers through promotions like Restaurant Week," said RAMW President & CEO Kathy Hollinger. "Designed to get diners out to experience all our great food scene has to offer, we have evolved this turnkey promotion to help meet diners where they are in terms of comfort. With offerings to include RW-To-Go, curbside pickup and delivery, heated patios, cozy igloos and indoor dining, there is truly something for anyone looking to support their favorite spot or try something new."
New restaurants participating in Winter Restaurant Week include Ala, Bar Chinois, Bistro Du Jour, The Mayflower Club, Officina Cafe, Penny Royal Station, and Urban Roast in the District; Diabolo's Cantina at MGM and Rosa Mexicano at National Harbor; North Italia Tysons; and the newest The Capital Grille location in Fairfax.
2021 RAMMYS Winners and finalists participating include Convivial, Cranes (also Michelin-starred), Espita, Estadio, iRicchi, and Sababa.
In the 14th Street and Dupont Circle areas, popular participating restaurants include Agora, Cork, Duke's, Floriana, and Sushi Taro, among others.
Winter Restaurant Week also extends beyond core neighborhoods, stretching far past the city's borders. Areas like Takoma Park and Bethesda in Maryland, and Alexandria and National Landing in Virginia, are also hosting participating restaurants.
Some spots are offering additional deals, extended timelines, and other options. "I'm excited about the creativity of our local restaurants," says Hollinger, "with their offers and spaces that give diners great experiences during the promotion, and the flexibility to dine in the way that works for them whether indoor, in heated outdoor dining spaces or at home with our Restaurant Week To-Go program."
For example, Ambar (both the D.C. and Clarendon locales) will have a $70 seven-course to-go menu for two people. The deal includes a bottle of wine in addition to the food.
Schlow Restaurant Group has a $40 gift card for more than three meals at any of its restaurants, including NAMA Sushi Bar and TICO in D.C. and Alta Strada Italian Restaurants in D.C. and Fairfax. 
James Beard Award-winning Chef Michael Schlow says, "This is a great way for Restaurant Week diners to experience more of our menu offerings, and perhaps explore some of our restaurants they haven't tried yet. Plus, with [our] Restaurant Week extended an additional week through Jan. 30, there's ample time to dine."
Gay-owned KNEAD Hospitality + Design group is involving all its restaurants in the promotion. The group's restaurants include Gatsby, Mi Vida, The Grill, and more. Owner Jason Berry notes that he is "excited to participate in this year's winter restaurant week. Each year Restaurant Week brings new diners to our doors to experience the creativity and talent our staff continues to showcase at our restaurants."
Recall that the city has reinstated mask mandates for indoor spaces. In addition, On Jan. 15, 2022, per Mayor's Order 2021-148, the District of Columbia adopts a citywide vaccination entry requirement that requires COVID-19 vaccination to enter indoor facilities within the city. This includes restaurants and bars.
Bistro du Jour transports you from Wharf to Seine
New casually sophisticated restaurant a welcoming, inclusive space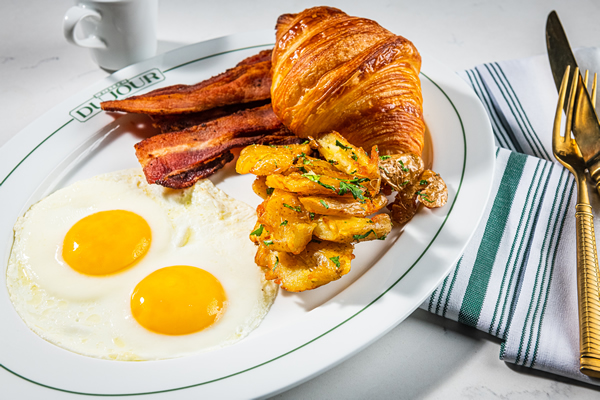 Delights run morning to night at The Wharf's new Bistro du Jour, a casually sophisticated French outpost sliding into a prime waterfront space.
Courtesy of gay-owned KNEAD Hospitality + Design, this new restaurant flaunts a menu born from a Seine-side bistro, serving coffee in the morning hours to Champagne in the evening. Its all-day culinary oeuvre begins with coffee (from La Colombe) and omelettes, and ends with items like a towering and meaty bi-patty cheeseburger L'Americain.
Taking over the sweet spot vacated by Dolcezza, Bistro du Jour is a sister to Mi Vida and The Grill, KNEAD group's two other Southwest waterfront locales. The group also runs several other formal and large-format restaurants they have populated across the city.
Why bring French to the Wharf?
"We have been here for almost four years and we knew what the area was missing and acted on it," says one of the co-owners, Jason Berry. "We wanted something where people could come in at all hours of the day and find something they wanted, from coffee and pastry to a full-on sit down at night."
The Bistro opens at 7:30 a.m. serving that local La Colombe coffee, plus flaky, buttery pastries from KNEAD's partner Mah-Ze-Dahr Bakery. Breakfast service starts at 8 a.m. with brioche doughnuts, quiches, a "massive" Belgian waffle, and French toast topped with a blueberry compote and sweetened whipped cream.
Executive Chef Treveen Dove – transferred after three years at another KNEAD spot, Succotash Prime) – oversees the offerings, a tour of the "greatest hits" of a typical Parisian bistro.
"Oeufs Sur Le Plat is to die for, with the griddled buttered bread topped with a sunny side up egg, sautéed mushrooms and a Mornay sauce… It's so rich and delicious."
By 11 a.m., the Bistro transitions to other traditional French fare, like French onion soup, tuna Niçoise salad, steak frites, mussels in a white wine and garlic butter, and a croque madame sandwich dripping with gruyere and creamy Bechamel. One unique offering is whipped brown butter with radishes and crostinis. There are also gougeres, warm cheese puffs shot through with gruyere.
Come 4 p.m., the dinner menu fills out even more, with additional dinner items confit de canard (duck leg with green lentils and red wine shallots); and a robust, earthy coq au vin (braised chicken with bacon, mushrooms and mashed potatoes); and a lamb shepherd's pie with mashed potatoes that would be at home on a French Alps farm.
Due to space limitations, the Bistro lacks a sit-down bar. Yet beverage director Darlin Kulla, who has been a part of the KNEAD family for more than four years, has put together a focused menu of six craft cocktails. You'll find not only a French 75 (gin, lemon verbena, lemon, bubbles), but also a Manhattan and a "Champs Elysees" with cognac, chartreuse, lemon, and bitters.
The bar itself carries only one brand of each liquor: one gin, rum, and vodka. " If you want vodka, you're having Grey Goose," notes Reg with a smile.
Given the cuisine, there is a considerable French wine list topping 60 bottles, leaning heavily on Champagne and sparkling wine. There are almost 20 red, white, rose, and Champagne options by the glass and carafe, as well. The bar rounds out its stock with French aperitifs and bottled beer.
Notably, the majority of the restaurant's seating is situated on the building's exterior, in a newly constructed all-season patio enclosure with almost 70 seats. The owners designed the space to maximize waterfront views, capacity, and flexibility. During warmer days, the Potomac breeze is welcome to flutter around coffee-sippers; in the colder months, the windows roll down for a fully enclosed and conditioned space. The patio's banquettes arrived directly from France, and twinkling strung lights sway from the ceiling.
The interior is done up in Mediterranean greens, pinks, and creams. Big windows welcome in daytime natural light, but allow for a dim, mood-lit atmosphere in the evening. Traditional bentwood bistro chairs dot the space and antique-style tin tiles reflect a classic Parisian flair. Over at the bar, the glassware display was created from a single panel of antiqued brass. At the rear, a daytime counter offers coffee, pastries, and drinks.
As Bistro du Jour's owners are both gay men, they note that, "Our restaurants are intended to be welcoming to all guests of all backgrounds, beliefs and demographics. We cater to everyone, which is the only way to lead a hospitality organization."
"When you're part of a minority group in society," they say, "the only way to lead your restaurants is as inclusive, welcoming, and hospitable leaders."
Though smaller than their other ventures, a French bistro right on the teeming, pedestrian-heavy Wharf "was the perfect fit," they say. 
Jane Jane brings throwback joy to busy 14th Street
Cocktail bar characterized by warm Southern hospitality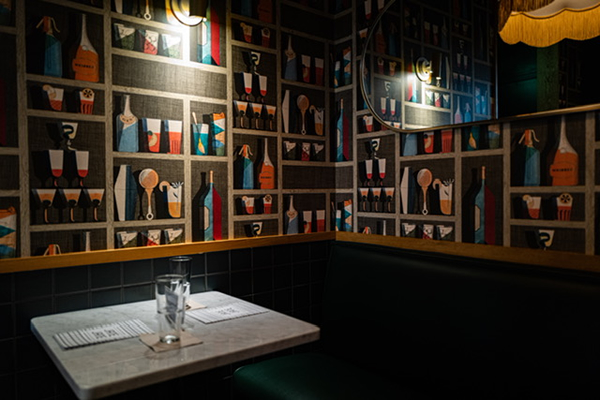 There is no standing at Jane Jane, the new classic cocktail bar in the heart of 14th Street. Its 850 square feet is for sitting and savoring, drinking in the relaxed retro vibe and the thoughtful craft cocktails.
At the foot of the mixed-use Liz development where Whitman-Walker is the major tenant, Jane Jane's creative use of a shoebox-sized space brings throwback joy to a busy thoroughfare.
In the pre-COVID days of 2019, Whitman-Walker approached the Jane Jane owners, hospitality veterans Jean Paul (JP) Sabatier, Ralph Brabham and Drew Porterfield, all gay men, to make good use of the vacant parcel, and ensure it would be run by LGBTQ entrepreneurs. "It required some gymnastics because of the layout," says Brabham, "but we came up with this cozy classic cocktail concept."
The hangout spot is an effort by the trio to "celebrate hospitality. We want everyone who walks into the space to feel like friends of ours we are having over for drinks or a bite. Its a cocktail party in our home," he says. They felt connected to the idea of a tiny bar—a space where they would want to have a drink.
Named for Brabham's mother, Jane Jane is as alluring and lively as it is intimate, each detail in the experience characterized by warm Southern hospitality—right from the bowl of spiced nuts that swiftly appear at each table at the beginning of service.
Sabatier, who has held stints at D.C. institutions like Rappahannock Oyster Bar, Maydan, and Compass Rose, oversees the bar and cocktail program, organized by spirit. (For their part, Brabham and Porterfield, romantic partners, also act as co-owners of Beau Thai and BKK Cookshop; Porterfield is also the current Curator and Director of Long View Gallery in Shaw.)
Sabatier has presented classic cocktails with a few noteworthy nods to current zeitgeist, as imagined by his lengthy experience behind the bar. The booklet-like menu includes a broad selection of familiar favorites like a Negroni, Manhattan, martini, but also features Sabatier's handpicked favorite classics like the Boulevardier (a whiskey Negroni), Last Word (gin married to herbaceous green chartreuse) and Air Mail (rum, honey and cava). Drinks fall in the $13-$16 range; a "Golden Hour" runs daily until 7 p.m. featuring beer and wine specials and a punch of the day.
Sabatier's creative juices flow on the first page through cocktails like the vividly named Tears at an Orgy, with brandy, orange and maraschino, as well as the best-selling, highly Instagrammable Crop Top, a gin cocktail with a red-wine floater—and a name that matches the look of the bi-color drink. "It's fun, delicious, and speaks to the space," says Sabatier. He notes that their vodka of choice comes from Civic, a local, women- and LGBTQ-owned distillery.
Sabatier, a classically trained chef and Culinary Institute of America graduate, also oversees the small selection of bar bites (the space has no kitchen, part of the required "gymnastics" to make it functional.)
Beyond the complimentary vessel of rosemary-flecked mixed nuts, other bar snacks run from pickled vegetables to a Southern-style Pimento cheese dip and an onion dip creamy enough to make your grandmother blush. The "Jane's Caviar" dish is a spread of trout roe and crème fraiche and comes with a towering mound of shatteringly crisp chips. A weekend brunch is in the works, which will serve goodies from local bakeries.
The retro-style interior recalls both California and the South, with only 32 seats inside and a 14-seat patio. Cozy booths done up in a hunter green as warm and inviting as a cool aunt are slung below walnut-wood walls and bar. Bright patterned tiles run the length of the floor; the back wall has playful cocktail wallpaper. A charming needlepoint by the restrooms kindly requests of guests, "please don't do coke in the bathroom."
The owners note that while Jane Jane is not explicitly a gay bar, its location in a traditionally gay-welcoming institution means that it has LGBTQ in its bones.
"Supporting LGBTQ people, businesses, and causes has been in Jane Jane's ownership's DNA at every establishment at which they have been involved," they say, having supported local LGBTQ+ organizations like Casa Ruby, Victory Fund, SMYAL and the Human Rights Campaign, among others.
Porterfield says that they were surprised that, given the locale, people assumed Jane Jane was a gay bar. "It's not a gay or straight bar, just a fantastic cocktail bar that welcomes anyone to hang out with us," he says.
Nevertheless, the owners have taken into consideration the significance of being in the Liz development, as both gay men and as part of the hospitality industry. "It highlights the lack of representation as gay owners in this bar and restaurant world," says Porterfield. They note the lack of women, LGBTQ and BIPOC representation.
"It's very special to us that we opened in this space," says Porterfield, "so we want to show that we have opened a place that is all about inclusivity."