December 8, 2016 at 1:41 pm EST | by Kristen Hartke
D.C. holiday cocktails inspire and dazzle
Blame it on Derek Brown, but D.C. seems to have caught the holiday-themed cocktail bug. Last year, Brown, owner of a trio of bars on Shaw's 7th Street corridor, turned his sherry outpost Mockingbird Hill into "Miracle on 7th Street."
Tricked out in glitter and kitsch, the Christmas cocktail pop-up brought out the masses, clad in ugly sweaters and downing eggnog shots with gusto; this year, Brown's expanded the miracle mayhem to his adjacent bars, Eat the Rich and Southern Efficiency.
If the revelers waiting for up to two hours to get their shot at a series of cocktails named for lines from classic holiday movies, like Xmas is Run by a Big Eastern Syndicate, are any indication, the 2016 version of Miracle on 7th Street is likely to far surpass its previous popularity. Bartenders expect to pour something in the range of 3,000 cocktails a night during its run — yes, really — but if you want to skip the lines, then try heading there on Sunday or Monday night or check it out on Boxing Day (Dec. 26), and, judging by an unscientific survey of local bartenders, the cookie dough cocktail, called Snow Angels, Ice Skating, Cookie Dough and Snuggles, is apparently a must-have.
Of course, Miracle on 7th Street is not the only holiday cocktail game in town this year; 14th Street's Garden District has gotten in on the fun by turning the outdoor beer garden into a twinkling light extravaganza. The open-air space is literally wrapped in 10,000 fairy lights, with an illuminated Santa and reindeer flying overhead, and numerous outdoor heaters help to make it tolerable on a chilly evening.
Bring your mittens and grab a German beer while you're at Garden District, because, while the ambience is festive, the holiday-themed cocktails are a bit of a sad throwback to 1970s office Christmas parties — in fact, there's even a punch on that very theme. For the most part, the cocktails, from a dry mulled wine that lacks the fruity complexity that could make it shine to a sickly-sweet hot cider, are worth avoiding. Stick to a good beer and a rousing round of "Rudolph the Red Nosed Reindeer" while standing around the glow-in-the-dark nativity scene.
Miracle and Garden District aren't the only places to get a holiday-themed buzz this year. Le Diplomate is also decked out for the season, where you can sip a chartreuse-tinged hot chocolate along with a proper mulled wine, or go get a taste of a Balkan holiday drink at Ambar with its Ŝumadija Hot Toddy, a combination of slivovitz (plum brandy) and Becherovka (Eastern European herbal liqueur) typically served to celebrate Balkan Orthodox Christmas Eve. Some of us are opting for sitting fireside at 1789 Restaurant, where its mixologists have concocted a swoon-worthy hot buttered rum out of brown butter-infused rum and spiced apple cider.
Meanwhile, Torrance Swain, one of D.C.'s most talented bartenders, will be serving up the 12 Cocktails of Christmas from December 13-24, and the list looks worthy of multiple visits since a portion of the proceeds from sales of the drinks will benefit the Four Seasons Washington's Hands of Hospitality fund to provide gifts for local foster children. Some of the drink highlights include the Pear Mon Frère, a blend of calvados with Kronan Swedish Punsch, a traditional Swedish sugarcane-based liqueur that has true holiday flair; and the Lost in Decadence, featuring vodka with Galliano Ristretto, an espresso liqueur, topped off with white chocolate foam and a dusting of chocolate and cherry powder. Ho ho ho, indeed.
For those planning on celebrating at home, Via Umbria is ready to train you on the art of holiday cocktails, focusing on seasonal flavors found in rosemary, grapefruit, fennel, brandy and winter spices. The $25 fee includes a tasting of five cocktails, including the Christmas in Barolo and the Fennel is your Frond, and a recipe to take home.
Finally, if you want a festive drink, just ask your bartender. After wandering the streets in search of holiday cheer, I ended up seated at the bar at Espita Mezcaleria, where, luckily, lead bartender Robin Miller was in the midst of testing holiday-inspired cocktails to be featured at the restaurant. A combination of fernet, mezcal and chocolate bitters in the works was slightly acidic and smoky, with a satisfying creaminess from just the right amount of shaking. Or add a tot of mezcal to their earthy Mexican hot chocolate — a serious palate-pleaser reminiscent of cozy evenings around the fireplace digging through that box of chocolate from Grandma — just right on a wintry night.
Kristen Hartke is a food and beverage writer in Washington. Follow her kitchen adventures on Instagram at kristenhartke.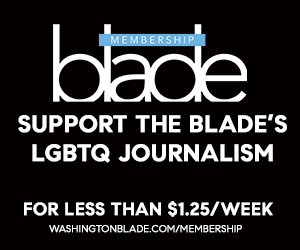 Sign Up for Blade eBlasts