Stoli Cocktail Classic inspires clever libation mixology
Freddie's bartender advances to Key West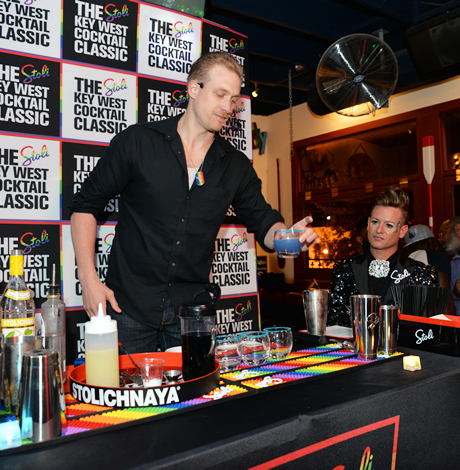 Nellie's Sports Bar played host this week to the fourth annual Stoli Key West Cocktail Classic, an annual LGBT bartending competition that takes place in 17 cities across the country, culminating in a final contest during Pride Week in Key West, Fla., featuring the winners from each city.
The scene was as glitter-filled and vodka-soaked as you'd hope it would be, led by Stoli's LGBT ambassador Patrik Gallineaux, who said of the event, "There was a time when gay bars were our only community centers, our safe spaces. I remember when I was 21 and first went to a gay bar and how I felt instantly accepted for who I was. Everyone there said, 'You belong,' and that changed my world."
Just three bartenders competed in the D.C. competition this year — a maximum of six are allowed — so the odds of winning a six-day trip to Key West in June were pretty good. This year's cocktail entries had to embrace the theme of Key West while utilizing Stoli brand vodkas; contestants also had to demonstrate their cocktail before an audience of 100 eager imbibers, who would be able to sample each drink, along with four judges, to help declare a winner.
One of the judges, Troy Petenbrink, a D.C.-based food and travel writer known as the Gay Traveler, said he was looking for cocktails that embraced "the excitement, the fun and the dirtiness of Key West."
Josh Pocock, a bartender at Freddie's Beach Bar in Arlington, Va., started off the competition with true flair by combining three different Stoli flavors — Razberi, Bluberi and Citro — into a concoction he titled "Purple Haze." By adding an extract made from red cabbage and a touch of acidity from lemon juice, Pocock's cocktail magically changed colors, from a deep blue Caribbean color to that of a deep pink sunset. Dropping in a chunk of dry ice to create a smoking effect made for plenty of oohs and ahhs from an appreciative crowd. While the result was overly sweet for some tasters, the wow factor was in full evidence.
If you've never heard of a color-changing cocktail, you would certainly have learned about it at this event, because not just one, but two cocktails were given the red cabbage treatment. For the science-challenged, red cabbage juice has a naturally-occurring pigment molecule, anthocyanin, that can change the color of liquids when combined with an acid (to create red tones) or baking soda (for blue tones) — give it a try at your next party.
It was Colt Runion, a bartender at Jack Rose Dining Saloon, who used a red cabbage syrup to effect a color change for his cocktail entry, called "Changing and Showing One's New Colors," which he mixed up with enthusiastic vocal support from his fiancé in the audience. Eschewing the flavored vodkas, Runion stuck with classic Stoli Premium to create a high-end cocktail that incorporated a Czech herbal liqueur, Becherovka and sherry, garnished with pickled golden beets. It was a sophisticated sipper for discerning drinkers, but the judges disagreed as to its suitability for the Key West theme.
Event judge and D.C. drag favorite Sacha Adams called Runion's slightly savory cocktail "an acquired taste"; Matthew Harden, winner of the 2016 D.C. competition, simply said, "It's not for me," while Petenbrink said, "This is a fabulous cocktail but I would not drink it in Key West." JP Sabatier, GM of Rappahannock River Oysters, contradicted his fellow judges, saying, "I might order this in Key West; it's a great cocktail with a delicious taste. When you add that pickled garnish, it's like music in your mouth." Stoli ambassador Gallineaux called it "one of the most interesting and well-done cocktails we've ever had."
The third cocktail, presented by bartender Sean Brevard of Nellie's, offered up the freshest flavor of the three entries and was accurately deemed a "patio pounder" by the crowd — a variation of a strawberry daiquiri, chock full of fresh strawberries, blueberries, and raspberries, and with an addition of watermelon liqueur — the epitome of summer in a glass.
Ultimately, flair may have won out over flavor, with Pocock taking the prize for his visually creative entry — and even Pocock may have been surprised by his ability to create such a crowd-pleaser. "I'm honestly a whiskey drinker," he said, "but I do really love a Lemon Drop martini, so I used that as a starting point." In preparation for the final competition in Key West in June, he's planning on taking some pointers from the judges. Look for Pop Rocks on the rim of the glass instead of rock sugar and a touch more acidity. He'll also plan to bring his game face: "I love interacting with customers, but this was definitely a different environment, presenting in front of an audience like that. I'll be sure to be more upbeat and bring more personality to my presentation. Now I know what to expect."
Fancy an opportunity to go to Key West next year? You don't have to actually be a working bartender to enter the Stoli Key West Cocktail Classic, so start practicing your mixology skills now.
Kristen Hartke is a D.C.-based food and beverage writer. Follow her kitchen adventures on Instagram, @kristenhartke.
Disco Funk Brunch at Crazy Aunt Helen's
Tara Hoot and DJ Phil Reese perform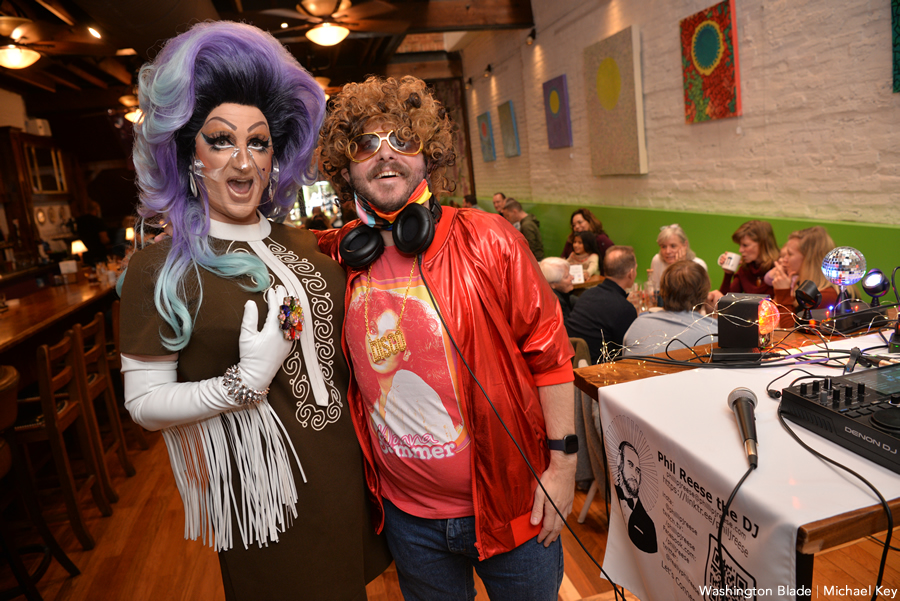 Drag queen Tara Hoot and DJ Phil Reese perform at the biweekly Disco Funk Brunch at the LGBT-owned Crazy Aunt Helen's on Sunday. For future showtimes, go to crazyaunthelens.com. (Blade photo by Michael Key)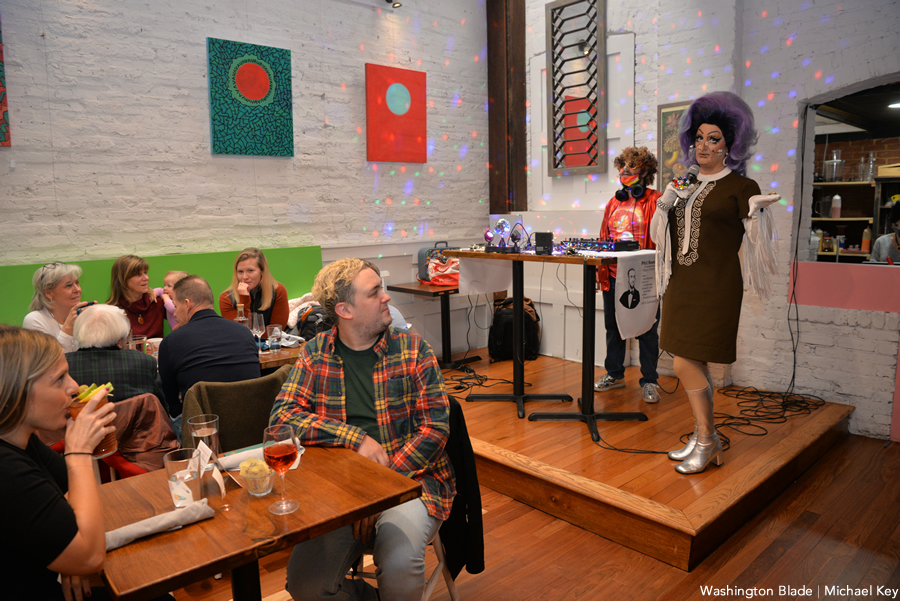 Blade's summer closing party set for Sept. 17 in Rehoboth
Benefits journalism scholarship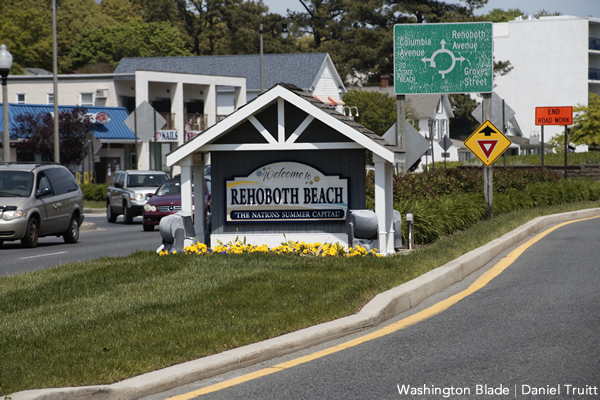 The Washington Blade's 15-year tradition of hosting a summer kickoff party in Rehoboth Beach was disrupted due to COVID restrictions. In lieu of that May event, the Blade is hosting a summer closing party on Friday, Sept. 17 at 6 p.m. at The Pines (56 Baltimore Ave., Rehoboth Beach, Del.).
Tickets are $20, which includes two drinks and appetizers. The event benefits the Blade Foundation's Steve Elkins Memorial Journalism Fellowship, a 12-week program in which an LGBTQ student journalist covers stories of interest to Delaware's queer community each summer.
All COVID safety protocols will be followed, including a requirement that attendees furnish proof of vaccination to gain entry.
If you are unable to attend you can make a donation to the Blade Foundation at BladeFoundation.org. Sponsors of the event include Delmarva Power and The Pines.
Rehoboth to close out summer with SunFest
Series of events to replace long-running Sundance due to pandemic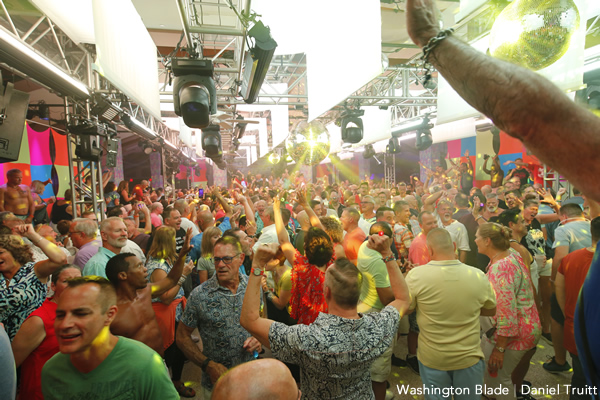 SunFest will feature a week of live performances, dances, and a live auction, sponsored by non-profit LGBTQ+ center CAMP Rehoboth.
The weeklong festival runs from Aug. 29 to Sept. 5 and is a change from the annual SunDance that CAMP Rehoboth has sponsored since 1988. This transformation began last year when the event was forced to go digital due to the coronavirus and the in-person events scheduled this year are important, according to development director and co-coordinator of SunFest Anita Broccolino.
"We love that community feel and the in-person makes all the difference in the world for us. Not being able to do it last year just reminded everyone how important we all are to one another," Broccolino said. "I think that bringing back these events this year is just huge for us and it will be extra celebratory as a result."
The festival begins with a 5k race and online auction opening on Sunday. Monday night features a give-back event at Iron Hill Brewery while Tuesday's agenda is still to be determined, said Broccolino. Diego's will host a Studio 54 give-back dance party on Wednesday and Thursday is the Port 251 women's give-back.
Live performances featuring the Skivvies, Randy Harrison and Diane Huey are scheduled for Friday night and Jennifer Holiday will follow with a performance on Saturday night, both at the Rehoboth Beach Convention Center. The festival closes out Sunday with auction pick-ups and Fun in the Sand and Sun, according to the CAMP Rehoboth website.
This event is also important to the organization's contributions to the community, said Broccolino.
"The essential services we provide for free to the community, which is a huge amount of health and wellness activities, as well as arts programming, a lot of youth programming and the community counts on us for those things. We never stopped during COVID, we made as much as we could virtual, but we took quite a hit not being able to raise those funds and awareness of the programs," Broccolino said. "We invite the entire community to come celebrate with us and make it to Rehoboth Beach, and let's make it joyful, and wonderful and make sure we're living up to the standards of all the people who helped found CAMP Rehoboth and live up to their legacy and beyond."