DOJ signals plan to undo rule banning anti-trans bias in health care
Obama-era regulation enjoined by Texas judge in litigation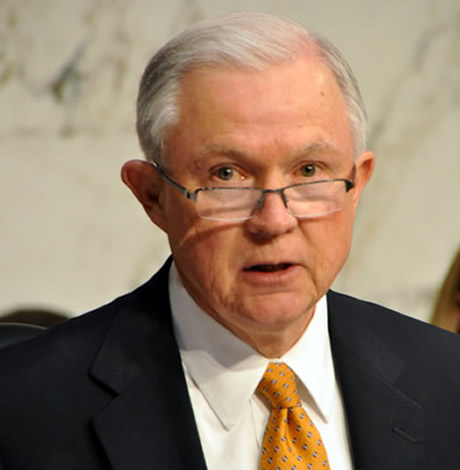 The U.S. Justice Department signaled on Tuesday plans to reverse an Obama-era regulation barring discrimination against transgender people in health care, including the denial of transition-related services and gender reassignment surgery.
In a legal filing against litigation challenging the rule, the Justice Department under U.S. Attorney General Jeff Sessions seeks a stay and remand of the case to give the Department of Health & Human Services "the opportunity to reconsider the regulation at issue," citing the administration's desire to assess "the reasonableness, the necessity and efficacy" of the regulation.
"Defendants respectfully request that the court remand this matter to HHS and stay this litigation pending the completion of rulemaking proceedings," the filing says.
Last year, HHS under President Obama made final a rule barring anti-transgender discrimination in the health care by interpreting the prohibition of sex discrimination under Section 1557 of the Affordable Care Act to apply to transgender people.
But U.S. District Judge Reed O'Connor in Texas issued an order in December barring the U.S. government from enforcing the regulation as a result of litigation filed by Texas Attorney General Ken Paxton and the Becket Fund for Religious Liberty. The Justice Department under Sessions had already missed a deadline to file an appeal of the preliminary injunction before the U.S. Fifth Circuit Court of Appeals.
Mara Keisling, executive director for the National Center for Transgender Equality, said in a statement the rule the Trump administration plans to take away is "literally life-saving for transgender people all across the country."
"The administration is rejecting the views of every major medical associations, most courts, and most Americans, who believe that people should not be denied health care because of who they are," Keisling said. "That's not just bad science and bad law—it's a dangerous attack on transgender people's ability to survive."
The filing signals the Trump administration's plan to undo the Obama-era rule after the appointment of Roger Severino as assistant secretary of health for civil rights. As a scholar at the anti-LGBT Heritage Foundation before his new appointment, Severino took anti-trans positions. Now his role consists of enforcing Section 1557 of the Affordable Care Act and the rule against anti-trans discrimination in health care.
100th anniversary celebration of Dupont Circle fountain set for May 17
GWU student creates tribute video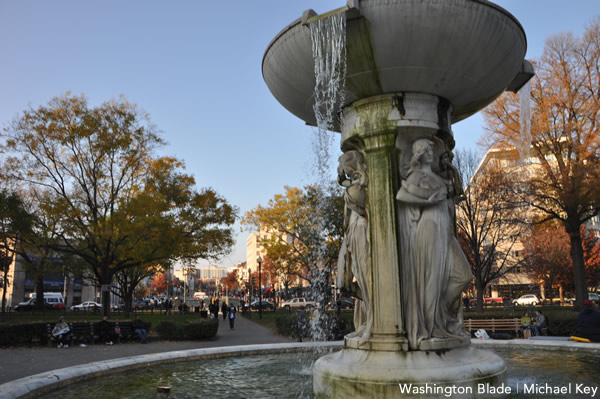 LGBTQ residents and longtime visitors to D.C.'s Dupont Circle neighborhood are expected to be among the participants in the 100th anniversary celebration of the installation of the Dupont Circle fountain scheduled to be held at the circle on Monday, May 17.
Aaron DeNu, president of Dupont Festival, a nonprofit arts and cultural programming group that's organizing the celebration, says it will take place from noon to at least sunset inside Dupont Circle.
The celebration will take place one week after the May 10 release of a YouTube video, "How Dupont Circle Evolved as a Hub for LGBTQ+ Life in the District," produced by George Washington University student Dante Schulz. Schulz is the video editor for the G.W. student newspaper The Hatchet.
Among those appearing in the documentary video are veteran LGBTQ rights activists Deacon Maccubbin and his husband Jim Bennett, who owned and operated the Dupont Circle LGBTQ bookstore Lambda Rising beginning in the 1970s, which is credited with contributing to Dupont Circle's reputation as the epicenter of D.C.'s LGBTQ community for many years.
Also appearing in the video is longtime D.C. gay activist and Dupont Circle area resident Craig Howell, a former president of the Gay and Lesbian Activists Alliance.
"At this point in time due to COVID restrictions we're not going to be doing any particular formal gathering of folks," DeNu told the Washington Blade in describing the May 17 celebration. "But we'll have a soundtrack that's playing throughout the day from that original ceremony – the same songs they used in the original dedication a hundred years ago," he said.
DeNu said the event will also feature "historic imagery" related to Dupont Circle and the people who have gathered there over the years.
"So, we're really just inviting people to come and have lunch, stop by the park after work, and just stop and reflect on 100 years of Dupont Circle fountain, take a look at the imagery and see some old friends and hopefully stop by and see the Dupont businesses that are around the area," DeNu said.
The LGBTQ video produced by Dante Schultz can be accessed here.
Trans woman sues D.C. Jail for placing her in men's unit
Lawsuit charges city with exposing inmates to 'risk of sexual violence'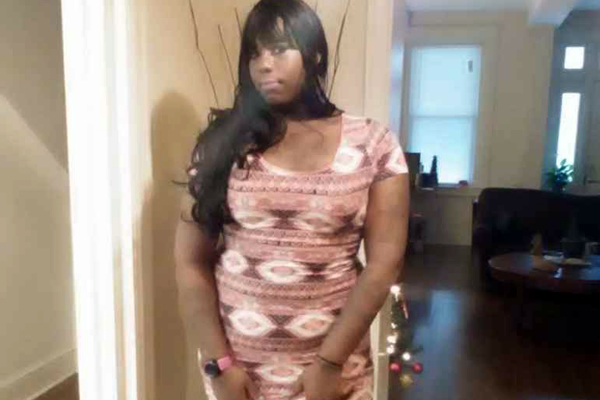 The American Civil Liberties Union of D.C. and the D.C. Public Defender Service filed a class action lawsuit on May 11 on behalf of a transgender woman being held in the D.C. Jail on grounds that the city violated its own Human Rights Act and the woman's constitutional rights by placing her in the men's housing facility at the jail.
The lawsuit charges that D.C. Department of Corrections officials violated local and federal law by placing D.C. resident Sunday Hinton in the men's unit at the D.C. Jail against her wishes without following a longstanding DOC policy of bringing the decision of where she should be placed before the DOC's Transgender Housing Committee.
The committee, which includes members of the public, including transgender members, makes recommendations on whether a transgender inmate should be placed in either the men's or the women's housing unit based on their gender identity along with other considerations, including whether a trans inmate's safety could be at risk. Under the policy, DOC officials must give strong consideration to the recommendations of the committee.
The lawsuit, which was filed in U.S. District Court for the District of Columbia, says the committee has not met or acted on any trans-related jail housing matter since January 2020.
It says Hinton was taken to the D.C. Jail on April 26 after a judge ordered her held following an arrest for an alleged unarmed burglary in which she attempted to take $20.
It notes that the Department of Corrections has a "default" policy of placing transgender inmates in either the male or female housing unit at the D.C. Jail and other city detention holding facilities based on the inmate's "anatomy." If a female transgender inmate is anatomically male, the inmate – barring other mitigating circumstances – is placed in the male housing facility under the default policy. Similarly, a male transgender inmate who is anatomically female is placed by default in the women's housing unit under the DOC policy.
"DOC's policy of focusing on anatomy rather than gender identity is both discriminatory and dangerous," the ACLU says in a statement released on the day it filed the lawsuit on Hinton's behalf. "It forces trans individuals, particularly trans women, to choose between a heightened risk of sexual violence and a near-certain mental health crisis," ACLU attorney Megan Yan said in the statement.
Yan was referring to yet another DOC policy that sometimes gives a transgender inmate placed in a housing unit contrary to their gender identity the option of being placed in "protective custody," which the lawsuit calls another name for solitary confinement. The ACLU and the Public Defender Service have said solitary confinement in prisons is known to result in serious psychological harm to inmates placed in such confinement.
"Because DOC's unconstitutional policy exposes every transgender individual in its custody to discrimination, degradation, and risk of sexual violence, Ms. Hinton seeks, on behalf of a class of similarly situated individuals, a court order that strikes down DOC's unlawful focus on anatomy as the touchstone for its housing decisions regarding transgender individuals," the lawsuit states.
It further calls on the DOC to use "gender identity, not anatomy, as the default basis for housing assignments" for transgender inmates and to provide all trans individuals a prompt hearing by the DOC Transgender Housing Committee.
It calls for the DOC to be required to implement the recommendations of the Housing Committee "so that each person is housed as safely as possible and without discrimination."
In addition to the lawsuit, Hinton's attorneys filed an application for a temporary restraining order to immediately require the DOC to transfer Hinton to the D.C. Jail's women's housing facility. The attorneys also filed a motion for a preliminary injunction to stop the DOC from using a transgender person's anatomy as the default or sole criteria in making housing assignments at the jail.
In response to a request from the Washington Blade, DOC spokesperson Dr. Keena Blackmon sent the Blade a DOC statement responding to the lawsuit.
"The Department of Corrections is dedicated to the safety and security of all residents in its care and custody," the statement says. "DOC is committed to following its policies and procedures relating to housing transgender residents," it says. "Ms. Hinton recently arrived in DOC custody and, per the agency's COVID-19 protocols, was placed into single-occupancy quarantine for 14 days."
The statement adds, "Once that quarantine ends, Ms. Hinton will go before the Transgender Housing Committee to determine her housing based on safety needs, housing availability, and gender identity. D.C. DOC is sensitive to Ms. Hinton's concerns and will continue to ensure that its residents' needs are met."
DOC spokesperson Blackmon didn't immediately respond to a follow-up question from the Blade asking why the Transgender Housing Committee has not met for over a year, which the ACLU has said resulted in all transgender female inmates being placed in the male housing facility.
Blackmon also couldn't immediately be reached for a second follow-up question asking for DOC's response to the lawsuit's claim that DOC officials told Hinton's lawyers that she was being placed in the men's housing facility because she was anatomically male.
The lawsuit says the DOC default policy of placing Hinton in the jail's male housing unit violates the D.C. Human Rights Act, which bans discrimination based on gender identity. The act has been interpreted to mean private businesses or the city government cannot prevent a transgender person from using facilities such as bathrooms or locker rooms that are in accordance with their gender identity.
D.C. Superior Court records show that Hinton has been arrested a total of 24 times in D.C. between 2006 and 2018. All except three of those arrests are listed as misdemeanor offenses, with just three listed as alleged felony offenses. One of the arrests is listed as a traffic offense.
In nearly all of the prior arrests, the court records identify Hinton by her birth first name, with her last name of Hinton used in all of the arrest records.
The burglary offense for which Hinton was charged on April 26 of this year and for which she is currently being held the D.C. Jail would  normally not result in a defendant being held in jail while awaiting trial. The fact that Hinton is being held rather than released pending trial suggests her prior arrest record may have prompted a judge to order her incarceration.
ACLU attorney Yan, who is among the attorneys representing Hinton in the lawsuit, said Hinton's prior arrest record should not be a factor in the lawsuit.
"We don't think any of the underlying things are relevant to her claim in this lawsuit, which is based on her identity and the fact that her constitutional and statutory rights to be free from discrimination are being violated," Yan said. "At the end of the day, Sunday is a transgender woman and she's a woman and she deserves to be held according to her gender identity as she desires."
Gay Iranian man murdered in so-called honor killing
State Department describes Ali Fazeli Monfared's death as 'appalling'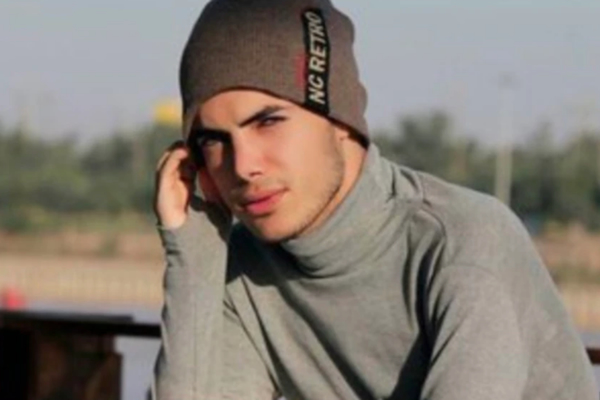 Reports indicate an Iranian man's relatives killed him after they discovered he was gay.
The Iranian Lesbian and Transgender Network wrote on its website that Ali Fazeli Monfared, 20, was kidnapped in Ahvaz, a city in Iran's Khuzestan's province on May 4.
The advocacy group said Monfared, who was known as Alireza, was beheaded. His body was reportedly found on May 5, the day after he was kidnapped.
The Iranian Revolutionary Guard Corps had exempted Monfared from military service because he is gay, even though consensual same-sex sexual acts remain punishable by death in the country. An activist who has known Monfared since late 2019 told the Iranian Lesbian and Transgender Network his half-brother discovered he was gay when he opened an envelope from the Iranian Revolutionary Guard Corps that contained his military exemption card.
Masih Alinejad, an Iranian journalist and activist, reported Monfared at the time of his murder was planning to flee Iran and live with his boyfriend, who previously sought refuge in Turkey. Alinejad said Monfared's half-brother and cousins killed him "as part of an honor killing."
2-Alireza was killed by being beheaded by his family. After beheading him, the family dumped this poor man's body under a tree outside of the city of Ahwaz. Alireza was about to flee Iran to join his boyfriend, who's a refugee waiting for him in Turkey. #علیرضا_فاضلی_منفرد pic.twitter.com/QMqAoINHIm

— Masih Alinejad 🏳️ (@AlinejadMasih) May 8, 2021
The Iranian Lesbian and Transgender Network says authorities have arrested Monfared's half-brother and cousins and charged them with first-degree murder. A State Department spokesperson on Tuesday in a statement to the Washington Blade described the Fazeli Monfared's murder as "appalling."
"The United States firmly opposes abuses against LGBTQI+ persons. The struggle to end violence, discrimination, criminalization and stigma against LGBTQI+ persons is a global challenge, and one that remains central to our commitment to promote human rights and fundamental freedoms for all individuals," said the spokesperson.
"Iran must do more to ensure the human rights of LGBTQI+ persons are protected," added the spokesperson. "We extend our deepest sympathies to Mr. Monfared's loved ones."