May 4, 2017 at 5:46 pm EDT | by Lou Chibbaro Jr.
Trump 'religious freedom' order silent on LGBT issues
Many LGBT advocates breathed sighs of relief after learning that a long-awaited "religious freedom" executive order issued by President Trump on Thursday did not include specific anti-LGBT provisions that media reports said were included in an earlier draft of the order.
But officials with several national LGBT advocacy organizations expressed concern that the two-page executive order, called "Promoting Free Speech and Religious Liberty," gives U.S. Attorney General Jeff Sessions authority to interpret existing federal laws and regulations in a way that could result in discrimination against LGBT people.
"In essence, the executive order punts the question of how and where the administration will permit discrimination against LGBT people to Jeff Sessions, a man who has consistently denied LGBTQ people equality under the law," the Human Rights Campaign said in a statement.
"This sweeping approach could result in an unprecedented expansion of religious exemptions affecting employment, services and programs," the HRC statement says.
But Gregory Angelo, president of Log Cabin Republicans, disputes that assessment, saying the text of the order makes "absolutely no mention of anything to do with the LGBT community."
"Not only is the text of the executive order completely agnostic on LGBT-related matters, the Trump administration has now explicitly asserted that 'there were no plans for a separate order that addressed LGBT issues,'" said Angelo.
The main provision of the order directs the IRS to use "maximum enforcement discretion" to ease restrictions on churches and religious organizations with a tax-exempt status that would allow them to engage partisan politics, including possible endorsement of candidates running for public office.
Although the executive order says it "shall be implemented consistent with applicable law," White House spokesperson Sarah Sanders told reporters in a press briefing shortly after Trump signed the order that the order would direct the IRS "not to enforce the Johnson Amendment."
She was referring to a provision of a 1954 federal law that prohibits churches and other groups with a 501(c)(3) non-profit tax exemption from making political endorsements.
Another provision in the order directs the Department of Health and Human Services to change Obamacare regulations so that people of faith don't have to pay for contraception related costs in health insurance policies if doing so would be against their religious beliefs.
That provision also makes no mention of LGBT issues.
The biggest concern that LGBT advocates had about the order was that it might include a provision that would effectively repeal an executive order issued by President Obama prohibiting federal contractors from engaging in employment discrimination against LGBT employees on religious grounds.
A leaked draft of the order that surfaced in February had such a provision in it. But the order signed by Trump on Thursday morning during a National Day of Prayer ceremony at the White House included no such provision.
"Once again the LGBTQ community is moved to celebrate the idea that we have dodged a bullet," said Eliza Byard, executive director of the Gay, Lesbian and Straight Education Network, a national organization that advocates for LGBT students in the nation's public schools.
"But we remain deeply concerned by today's executive order both in its substance and its hints to what lies ahead," she said, pointing to the authority it gives Sessions to interpret religious liberty "protections" in federal laws and regulations.
Anthony Romero, executive director of the ACLU's national office, said the ACLU planned to file a lawsuit challenging the Trump executive order on grounds that it violates constitutional protections calling for the separation of church and state.
"Whether by executive order or through backroom deals, it's clear that the Trump administration and congressional leadership are using religion as a wedge to further divide the country and permit discrimination," Romero said in a statement. "We intend to file suit today."
The Alliance Defending Freedom, a religious right organization that has supported religious freedom legislation in states that opponents say would sanction anti-LGBT discrimination, issued a statement saying the Trump executive order didn't go far enough to advance that cause.
"President Trump's executive order provides hope, on this National Day of Prayer, that he will move fully toward fulfilling his promise to protect religious freedom for countless Americans," the group's general counsel, Michael Farris, said in a statement.
"Regrettably, this executive order leaves that promise as yet unfulfilled," he said. "As we have explained, though we appreciate the spirit of today's gesture, vague instructions to federal agencies simply leave them wiggle room to ignore that gesture, regardless of the spirit in which it was intended."
HRC's legal director Sarah Warbelow, however, says in the HRC statement that the language in the Trump executive order would likely do what Farris and his group wants it to do.
According to Warbelow's legal analysis of the order, these and other LGBT protections put in place during the Obama administration could be undermined:
• The Department of Health and Human Services could be ordered to amend 2011 hospital visitation regulations to take away hospital visitation rights for same-sex partners and spouses.
• The Department of Housing and Urban Development could be required to amend its 2011 Equal Access Rule, which bans discrimination based on sexual orientation and gender identity in various HUD housing programs.
• The Social Security Administration could adopt a policy of allowing workers to refuse on religious grounds to process spousal or survivor benefits paperwork for a same-sex spouse.
• Personnel officers in federal agencies could be allowed to refuse to process a federal worker's application for a same-sex spouse's health insurance coverage.
Rea Carey, executive director of the National LGBTQ Task Force, said the executive order would clearly have a negative impact on LGBT people despite that fact that LGBT issues are not specifically mentioned in the order.
"This order manipulates faith to advance the proliferation of discrimination against people who rely on reproductive contraception for their healthcare needs as well as taxpayer funded use of money in politics to promote discrimination," Carey said.
"The irony of this order is that millions of people of faith are affronted by the fact that Trump is misusing religious freedom to promote something they believe is morally wrong," Carey said. "Our constitution clearly already preserves these rights and covers the freedom of religion. No executive order will ever change that fundamental right."
Lou Chibbaro Jr. has reported on the LGBT civil rights movement and the LGBT community for more than 30 years, beginning as a freelance writer and later as a staff reporter and currently as Senior News Reporter for the Washington Blade. He has chronicled LGBT-related developments as they have touched on a wide range of social, religious, and governmental institutions, including the White House, Congress, the U.S. Supreme Court, the military, local and national law enforcement agencies and the Catholic Church. Chibbaro has reported on LGBT issues and LGBT participation in local and national elections since 1976. He has covered the AIDS epidemic since it first surfaced in the early 1980s. Follow Lou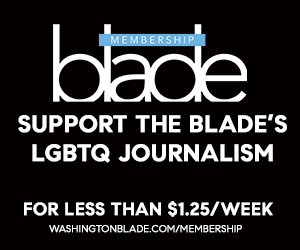 Sign Up for Blade eBlasts