August 4, 2017 at 2:26 pm EDT | by Mark Lee
D.C. becoming more of a nightlife 'bar town': report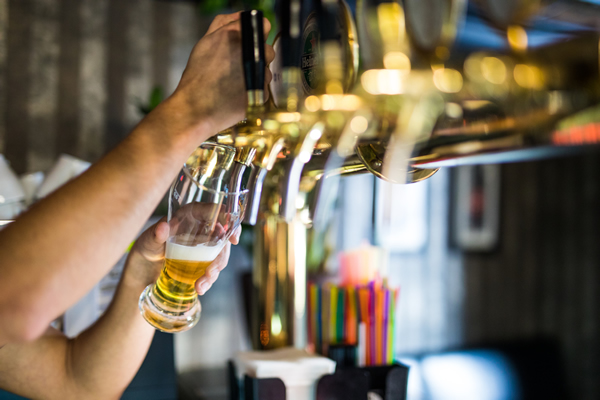 In D.C., the local establishment where you find yourself enjoying a meal with friends may, in fact, be licensed as a bar. Likewise, your favorite drinking and socializing spot, where you might also occasionally find yourself dancing, may actually be licensed as a restaurant.
Despite the modern-era reduction in license-class distinctions, a report released by the D.C. Policy Center last week revealed that "D.C. is becoming more of a bar town." This followed the Center's report a month earlier detailing a more than 50 percent growth in the number of alcohol-licensed bars, restaurants and nightclubs since 2008 – increasing from slightly more than 800 venues to nearly 1,300 in 2016.
In the most recent report, "As D.C. Nightlife Grows, It's Becoming More of a Bar Town," senior fellow Kate Rabinowitz details the dominance of bar licenses as a share of the huge increase in new liquor licenses issued. The city's population grew by over 100,000 during the same period.
"Liquor licenses for bars increased 77 percent, and restaurants grew 37 percent – but the number of nightclubs actually fell by 8 percent. This brought the overall proportion of D.C. nightlife to 25 percent bars, 71 percent restaurants, and 4 percent nightclubs," reports Rabinowitz.
The regulatory distinction between restaurant and bar licenses, however, is partly overblown. As a result of industry advocacy and public support for licensing reforms over the past 15 years, the efforts of long-notorious and now less-powerful small anti-nightlife "citizens groups" to push for a licensing system that strictly defines venue types and restricts allowable activities have largely failed.
Attempts to restrict restaurants as places to sit and dine, bars as separate spaces for drinking, and nightclubs for what some seem to view as post-sundown halls of hedonism for dancing and entertainment did not succeed.
Restaurants, for example, can offer a full menu of amenities such as music, DJs, dancing, entertainment, and have cover charges – provided that they meet certain food sales requirements and gain approval for an "entertainment endorsement." Multi-activity restaurants are increasingly commonplace and extremely popular. Big battles are still fought over those permits and nightclubs are reflexive targets for the persisting gaggles of objectors.
Of note, the D.C. Policy Center report reveals that the explosion in new venue liquor licenses "expanded the footprint of the District's nightlife." Restaurant-class licenses in "older neighborhoods" play a bigger nightlife role, but bar licenses are characteristic of newer and emerging development areas. Rabinowitz characterizes these as the city's "new nightlife 'hubs'."
An examination of the growth in D.C. nightlife venues indicates population-growth areas, especially those favored by newer and younger residents, are where nightlife – and bar licensing in particular – is growing.
Neighborhoods now predominantly favored by LGBT residents for living and as entertainment destinations have all seen dramatic growth in both the number of nightlife establishments as well as disproportionate new licensing for bars.
The number of gay-centric nightlife venues, however, continues to shrink and is currently at the lowest level of the past four decades.
"The past eight years haven't been all growth for D.C. nightlife. Longtime establishments that served predominantly LGBTQ … residents have shuttered, and new establishments have not filled the gap," Rabinowitz reports.
The reports also confirm the lingering economic harm of liquor license moratoriums in the city – even following loosened restrictions or eventual elimination. Once the damage is done there is little evidence of an area's ability to recover from these prohibitions on nightlife business expansion.
Former longstanding moratoriums in Dupont Circle, Adams Morgan, Georgetown and Glover Park "have held down growth in those neighborhoods," the Center reports. However, "while moratorium lifts in these neighborhoods may bring a modest increase in restaurants or bars, it is unlikely to move these neighborhoods back to the nightlife dominance they once had."
Both D.C. Policy Center reports on District nightlife are available online: "As D.C. Nightlife Grows, It's Becoming More of a Bar Town" and "Mapping D.C.'s Nightlife Boom".
Mark Lee is a long-time entrepreneur and community business advocate. Follow on Twitter: @MarkLeeDC. Reach him at OurBusinessMatters@gmail.com.