Diversity @ Work speaker series to debut at Carey school
Inaugural panel discussion to feature local LGBT professionals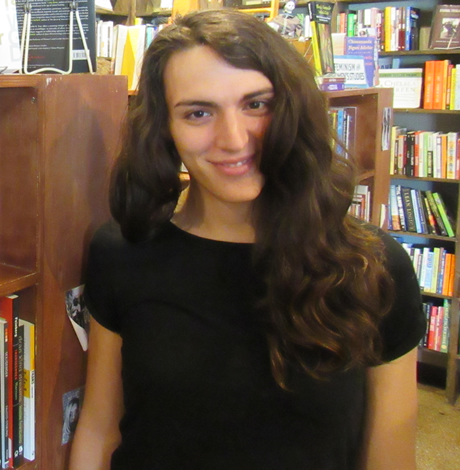 Out For Business, the LGBT club of the Johns Hopkins Carey Business School, will present its first [email protected] Speaker Series on Sept. 15 from 3:30 to 5 p.m. at Carey Business School Room 204A/B, 100 International Drive in Baltimore's Harbor East.
In partnership with Allasys and the Maryland LGBT Chamber of Commerce, Out For Business has invited business leaders in Baltimore to come share their professional and personal experiences, as well as advice on how to navigate the workplace as an LGBT individual.
The inaugural panel discussion will feature four local LGBT professionals about their experiences navigating the workplace and get tips for how to thrive at work.
The panelists include MDLGBT Chamber of Commerce President Betsy Cerulo; FreeState Justice Attorney, Laura DePalma; MedStar Harbor Hospital VP Operations, Jill Johnson; and Baltimore Transgender Alliance Executive Director, Ava Pipitone.
The panel discussion will be followed by a networking happy hour from 5-7 p.m. at the nearby James Joyce Pub. The first 50 RSVPs on Eventbrite will receive a voucher for one free drink at happy hour, courtesy of Out For Business.
"Diversity in business empowers individuals to be their most authentic and confident selves at work, especially for LGBTQ individuals who often live quietly in the shadows," said Thomas Trinh and Elyse Heob, co-presidents of Out For Business in a joint statement to the Blade. "This panel will serve as an open dialogue for us to share our stories, our lessons, and celebrate our successes as an influential community in business."
The event is free and business casual attire is suggested.   
D.C. LGBTQ community reckons with anti-Blackness, gentrification after Nellie's incident
Preston Mitchum among those calling for boycott of U Street bar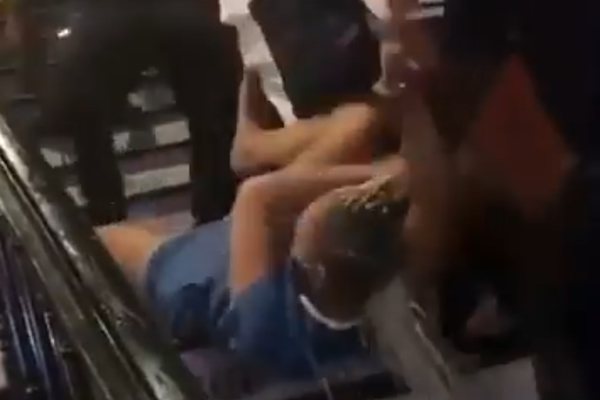 A video posted to Twitter earlier this month showed a member of Nellie's Sports Bar's security detail dragging Keisha Young, a 22-year-old Black woman, down the stairs by her hair after confusing her with a different customer who had reportedly tried to sneak liquor into the bar.
The video went viral, attracting massive online attention, including from Mayor Muriel Bowser and many others. A second video that appears to show an altercation between Young and other patrons seconds before security dragged her down the stairs has also emerged.
"Obviously, entrepreneurs enforce rules in their restaurants, but they're not allowed to assault anybody," Bowser told the Washington Post. "If that's a matter for the Metropolitan Police Department, we'll take it up."
In a Facebook post that has since been deleted, Nellie's responded to the surfacing of the video.
"We were incredibly upset and disturbed to see the unfortunate event that took place at Nellie's last night," referring to the June 12 incident. "We are undergoing a full investigation of the situation. At Nellie's, we foster an inclusive and safe environment, so events like this are completely unacceptable to us."
The statement garnered negative reactions online, forcing Nellie's to issue a follow-up statement, part of which read, "We offer a heartfelt apology to all who witnessed the horrific events of the past weekend … Nellie's will be closed this week as we evaluate this regrettable situation."
Since Nellie's closed and a protest in solidarity with Young was staged outside the bar on June 13, the queer community has been forced to reckon with what some describe as Nellie's history of racist practices, as well as D.C.'s increasing gentrification.
Accusations of racism at Nellie's are not new. Whitman-Walker Health in a June 15 tweet noted the incident that involved Young "is not the first time we have heard calls for respect for Black patrons of Nellie's Sports Bar." The Capital Pride Alliance in its statement about what happened to Young said Nellie's response "will impact the CPA's relationship with Nellie's."
"Over the years, the culture [at Nellie's] became one that seemed hell-bent on pushing Black patrons out and making it a bar more for straight people and white gay men. In fact, [owner] Doug Schantz has gone on record calling his bar 'straight-friendly'," said Preston Mitchum, director of policy for Unite for Reproductive and Gender Equity (URGE) and a former avid Nellie's patron. 
Mitchum moved to D.C. in 2011 and started frequenting Nellie's because of its reasonably priced drinks, which "sounded good" to him as a then-25-year-old professional.
On the alleged racial profiling at Nellie's, Mitchum added, "I noticed that when more Black people went, particularly on Sundays, security increased. That always felt peculiar because Friday and Saturday nights were packed and had less security, based on observation. Staff also paid minimal attention to the interactions [between] white patrons. In short, there were many racist interactions and drunken behavior, and no one moved a muscle."
Mitchum also claims that Black patrons were treated poorly compared to white customers in similar situations. He recalls incidents in which police officers were called on Black patrons and they were kicked out whereas many white patrons received warnings or "had fights broken up."
Nellie's in 2018 was embroiled in controversy over its display of a Blue Lives Matter flag on social media.
FOX 5 reported Nellie's claimed to display the flag in support of LGBTQ officers who were "attending a meeting in a welcoming space." However, many on social media were enraged by the display of the flag, which is viewed as opposing the Black Lives Matter movement, which hinges on advocating for victims of police brutality, and more importantly, reforming or abolishing the police and replacing it with community security efforts to reduce instances of racial profiling and Black deaths.
As a Black customer invested in making Nellie's safer for him and the rest of the POC queer community, Mitchum said he participated in a number of measures to help change the culture at Nellie's.
In a Facebook post published on his page, Mitchum wrote, "Myself and others have written letters, did interviews, conducted 'sensitivity' trainings, met with the owner, and even planted ourselves as observers to document our experiences."
The efforts, however, were in vain, as according to Mitchum, Schantz did not take the efforts seriously.
For instance, Mitchum in June 2017 met with Schantz and his manager to discuss the issues at Nellie's and to draft solutions moving forward. The meeting proved futile as Mitchum notes in a letter to Schantz, made public on social media, that among others things, asserts that Mitchum experienced rudeness from Schantz's manager and that Schantz uttered statements with racist undertones.
"I have revisited our conversation many times and I'm still unsure of the purpose of your manager at our May 30 meeting. Not only did it create an attacking atmosphere of two-on-one, she was your 'yes woman' thus another person to shut down my opinion because it didn't jive with both of yours," penned Mitchum.
Mitchum added, "I hope you can genuinely realize that you equated hip-hop music (that uses "fuck" and the N-word) to violence … there is no valid statistical proof that creates a casual relationship between rap music and violence. Even as I pressed this fact, your response (as well as your manager's) was 'it's his/my bar' so you can play any music you like."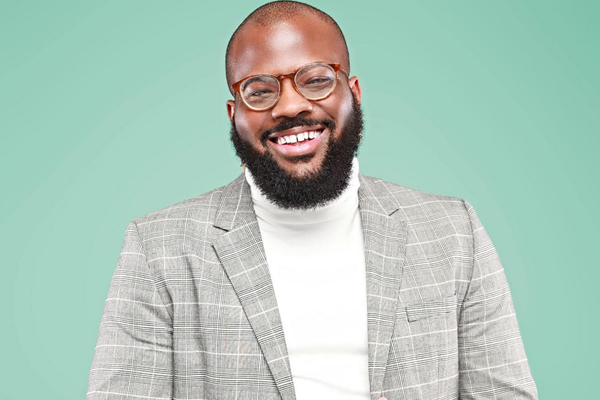 Given the lack of change in culture at Nellie's and the recent incident involving Young, Mitchum and others have called for a boycott of the bar.
A protest was staged outside Nellie's on June 13.
The Georgetown Voice reports that Nee-Nee Taylor, co-conductor of Harriet's Dreams (a Black-led community defense organization) said, "we ask the people to protest and boycott Nellie's because the owner, who is a white man, don't care about Black women."
The Georgetown Voice also reports that Mitchum, who was present at the protest, "accused Nellie's of relying on the business of Black patrons and gentrifying the local community while failing to care for its Black employees and patrons."
As Mitchum reflects on how venues safe for Black LGBTQ people are disappearing, he mentions, "What was once 'Chocolate City,' we now see a city hovering around 50 percent Black. That's intentional. I live a few blocks from U Street and anyone need not to be in the area to understand just how much the landscape has shifted."
Regarding places to frequent now, Mitchum recommends Mr. Braxton's Bar and Restaurant; Hook Hall; BIN 1301; and Fireplace.
The Washington Blade has reached out to Schantz for a response to Mitchum's allegations but did not receive a response.
Michael K. Lavers contributed to this story.
Chaos erupts at Loudoun County school board meeting over trans students rights proposal
Two people arrested, two others injured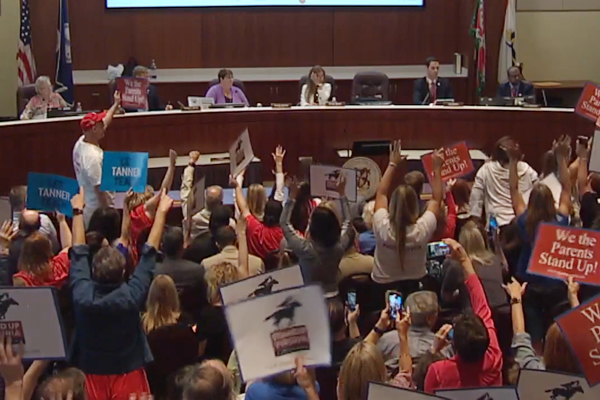 The Loudoun County School Board abruptly ended its meeting Tuesday as chaos erupted after parents who were against the school district's implementation of Policy 8040 failed to observe rules regarding disruptions and decorum.
Loudoun Now reports Vice Chair Atoosa Reaser made the motion to curtail public comment about an hour after that portion of the meeting began. A brawl then broke out between members of the public, and Loudoun County Sheriff's Department deputies were called to clear the room.
Two people were arrested, and two people also suffered minor injuries. The names of those who were taken into custody and injured have not been made public.
The school board resumed its meeting at 6:30 p.m. after it ended the public comment session and deputies cleared the room. The school board entered into closed session to meet with legal counsel and discuss negotiations involving a bid award.
In light of the events that transpired at the school board meeting, a group of LGBTQ groups in neighboring Fairfax County in a statement called upon prominent community members to condemn the anti-transgender hate in Loudoun County.
"A coalition of organizations based in Northern Virginia is calling on local officials … to condemn the rise of anti-LGBTQIA+ hate, in particular animosity towards transgender and gender-expansive students, on display in Loudoun County," reads the statement
"In addition, the coalition is asking for the denouncement of support for this hate from other local groups, including the Fairfax County Republican Committee, the Family Foundation of Virginia and the Family Research Council," it adds. "Finally, the members of these organizations are requesting visible displays of support for LGBTQIA+ students, particularly trans and gender-expansive students, in both words and deeds."
More than 300 people attended the school board meeting, with many of them opposing Policy 8040 which would allow transgender students to use their preferred name and pronouns regardless of the name and gender in their permanent education record. The proposed policy would also not require them to provide any substantiating evidence.
Parents also expressed their support for Policy 8040 during the public comment session.
They spoke in favor of inclusivity and equality in the Loudoun County School District.
Parents who were against the policy cited the need to respect biology and privacy as their arguments. In addition, some speakers, including former state Sen. Dick Black expressed anger at the previous school year's events such as the suspension of physical education teacher Tanner Cross after he refused to refer to trans students using their preferred pronouns.
"The crowd repeatedly cheered public speakers who lashed out at school board members and denounced the plan that would provide bathroom and locker room access based on a student's gender identity," WTOP News reports.
Only 51 of the 249 speakers who had signed up for public comment ended up speaking before Reaser's motion was passed.
Pride flags vandalized, stolen in Loudoun County town
'Bigoted efforts to terrorize members of our community will not stand'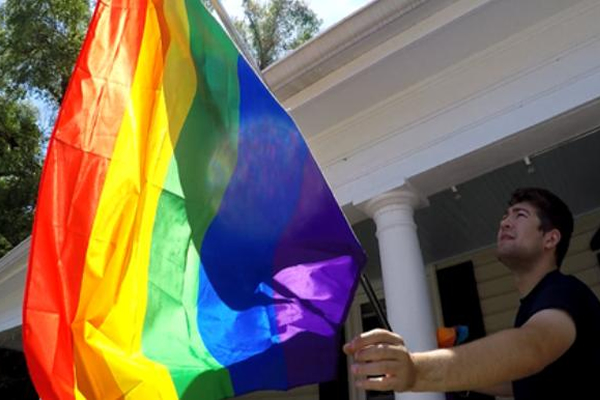 Vandals this week destroyed or stole Pride flags that Lovettsville residents had displayed on their homes.
Calvin Woehrie told WUSA the vandals used a blade to slash the Pride flag that was hanging from his house. The D.C. television station reported the vandals also targeted Woehrie's neighbors who are a lesbian couple with four children.
The Loudoun County's Sheriff's Office said the vandals damaged five Pride flags from three homes and they stole two more. A spokesperson for the Loudoun County's Sheriff's Office told WUSA the vandalism is being investigated as a possible hate crime.
"I wanted to address events that happened over the weekend, that are deplorable and devastating to the entire community," said Lovettsville Mayor Nate Fontaine in a letter he sent to town residents on June 16. "Over the weekend, there was destruction of property that specifically targeted our LGBTQ community. To make this even more heinous is that the destruction of property was done during Pride Month. To have property destroyed targeting members of our community is horrible and can be frightening for those targeted."
"For the individuals who committed these crimes, know that your bigoted efforts to terrorize members of our community will not stand," added Fontaine. "We are working closely with the Loudoun County Sheriff's Office and this has also been added as an agenda item for our June 24th Council meeting."
Glenn Youngkin, the Republican nominee to succeed Virginia Gov. Ralph Northam, on Saturday described the vandalism as "absolutely unacceptable."
"Whether someone is voicing an opinion or flying a flag, as Virginians — and as human beings — we must be respectful of one another," wrote Youngkin in a Facebook post.
"Politicians always seem to be pitting neighbor against neighbor, but I am committed to bringing people together around our shared values, like treating others the same way you want to be treated," he added. "We must all do better by respecting others' right to live their lives freely, without being targeted because of who they are."
WUSA reported Lovettsville residents bought Pride flags to replace the ones that had been vandalized and stolen.