10 years later, firestorm over gay-only ENDA vote still informs movement
Controversy over bill helped ensure commitment to inclusion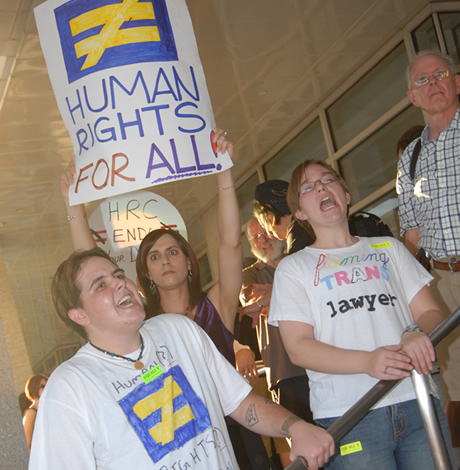 Ten years ago, a firestorm ignited in the LGBT community over a vote in the U.S. House that many transgender people remember vividly because it excluded them in favor of advancing employment non-discrimination protections to lesbian, gay and bisexual people.
The vote on the "gay-only" version of the Employment Non-Discrimination Act on Nov. 7, 2007, rocked the LGBT movement and prompted protests against the Human Rights Campaign and gay former Rep. Barney Frank (D-Mass.), who backed the bill, arguing it was the best that could be done at the time. The 10th anniversary of the vote is Tuesday.
But the omission galvanized transgender rights advocates to such an extent that for the next 10 years the LGBT movement committed to moving forward only legislation that included the full community — both at the state and federal level — and today advancement of a sexual-orientation only bill is impossible to imagine.
Dana Beyer, a Chevy Chase, Md.-based transgender activist who's running for state Senate in Maryland, said the vote on the gay-only version of ENDA was "a landmark" for trans inclusion in the LGBT movement.
"Whenever I discuss the progress that we've made, which has been remarkable, I begin there because that was basically the first real battle for the trans community on the national stage and over the succeeding decade, we've made incredible progress," Beyer said.
Beyer added from that time forward after the creation of United ENDA — an unprecedented coalition of more than 400 organizations that emerged to fight against trans exclusion —there have been with few exceptions "no instances of any gay activism or legislation that did not include trans people."
Rebecca Juro, a New Jersey-based transgender activist and radio show host, said the reaction to the vote on the sexual-orientation only version of ENDA was a significant turning point.
"The reason why Barney Frank was able to introduce and get the kind of support he did in Congress was because there was a feeling [of] who cares, nobody knows about these people," Juro said. "What that did was it said, 'No, no, no,' you're wrong.' and people are going to call you out and it's going to cost you politically and people are going to show up at the Human Rights Campaign galas and make it difficult for you to solicit money for your campaign."
In the year Democrats assumed control of the U.S. House after more than a decade of Republican majorities, then-House Speaker Nancy Pelosi (D-Calif.) brought the gay-only version of ENDA to the floor after Frank determined an initial version of the bill that included protections based on gender identity wouldn't get a majority vote in the chamber.
That version of ENDA would pass on the House floor by a vote of 235-184. (Among those voting in favor of the bill was Rep. Paul Ryan (R-Wis.), although he also voted in favor of a motion to recommit that would have killed the legislation.)
Voting "no" on the legislation were 25 Democrats, many of whom — such as Rep. Jerrold Nadler (N.Y.), former Rep. Anthony Weiner (N.Y.) and former Rep. Michael Michaud (Maine) — rejected the measure on the basis it lacked protections for transgender people. Then-Rep. Tammy Baldwin (D-Wis.), now a U.S. senator and still the only out lesbian in Congress, proposed an amendment to insert gender identity, but withdrew the measure before it could come to a vote.
Joe Solmonese, president of the Human Rights Campaign at the time of the vote, backed ENDA and 10 years later stood by his decision as a means to develop the legislation, citing "no hope of passing any legislation into law" with George W. Bush as president.
"It was a tactical decision to take a step in the direction of getting what we ultimately wanted, which was maybe a non-inclusive bill in the House, and inclusive bill in the Senate that would end up as a fully inclusive bill or that would end up as a fully inclusive bill by the time Obama became president," Solmonese said.
Recalling a "great deal of debate within the community and the House" about whether sufficient votes for transgender inclusion were present, Solmonese said lawmakers pledged to LGBT activists support for a trans-inclusive bill before, then told Pelosi not bring such a measure to the floor.
"They sort of wanted it both ways," Solmonese said. "They knew what they were supposed to do, but they didn't want to do it."
Frank said the vote on ENDA was "very important" because it paved the way for legislative victories on hate crimes protections and "Don't Ask, Don't Tell" repeal.
"One of the problems we've had historically — we don't have it anymore — is members being afraid to vote for us because they thought they could be defeated, that it would be a tough vote," Frank said. "So, here we had members voting for a bill that was a broad protections for LGB people and nobody lost because of it. That was very helpful in setting the foundation."
In his book "A Life in Politics," Frank recounts the deliberative process that went into bringing the gay-only version of ENDA to the House floor, maintaining Republicans would have sought to amend the bill to remove the transgender protections.
Baldwin disagreed with moving forward without transgender inclusion, Frank wrote, even though she ultimately voted for the bill. (Baldwin's office didn't respond to a request to comment for this article.)
"As we approached the final vote, Tammy did her own informal whip count and concluded we would have enough Democratic votes," Frank wrote. "Speaker Pelosi, a strong supporter of the bill, asked Tammy for her count, checked it herself with the members, and decided that Tammy had been too optimistic — a conclusion that [former Rep. George Miller and I, based on our own work, fully agreed with. We did not have the votes for the inclusive-bill. It was sadly but unmistakably clear to Pelosi, Miller and me that we could pass ENDA only in its earlier form, covering only lesbian, gay and bisexual workers."
Backing that move was the Human Rights Campaign, which continued to support the gay-only measure as one of five co-signers in a letter to Congress dated Nov. 6, 2007 organized by the Leadership Conference on Civil & Human Rights.
"With each significant step toward progress, the civil rights community has also faced difficult and sometimes even agonizing tradeoffs," the letter said. "We have always recognized, however, that each legislative breakthrough has paved the way for additional progress in the future. With respect to ENDA, we take the same view."
That vote sent a shockwave through the transgender community, which quickly marshaled opposition to the bill and protested any further advancement without their protections. Many angrily accused the Human Rights Campaign and Frank of abandoning the transgender community.
Mara Keisling, executive director of the National Center for Transgender Equality, said the vote was "one of the most important things that happened in the movement in the last 20 years."
"We wanted everything to be about setting up for what the movement was after this vote happened, after the bill died for the year," Keisling said. "What were the lessons the movement was going to learn, what was the lesson HRC was going to learn, what was the lesson Barney Frank was going to learn?"
The night before the vote, Keisling said, she received a call from Frank's office and was informed "it was over" a for trans-inclusive version of ENDA. Together with Dave Noble, then policy director of the National LGBTQ Task Force, Keisling said she planned to write a letter to Baldwin in hopes she could influence the vote, but was told the gay-only ENDA would move forward.
That night, Keisling and Noble reached out to the National Center for Lesbian Rights and other groups to form a coalition against the trans omission. By morning more than 60 organizations had joined United ENDA, Keisling said, a coalition that refused to support the gay-only bill and pledged to work with lawmakers to support a trans-inclusive measure.
Keisling said other groups "were calling up slightly annoyed that they hadn't been asked to sign on" and soon the coalition grew to several hundred members.
"It essentially was because Barney Frank and HRC had totally lost touch with what the community was," Keisling said. "So they did not understand that this would not be alright with the community and we all found out very quickly in a matter of hours that it really was not, that the movement had really become an LGBT movement and it wasn't going to fly to take trans people out. So not only were we against the vote happening, we were the leaders of being against the vote happening."
The gay-only version of ENDA never reached Bush's desk for his veto, nor did any version of the bill — trans-inclusive or otherwise — come up in the U.S. Senate even though Democrats controlled both chambers of Congress.
Had ENDA been brought to the floor for a vote in the Senate, the sponsor would likely have been the late Sen. Edward Kennedy, who was one of the rare champions of LGBT rights at the time.
Solmonese said he didn't immediately remember why ENDA never came up in the Senate and said it "may have had to do with timing," but said Kennedy would only have moved forward with a trans-inclusive bill, not a gay-only ENDA, as part of the strategy for the House vote.
"He understood and supported the rationale of having an overarching strategy," Solmonese said. "George Bush is the president. This thing's not going to get passed into law. You do one version in the House, an inclusive version in the Senate, the leadership of both chambers is such that the conference committee would likely end up with something that was fully inclusive, right?"
Keisling, however, said "there was no Senate plan" because the Democratic majority in the chamber was seen as too marginal to advance ENDA, nor did Kennedy ever express an aversion to the gay-only version of the bill.
"The plan was that Barney Frank and HRC thought that it was worth passing the gay-only bill through the House, just move the ball forward and get members on the record as Barney said many times," Keisling said. "Everyone else believed that since it would never become law that year, we shouldn't exclude anyone."
Do the backers of the bill at that time have any regrets? Solmonese acknowledged a few even though he stood by his decision to support ENDA in 2007.
"I regret that I saw it one way, which was a step in building towards what all of us ultimately wanted and by no means a signal that that was the legislation that anybody would ultimately support, but the fact that many people didn't see it that way and many people simply saw the symbolism around the act as one that was divisive to the community, that was never the intention of HRC or my intention, but I certainly regret that that's the way that it unfolded," Solmonese said.
Frank said his "regret was we didn't have the votes" when asked about his approach and blustered at the suggestion anything else could have been done.
"I think to do nothing at all — that was the argument, if you can't include everybody, you can't include anybody — in the first place, that's not the history of the civil rights movement," Frank said. "I voted to help protect African Americans and immigrants and women. The civil rights movement…you move as much as you can as soon as you can and you build on that. So do I regret not trying hard to get votes? No, I tried as hard as I could to get the votes."
'The pendulum is all the way the other way'
Over the course of 10 years since that vote, it's hard to imagine Congress — or any other legislative body — passing legislation that excluded transgender people. Each successful version of ENDA introduced and advanced in Congress has been trans inclusive and its supporters have defended that language against any objection it. The Equality Act, the successor to ENDA that would ban anti-LGBT discrimination in employment and in all aspects of civil rights law, has consistently been trans inclusive.
Keisling said the commitment to trans inclusion among LGBT groups is "almost total."
"Most of the big LGBT organizations, including the legal organizations, the lion's share of their work now is trans work and, no, I don't think any of them would intentionally do work to cut trans people out. In fact, there are times that we have to talk people into doing things because they're afraid trans people will think it means cutting them out when it doesn't. So, yeah, the pendulum is all the way the other way, and then probably some extra."
Drew Hammill, a Pelosi spokesperson, pointed to enactment of the Matthew Shepard & James Byrd Jr. Hate Crimes Prevention Act and his boss' support for the Equality Act as evidence of her support for trans inclusion.
"Leader Pelosi was proud to lead the Congress as speaker in passing a fully inclusive hate crimes bill signed into law by President Obama in October of 2009," Hammill said. "A top priority for the leader is the Equality Act, comprehensive legislation to amend the Civil Rights Act and protect LGBT Americans from discrimination on the basis of sexual orientation, gender identity and sex. The leader believes that this legislation would pass the Congress now should Speaker Ryan allow a vote."
Times have changed for the Human Rights Campaign as well. In 2014, Chad Griffin, the current president of the Human Rights Campaign, apologized on behalf of his organization at the Southern Comfort transgender conference for having "done wrong by the transgender community in the past."
Transgender work has become a major component of the LGBT group's work. In recent years, the organization has opposed a gay-only non-discrimination bill in Michigan, worked to thwart the anti-trans House Bill 2 in North Carolina and successfully blocked an anti-trans bathroom bill in Texas. The organization has also opposed non-discrimination measures in Pennsylvania and Charlotte, N.C., without public accommodations protections, which were seen as a backdoor way of leaving out transgender people because of controversy over bathroom use.
Sarah McBride, who's transgender and press secretary for the Human Rights Campaign, said in the past 10 years the organization is "proudly and unequivocally continuing to fight for trans-inclusive protections" and will only back legislation that is fully inclusive.
"From Michigan to North Carolina to Birmingham, HRC has forcefully and aggressively blocked laws and policies that don't protect every LGBTQ person from discrimination while fighting to extend robust protections across the country," McBride said. "We are also working to accelerate the pace of progress in other ways, from raising the visibility of the transgender community, to incentivizing trans-inclusive healthcare through our Corporate Equality Index, to shining a spotlight on the epidemic of anti-transgender violence which is taking the lives of so many trans women of color."
But 2007 wasn't the last time there would be fighting within the LGBT community over ENDA. In 2013, major LGBT groups (again with the exception of the Human Rights Campaign) dropped support from a version of ENDA over the scope of its religious exemption, which would have provided leeway for religious institutions, like churches or religious schools, to discriminate against LGBT workers in non-ministerial positions even if the bill were to become law. In a reversal from 2007, the Senate passed the legislation, but it didn't come up for a vote in the Republican-controlled House.
Although ENDA has never become law, a growing consensus has emerged in the courts that Title VII of the Civil Rights Act of 1964, which prohibits employment discrimination on the basis of sex, also applies to anti-trans discrimination. Four federal appellate courts — the First, Sixth, Ninth and Eleventh circuit courts of appeals — have determined employment discrimination against transgender people is barred under Title VII, as has the U.S. Equal Employment Opportunity Commission.
Keisling cautioned against too much reliance on laws against sex discrimination because "things are in flux," noting U.S. Attorney General Jeff Sessions' withdrawal of support for transgender protections under Title VII and President Trump's appointment of anti-LGBT judges.
"We're still convinced that the courts are on our side, cases and decisions have been building up to support us and actually [the idea] trans people are supported by sex discrimination is better supported than that gay people are," Keisling said. "We just don't exactly know how that's going to maintain. We do know that there's a handful of both sexual orientation and gender identity cases moving up through the court system, so what I say now might not be true a month from now and certainly will be changed somewhat in a year."
Confidence in the legal landscape for trans protections under Title VII is at such a point that a pending petition filed by Lambda Legal before the U.S. Supreme Court seeking a nationwide ruling for gay protections under the law, but not explicit trans protections, hasn't registered as trans exclusion. The petition was filed on behalf of lesbian plaintiff Jackie Evans after the U.S. 11th Circuit Court of Appeals ruled against her.
Beyer said she's not bothered by the petition and it should only upset transgender activists "who don't bother to parse the specifics" and recognize the transgender victories in lower courts.
"We could have easily won [trans protections] nationwide first," Beyer said. "In this case, sexual orientation has been viewed differently and most courts haven't wanted to touch it until the Hively case in the 7th Circuit took it, and now we've got Evans. That's beginning to change. I'm certainly not at all offended by that because this is the way you go. You have a case and the case can't equally be broadened to include different classifications simply because the community would like it."
The social scene, in contrast to advocacy groups and the legal landscape, may not be as advanced in accepting transgender inclusion despite the explosion over ENDA 10 years ago. Transgender rights advocates noted a distinction between the LGBT community at large in accepting transgender people and advocacy groups.
Beyer said she doesn't see transgender inclusion at the social level "anywhere near as advanced" as the current legal landscape.
"Acceptance, affirmation in the general culture is one thing, but the fact that, say, 35 percent of Americans do know a trans person, doesn't mean that people are that much more comfortable with trans people," Beyer said. "I think on balance they are, but not overwhelmingly so."
Efforts to resist trans inclusion in the movement on occasion still emerge, although they're rare and don't represent mainstream LGBT views. In 2015, a petition was posted on Change.org titled "Drop the T" urging major LGBT organizations to "disassociate themselves from the transgender movement and return to representing their base support of gay men and lesbians." The petition, signed by 3,227 people, had no impact on transgender advocacy at LGBT groups.
But transgender advocates also saw a generational divide in the approach to trans inclusion on the social scene that meets what is now seen at the advocacy level.
Juro said college-aged LGBT activists just beginning to come into the movement have a much different view of trans inclusion than their LGBT elders.
"They're all like, no, you cannot separate, we're all in this together and trying to say we'll get rights for gay people without trans people is unacceptable," Juro said. "And our youth, let's be honest, are the ones who are driving the community. There the ones who get out there with the signs and the marches. People my age, 55, and old farts, we're not always as active as we used to be and these are the kids who are driving the movement."
In some respects, the transgender movement has evolved in strength to take on challenges on its own. Just recently, the National Center for Transgender Equality formed a 501(c)(4) political arm and the Breakthrough Fund, a political action committee and offshoot of the Trans United Fund run by transgender activists, launched with the goal of electing transgender people to public office.
Beyer said the transgender movement is rising to the occasion now that transgender issues have become the focus after many victories on gay rights.
"I think the grassroots trans community has seized the initiative simply because after marriage, after Obergefell, it seemed like the air went out of the gay balloon," Beyer said. "On a local level, there are still black trans women being murdered. There's still difficulty getting jobs for many trans people, particularly the younger ones. So, there's a lot of work that needs to be done."
With the LGBT movement changing dramatically, Keisling said "the LGBT movement is quickly becoming a trans movement," and now she's concerned "we're sending signals to the gay community that trans work is more important than gay work."
Nonetheless, Keisling cited concerns about insufficient trans presence in places where existing infrastructure is based on gay rights, such as states that have state LGBT equality groups, but no trans groups.
"That's fine as long as the LGBT movement is strong, but after marriage, if the movement's weakening…that means trans people don't have enough support from the LGBT group because it's weakening but they don't have the ability to have a strong trans group because there's an LGBT group," Keisling said. "I think that's a conversation we have to start having more explicitly."
D.C. man charged with 2020 anti-gay death threat rearrested
Defendant implicated in three anti-LGBTQ incidents since 2011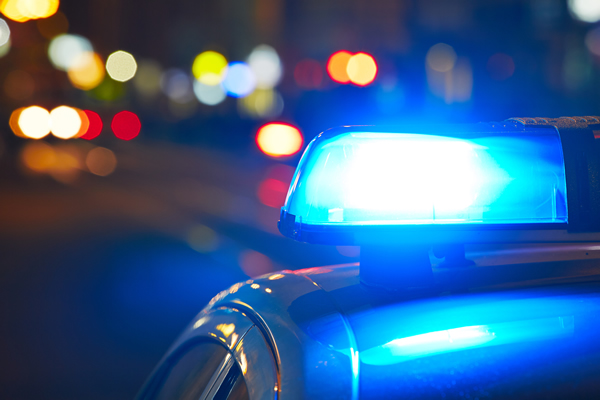 A D.C. man arrested in August 2020 for allegedly threatening to kill a gay man outside the victim's apartment in the city's Adams Morgan neighborhood and who was released while awaiting trial was arrested again two weeks ago for allegedly threatening to kill another man in an unrelated incident.
D.C. Superior Court records show that Jalal Malki, who was 37 at the time of his 2020 arrest on a charge of bias-related attempts to do bodily harm against the gay man, was charged on May 4, 2021 with unlawful entry, simple assault, threats to kidnap and injure a person, and attempted possession of a prohibited weapon against the owner of a vacant house at 4412 Georgia Ave., N.W.
Court charging documents state that Malki was allegedly staying at the house without permission as a squatter. An arrest affidavit filed in court by D.C. police says Malki allegedly threatened to kill the man who owns the house shortly after the man arrived at the house while Malki was inside.
According to the affidavit, Malki walked up to the owner of the house while the owner was sitting in his car after having called police and told him, "If you come back here, I'm going to kill you." While making that threat Malki displayed what appeared to be a gun in his waistband, but which was later found to be a toy gun, the affidavit says.
Malki then walked back inside the house minutes before police arrived and arrested him. Court records show that similar to the court proceedings following his 2020 arrest for threatening the gay man, a judge in the latest case ordered Malki released while awaiting trial. In both cases, the judge ordered him to stay away from the two men he allegedly threatened to kill.
An arrest affidavit filed by D.C. police in the 2020 case states that Malki allegedly made the threats inside an apartment building where the victim lived on the 2300 block of Champlain Street, N.W. It says Malki was living in a nearby building but often visited the building where the victim lived.
"Victim 1 continued to state during an interview that it was not the first time that Defendant 1 had made threats to him, but this time Defendant 1 stated that if he caught him outside, he would 'fucking kill him.'" the affidavit says. It quotes the victim as saying during this time Malki repeatedly called the victim a "fucking faggot."
The affidavit, prepared by the arresting officers, says that after the officers arrested Malki and were leading him to a police transport vehicle to be booked for the arrest, he expressed an "excited utterance" that he was "in disbelief that officers sided with the 'fucking faggot.'"
Court records show that Malki is scheduled to appear in court on June 4 for a status hearing for both the 2020 arrest and the arrest two weeks ago for allegedly threatening to kill the owner of the house in which police say he was illegally squatting.
Superior Court records show that Malki had been arrested three times between 2011 and 2015 in cases unrelated to the 2021 and 2020 cases for allegedly also making threats of violence against people. Two of the cases appear to be LGBTQ related, but prosecutors with the U.S. Attorney's Office did not list the cases as hate crimes.
In the first of the three cases, filed in July 2011, Malki allegedly shoved a man inside Dupont Circle and threatened to kill him after asking the man why he was wearing a purple shirt.
"Victim 1 believes the assault occurred because Suspect 1 believes Victim 1 is a homosexual," the police arrest affidavit says.
Court records show prosecutors charged Malki with simple assault and threats to do bodily harm in the case. But the court records show that on Sept. 13, 2011, D.C. Superior Court Judge Stephen F. Eilperin found Malki not guilty on both charges following a non-jury trial.
The online court records do not state why the judge rendered a not guilty verdict. With the courthouse currently closed to the public and the press due to COVID-related restrictions, the Washington Blade couldn't immediately obtain the records to determine the judge's reason for the verdict.
In the second case, court records show Malki was arrested by D.C. police outside the Townhouse Tavern bar and restaurant at 1637 R St., N.W. on Nov. 7, 2012 for allegedly threatening one or more people with a knife after employees ordered Malki to leave the establishment for "disorderly behavior."
At the time, the Townhouse Tavern was located next door to the gay nightclub Cobalt, which before going out of business two years ago, was located at the corner of 17th and R Streets, N.W.
The police arrest affidavit in the case says Malki allegedly pointed a knife in a threatening way at two of the tavern's employees who blocked his path when he attempted to re-enter the tavern. The affidavit says he was initially charged by D.C. police with assault with a dangerous weapon – knife. Court records, however, show that prosecutors with the U.S. Attorney's Office lowered the charges to two counts of simple assault. The records show that on Jan. 15, 2013, Malki pleaded guilty to the two charges as part of a plea bargain arrangement.
The records show that Judge Marissa Demeo on that same day issued a sentence of 30 days for each of the two charges but suspended all 30 days for both counts. She then sentenced Malki to one year of supervised probation for both charges and ordered that he undergo alcohol and drug testing and undergo treatment if appropriate.
In the third case prior to the 2020 and 2021 cases, court records show Malki was arrested outside the Cobalt gay nightclub on March 14, 2015 on multiple counts of simple assault, attempted assault with a dangerous weapon – knife, possession of a prohibited weapon – knife, and unlawful entry.
The arrest affidavit says an altercation started on the sidewalk outside the bar when for unknown reasons, Malki grabbed a female customer who was outside smoking and attempted to pull her toward him. When her female friend came to her aid, Malki allegedly got "aggressive" by threatening the woman and "removed what appeared to be a knife from an unknown location" and pointed it at the woman's friend in a threatening way, the affidavit says.
It says a Cobalt employee minutes later ordered Malki to leave the area and he appeared to do so. But others noticed that he walked toward another entrance door to Cobalt and attempted to enter the establishment knowing he had been ordered not to return because of previous problems with his behavior, the affidavit says. When he attempted to push away another employee to force his way into Cobalt, Malki fell to the ground during a scuffle and other employees held him on the ground while someone else called D.C. police.
Court records show that similar to all of Malki's arrests, a judge released him while awaiting trial and ordered him to stay away from Cobalt and all of those he was charged with threatening and assaulting.
The records show that on Sept. 18, 2015, Malki agreed to a plea bargain offer by prosecutors in which all except two of the charges – attempted possession of a prohibited weapon and simple assault – were dropped. Judge Alfred S. Irving Jr. on Oct. 2, 2015 sentenced Malki to 60 days of incarnation for each of the two charges but suspended all but five days, which he allowed Malki to serve on weekends, the court records show.
The judge ordered that the two five-day jail terms could be served concurrently, meaning just five days total would be served, according to court records. The records also show that Judge Irving sentenced Malki to one year of supervised probation for each of the two counts and ordered that he enter an alcohol treatment program and stay away from Cobalt.
Biden names civil rights veteran to U.S. Education Dept.
Catherine Lhamon's portfolio will include LGBTQ rights, sexual misconduct, racial discrimination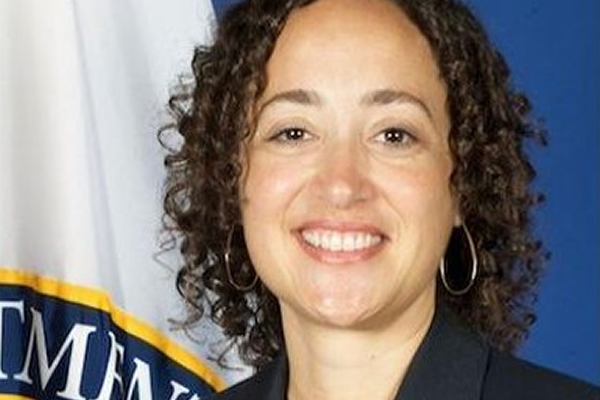 The White House announced Thursday that President Joe Biden has nominated Catherine Lhamon to serve as the Assistant Secretary of the Office for Civil Rights at the U.S. Department of Education.
Lhamon currently serves as a Deputy Assistant to the President and Deputy Director of the Domestic Policy Council for Racial Justice and Equity at the White House, where she manages the President's equity policy portfolio. She is a former attorney for the American Civil Liberties Union, (ACLU) and served as chair of the U.S. Commission on Civil Rights from 2017 to 2021.
She has also served as Legal Affairs Secretary to California Governor Gavin Newsom.
Her portfolio at Education, where she previously served in the same position under former President Barack Obama, will include LGBTQ rights, sexual misconduct and racial discrimination in the nation's K-12 schools, universities and colleges. Lhamon was Assistant Secretary for Civil Rights at the Department of Education, to which President Obama nominated her and the Senate confirmed her in 2013.
"I am thrilled that President Biden is nominating Catherine Lhamon to serve as Assistant Secretary of the Office for Civil Rights at the U.S. Department of Education. Catherine has devoted her career to ensuring equity is at the core of all her work," U.S. Secretary of Education Miguel Cardona said in a statement released by his office Thursday.
"She has a strong record of fighting for communities of color and underserved communities, whether as the current Deputy Director of the Domestic Policy Council, the former chair of the U.S. Commission on Civil Rights, or as a civil rights educator at Georgetown University. We are thrilled to have Catherine serving as Assistant Secretary for Civil Rights and know she will continue to fight for fairness, equity, and justice for all of America's students."
Lhamon has also litigated civil rights cases at National Center for Youth Law, Public Counsel Law Center, and the ACLU Foundation of Southern California.  Lhamon taught federal civil rights appeals at Georgetown University Law Center in the Appellate Litigation Program and clerked for the Honorable William A. Norris on the United States Court of Appeals for the Ninth Circuit.
"Catherine Lhamon is the right choice to lead the Department of Education's Office for Civil Rights at such a critical time for the country and the agency. There is much work to do in order to roll back the harmful policies and legacies of Betsy DeVos, from her attacks on transgender students to her unconscionable revocation of discriminatory discipline guidance and rewrite of Title IX rules," Adele Kimmel, Director of the Students' Civil Rights Project at Public Justice told the Blade in an email.
"During her previous tenure in the same job, Catherine embraced equality, enforced Title IX and ensured students had an ally inside the federal government. She will do so again, and the Senate should move to quickly confirm her so she can begin the work of restoring the Department's commitment to protecting the civil rights and dignity of students and implementing the Biden Administration's pledge to undo the damage that DeVos has done," Kimmel added.
Born in Virginia and raised in California, Lhamon graduated from Amherst College and Yale Law School. Lhamon and her husband and two daughters are transitioning between California and Maryland.
IDAHOBiT events to promote intersectionality, resilience, allyship
HRC president to participate in virtual panel in Canada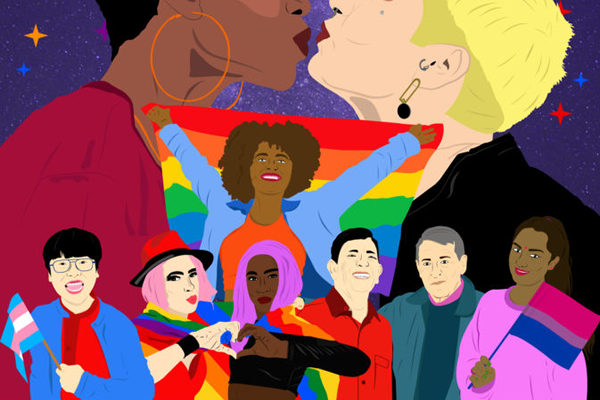 Intersectionality, resilience and allyship are among the themes that this year's International Day Against Homophobia, Biphobia and Transphobia events will highlight.
Dignity Network Canada and the Black Coalition for AIDS Prevention on May 17 will hold a virtual panel that will feature Human Rights Campaign President Alphonso David, Canadian Center for Gender and Sexual Diversity Executive Director Debbie Owusu-Akyeeah, Kaleidoscope Trust Executive Director Phyll Opoku-Gyimah, COC Nederland Executive Director Marie Ricardo and Rainbow Railroad Executive Director Kimahli Powell. The British High Commission and the Dutch Embassy in Canada have co-sponsored the event.
"We hope that this will be a really interesting and important conversation on intersectionality and transnational solidarity — and what it means for these leaders and their organizations during these times," reads a description of the event.
The U.N. LGBTI Core Group on May 17 will host a virtual IDAHOBiT event that will focus on ways to develop an "inclusive and diverse post-pandemic world." The World Bank Group, the International Monetary Fund, the European Bank for Reconstruction and Development, the Inter-American and Asian Development Banks host a similar IDAHOBiT commemoration.
"In order to heal from the economic, social, and public health dire impact the pandemic has had and still has, every plan of recovery must take into account a human-rights based, intersectional and gender responsive approach that addresses the specific needs of LGBTI persons in order not to leave them further behind," reads a description of the U.N. LGBTI Core Group event.
Several Russian LGBTQ rights groups on May 17 will hold a "Vaccine for Acceptance" event that seeks to bolster allyship in the country.
Retired South Africa Constitutional Court Justice Edwin Cameron on May 16 will moderate a virtual panel that will focus on religion and anti-LGBTQ violence.
Workplace Pride and the Dutch Embassy in Budapest on May 17 will host a symposium on LGBTQ-inclusive workplaces in Hungary. M.V. Lee Badgett, an economics professor at the University of Massachusetts, on the same day will participate in a webinar the U.S. Embassy in Singapore is hosting with Oogachaga, a local LGBTQ advocacy group.
Haver Srbija, a Serbian NGO, on May 15-16 will hold Falafel, a film festival that seeks to build "bridges and promotes Israeli, Jewish and LGBTQI culture and communities" and highlight "various social issues in the context of the fight against prejudice, discrimination, anti-Semitism, homophobia and xenophobia and encourages the audience to develop critical thinking on the issue of these topics." Proud Lebanon is slated to hold a series of six webinars between May 17-22 that will focus on feminism, LGBTQ rights and other topics.
The National Center for Sexual Education in Cuba will hold a series of virtual forums and other events through the month to commemorate IDAHOBiT.
CENESEX Director Mariela Castro, whose father is former Cuban President Raúl Castro, during a May 4 press conference in Havana said the IDAHOBiT events are part of the process of amending the country's family code to make it more equitable for LGBTQ Cubans. Mariela Castro said a bill to amend it will be introduced in the Cuban Parliament in July.
"I was able to appreciate that the majority of the population … is in favor of recognizing the rights of LGBTI+ people and especially the rights in the family sphere that include the possibility, the option, of marriage," said Mariela Castro during the press conference, according to Tremenda Nota, the Washington Blade's media partner in Cuba.
IDAHOBiT commemorates the World Health Organization's 1990 decision to declassify homosexuality as a mental disorder.
This year's events will take place against the backdrop of a pandemic that continues to exacerbate existing inequalities for LGBTQ people and other vulnerable groups around the world.
Consensual same-sex sexual relations remain criminalized in dozens of countries. Violence based on gender identity and sexual orientation remains rampant in the U.S. and throughout the world.