GLAAD Media Awards 2018 releases nominees
Netflix raked in the highest number of nominations for TV shows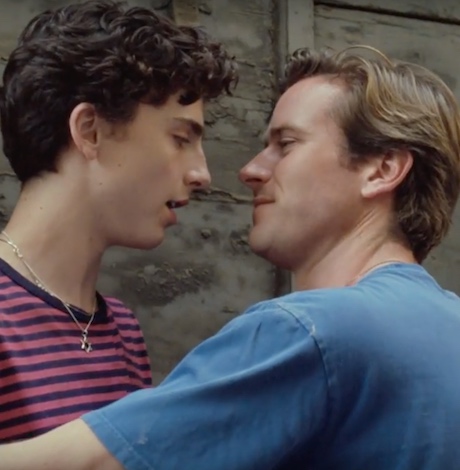 The 29th annual GLAAD Media Awards announced its 2018 nominees at the Sundance Film Festival on Friday via Trace Lysette ("Transparent") and Wilson Cruz ("Star Trek: Discovery").
Netflix raked in the most nominations for television with seven nominations. ABC, CBS and NBC came in at a close second with six nominations. This was also the first time the category Outstanding Kids & Family Programming was introduced which recognizes "Andi Mack," and "Doc McStuffins," among others, for their LGBT inclusion.
Critically-acclaimed films "Call Me By Your Name," "Lady Bird" and "The Shape of Water" also scored nominations.
For music, Miley Cyrus, Sam Smith, Halsey and Kesha all earned nominations for Outstanding Music Artist.
Special recognition was also given to the animated short film "In a Heartbeat," written and directed by Esteban Bravo and Beth David, as well as Jay-Z's track "Smile," about his mother's coming out, from his album "4:44."
Check out the full list of nominees below.
OUTSTANDING FILM – WIDE RELEASE
"Battle of the Sexes" (Fox Searchlight)
"Call Me by Your Name" (Sony Pictures Classics)
"Lady Bird" (A24)
"Professor Marston and the Wonder Women" (Annapurna Pictures)
"The Shape of Water" (Fox Searchlight)
OUTSTANDING FILM – LIMITED RELEASE
"BPM" (The Orchard)
"A Fantastic Woman" (Sony Pictures Classics)
"God's Own Country" (Samuel Goldwyn Films/Orion Pictures)
"Thelma" (The Orchard)
"The Wound" (Kino Lorber)
OUTSTANDING COMEDY SERIES
"The Bold Type" (Freeform)
"Brooklyn Nine-Nine" (FOX)
"Crazy Ex-Girlfriend" (The CW)
"Modern Family" (ABC)
"One Day at a Time" (Netflix)
"One Mississippi" (Amazon)
"Superstore" (NBC)
"Survivor's Remorse" (Starz)
"Transparent" (Amazon)
"Will & Grace" (NBC)
OUTSTANDING DRAMA SERIES
"Billions" (Showtime)
"Doubt" (CBS)
"The Handmaid's Tale" (Hulu)
"Nashville" (CMT)
"Sense8" (Netflix)
"Shadowhunters" (Freeform)
"Star" (FOX)
"Star Trek: Discovery" (CBS All Access)
"This Is Us" (NBC)
"Wynonna Earp" (Syfy)
OUTSTANDING INDIVIDUAL EPISODE (in a series without a regular LGBTQ character)
"Chapter 8", "Legion" (FX)
"Grace", "Pure Genius" (CBS)
"Lady Cha Cha", "Easy" (Netflix)
"The Missionaries", "Room 104" (HBO)
"Thanksgiving", "Master of None" (Netflix)
OUTSTANDING TV MOVIE OR LIMITED SERIES
"American Horror Story: Cult" (FX)
"Feud: Bette and Joan" (FX)
"Godless" (Netflix)
"Queers" (BBC America)
"When We Rise" (ABC)
OUTSTANDING KIDS & FAMILY PROGRAMMING
"Andi Mack" (Disney Channel)
"Chosen Family", "Danger & Eggs" (Amazon)
"The Emergency Plan", "Doc McStuffins" (Disney Channel)
"The Loud House" (Nickelodeon)
"Steven Universe" (Cartoon Network)
OUTSTANDING DOCUMENTARY
"Chavela" (Music Box Films)
"Gender Revolution: A Journey with Katie Couric" (National Geographic)
"Kiki" (Sundance Selects)
"Real Boy"- "Independent Lens" (PBS)
"This is Everything: Gigi Gorgeous" (YouTube Red)
OUTSTANDING REALITY PROGRAM
"Gaycation with Ellen Page" (Viceland)
"I Am Jazz" (TLC)
"RuPaul's Drag Race" (VH1)
"Survivor: Game Changers" (CBS)
"The Voice" (NBC)
OUTSTANDING MUSIC ARTIST
Miley Cyrus, "Younger Now" (RCA Records)
Halsey, "Hopeless Fountain Kingdom" (Astralwerks Records)
Honey Dijon, "The Best of Both Worlds" (Classic Music Company)
Kehlani, "SweetSexySavage" (TSNMI/Atlantic Records)
Kelela, "Take Me Apart" (Warp Records)
Kesha, "Rainbow" (Kemosabe/RCA Records)
Perfume Genius, "No Shape" (Matador Records)
Sam Smith, "The Thrill of It All" (Capitol Records)
St. Vincent, "MASSEDUCTION" (Loma Vista Recordings)
Wrabel, "We Could Be Beautiful" (Epic/Sony Records)
OUTSTANDING COMIC BOOK
"America," written by Gabby Rivera (Marvel Comics)
"The Backstagers," written by James Tynion IV (BOOM! Studios)
"Batwoman," written by Marguerite Bennett, James Tynion IV (DC Comics)
"Black Panther: World of Wakanda," written by Roxane Gay, Ta-Nehisi Coates, Yona Harvey, Rembert "Browne" (Marvel Comics)
"Deadman: Dark Mansion of Forbidden Love," written by Sarah Vaughn (DC Comics)
"Goldie Vance," written by Hope Larson, Jackie Ball (BOOM! Studios)
"Iceman," written by Sina Grace (Marvel Comics)
"Lumberjanes," written by Kat Leyh, Shannon Watters (BOOM! Studios)
"Quantum Teens are Go," written by Magdalene Visaggio (Black Mask Comics)
"The Woods," written by James Tynion IV (BOOM! Studios)
OUTSTANDING DAILY DRAMA
"The Bold and The Beautiful" (CBS)
"Days of Our Lives" (NBC)
"The Young & the Restless" (CBS)
OUTSTANDING TALK SHOW EPISODE
"Australia Marriage Equality", "Last Week Tonight with John Oliver" (HBO)
"Danica Roem", "The Opposition with Jordan Klepper" (Comedy Central)
"Laila and Logan Ireland, Transgender Military Couple", "The Ellen DeGeneres Show" (syndicated)
"Laverne Cox and Gavin Grimm", "The View" (ABC)
"Trans Veterans React to Ban", "The Daily Show with Trevor Noah" (Comedy Central)
OUTSTANDING TV JOURNALISM – NEWSMAGAZINE
"A Boy Named Lucas", "20/20" (ABC)
"China Queer", "The Naked Truth" (Fusion)
"Gay Purge?", "Nightline" (ABC)
"The Pulse of Orlando: Terror at the Nightclub", "Anderson Cooper 360" (CNN)
"Trans Youth", "VICE on HBO" (HBO)
OUTSTANDING TV JOURNALISM SEGMENT
"The Abolitionists Face the Love Army" KAPP-KVEW Local News (KAPP-35/KVEW-42 [Tri Cities/Yakima, Wash.])
"DJ Zeke Thomas Goes Public", "Good Morning America" (ABC)
"Murders Raise Alarm for Transgender Community", "NBC Nightly News with Lester Holt" (NBC)
"Transgender Murders in Louisiana Part of Disturbing Trend", "CBS Evening News" (CBS)
"Transgender Rights under Fire in Trump Era", "AM Joy" (MSNBC)
OUTSTANDING NEWSPAPER ARTICLE
"Fearfully and Wonderfully Made: The Journey of a Transgender Man" by Lauren McGaughy (The Dallas Morning News)
"Lesbian College Coaches Still Face Difficult Atmosphere to Come Out" by Shannon Ryan (Chicago Tribune)
"Pulse Victims' Families in Puerto Rico: 'We Have to Cry Alone'" by Jennifer A. Marcial Ocasio (Orlando Sentinel)
"Revised Guidance on HIV Proves Life-Transforming" by Lenny Bernstein (The Washington Post)
"The Silent Epidemic: Black Gay Men and HIV" [series] (The Atlanta Journal-Constitution)
OUTSTANDING MAGAZINE ARTICLE
"America's Hidden H.I.V. Epidemic" by Linda Villarosa (The New York Times Magazine)
"Beyond 'He' or 'She': The Changing Meaning of Gender and Sexuality" by Katy Steinmetz (Time)
"Forbidden Lives: The Gay Men Who Fled Chechnya's Purge" by Masha Gessen (The New Yorker)
"Free Radical" by Nathan Heller (Vogue)
"Trans, Teen, and Homeless" by Laura Rena Murray (Rolling Stone)
OUTSTANDING MAGAZINE OVERALL COVERAGE
The Advocate
Billboard
People
Teen Vogue
Time
OUTSTANDING DIGITAL JOURNALISM ARTICLE
"The Ballad of Bobby Brooks, the First Gay Student-Body President of Texas A&M" by Lauren Larson (GQ.com)
"For Those We Lost and Those Who Survived: The Pulse Massacre One Year Later" by James Michael Nichols (HuffPost Queer Voices)
"'I Am a Girl Now,' Sage Smith Wrote. Then She Went Missing." by Emma Eisenberg (Splinter)
"Meet the Transgender Student Who Fought Discrimination at His Maryland High School (and Won)" by Nico Lang (INTO)
"Why Bisexual Men Are Still Fighting to Convince Us They Exist" by Samantha Allen (Splinter)
OUTSTANDING DIGITAL JOURNALISM – MULTIMEDIA
"Former Patriots and Chiefs Tackle Ryan O'Callaghan Comes Out as Gay" by Cyd Zeigler (Outsports/SB Nation)
"Made to Model: Trans Beauty in Fashion" (LogoTV.com)
"'This Is How We Win': Inside Danica Roem's Historic Victory" by Diana Tourjée (Broadly.Vice.com)
"Transgender Day of Remembrance" by Saeed Jones (AM to DM, BuzzFeed News)
"US Travel Ban Leaves LGBT Refugees in Limbo" by Nina dos Santos (CNN.com)
OUTSTANDING BLOG
Autostraddle
Gays With Kids
My Fabulous Disease
Pittsburgh Lesbian Correspondents
Transgriot
OUTSTANDING SCRIPTED TELEVISION SERIES
"Las chicas del cable" (Netflix)
"La doble vida de Estela Carrillo" (Univision)
"Ingobernable" (Netflix)
OUTSTANDING TV JOURNALISM – NEWSMAGAZINE (Spanish Language)
"Así viven los estudiantes transgénero después de que Trump anulara la ley de baños de Obama para escuela públicas" , "Primer Impacto" (Univision)
"Pulse, huellas de la masacre", "Docufilms" (CNN en Español)
"Ser transgénero en Latinoamérica: sus experiencias y crecimiento", "Vive la Salud" (CNN en Español)
OUTSTANDING TV JOURNALISM SEGMENT (Spanish Language)
"Comunidad LGBTQ vulnerable bajo nuevo gobierno", "Perspectiva Nacional" (Entravision)
"Entrevista con Daniela Vega", "Showbiz" (CNN en Español)
"Joven transgénero tiene un mensaje para las familias: 'Acepten a sus hijos'", "Al Punto" (Univision)
"El triunfo de una diseñadora mexicana transgénero en Nueva York", "Noticias Telemundo" (Telemundo)
"Unidos contra la discriminación y el acoso contra la comunidad LGBT", "Despierta América" (Univision)
OUTSTANDING DIGITAL JOURNALISM (Spanish Language)
"La compleja realidad de ser gay en América Latina" (cnnespanol.cnn.com)
"'No aprobar el Dream Act significaría una sentencia de muerte', jóvenes LGBT y DACA" (laopinion.com)
"Padres de familia de Dallas luchan por los derechos de su hija transgénero" (aldiadallas.com)
"Primera senadora trans aspira a impulsar medidas para sectores discriminados" (efe.com)
"Tres hermanitos para dos papás" (laopinion.com)
RuPaul makes Emmy history with 11 wins, most ever for a Black artist
Ru did not make mention of the history-making win- instead thanking the Academy, Viacom and CBS and "all of you gorgeous people here tonight"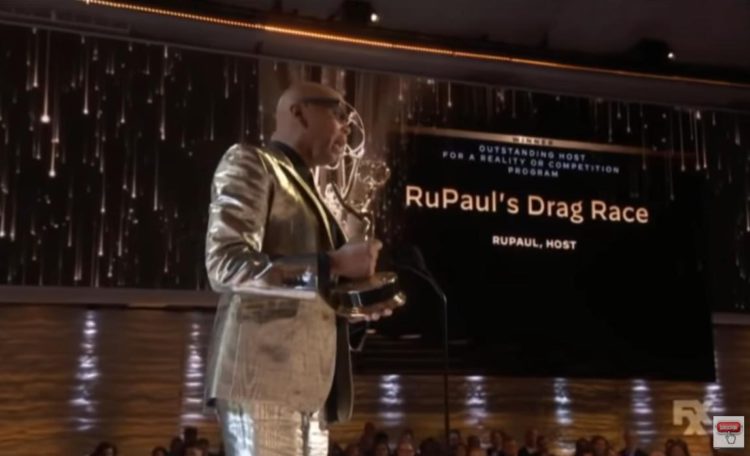 LOS ANGELES – In a first for the Academy of Television Arts & Sciences since it began the Primetime Emmy Awards January 25, 1949, the iconic drag performer and host of RuPaul's Drag Race, RuPaul broke the record for the most wins by a Black entertainer with 11 wins at the 73rd annual awards ceremony Sunday night.
RuPaul bested the previous record holder, cinematographer Donald A. Morgan, who was also nominated but did not win in his category for his work on sitcoms "The Upshaws," "The Conners" and "Last Man Standing."
RuPaul is now the most-decorated Black artist since the #Emmys began in 1949.

166 queens on Drag Race over 12 years. 11 personal awards. That's herstory. pic.twitter.com/12UMaTnyID

— Joey Nolfi (@joeynolfi) September 20, 2021
🚨Historic moment🚨 @rupaul is the most-decorated Black artist at the #Emmys – EVER! Congrats to @RuPaulsDragRace on your win for Outstanding Competition Program! pic.twitter.com/BOVhZj1u7C

— Human Rights Campaign (@HRC) September 20, 2021
The Hollywood Reporter noted, "VH1's RuPaul's Drag Race won a trophy for outstanding competition program at tonight's telecast, a victory that gives RuPaul an 11th Emmy and solidifies his place as the most decorated Black artist in Emmy Awards history.
During the show's acceptance speech, Ru did not make mention of the history-making win. Instead, he thanked the Academy, Viacom and CBS and "all of you gorgeous people here tonight."
"Really thanks to all of our lovely children on our show from around the world," he continued. "You know, they are so gracious to tell their stories of courage and how to navigate this difficult life [that was more difficult this year]. This is for you and for you kids out there watching. Come to Mama Ru."
BMA exhibit traces friendship between Matisse and Etta Cone
Baltimore collector helped build world's preeminent repository of French master's work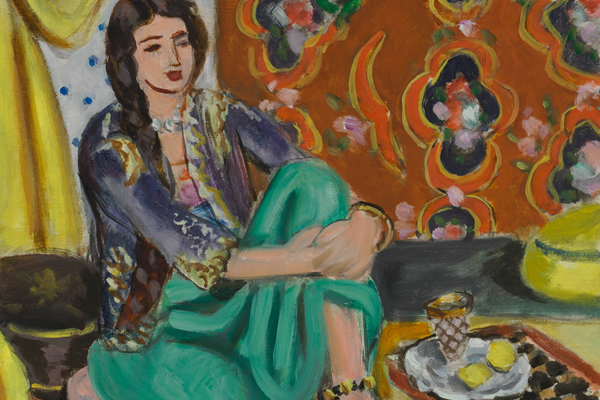 The Baltimore Museum of Art is the world's most important repository of French modern master Henri Matisse's work and this fall, a new exhibition will explore the friendship between the artist and Etta Cone, the Baltimore collector who befriended Matisse in 1906.
The two maintained a close 43-year friendship, during which time Matisse traveled to Baltimore and created works with Etta and the BMA in mind. Etta and her sister Claribel ultimately collected about 700 of Matisse's works, according to the BMA, including Blue Nude (1907), The Yellow Dress (1929-31), and Large Reclining Nude (1935).
This new exhibit, "A Modern Influence: Henri Matisse, Etta Cone, and Baltimore" will trace their friendship through letters they exchanged and includes more than 160 paintings, sculptures, prints, drawings, and illustrated books.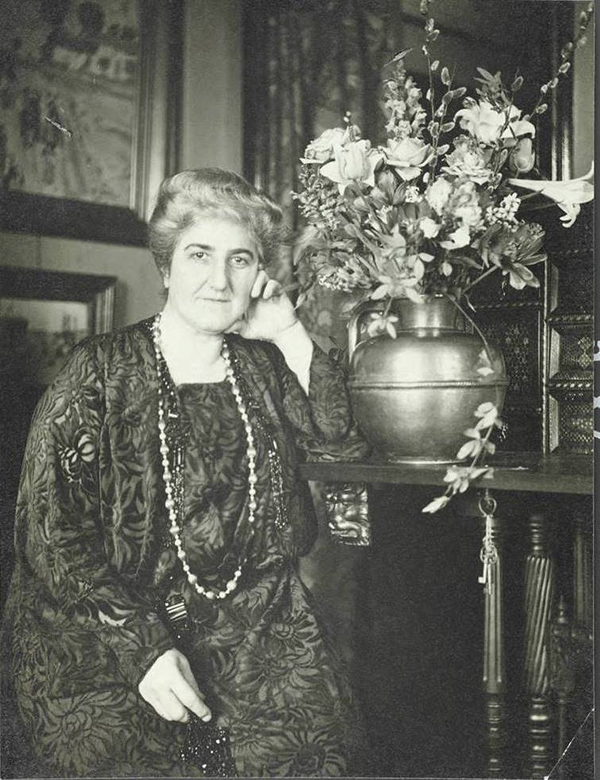 "For years, scholars have debated the purchases made by both Cone sisters, with much more credit given to the important acquisitions of major paintings by older sister Claribel," the BMA said in a statement. "'Modern Influence: Henri Matisse, Etta Cone, and Baltimore' will for the first time fully recognize Etta's achievements as a collector and acknowledge her role in building the majority of the sisters' Matisse collection, particularly the sculpture, drawings, and prints."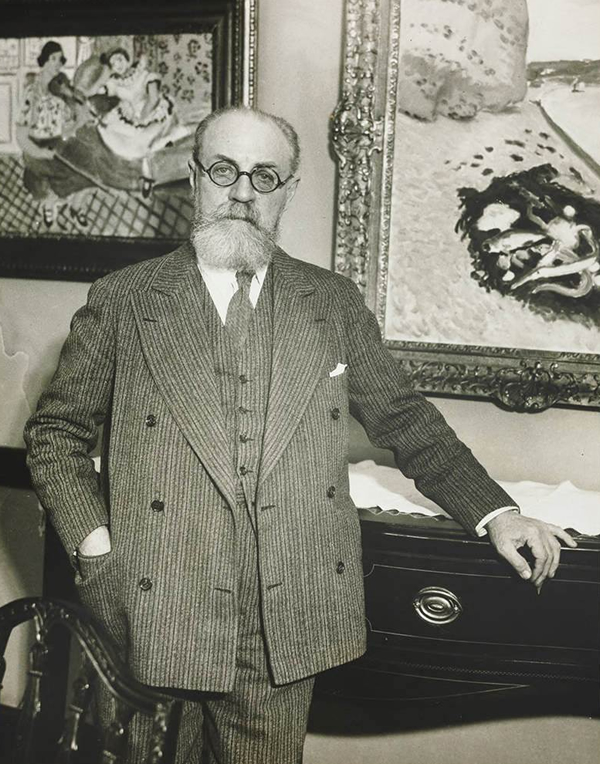 "Etta Cone and Matisse shared a love of gesture and the female form, expressed not only through her collection of his major paintings, but through an early and sustained interest in his print making and drawing practices. The exhibition begins with work on paper and ends there as well," said Leslie Cozzi, BMA associate curator of prints, drawings, and photographs.
The exhibition will feature a large selection of drawings, including masterpieces that are rarely on view due to light exposure restrictions, the BMA announced.
"Etta Cone's dedication to art, and to Matisse's work in particular, has had a profound impact on the BMA and the focused and studied ways in which the museum continues to develop its collection. The forthcoming exhibition captures the exciting possibilities that can be achieved when artists, collectors, and public institutions join in a shared vision and commitment. We are delighted to present visitors with the incredible story of Etta Cone and the significant works of art that she brought to our museum, and to have this exhibition serve as a prelude to the presentations, programs, and publications that we'll be able to create through our soon to be opened Ruth R. Marder Center for Matisse Studies," said Christopher Bedford, the BMA's Dorothy Wagner Wallis Director.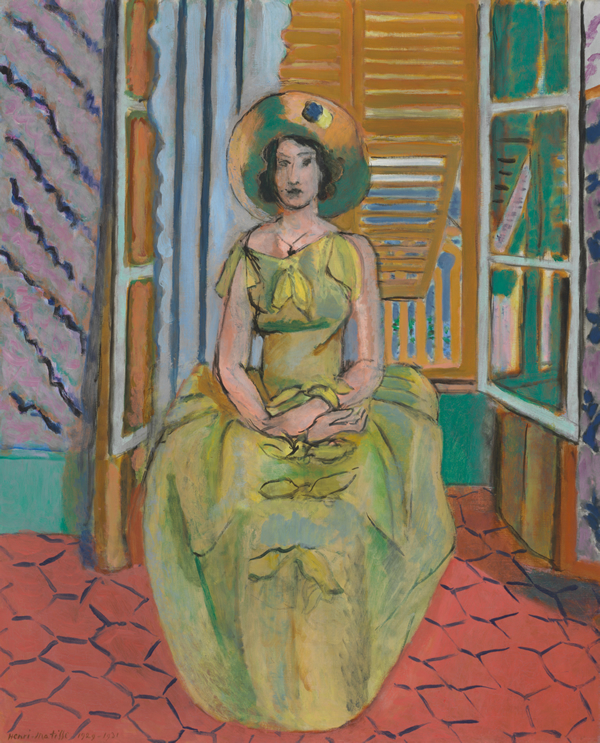 The Marder Center, which is scheduled to open in December, will present the breadth of the BMA's Matisse holdings, while supporting the development of new scholarly publications that advance discussions on the trajectory of modern art, according to a statement.
"A Modern Influence: Henri Matisse, Etta Cone, and Baltimore" opens Oct. 3 and will be on view until Jan. 2, 2022. Tickets are available through artbma.org. Prices are $15 for adults, $13 for seniors, $12 for groups of 7 or more, $5 for students with ID, and $5 for youth ages 7-18. BMA Members, children ages 6 and under, and student groups are admitted free. For more information, call 443-573-1701.
New films feature gay superhero, Tammy Faye, and feel-good drag
Cumberbatch takes on another gay role in 'Power of the Dog'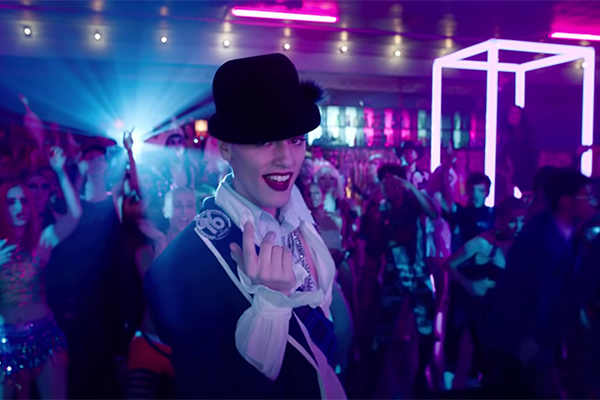 It's fall again, and that means it's time to look forward to the things we love about this time of the year – and no, I'm not talking about pumpkin spice. I'm referring, of course, to the new movies headed our way, and there are quite a few this year that should be of interest to LGBTQ+ viewers. Fortunately, as usual, the Blade is here to help you plan your own must-see list for the season with the help of our handy guide below.
Giddy Stratospheres (Sept.14): If you're a movie fan who also has a taste for musical nostalgia, this gritty love letter to the indie music scene of the 2000s from writer/director Laura Jean Marsh is definitely for you. Shot entirely during lockdown in the UK, it follows a pair of indie kids and best friends (Jamal Franklin and Marsh herself) as they party their nights away on a quest for the ultimate in hedonistic euphoria and excitement. If memories of donning boots, ripped tights, and eyeliner for a night at the club aren't enough, there's also a fabulously queer leading character and soundtrack featuring a smorgasbord of retro hits from the likes of Franz Ferdinand, The Futureheads, The Walkmen, Le Tigre, The Rapture, Art Brut, The Cribs, Black Wire, The Rocks, Theoretical Girl, Pink Grease and more. Available via VOD now.
Everybody's Talking About Jamie (Sept. 17): Delayed due to COVID but finally here is this bubbling and buzzy film version of the hit West End musical by Tom MacRae, inspired by a 2011 television documentary, in which a gay 16-year-old named Jamie New (Max Harwood) overcomes teasing, bullying, and a complicated home life to realize his dream of becoming a drag queen – with help from a loyal best friend (Lauren Patel), a supportive mom (Sarah Lancashire), and an aging drag mentor named Loco Chanel (Richard E. Grant). Translated to the screen by original stage director Jonathan Butterell and adapted into a screenplay by MacRae himself, it's won early praise by critics for its "infectious" spirit and is probably the odds-on favorite to be the feel-good queer movie of the season. With Shobna Gulati, Ralph Ineson, Samuel Bottomley, Sharon Horgan, and Charlotte Salt, it also features a cameo from Roy Haylock (better known as Bianca Del Rio, of course), who played the role of Loco Chanel onstage. VOD and streaming on Amazon Prime.
The Eyes of Tammy Faye (Sept. 17): Like the now-classic documentary of the same name, this much-anticipated biopic is an intimate look at the extraordinary rise, fall and redemption of televangelist Tammy Faye Bakker, who with her husband Jim Bakker created the world's largest religious broadcasting network before financial improprieties, scheming rivals, and scandal toppled their carefully constructed empire. Legendary for her indelible eyelashes, her idiosyncratic singing, and her eagerness to embrace people from all walks of life, she went on to become an unlikely but beloved LGBTQ icon, vocally supporting the community and helping to reduce stigma around AIDS through the platform afforded by her celebrity. Directed by Michael Showalter, it stars Jessica Chastain as Tammy Faye, with Andrew Garfield as Jim and a supporting cast including Cherry Jones, Fredric Lehne, Louis Cancelmi, Sam Jaeger, Gabriel Olds, Mark Wystrach, and Vincent D'Onofrio. In Theaters.
On the Fringe of Wild (Oct. 13)
In this Canadian import set in the early 2000s, a sensitive and shy small town teen named Peter runs away from his homophobic father during a hunting trip designed to "make him a man." Lost in the cold Ontario wilderness, he meets Jack – another teen on the run from his toxic family – and a romance buds between them as they hide away in a secluded cabin; when they are inevitably pulled back into the real world, they're forced to confront their sexuality, their mental health, and the oppressive home life that threatens to drive them apart. Directed by Emma Caralfamo from a bleak but hopeful screenplay by Sorelle Doucet, it features trans actor Harrison Browne as Peter and Cameron Stewart as Jack, with Mikael Melo, Andrew Bee, Audrey Nesbitt, Bernadette Medhurst, Andrea Pavlovic, and Adam Jenner in support. VOD.
Eternals (Nov. 5)
Marvel Studios gets a jump on the holiday blockbuster rush with the long-awaited (and long-delayed) release of this new addition to their comics-to-screen franchise, an epic and ensemble-centered action fantasy that introduces, among other characters, Brian Tyree Henry's Phastos – the first openly gay superhero to be depicted in a Marvel film. It even promises an onscreen kiss between Tyree and Haaz Sleiman, who portrays Phastos' husband. We'll take a wait-and-see attitude on whether or not it's a blink-and-you'll-miss-it moment. Directed by Oscar winner Chloé Zhao, it has an all-star cast that includes Gemma Chan, Richard Madden, Kit Harrington, Salma Hayak, Kumail Nanjiani, Lauren Ridloff, Barry Keoghan, Don Lee, and Angelina Jolie.
Isaac (Nov. 16):
Coming from Spain is this debut feature from writer/directors Angeles Hernández and David Matamoros, adapted from a stage play by Antonio Hernández Centeno and centered on two friends named Nacho and Isaac, who had an intense relationship as teens and meet again by chance after 20 years. Nacho, now financially successful and trying to have a baby with his wife Marta, proposes an arrangement with struggling entrepreneur Denis and his partner Carmen: If they will provide the "surrogate belly" for Marta's pregnancy, he will give them the money they need to open their gourmet restaurant. The deal, of course, opens the door for a lot of resurfaced feelings that forces the two men to discover themselves at the risk of losing the apparent stability they now have. Starring Pepe Ocio and Iván Sánchez (who won the Best Actor prize for his performance as Nacho at the 2020 Malaga Film Festival), it also features Maria Ribera, Erika Bleda, and Nacho San José. VOD.
The Power of the Dog (Nov. 17):
Squeaking in just before the holiday season is this adaptation of the 1967 Thomas Savage novel by the same name, directed by renowned filmmaker Jane Campion and starring screen heavyweights Benedict Cumberbatch and Kirsten Dunst. Set in 1925 Montana, it's a character-driven drama in which a brutal but charismatic rancher (Cumberbatch) finds his life disrupted when his brother (Jesse Plemons) brings a new wife (Dunst) and son (Kodi Smit-McPhee) home to the ranch. At first cold and cruel, he begins to take his new step-nephew under his wing, and a relationship begins to form that opens up memories of a buried past and awakens him to the possibilities of love. On the one hand, it's garnered predictable controversy over the casting of the straight-identifying Cumberbatch in a high-profile queer role (his second after playing Alan Turing in "The Imitation Game") – but on the other, it's one of the best-reviewed upcoming films on the slate so far. In addition, Campion is a cinematic master whose work here won her the Silver Lion for directing at this year's Venice Film Festival, so it's worth taking that into consideration before you decide to give this one a pass. In theaters.