TV ready to unleash array of LGBT themes, characters
Prominent critics on their most-anticipated new shows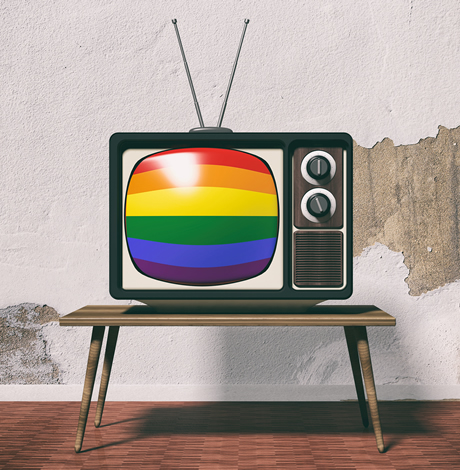 At the recent television critics press tour, there were many new gay-friendly television shows intriguing critics. The Los Angeles Blade's Susan Hornik talked with LGBT journalists about their take on the new shows.
Trish Bendix, managing editor at INTO
Most excited about "VIDA," from queer Latinx playwright-turned-TV writer Tanya Saracho. Not only does the show have an all Latinx writers room and Latinx actors, but the plotline and several major characters are LGBTQ. Rarely do we see Latinx leads on TV, and this is a Starz show which means it will be gritty, sexy and boundary-pushing.
Also, Alan Cumming-starrer "Instinct" will also be of interest, though I'm concerned with CBS's not-so-great track record on LGBTQ inclusion. Still, having an out bisexual man playing a gay lead on a primetime network show is pretty exciting.

Jim Colucci, author of the 2016 New York Times best-seller 'Golden Girls Forever'
The depictions of LGBT characters are more plentiful and more well-rounded than the days of "The Golden Girls," which was a LGBT favorite at that time. Back then, the occasional guest character would be gay or lesbian or there would be a gay-themed joke — and certainly there was a gay sensibility about any show that starred a Broadway legend like Bea Arthur.
FX's' "Pose" is a recreation of the late '80s Harlem drag ball era from the prolific gay TV mogul, Ryan Murphy. Trans portrayals are still in short supply on TV, but "Pose" brings us a wide variety of queer characters and it's both fun and fearless. 
Even on network TV, the most mainstream you can get in America's entertainment universe, gay characters are now not just being accepted, but are featured as lead characters. I'm particularly looking forward to seeing more of NBC's "Champions," about the philandering owner of a Brooklyn gym who is suddenly presented with the son — half Indian-American and all fabulously gay — he never knew he had. 
Other shows have featured gay teens before — memorably, "Glee," again from Ryan Murphy — but I love how "Champions" capitalizes on the fabulousness of its funny and appealing teen actor, J.J. Totah. NBC's drama "Rise," set in the drama department of a working-class Pennsylvania high school, is worth checking out. Although in adapting their source material, the book, "Drama High" by Michael Sokolove, "Rise's producers changed Josh Radnor's lead character of drama teacher Lou to be straight rather than gay, the series does feature several students facing issues with being trans and coming out.
Even though I'm still wary of the change, I realize this series, set in the gayest-friendly of places a high school can offer, its drama department — has the chance to say something really interesting, meaningful and ultimately, entertaining.
John Griffiths, executive director, GALECA: the Society of LGBTQ Entertainment Critics
"Instinct," with Alan Cumming as network TV's first gay character to top an hour drama, should be a kick, given the star's unique charms (and he was more than good on "The Good Wife"). Should be a cheeky kick — he tracks serial killers, teaches at a university and writes books (Whoopi Goldberg plays his editor). He also rides a motorcycle. How butch.
Curious to see how the new Paramount Network's reboot of the Winona Ryder/Christian Slater cult classic "Heathers" turns out. In this series version of the teen-horror comedy, one of the three titular cliquish high school meanies happens to be gay. The snark is played by out newcomer Brendan Scannell, who, judging by the witty banter he tossed at the show's TCA panel, has a serious future in comedy. Another potential standout here: Lilli Birdsell, hilarious in clips as the super-pert white mom to a black Heather (Jasmine Mathews). 
It's not rife with LGBTQ characters, but "American Woman" (also on Paramount, formerly Spike TV) with Alicia Silverstone has lots of allure. Silverstone was adorable in "Clueless," sure, but also terrifically weird in the recent Colin Farrell/Nicole Kidman thriller, "The Killing of a Sacred Deer."
And her role here — a dutiful wife and mom who ditches her cad of a husband to belatedly join the feminist movement in the early '70s — is irresistible. Gay heartthrob Cheyenne Jackson ("30 Rock") co-stars as the love interest of Silverstone's BFF, played by Mena Suvari. The show comes with an authentic vibe and cinematic look, surprising considering it's created by "Real Housewives" fixture, Kyle Richards (it's based, in fact, on her mom's own life trajectory).
Steve Gidlow, TV, MediaVillage
In an age where all that is old is new again, it's refreshing to see the upcoming new installments of ABCs "Roseanne" tackling a sensitive issue like gender fluidity. With Darlene back at home caring for Dan and Roseanne, her parents are faced with Darlene's young son Mark (Ames McNamara) who his experimenting with his fashion style and outward appearance — all much to grandpa Dan's chagrin.
Even in its heyday, "Roseanne" was never a show that shied away from big social issues so it's refreshing this reboot is tackling the issue of letting a young person explore what makes them happy head on, even though it might make those closest to them less than comfortable.
Malcolm Venable, TVGuide.com, senior editor, West Coast
"Pose" — Only Ryan Murphy could sell a network on a story that juxtaposes the New York City '80s ballroom scene with the uptown upper crust elite of the Reagan era, while hiring a record number of trans talent in front of and behind the camera. It looks gorgeous and the first footage we saw at TCA included scenes that looked like note-for-note recreations of moments from "Paris Is Burning," which — no joke — made my heart flutter.
"9-1-1"— Angela Bassett's husband coming out to her as gay (in the first episode) but the high camp that Murphy's team, Brad Falcuck, Tim Minear and the uber fierce Alexis Martin Woodhall (seriously Google her) put together. That translates to seeing the emergency response team, which includes Peter Krause, Aisha Hinds and Kenneth Choi.
"Versace" is essential television. Lush, vivid, intensely terrifying and relevant for its messages. Great performances from Judith Light, Penelope Cruz and Edgar Ramirez but Darren Criss is life-changing. And, surprise: don't expect much Versace. It's about Andrew Cunanan.
"2 Dope Queens" — Jessica Williams and Phoebe Robinson take their podcast to the stage for a limited-episode run on HBO. They're authentic and revelatory to their experience as black women, but as the packed multi-cultural New York City audiences show, their stories are universal covering nerd life, boy troubles and of course Beyonce. It's hilarious and they represent hard for their LGBTQ fam.
10 LGBTQ events this week
Catch upcoming drag shows, an ugly sweater party and Pamala Stanley live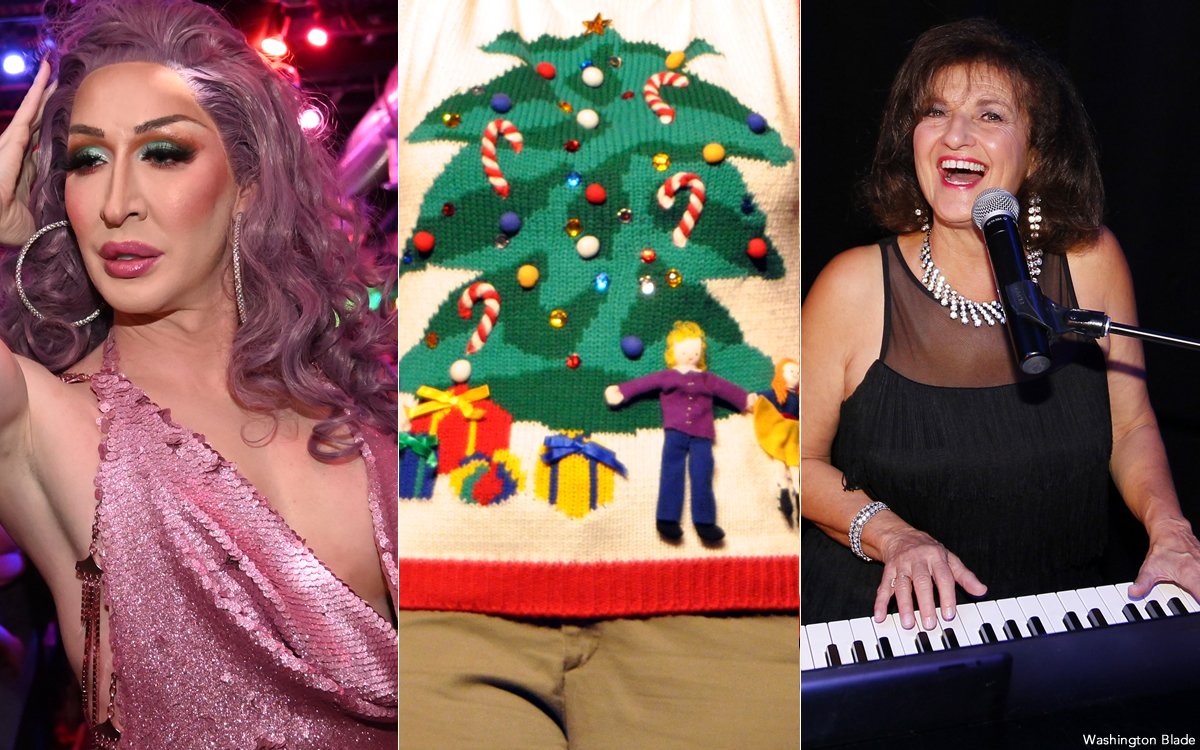 Below are our picks for some of the most fun and creative things to do this week in the DMV that are of special interest to the LGBTQ community.
---
Mocktail Night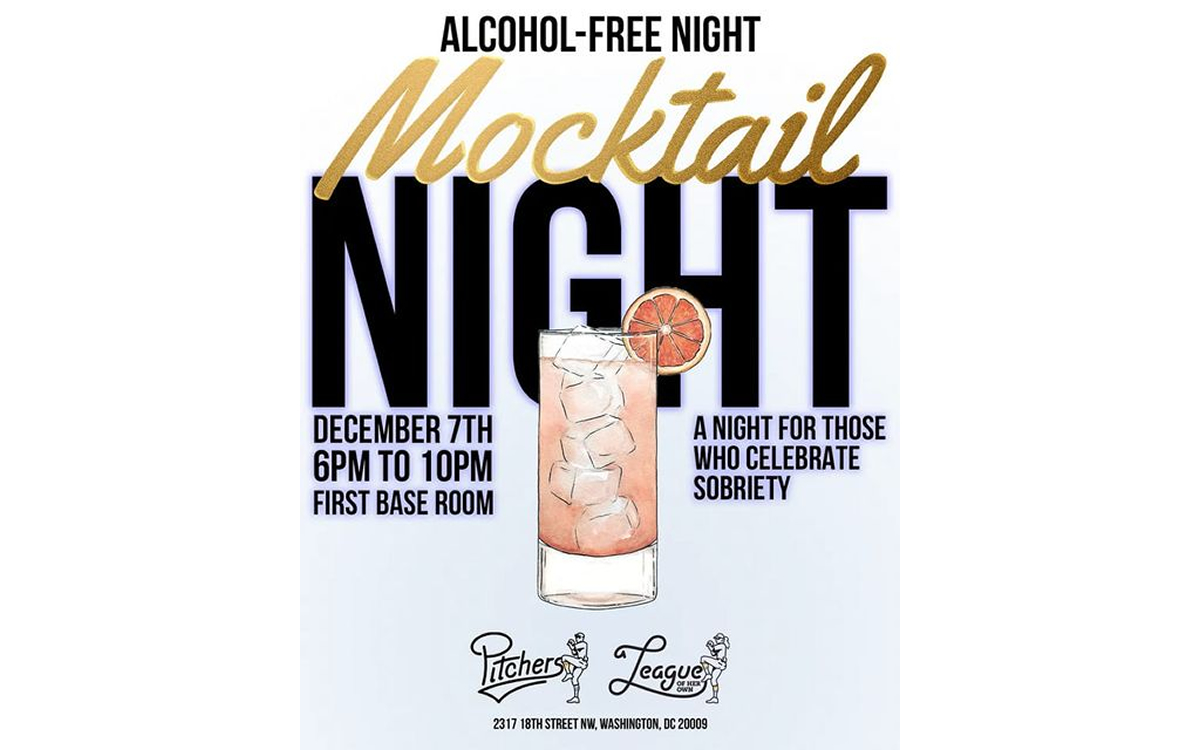 Wednesday, December 7
6-10 p.m.
Pitchers DC
2317 18th Street, N.W.
First Base Room
Facebook
Pitchers is hosting its first alcohol-free night for those celebrating sobriety with festive mocktails. No alcohol will be served, so go to Pitchers for a stress-free social event with other sober LGBTQ friends and allies.
---
"Flee" Movie Screening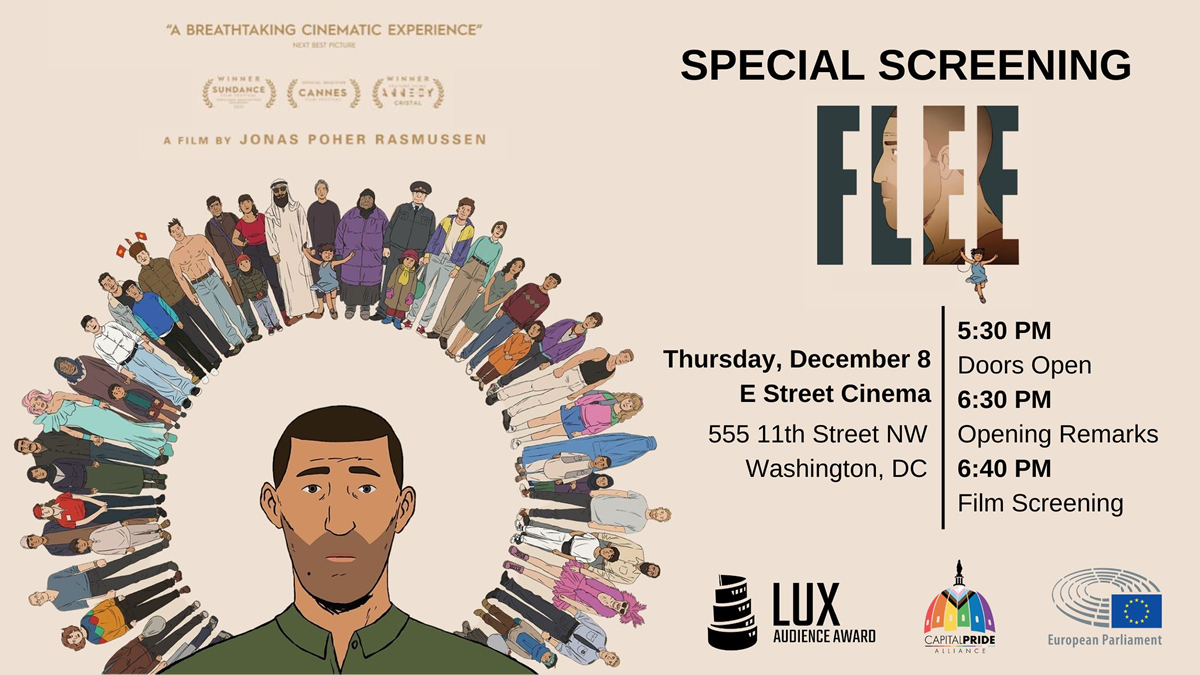 Thursday, December 8
Doors 5:30 p.m./Opening remarks 6:30 p.m.
Landmark's E Street Cinema
555 11th Street, N.W.
Free/registration required
Facebook | Register
The European Parliament Liaison Office and Capital Pride present a screening of European Parliament LUX Award 2022 finalist, "Flee."
"Flee" portrays the true story of a man who shares his hidden past of fleeing his home country of Afghanistan to Denmark.
---
Christmas Misfits: A Drag Holiday Extravaganza!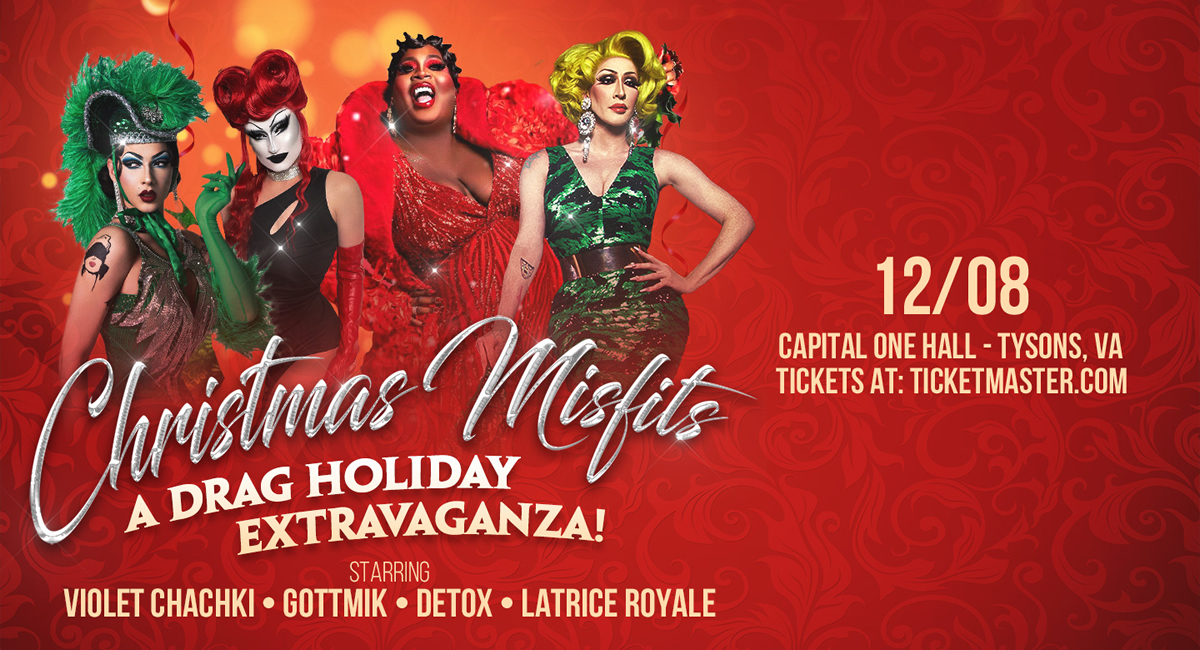 Thursday, December 8
6 p.m.
Capital One Hall
7750 Capital One Tower Road
McLean, Va.
$69.50-$252.50
Facebook | Tickets
"RuPaul's Drag Race" alumni Violet Chachki, Gottmik, Detox and Latrice Royale perform at a holiday show on Thursday.
---
Vernonza Extravaganza Lipsync Battle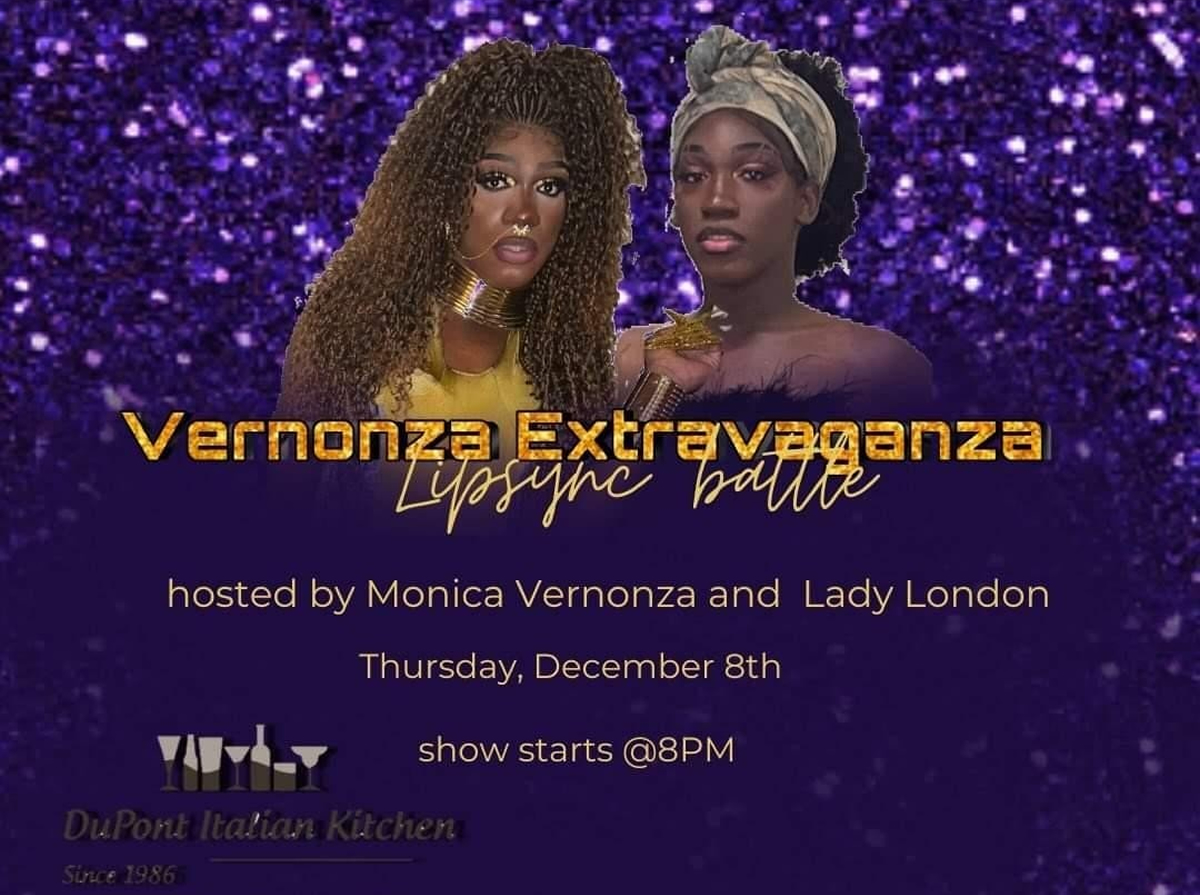 Thursday, December 8
8 p.m.
Dupont Italian Kitchen
1637 17th Street, N.W.
Facebook
Monica Vernonza and Lady London host a lip sync battle at Dupont Italian Kitchen on Thursday.
---
StartOut Baltimore-Washington Launch Reception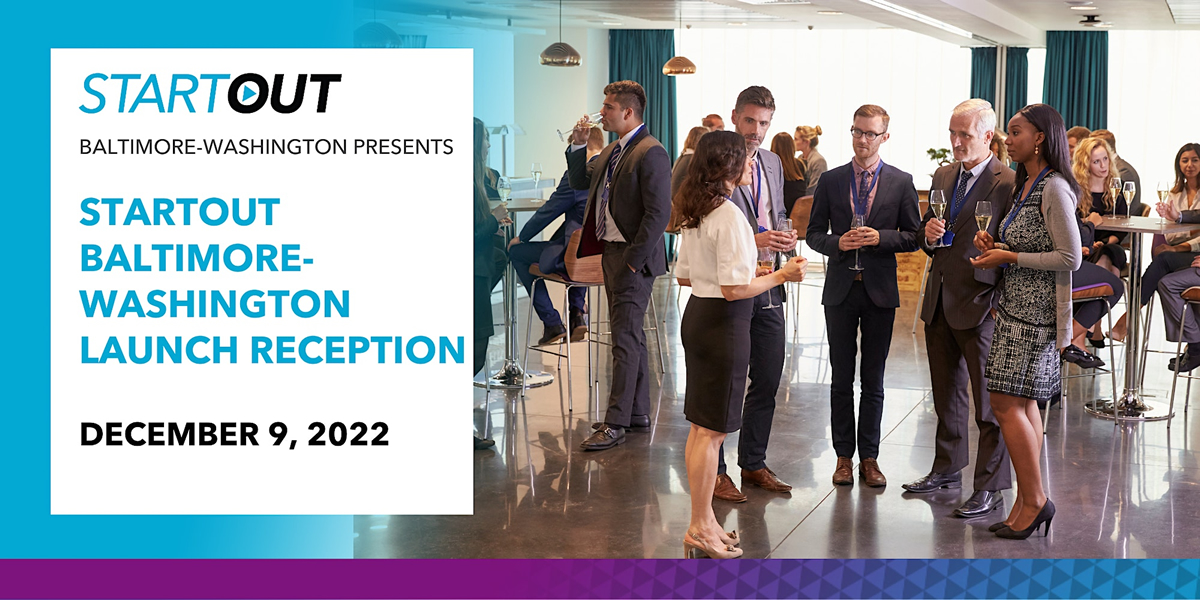 Friday, December 9
6 p.m.
Selina Union Market
411 New York Avenue, N.E.
Facebook | Eventbrite
StartOut Baltimore-Washington holds a launch party with cocktails, hors d'oeuvres, live entertainment and networking at the rooftop at Selina Union Market on Friday. The new organization looks to increase the number, diversity and impact of LGBTQ entrepreneurs.
---
Pretty Girl Rock Drag Brunch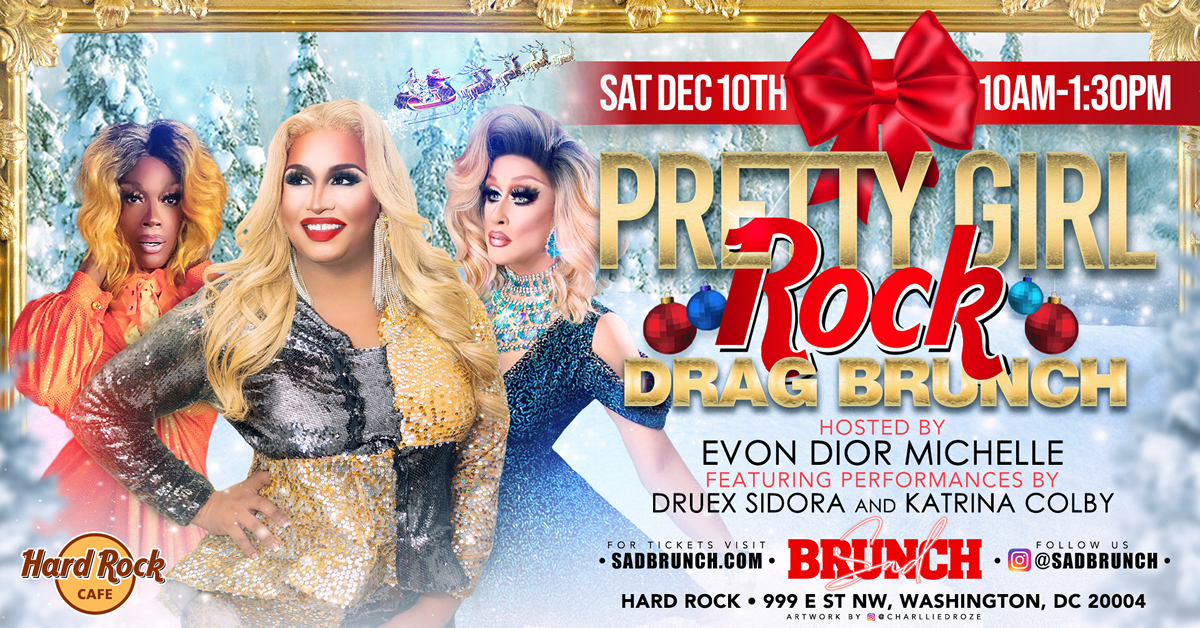 Saturday, December 10
10 a.m.-1:30 p.m.
Hard Rock Cafe
999 E Street, N.W.
$15+
Facebook | Tickets
Evon Dior Michelle hosts a drag brunch with Druex Sidora and Katrina Colby at Hard Rock Cafe on Saturday.
---
Ugly Sweater Party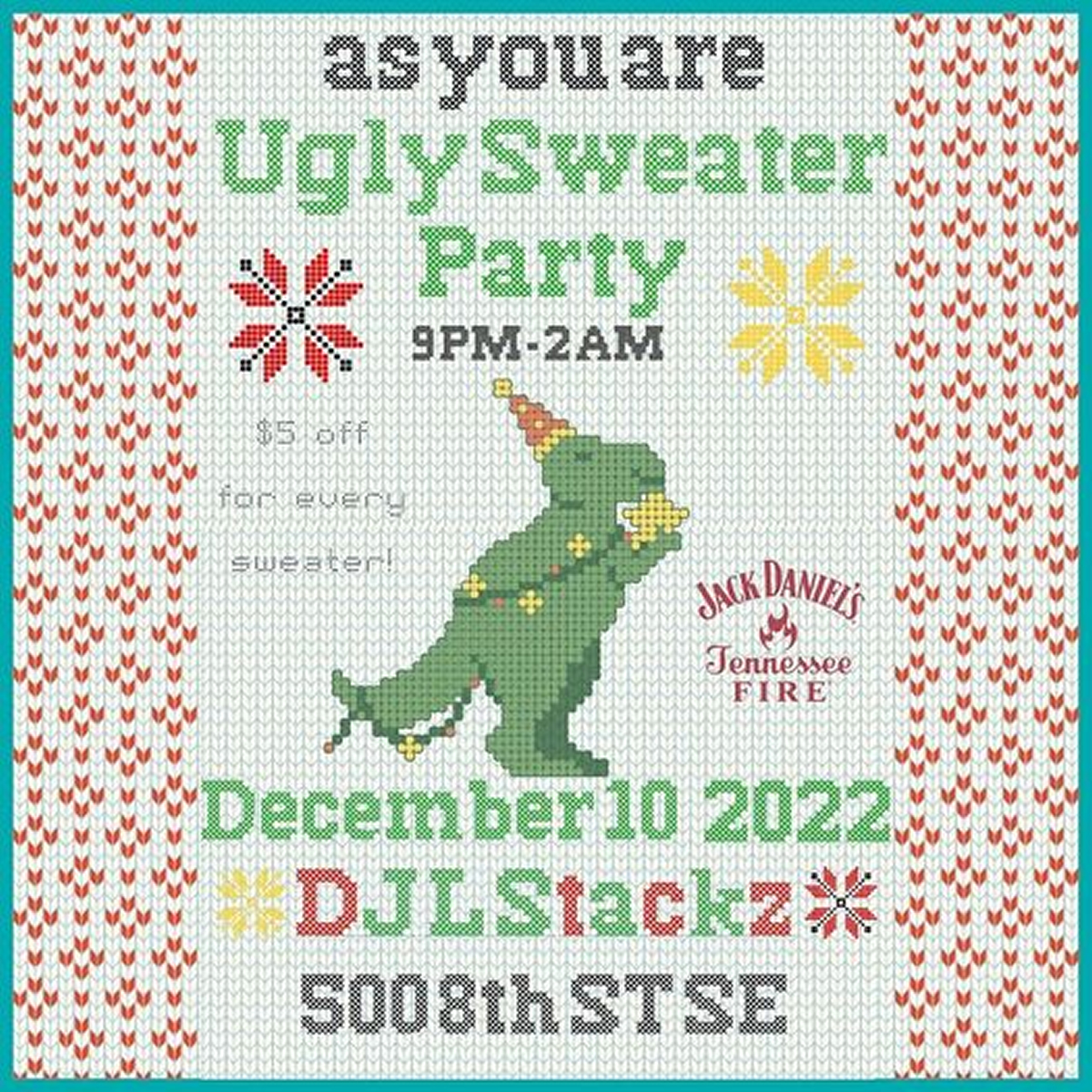 Saturday, December 10
9 p.m.
As You Are DC
500 8th Street, S.E.
Facebook
Wear your ugliest sweater and party all night with DJ L Stackz at As You Are on Saturday.
---
UNCUT: Jingle Balls with DJ Cindel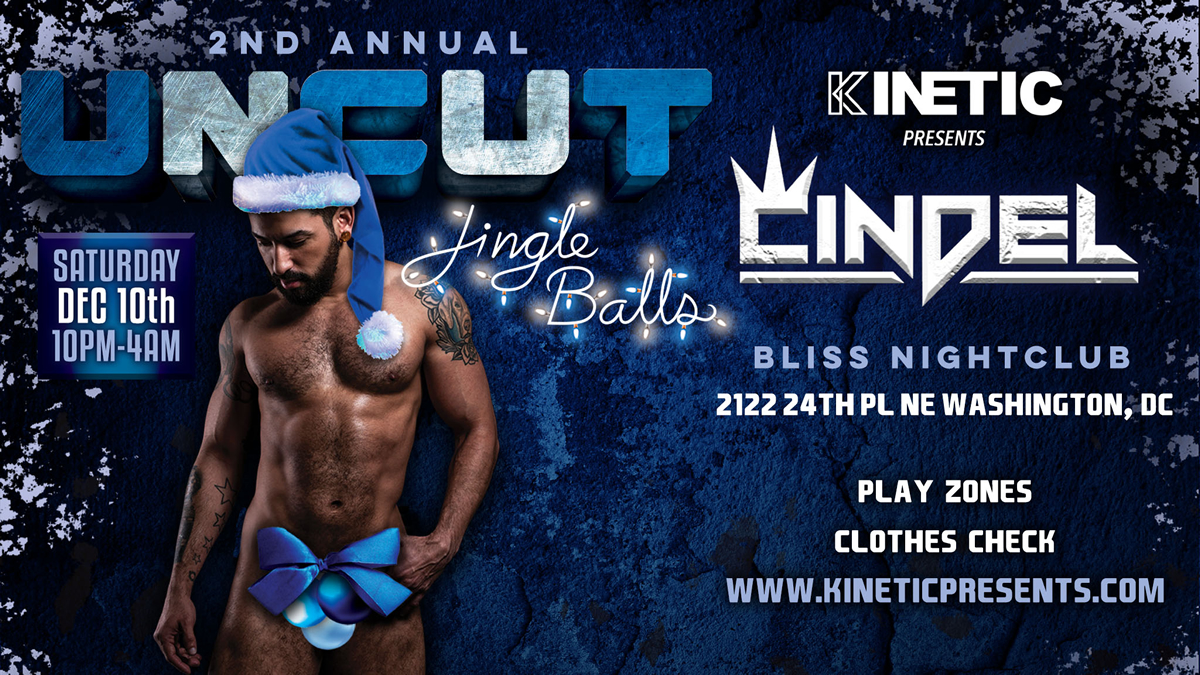 Saturday, December 10
10 p.m.
Bliss Nightclub
2122 24th Place, N.E.
$65+
Facebook
Kinetic presents the 2nd annual UNCUT Jingle Balls event at Bliss Nightclub on Saturday complete with a clothes check and play zones.
---
It's Britney, Brunch!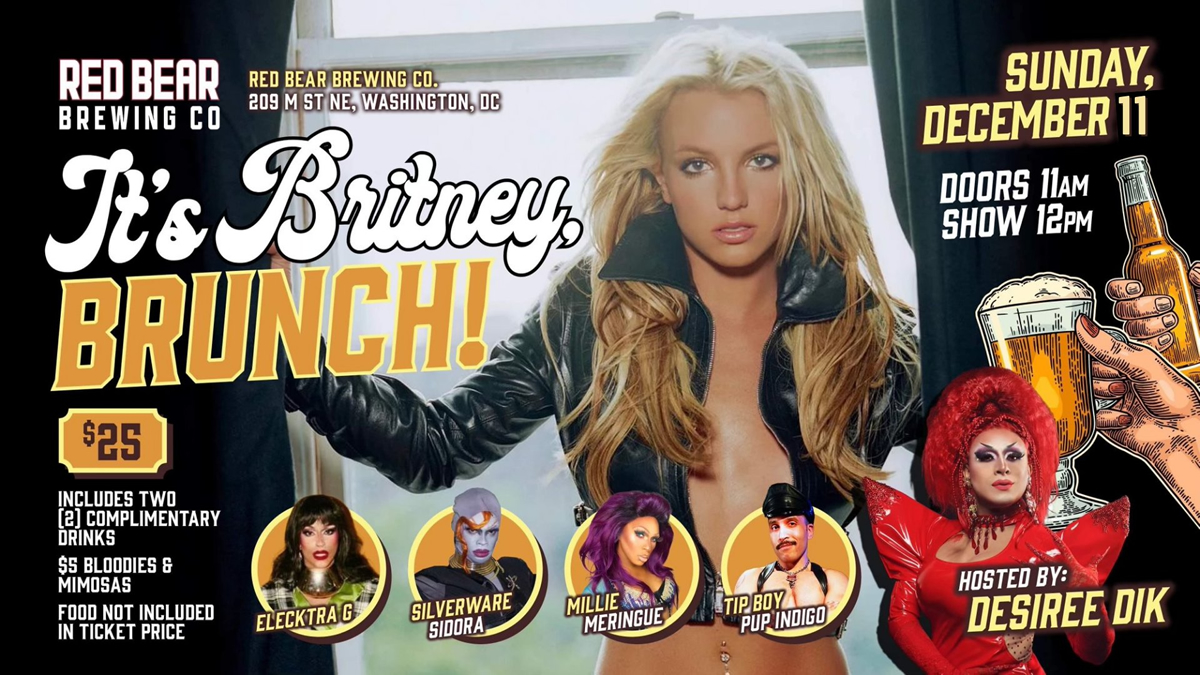 Sunday, December 11
Doors 11 a.m./show 12 p.m.
Red Bear Brewing Co.
209 M Street, N.E.
$25
Facebook
Desiree Dik leads the Britney Spears-themed drag brunch featuring Elecktra G, Silverware Sidora, Millie Meringue and Tip Boy Pup Indigo at Red Bear Brewing Company on Sunday.
---
Pamala Stanley LIVE at Freddie's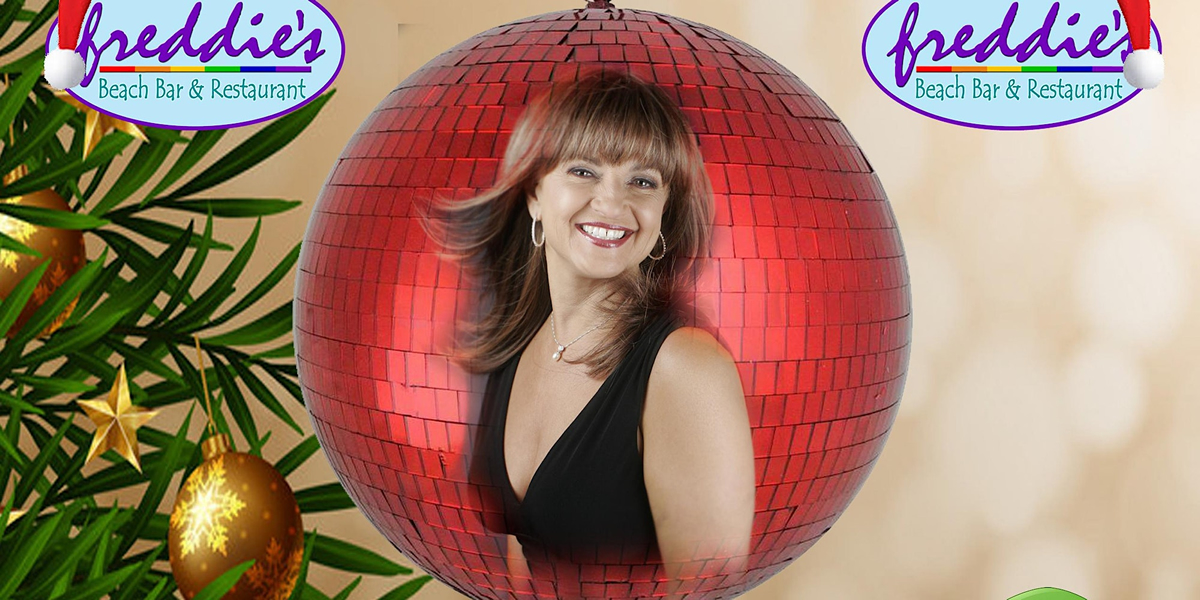 Sunday, December 11
7-9:30 p.m.
Freddie's Beach Bar
555 23rd Street S
Arlington, Va.
$15
Facebook
Pamala Stanley returns to Freddie's Beach Bar in Arlington for a holiday show on Sunday.
---
PHOTOS: Safe Space
New LGBTQ+ party held at Black Cat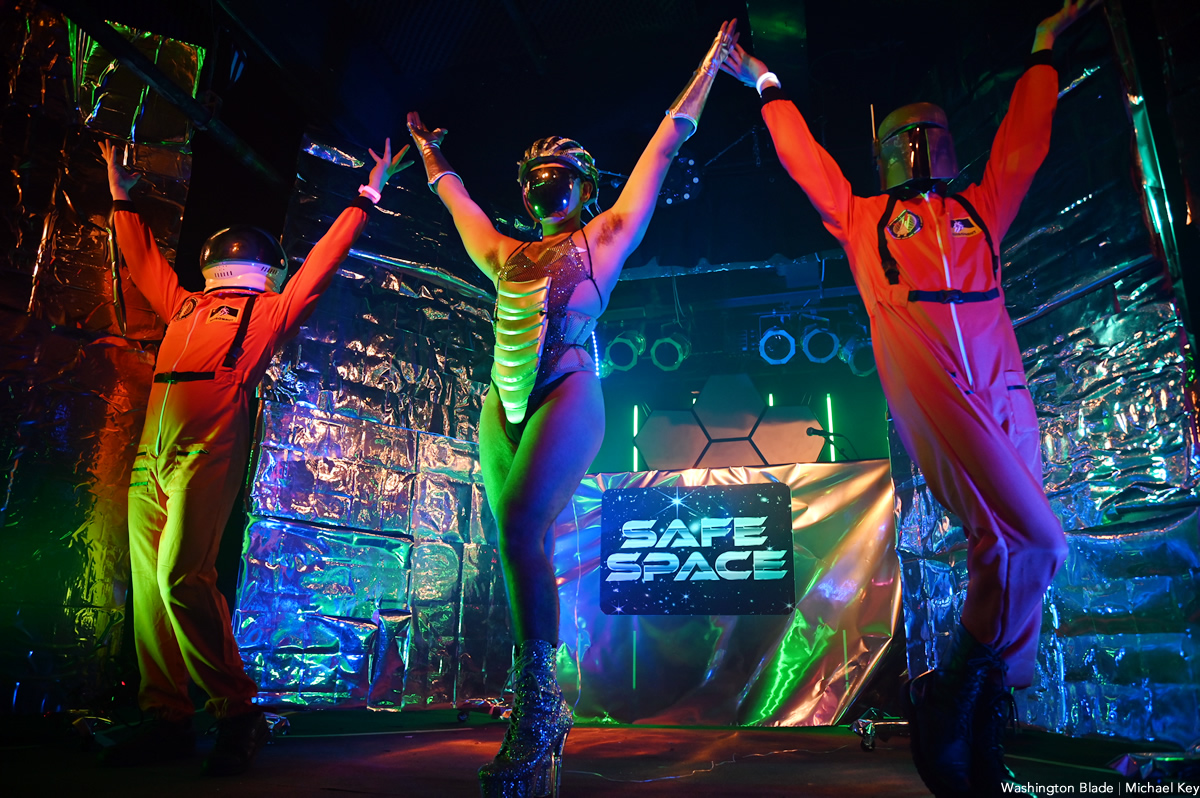 The Safe Space 2: A Safer Space party was held at the Black Cat on Saturday, Dec. 3.
(Washington Blade photos by Michael Key)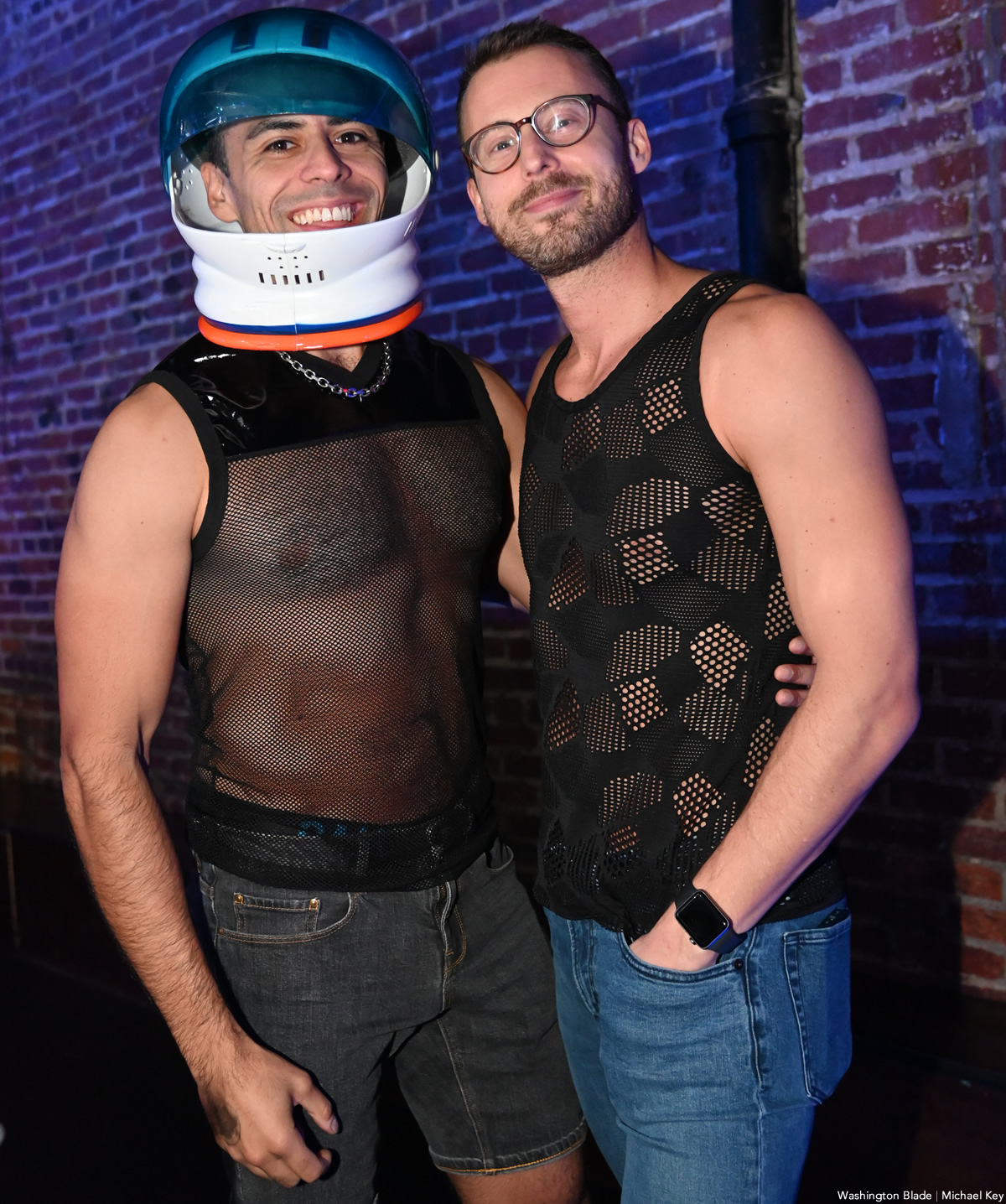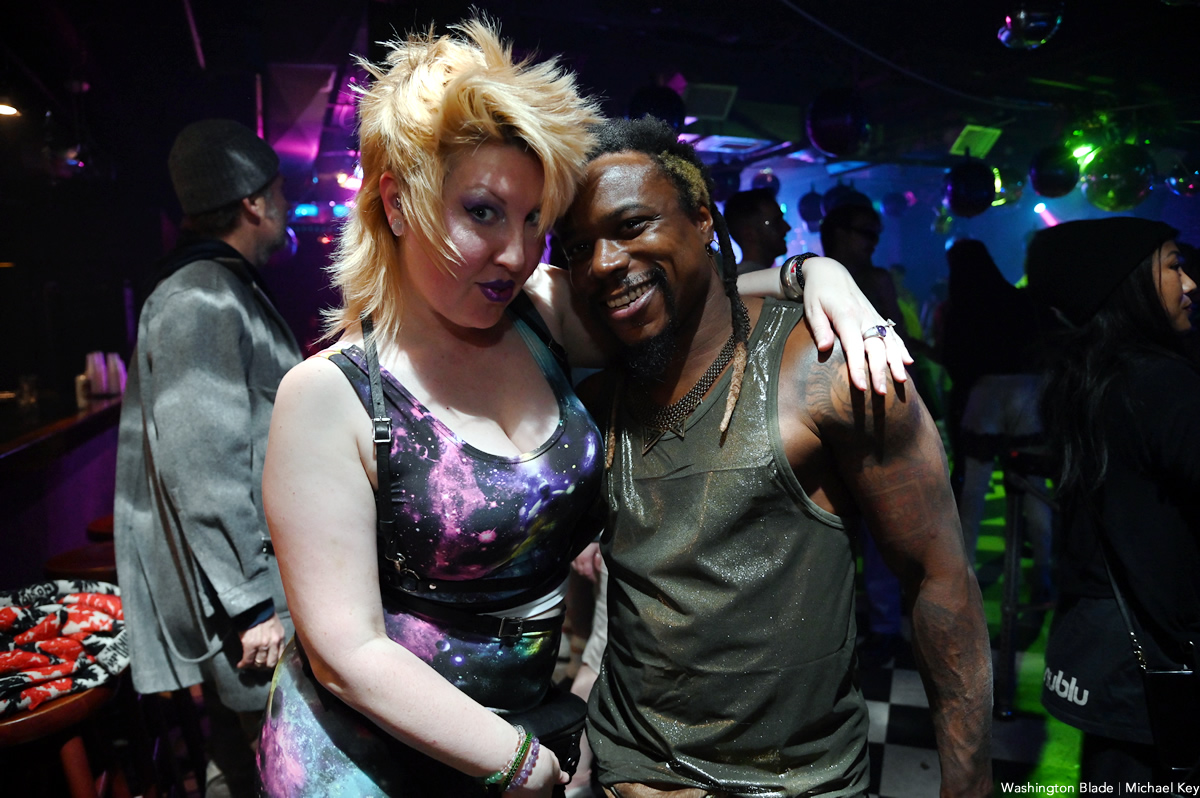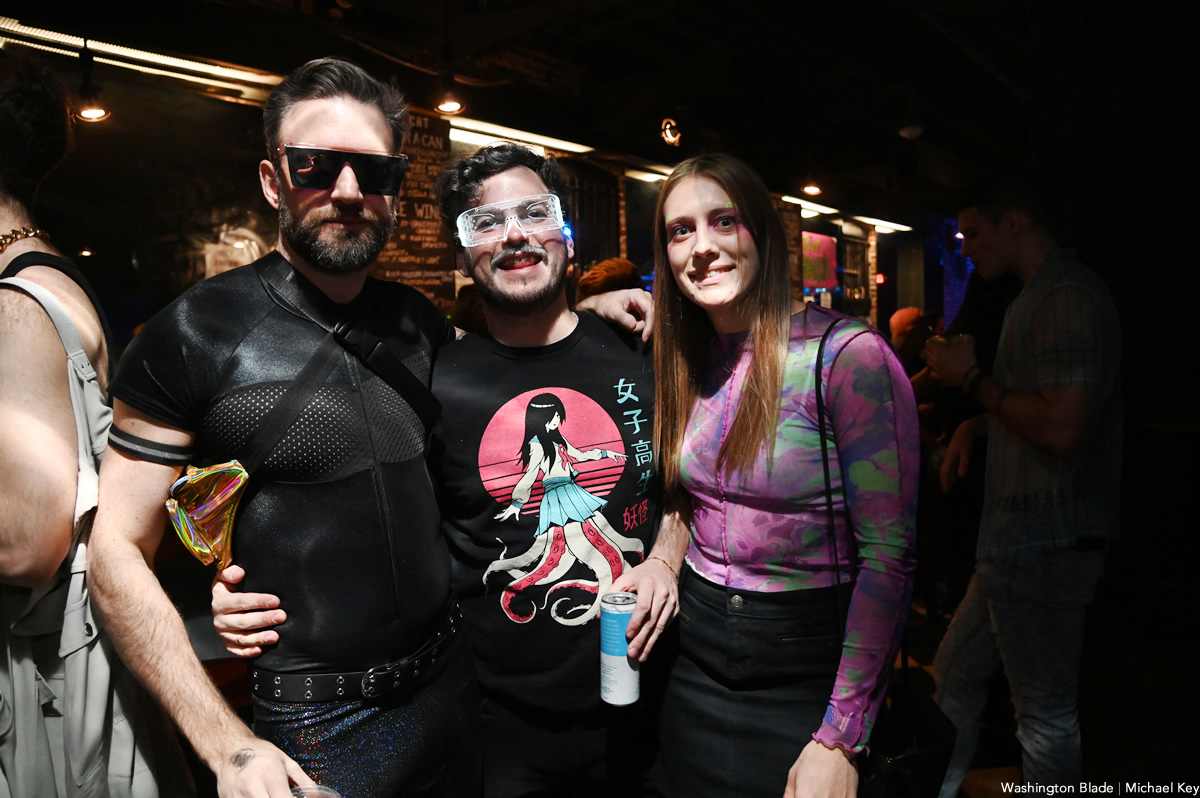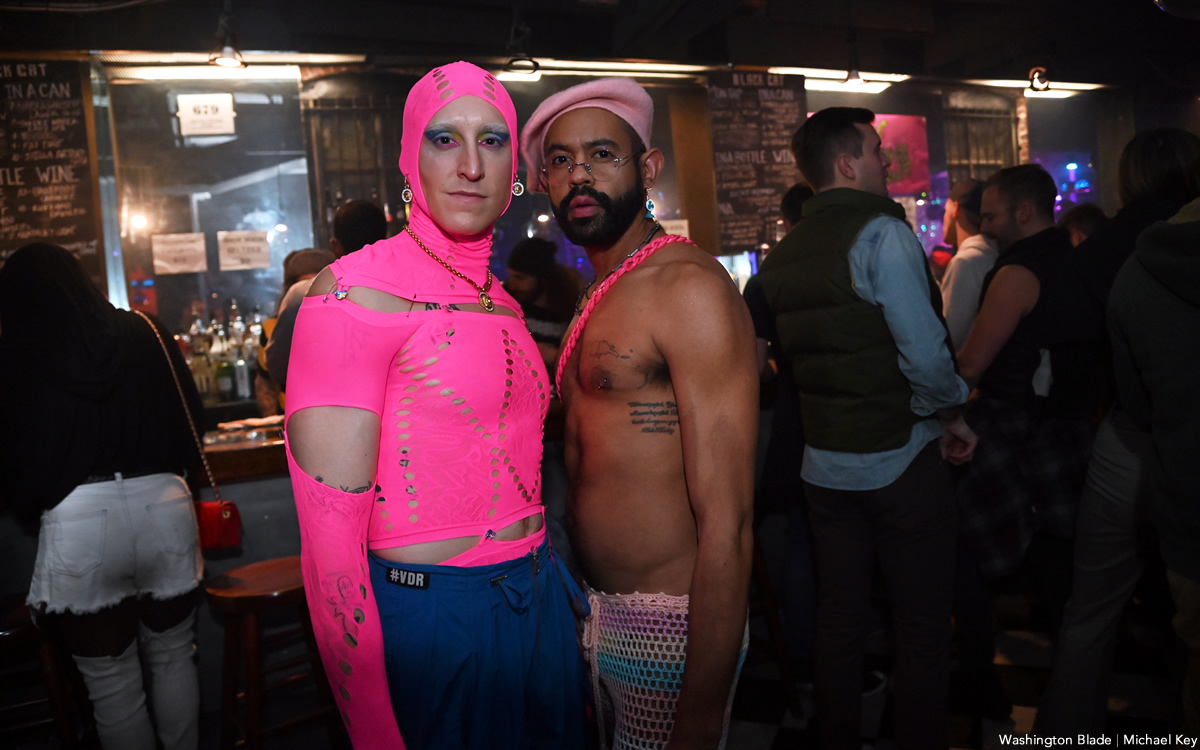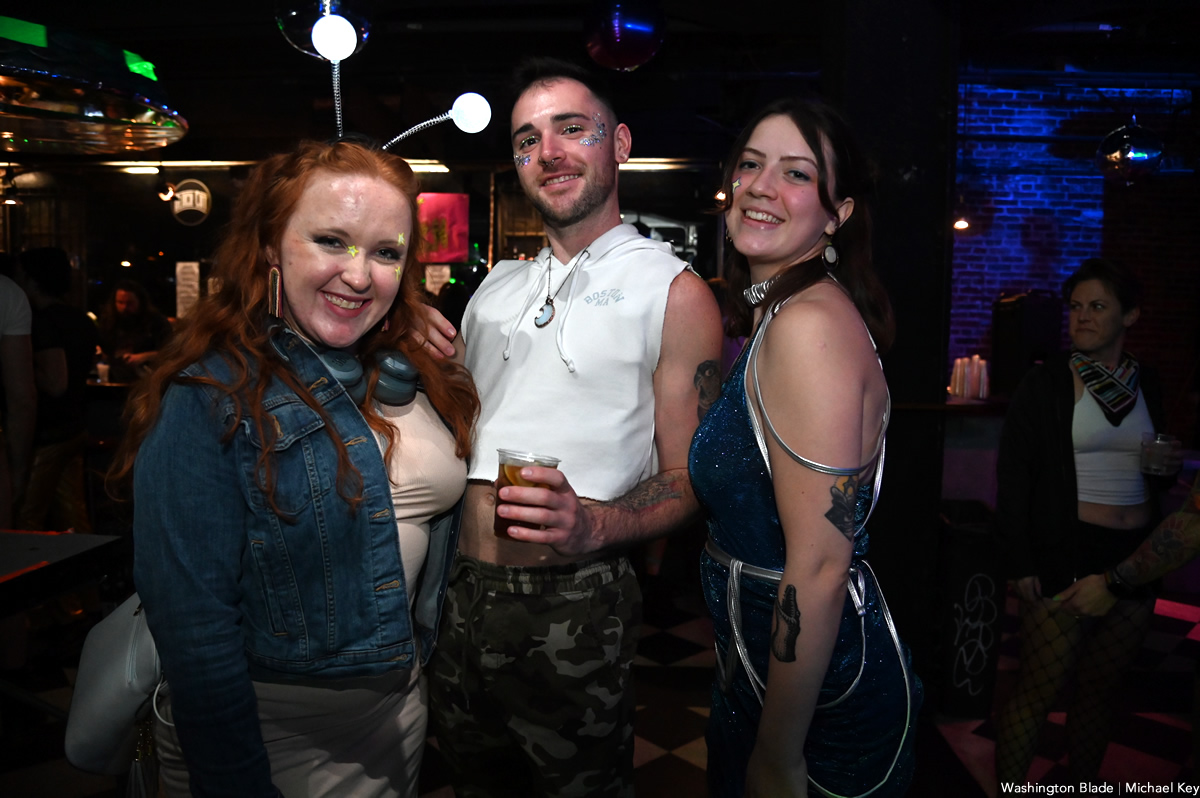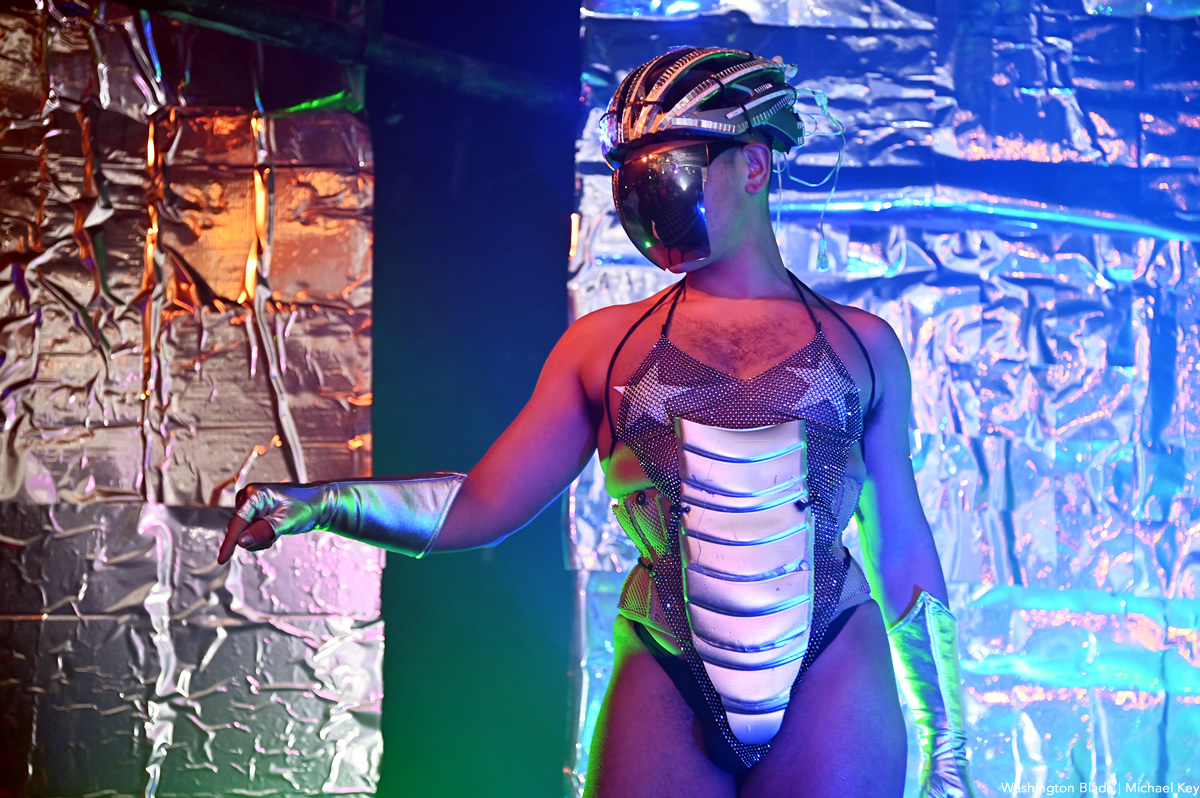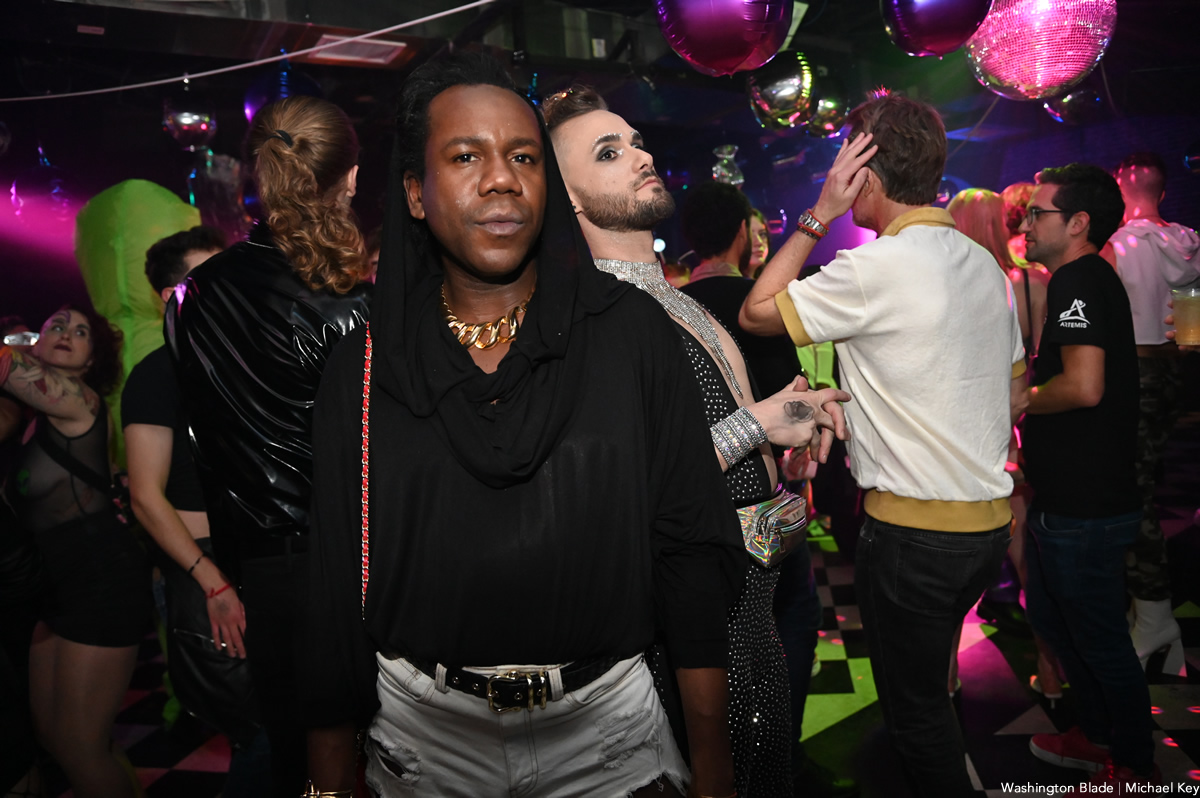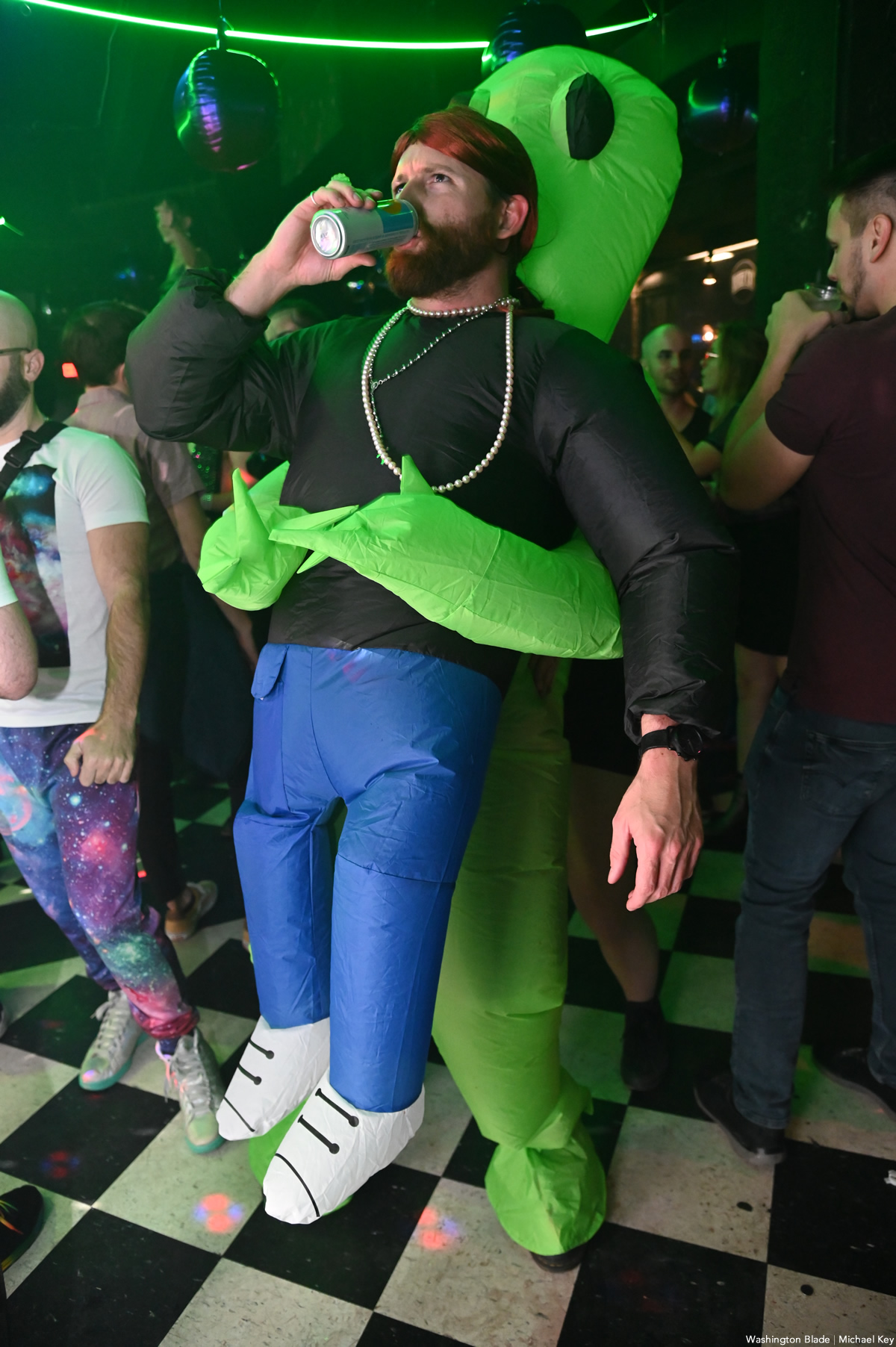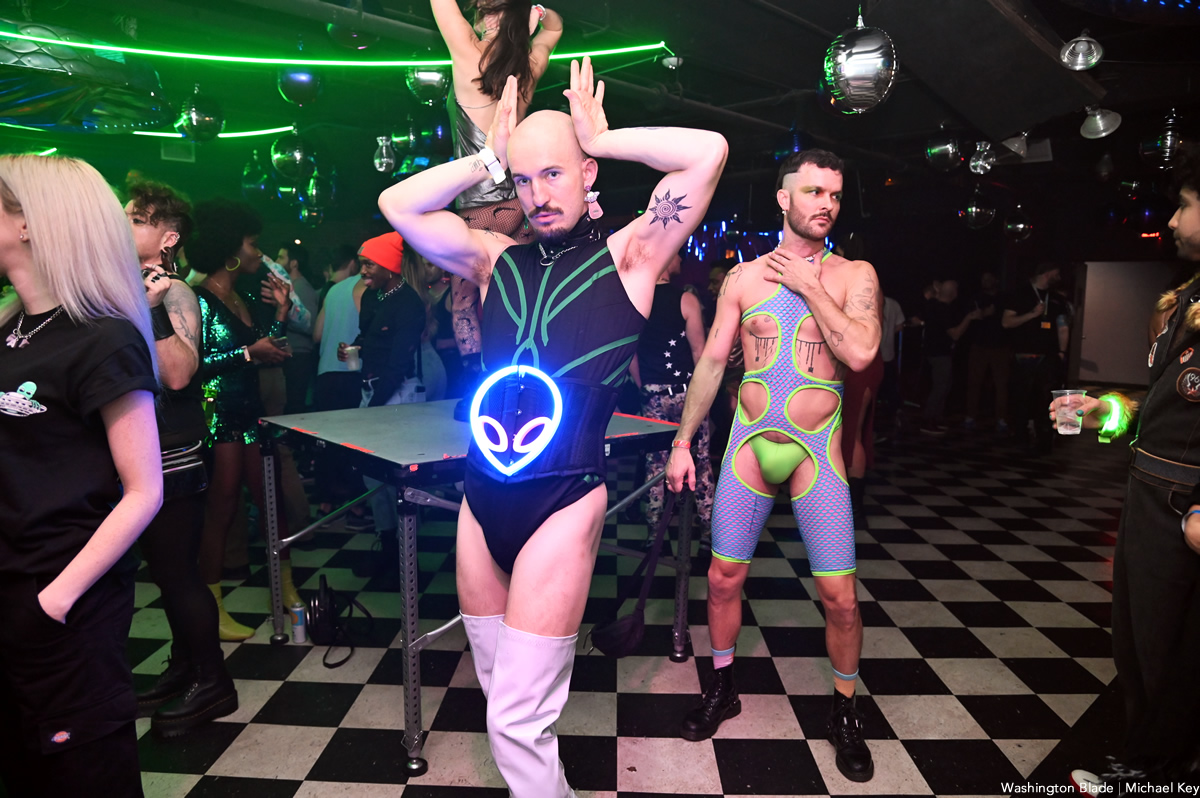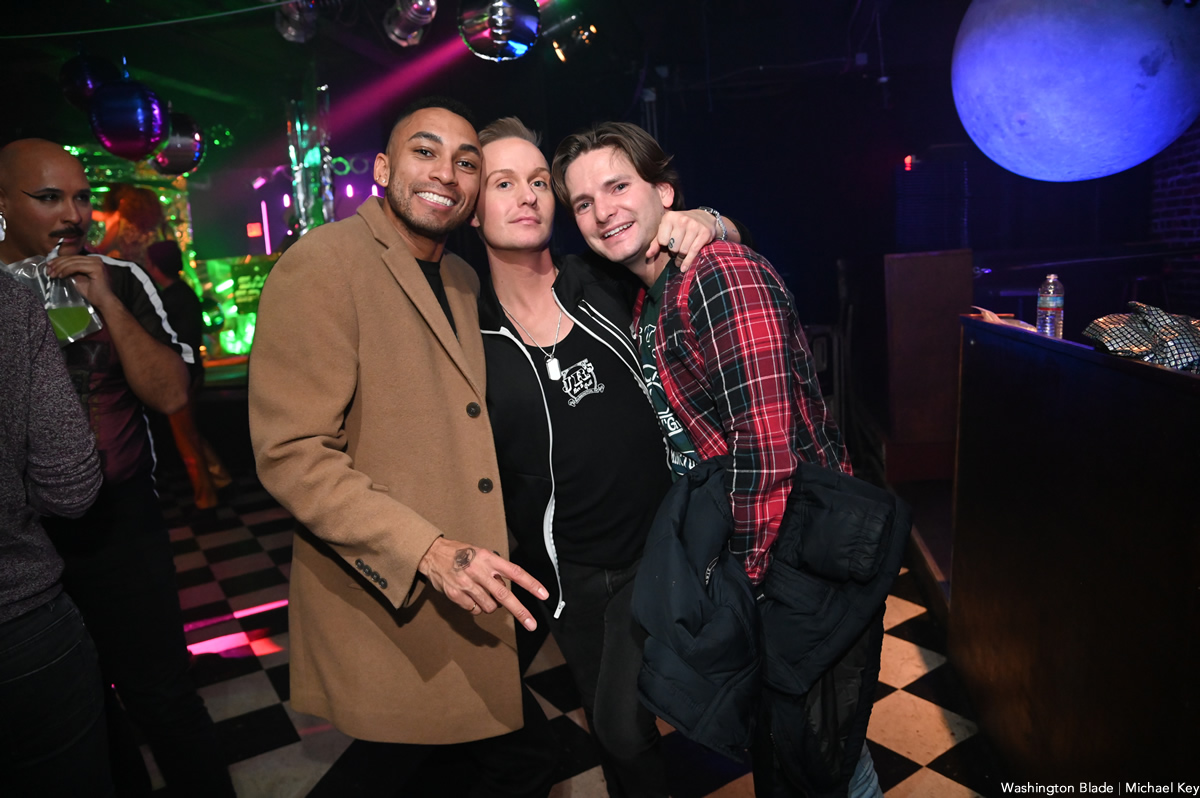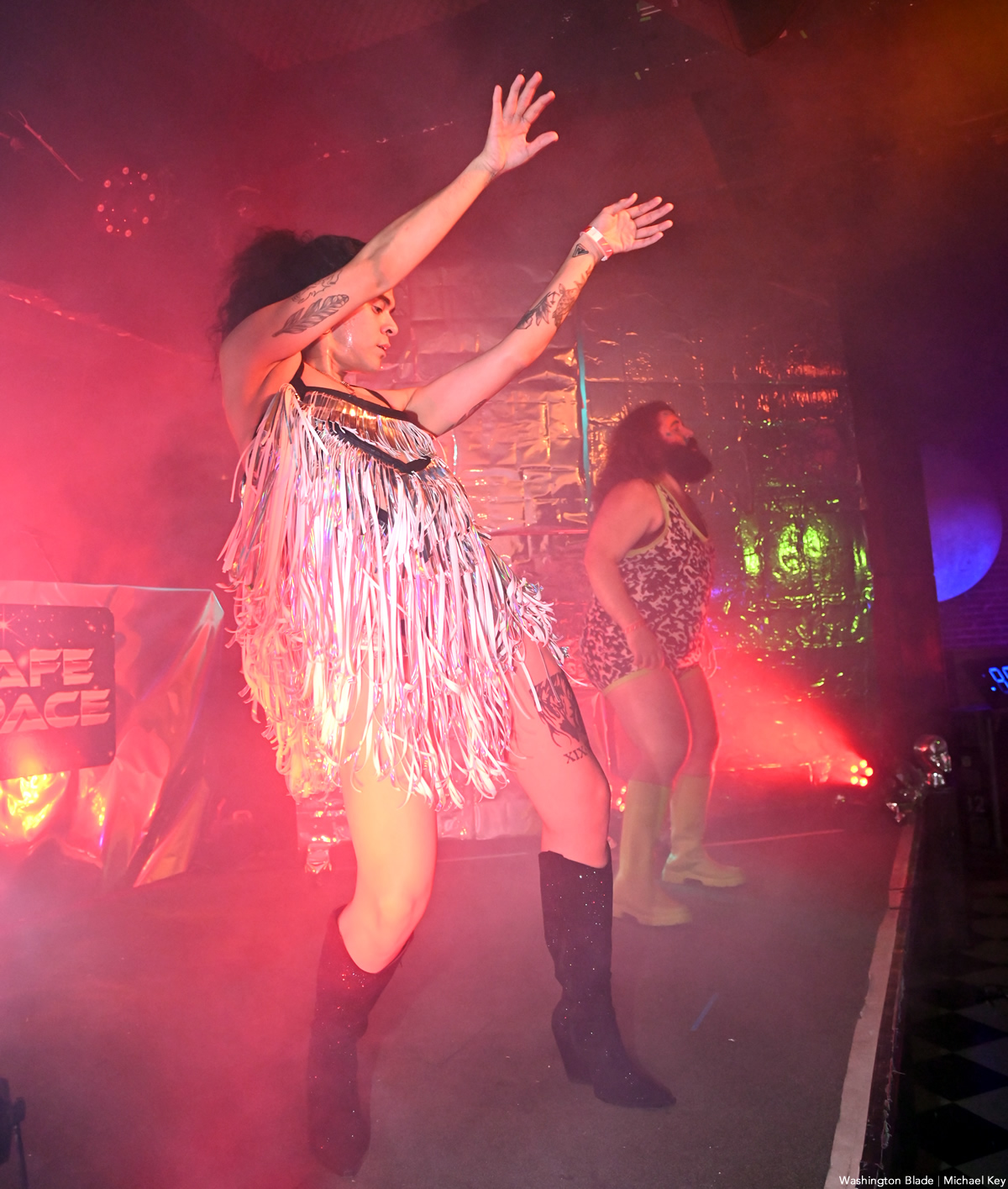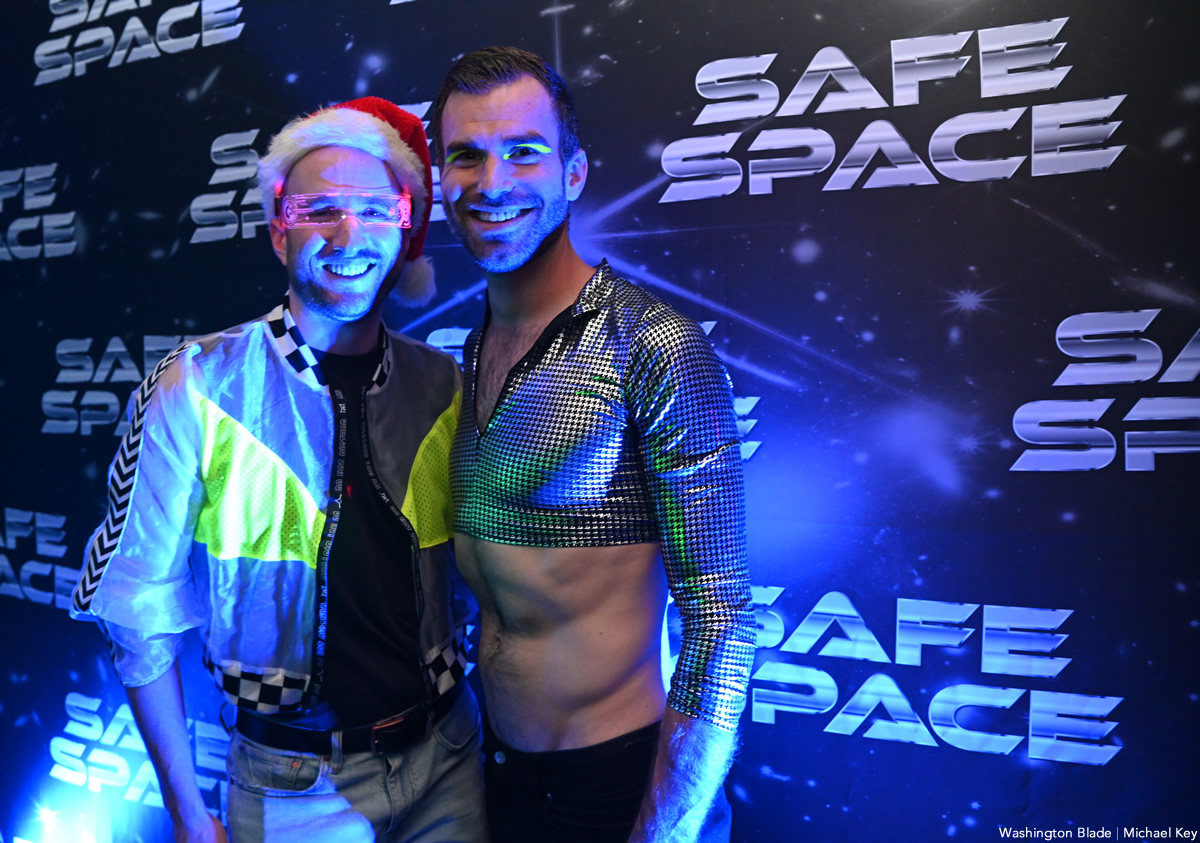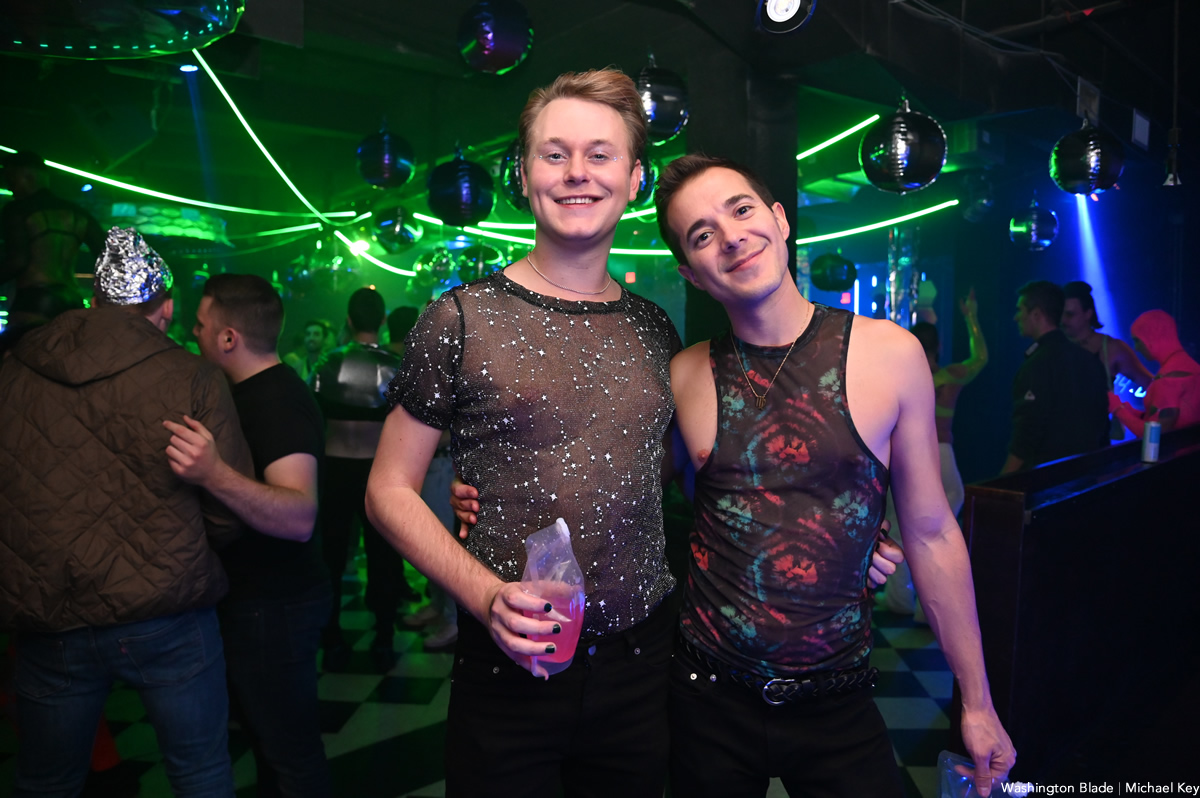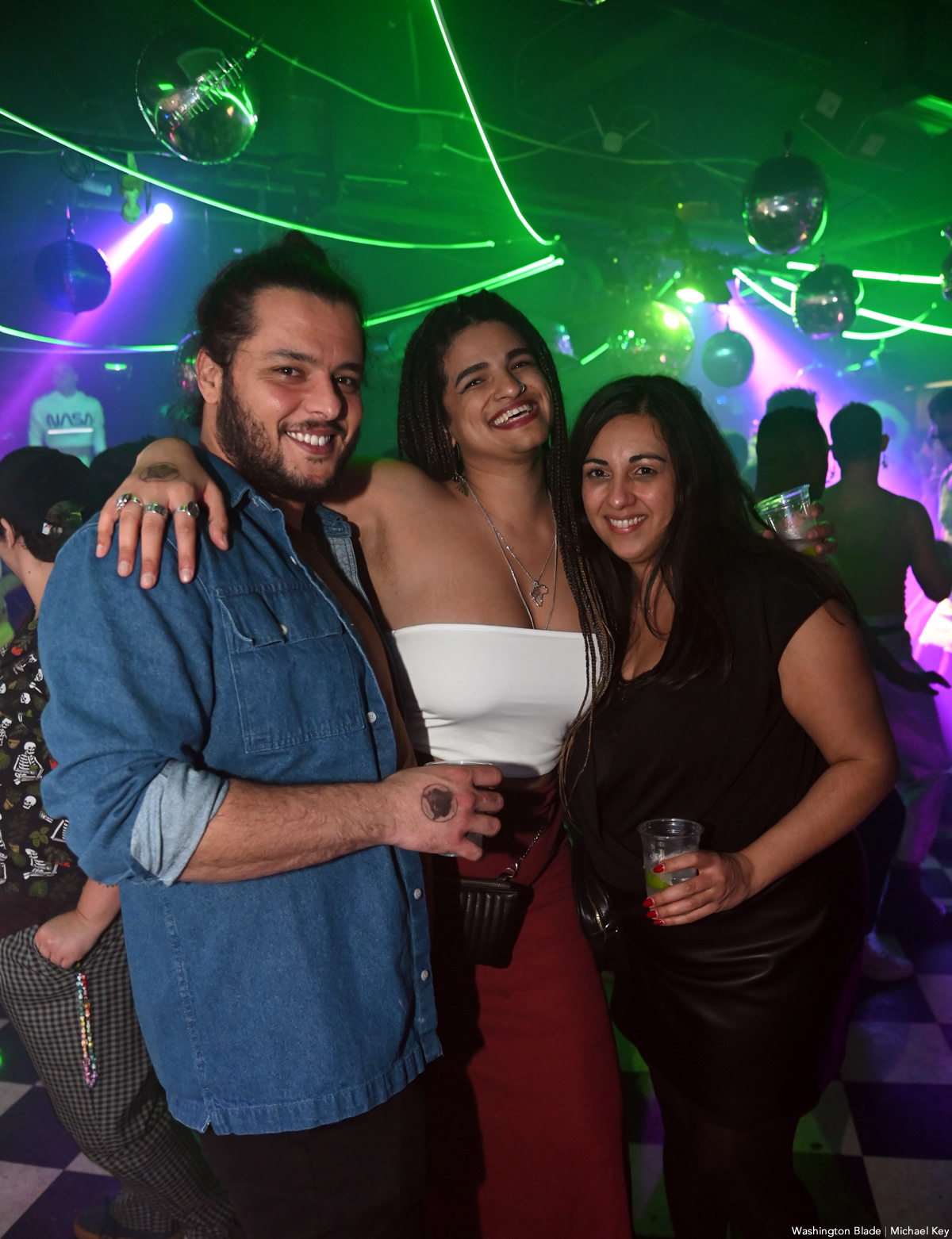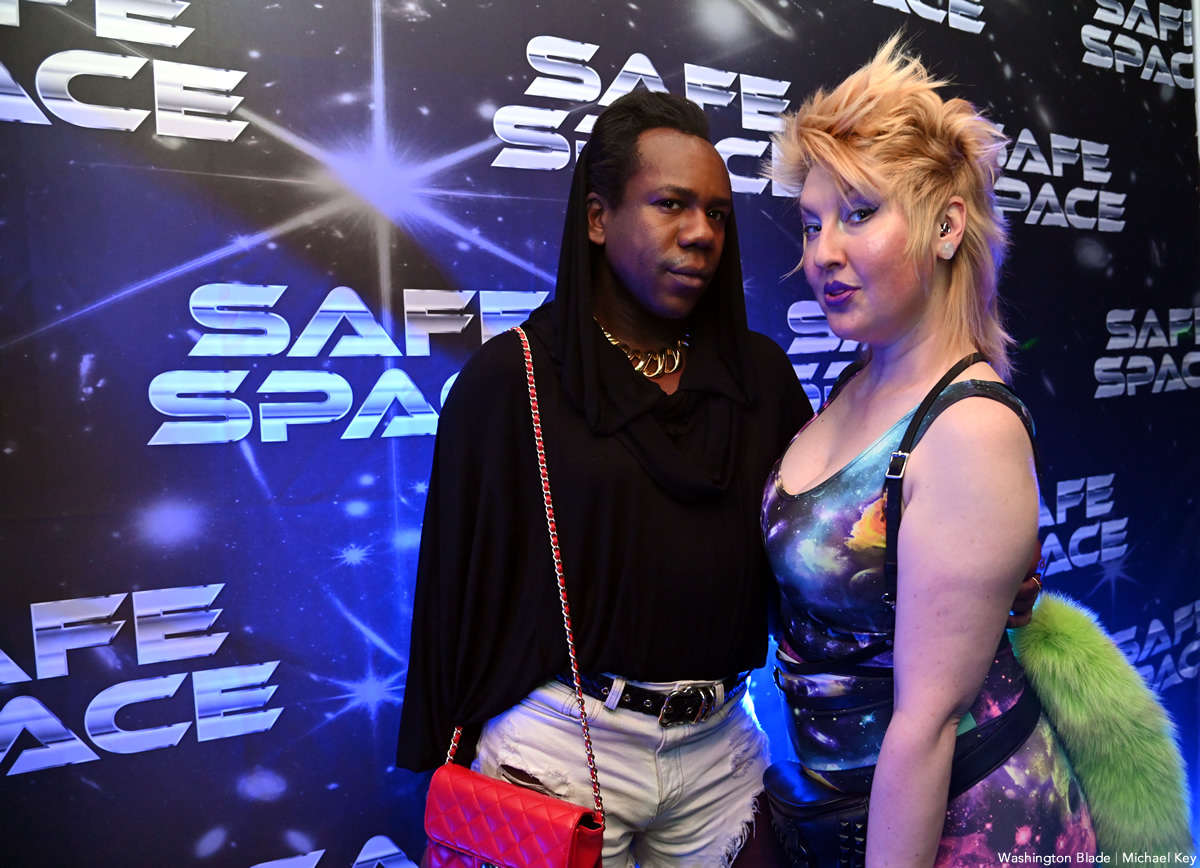 Covering the Safe Space party at @BlackCatDC for @WashBlade pic.twitter.com/uTVCvwve20

— Michael Patrick Key (@MichaelKeyWB) December 4, 2022
PHOTOS: Holiday Show
The Gay Men's Chorus of Washington perform annual concert at Lincoln Theatre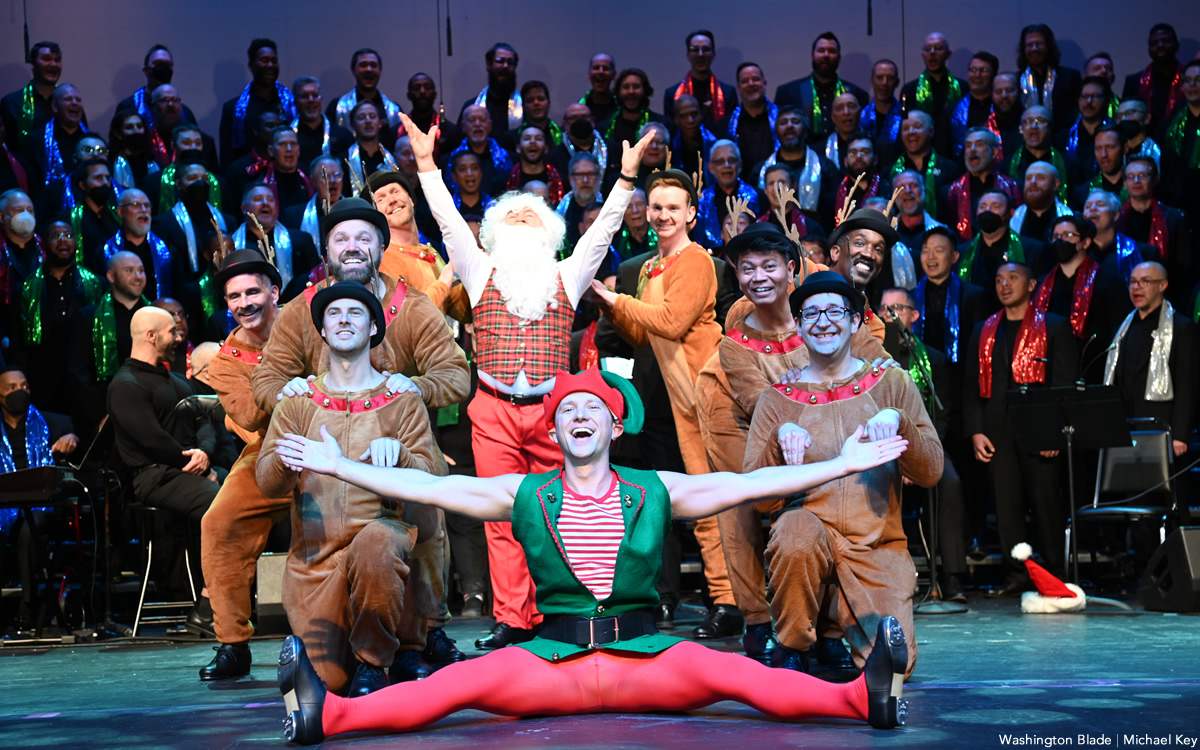 The Gay Men's Chorus of Washington and the GenOUT Youth Chorus performed "The Holiday Show" at a dress rehearsal on Friday, Dec. 2 at Lincoln Theatre. The Chorus has performances scheduled for Dec. 9 and 11. For tickets and showtimes, visit gmcw.org.
(Washington Blade photos by Michael Key)