April 17, 2018 at 5:28 pm EDT | by Peter Rosenstein
Re-elect Muriel Bowser mayor of D.C.
The District of Columbia has been my home since 1978. When I first moved here it was a small sleepy southern town. In trying to explain why it's complicated and doesn't always work John F. Kennedy once said, "Washington is a city of northern charm and southern efficiency."
We have come a long way from JFK's time and from when I moved here. The District of Columbia is a bustling, growing modern city. Our population has reached 700,000 and it's projected that by 2045 there will be one million people living here. We have growing and balanced budgets and it is difficult to remember the time we had a federal control board. We are spending more money on affordable housing, education, social services and healthcare than ever before. Yet we still we have many problems and a long way to go to meet the needs of all our residents, to ensure equality, and deal with the structural racism that exists.
Muriel Bowser is a fifth generation Washingtonian. She grew up in North Michigan Park in the same house where you can still find her dad who was an ANC commissioner and her mom a nurse. They inculcated in Muriel the value of a good education and importance of giving back to the community.
Ensuring everyone has an equal opportunity to succeed and thrive is what forms Muriel's vision for her second term. She knows no matter how much was accomplished in her first term it's only a start of all she wants to accomplish for the people of the District. Make no mistake she has accomplished a lot.
She focused on areas crucial to moving people forward and giving them a better life. Education has been a major focus for her and she understands the recent issues we are uncovering in that area must to be dealt with head on. She has said after the primary she will begin the process of hiring a new DCPS chancellor, one who will work with her to ensure no student graduates high school unprepared to go to college or begin a career. Muriel will look for a chancellor who charts a course ensuring D.C. can again be the fastest improving school district in the country. Even with the problems, D.C.'s public school system is making progress under her leadership. But she and we the voters know it's not fast enough. This year will see the mayor make the largest investment in public education ever in the District. Soon after her election, Muriel quickly negotiated a contract with the teachers' union after teachers worked without one for five years. In response to the need, the mayor opened the District's first all-male high school, the Ron Brown College Preparatory High School. Again we know there is much more to do but building a public education system in our city were every child has an equal opportunity for a quality education is a goal moving closer to reality.
In the area of public safety this mayor's efforts have resulted in a drop in crime including violent crime and property crime. In addition, Muriel has focused on providing second chances to our citizens who commit a crime by connecting returning prisoners to workforce training and real opportunities. She understands the way to fight recidivism is by providing these opportunities. There is more to do in this area as well. The mayor launched the largest deployment of body worn cameras to our police officers, which is helping increase accountability during community and police encounters. This helps build the community's trust in our police, a crucial need when you are combating crime. Under a program sponsored by the mayor, every resident, business and church that installs a security camera can apply for a rebate; another way to combat crime and make our residents safer.
​During Muriel's first term, her efforts to promote the economy have seen unemployment across the District decrease and her administration is proud that this includes those communities that are often seen as underserved. The mayor announced a new Infrastructure Academy to train D.C. residents for job opportunities in good paying infrastructure jobs. She has invested in workforce programs through the LEAP and Career Connections programs that are putting D.C. residents to work. She understands there is much more to be done. The mayor is justifiably proud of the expanded Mayor Marion Barry Summer Youth Leadership Program now serving young people to age 24. These are just a few of the ways Muriel is fighting every day to protect and defend D.C. values and give expanded opportunities to D.C. residents.
Muriel understands we must celebrate our diversity and inclusivity and has said in no uncertain terms our city will not tolerate hate. She invested $1 million to help our undocumented neighbors access legal help. She fought to bring the Gay Games to D.C., even taking a 24-hour trip to Paris during the effort. While we didn't get the games it was one more effort made to ensure the District is an open and welcoming place for the LGBTQ+ community. Muriel joined with mayors across the globe to support the Paris climate agreement. Under her leadership, D.C. was named the first LEED Platinum city in the world. Muriel continues the fight to make D.C. the 51st state.
​For these and so many more reasons I urge voters in the District to give Muriel Bowser a second term. No one is perfect but no one will fight harder to improve the lives of all the people of the District of Columbia.
Peter Rosenstein is a longtime LGBT rights and Democratic Party activist. He writes regularly for the Blade.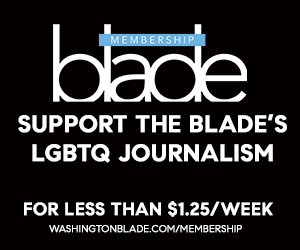 Sign Up for Blade eBlasts