July 27, 2018 at 1:34 pm EDT | by Grace Perry
Calendar: July 27-Aug. 2, 2018
FRIDAY, JULY 27
GAMMA support group meets tonight from 7:30-9:30 p.m. at Luther Place Memorial Church (1226 Vermont Ave., N.W.). Since 1978, GAMMA has provided a safe, nonjudgmental space for gay or bi men who are now or who have been in relationships with women to share and discuss their experiences. For more information, visit gammaindc.org. 
D.C. Eagle (3701 Benning Rd., N.E.) hosts its weekly WOOF! Happy Hour tonight starting at 5 p.m. for guests 21 and over. The bar will serve free pizza at 7:30 p.m., and there is no cover charge before 9:30 p.m. There are also drink specials, including draft pitchers for $9 until 10 p.m. Guests 18 and over are welcome after 9:30 p.m. For more details, go here.
SATURDAY, JULY 28
The D.C. Center hosts its monthly Volunteer with Food & Friends event today from 10 a.m.-noon (219 Riggs Rd., N.E.). Food & Friends prepares and delivers meals and groceries to people living with HIV, cancer and other debilitating illnesses. Those interested in volunteering can drop by and help prepare meals and get them ready for delivery. Up to 10 volunteers are needed. To register for the event, visit thedccenter.org/events. 
World-renowned actor and singer Alan Cumming takes the stage at the Kennedy Center (2700 F St., N.W.) tonight at 8 p.m. accompanied by D.C.'s Gay Men's Chorus. The Scottish-American will perform "Legal Immigrant," a cabaret of songs and stories about his 10 years as a U.S. citizen and what it means to be an immigrant. Tickets range from $29-349 and can be purchased at kennedy-center.org.
DISTRIKT of Columbia hosts its BM 2018 Fundraiser tonight from 8 p.m.-4 a.m. at D.C. nightclub Flash (645 Florida Ave., N.W.). DISTRIKT is a nonprofit dedicated to building diverse community through the arts, and tonight guests can support the organization over music and an open bar. Tickets are $12-15 and can be purchased at ticketfly.com. The event is only for guests 21 and older.
SUNDAY, JULY 29
Mind Your Body yoga studio hosts Twilight Outdoor Glow Yoga tonight at 7 p.m. at Crystal City Shops by the fountains (1750 Crystal Shops, Arlington, Va.). No prior experience necessary. The event is free and open to the public. To reserve a spot, visit mindyourbodyoasis.com or call 703-567-1290.
MONDAY, JULY 30
Coffee & Conversation for Older LGBT Adults meets today at 10 a.m. at the D.C. Center (2000 14th St., N.W.). Guests can stop by and enjoy a complimentary cup of coffee over conversation with fellow LGBT community members. For more information, visit thedccenter.org. 
TUESDAY, JULY 31
"The Color Purple" takes the stage tonight at 8 p.m. at the Kennedy Center (2700 F St., N.W.). Based on the Pulitzer Prize-winning novel by Alice Walker, this American classic tells the story of a young woman's journey to love and triumph in the American South. Winner of the 2016 Tony Award for Best Musical Revival, the show gives exciting nuance to Walker's original story. The performance is recommended for ages 10 and up. Tickets range from $69-149 and can be purchased at kennedy-center.org.
WEDNESDAY, AUG. 1
The Tom Davoren Social Bridge Club meets tonight at 7:30 p.m. at the Dignity Center (721 8th St., S.E.) for social bridge. No reservations or partners required. Newcomers welcome. Call 301-345-1571 for more information. 
BOOKMEN D.C., a men's gay literature group, meets tonight at 7:30 p.m. at the Tenleytown Library (4450 Wisconsin Ave., N.W.). The group will discuss "In Search of Duende," a collection of works by the famous gay Spanish writer Federico Garcia Lorca. All are welcome. For more information, visit bookmendc.blogspot.com. 
THURSDAY, AUG. 2
The Library of Congress (10 First St., S.E.) presents "Back to the Future" tonight at 8:30 p.m. as part of its Summer Movies on the Lawn series. The 1985 classic follows the story of high-school student Marty McFly who is accidentally sent 30 years into the past by his friend and maverick scientist Doc Brown. Admission is free and the film is family friendly. To register for the event, visit eventbrite.com.
Canal Park (200 M St., S.E.) screens this year's acclaimed blockbuster "Black Panther" tonight at 7 p.m. This Marvel comic film captured the attention of audiences across the country, quickly becoming the highest-grossing solo superhero film in history. Admission is free. For more information, go here.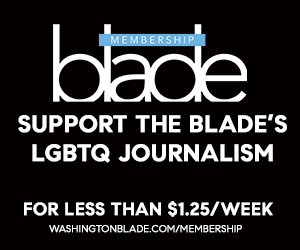 Sign Up for Blade eBlasts