Longtime male cheerleader joins rigorous Ravens squad
W.Va. native was scheduled to cheer first pre-season game this week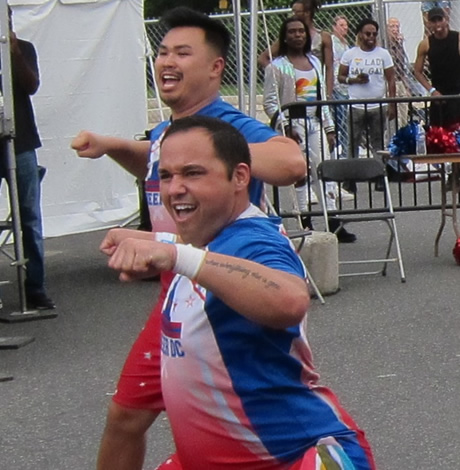 Luke Jackson has been involved in every aspect of competitive and recreational cheerleading. Originally from West Virginia, Jackson was a varsity cheerl eader with West Virginia University for four years, cheered internationally in co-ed competitions and has coached throughout his career.
After moving to the D.C. area with his husband Andy, Jackson stepped into a leadership role with Cheer D.C., which utilizes cheerleading to promote spirit and elevate acceptance and equality for the LGBT community. He is also coaching at South County High School.
The only aspect missing was professional cheerleading and earlier this year, Jackson was selected to the Baltimore Ravens Cheerleading team. The Ravens remain as the only NFL team to have a co-ed stunting team. The squad consists of 35 women who perform stunts and dances along with 23 men who perform stunts.
The Ravens Cheerleaders perform multiple types of stunts that range from three bases and a flyer to individual partner stunting. To get back into top shape, Jackson put himself through intense training leading up to his tryout.
"A typical session was running on the treadmill, throwing a training partner, running back to the treadmill and then throwing her again," Jackson says.
The tryouts for the Baltimore Ravens Cheerleaders are a four-step process. On day one, Jackson threw one stunt with a female cheerleader and was invited back.
On day two he was paired with a veteran cheerleader for safety reasons and performed more stunts, tumbling and an interview session. He highlighted his work with Cheer D.C. during the interview and received positive feedback. Day three was another 20-minute interview.
The final tryout took place at the Under Armour practice stadium and was a grueling session of throwing stunt after stunt with every girl on the team. Jackson made the cut and was sent for the group picture.
"I have cheered for so many cheer organizations and the Baltimore Ravens are loving, kind and supportive of everyone on our team," Jackson says. "From the moment you walk in until the moment you leave, it is serious but also so much fun. Practices are hard and safety is a focus. After each training session, we do two-and-a-half hours of CrossFit."
The Baltimore Ravens had their first preseason home game against the Los Angeles Rams on Thursday, the first game for Jackson as a Baltimore Ravens Cheerleader. He was hoping the moment brought back the same feelings he had in college.
"The Ravens have a marching band and I am looking forward to hearing the band music blowing, throwing stunts and that feeling of doing something you love in front of thousands of people," Jackson says. "I am hoping for the same chills I got when I was a West Virginia Mountaineer."
Celebrating sports history: DC Gay Flag Football's 25th season
Head of District's premier league says it's 'groovin' to its silver anniversary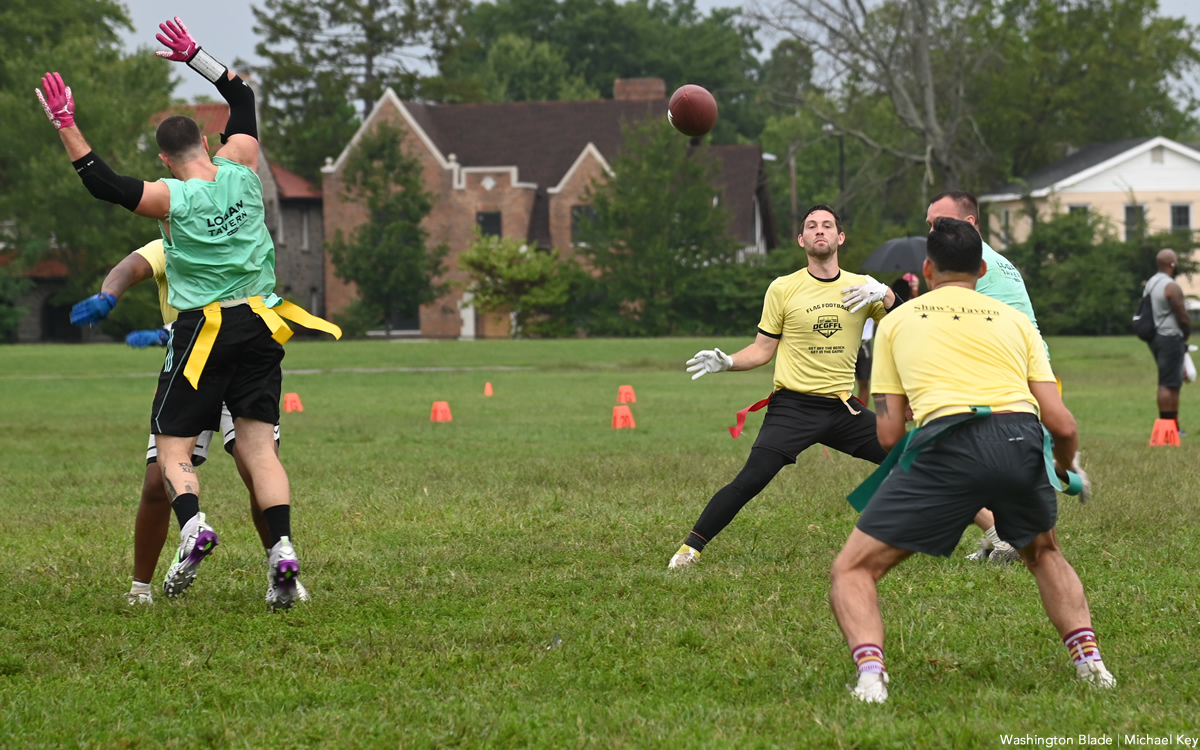 What started when gay football fans got together in the 1990s to play their favorite sport is now a D.C. institution with 270 players in 20 teams spread over three fields, playing in both fall and spring.
"Get off the bench," shouts the slogan on the league's website. "Get in the game!"
The D.C. Gay Flag Football League turns 25 years old this month and is considered not only the premier league of its kind in the District, but is recognized across the country for its players, organization, and spirit.
"The way we run our league and the way we compete make us stand out relative to the rest," DCGFFL Commissioner Logan Dawson told the Washington Blade.
For those who don't know flag football from any other kind, the difference is easy to spot: There's no contact allowed. As the rules say, "That includes tackling, diving, blocking, and screening. Instead, players wear flags that hang along their sides by a belt. To 'tackle' the person in possession of the ball, the opposing team needs to pull one or both of their flags off." There are a lot more rules, but that's the one that really sets it apart from tackle football.
The sport itself dates back to World War II and its origins have been traced to Fort Meade, Md.
What's the secret to the league's longevity? "I think we attract and hold on to great athletes who are highly competitive, not only on the field, but also, in our professional and personal lives," he said. Dawson, 32, plays flag football as well as manages the league. He's currently single, but says his first love is the weather.
"I knew in second grade that I wanted to be a meteorologist," said Dawson, who moved to the District to be a meteorologist with the National Weather Service.
A prolific swimmer since high school, he came out as he started grad school at Purdue University in Indiana in 2012. In an op-ed appearing in Outsports in 2014, Dawson wrote about competing in his first Gay Games in Cleveland along with a group of other gay swimmers from Colorado, and left that experience determined to join a gay sports league. 
He found it in the fall of 2018 in the DCGFFL, the same year the league's Generals team won Gay Games XVIII. The league supports up to five travel teams, which take part in annual tournaments nationwide. It also hosts a summer tournament each year in Rehoboth Beach, Del.
"There's a good amount of participation by people who played in the league from the very early days," Dawson said. "I think we're just in the sweet spot, where we have a lot of the original participants, a lot of new players, and we're just kind of grooving right now."
The first group gathered at Francis Field near Dupont Circle in 1994. Three years later, another group formed to play just steps from the Washington Monument Mall. They came together in 1998 to form what is now the DCGFFL.
"For the majority of those seasons, we mainly had one division that played that was co-ed," said Dawson. "This is our second season that we've had a Womens+ Division made up of [cisgender] women, trans and nonbinary individuals." The Womens+ teams are called the Senators.
Jayme Fuglesten is director of the Womens+ Division and has played in the league in most seasons since 2011.
"The DCGFFL has been a major part of my adult life," she says. "I came out while playing in the league in no small part because of the love and support of this community."
Why does she think the league has been such a success to have lasted 25 years?
"I think the league has been so successful because of its focus on inclusion and community," she says. "I remember being so surprised in my early years when JJ and so many others would just come right up to me, hug me, and welcome me. And that really hasn't changed in the 20+ seasons I've been around. It also continues to grow and respond to the needs and desires of our players. One example of that is the new Womens+ division, which gives an additional space for people who identify as womens+ to play and cultivate stronger relationships."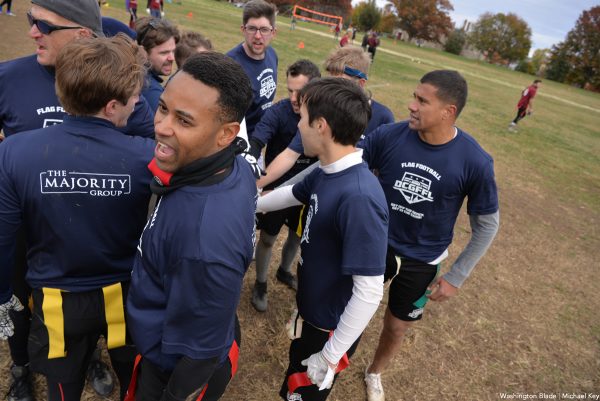 Next month, the DCGFF will send both Generals and Senators to Gay Bowl XXIII in Seattle. "That's going to be the first time we're going to have two Womens+ teams at the Gay Bowl," Dawson told the Blade. "It's reflective of the new generation of the league."
Earlier generations had trouble attracting new players. As the Blade reported in 2019, what had been a steady number of 20 to 22 teams dropped dramatically to 14, its lowest roster since 2011. The league's leadership turned it around with new recruiting events, new sponsors, changes in their social event locations, changes to their player draft and a change of venue for league play beyond Carter Barron fields in Rock Creek Park in Northwest Washington.
Brentwood Hamilton Park in Northeast Washington is now home to the recreation division and Randall Field south of the Capitol is the league's third venue.
Just like every facet of society, from coast to coast, what happened next hit the league hard. "COVID happened in spring of 2020," recalled Dawson. "Everything shut down, and we did not play for what amounted to three full seasons for a year and a half."
But once the world emerged from quarantine and lockdowns, flag football players started flocking to the DCGFFL. "We've had probably over 150 new players join our league in the last two years," he said.
One thing is certain, said Dawson: Despite the name, not everyone who plays in the gay flag football league is LGBTQ+.
"It's a really great community. There's a straight couple that's married and will be soon having a child in the next month or so," Dawson said. "They met playing in the league, just like we've had gay couples who meet in the league and eventually get married and have children."
Prominent among the league's many sponsors is the NFL hometown team, the Washington Commanders. "They are highly supportive of us, not just financially, but also publicly supporting what we are, and our mission," Dawson said.
This current NFL season is the first since 2021 without an out gay player on the gridiron. That's when Carl Nassib became the first active pro football player to come out as gay.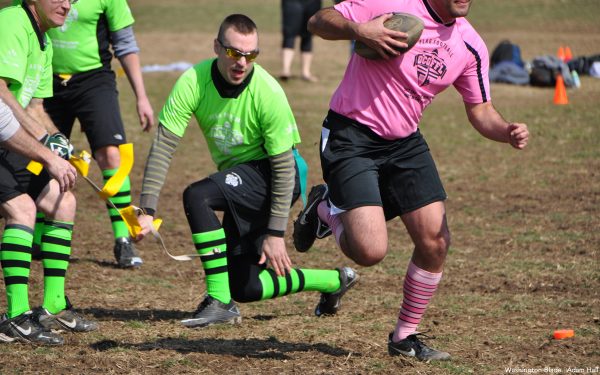 While Dawson said, "I'm sure there are more out there" who have not yet come out, Nassib's retirement makes this anniversary of the DCGFFL even more significant.
"It's unfortunate people still feel they cannot be out while they're playing and doing what they love, but that's the reason why something like the D.C. Gay Flag Football League is so important," he said. "To show that there are gay and trans athletes who exist and love playing sports."
The league plans to celebrate its 25th anniversary with a dance party and silent auction at Penn Social on Saturday, Sept. 23 starting at 8 p.m. Check the website for ticket information.
Carl Nassib announces retirement
Openly gay NFL player made history when he came out in 2021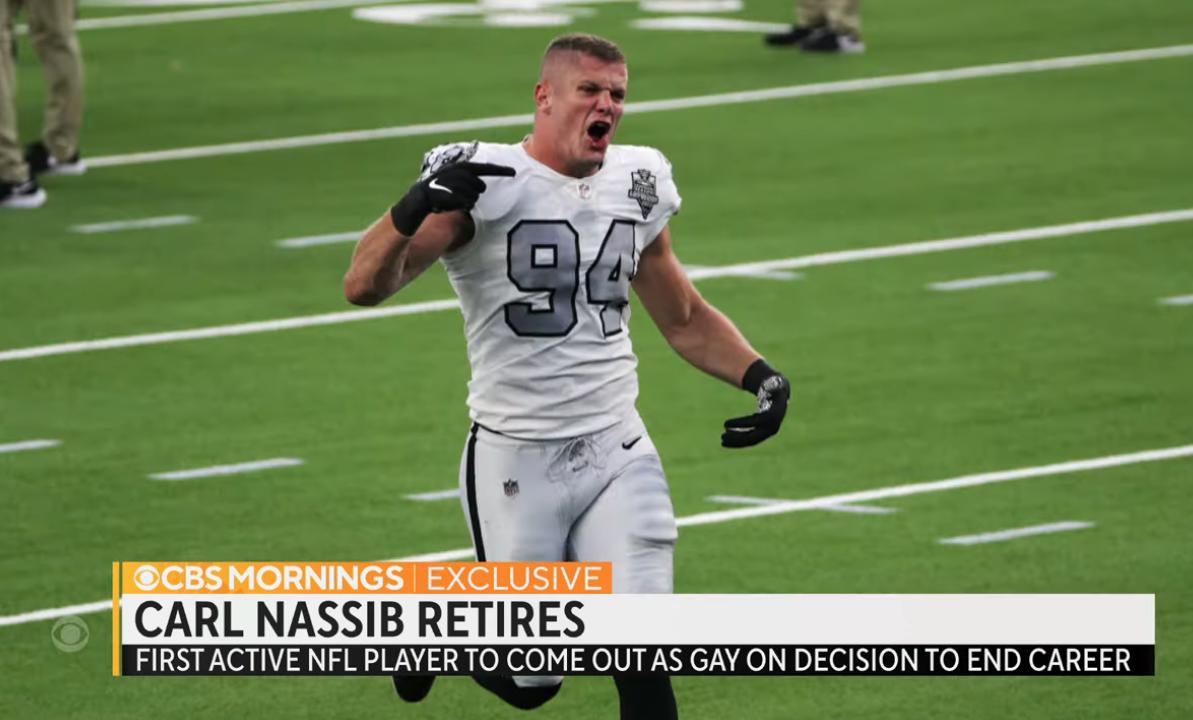 Carl Nassib, who made history in 2021 when he became the first active player in the National Football League to come out as gay, announced Wednesday he is retiring at age 30.
"This is a bittersweet moment for me," the free agent wrote in a post on Instagram. "But after seven seasons and just over 100 NFL games I am officially retiring from football to focus on my company Rayze."
Rayze is a mobile platform that connects people willing to give of themselves with those who need it most, born of an experience in Tampa, Fla., where Bucs players volunteered as mentors to kids being held in a nearby juvenile detention center. Rayze's website says the company serves to "shine a light on opportunities that need volunteers, while making nonprofit engagement, volunteer recruitment and donating as simple and intuitive as possible." 
"It really feels like just yesterday starting out as a walk-in at Penn State," Nassib wrote in his post. "Football has given me more than I ever could have imagined. I can truly hang up my helmet for the last time knowing I gave it everything I had."
Ever since he came out in 2021, the former defensive end for the Tampa Bay Buccaneers has become a philanthropist for the LGBTQ community, especially for queer youth, personally donating $100,000 to the Trevor Project. That year, the NFL matched his donation, and in 2022, Nassib himself matched donations dollar for dollar, up to $100,000.
According to the Bucs, Nassib played in 99 regular-season NFL games with 38 starts, recorded 187 tackles, 25.5 sacks, 45 tackles for loss, 59 quarterback hits, four forced fumbles, three fumble recoveries, one interception and 19 passes defended. In 2016, he the Cleveland Browns drafted him with the second pick in the third round. At Penn State, Nassib was a star player, leading the nation in sacks and forced fumbles during his senior year with the Nittany Lions in 2015.
"It was not an easy decision. It really, really wasn't," Nassib told People magazine in an exclusive interview timed to coincide with his Instagram.
"This would have been my 23rd football season. I've been playing football since I was eight years old, and I'm really excited to move on to the next chapter of my life," he said.
Nassib says he began considering retirement last season before becoming a free agent, when he said he was "staying at the Bucs facility until 9 p.m. every night working on Rayze."
"I feel like it's my calling and it's what I'm meant to do," Nassib says of the app. "I'm really excited to move on to the next chapter of my life and to give Rayze everything that I have."
In July, he posted that he had accepted an appointment to the board of directors of the local United Way chapter in his hometown of West Chester, Pa.
Nassib said he is also going to work with the NFL in a new role, in matters related to the league's philanthropic endeavors and its "diversity, equity and inclusion."
"I think that I can provide a very rare and specific view of how life is for an out gay player, and I think that there are some amazing opportunities that I can also learn," he told People.
"Maintaining that relationship shows that the NFL is continuing to support me. They've supported me so much over the last two years, and I really couldn't have done it without that support," he said.
Nassib said the NFL's offer to utilize him in this new role "continues to show people that you can be yourself and compete at the highest level."
But what he's most excited to do with his time now, he told People, is to spend the holiday season with his family and his boyfriend, retired Olympian Søren Dahl.
"I've spent 11 out of 12 Christmases away from my family, many of them alone in my apartment," said Nassib. "I haven't spent Thanksgiving with my family since 2010, so I am really, really looking forward to spending time with my family, my friends, and those special moments. And that's something that I've been looking forward to for years."
That's one of the many reasons why he wrote on Instagram: "I really feel like the luckiest guy on the planet."
Close out the summer with Team DC
United Night Out held at Audi Field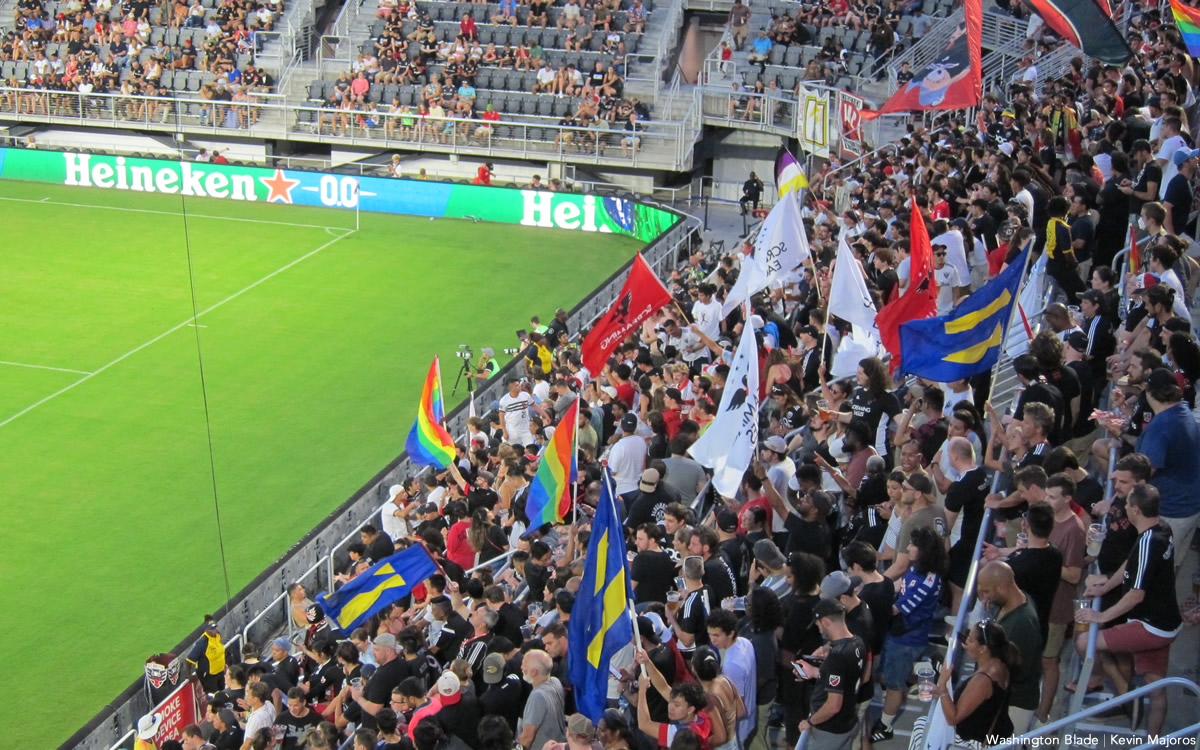 Team DC and Federal Triangles Soccer Club will host "United Night Out" on Saturday, Aug. 26 at 7:30 p.m.
This event will celebrate the LGBTQ community and cheer on the Black-and-Red as they take on the Philadelphia Union.
Team DC is the association of LGBTQ sports clubs in the greater Washington region with 42 member clubs (including FTSC) with more than 7,000 participants. Team DC sponsors the Pride Night OUT Series, which helps organize Pride nights with all local pro teams. In 2023, Team DC will sponsor 14 different Pride nights, including the United Night OUT.
Tickets are $30 and can be purchased on Team DC's website.