Lily Tomlin on why she's happy she lost the Emmy this year — and a whole lot more
Comedy legend on Fonda, Travolta, Madeline Kahn, Gilda Radner and her nearly 50-year career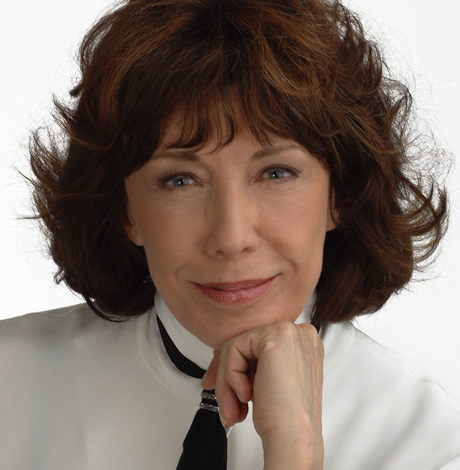 Lily Tomlin

Wednesday, Oct. 17

8 p.m.

Kennedy Center Concert Hall

2700 F St., N.W.

$39-129
It's Tuesday, Sept. 18, the morning after the Emmy Awards. Lily Tomlin was nominated for her role as Frankie on "Grace and Frankie," her hit Netflix comedy in which she co-stars with her old pal Jane Fonda. By phone from her home in Los Angeles, Tomlin is thoroughly unfazed at having lost to Rachel Brosnahan for Amazon's "The Marvelous Mrs. Maisel." 
Tomlin, 79, has seven other Emmys and is only an Oscar short of EGOT status. She spent a delightful near-hour with the Blade by phone — ostensibly to talk about her Oct. 17 show at the Kennedy Center though she was far more animated on a host of other topics. Her comments have been slightly edited for length.
WASHINGTON BLADE: How were the Emmys?
LILY TOMLIN: Well I was a little bit late. I missed the opening number and then my category was announced and I went backstage to the green room to congratulate Brosnahan. … She was very sweet and everything like that. Then out in the hallway I ran into Betty White so we took a photo. She's totally charming. Her birthday is Capricorn so she's very much like my mom and she could be my mom, that's what's staggering.
BLADE: Was there anybody else you were particularly rooting for?
TOMLIN: Not so much. I don't want to be blase about the Emmys but there's so much product, I mean there's no way they can embrace all the product. There's something like 450 shows on the air probably that run every week at least part of the year. That's just staggering. 
BLADE: Do you watch many of them?
TOMLIN: I only watch an infinitesimal fraction of them. I watch all the obvious ones, you know. "Ozark," that's sort of a creeper. When "Homeland's" on I watch "Homeland." "Billions." I used to watch "Orange is the New Black" but I sort of got — well, you lose track of it. A new show comes along and you start watching that for a season or two then you gotta double back and see way into some other show you loved and it's just too much. There's no way any one person could watch all the shows for a whole year, never mind having to earn a living or anything.
BLADE: I don't even know how the critics do it.
TOMLIN: I don't even know if they do do it. I think they just run through one or two and they take a little consensus. I don't think they can do it. Maybe somebody has laid out the statistics so they know that golly, it is possible but I'd be more hard pressed I guess. (laughs)
BLADE: Do you dream of winning the Oscar to complete the set?
TOMLIN: I think I probably have missed that chance.
BLADE: Well you never know.
TOMLIN: No, you never do know but as you get older, it's very hard to come by older parts. And of course I have that idea alive but by that time it's not gonna matter. It's getting ridiculous. There was a time when everybody was focused on somebody coming along and, "Oh, she's got an EGOT." I've satisfied myself because I have two Peabodys. I said, "Well, if I did have an Oscar, I'd have a PEGOT. I wonder how many more people have a PEGOT." (laughs)
BLADE: Probably none.
TOMLIN: Maybe, I don't know. But it's like all things in life. It's not that it's not exciting or fun or you value it or you'd like to win but frankly, I did not want to win last night. I didn't want to win when Jane Fonda wasn't nominated. So when she was nominated we'd go to the Emmys together and we'd feel pretty satisfied we weren't gonna be called to the front because we knew we'd split the vote. You never really know. You don't know what the count is, but I didn't relish winning and plus I feel a little bit somewhat estranged from the multitude of shows that are on. I used to have friends on every show or I'd really be able to grasp the whole industry in an armload but times change. The Emmys will probably eventually evolve into something else. I've been a governor at the Academy and it's a very hard thing to do. You have to have someone who has the brains to figure out what's coming down the pike and how they should handle it. I think time will just take care of that.
BLADE: Are you still shooting season five?
TOMLIN: No, we finished that and we're gonna start season six in January so we're chugging along. We really do love doing the show.
BLADE: How long does it take to shoot a season?
TOMLIN: Four-five months but we have a little time. We put some hiatuses in there and we really like that. So we'll work like three-four weeks and have a week off. And as time has gone on, the other characters, their lives have gotten more developed and so it used to be very heavy on the shoulders of Jane and me to handle the story because they had to establish our characters strongly first and now everybody else has a life going on and there's a lot of interaction now so we're able to have this time off. We just have fun, that's all. I adore Sam (Waterston) and Martin (Sheen) and my kids. I even love Jane's kids.
BLADE: Critics have said the show found its footing more in the second and third seasons. Would you agree?
TOMLIN: Yeah, I guess we found it as we went along because whoever was gonna develop that story, they were finding it too. I don't think anybody had that story thought out completely. I don't think any show ever does. It evolves as you go along. When I did "Damages" on FX, it was exciting because we were playing such bad people. We were always getting into some dreadful mischief. It was based on the Madoff family and we never knew how bad we were and they never told us. So we would sort of play it by ear. … We'd stand around and we were always having to play both sides of the road because we were hoping we were gonna be really bad. We'd stand around and say, "Do you think Joe would kill his mother, do you think she would kill her son …" (laughs) We were just really deep into it. So with "Grace and Frankie," especially the beginning season, we had to adjust how we all behaved. … Like that scene on the beach when Jane and I are doing peyote and we'd sort of hit bottom with our husbands taking off and all that. When we played that one scene where she's saying, "You know, why aren't you mad and upset," and all that stuff, and I'd say, "No, he didn't know what he was doing, he couldn't do it any other way and that's all he could do," and then she'd say, "How can you just take it" or something like that and then I broke down and said, "I'm heartbroken." I didn't really expect that.
BLADE: What's it like working with Jane now versus 30 years ago? Has she mellowed or not mellowed or anything noticeably like that?
TOMLIN: I feel like she's the same person. She's always growing and always learning and changing and developing herself and trying to make everything better so I don't even want to say she hasn't changed because I'm sure she has changed for the better in many ways but I can't just put my finger on it because she's a really good person. Even when she's being really direct, it's because she wants to make things better for everbody. Like she'll say to someone on the set, "You need a haircut." Somebody else would just be devastated if somebody of Jane's position on the show should go in and tell somebody that but sure enough, the person would go in and somebody would cut their hair and they'd look really great and it was just like she has an eye for it and she can't help being that direct. It's like, "God, we gotta fix this right now," but never in a hurtful way. She's really a wonderful friend to me.
BLADE: Are you in "Jane Fonda in Five Acts," her new documentary?
TOMLIN: I'm in it briefly in the beginning and then a little bit in the middle someplace. 
BLADE: Have you seen it yet?
TOMLIN: Yeah, we had a big screening and then Jane and I went up to San Francisco the next morning to lobby for one fair wage and we didn't get home til midnight that night so we were beat. We had the movie until 10:30, 11 or so then we had to be up and out of the house by 7 so sometimes we're just doing so much, we're on the run all the time.
BLADE: How did you like it?
TOMLIN: I liked it. I thought it was rather epic. She has lived such a full life. 
BLADE: How has Netflix been to work for?
TOMLIN: Netflix is great. It's good. It's good except we don't know how successful we are. Our agents don't even know. They just know it's popular.
BLADE: So there's no ratings or any way to gauge it?
TOMLIN: No, you never really know. It's not like being on network and knowing you're number whatever in a roster and you know how much the network wants to keep you or not keep you. It can work two ways. It can make you feel very familial with the boss man or it can make you rebel.
BLADE: Well you never know what kind of footing you're on.
TOMLIN: Yeah, exactly. But they're basically fun and the people at Netflix and Skydance, which is the producing partner of Okay Goodnight!, which is Marta Kauffman's company, they all have a hand in it.
BLADE: How long would you like to see "Grace and Frankie" run?
TOMLIN: I think about eight years. Jane says she wants it to run until we're both really old and everybody watches us age. I think that would be a good touchstone for people.
BLADE: Do you think sitcoms tend to run out of gas after about eight or 10 years?
TOMLIN: You mean the content?
BLADE: Yeah. It gets repetitious.
TOMLIN: Well I don't know, we haven't done it. Did "Seinfeld" run out? They were on nine years or something like that I think. "Murphy (Brown)" was 10 years.
BLADE: Are you gonna be on the reboot of that? (Tomlin played Kay on seasons nine-10)
TOMLIN: No, there's no plans for me to be.
BLADE: What do you think of all these reboots? Is it a good thing or just a sign that they're desperate for something with built-in name recognition?
TOMLIN: Well as with anything, it depends what's done with it, who's hand is in it. Is it innovative? Is it fresh? Can they find a freshness in those relationships? Now "Murphy" has a good chance because they're gonna be very political and I think Candice's character is very timely in that she has always been an independent woman. She's assertive, she's in a very timely, professional field and it's been a long time since they've been on. Twenty years or more, maybe more.
BLADE: I read that "Grandma" was shot in just 19 days. Was it nerve wracking shooting that quickly?
TOMLIN: No, no it was great. The actors were so good and I adored (director) Paul Weitz. I'd done "Admission" with him and then he came back to me with "Grandma" and no, it wasn't nerve wracking at all. It was rather fun. I thought that would be my last crack at an Oscar. I got a lot of great notices in the New York Times, the Los Angeles Times and all those papers but it just never took off. It was never a big enough hit to attract attention, maybe because of the subject, I don't know. But I liked that little film very much.
BLADE: That was a decent hit relative to its budget. It must be quite gratifying to still be having hits with that and "Grace and Frankie."
TOMLIN: Yeah, no of course it is. (laughs) Anything is fun that keeps you in the game.
BLADE: How did you get so chummy with (British cabaret singer) Mabel Mercer (1900-1984)? 
TOMLIN: Oh Mabel Mercer, now you're taking me back so far. Well what happened is I used to work at Upstairs at the Downstairs. I was in a revue there initially with Dixie Carter and Madeline Kahn and Irv Haber who owned the club, Mabel Mercer used to do Mabel's Room downstairs which was this small little blot kind of room and it was just ideal for her and it used to be her room. Joan Rivers came along and made a huge splash and she was there on weekends and Mabel would come in like Mondays, Tuesdays and Wednesdays so Irv asked me to open for her. I had gone to see her in the old days when she was playing like, oh, what was it, the Bonsoirs or whatever that club was on 8th Street. My friend Louis and I would walk down there and we'd have like a quarter for the coat check and that would be it. The bar would be stacked so thick, you could stand there for a whole set and never even buy a drink. So when Irv gave me the chance to open for her, I just jumped at it. I think I was a little radical for Mabel's crowd at the time. There'd be a lot of stars there at the late shows and I remember ('30s actress) Patsy Kelly was one of the women and they were like of another generation. They were kind of very mouthy and loquacious and they'd speak out and catch you in all kinds of stuff. I used to do a funeral sketch where I'd use a ventriloquist dummy as the corpse to cheer up the crowd and Patsy jumps up and says, "OK, that's enough of that, we don't need to see that." They didn't like that subject and of course maybe as you get closer to death you don't. So I lived in Yonkers and I'd go pick Mabel up in Harlem. She stayed there with relatives because she lived in Rockland County and I would go pick her up in Harlem and we'd drive to the club and then I'd take her back to Yonkers and having those times with Mabel Mercer was so fabulous. She was so wonderful, so human, so elegant and so down to earth. One time she said to me, "You know, Lily —   I would just love to get a commercial." And this was a time when we didn't really do commercials, not those of us who had any consciousness. We thought it was terrible that these big companies would co-opt artists into their commercial activities but she had a girlfriend who'd gotten a Tide commercial and bought herself a fur coat and she thought that was great. I loved her so much. I used to go to Cleo's and different clubs around New York and she would make me cry so much. Laugh and then cry at the way she could interpret a song. She had no voice left really. Her voice was very limited but she was so brilliant and she would be so moving and entertaining. I cried into napkins then glued them into my scrapbook. I need to go over to the office and see if I still have all that stuff.
BLADE: Were you close to Madeline and Dixie?
TOMLIN: I was closer to Madeline. … They're both dead now and it's just terrible. Madeline especially died really early. Anyway as Ruth Draper would say, "Well, that's that."
BLADE: You grew up in a mostly black neighborhood in Detroit. Did you know or know of Aretha and Smokey and all those folks?
TOMLIN: I was but I didn't know them personally. I knew of them. I knew of Motown and I knew of everything but I didn't really know them. I later met Diana Ross and she introduced me to Michael Jackson. He was really quite a kid but I didn't really hang with them. They wren't within like a two- or three-block radius of the apartment house I lived in.
BLADE: With all those TV specials you did in the '70s, was there ever talk of you having your own variety show?
TOMLIN: Well all those specials were supposed to be pilots for variety shows. I did six of them — four for CBS and two for ABC and I had huge ratings, especially for the first couple. The second special I did for CBS, Freddie Silverman wasn't going to air it. He screamed at my manager Irene, "He said this $360,000 — they only cost $360,000 in those days — jerk-off." Then he had breakfast with Alan Alda, and Alan Alda was on it, and he said, "Oh, I just had the greatest time doing Lily Tomlin's special," and Fred Silverman went back and looked at it again and he relented and they put it on at 10 o'clock that night and we got two Emmys, best special and best writing. 
BLADE: Why do you think they never got picked up?
TOMLIN: It was unusual for its time and that was the last gasp of variety shows until something like "Saturday Night Live" comes along and "Fridays." "Fridays" was a fairly successful show too. … You can't predict a lot of this stuff. My shows were just too off the wall basically at that time but they weren't off the wall, they were right on the wall. They were really good, most of them. When they didn't really interfere with us, we'd go haywire.
BLADE: Jane says the "9 to 5" sequel is a go. What's the status of that?
TOMLIN: It's being written. Then we'll have our input but we can only wait for the first draft and see how that goes. But they want it quite badly so I think they'll keep working on it til it's greenlighted.
BLADE: It's so many years later. Was there serious talk of doing something sooner?
TOMLIN: There was constant talk of it. Before (director) Colin (Higgins) died, he had written a draft that would have starred Jane, Dolly (Parton) and me. Now we'll be paired with a younger generation although we'll figure prominently in the story but there'll be other aspects of the story that would not have been present if we'd done it immediately after the original. At one point, Jada Pinkett Smith optioned it and they were gonna do it with an all-black cast. That never came to fruition and Jane Fonda had given up the rights in some fashion so she didn't even have control of it at that time. Now it's come back around to us again.
BLADE: Does performing at the Kennedy Center have any special resonance for you since you have the Honors and the Twain Prize or is it just like performing anywhere else?
TOMLIN: Well the last time I was there, I did "The Search for Signs of Intelligent Life in the Universe," so I'm not doing that show at the moment but I'm doing something character driven. I use some video, mostly to make fun of myself or to reflect on a character's development from many years before. I like to think of my act as a roller coaster ride and you never know when that drop is gonna come. I just like to keep things mixed up.
BLADE: Does Ernestine have anything to say about the current administration?
TOMLIN: She probably has plenty to say but she won't be saying it this evening. I don't think she will. Unless she and Trump get into a Tweeting war (laughs).
BLADE: Did you and John Travolta hit it off making "Moment by Moment" (1978)?
TOMLIN: Yeah. He could do my characters, especially Trudy the bag lady. He was a darling guy. I loved him a lot. He was really cute, really sweet. Only about 23 or something.
BLADE: Have you seen him recently?
TOMLIN: Yeah, I've run into him. I've seen him at the theater or at award shows, especially when he was doing O.J. Oh, who did he play? He was very good. He's a good actor. He sent me a congratulations on my Emmy nomination.
BLADE: How is (your wife) Jane (Wagner) these days? What's she up to?
TOMLIN: She's wonderful, terrific, fabulous.
BLADE: Does she enjoy being more behind the scenes?
TOMLIN: I think she does prefer that. She's much more introspective than I am. But, you know, if she does something she likes to be acknowledged for it. We've tried hard to do that over the years. I used to have to write to Ted Koppel. He used to say, "As Lily Tomlin says …," during the tenure of "Search," there were so many great lines in "Search," and it was true, I did say it but Jane wrote it. I'd say, "Ted, you've got to acknowledge Jane for this line." 
BLADE: Are you working on anything together now?
TOMLIN: We're mostly working on producing stuff. We're working on a show on the pulp novels of the '50s. I don't know if you know them or not, but Ann Bannon's books about Beebo Brinker who is a lesbian in the Village in the '50s and early '60s.
BLADE: Where would one have purchased those books then?
TOMLIN: You'd get 'em off a low grade news stand or in a little kiosk that wasn't in your home town. It was always kind of furtive. God forbid somebody would see one in a drawer in your house or something.
BLADE: Were they as kitschy at the time as they seem now?
TOMLIN: No, they weren't.
BLADE: They seem like total kitsch now.
TOMLIN: Yeah, they're pretty kitschy but they were rather heart felt. We're trying to make a series of it.
BLADE: Will it be cheeky or straight? 
TOMLIN: Well I think it may be in the eye of the beholder.
BLADE: What do you like to do when you have a day off at home? Do you like to piddle around the house and cook?
TOMLIN: Yeah, I like to be at home. I have Cancer rising so my home is important to me. I have an Aries moon, so I'm volatile. Then I have a Virgo sun, if all this stuff is true and applicable.
BLADE: Did you see the new Gilda (Radner) documentary?
TOMLIN: No. Someone sent me a notice to go to a screening but I had to work that night but I'm really anxious to see it. Gilda was so dear. She was a little bit younger and whereas  I was good friends with Madeline and Dixie, I never really got to be close to Gilda except we were both from Detroit and I was on "Saturday Night Live" a few times.
BLADE: It's nice to see her getting some dues a little bit with this.
TOMLIN: Oh yeah. None of the girls on "SNL" really got any kind of real celebration. The guys went on to make movie after movie and it didn't even matter how they did. They always had one in the can, one in the planning and one on the boards so it one was failing, they always had two more chances. Gilda never really had any great vehicle written for her or anything like that. 
BLADE: Thank you.
TOMLIN: Wow, you were pretty Johnny on the questions spot. I hope I gave you something to work with. 
Baltimore DJ on using music as a bridge to combat discrimination
Deezy brings high-energy show to the Admiral on Jan. 28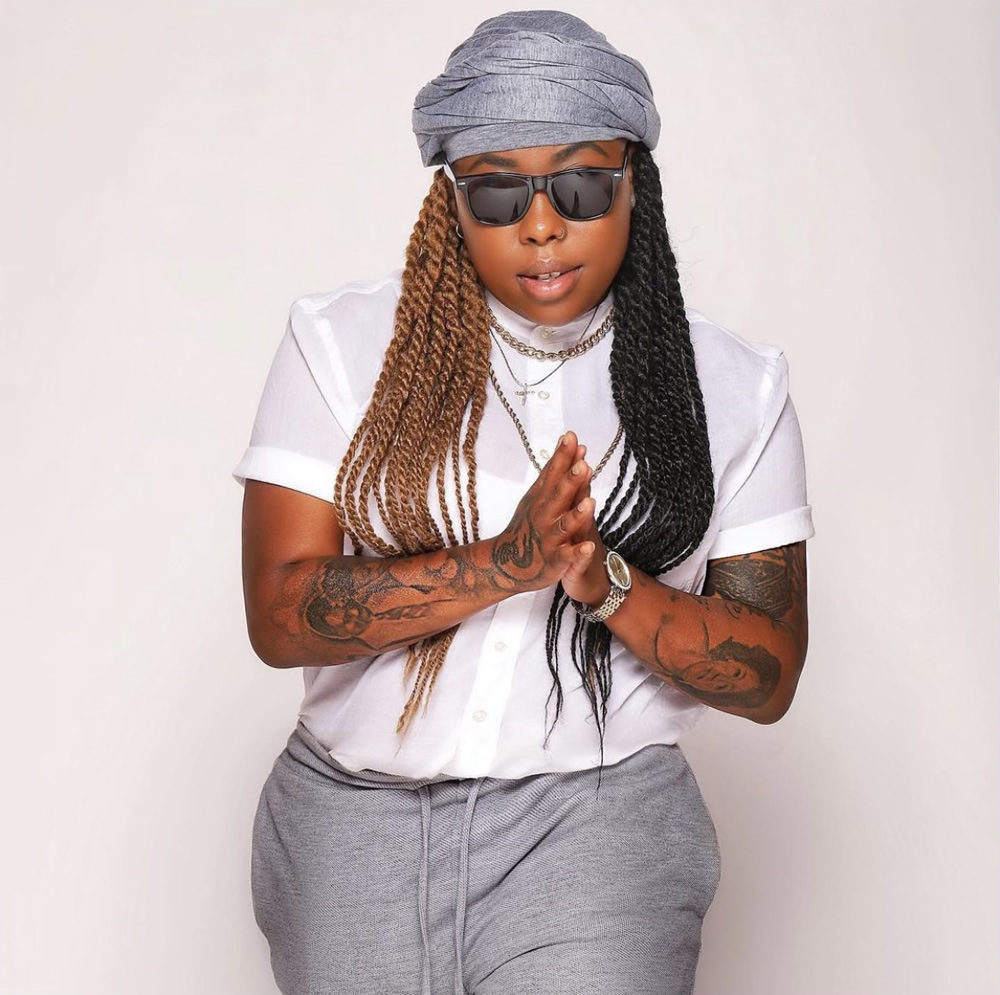 A Baltimore DJ will conclude a month of performances in Baltimore and Washington, D.C. clubs this Friday, Jan. 28, according to the artist's management. DJ Deezy is set to perform at the Admiral in D.C. at 9 p.m.
Since the year began, Deezy has hosted electric events at clubs such as Hawthorne DC, DuPont and the Baltimore Eagle Bar & Nightclub.
The Washington Blade sat down with the DJ to discuss the course of her career.
The beginning of DJ Deezy's infatuation with music dates back to her childhood spent between her mother's house in Baltimore City and her father's house in the suburbs.
In Baltimore, Deezy was exposed to the local rap and raw hip-hop scene that inspired her to embark on a rap career in high school.
Concurrently, she was entrenched in Motown and classic rock by virtue of her singer, songwriter, and guitarist father Ron Daughton's involvement in a classic rock band. He is a member of "The Dalton Gang" and was inducted into the Maryland Entertainment Hall of Fame in 2015.
"Before I embarked on my DJ journey, my father let me record 'a little 16' on his tape recorder," said Deezy. "Eventually, he bought me a wireless microphone that I carried around with me to performances."
Between her experience as a rapper and watching her father maneuver the classic rock music scene, Deezy acquired varying tastes in music that have influenced how she curates her sets today.
She "specializes in open format vibes with spins from multiple genres including hip-hop, rap, circuit, and top 40s hits," according to a summer 2021 press release from her management.
Deezy is also a proud member of the LGBTQ community — she identifies as a lesbian — and this also informs her approach to her work.
"I'm easily able to transition and rock the crowd because I can relate to many different backgrounds," said Deezy. "I can DJ in places that are predominantly white, Black, or gay [and still do my job effortlessly]."
Centering community
Deezy values representation. Not only because she exists in a field dominated by men, but also because DJs who inhabit other identities aside from being men are less common in the industry.
The scarcity of Black and lesbian DJs has prompted her to use her career as evidence that people who are different can attract audiences and succeed.
"I want to put us out there especially for Baltimore," said Deezy. "I know that there's Black lesbians out there doing the same thing as me, but why aren't we getting [recognized]?"
In 2018, Deezy rented out a "Lez" lot at the Baltimore Pride block party where she set up a tent and played a set for the crowds tailgating around her. While entertaining them, she distributed her business cards — an act she believes yielded her the contact who eventually got her booked for a residency at the Baltimore Eagle.
While this was a step forward in her career, Deezy acknowledges that it wasn't without challenges. She likened entering the Baltimore Eagle — traditionally a leather bar frequented predominantly by men —to navigating foreign territory.
"When I first got there, I got funny looks," she said. "There's a lot of these guys who are like, 'Why are you bringing a lesbian DJ to a gay bar?'"
But Deezy powered through her performance, lifted the crowd from its seats and "rocked the house [so that] no one will ever ask any questions again."
She admits that she's an acquired taste but believes in her ability to play music infectious enough to draw anyone to the dance floor.
"Feel how you want to feel about a Black lesbian DJ being in the gay bar," said Deezy. "But music is a bridge that [will] connect us all, and you'll forget about your original discrimination when you [experience] me."
While Deezy has mostly performed in the DMV, she has also made appearances in Arizona where she hosted a family event and also in clubs in Atlanta and New York City.
Her work has also attracted international attention and she was the cover star of  French publication Gmaro Magazine's October 2021 issue. 
Looking to the future, Deezy's goal is to be a tour DJ and play her sets around the world.
"I had a dream that Tamar Braxton approached me backstage at one of her concerts and asked me to be her tour DJ," she said. "So, I'm manifesting this for myself."
In the meantime, Deezy will continue to liven up audiences in bars and clubs around the country while playing sets for musicians like Crystal Waters and RuPaul's Drag Race celebrity drag queens like Alyssa Edwards, Plastique Tiara, La La Ri, Joey Jay and Eureka O'Hara — all of whom she has entertained alongside in the past.
Outside the club, Deezy's music can be heard in Shoe City where she created an eight-hour music mix split evenly between deep house and hip-hop and R&B.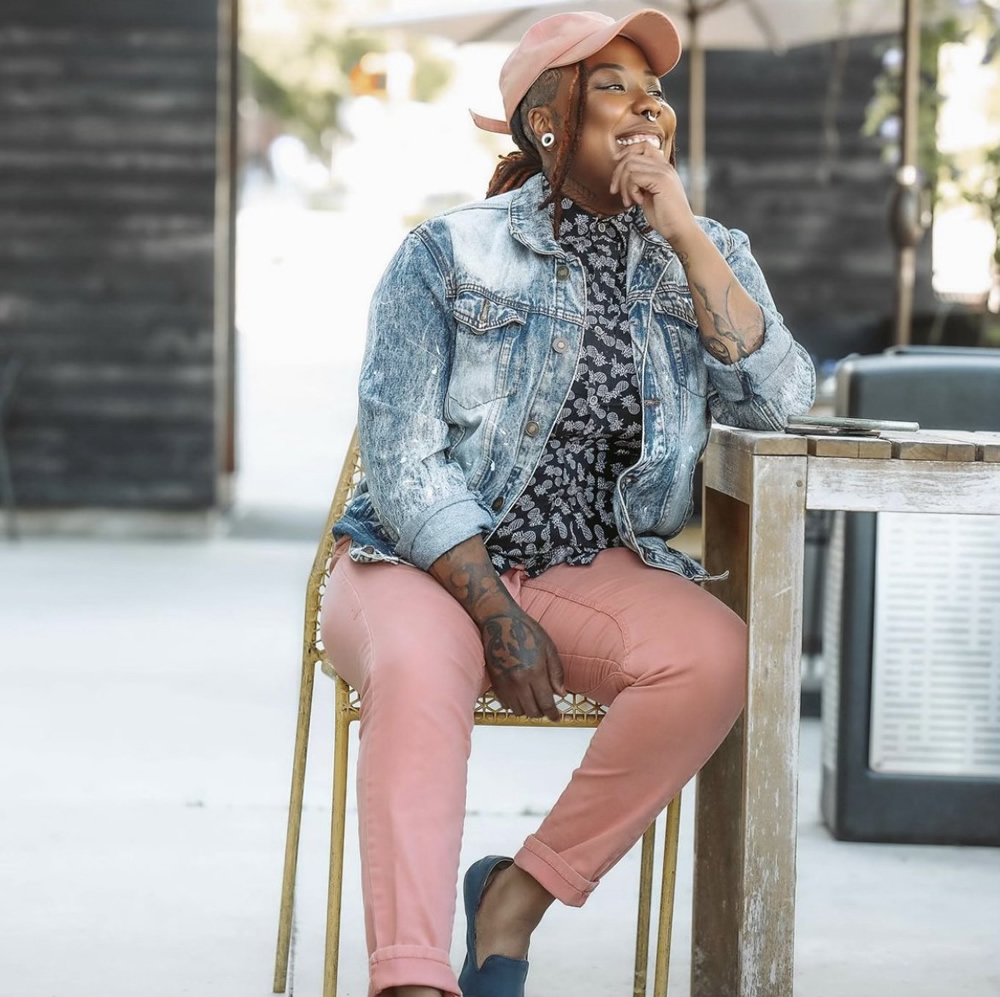 Rodriquez scores historic win at otherwise irrelevant Golden Globes
Award represents a major milestone for trans visibility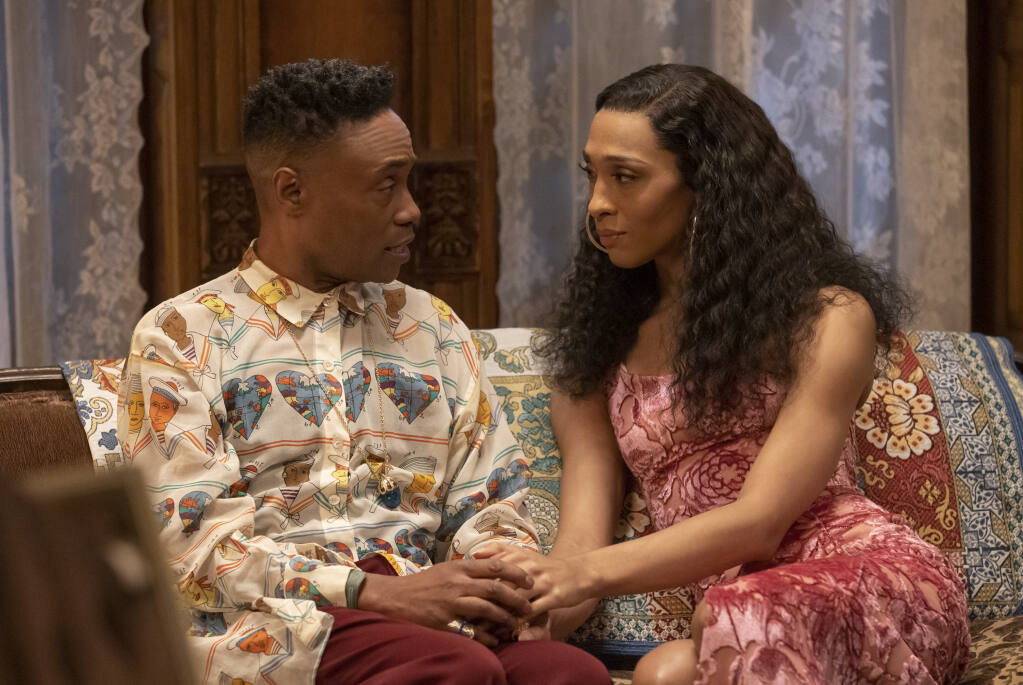 HOLLYWOOD – Despite its continuing status as something of a pariah organization in Hollywood, the Hollywood Foreign Press Association has managed to cling to relevance in the wake of last night's behind-closed-doors presentation of its 79th Annual Golden Globe Awards by sole virtue of having bestowed the prize for "Best Leading Actress in a Television Series – Drama" on Michaela Jaé Rodriguez for her work in the final season of "Pose" – making her the first transgender performer to win a Golden Globe.
The ceremony took place as a private, no-press-or-audience event in which winners were revealed via a series of tweets from the Golden Globes Twitter account. No celebrities were present (not even the nominees or winners), although actress Jamie Lee Curtis participated by appearing in a video in which she pronounced her continuing loyalty to the HFPA – without mention of the longstanding issues around diversity and ethical practices, revealed early in 2021 by a bombshell Los Angeles Times report, that have led to an nearly industry-wide boycott of the organization and its awards as well as the cancellation of the annual Golden Globes broadcast by NBC for the foreseeable future.

While the Golden Globes may have lost their luster for the time being, the award for Rodriquez represents a major milestone for trans visibility and inclusion in the traditionally transphobic entertainment industry, and for her part, the actress responded to news of her win with characteristic grace and good will.
Posting on her Instagram account, the 31-year old actress said:
"OMG OMGGG!!!! @goldenglobes Wow! You talking about sickening birthday present! Thank you!
"This is the door that is going to Open the door for many more young talented individuals. They will see that it is more than possible. They will see that a young Black Latina girl from Newark New Jersey who had a dream, to change the minds others would WITH LOVE. LOVE WINS.
"To my young LGBTQAI babies WE ARE HERE the door is now open now reach the stars!!!!!"
As You Are Bar and the importance of queer gathering spaces
New bar/restaurant poised to open in 2022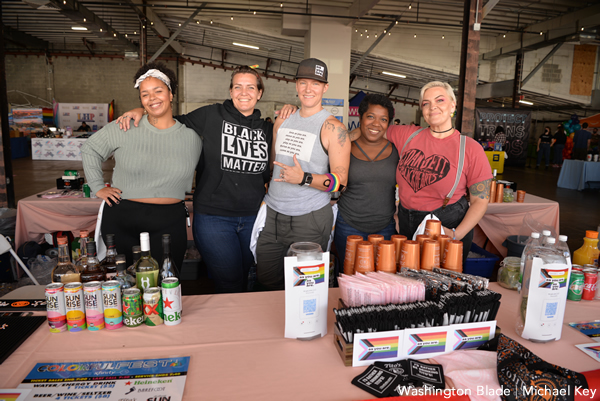 More than just a watering hole: As You Are Bar is set to be the city's newest queer gathering place where patrons can spill tea over late-morning cappuccinos as easily as they can over late-night vodka-sodas.
Co-owners and founders Jo McDaniel and Rachel Pike built on their extensive experience in the hospitality industry – including stints at several gay bars – to sign a lease for their new concept in Barracks Row, replacing what was previously District Soul Food and Banana Café. In a prime corner spot, they are seeking to bring together the disparate colors of the LGBTQ rainbow – but first must navigate the approval process (more on that later).
The duo decided on this Southeast neighborhood locale to increase accessibility for "the marginalized parts of our community," they say, "bringing out the intersectionality inherent in the queer space."
Northwest D.C., they explain, not only already has many gay bar options, but is also more difficult to get to for those who don't live within walking distance. The Barracks Row location is right by a Metro stop, "reducing pay walls." Plus, there, "we are able to find a neighborhood to bring in a queer presence that doesn't exist today."
McDaniel points out that the area has a deep queer bar history. Western bar Remington's was once located in the area, and it's a mere block from the former Phase 1, the longest-running lesbian bar, which was open from 1971-2015.
McDaniel and Pike hope that As You Are Bar will be an inclusive space that "welcomes anyone of any walk of life that will support, love, and celebrate the mission of queer culture. We want people of all ages, gender, sexual identity, as well as drinkers and non-drinkers, to have space."
McDaniel (she/her) began her career at Apex in 2005 and was most recently the opening manager of ALOHO. Pike (she/they) was behind the bar and worked as security at ALOHO, where the two met.
Since leaving ALOHO earlier this year, they have pursued the As You Are Bar project, first by hosting virtual events during the pandemic, and now in this brick-and-mortar space. They expressed concern that receiving the Alcoholic Beverage Regulation Administration (ABRA) liquor license approval and the local Advisory Neighborhood Commission, or ANC, approval will be a long and expensive process.
They have already received notice that some neighbors intend to protest As You Are Bar's application for the "tavern" liquor license that ABRA grants to serve alcohol and allow for live entertainment (e.g. drag shows). They applied for the license on Nov. 12, and have no anticipated opening date, estimating at least six months. If ABRA and the city's Alcoholic Beverage Control Board give final approval, the local ANC 6B and nearby residents can no longer protest the license until the license comes up for renewal.
Until approval is given, they continue physical buildout (including soundproofing) and planning their offerings. If the license is approved, ABRA and the ABC Board can take action against As You Are Bar, like any bar, at any time if they violate the terms of the license or create a neighborhood disturbance that violates city laws such as the local noise ordinance. In the kitchen, the duo snagged Chef Nina Love to develop the menu. Love will oversee café-style fare; look out for breakfast sandwiches making an appearance all the way until close. They will also have baked goods during the day.
McDaniel and Pike themselves will craft the bar menu. Importantly, they note, the coffee bar will also serve until close. There will be a full bar as well as a list of zero-proof cocktails. As with their sourcing, they hope to work with queer-, minority-, and women-owned businesses for everything not made in-house.
Flexible conceptually, they seek to grow with their customer base, allowing patrons to create the culture that they seek.
Their goal is to move the queer space away from a focus on alcohol consumption. From book clubs, to letter-writing, to shared workspaces, to dance parties, they seek an all-day, morning-to-night rhythm of youth, families, and adults to find a niche. "We want to shift the narrative of a furtive, secretive, dark gay space and hold it up to the light," they say. "It's a little like The Planet from the original L Word show," they joke.
Pike notes that they plan on working closely with SMYAL, for example, to promote programming for youth. Weekend potential activities include lunch-and-learn sessions on Saturdays and festive Sunday brunches.
The café space, to be located on the first floor, will have coffeehouse-style sofas as well as workstations. A slim patio on 8th Street will hold about six tables.
Even as other queer bars have closed, they reinforce that the need is still present. "Yes, we can visit a café or bar, but we always need to have a place where we are 100 percent certain that we are safe, and that our security is paramount. Even as queer acceptance continues to grow, a dedicated queer space will always be necessary," they say.
To get there, they continue to rally support of friends, neighbors, and leaders in ANC6B district; the ANC6B officials butted heads with District Soul Food, the previous restaurant in the space, over late-night noise and other complaints. McDaniel and Pike hope that once nearby residents and businesses understand the important contribution that As You Are Bar can make to the neighborhood, they will extend their support and allow the bar to open.