January 10, 2019 at 1:07 pm EST | by Lou Chibbaro Jr.
Bachelor's Mill license remains in 'limbo'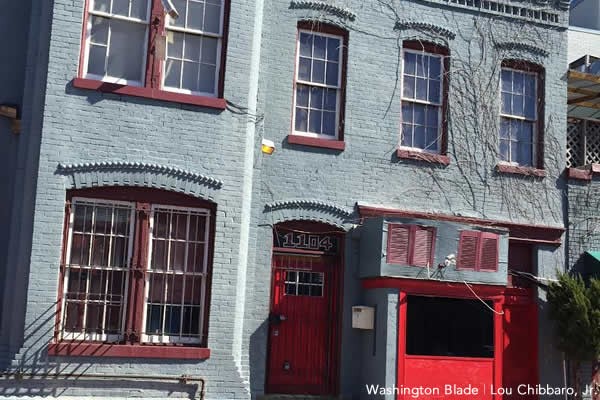 The co-owner of a company called Halo LLC that began negotiations to buy D.C.'s Bachelor's Mill gay bar in 2017 said the "deal fell through" last June and he is unsure who currently holds the once popular bar's liquor license.
In a little-noticed development, the Bachelor's Mill located at 1102-1104 8th St., S.E. near the Washington Navy Yard closed its doors on Oct. 10, 2018, according to Courtney Williams, editor and publisher of the online local LGBT newsletter Community Life in the DMV.
Michel Daley, who owns Halo LLC with his business partner Jewell Elliot, said he and Elliot decided to discontinue plans to open their own club called Halo in the Bachelor's Mill building after the building was sold in a foreclosure auction in June 2018.
He said his and Elliot's plans were to buy the building at the same time they purchased the liquor license from Bachelor's Mill owner David J. Lewis. Lewis couldn't immediately be reached for comment this week.
The Bachelor's Mill has catered to a mostly black gay clientele since it first opened in 1981 in another building at 8th and E Streets, S.E. The club moved to its location near the Navy Yard in 1988. Williams said Lewis acquired the club in 2007.
"This came as a surprise considering that during the week before closing the club kicked off a week of activities celebrating new management," Williams said. He said a sign appeared on the building shortly after the club's closing saying the building was up for leasing.
Aaron King, a spokesperson for the city's Alcoholic Beverage Regulation Administration, known as ABRA, told the Blade last week that ABRA records showed that the Bachelor's Mills ownership and liquor license had been transferred to Halo LLC, but he could not provide a date for when that happened.
King also sent the Blade documents showing that Halo LLC had applied for placing the club's license in ABRA's office for "safekeeping," a status that is required to prevent a license from being revoked if the business is no longer operating.
He sent the Blade another document showing that the city's Alcoholic Beverage Control Board approved a Temporary Operator's Retail Permit to allow Halo LLC to operate the club on a temporary basis while it was in the process of acquiring the liquor license through a transfer from Bachelor's Mill.
Daley told the Blade on Tuesday that an ABRA official declined to accept a check from Halo LLC for payment for placing the license in safekeeping, saying that Bachelor's Mill owner Lewis appeared to have applied for the safekeeping status.
Asked whether he and his partner have any plans to open their club Halo in the Bachelor's Mill building, Daley said, "We don't plan to do that. Our involvement is gone." But after pausing he added, "In theory, we can reinstate it if we had a conversation with the current owner."
A spokesperson for Northeast Management Consulting LLC, the company that bought the Bachelor's Mill building in June, declined to comment on the company's plans for the building or whether it would allow a bar or club to continue operating there.