January 10, 2019 at 11:41 am EST | by Lou Chibbaro Jr.
Whitman-Walker announces restructuring, leadership changes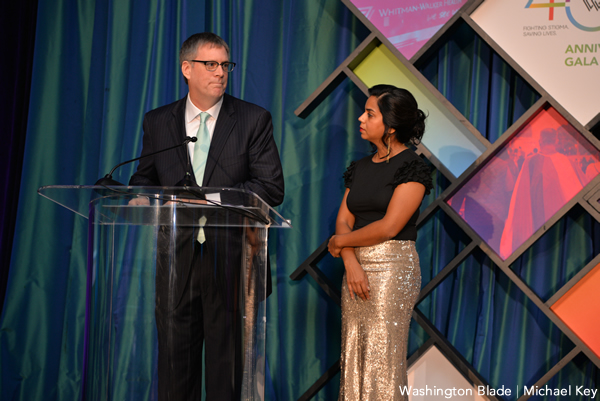 In what it's calling a newly adopted "shared leadership model," Whitman-Walker Health announced on Thursday that its CEO Don Blanchon will become the founding CEO of a newly created nonprofit entity called Whitman-Walker System.
Whitman-Walker Health's current Deputy Executive Director Naseema Shafi, according to the announcement, will replace Blanchon as Whitman-Walker Health's new CEO.
In a Jan. 10 Open Letter to the Community, Whitman-Walker said the shared leadership between Blanchon and Shafi would be part of a major restructuring of its departments and divisions aimed at strengthening its wide range of healthcare programs and its ability to raise funds to sustain and expand those programs.
"We will operate Whitman-Walker as a community-centered enterprise committed to advancing social justice and equality through health," the open letter says. "We will expand our commitment to culturally affirming primary care and behavioral health services by way of Whitman-Walker Health – the nonprofit organization now in its 41st year," it says.
"We will place greater emphasis on advocacy, education and research through a newly created Whitman-Walker Institute," the open letter continues. "We will grow our core base of philanthropic support with a newly created Whitman-Walker Foundation," it says. "We will pursue long-term sustainability through innovative partnerships and collaborations via the Whitman-Walker Health System."
Whitman-Walker spokesperson Abby Fenton said the Whitman-Walker Health System to be headed by Blanchon will oversee the operations of the Whitman-Walker Foundation, Whitman-Walker Institute, and Whitman-Walker's Real Property Holdings project, which is coordinating the redevelopment of the Elizabeth Taylor Medical Center in partnership with a developer at 14th and R Streets, N.W.
Fenton said Blanchon will also oversee plans for moving the Max Robinson Medical Center in Anacostia to the city's newly redeveloped campus of the former St. Elizabeth's Hospital.
"This year we will advance our plans for a major expansion east of the Anacostia River," the open letter says in referring to the new Max Robinson facility. "It is the single biggest priority for the community we serve and will house expanded youth programming, primary and urgent care and behavioral health services for thousands of people living east of the Anacostia River," the open letter states.
Although the organizational restructuring involved creating several new entities with their own boards of directors, the new entities will be run by Whitman-Walker's existing staff of 280 employees who currently work out of five sites with combined operating revenue of $105 million, according to Whitman-Walker officials.
Dr. Sandy James, chair of the Whitman-Walker Health Board, and Harry Fox, chair of the newly created Whitman-Walker Health System Board, each said that the restructuring was needed to better enable Whitman-Walker to financially sustain a steady increase in patients and clients.
They and other Whitman-Walker officials point out that in 2017, the most recent year in which all patient data has been compiled, Whitman-Walker served 20,282 patients and clients compared to 2013, when 14,184 patients and clients were served. Whitman-Walker spokesperson Jewel Addy said that as of June 2018, the patient client count had reached nearly 15,000, putting it on a trajectory to significantly exceed the 20,282 from 2017.
Figures released for 2017 show that in that year Whitman-Walker conducted 132,530 unique appointments with patients and clients; 11,128 HIV tests were conducted; 126,339 prescriptions were filled by its pharmacy; and 1,585 transgender and gender non-conforming individuals were served.
"The public and private insurance reimbursements we get don't often cover the full cost of care we provide," Fox said. "So creating a Whitman-Walker Foundation was critical to increasing the strength of fundraising at Whitman-Walker and to achieve that sustainable business model," he said.
Shafi, the new Whitman-Walker Health CEO, said the stepped up fundraising will also make it possible to expand services to communities in Wards 7 and 8 east of the Anacostia River.
"As we enter this next phase of Whitman-Walker, we expect that patients will have the same affirming experience that they have now or better," she said. "As we grow, what we want every day is for our patients to come into the doors of any of the sites that bear the Whitman-Walker name and feel embraced for who they are and how they identify," she said.
"That's part of our mission, and the health system entities are going to help the health center turn that vision into a reality," Shafi said.
Blanchon said that while Whitman-Walker expands its services to a wider geographical reach across the city it will continue its longstanding historic role in providing a wide range of services for the LGBT community.