January 19, 2019 at 2:06 pm EST | by Joe Phillips
A crossover, an electric and a hybrid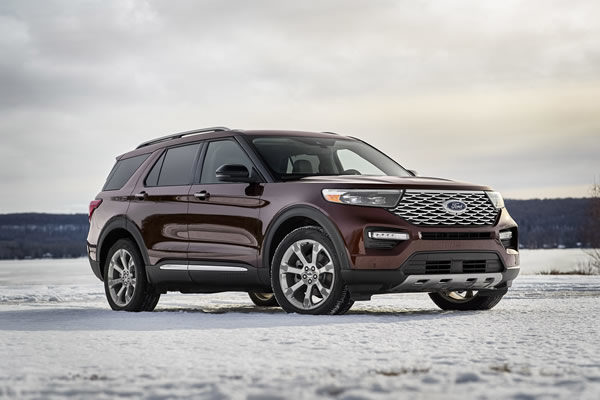 This year, sedans have lost their mojo, at least for now. As their market share decreases, the number of SUVs and other vehicles is exploding. Here are three top rides for any driver's shopping list.
CROSSOVER/SUV: FORD EXPLORER
$34,000
Mpg: N/A
Zero-60 mph: N/A
Two weeks ago, Ford launched its all-new Explorer. At the Detroit auto show this week, the automaker fired two more salvos in the crossover wars, announcing hybrid and high-performance models of the popular midsizer. It's too early to know mileage and other stats, though pricing for the base model is competitively priced at just $400 more than the previous version.
All are 2020 models, which go on sale later this year. While the Explorer gets a complete redo, I find it hard to tell much difference on the outside. The front fascia is most notable, with a windswept grille that borrows heavily from the ritzy Range Rover. Style-wise, Ford didn't want to mess with success and it works. Ford has whooped up the standard safety features, with blind-spot monitor, rear cross-traffic alert, lane-departure warning, pre-collision warning and automated emergency braking with pedestrian detection.
But the big news is in the cabin, especially the cargo space. Fold down the seats and there's enough room for a 4-foot-wide sheet of plywood to lay flat on the floor—or perhaps you just want a nice place to canoodle on a weekend camping trip. There's also more headroom, legroom and, yes, even more hip room for anyone with an expanding keister.
Geeks will love the tech gear, including smartphone and Waze navigation integrated into an eight-inch touchscreen (up from 4.2 inches in the old Explorer). A driver can even lock, unlock and start the car using a smartphone. And an optional 10.1-inch infotainment display juts up vertically like an iPad above the center console. Lest any passengers feel disconnected from their electronics, the Explorer boasts four USB ports, three 12-volt outlets, a 110-volt outlet and Wi-Fi for up to 10 devices.
ELECTRIC VEHICLE: JAGUAR I-PACE
$71,000
Range: 234 miles
Zero-60 mph: 4.5 seconds
It's sometimes hard to keep pace with Jaguar. Just two years ago, the automaker launched its first crossover, the wildly successful midsize F-Pace. Last year came the compact E-Pace. Now there's the I-Pace, Jaguar's first electric vehicle. (In hindsight, it might have made more sense to name this EV the E-Pace, but alas, it wasn't meant to be.)
Luckily, the I-Pace more than makes up for its confusing moniker in both style and substance. Those sinewy lines out-sashay even Tesla, the standard bearer of luxury EV design. Sure, a Tesla may have a longer battery range, but most Teslas cost more. And the I-Pace's impressive range of 234 miles still outpaces most EVs. Then there's the thrilling steering and acceleration.
Motoring around town is a treat, turning the most jaded commuter into an auto enthusiast. Jaguar even tossed in a faux exhaust rumble based on its Formula E racecar. Inside, there's plenty of room for passengers and cargo. Fit and finish are top drawer, of course, with streamlined dash and sculpted, supportive seats. There are touchscreens everywhere, and a space-age center console practically hovering in midair.
While handy options abound — including a head-up display and four-zone climate control — other add-ons really should have been standard: heated seats, heated steering wheel and surround-sound stereo. So beware price creep on must-have amenities. All in all, though, I found the I-Pace checked off quite a few boxes: a practical, five-seat crossover (check!), killer looks (check!) and incredibly sporty handling, cornering and braking (check! check! check!).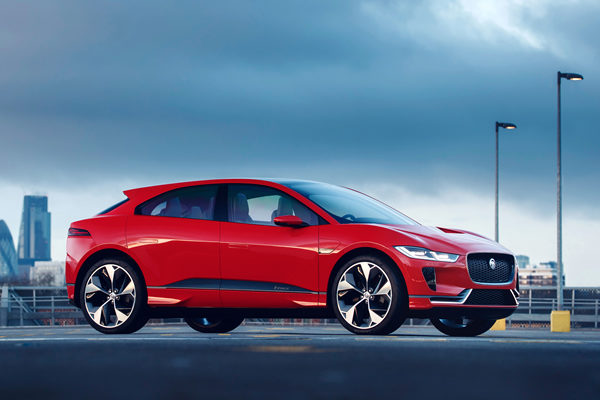 PLUG-IN HYBRID: BMW i8 ROADSTER
$165,000
Range: 118 miles (electricity/gas), 35 miles (gas only)
Zero-60 mph: 4.1 seconds
While the Jaguar I-Pace is exciting, the BMW i8 roadster is both exotic and erotic. Who knew sheet metal could be so seductive, mixing climactic curves with long, languid lines?
That evil grin of a grill had me at hello. Those sexy scissor doors were bewitching, beckoning me inside. And the deep, throaty exhaust growl was lascivious. But I wasn't the only one. No other vehicle I've tested turned as many heads as the i8. And this is a plug-in hybrid, not a high-test Lamborghini (though the i8 accelerates like one).
Forget the Batmobile, this is what Batman and Robin would drive on date night. And yet this sexpot, this car of any gearhead's fantasy is decadently impractical. Sure, the i8 rides like a dream, cresting hills and tackling switchbacks better than any contender in this price range. The techy cockpit — with tiered-level dashboard, an 8.8-inch freestanding display, and digital gauges that change color based on driving mode — would make any Tron fan drool.
The sultry two-tone exterior (echoed tastefully in the cabin) doesn't hurt, either. Nor does the folding soft top or dazzling, 12-speaker Harman Kardon stereo. But the i8 has no stowage, aside from a cubby behind the front seat and the trunk (if you can call it that) measuring a measly five cubic feet. Aside from taking limbo lessons, there's no graceful way to straddle the extra-wide doorsill while trying to slouch in and out of this low vehicle. Plus, there's only room for two. But practicality be damned: Sometimes you need to ignore the angel on your shoulder and embrace that devil called "form over function." That's when you follow your passion.