February 16, 2019 at 2:18 pm EST | by Joe Phillips
Hyundai, Mazda, Jeep Cherokee offer spiffy '19 SUV models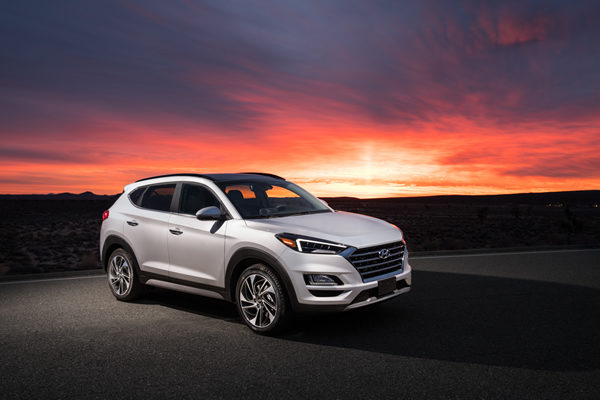 Today's cushy sport-utility vehicles, especially compact crossovers, are killing it in showroom sales. But with so many models to choose from, automakers are doing everything they can to offer SUVs with attitude. Here are three of the best.
HYUNDAI TUCSON ULTIMATE
$34,000
MPG: 21 city/26 highway
Zero-60 mph: 8.8 seconds
Hyundai seems to have an inferiority complex, but in a good way. How else to explain why the compact Tuscon, already a stellar seller, would get a refresh so soon after undergoing a rad redesign less than three years ago?
Whatever the reason, the plucky look is more Katy Perry than Perry Ellis, with a flared grille, hypnotic-spiral wheels and wraparound headlights and taillights. The interior, impressively quiet, now has better seats, a classy dash and easy-to-use touchscreen infotainment system. While there's too much cheap plastic in the base model, the top-of-the-line Ultimate trim level feels rich.
It also boasts heated/ventilated front seats, heated steering wheel and even heated rear seats, as well as panoramic sunroof, rain-sensing wipers, upgraded Infinity stereo, wireless smartphone charging, and more. The backseats, by the way, can be reclined back to 18 different positions, which has to be some sort of first. All models have more standard safety devices, including forward-collision warning, automatic emergency braking and lane-keeping assist.
While the putt-putt engine in the $25,000 base model is underpowered, I found the up-level engine perfectly capable tootling around town. Unfortunately, fuel efficiency wasn't as impressive. But despite the Tucson's relatively few downsides, it's hard to beat the price, abundant features and super-long powertrain warranty (10 years/100,000 miles).
MAZDA CX-5 GRAND TOURING
$32,000
MPG: 24 city/30 highway
Zero-60 mph: 8.7 seconds
Mazda has never been a wallflower. The scrappy automaker long ago carved out a natty niche, catering to drivers itching for less-mainstream fare: modish, affordable vehicles with austere interiors and sportster handling. The compact CX-5 is no exception, striking a pose somewhere between a Jaguar F-Pace and Volvo XC60 (two ritzy rides that cost a heckuva lot more).
While the $25,000 base model CX-5 is fine, it's simply too bereft of creature comforts. A new top-tier Signature trim boasts all the bells and whistles — and a hefty $39,000 price tag to match. But the mid-level Grand Touring is just right: economical, with good gas mileage and a decent number of amenities.
This includes keyless entry/ignition, heated side mirrors, adaptive headlights, navigation system and satellite radio. An optional premium package adds a head-up display, power-folding mirrors, windshield wiper de-icer and more. All-wheel drive is available on any trim level for $1,400. I've always enjoyed how Mazdas handle the road with crisp steering and solid braking and the CX-5 doesn't disappoint.
There's plenty of grip on slick roads, and the suspension is firm but tush-friendly. Alas, cargo space is less than many competitors, and the infotainment system is a bit dated (at least it now offers smartphone capability). But these quibbles are easy to overlook on such a rakish and reliable ride.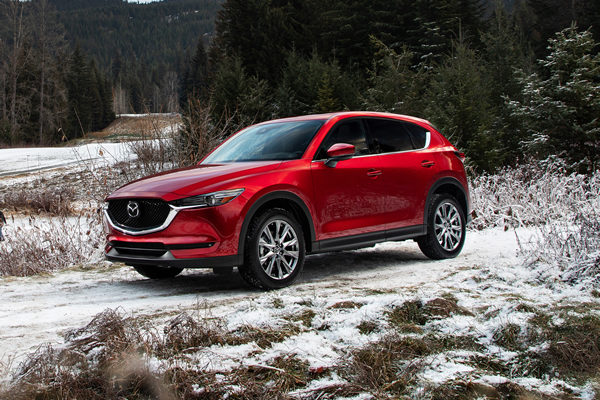 JEEP CHEROKEE TRAILHAWK
$35,000
MPG: 20 city/26 highway
Zero-60 mph: 7.6 seconds
While luxe-leaning crossovers are becoming much more refined, Jeep wants the Cherokee to remain rugged. Sure, this compact hauler can be ordered with all the convenience and safety options of a fully loaded Hyundai Tucson or Mazda CX-5. And the cabin is just as tony, if not more so.
But the Cherokee's exterior styling is still cocky, despite a slew of shapely curves added this year. And then there's the brawny Trailhawk, which looks downright menacing. This trim level boasts aggressive fenders and body cladding. Wheels and tires are extra wide. Tow hooks are blood red. And a dark hood, which reduces glare while driving, adds to the edgy appearance.
A standard V6 and optional four-cylinder turboare both assertive but smooth. With skid plates and hill ascent/descent controls, the Trailhawk can handle off-roading as well as a hepped-up Wrangler. For anyone toting camping or athletic gear, the reversible rear-cargo floor has carpet on one side and easy-to-clean rubber on the other.
The cargo area isn't as large as expected, but rear-seat legroom is almost two inches more than the Grand Cherokee. If you don't need to express your inner Wolverine, there are four other trendy trim levels. These range from the entry level Sport to the top-end Overland. They're all fine, but the Trailhawk really sets my pulse racing.