March 30, 2019 at 4:39 pm EDT | by Valerie Blake
Use your home to save money on a wedding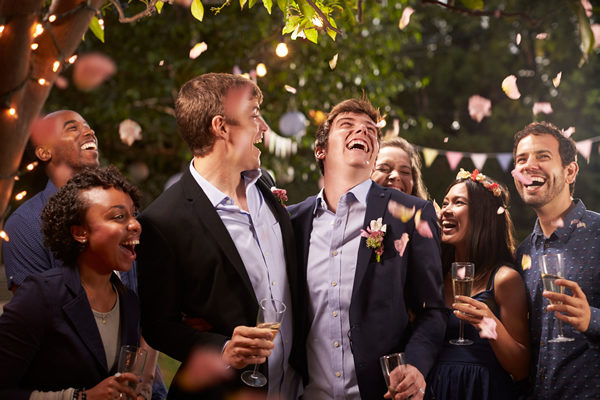 Almost everyone on HGTV who is hunting for a house wants "space to entertain," but what do they really use it for, other than Thanksgiving dinner and other holidays?
How about a wedding?
The average cost of a wedding is more than $33,000 and, in some areas of the country, as much as $70,000. Engagements last for a year or more while people prepare for their lavish and expensive wedding.
Costs are skyrocketing – a $12,000 Oscar de la Renta dress, matching $2,000 Jimmy Choo heels, and $3,500 Armani suits for starters. Wedding planners are there to help you spend your money on a pre-wedding checklist.
The venue for the reception is one of the first decisions a couple will make, even basing the wedding date on the availability of the chosen reception hall. Booking the photographer and videographer is also high on the list, as well as finding a caterer, a florist, and either live music or a DJ.
Wedding websites with names like herbandjohngethitched.com are very popular. You can tell the story of how you met, include information about the wedding and reception destinations, create a photo gallery, and post the ever-popular gift registry, where people can see what's on your wish list, then go on Amazon to buy it much cheaper.
You'll also need to create a guest list. This exercise will be in the running for "first big fight of the engagement," so kiss and make up, attend the cake tasting, and buy insurance for your engagement ring, just in case.
Once you've agreed on who and how many will attend, send out your Save the Date e-cards, add the guest list to your website with a link to confirm attendance, plan your menu, and follow up with formal invitations as you get closer to the actual wedding date.
Wow! I'm exhausted and broke already, and there's still a lot of stuff to check off the wedding planner's cheat sheet. Thankfully, the price of a wedding can be reduced by using your home for such things as rehearsal dinners, receptions, and space for overnight guests.
My favorite wedding was in 1976, before people began to spend their life savings, inheritance, or trust funds for one day of happiness.
It was an unconventional church wedding, held at 9 p.m. The bride wore flowers in her hair instead of a veil and carried candles instead of flowers. Her dress was made by her mother's best friend and the bridesmaids wore halter dresses made from a Simplicity pattern – something they would be able to wear post-wedding.
The reception was held on the screened porch of the family home. Food and alcohol flowed freely. The bride's mother, who was getting her master's degree in music therapy at the University of Miami, hired their jazz combo to play at the reception.
The bride's father, however, left a lasting impression when he dove into the pool in his tuxedo, swam to the other end, raised his glass and asked, "Will somebody get me a Scotch?"
The next wedding of note was in 1988. The bride and groom were living in a studio apartment while their new home was being built. Their wedding was as small and as cheap as that apartment.
Two friends served as best man and maid of honor. The ceremony was conducted by a justice of the peace in her living room, followed by a reception at Bob's Big Boy for their all-you-can-eat breakfast buffet.
The next wedding took place in 2005 in the bride's backyard. The officiant was a city councilman who had been ordained on the Internet just for this purpose. While the bride and groom were reciting their vows, a jetliner flew overhead, drowning out the ceremony. The reception made up for it with authentic Mexican food prepared by the groom's family.
The pictures of the event came out badly and the videographer took his payment of $350 and was never seen or heard from again. Lesson learned: don't rely on Craigslist to find your wedding professionals.
So, as the season approaches, make your wedding memorable but less expensive by including something personal – grooms in matching, yellow tennis shoes, brides in tuxedos, barefoot on the beach with margaritas, or maybe a reception on the roof deck of your condo, with a panoramic view of D.C. monuments.
You'll find many ways to conserve your cash, but whatever you do, get the Jimmy Choo shoes. I'll look for you at our annual high-heel race.
Valerie M. Blake is a licensed Associate Broker in D.C., Maryland and Virginia and Director of Education & Mentorship at RLAH Real Estate. Call or text her at 202-246-8602, email her via DCHomeQuest.com, or follow her on Facebook at TheRealst8ofAffairs.