Use your home to save money on a wedding
Reduce costs by using house for rehearsal dinner, reception and more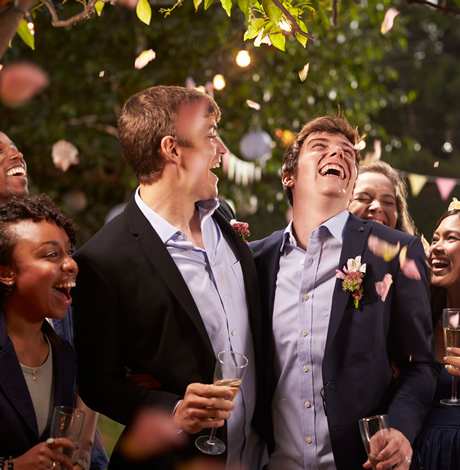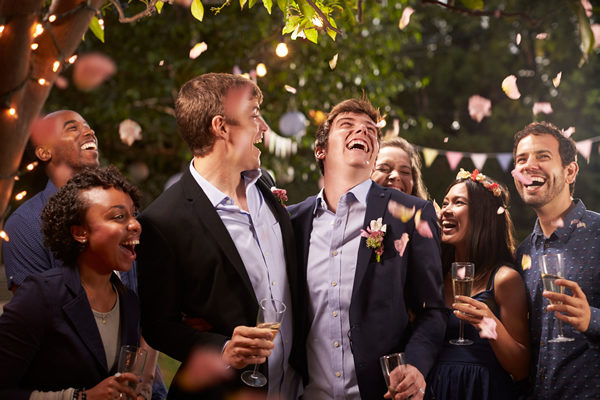 Almost everyone on HGTV who is hunting for a house wants "space to entertain," but what do they really use it for, other than Thanksgiving dinner and other holidays?
How about a wedding?
The average cost of a wedding is more than $33,000 and, in some areas of the country, as much as $70,000. Engagements last for a year or more while people prepare for their lavish and expensive wedding.
Costs are skyrocketing – a $12,000 Oscar de la Renta dress, matching $2,000 Jimmy Choo heels, and $3,500 Armani suits for starters. Wedding planners are there to help you spend your money on a pre-wedding checklist.
The venue for the reception is one of the first decisions a couple will make, even basing the wedding date on the availability of the chosen reception hall. Booking the photographer and videographer is also high on the list, as well as finding a caterer, a florist, and either live music or a DJ.
Wedding websites with names like herbandjohngethitched.com are very popular. You can tell the story of how you met, include information about the wedding and reception destinations, create a photo gallery, and post the ever-popular gift registry, where people can see what's on your wish list, then go on Amazon to buy it much cheaper.
You'll also need to create a guest list. This exercise will be in the running for "first big fight of the engagement," so kiss and make up, attend the cake tasting, and buy insurance for your engagement ring, just in case.
Once you've agreed on who and how many will attend, send out your Save the Date e-cards, add the guest list to your website with a link to confirm attendance, plan your menu, and follow up with formal invitations as you get closer to the actual wedding date.
Wow! I'm exhausted and broke already, and there's still a lot of stuff to check off the wedding planner's cheat sheet. Thankfully, the price of a wedding can be reduced by using your home for such things as rehearsal dinners, receptions, and space for overnight guests.
My favorite wedding was in 1976, before people began to spend their life savings, inheritance, or trust funds for one day of happiness.
It was an unconventional church wedding, held at 9 p.m. The bride wore flowers in her hair instead of a veil and carried candles instead of flowers. Her dress was made by her mother's best friend and the bridesmaids wore halter dresses made from a Simplicity pattern – something they would be able to wear post-wedding.
The reception was held on the screened porch of the family home. Food and alcohol flowed freely. The bride's mother, who was getting her master's degree in music therapy at the University of Miami, hired their jazz combo to play at the reception.
The bride's father, however, left a lasting impression when he dove into the pool in his tuxedo, swam to the other end, raised his glass and asked, "Will somebody get me a Scotch?"
The next wedding of note was in 1988. The bride and groom were living in a studio apartment while their new home was being built. Their wedding was as small and as cheap as that apartment.
Two friends served as best man and maid of honor. The ceremony was conducted by a justice of the peace in her living room, followed by a reception at Bob's Big Boy for their all-you-can-eat breakfast buffet.
The next wedding took place in 2005 in the bride's backyard. The officiant was a city councilman who had been ordained on the Internet just for this purpose. While the bride and groom were reciting their vows, a jetliner flew overhead, drowning out the ceremony. The reception made up for it with authentic Mexican food prepared by the groom's family.
The pictures of the event came out badly and the videographer took his payment of $350 and was never seen or heard from again. Lesson learned: don't rely on Craigslist to find your wedding professionals.
So, as the season approaches, make your wedding memorable but less expensive by including something personal – grooms in matching, yellow tennis shoes, brides in tuxedos, barefoot on the beach with margaritas, or maybe a reception on the roof deck of your condo, with a panoramic view of D.C. monuments.
You'll find many ways to conserve your cash, but whatever you do, get the Jimmy Choo shoes. I'll look for you at our annual high-heel race.
Valerie M. Blake is a licensed Associate Broker in D.C., Maryland and Virginia and Director of Education & Mentorship at RLAH Real Estate. Call or text her at 202-246-8602, email her via DCHomeQuest.com, or follow her on Facebook at TheRealst8ofAffairs.  
How is the 2023 real estate market starting off? 
And what we can expect in the coming months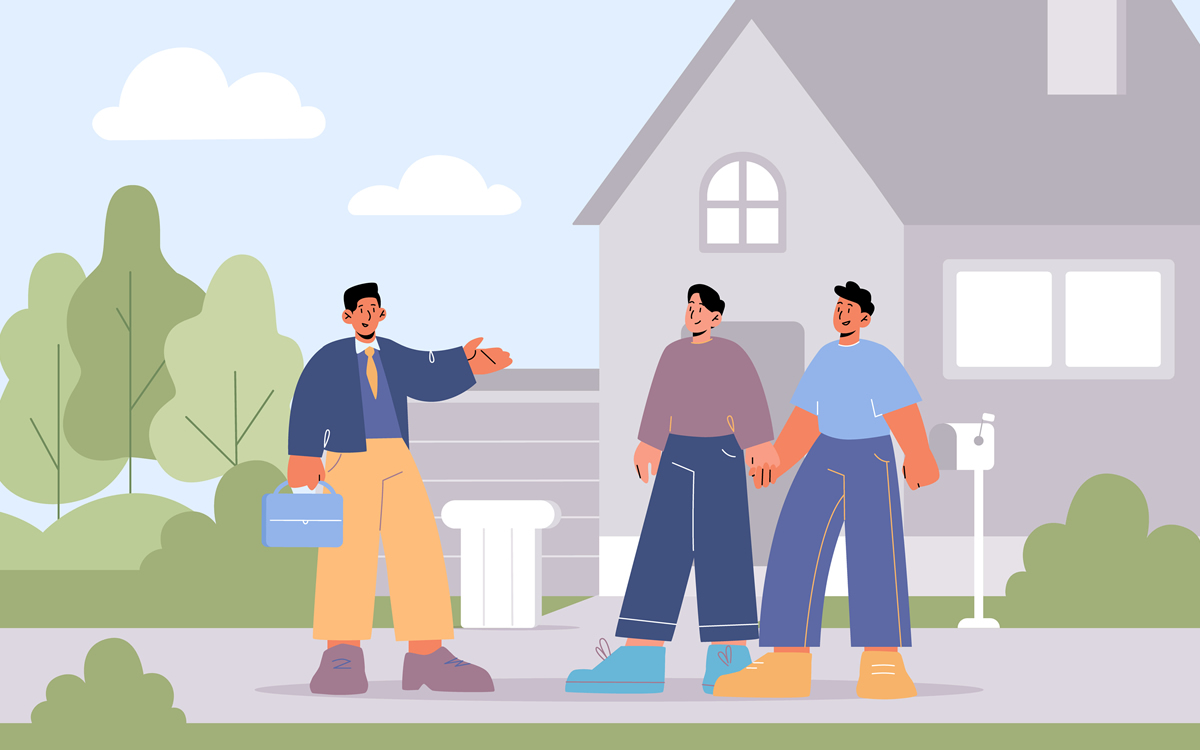 One interesting statistic is that there was a 25% increase in weekly mortgage applications two weeks ago, according to a CNBC story I read recently. Yes, mortgage applications are down from an entire year ago, but they are starting to rebound, as the interest rates have started to soften a little bit over the past few months.
Another interesting statistic I heard is that in the last quarter of 2022, 42% of sellers were giving concessions to buyers at the closing table, a 10-year high, according to an article in Money magazine.
No one has that proverbial crystal ball, but it does seem like I have heard, anecdotally, from many agents that the buyers are starting to come back out into the market. They are realizing that there might be concessions they can get from the seller, they can do the home inspection, and maybe even ask for repairs or credits, and not feel like they must walk blindfolded into the housing market without some sense of confidence.
Sellers are also getting creative with attracting buyers. Some sellers are trying to find lenders that will help the potential buyer find a competitive interest rate or will offer to pay part of the buyer's cost to buy down the rate for the first few years of the loan. Some sellers are hiring home inspectors, prior to listing their homes on the market, to do an inspection of their home and then doing the needed repairs before it even hits the market, which should provide a cleaner and smoother contract period for the buyer AND the seller.
During 2022, D.C. raised the HPAP (Home Purchase Assistance Program) amounts. Those who qualify to use the program for down payment assistance can get thousands of dollars more for their down payment, and the income limits were raised also, meaning more people qualify to use the program.
As we all know, a lot can change over a year, but Q1 2023 seems like it is starting off with a busier real estate market than the last quarter of 2022. Buyers seem to feel more confident to get back into the market, and many sellers are willing to work with all types of buyers to get their homes under contract, sold, and to move forward with their lives.
If you have any questions about these programs or thoughts about moving into the market in 2023, don't hesitate to reach out.
Joseph Hudson is a Realtor with the Rutstein Group of Compass. Reach him at 703-587-0597 or [email protected].
Spring market readiness: buyer's edition
Get ready for more inventory and faster sales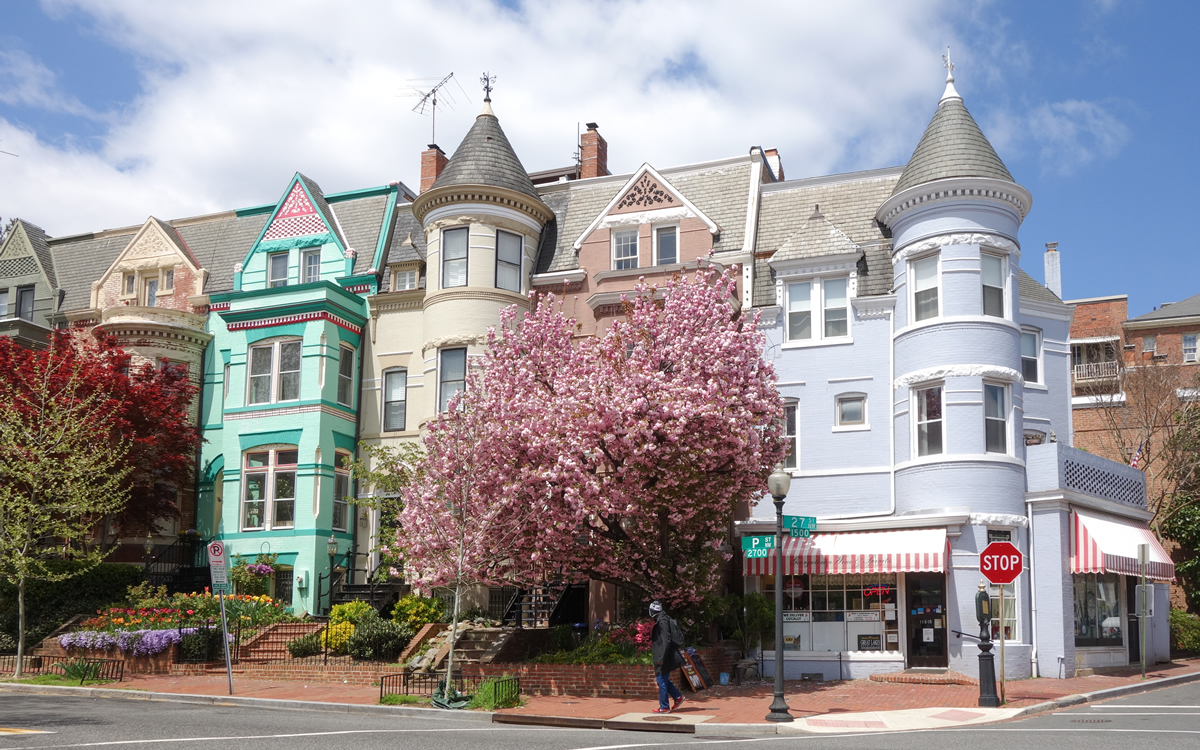 Here in the D.C. metro area there are historically two cyclical "busy" times in the market. Spring market, which falls between February through June/July, and fall market, which is around August until about November. Honestly, the D.C. metro market is historically always pretty active, however the spring and fall markets are those times where we see an increase in inventory, open houses attendance, open house traffic and properties selling quicker. As we are heading into the spring market time (historically begins after the Super Bowl, aka the Rihanna concert for my non-sports folks that is Feb. 12) I wanted to go over a few tips to do NOW in order to make sure you are ready to go.
PICK A QUALIFIED REAL ESTATE AGENT
It is vital to work with a real estate agent that you can trust. I often tell my clients that we are about to get real intimate and basically start dating. The home buying process involves many late night phone calls, weekends spent driving around looking at properties and learning truly what a client wants. For this very reason you should feel comfortable with your agent. You need someone who will speak your language as well as speak the language of negotiating and get you into a home.
Where do you start looking for a real estate professional? For starters, I am sure you know one real estate agent in D.C., but if you don't, look to friends and family. Ask if they know of a great Realtor and then go from there. It's not always the agents that are plastered all over bus stops or grocery carts that you should gravitate to; do some homework and seek an agent who writes for the Washington Blade, was voted Best DC Realtor by the Washington Blade readers (aka me – and this is totally a joke – maybe).
PRE-APPROVAL
This is almost more important than selecting a real estate agent. Find a lender who will fight for you. One thing as a listing agent that I love to see is when a buyer's lender calls me when a purchase offer is submitted to tell me how wonderfully well qualified their clients (aka you) are and that they will fight to keep the transaction on the estimated timeline. This illustrates that you have a team behind you that supports you and your goal of purchasing a home. When I get a call from a buyer's agent that they have submitted an offer for their clients and this is why they are the most well-qualified buyers and love the home right before I get a call from a lender who speaks highly of their buyer clients and the buyer's agent — chef's kiss — it truly does make a difference.
Where do you start looking for a lender? Well once you meet an amazing real estate agent, ask who they would recommend. Please note that we as real estate professionals are not allowed to receive any kickbacks from lenders or service providers. I always provide a list of lenders that I have worked with in the past that have performed well – it's your duty to research and speak to those lenders, and more, in order to select the one that is best suited for you.
UNDERSTAND YOUR CURRENT LEASE
This is one that is often overlooked. You should have a look over your current lease. Reviewing your lease will give you timeline info as to when you can start your search and what timeframes you are working with. For example, if you are on a month-to-month lease currently then you can begin your home search now. You will need to give your current landlord a 30-day notice that will likely line up with a 30-day closing period, which is pretty standard here in the D.C. metro market. If you have a lease with a few months left, it's important to understand what a possible lease break would look like from a financial perspective or if you are not willing to break your lease then it will give you a timeframe of when you can start the home buying process.
DON'T LOSE SIGHT OF THE GOAL
This is super important. While the market has changed in the past few months, we are still not out of the water completely. The ripple effect of COVID and the constraints on the housing market will be seen for a while longer. While you might not have 15 offers on a home it's likely you could still expect two or three. Even though we are heading into the spring market where there is historically an increase in inventory, we are in such a shortage currently that it's even more vital now than ever before to ensure you are ready to rock and roll.
The home buying process can truly be a fun process. By following the steps above and ensuring that you are well equipped and positioned to start off the spring real estate market there is little doubt that you will meet your goal of becoming a homeowner this year.
Justin Noble is a Realtor with Sotheby's international Realty licensed in D.C., Maryland, and Delaware for your DMV and Delaware Beach needs. Specializing in first-time homebuyers, development and new construction as well as estate sales, Justin is a well-versed agent, highly regarded, and provides white glove service at every price point. Reach him at 202-503-4243,   [email protected] or BurnsandNoble.com.
Affordable home renovations for successful selling
From paint to floors, a few simple fixes to boost value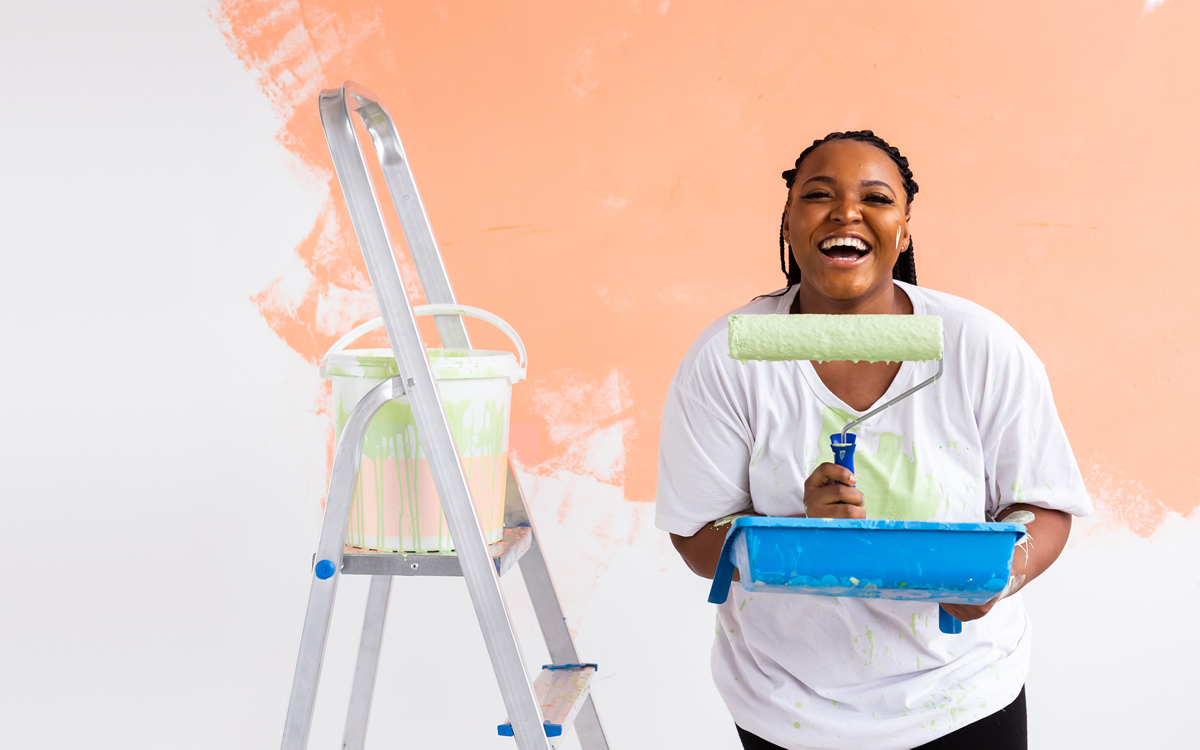 Without question, the 2023 housing market is off to a slow start, particularly in comparison to the red-hot market that existed during the pandemic. This can understandably be discouraging for those who need to sell their home and hope to obtain a favorable offer. The good news is that one constant truth about the housing market is that it will change – eventually. In the meantime, there are steps that hopeful sellers can take to increase the value of their homes and their chances of obtaining the offer that they want.
One step that some sellers consider is making minor upgrades or renovations that will increase the sale value of their home. This leads to the question – what are some fairly easy upgrades a homeowner can make without breaking the bank that may be appealing to potential buyers? Let's take a look at a few options together.
Refresh the paint: This is a simple and very cost-effective option for giving your home a new, fresh look. A quick coat of paint can truly work wonders. It helps the home look brighter, cleaner, and newer, and can be appealing to the eye of many potential buyers. When considering which colors to choose, it's important to keep in mind that selecting more traditional, neutral colors is often advisable. After all, you don't know what a potential buyer may like, so choosing colors that appeal to many and are more subdued may be a wise choice. You may want to also consider repainting the trim and the ceilings to complete the fresh new look.
Make some easy kitchen upgrades: Many have heard that upgrading the kitchen is one of the most popular renovations to a home and one with the best return on investment. As the kitchen is often the hub of the house, this is certainly true. The good news is that homeowners often need not do a complete and expensive kitchen renovation to get some bang for their buck. Some more simple tasks like upgrading older appliances to newer ones, changing out light fixtures, or repainting cabinets and adding new hardware may go a long way toward increasing your kitchen's appeal to potential buyers.
Landscaping: Landscaping is the literal "curb appeal" that many homeowners need to give their house that extra sparkle to attract potential buyers. Upgrading your landscaping may sound intimidating at first, but it can truly be a cost-effective option for increasing the value of your home. It may be worthwhile to pay for a consultation with a landscaper regarding some steps you can take to increase your home's appeal from the outside. Often these options can be very simple – things like removing debris, planting a few shrubs here and there, pruning trees, and other similar tasks. After all, the first step to getting a buyer to appreciate the inside of your home is to draw them in from the outside.
Refinish hardwood floors: While replacing your flooring entirely is an expensive and time-consuming process, the good news is that refinishing your floors is a fairly simple and cost-effective option for increasing your home's appeal. It can add extra shine and a little bit of wow factor, without breaking the bank.
These are only a few options of many for cost-effectively updating your home. Regardless of the market conditions, there are always steps that potential sellers can take to add to the appeal of their home and hopefully catch the eye of potentially interested buyers. Another important step that sellers can always take is consulting with a knowledgeable and experienced real estate agent who knows their particular community and what attracts buyers in that community.  At GayRealEstate.com, we are here to help you find the perfect agent to achieve your real estate goals.
At GayRealEstate.com We're Here for You
The current real estate market may seem intimidating to those hoping to sell their home for the best possible price – and that's understandable. While it may be intimidating, however, it doesn't have to be overwhelming. By marketing your home well, investing wisely in renovations and staging, and finding the right real estate agent, you can greatly increase your chances of obtaining a favorable offer, even in a difficult market.
At GayRealEstate.com, we're here to help you find that real estate agent. You need and deserve an agent who understands the unique needs of LGBTQ home buyers and sellers, and who understands the market in your local community. If you're ready to get started, get in touch with us today. We look forward to learning how we can help. 
Jeff Hammerberg is founding CEO of Hammerberg & Associates, Inc. Reach him at 303-378-5526 or [email protected].