August 15, 2020 at 1:20 pm EDT | by Sherri Anne Green
Know your limits when it comes to DIY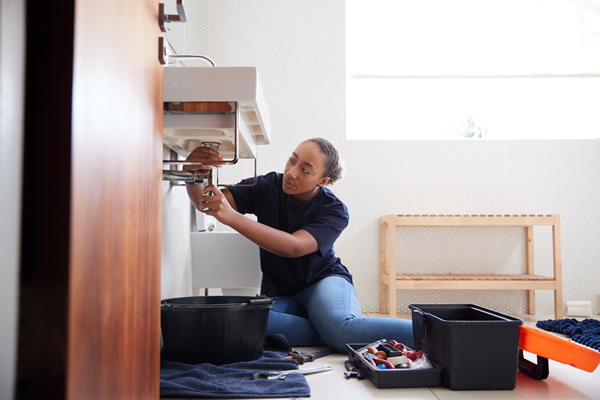 DIY—Do it yourself—is all the rage. With the constant reminders from Instagram and HGTV, many people get caught up in self-redecorating and repairing. People are painting rooms, changing doorknobs, trying to hang wallpaper, adding flagstone paths and much more. Some home projects are fun and simple. With so much time at home these days, it's easy to see why so many are taking on DIY projects.
DIY improvements can be challenging and give you a great sense of accomplishment. DIY can help you change up your home's style. DIY can sometimes save you some money.
DIY decorating is one thing. DIY repairs, however, are another. In the past, I am sure your trusty DIY partner—YouTube—has been right there by your side as you installed a new backsplash or taped off molding before painting a room. However, there is a chance YouTube, combined with your inadequate skill level, has no business trying to repair some home issues. While the same tenets of enjoyment and accomplishment that you get from design projects can apply to repairs, many times trying to repair something yourself can cause bigger issues and cost you more money immediately or in the future.
So how do you know when a project is just too much for you to tackle on your own? Here are four questions to ask yourself before you take on a DIY repair.
Is it safe? Stop and think about the project at hand. Is it safe for you to tackle? Have you worked on something similar in the past? Is the repair easy to get to or do you need a ladder? When thinking about safety, electrical repairs immediately come to mind. The job may look as simple as connecting two wires, but doing the job incorrectly can be a true safety hazard either immediately or down the road.
Will a botched job affect your neighbors? What if you can't stop the water as you attempt to repair your toilet or sink? While it may look like the water would stay contained to your unit, water moves in mysterious ways. It can seep down between floors or even under walls and across to your neighbor. Flooding your condo, your neighbor's, or your common hallway is an uncomfortable position to be in. And if you damage community property, or your neighbor's unit, your DIY repair has just gotten really, really expensive.
Do I have time to do this twice? Sure, from your YouTube research the project looks like it will take no time at all. But, what if you mess up or can't complete the project? Do you have time to call in a professional to correct your mess up? Let's say you only have one bathroom and midway through the project you realize you can't repair your toilet before the end of the day and need to call in an expert to help. If you are calling after hours, it's a long wait until the morning or an expensive emergency after-hours charge.
Are you ready to pay for the repair twice? If you go the DIY route, you might feel like you are saving. You may think you can find less expensive parts and save on labor charges. But, if you have to follow up your attempt by calling in a professional, you will likely have to pay for parts twice in addition to the cost of the professional's labor.
Home improvements and repairs are a normal element of home ownership. Maintaining your home is important for you while you own and live in the house. Repairs and upgrades will also pay off when you go to sell. Add to that, deferred maintenance can be very costly. But before you tackle that project, stop and analyze the best route to take. DIY can be enjoyable and gratifying, but sometimes we just need to know our limits and when it's time to call in a professional. If you want to see an example of a DIY pipe repair gone wrong, check out my YouTube channel for last week's episode of my Thursday Thoughts series entitled DIY: Know Your Limits.
Sherri Anne Green is an award-winning Realtor with Coldwell Banker Residential Brokerage having earned the prestigious International President's Circle Award designating her among the top 5% internationally. Reach her at 202-798-1288, sherri.green@cbmove.com, on Facebook, and on Instagram.