August 8, 2020 at 9:00 am EDT | by Valerie Blake
Living large in small spaces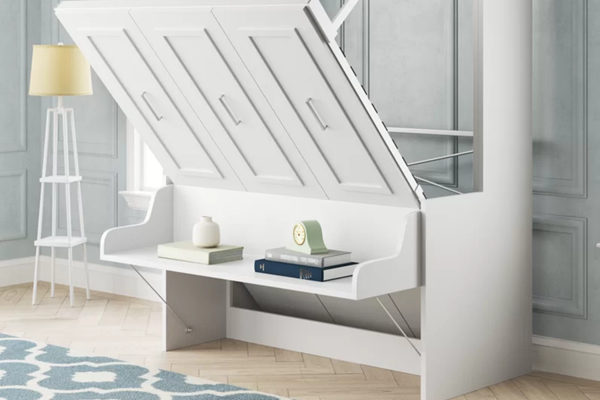 With prices in the DMV housing market continuing to rise, some buyers are opting to purchase something smaller with a corresponding lower price.
Since the beginning of the year, there have been 129 efficiency condominiums and cooperatives sold in the District, ranging in price from $147,000 to $400,000. In Maryland, there were 28 sold in Montgomery County priced from $68,000 to $320,000. Arlington ruled Northern Virginia with 30 units sold between $120,000 and $370,000. Elsewhere inside the Beltway, there were 29 more.
Most of these homes are 500 square feet or less, perhaps a little larger than the size of a typical two-car garage. Yet, when they are in a residential building with the right amenities and storage options, they can feel quite large. The important thing is learning how to organize.
For a little help, try reading Christopher Lowell's "Seven Layers of Organization" or "The KonMari Method" by Marie Kondo and be ruthless about purging what you don't need or want.
A typical studio or efficiency condo will likely have a small kitchen, a bathroom, a dressing area/closet and a room that will take on any name you want.
If you think you can't fit everything you want into a kitchen, you should know that good things, like kitchen appliances, come in small packages. Pair a 24" refrigerator and stove with an 18" dishwasher. An undermount, 22" sink will fit in a 24" base cabinet. If you have an L-shaped kitchen, add a 33" Lazy Susan cabinet or a blind base with a half-moon shelf that allows you to see all the things you have in the very back of the cabinet.
Store your knives and cooking utensils nearby with a magnetic wall strip. Add a pull-out cutting board to a base cabinet. Buy upper cabinets that go all the way to the ceiling. Hang a semi-circular pot rack on the wall. Install shelves in half a closet to use as a pantry.
You can save space in a bathroom by eschewing a tub in favor of a stall shower. A pedestal sink is a good choice for a small space, but pair it with a mirrored medicine cabinet so you have more storage as well as a grooming area.
A European belly bowl vanity is a popular alternative to a pedestal, giving you some storage underneath for toilet tissue and essentials. You can add robe hooks to the back of the door and install a hotel towel shelf above the commode where towels are out of the way but easily accessible.
When it comes to closets, there are tons of alternatives to store what you have. Take the measurements to a designer at The Container Store for an Elfa shelf system or design your own at EasyClosets.com. If you have the luxury of a larger closet but are a little light on funds, you can save space in the main room simply by putting your dresser in the closet itself. Try raising it and attaching it to the studs, leaving room below for your shoe collection.
As we move into the main room, I recommend getting a copy of Christopher Lowell's "You Can Do It! Small Spaces: Decorating to Make Every Inch Count," which you can pick up online for as little as $3 used (or you can borrow my copy).
It's critical that each piece of furniture serve a dual purpose. For example, your sofa can pull out to double as a bed. Your Murphy bed can include side closets or bookshelves. Your dresser or credenza can double as a TV stand. Choose end tables and coffee tables with drawers or hidden storage.
Drop leaf tables can open or expand for a dinner party and ottomans or poufs can serve as chairs. There are also desks that mount on a wall; they fold down to reveal cubbies, shelves, and a writing surface and fold up out of the way when not in use.
Ikea's KALLAX shelf system can be configured to serve as a low-cost room divider. Barn doors, roll-up shades and curtains hung on ceiling tracks are great for enclosing or hiding things like your unmade bed or your dirty dishes in the kitchen sink.
Finally, check out vurni.com, a blog that features chic, modern, dual purpose furnishings to go with your low maintenance lifestyle, with links to where those items can be purchased. Your personal space, no matter how small, will never feel cluttered again.
Valerie M. Blake is a licensed Associate Broker in D.C., Maryland, and Virginia and Director of Education & Mentorship at RLAH Real Estate. Call or text her at 202-246-8602, email her via DCHomeQuest.com, or follow her on Facebook at TheRealst8ofAffairs.