April 2, 2019 at 4:43 pm EDT | by Mariah Cooper
Ariana Grande's new song sparks queerbaiting controversy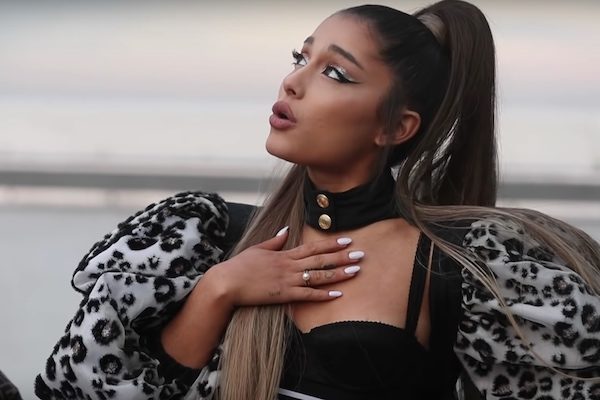 Ariana Grande says she doesn't like to label her sexuality after some people were skeptical about her new song's bisexual lyrics.
Grande released "Monopoly" with her friend and singer/songwriter Victoria Monét. In the song, Grande and Monét both sing the lyric "I like women and men (yeah)." Grande also sings the line by herself later in the song.
Monét came out as bisexual in November 2018 tweeting "After coming out, this thanksgiving coulda went waaaay left!! But she love meeeee how I am and I'm so happy."
A source told People that Grande "is of course a well-known LGBT ally and this is her supporting her friends."
Grande expressed on Twitter that she doesn't feel the need to label her sexuality.
i haven't before and still don't feel the need to now 🖤🧚🏼‍♂️ which is okay

— Ariana Grande (@ArianaGrande) April 1, 2019
Monét backed up her friend by telling a fan Grande "said what she said" on the song.
Some fans were glad Grande was being open with them about her sexuality.
SO ARIANA GRANDE IS POSSIBLY BI?? ANOTHER WIN FOR THE GAYS pic.twitter.com/mUJ8kZYjDW

— bryan! (@bryanvilIa) April 1, 2019
y'all accused ariana of queerbaiting and it turned out she's bisexual. y'all dragged her just because she's not showing off her sexuality as a personality trait like some of y'all do
YALL ARE BOO BOO THE FOOLS. pic.twitter.com/HkcFZfmrav

— uǝq (@nootearstocry) April 2, 2019
dont forget that ariana might be bi but she could also still be figuring herself out/exploring and she might not label herself yet . she could be trying it out feel comfortable expressing it thru music

— naya (@lovedlust) April 1, 2019
Others felt Grande wasn't talking about her own sexuality in the song but was queerbaiting.
Can Ariana Grande stop queerbaiting and treating bisexuality like it's some cute fuckin joke for straight women to play with??? Thank u, next 🙄

— 〘 Anne Lorraine 〙 (@LegitLorraine) April 1, 2019
Ariana will never publicly come out and say she's bisexual because that would require her actually being attracted to women(not just kissing for fun like every straight girl) she'll say sexuality is fluid while still only dating men so she doesn't get accused of queerbaiting pic.twitter.com/23yPVfSMbg

— Nae (@DeepSpaceYonce) April 1, 2019
Ariana retired doing blackface and has moved onto pretending to be bisexual pic.twitter.com/DEwsVofPlG

— brandon (@cabelIo) March 31, 2019