April 18, 2019 at 2:02 pm EDT | by Mariah Cooper
Rainbow Caps mural from local LGBTQ artist unveiled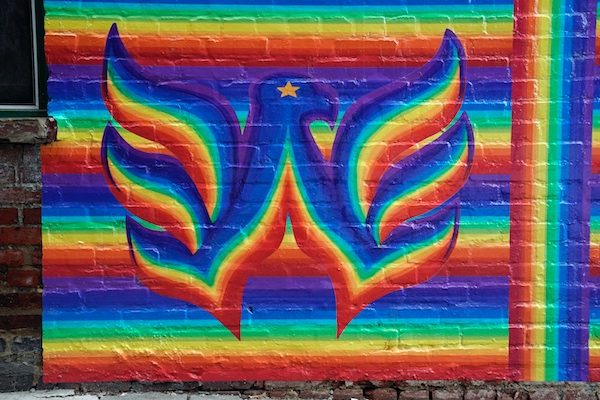 The Washington Capitals have teamed up with local artists to spread the spirit of the Caps for the 2019 Stanley Cup Playoffs in neighborhoods across the District, Maryland and Virginia.
Local LGBTQ artist Lisa Marie Thalhammer is one of the artists participating in the project. Marie painted a rainbow version of the Caps logo in Adams Morgan located at 2412 18th St. N.W.
Marie was named Best Artist in the 2018 Washington Blade Readers' Choice Awards. Her other notable work is the rainbow "LOVE" mural located in Blagden Alley, which has become a favorite place to snap a photo for locals and tourists alike.
Check out the other murals from other participating artists including Matt Corrado (1335 H Street N.E.), Zach Shuta (1300 Russell St., Baltimore) and Robert Generette III (1800 Martin Luther King Jr. Ave. S.E.).
More murals will be unveiled throughout the community in the coming days. Visit here for more information and updates.