Awesome Con returns next weekend with plenty of queer content
Pride Alley, John Barrowman, cast of original 'Karate Kid' among highlights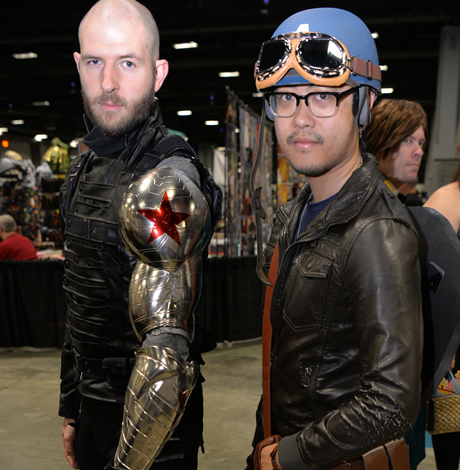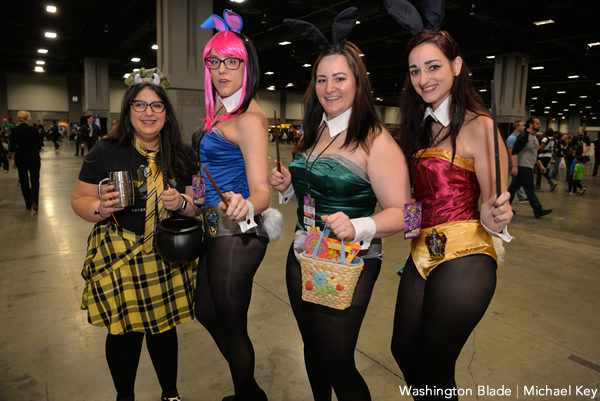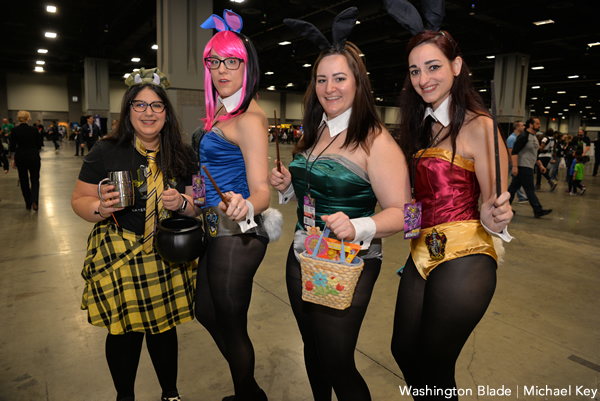 Awesome Con is back to indulge the inner-geeks of people in the D.C. area at the Walter E. Washington Convention Center (801 Mt Vernon Pl., N.W.) next weekend (April 26-28).
The sixth annual Comic Con will join together fans of comic books, TV shows, movies and games for three days of exhibits, panels, celebrity meet and greets, photo-ops and much more.
Whether it's your first time attending the convention or you're a repeat con attendee, Awesome Con is curated with you in mind (details at awesome-con.com).
Ron Brister, vice president of Left Field Media, says his organization, which produces conventions across the country including Awesome Con, does analysis to see what fans would be interested in seeing. The result is a mix of currently popular movies and TV shows and old favorites that bring the nostalgia.
This year "Riverdale" stars Cole Sprouse (Jughead Jones) and KJ Apa (Archie Andrews) will headline a panel and meet and greet for fans. The wildly popular TV series is a darker reimagining of the classic Archie Comics with plenty of LGBTQ representation in its characters Cheryl Blossom (Madelaine Petsch) and Kevin Keller (Casey Cott).
Jon Bernthal ("Punisher," "The Walking Dead"), Zach Callison, the voice of Steven on the hit cartoon "Steven Universe," Matt Smith, the Eleventh Doctor on "Doctor Who," Milo Ventimiglia ("This is Us"), Jason Isaacs ("Stark Trek: Discovery") and comedian/singer"Weird Al" Yankovic will also make appearances.
The nostalgic con additions include reunions of the 1985 teen flick "Weird Science" with Kelly LeBrock, Anthony Michael Hall and Ilan Mitchell-Smith, TV comedy "The Office" with Creed Bratton, Kate Flannery and Oscar Nunez, '90s film "Karate Kid"with Ralph Macchio, William Zabka, and Martin Kove, 1987 fantasy film "Princess Bride" with Cary Elwes, Chris Sarandon and Wallace Shawn, the cast of "Star Trek: The Next Generation" including Jonathan Frakes, Brent Spiner, Gates McFadden, Marina Sirtis and Wil Wheaton and Kevin Sorbo from the'90s series "Hercules: The Legendary Journeys."
DC and Warner Bros. have also partnered with Awesome Con to celebrate Batman's 80th anniversary. Attendees will be able to view the iconic Bat suits from Michael Keaton to Ben Affleck and other movie props. Brister says it's the type of exhibit you can usually only see somewhere like the Museum of Modern Art but it will be on view for con attendees at no additional cost.
There will also be plenty of LGBTQ content to geek out on.
The biggest gay celebrity to appear at Awesome Con this year will be con favorite John Barrowman. Fans grew to love him on shows such as "Torchwood," "Doctor Who" and "Arrow" but his passion for conventions and his fans earned him a special place at Awesome Con. For the third year in a row, Barrowman will return to give a panel talk, meet and greet and photo-op.
The actor has become known for strutting out in heels or elaborate cosplay for his panels and taking outrageous pictures with fans. His vibrant personality is something Brister says is always on.
"John Barrowman is a funny guy. I've gotten to know him pretty well, he does a number of our events. He's a bit of a good luck charm," Brister says. "Some celebrities don't have that kind of energy level because the character may be high energy on the show that you love but in reality the actors may not be that person you want them to be when you meet them. John Barrowman is 100 percent that person you want him to be when you meet him so that's why he's been coming back year after year."
British actor Tom Payne, who is straight, will be at the convention. Payne is best known for portraying openly gay character Jesus on "The Walking Dead."
Awesome Con has partnered with New York City-based nonprofit organization Geeks Out, Flame Con and the Washington Blade to bring LGBTQ content creators and con-goers together in Pride Alley. The section will be located in the Exhibit Hall which is open to attendees each day of the convention.
Brister says that creators who identify as LGBTQ will be indicated on the program guide, mobile app and on their tables.
Pride Alley is important to include, especially for teenagers and young adults, according to Brister.
One of the goals of Pride Alley is to "make sure that younger audiences that are identifying that way and haven't found their place in the world yet, have these examples of people who are working in these industries, who are out and working on some of the biggest books that DC and Marvel have to offer or they're working on their own creative properties being published," Brister says.
"Hopefully the community at large sees this as a super positive experience," Brister adds.
Pride Alley artists include Rage Gear Studios, Simon Graves, Marta Mickelsen, Yinz, among others. Attendees can also drop in on Pride Alley panels such as Gender in SFF Fiction: Women & Nonbinary Authors, Exploring Gay and Lesbian Comic Creators, We ARE Gaymers! Be Proud, Crossplay 101, Marvel's LGBT Legacy, among others.
For those who want to delve into the science fiction world, Awesome Con and Smithsonian Magazine have teamed up to bring back Future Con which will have programming such as Putting the Pop Culture in STEM Education and Science Fiction to Fact: The Voyage of Biometrics. National Geographic, the National Science Foundation, Smithsonian National Air and Space Museum are just a few science exhibitors that will be tabling the Exhibitors Hall.
The little ones can get in on the fun with Awesome Con Jr., an interactive and family-friendly area where children can meet animals, catch a live lightsaber performance, learn spells, watch a Dreamworks screening or participate in the Kids Costume Parade.
The amount of choices on what to do and who to see is exactly what Awesome Con organizers have been aiming for during their year-long convention preparation.
"We try to make sure we have fandoms and talent whether it be on the celebrity side, authors or creators that appeals to all demographics, all age groups. We really want Awesome Con to truly have something for everybody," Brister says.
D.C. comedians to fuse comedy with Earth Day celebrations
Yes HOMO presents "eco-homo" at St. Vincent Wine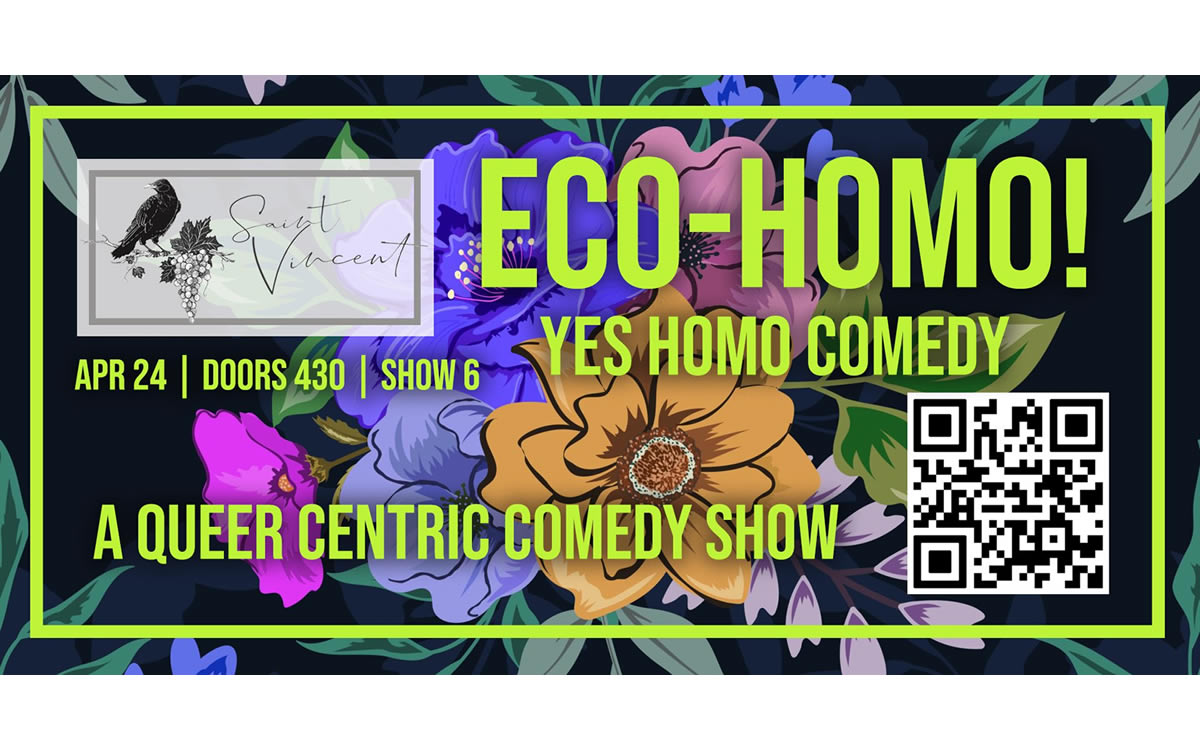 Yes HOMO Comedy will host "Yes Homo! A Queer Centric Comedy Show" on Sunday, April 24 at 4:30 p.m. at St. Vincent Wine.
This event special, known as eco-homo, will be an Earth Day edition of queer-centric comedy. Doors open at 4:30 p.m. and the show will begin at 6 p.m.
Tickets are $10 and proceeds will be donated to an eco-conscious non-profit organization. For more information, visit Eventbrite.
CARTOON: Cruz in quarantine
He knows everyone misses him
CARTOON: Pete's dreams
He's running again . . .