April 30, 2019 at 1:03 pm EDT | by Brian T. Carney
New HBO miniseries 'Gentleman Jack' explores life of 'first modern lesbian'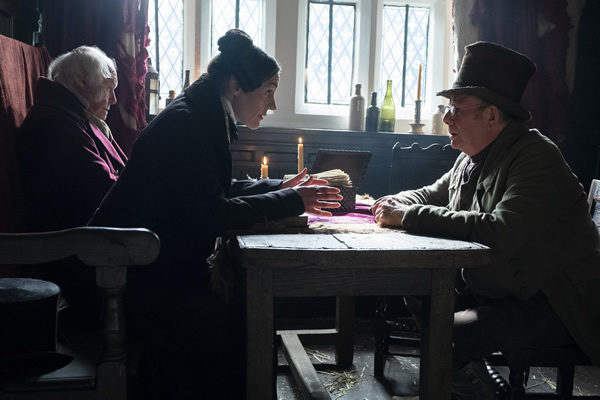 "Gentleman Jack," now playing on HBO, is a fascinating portrait of Anne Lister, an English landowner often descried as "the first modern lesbian." The splendid eight-part series, a co-production of HBO and BBC One, is a rollicking portrait of life in Regency England, a time of great social, political and economic upheaval.
Set in Halifax in 1832, the series opens when Anne Lister (the delightfully swaggering Suranna Jones) returns to the family manse after foreign travel and a collapsed affair with Vere Hobart (Jodhi May) who has decided to marry a man (something that has happened to Lister before).
Lister is a complex and captivating bundle of contradictions and Jones captures them all with rakish charm. Lister caries a walking stick and dresses all in black, with a voluminous skirt without petticoats, a corset and a fitted bodice, a long coat and a top hat. (The witty title sequence shows her getting dressed which is a great introduction to the character.)
She's a shrewd businesswoman, personally collecting the rents from her tenant farmers and negotiating business deals directly. She's fiercely protective of her tenants but also fiercely protective of her bottom line. She personally (and awkwardly) tends to a boy who is injured, but refuses to renew the lease of any farmer who's not measuring up.
She's confident in her sexuality, but discreet enough to avoid open scandal (even though the local gossips do warn that she's "not to be trusted in the company of other women").
But while she claims the right to run her own business and sexual affairs, she's also rather reactionary. She's upset when a tradesman dares to court her sister Marion (Gemma Whalen, who's also playing Yara Greyjoy on HBO's "Game of Thrones") and she's obsessed with restoring the faded ancestral home Shibden Hall to its former glory.
And that's what sets the story in motion. Like any cash-poor landowner, Lister decides that she needs to find a rich wife. She sets her sights on Ann Walker (Sophie Rundle), a local heiress who's been dazzled by Lister's charisma for years.
Lister also discovers there's coal on her property and enters into a nasty business rivalry with the brutal Christopher Rawson (Vincent Franklin).
Series creator and screenwriter Sally Wainwright introduces both of these plot lines with a light touch, delighting in Lister's playful seduction of Walker and her tough negotiations with Rawson. But over the course of the five episodes available for review, Wainwright slowly ratchets up the tension. Rawson becomes violent when his ambitions are thwarted and Walker and Lister are caught in flagrante delicto by a nosy neighbor.
The acting is first rate. Jones is a marvel as Anne Lister, effortlessly capturing every contradictory facet of this remarkable character. Rundle is captivating as the heiress who has a few secrets of her own and Franklin makes a fine villain. Whalen turns in a full-bodied performance as Anne's exasperated sister Marian; she makes the character warm and believable while providing some much-needed common sense and humor to the proceedings.
Veteran British actors Gemma Whalen and Timothy West turn in fine performances as Aunt Anne Lister and Jeremy Lister, aunt and father to Anne and Marian. Neither character is quite as befuddled as their young relatives think they are, and their finely tuned observations are often amusing and quite biting.
Wainwright's script is solid, with dialogue that sounds natural yet quite appropriate for the period. The directing (by Wainwright, Sarah Harding and Jennifer Perrott) is generally assured and well paced, although it's difficult to see how the final three episodes can keep increasing the tension while resolving the main plots and the many subplots. The cinematography is stunning, a virtual Valentine to the lush West Yorkshire countryside.
Wainwright and her talented colleagues also create a powerful sense of period, While there are some delightful modern flourishes (especially in the lively score by Murray Gold), the series has an authentic feel. Everything feels lived in and the period details underscore the fact that the past is indeed a foreign country, recognizable yet distinctly different.
This is especially true of discussions of Lister's sexuality and gender non-conformity. Her same-sex desires and her unconventional clothing choices are freely discussed, but the script avoids the temptation to use modern terminology. For example, when discussing her romantic relationships with her family, Lister refers to her "companions."
There's also the delightful exchange where a young boy askes Lister, "Are you a man?" Flustered, Lister responds, "Well, that's a question. So no, I am not a man. I'm a lady — woman. I'm a lady—woman. I'm a woman."
The remarkable authenticity and detail of "Gentleman Jack" comes from Wainwright's intimate knowledge of Lister's diaries. Over the course of her life, Lister kept a four-million-word diary that recorded her daily life in astonishing detail. Much of the diary was written in a secret code that used algebraic symbols and letters of the Greek alphabet. Wainwright was granted extensive access to the diaries and learned how to decipher the code and more fully understand Lister's rich inner life. Since then, Wainwright funded the restoration and digitization of the diary; excerpts can be found here.
"Gentleman Jack" is a rare and genuine treat. It's a full-blooded, full-bodied period piece with and vibrant and authentic inner life that is fully relatable yet true to its own time. Led by creator Sally Wainwright and the vivacious Suranna Jones, the series is a rousing tale that is also a rich contribution to our understanding of how same-sex desire and gender nonconformity are expressed in different times and places.